In 1942, during the height of World War II, the United States mints created the final batch of 1-cent bronze coins before transitioning to steel for a year. This unique historical context gives the 1942 wheat pennies a special place among coin enthusiasts.
But what are the current values of these 1942 Lincoln penny coins? The value of a 1942 Wheat Penny ranges from $0.05 to $12,000, with an average worth of $0.15 to $5.50. The value depends on the condition, circulation, mint, and potential errors.
A total of 950,084,000 bronze coins were minted in Philadelphia, Denver, and San Francisco. These pennies come in different shades of red, brown, and red-brown. To learn more about the history, circulation, design, and errors of the 1942 wheat penny coins, continue reading.
1942 Wheat Penny Value
The values of the 1942 wheat pennies vary significantly, with NGC, a reputable third-party grading service provider, assigning them a range between $0.05 and $12,000.
Among these coins, the brown wheat pennies minted in San Francisco, Denver, and Philadelphia are generally the least valuable, starting at a mere $0.05. However, coins in pristine uncirculated condition can command prices ranging from $25 to $30.
On the other hand, the red wheat pennies produced that year are notably more valuable. The coins minted in Denver and San Francisco can reach impressive prices of up to $12,000.
The significant disparity in value depends on factors such as the intensity of red coloration, printing errors, mint condition, and whether or not they have been circulated. On average, the range of values for these coins falls between $0.15 and $5.50.
Related: The 1946 Wheat Penny Value, History, Mintage & Error List
1942 Wheat Penny Value Chart
Here's a list of the coin values per their gradation (condition) and colors: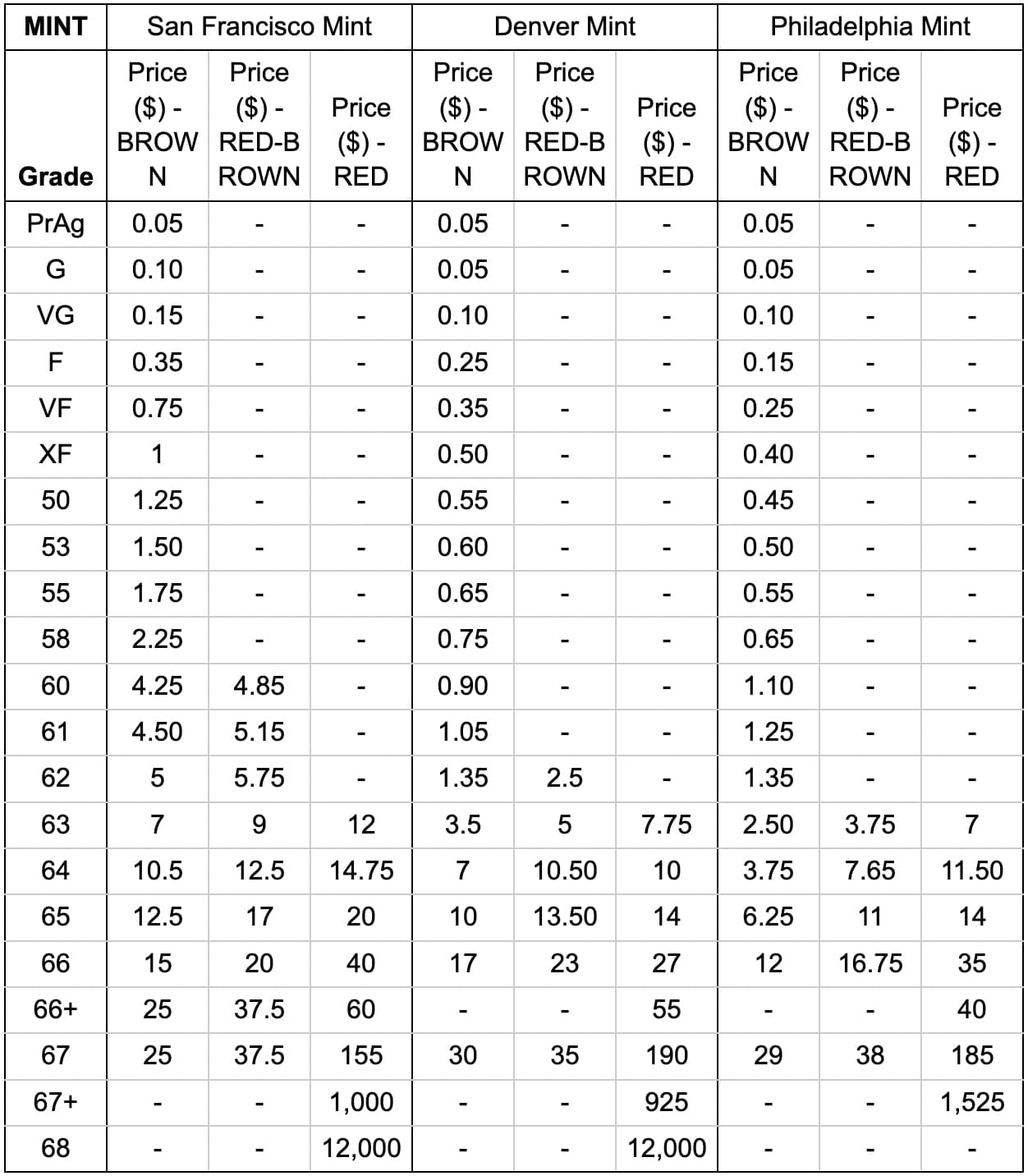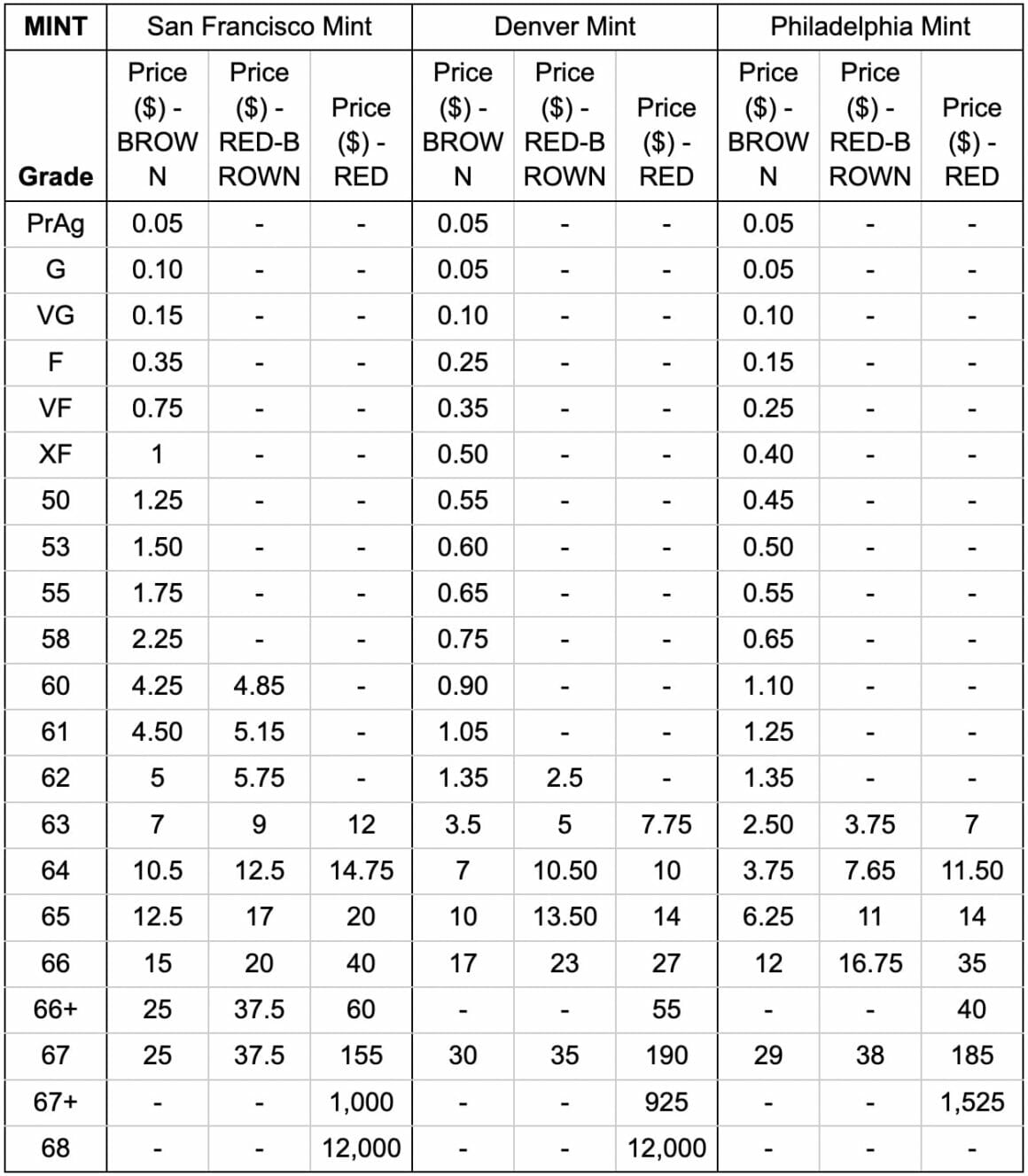 Auction Prices of 1942 Lincoln Wheat Penny
You should note that some coins from the above list have been auctioned at higher prices. The values secured at some of the noted auctions are as follows:
Coin Details
Grade
Value ($)
1942 S, Brown
VF
92
53
17-241
55
53-195
58
25-264
62
280
63
132
64
132
1942 D, Red-Brown
61
747.5
62
287
63
4-20
64
14-36
65
14
66
10-364.25
1942 Red
62
23.75-26.75
63
23.75-49.05
64
6-60.50
65
7-230
66
19-39
66+
26
67
52-250
67+
480-3760
70
35
Related: 1944 Wheat Penny Value – A Complete Guide
Why Is the 1942 Penny Worth So Much?
The year 1942 holds a special place in the history of US coin minting. It marks the transition from using bronze to creating coins, as copper, tin, and zinc were later replaced with steel coated in zinc in 1943 due to the high demand for these metals during the war.
This shift in materials is what adds value to the 1942 penny coins. While the quantity of these coins is relatively abundant, they do not rank high on the rarity scale. However, the historical significance attached to the 1942 Lincoln coins makes them highly sought-after to coin collectors around the world.
The 1942 Wheat Penny – History, Design & Composition
The 1942 wheat cent carries a rich historical background, as it was minted during a significant year that prompted the US government to implement alterations in coin composition. This noteworthy period coincided with World War II. Let's delve deeper into the intriguing backstory of this remarkable coin.
History & Composition of the 1942 Wheat Penny
The production of United States coins has traditionally relied on metals like copper, zinc, nickel, and their alloys. In the case of the 1942 Lincoln penny, it was crafted from bronze, which is a combination of copper, tin, and zinc. This particular coin composition consists of 95% copper and 5% tin and zinc.
The 1942 wheat pennies feature plain edges, weigh 3.11 grams, and measure 19 millimeters in diameter. They exhibit slight variations in color, ranging from brown to red-brown, with the red coins being particularly sought after by collectors. Notably, these coins were designed by Victor David Brenner.
The minting of the 1942 wheat pennies occurred amidst the backdrop of World War II (1939-1945). The war caused a significant surge in the demand for copper and other metals. Consequently, the US government made the decision to cease the production of coins utilizing such metals, planning to mint steel coins in 1943.
Following the 1942 wheat coins, the US Mints discontinued the production of copper-based coins, shifting towards steel. However, this transition was short-lived, lasting only one year. By 1943, steel was abandoned as the preferred metal for coin production. This historical episode holds particular significance for numismatists and coin enthusiasts.
Related: 1945 Wheat Penny – Complete Guide
Is a 1942 Penny Real Copper?
No, the 1942 penny coins were not 100% copper. They were actually made of bronze, an alloy of copper with tin mixed in it. These coins had about 5% tin and zinc; the remaining 95% was copper. The other two metals made copper coins strong and durable.
Is There a 1942 Steel Penny?
No, there is no 1942 steel penny. That's because the decision to shift to steel for coin minting was made in 1942 – and the initiative was not put into action until the following year, i.e., 1943. So the steel pennies available in the coin market came into being in 1943.
Related: 1952 D Wheat Penny – Full Guide
The 1942 Wheat Penny: The Obverse Side
The 1942 wheat penny, often called the 1942 Lincoln penny, features the portrait of Abraham Lincoln on its obverse side. Positioned at the top are the words "IN GOD WE TRUST."
To the left of Lincoln's face, the word "LIBERTY" is inscribed, symbolizing a core value of the nation. On the right side, you will find the year of minting: either 1942, 1942 S (for San Francisco mint), or 1942 D (for Denver mint). The absence of a mint mark indicates that the coin was produced in Philadelphia.
The 1942 Wheat Penny: The Reverse Side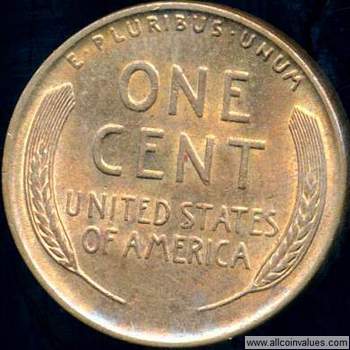 The reverse side of the 1942 wheat penny has two ears of wheat on the left and right edges, which is why it's called the wheat penny. In the center, the currency value is marked, i.e., ONE CENT.
Right below the value, you'll find the name of the country, i.e., UNITED STATES OF AMERICA. And at the top, the words "E PLURIBUS UNUM" are printed. It means "out of many, one" – the motto of the US.
Related: 1945 Wheat Penny Value
1942 Wheat Penny Mintage Value
The 1942 wheat penny coins were printed in three mints in the US – Philadelphia, Denver, and San Francisco. Of these, Philadelphia minted the highest number of these coins. You can identify the mint name from the mark on the obverse side of the coin.
1942 No Mint Mark Wheat Penny Value
The no-mint mark wheat coins have only the year, i.e., 1942, printed on the obverse face. This denotes that the coin was minted in Philadelphia. This mint produced 657,796,000 1942 wheat penny coins.
Their current value ranges from $0.05 to $1,525, and the highest value secured at the Heritage Auctions was $3,960.
1942 S Wheat Penny Value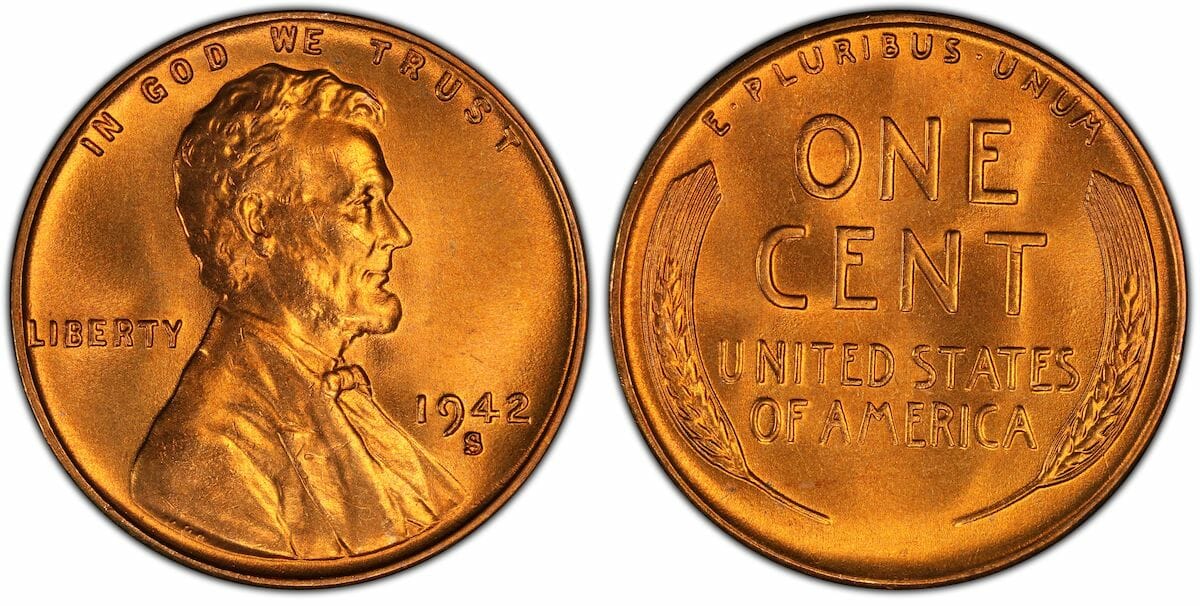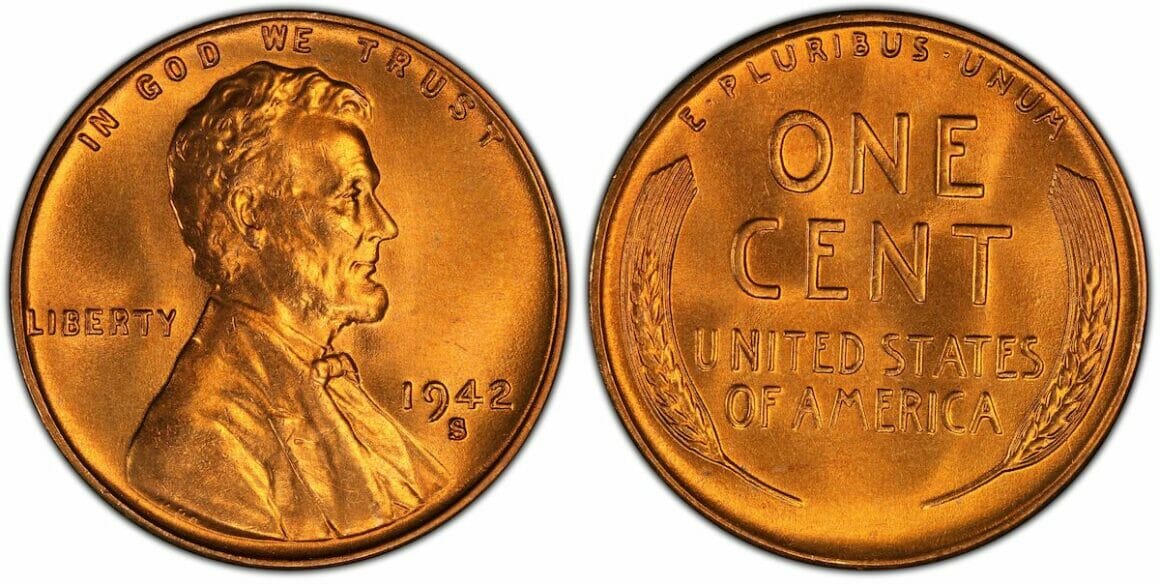 The 1942 S wheat pennies were produced in San Francisco, as indicated by the mint mark, i.e., 1942 S. Here, S stands for San Francisco. There are 85,590,000 coins of this kind.
The current value of these coins can be between $0.05 and $12,000. And the highest value secured at the Heritage Auctions was $12,650.
1942 D Wheat Penny Value
The 1942 D penny coins were produced in the Denver Mint. The obverse face has the mint mark 1942 D, where D stands for Denver. This mint produced 206,698,000 of these coins.
The current value of the 1942 D pennies is between $0.05 and $12,000, and the highest value secured for a coin in this category at the Heritage Auctions was $12,650.
1942 Proof Wheat Penny Value
Proof coins, the first samples of the 1942 wheat pennies, were minted in Philadelphia. 32,600 proof coins were produced in this mint. According to the USA Coin Book, the price of the proof coins start at $46.
1942 Wheat Penny Error List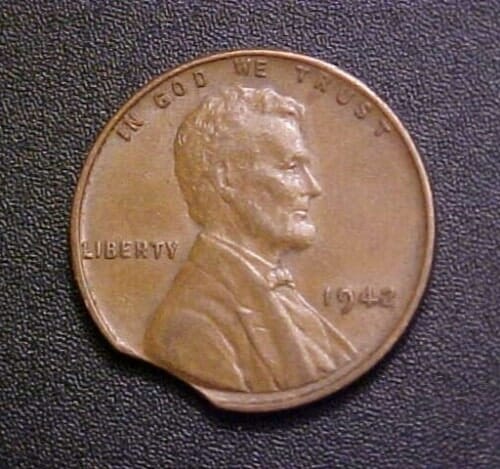 Some 1942 Lincoln coins have errors, which has raised their demand in the coin market. Take a look at some errors found in these coins.
Lamination or Strike-Through Error
A few rare 1942 coins have been found with lamination errors, causing undulations on the surface. These coins are valued between $0.99 and $200. At auctions, their prices are known to go as high as $485.
Double Die and RPM Error
On some 1942 coins, the surface design has been mistakenly repeated while hubbing. While most of these have a double S, many have other letters slightly offset. These are valued between $2.50 and $100. Some have been auctioned at $500-1,000!
Missing Letter Error
A less common error on the 1942 pennies is the missing letter mistake, where you'll find spelling issues in words on the surfaces. These coins may go for as high as $800.
Clipped Planchet Error
Some 1942 pennies have been printed on clipped planchets, as a result of which a part of the metal is missing. These are available at prices between $4.35 and $250.
Off-Center Error
A rare error in 1942 coins is when the surface design is off-center and not struck in the right position. These are usually around $100, but one particular coin that was 40% off-center was auctioned at $2,500.
Wrong Planchet Error
Some 1942 coins have been struck on the wrong planchets. Some of the wrong-planchet coins identified are as follows –
Thick planchet weighing 4.11 g instead of 3.11 g – auctioned at $1,600
Brass planchet instead of bronze – auctioned at $125
10c planchet (dime) instead of a cent – auctioned at $14000
Foreign planchet (Ecuador 10 Centavo) of 3.3 g – auctioned at $1,800
The 1942 Wheat Penny Value: FAQs
Why is the 1942 wheat penny so valuable?
The 1942 wheat penny coins are valuable not because of their rarity but their historical importance. They are made of bronze, i.e., copper, tin, and zinc – and were minted in 1942 before the US government started minting steel coins in 1943 to conserve copper for World War II.
Are 1942 pennies steel?
No, the 1942 pennies are not made of steel. They are made of bronze, an alloy of copper mixed with tin and zinc. These coins were the batch of pennies made using copper during World War II before mints moved on to steel planchets in 1943 for a year.
Is a 1942 penny rare?
No, a 1942 penny is not rare. 950,084,000 of these coins were minted. Philadelphia alone produced 657,796,000 1942 Lincoln pennies. Yet, it is historically valuable since 1942 was the year copper and its alloys were used for coin-making before steel was the chosen material in 1943.
Which penny is worth 1.7 million dollars?
In 2010, a rare 1943 Lincoln cent was sold for $1.7 billion, which is considered the most valuable penny. What makes this coin so rare and valuable is an error. It was struck on a copper alloy planchet instead of zinc-coated steel, the metal used in 1943 during World War II.
1942 Wheat Cent – Antique Coins with Rich History
If you are into coin collecting and numismatics, the 1942 wheat penny may interest you as a historical coin. While the coin auction value may not be extremely high unless you find a rare, red, or erroneous coin, it can still be a valuable addition to your collection.
References