The 1943 Steel Penny, a metallic marvel of its time, remains among the most controversial and coveted coins ever produced by the U.S. Mint. Born from the upheavals of World War II, this iconic penny replaced the traditional "Copper Lincoln Penny" in a striking shift from copper to steel. Such changes were necessitated by wartime demands, which begs the question: Was the 1942 penny pure copper? Surprisingly, no. The 1942 penny coins consisted of bronze, an amalgamation of 95% copper with an added 5% tin and zinc for enhanced durability.
Dive into this article to unravel the intricate history, exceptional value, and undeniable allure of the 1943 Steel Wheat Penny.
Historical Context
The U.S. During World War II
World War II was a defining moment in history, and the USA found itself fully engaged in the global conflict. The nation joined forces with the Allies to fight the Axis and diverted most of its resources, including copper, to the war effort. It removed and conserved copper from the 1943 5-cent coins, causing a metal shortage.
To ensure the continuity of the coinage industry, Congress passed a bill requiring the U.S. Mint to produce pennies using alternative materials. The new 1943 pennies had a thin coating of zinc over steel, giving them a distinct silver color.
The Rationing of Copper for War Efforts
During World War II, the escalating demand for copper in critical wartime applications, such as ammunition, electrical wiring, and military equipment, led the U.S. government to impose strict rationing measures, diverting it from non-essential uses, including coin production. This scarcity and the need to conserve essential resources transformed the U.S. economic landscape, with sacrifices touching all aspects of American life.
Consequently, the U.S. Mint sought innovative solutions, resorting to alternative materials like steel coated with zinc for coin production. However, this shift proved problematic. The zinc layer on these steel coins wore away quickly, leaving them susceptible to rust. Moreover, they bore a resemblance to Dimes. Due to these issues, the U.S. Mint returned to copper for penny production in 1944.
The Need for a New Penny
Even during the war, the U.S. economy needed small changes for daily transactions. The shortage of copper for penny production required a creative solution.
So, the U.S. Mint opted to replace copper in pennies with galvanized steel, giving rise to the new 1943 Wheat Lincoln cents. This change made the 1943 penny look like a silver coin, separating it from all the minted specimens.
The 1943 Steel Penny Design Composition and Dimensions
Obverse Side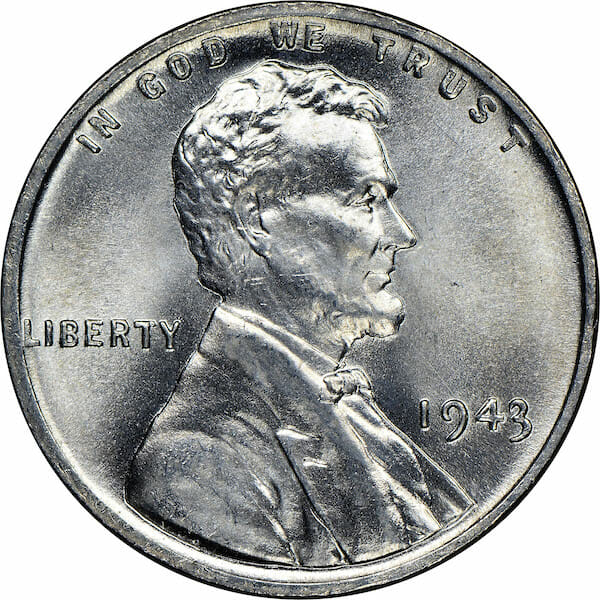 The obverse side of the 1943 Steel Penny features the distinguished profile of Abraham Lincoln, the 16th U.S. President, donned in a suit and facing right. Above Lincoln, the motto "IN GOD WE TRUST" spans the coin's rim. The word "LIBERTY" is delicately inscribed to the left, near the back of Lincoln's neck, while the year "1943" is boldly positioned to the right, beneath his chin. If there are mint marks, they are located just below the year.
Reverse Side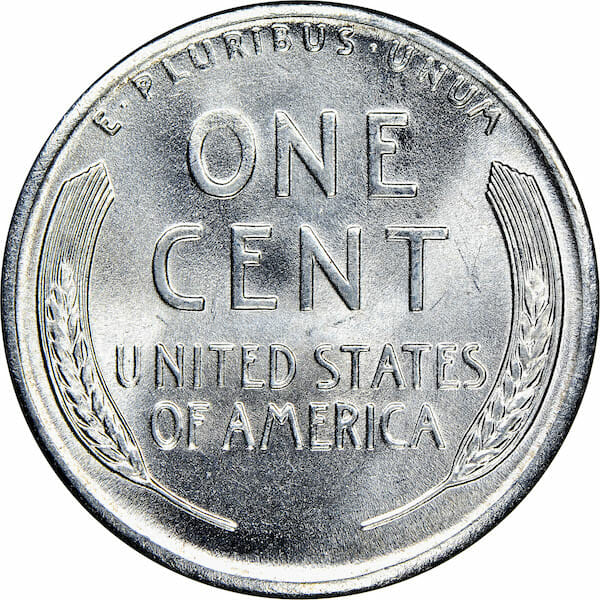 The coin's reverse side is elegantly framed by two wheat stalks, giving rise to its moniker "Wheat Penny." Dominating the center is the coin's value, "ONE CENT," prominently displayed. Hovering above in a more subtle font is the Latin maxim, "E PLURIBUS UNUM," which translates to "out of many, one." Beneath the denomination, the inscription "UNITED STATES OF AMERICA" confirms its origin.
The 1943 Steel Penny Composition & Dimensions
As the name suggests, 1943 Steel Pennies comprised 99% steel and 1% zinc coating. The zinc coating gives these pennies a silverish appearance even though they have no silver. These round coins weigh 2.7 grams, have a diameter of 19.05 millimeters (0.750 inches), a thickness of 1.95mm, and a plain edge.
Returning to Copper in 1944: The Underlying Reasons
As World War II neared its end, the U.S. Mint reinstated the use of copper for penny production in 1944. This transition was facilitated by the renewed availability of copper as the nation shifted gears from war to peace.
However, the previous shift from copper to zinc-coated steel hadn't been ideal. The protective zinc layer on these coins wore off rapidly, leaving them vulnerable to rust. Moreover, these steel coins bore a resemblance to Dimes, leading to widespread confusion.
Mistakes and Mystique in Copper's Return
The 1944 reintroduction of copper was not without its hiccups. During this period, an unexpected and now highly coveted error led to the creation of the 1943 copper pennies, causing a stir among collectors and those in the coin-handling community.
The 1943 Steel Penny Value
While most 1943 Steel Pennies are valued between 10 and 43 cents, pristine versions can be worth much more. The auction record for a 1943 Steel Penny is $218,500, with rare errors like the 1943 copper penny reaching $1.7 million in auctions.
How Much is a 1943 Steel Penny Worth: Mint & Values
The silver-colored pennies from 1943 are common and easy to find. Three U.S. Mint facilities, Philadelphia (with no mintmark), San Francisco (S), and Denver (D) struck over one billion Lincoln Wheat Pennies in 1943 for circulation.
1943 D Steel Penny (Denver Mint):

Circulated: $0.35 to $10.
Uncirculated: $5 to $25 or more, depending on condition.

1943 S Steel Penny (San Francisco Mint):

Circulated: $0.15 to $0.63.
Uncirculated: $1 to $3.20.
MS-68 rating: up to $3,500 or more.

1943 Steel Penny (No Mint Mark – Philadelphia Mint):

Circulated: 16 to 43 cents.
MS-68 condition: can sell for $4,690.
1943 D Steel Penny Value
The 1943 Steel Pennies with a mintmark "D" were struck at the Denver Mint facility. This mint produced a total of 217,660,000 1943-D Steel cents that year. Circulated 1943 D Steel Pennies typically range from $0.35 to $10. Uncirculated specimens are worth $5 to $25 or more, depending on their condition and grading.
1943 S Steel Penny Value
The S-marked coin originates from the San Francisco Mint. This facility struck 191,500,000 pennies in 1943, registering the lowest mintage that year.
Each 1943 S Steel penny is worth $0.15 to $0.63 in circulated condition, while those in uncirculated condition can go for $1-$3.20. If you have one with an MS-68 rating, expect to sell it for up to $3,500 or more.
1943 Steel Penny No Mint Mark Value
1943 Steel Pennies produced at the Philadelphia Mint have no mintmark as it was the first facility. The facility struck 648,628,670 coins (the 5th largest mintage number it ever made) that year. As such, a 1943 Steel Penny isn't valuable and can fetch between 16 and 43 cents in circulated condition.
Since many of these pennies were in circulation, it isn't easy to find a specimen in excellent condition today. If you have a 1943 MS-68 Steel Wheat Penny, you can sell it for a whopping $4,690.
1943 Steel Wheat Penny Worth a Million Dollar Myth or Reality?
While the 1943 Steel Penny itself holds value, the million-dollar figures often quoted are associated with its error counterpart, not the standard Steel Penny. Specifically, the most treasured error from 1943 is the bronze planchet penny.
This coin mistakenly joined the ranks of the zinc-plated steel cents and has since become a golden ticket for collectors. A testament to its rarity and desirability, one of these error coins fetched a whopping $1.7 million at a 2010 auction. Another notable mention is the 1943-D bronze planchet penny, which garnered $840,000 in a 2021 sale.
1943 Steel Penny Value Chart
Year
Mintage
Condition/Quality
Good
Fine
Extra Fine
MS60
MS65
1943
648,628,670
$0.16
$0.32
$0.43
$2.74
$8.91
1943 D
217,660,000
$0.22
$0.38
$0.49
$3.22
$11
1943 S
191,550,000
$0.32
$0.43
$0.82
$6.4
$22
Famous Discoveries, Ownership & Notable Auctions
Here are some of the famous discoveries and values achieved by 1943 Steel Pennies as per The U.S. Sun's reports:
MS66 grade penny fetched $408,000 in 2021
MS64 grade coin sold for $118,000 in 2023
MS63 grade penny sold for $115,000 in 2007
1943 Steel Penny Error List & Associated Potential Values
1943 Copper Penny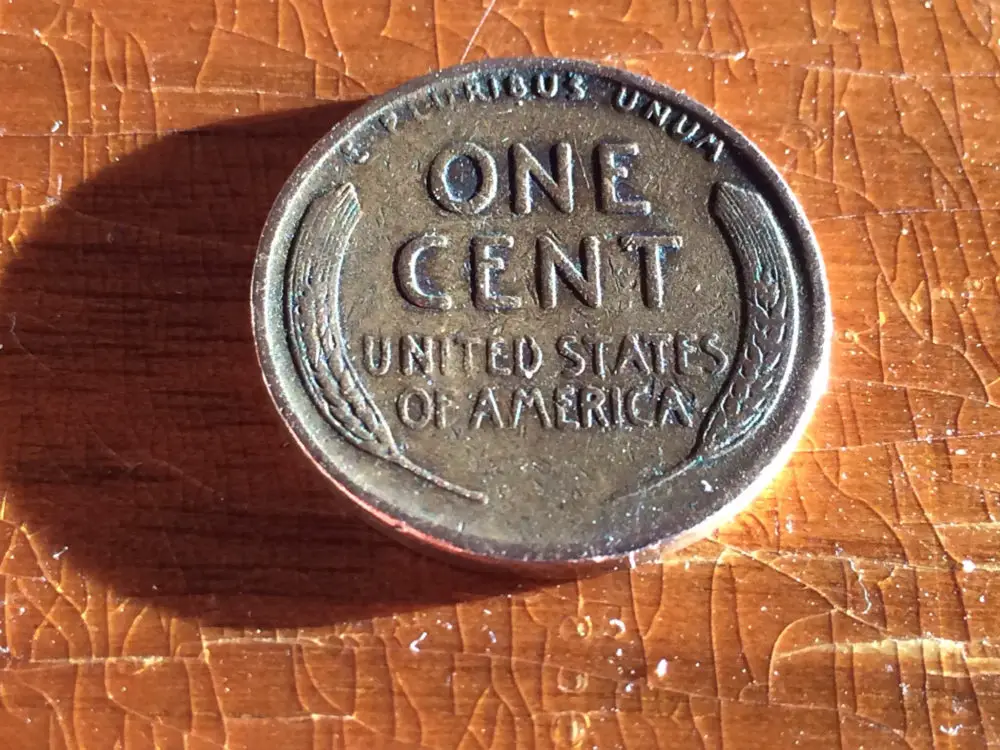 One of the most famous and sought-after errors associated with the 1943 Steel Penny is the 1943 copper penny. While the U.S. minted pennies in steel that year, a few were mistakenly struck on copper planchets from 1942, making them a rare collector's item.
Off-Center Strikes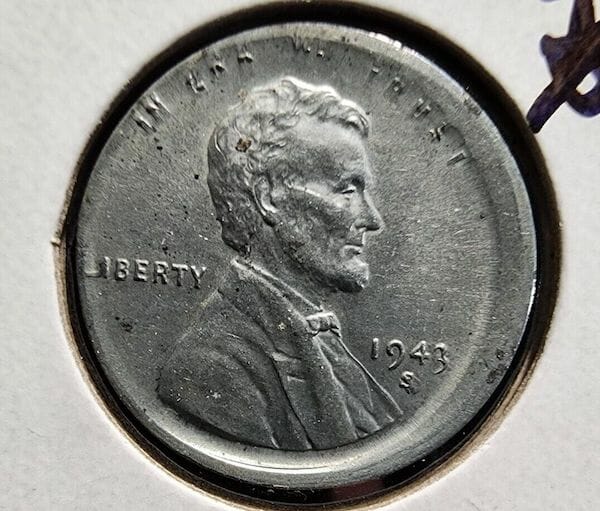 Some 1943 Steel Pennies were struck off-center, meaning the images and inscriptions are misaligned from where they are typically found on a well-centered coin. The value of these errors depends on how off-center the strike is, with more dramatic misalignments commanding higher prices.
Double Dies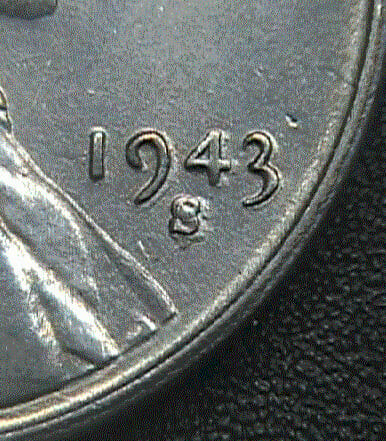 A double die error occurs when the die strikes a coin more than once, leading to a doubled image. Some 1943 Steel Pennies exhibit doubling on specific aspects of the coin, most notably in the lettering or date. Collectors can highly seek after these errors and may fetch a premium.
Clipped Planchets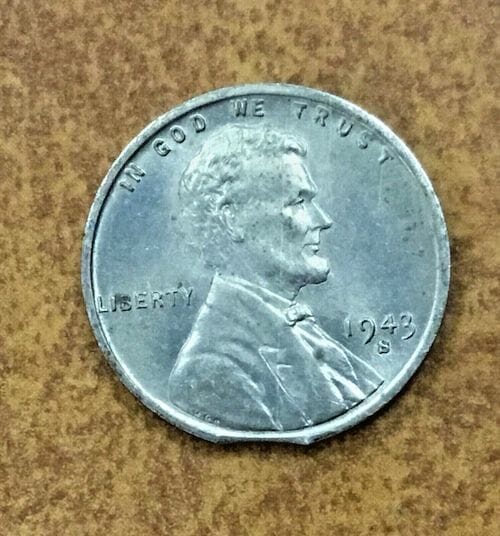 Some pennies have a portion "clipped" or missing due to a minting error. These clipped coins can be straight or curved, depending on how the error occurred. The value of clipped planchet errors depends on the extent and visibility of the clip.
1943 Steel Penny FAQs
How to Clean a 1943 Steel Penny
While the idea of restoring a 1943 Steel Penny to its original luster may seem appealing, cleaning it is strongly discouraged. Here's why:
Loss of Value: Cleaning a coin can diminish its value significantly. Collectors and numismatists prize original surfaces, and cleaning can alter or damage these surfaces irreversibly.
Potential Damage: The abrasive nature of cleaning agents, even if they seem mild, can result in scratches, discolored patches, or altered patina. Over time, these damages become more evident and can dramatically lessen the coin's worth.
Loss of Historical Integrity: Part of the allure of old coins is the story they tell. The natural toning, tarnish, or wear they have gained over the years adds to their historical narrative. Cleaning them erases a portion of that history.
If you believe your coin might be valuable, it's best to consult with a professional coin dealer or numismatist. They can provide guidance on proper care and storage. Remember, in the world of coin collecting, sometimes "original" is synonymous with "best."
Which 1943 Steel Penny Is Valuable?
Valuable 1943 Steel Pennies often exhibit unique errors or have high-grade conditions. The most valuable are those with the 1943 copper composition, followed by coins with double die errors or off-center strikes. These pennies are scarce and precious and can be worth around $100,000 each. A 1943 copper penny was sold for $1.7 million at an auction in 2010.
How Do I Know If My 1943 Steel Penny Is Rare?
The 1943 Steel Penny stands out in the world of numismatics, but to determine its rarity, one must distinguish between the standard issue and the highly sought-after error coin.
Standard Issue – The "Steel" Penny: Despite its name, the standard 1943 penny is not made entirely of steel. It's composed of zinc-plated steel, which gives it a distinct silver-like appearance. The U.S. Mint produced these pennies in large quantities during the wartime copper shortage, so while they are unique in the context of U.S. coinage, they are not exceptionally rare.
Error Coin – The Copper Penny: This is where the true rarity lies. A few 1943 pennies were mistakenly struck on bronze planchets (copper alloy blanks) rather than the zinc-plated steel. These error coins are genuinely rare and highly valued by collectors. They possess the same reddish-brown color typical of other copper pennies.
Here is what you can do to find out if you own one of the elusive 1943 Copper Penny:
Do a Magnet Test: If your 1943 penny is magnetic, it is a standard steel coin. If it's not, it could be a rare copper penny.
Examine the Date: Some fakes are 1948 cents with the "8" in the date tooled to make it appear to be a "3" (the bottom of the fake "3" points outward at 9:00, while a real "3" slants downward toward 8:00.)
Weigh the Coin: Copper coins weigh relatively more than steel pennies. A 1943 steel penny should weigh 2.7 grams, while a copper penny should weigh 3.11 grams.
If you believe you have a rare 1943 steel penny, it's advisable to consult with a reputable coin expert or a third-party grading service for a definitive assessment. These experts will help confirm its authenticity and determine its worth.
How Much Does a 1943 Steel Penny Weigh?
A 1943 Steel Penny typically weighs 2.7 grams, just like other steel pennies of that era.
Conclusion
The saga of the 1943 Steel Penny, tracing its evolution from a wartime necessity to a coveted numismatic gem, underscores the relentless allure it holds for coin aficionados and history buffs. This coin, with its shifts from copper to steel and its return to copper, epitomizes America's tenacity in the face of historic adversity. Whether you're an ardent numismatist or someone intrigued by a vintage coin's tale, the 1943 Steel Penny stands as a riveting intersection of history, scarcity, and worth.
Sources & References