If you are a coin enthusiast, you are probably familiar with the bronze 1944 Lincoln pennies. However, it's the steel coins that are highly coveted – because of their rarity and interesting history. So what's special about the 1944 steel penny?
An interesting fact about the steel penny is that it was made during World War II to conserve bronze, the metal normally used for making pennies back then. What makes the 1944 "steelies" unique is that they are few in number and are now worth several hundred thousand dollars – or even millions!
While 40 mintages of these coins have been reported, experts believe that there are more of them. These coins were minted in San Francisco, Denver, and Philadelphia – but the San Francisco coins, or 1944-S, are the rarest off-metal strikings.
If you're intrigued to know more about these unique coins minted in 1944 – keep reading.
1944 Steel Penny – Composition & Design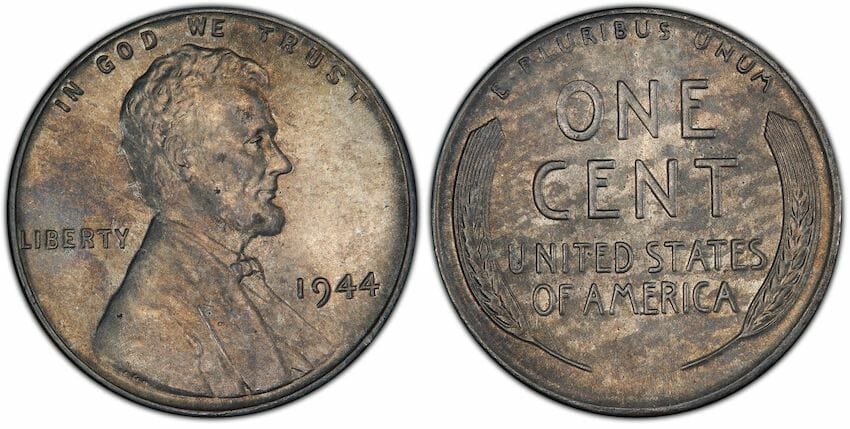 The 1944 steel penny is known by various names – the Steely, Lincoln penny, wheat penny, etc. These nicknames are used because of the material and appearance of these coins.
Back in the day, bronze was popularly used for making coins in the US. But copper, the pure metal from which bronze is made, was required by the military during wartime.
So, to conserve the metal, it was decided in 1943 that new coins would be minted using steel planchets. However, for several reasons, there was no plan to mint steel coins in 1944.
So where did the 1944 steel coins come from? It is believed these were created by mistake using leftover planchets from 1943. Some enthusiasts think they were created as souvenirs.
What Does a 1944 Steel Penny Look Like?
Since these coins are made of steel and covered with zinc, they have a silvery color and appearance. Most coins you'll see today have a powdery, rusty surface. Lithuanian engraver Victor David Brenner designed both the obverse and reverse sides.
Obverse Side
The obverse surface has Abraham Lincoln's face. On the top, you'll find the inscription, "IN GOD WE TRUST." On the left side of LIncoln's image, the word "LIBERTY" appears.
On the right, you'll find the minting year, 1944, and an indication of where it was produced – D (Denver), S (San Francisco), or no mint mark (Philadelphia).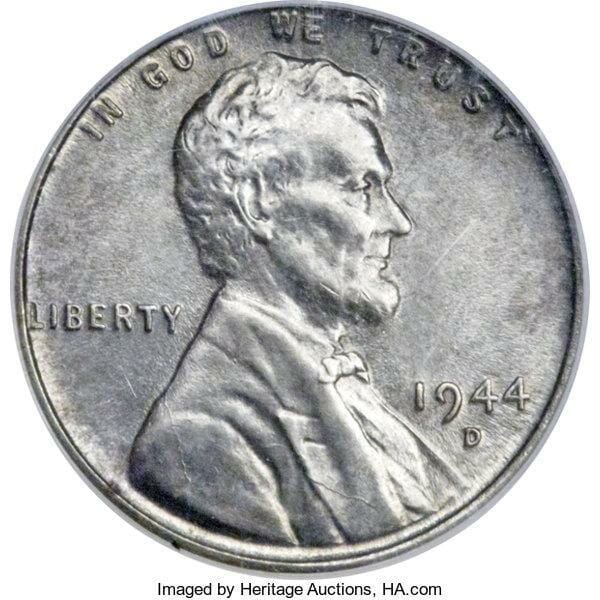 Reverse Side
The reverse surface of the 1944 steel penny mentions the face value of "one cent." The special feature of this side is that it has a wheat sheaf on each side.
This also proudly showcases the nation's name, UNITED STATES OF AMERICA. At the top sits the nation's motto, "E pluribus Unum," – meaning "Out of many, one" in Latin.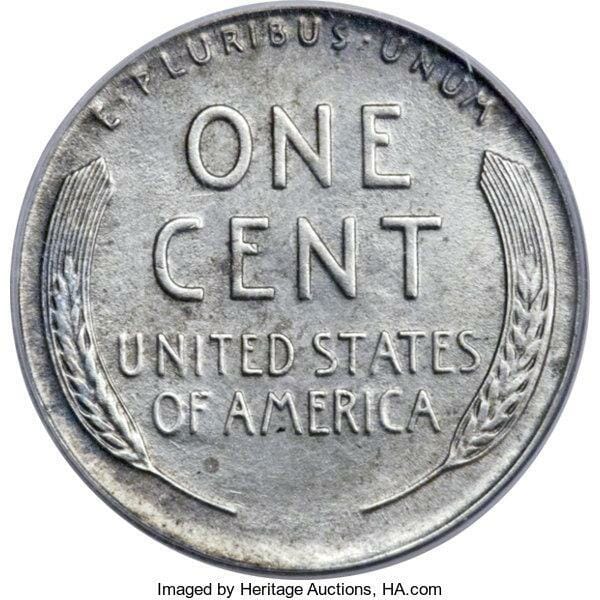 What Are 1944 Steel Pennies Made of?
The 1944 steel pennies are made of steel. And to protect them from corrosion, they have a thin zinc coating on the top. These plain-edged coins weigh 2.7g and have a diameter of 19 mm.
These coins have a face value of 1 cent. Interestingly, these coins are magnetic, which is one of the best ways to identify whether they are real 1944 steel coins.
Related: 1945 Wheat Penny – Complete Guide
Why Is the 1944 Steel Penny Rare?
During WWII, millions of steel coins were produced within a year in the US. Then, why are the coins extremely rare? That's because most of these coins were produced in 1943 – with only about 40 minted in 1944.
So the 1943 steel penny coins are less valuable than those produced in 1944. That's because these are off-metal strikings, minted using leftover steel blanks from 1943 during normal bronze cent production in 1944.
Why Is the 1944 Steel Penny So Valuable?
The 1944 steel pennies were minted in Philadelphia, Denver, and San Francisco. What's interesting is the number of coins produced.
Records say Philadelphia minted around 30 of these coins, while Denver produced only 7. But the rarest are the San Francisco steel pennies. There are only two of these.
These coins are mostly produced as mint errors that transcend ordinary errors. Plus, they are scarce. These make the Steely so highly valued among coin collectors.
1944 Steel Penny Value
A 1944 Steel Penny can vary significantly in value depending on its condition. Circulated ones are valued between $7,200 and $12,000 (VF20 grade) or between $18,750 and $31,250 (AU53 grade). If in better condition, an uncirculated 1944 Steel Penny can range from $45,000 to $75,000 (AU55 grade) or even reach up to $500,000 (MS66 grade).
The coin's value depends on the condition, grading, and edition. Here are a few examples of values secured for these coins recently, as per the reports of The US Sun –
MS66 grade coin sold for $408,000 in 2021.
MS63 grade coin sold for $115,000 in 2007.
MS64 grade coin sold for $180,000 in 2021.
1944 Steel Penny Value Chart
The value of coins can be determined based on their grade, with 70 being the highest mark on the grading scale. The higher the grade, the more pristine and uncirculated the coin is. Now let's look at the values of the 1944 steel coins –
Value Chart for 1944 Steel Penny, Philadelphia Edition
| | |
| --- | --- |
| Grade | Value ($) |
| 50 | 35,000 |
| 53 | 37,500 |
| 55 | 40,000 |
| 58 | 43,500 |
| 61 | 47,500 |
| 62 | 52,000 |
| 63 | 62,500 |
| 64 | 175,000 |
Value Chart for 1944 Steel Penny, Denver Edition
| | |
| --- | --- |
| Grade | Value ($) |
| 53 | 30,000 |
| 55 | 50,000 |
| 61 | 52,100 |
| 62 | 70,000 |
| 63 | 85,000 |
Value Chart for 1944 Steel Penny, San Francisco Edition
| | |
| --- | --- |
| Grade | Value ($) |
| 64 | 55,000 |
| 66 | 500,000 |
Which 1944 Penny Is Worth a Lot of Money?
The 1944 S steel penny, produced in the San Francisco Mint, is the most valuable of all 1944 pennies. The coin with a 66 grading point is valued at a whopping $500,000!
Next in line is the 64-graded coin from Philadelphia, valued at $175,000. And the third most expensive 1944 steel penny is the 63-grade Denver coin, valued at $85,000.
How Do I Know If My 1944 Steel Penny Is Valuable?
There are a few simple ways to determine if the 1944 steel coin is real and valuable. Here's how you can check –
Color – Because of the materials used for making and coating these coins, they appear silver. You may notice rusting, but the original color should show through.
Magnetic – You can test the coin with a piece of magnet. If the coin gets stuck, it's a real steel coin with magnetic properties, indicating its authenticity.
Mint Mark – The coin should be marked 1944-D, 1944-S, or just 1944. The rarest among these is the 1944-S coin. Other coins of high grade can be valuable, too.
Obverse Surface – Check if the obverse surface has a side profile of Lincoln facing the right, with the word "Liberty" on the left and "In God, We Trust" on top.
Reverse Face – The backside must have "One Cent" in the center, "E Pluribus Unum" above, "United States of America" below, and wheat stalks on the sides.
Weight and Size – Check the weight and size of the coin using scales. The coin is authentic if it weighs 2.7 g, and its diameter should be 19 mm.
1944 Steel Penny Mintage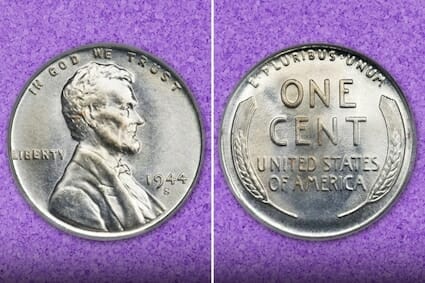 As you have already understood, the 1944 steel pennies were minted in Philadelphia, Denver, and San Francisco. Let's learn a little about their production and what makes them highly valued.
1944 No Mint Mark Steel Penny Value and Mintage
According to NGC Coin, a 1944 wheat penny from the Philadelphia Mint may be valued at between $35,000-$43,500 if it is in a circulated condition. However, the value can go as high as $175,000 if uncirculated and pristine.
The Philadelphia edition is without a mint mark, probably due to an error. This edition is more common than the other two. But for coin enthusiasts, this coin completes the collection.
In 1944, 2-franc pieces were produced for Belgium using 1943's leftover planchets. This was to cut costs and reduce waste from the 1943 steel cent program.
So, there was plenty of chance for the steel planchets to go astray and get imprinted as one-cent coins with 1944 dies. Thus, 30 steel coins from Philadelphia came into being.
1944 D Steel Penny Value and Mintage
According to NGC Coin, the 1944 D steel penny can secure a value of $30,000-$50,000 in a circulated condition. On the other hand, its value can rise to $85,000 if the penny is in an uncirculated, pristine form.
Unlike Philadelphia, Denver was not minting Belgian pieces. And so, there was hardly any excuse for the mint to use leftover steel planchets.
So, it is believed that the Denver edition of the coins, marked as 1944 D, were minted using residual planchets that had not yet been cleared.
So, 7 cents were coined in early 1944, making these coins scarcer than the Philadelphia editions. They go beyond normal mint error, raising their demand.
1944 S Steel Penny Value and Mintage
With only two San Francisco variants of the 1944 steel penny, the values are obviously on the higher end. According to NGC Coin, they are valued at $55,000 for grade 64 and $500,000 for grade 66. And both are highly graded, considering the grading scale only goes up to 70, and the coins are at 64 and 66.
Among the 1944 steel penny coins, the San Francisco edition is the rarest and most demanded. That's because only 2 of these coins have the 1944 S mark.
The San Francisco mint was not using steel planchets in 1944 to produce 2-franc pieces for Belgium, either. So there was no reason for it to strike steel cents.
Thus, it is an extremely rare mint error resulting from stray planchets making their way to the San Francisco mint. The chances of finding these coins are extremely remote.
1944 Steel Penny Errors List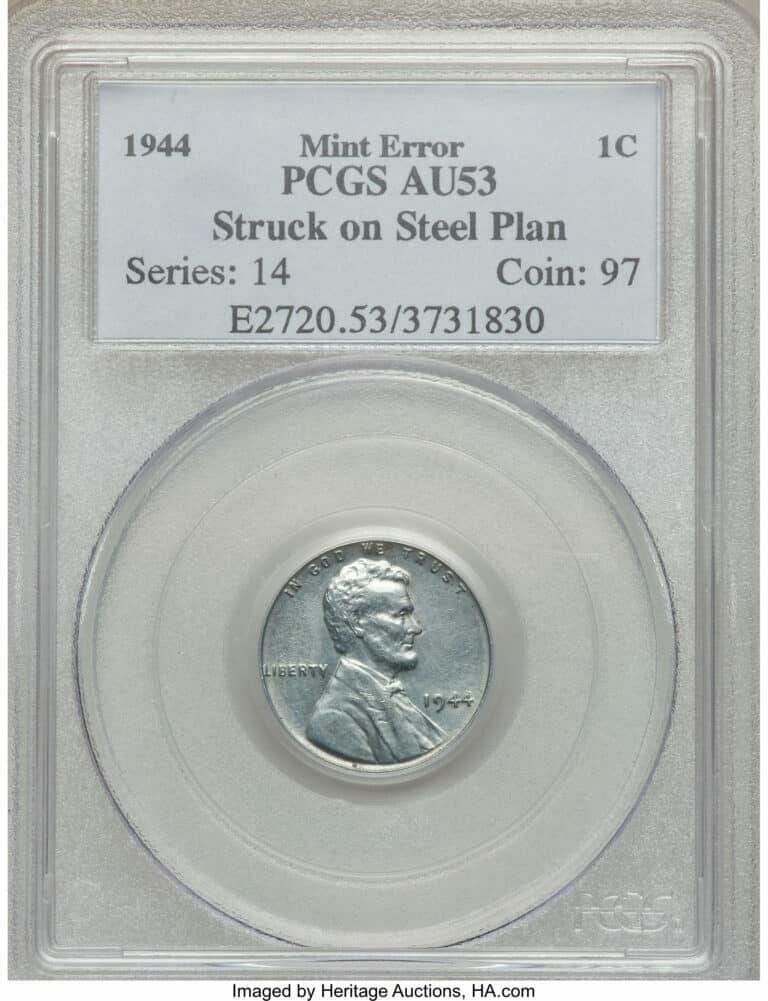 Clearly, the existence of the 1944 steel penny coins is considered an error. They exist because of the usage of leftover steel planchets going astray for various reasons at different mints. In addition to this, there are some other errors found, as mentioned below –
Double Denomination Planchet Struck Error
The best-known 1944 steel penny error is the double denomination. The coin has the same shape and size as a dime. That's because it was made from a planchet originally meant for a dime. They can be valued as high as hundreds of thousands of dollars.
Double Die Obverse Error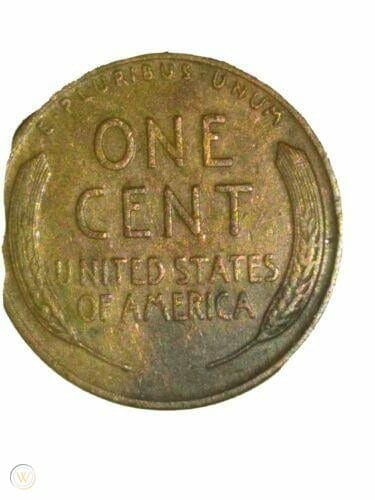 There is only one known case of a double die obverse error in a 1944 steel penny, making it worth a million dollars. The coin is struck twice using the same die. So, "Liberty" and "In God We Trust" appear twice, and their alignment is also slightly off.
Off-Center Strike Error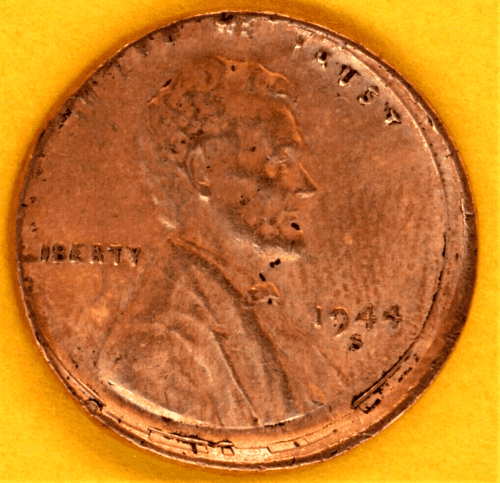 While a 1944 steel penny with an off-center error is not highly valuable, it is still considered a good addition to a collection. It is when the design on its surface is not centered correctly or partially cut off because the coin was struck off the center.
Strike-Through Reverse Error

Another rare case of an error on an owned 1944 steel penny was seen on an EF40-graded coin at a Michigan State Numismatic Society show. It was likely struck through grease between the planchet and the die, leaving an impression on the reverse face.
The 1944 Steel Penny Value: FAQs
Q: How many 1944 steel pennies are left?
A: So far, 39 steel pennies minted in 1944 have been accounted for. Of these, 30 were coined in the Philadelphia mint, 7 in the Denver mint, and 2 in the San Francisco mint. However, experts now believe there might be more unaccounted 1944 steel coins.
Q: How can you tell if your 1944 wheat penny is steel?
A: There are several ways to tell if a 1944 wheat penny is made of steel. The first way is simply by looking at it. The coin's color is silver due to the steel material and zinc coating.
The other method is a magnet test. If the coin sticks to a magnet, it has steel. You can also use a weighing scale to ensure that it weighs 2.7g.
Q: Are all 1944 pennies made of steel?
A: No, not all 1944 pennies are made of steel. The steel pennies are rare, with only about 39 of them recorded. The other coins produced in the US that year are made of copper and zinc. Steel pennies were more commonly minted in 1943 to conserve copper.
Q: How much is a 1944 steel penny worth today?
A: A 1944 steel penny can be worth anything between $35,000 and $500,000 today. The value depends on where it was minted, as the San Francisco edition is the rarest and most valued. The price also depends on the grade or condition of the coin.
Q: What years are steel wheat pennies?
The steel wheat pennies were produced only in 1943 and 1944. However, they were produced in large numbers in 1943 as a part of the copper conservation program for World War II. Steel pennies coined in 1944 are mint errors and are very few in number.
Conclusion
As a coin enthusiast, you may want to keep an eye on the coin market for a 1944 steel penny. But be careful! There are many counterfeits on the market. Also, don't make the mistake of doling out a fortune for a 1943 steel wheat, as these are not valuable.
Sources & References