Whether you are a numismatics enthusiast or just curious by nature, the story of the Susan B. Anthony Dollar is worth reading about. Its background, backlash, and controversies make this coin one of the most fascinating in the numismatic history of the US.
The Susan B. Anthony coin was first introduced to the US market in 1979. It lasted for only three years before it was discontinued due to adverse public reaction. It was reintroduced in 1999, which was the last year this dollar coin was circulated.
In this article, we will dive into the history, value, significance, and lasting impact of the Susan B. Anthony Dollar, shedding light on its origins and exploring the narratives it continues to inspire in our quest for gender equality.
The Creation of Susan B. Anthony Dollar
Throughout history, dollar coins have been largely unpopular among the public in the US. People found them inconvenient, which resulted in decades-long breaks in dollar coin production. The US Mint would try to popularize these coins, the public would react negatively, the Mint would stop producing them for years on end, and the cycle would repeat.
Occasionally, the Mint would listen to the citizens' feedback and try to adjust a dollar coin to their preferences. This was the case with the Eisenhower dollar, which preceded the Susan B. Anthony coin.
Following a hiatus of 6 years in the production of dollar coins, the United States Mint embarked on a new endeavor, issuing coins featuring the likeness of former President Dwight D. Eisenhower on the obverse and an eagle soaring above the lunar landscape on the reverse. Notably, this particular dollar coin differed from its predecessor in terms of its composition, for it was crafted from copper and nickel instead of the traditional silver. A good example of these coins would be the 1972 Silver Dollar.
Unsurprisingly, the public's reception of this new coin was less than favorable. One prominent complaint centered around its size, which was deemed excessively large. Consequently, the Mint resolved to create a smaller denomination, leading to the genesis of the iconic Susan B. Anthony coin.
Susan B. Anthony Dollar Coin Composition
A dollar coin depicting Susan B. Anthony is composed of copper and nickel. It is only 26.5 millimeters in diameter (1.04 inches), 11.5 mm (0.4 in) less than the dollar coin preceding it. It weighs 8.1 grams (0.2 ounces), which is a whopping 14.58 grams (0.5 ounces) difference compared to the Eisenhower coin. Its edges are reeded with 150 reeds, and it is 2 mm (0.07 in) thick.
Susan B. Anthony Dollar Coin Design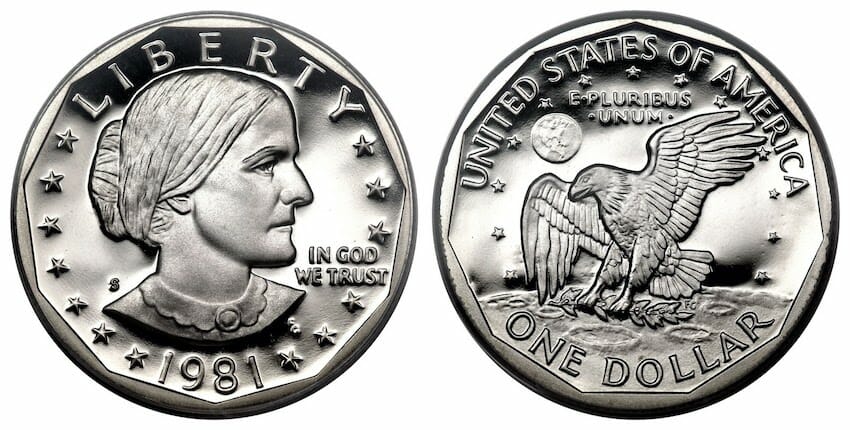 The Susan B. Anthony dollar coin has a lustrous silver-like appearance, despite its lack of actual silver content. This visual resemblance is achieved through the inclusion of nickel. Notably, the coin maintains a compact and circular form, accentuated by intricately engraved eleven-sided polygonal edges. This distinctive design imparts a sophisticated and sleek aesthetic to both the obverse and reverse sides of the coin.
The coin was designed by the prominent Chief Engraver of the US Mint, Frank Gasparro. The obverse features Anthony B. Susan's right-facing portrait as the main theme. To her left side are seven stars, and to her right, six. Above her head is the word LIBERTY and below her is the year.
The central motif on the obverse side of the Susan B. Anthony dollar coin portrays a captivating scene: an eagle gracefully descending upon the lunar surface, set against the backdrop of Earth. Positioned atop the coin are the words "UNITED STATES OF AMERICA," followed below by the motto of the nation, "E PLURIBUS UNUM." Finally, at the lowermost part of the coin, the denomination "one dollar."
The mint mark P, D or S, is located on the obverse, to the left of Susan's portrait indicating that the coin was minted in Philadelphia, Denver, or San Francisco, respectively.
Susan B. Anthony Dollar Coin Release Date & Initial Reception
The Philadelphia Mint started producing the first Susan B. Anthony dollars in December of 1978. Denver and San Francisco began minting these coins shortly after, in January 1979.
Although the officials worked hard on marketing the new, improved coin, they didn't get the reaction they hoped for. Since the dollar coin was much smaller than the previous one, it reminded people of the Washington Quarter, leading to a lot of confusion.
The coin faced further criticism due to its overall appearance and the widespread issue of vending machines refusing to accept it. Once again, the inconvenience of a dollar coin became apparent, garnering predominantly negative feedback from the general public.
Susan B. Anthony: A Pioneer for Women's Rights
Born in Massachusetts in 1820, Susan B. Anthony was one of seven children in her family. Growing up amidst a household deeply committed to social activism, it comes as no surprise that she herself would embark on a similar path.
At the age of 17, Susan began her journey in activism by gathering signatures to abolish slavery. This early engagement laid the foundation for her unwavering dedication to the pursuit of justice. As time progressed, she became an active participant in the temperance movement, driven by her resolute determination to safeguard the well-being of women who endured the challenges of being married to alcohol-dependent spouses.
Susan B. Anthony's Impact on the Women's Suffrage Movement
The highlight of her life was probably her influence on the women's suffrage movement. In 1872, Susan registered to vote and cast a ballot, even though women were not allowed to do so back then. She was charged with illegal voting and eventually ordered to pay a $100 fine, which translates to over $3 000 as of June 2023. This prompted one of her famous speeches, in which she said, among other things:
"I stand before you tonight a convicted criminal… convicted by a Supreme Court Judge… and sentenced to pay a $100 fine and costs. For what? For asserting my right to representation in a government based upon the one idea of the right of every person governed to participate in that government. This is the result at the close of 100 years of this government, that I, a native-born American citizen, am found guilty of neither lunacy nor idiocy, but of a crime—simply because I exercised our right to vote."
Susan Anthony never paid the fine. In fact, it was the ex-president Donald Trump who pardoned her almost a century and a half later, in 2020. His pardon didn't get a good response – Susan's admirers thought that accepting the pardon would mean accepting that she was supposed to be charged with the crime then.
Susan B. Anthony died in 1906, just over a decade before the 19th Amendment allowed women to vote. Although she didn't live to see it happen, she remains one of the most important figures in the history of the women's suffrage movement.
Why Was Susan B. Anthony Chosen for a Dollar Coin?
When the moment arrived to select a design for the new dollar coin, a multitude of organizations and individuals, backed by widespread public support, strongly advocated for Susan B. Anthony. The decision, in essence, was a natural one, considering her remarkable contributions to the nation's welfare and the profound impact she had on its people. Thus, it was only fitting to pay tribute to her through this medium. Notably, Susan B. Anthony holds the distinction of being the first woman in the annals of American numismatics to grace the surface of a coin, cementing her enduring legacy.
The then-president, Jimmy Carter, said:
"I am particularly pleased that the new dollar coin will—for the first time in history—bear the image of a great American woman. The life of Susan B. Anthony exemplifies the ideals for which our country stands. The 'Anthony dollar' will symbolize for all American women the achievement of their unalienable right to vote. It will be a constant reminder of the continuing struggle for the equality of all Americans."
The Controversy Surrounding Susan B. Anthony Dollar Coin
As mentioned earlier, the Susan B. Anthony Dollar was not well-received by the general public.
However, the dissenting voices regarding this dollar coin extended beyond mere complaints. The most contentious aspect revolved around the choice to feature Susan B. Anthony on the coin, prompting a vigorous debate among professionals and laypeople alike. Many questioned the worthiness of Susan B. Anthony's inclusion and presented various arguments to bolster their stance.
Artists, for instance, criticized the design, asserting that it fell short of expectations. Additionally, detractors voiced concerns about the reverse side, asserting that paying tribute to the Apollo 11 mission seemed incongruous with Susan B. Anthony's own contributions. While some suggested leaving the reverse untouched, they contended that the obverse should have been modified to create a more cohesive narrative.
In certain circles, feminists perceived the controversy surrounding the Susan B. Anthony dollar coin as a manifestation of underlying misogyny, albeit covert. Although it remains uncertain whether such assertions hold true, it is undeniably a fact that Susan B. Anthony had no direct involvement with the Apollo 11 mission, leaving room for the possibility of a more fitting reverse design.
Susan B. Anthony Dollar Coin Value & Rarity
Having explored both the captivating and challenging aspects of the history behind the Susan B. Anthony dollar coin, it is now time to delve into its present-day value.
Susan B. Anthony Dollar Coin Mintage Figures
Dollar coins depicting Susan B. Anthony were expected to be popular, so the US Mint produced 757 813 744 of them during the first year, in 1979. The next year, 1980, there were only 89 660 708 dollar coins produced in all three mints, as it was clear that the demand was fading.
In the third year, 1981, the US Mint stopped the production of these coins for circulation. Instead, Philadelphia, Denver, and San Francisco Minted 9 742 000 coins for collectors.
When the coin was reintroduced in 1999, the US Mint struck 41 368 000 of them. San Francisco didn't mint any of the coins during this year.
How Much is Susan B. Anthony Dollar Worth?
The value of a Susan B. Anthony dollar coin from 1979 is generally its face value, but rare coins in perfect condition can be worth hundreds or even thousands of dollars. Similarly, 1980 coins have comparable values, ranging from $1 to $20 for circulated coins, while uncirculated or flawless specimens can command higher prices.
The most valuable variant is the 1981 Anthony dollar, designed exclusively for collectors, with prices starting at face value and potentially reaching $20 – $50 for uncirculated coins and even more for those in pristine condition.
If you suspect that you possess a valuable coin, it is advisable to have it professionally appraised, preferably by one of the three largest grading companies, PCGS, NGC, or ANACS, to obtain an accurate evaluation of its worth.
1979 Susan B. Anthony Dollar Coin Value
A Susan B. Anthony dollar coin from 1979 is usually worth only its face value. If your coin is in poor, good, or even uncirculated condition, you can expect to get up to $2 – $3 if you decide to sell it. Only specimens in perfect condition without any signs of usage or damage can reach the price of hundreds and even thousands of dollars.
1979 Susan B. Anthony Dollar Coin Wide Vs. Narrow Rim
If you have a 1979-dollar coin, you either have one with a wide or one with a narrow rim. This refers to the distance of the year from the rim. The wide rim implies that the distance between the two is shorter, while a coin with a narrow rim is one where the year and the rim do not touch. The latter is a rarer and, therefore, a bit more valuable variety.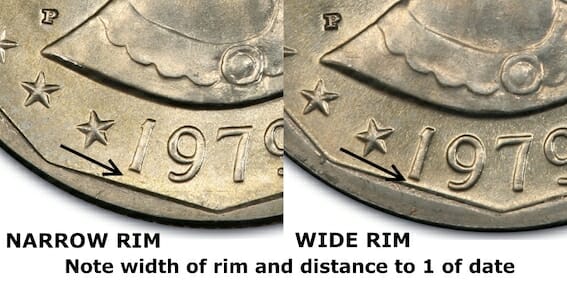 1980 Susan B. Anthony Dollar Coin Value
Despite a significant decrease in the number of dollar coins minted in 1980 compared to the previous year, a substantial quantity still entered circulation. As a result, the value of a dollar coin from 1980 does not differ greatly from that of a dollar coin from 1979.
For a 1980 Susan B. Anthony Dollar that is not in pristine condition, you can expect to receive a selling price ranging from $1 to $20. However, if you are fortunate enough to own a coin that appears as though it just left the mint, you have the potential to sell it for a few hundred dollars.
1981 Susan B. Anthony Dollar Coin Value
Susan B. Anthony dollars from 1981 are the most valuable variety because they were not put into circulation and were struck only for collectors.
The starting price of this version is also just its face value, but if it is in uncirculated condition, it can reach $20 – $50. In case it is in absolutely perfect condition, it can command a premium.
1999 Susan B. Anthony Dollar Coin Value
A dollar from 1999 is now worth only a dollar if it is not special in any other way. If it is in excellent condition or if it has an interesting mint error, it can be worth anywhere between ten and several hundred dollars.
It's worth noting that 1999 was a special year for a dollar coin. It was the year when the US Mint reintroduced the Anthony dollar, and the last year this dollar was minted.
If you can get your hands on a Susan B. Anthony dollar from 1999 in decent condition and for an affordable price, you should probably buy it. It may be worth much more in the future!
Susan B. Anthony Dollar Coin Error List
Their rarity and condition primarily influence the value of coins. Additionally, the presence of potential mint errors can significantly impact a coin's price, as these occurrences are rare and can greatly elevate its value. Let's explore the various errors you may come across on Susan B. Anthony dollars.
Susan B. Anthony Dollar Coin Off-Center Error
The off-center error happens when the planchet is not aligned with the dies properly. As a result, only a part of the coin is engraved, while the rest remains flat. This is one of the most interesting mint errors and one that is very easy to spot. It can raise the price of your Anthony dollar by hundreds of dollars.
Susan B. Anthony Dollar Coin Filled Mint Mark Error
Another relatively common mint error that you can encounter when looking at Anthony dollars is the filled mint mark. You are most likely to find it in coins struck in Philadelphia, but you can also see this error in some of the Denver and San Francisco coins.
Susan B. Anthony Dollar Coin Clipped Planchet Error
A clipped planchet is an error that happens during the minting process. It implies, as the name says that the part of the planchet was clipped, resulting in an interesting appearance of a coin.
Due to its rarity and collectability, a Susan B. Anthony dollar with a clipped planchet error typically carries a starting price of around $100, which can escalate even further based on the specific characteristics and demand among collectors.
Susan B. Anthony Dollar In Popular Culture
Susan B. Anthony is internationally recognized for her achievements in social activism. Apart from Donal Trump pardoning her so-called crime in 2020, there have been several references to this amazing woman in popular culture.
Ocean's 13
Steven Soderbergh's classic Ocean's 13 cast mentions "doing Susan B. Anthony" on several occasions. Supposedly, this means not knowing the value of something, referring to the similarity between an Anthony dollar and a Washington quarter, leading to people often mistaking one for the other.
The People Speak
This documentary from 2009 depicts prominent and important figures in US history, including Susan B. Anthony.
That 70s Show
In season 4, episode 8 of the iconic sitcom, one of the main characters, Red, says "Susan B. damn Anthony", addressing his friend's girlfriend, Joanne. However, it is not entirely clear why.
SNL Susan B. Anthony Skit
Saturday Night Live made an amusing skit in 2017. Five women summoned a ghost of Susan B. Anthony (Kate McKinnon) after touring her house.
The Future of Dollar Coins in the United States
Even decades after the Susan B. Anthony dollar coin was first minted, the US is still not enthusiastic about dollar coins. This is why the US Mint doesn't produce them for circulation anymore, only as collectibles.
Therefore, the future of a dollar coin is uncertain. It would be good to excite the general public to use dollar coins rather than bills as it would save the country a lot of money, but it doesn't seem like the excitement will begin anytime soon.
Related: The Sally Ride Quarter Value, Design, Mintage & Error List
Conclusion
Susan B. Anthony dollar is one of the most hated coins in the history of the US. While there are some theories that the hate comes from the fact that Susan was the first woman to be featured on a US coin, it is also true that US citizens don't like dollar coins. Consequently, the US Mint makes them only as collectibles nowadays.
If you are lucky to have one or more Susan B. Anthony dollars in your collection, you can get anywhere between a dollar and thousands of dollars for one, depending on the condition, rarity, and potential mint errors.
This dollar coin is an important piece of US history, so if you don't have one in your collection, consider buying it. There is a chance it will be worth much more in the future because it definitely made a lasting impact.
We hope you enjoyed reading about this awesome woman and her part in the US numismatics.
Sources & References