In 1964, to contain metal expenses, the production of silver dollar coins was halted until 1970. However, 1969 marked a drastic shift. With the passing of the esteemed President Dwight D. Eisenhower and Apollo XI's monumental moon landing, it was determined that a commemorative silver dollar coin series should be launched. Thus, the 1971 silver dollar was minted, honoring both Eisenhower and the historic lunar landing. Today, these coins can fetch anywhere from $8.25 to a staggering $6,250.
Captivated? Coin enthusiasts will relish delving deeper into the history, value, errors, and mintage of the 1971 silver dollar. Continue reading to uncover more about this exceptional coin.
1971 Silver Dollar – Composition & Design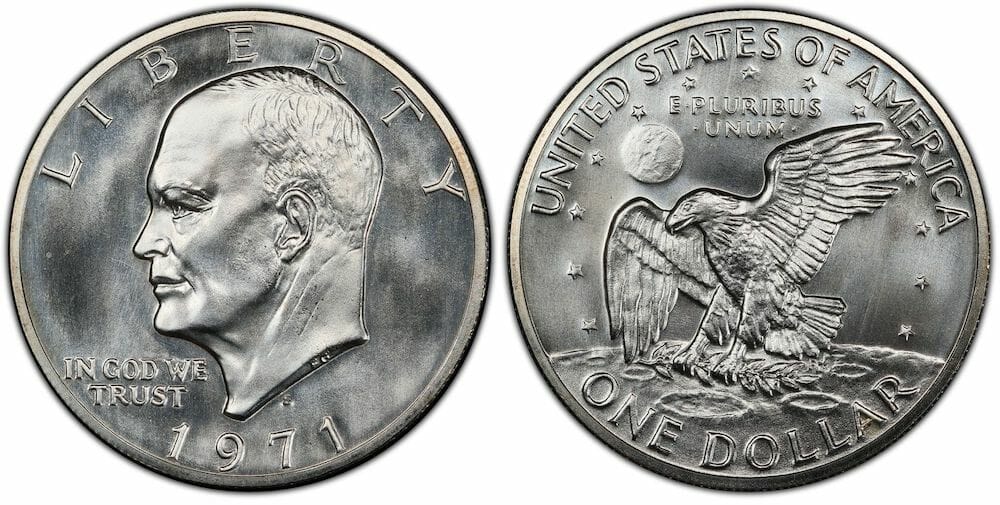 The 1971 Eisenhower dollar produced in San Francisco contains real silver, making it a relatively high value precious coin. It displays President Eisenhower's bust on the obverse side and the American eagle on the moon.
Related: The Morgan Silver Dollar: The Story of America's Most Iconic Coin
The 1971 Silver Dollar: Obverse and Reverse Sides
The 1971 silver dollar was designed by Frank Gasparro, the chief sculptor and engraver of the US Mint. This remembrance coin pays tribute to President Eisenhower on the obverse side – and to man's first step on the moon on the reverse side.
1971 Silver Dollar: Obverse Side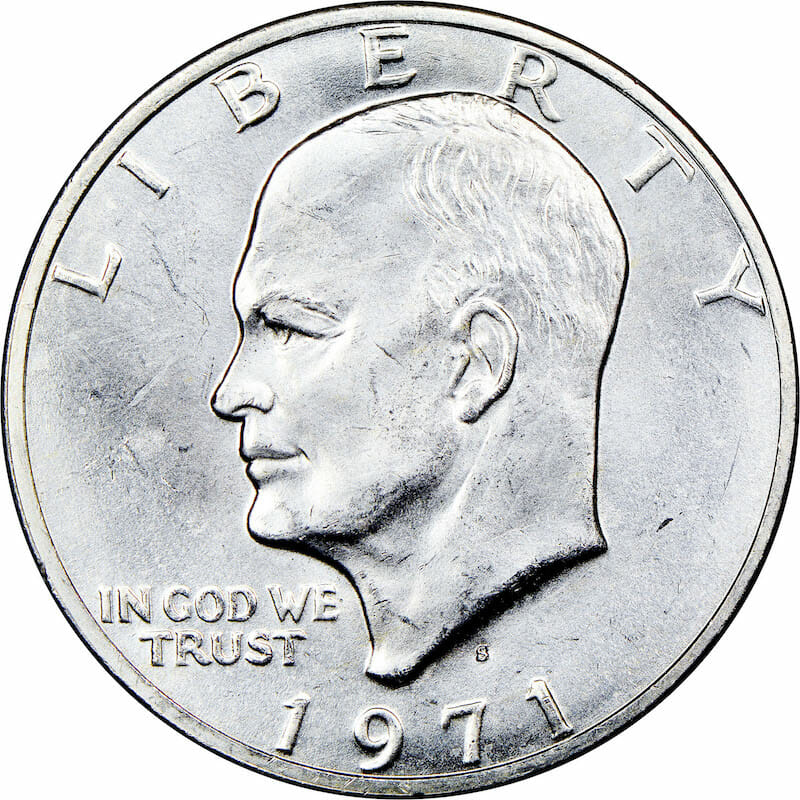 The 1971 dollar prominently features a left-facing side profile of the late President Dwight David "Ike" Eisenhower on its obverse side. The word "LIBERTY" gracefully arcs along the top edge, while the year 1971 is inscribed at the bottom. Nestled between the year and the right side of Eisenhower's collar is the letter 'S', denoting its mint origin: San Francisco.
1971 Silver Dollar: Reverse Side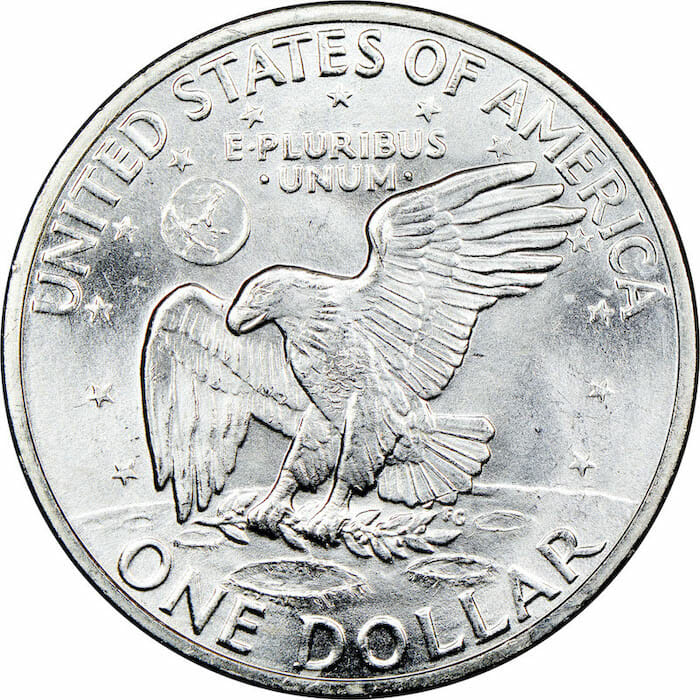 The 1971 silver dollar's reverse showcases an American eagle, distinct from the standard presidential seal, poised for a lunar landing amidst moon craters. The left-facing eagle, with wings, outstretched, clutches an olive branch in its talons. To the left of the eagle's gaze, the Earth can be seen in the backdrop, symbolizing Apollo 11's historic journey where Neil Armstrong and Edwin Aldrin became the first humans to walk on the moon.
Between the eagle's tail and the terminal leaf of the olive branch, the discreet initials "FG" are engraved, honoring the designer, Frank Gasparro.
An elegant arc of 13 stars surrounds the eagle, representing the USA's original 13 states. Above the eagle's head and between the stars, the phrase "E PLURIBUS UNUM" spans two lines, punctuated with a dot on either side of "UNUM".
The coin's perimeter reads "UNITED STATES OF AMERICA" at the top, with its value, "ONE DOLLAR", inscribed along the bottom edge.
Related: The 1921 Silver Dollar Value, Rarity, History And Errors
1971 Silver Dollar: Composition
The 1971 silver dollar contains silver and copper. This composition was used in silver halves between 1965 and 1970. But these dollars were only minted in San Francisco. Coins from Denver and Philadelphia mints used a cheaper copper-nickel-clad copper.
Is a 1971 Silver Dollar Real Silver?
Yes, a 1971 silver dollar contains real silver, not just some cheap shiny electroplating. The average silver content percentage used in these coins' inner core and outer layers is 40%, while copper balances the rest. That's what makes them so special.
What Is the Silver Content of a 1971 Eisenhower Dollar?
The outer layers of the 1971 Eisenhower dollar have 80% silver and 20% copper. These are bonded to the inner core containing 21% silver and 79% copper. Thus, the silver content in the overall mix of the two is about 40%, and the remaining 60% is copper.
Is There a 90% Silver Eisenhower Dollar?
Yes, there's a 90% silver Eisenhower dollar. The iconic coin is the 1990 Eisenhower commemorative silver dollar, released to celebrate Eisenhower's 100th birth anniversary. The first batch of Ike silver dollar coins produced in 1971 were 40% silver.
Related: 1971 Half Dollar Value – Mint, Errors And Worth
What Makes a 1971 Silver Dollar Rare?
The 1971 silver dollar stands out as a rarity for several compelling reasons:
It marked the return of silver dollar coinage after a five-year hiatus.
These coins were the inaugural commemorative series celebrating both the late President Eisenhower and humanity's maiden moon landing.
Compared to other 1971 Ike dollar coins, a significantly smaller quantity of these contained silver.
Only the ones minted in San Francisco boasted genuine silver, a tradition that ceased after this five-year span.
Their aesthetic appeal, especially in proof coins, drew collectors worldwide.
The proof coins distinguished themselves with unmatched luster and intricate design details, making them a prime catch for enthusiasts.
Their rarity was further compounded as collectors hoarded them, recognizing both their intrinsic beauty and precious metal content.
A select few in circulation bear minting anomalies, boosting their allure and market value.
Among them, uncirculated coins, particularly those near-perfect proof ones, are the crown jewels of 1971 silver dollars.
In essence, their scarcity, historical significance, and sheer beauty, combined with their intrinsic value, position these coins as treasures in the numismatic world, with some variants being even more sought-after.
1971 Silver Dollar Value
The 1971 silver dollar coins are appraised between $8.25 and $6,250, largely depending on their grade, condition, and circulation. Notably, their auction values can soar even higher; one exceptional coin fetched an astounding $264,000!
In 1971, Eisenhower dollar coins were also produced in Denver (with the 'D' mint mark) and Philadelphia (lacking any mint mark). However, unlike their San Francisco counterparts, these lacked silver. Denver-minted coins are valued between $1.05 and $2,350, while those from Philadelphia range from $1.05 to $5,000.
1971 Silver Dollar Value Chart
The 1971 silver dollar coins can be divided into two broad categories: proof and mint state. Their values depend on the grade, condition, and finish. Let's look at the values of both proof and mint state coins.
1971-S Silver Dollar Value – Mint State (Source: NGC)
| | |
| --- | --- |
| Coin Grade | Price ($) |
| PrAg | 8.25 |
| G | 8.25 |
| VG | 8.25 |
| F | 8.25 |
| VF | 8.25 |
| XF | 8.25 |
| XF+ | 8.25 |
| 50 | 8.75 |
| 50+ | 8.75 |
| 53 | 8.75 |
| 53+ | 8.75 |
| 55 | 9 |
| 55+ | 9.25 |
| 58 | 9.25 |
| 58+ | 9.50 |
| 60 | 10 |
| 61 | 12.50 |
| 62 | 15 |
| 63 | 17.50 |
| 64 | 20 |
| 65 | 25 |
| 66 | 40 |
| 67 | 300 |
| 67+ | 2,600 |
| 68 | 6,250 |
1971-S Silver Dollar Value – Proof (Source: NGC)
Coin Grade
Price ($)
PF
PF CA
PF UC
60
10
11
–
60+
10.50
–
–
61
11
12.50
–
61+
11.50
–
–
62
12.50
15
–
62+
13.50
–
–
63
15
17.50
–
63+
16
–
–
64
17.50
20
20
64+
18.50
–
–
65
20
22.50
22.50
65+
21
–
–
66
22.50
25
25
66+
23.50
–
–
67
25
27.50
27.50
67+
26
–
–
68
27.50
30
35
68+
30
–
–
69
35
40
40
1971 Eisenhower Uncirculated Silver Dollar
The 1971 uncirculated Eisenhower dollars encompass both mint state and proof coins. The proof variants are priced between $10.50 and $30, while the mint state versions hover from $8.50 to $9.50. Notably, the immaculate MS67+ coin stands out with a valuation of $2,600.
In a fascinating twist, another batch of uncirculated silver dollars existed from 1971. These were experimental coins struck in Philadelphia in January of that year. Although these coins were ultimately destroyed, the initial prototype set, which remains intact, was minted in San Francisco.
Related: 1979 Susan B Anthony Dollar Value, History And Error List
How Much Is the 1971 Proof Eisenhower Dollar Worth?
The real value of the 1971 silver dollar coins, including the coins, has been realized at auctions. Let's look at the record prices realized by the 1971 proof Eisenhower dollar coins –
Speaking of 1971 silver dollars auction prices, you can't ignore the two highest-rated prototype coins. Both were SP67-grade coins sold for a whopping $102,000 and $264,000. As for the regular strike coins, the record price realized was $6,900.
1971 Silver Dollar Mintage
After the first samples of the 1971 memorial coins were struck at Philadelphia and then destroyed, San Francisco produced 4,265,234 proof coins, with exceptional glimmer on the surface and mind-blowing attention to details of the designs on both sides of the coins.
In addition, 6,868,530 mint state Ike coins made of silver were also produced at the same mint. Prototype coins were also produced, and it's assumed that there were 2 of these special coins with a faded lunar surface and the designer's initials, FG, on the obverse side.
1971 Silver Dollar Error List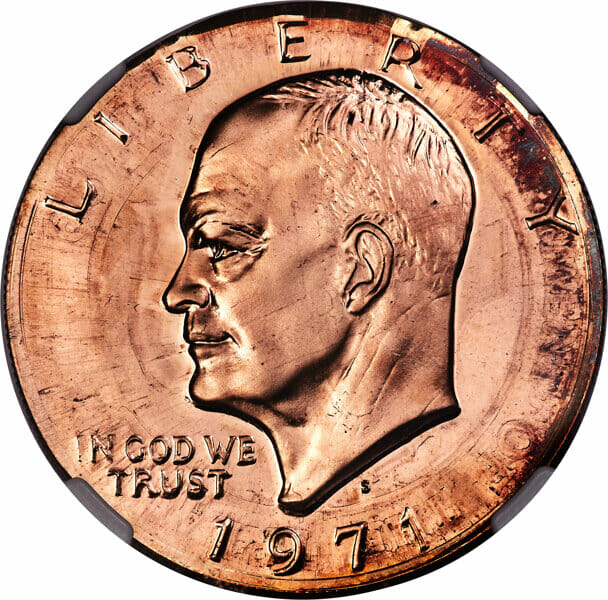 Some of the most valued 1971 silver Ike dollar coins are those with minting errors. Let's look at the types of errors you may find on these silver coins and their auction price ranges.
| | | |
| --- | --- | --- |
| Error | Description | Auction Price |
| Double Die Obverse | Obverse face design duplication | $9–$6462.50 |
| Double Die Obverse, Low Relief Reverse | Obverse face design duplication, shallow design on the reverse side | $6,756 – $9,400 |
| Double Die Reverse | Obverse face design duplication | $3,600–$18,000 |
| Peg Leg | Struck on the wrong planchet made of 75% copper and 25% nickel | $35–$540 |
| Questionable Color | Strange color and tints on the surface instead of shiny silver | $25–$108Golden hint – $448 |
| 1971-S/S | Repunched mint mark, with a second hint of the letter S | $34–$8,812.50 |
| Struck on Liberia Dollar Planchet | Made using the wrong planchet that's lighter and thinner | $8700 |
| Overstruck on Assay Office Medal | Wrong planchet and color | $40,800 |
| Struck on Thin Planchet | The expanded diameter of the coin due to striking without a ring | $84 |
| Curved Clip | Cut planchet, causing a change in the shape | $184–$2,880 |
| Obverse Struck Thru | Mark on the obverse surface showing the presence of objects during striking | $62 |
| Reverse Struck Thru | Mark on the reverse surface showing the presence of objects during striking | $117.50–$159 |
| Broadstruck | The second strike of hammer rotated by 15 degrees, causing double images | $3,840 |
| Indented Strike Obverse | Discernible indentation on the obverse surface | $135.12 |
| Double Struck Obverse | The design moved away from the center on the obverse surface | $4312.50 |
| Struck Off Center | The design moved away from the center on both strikes on the obverse face | $5,040–$9,000 |
| Double Struck, Both Sides Off Center | Eisenhower's cheek was not fully struck | $10,219.20 |
| Incomplete Strike | Eisenhower's cheek not fully struck | $299 |
The 1971 Silver Dollar FAQs
Is a 1971 dollar no mint mark worth it?
Yes, the 1971 dollar with no mint mark can be worth a small fortune, depending on the grade, state, circulation, and error. Minted in Philadelphia, these coins cost between $1.05 and $5,000. At auctions, the value recovered by these coins is $2–$9,987.50.
How can I tell if my 1971 dollar is silver?
You can tell if your 1971 dollar is silver by looking at the mint mark. If it says S, it is likely a silver coin, as San Francisco only produced silver dollar coins in 1971. Also, check the coin's edge to see if it is solid silver in color and not copper to ensure you're investing in the right coin.
What is the error on the 1971 S Ike dollar?
Many 1971-S Ike dollar coins have minting errors. These include double die, double struck and off center, struck thru, wrong planchet, questionable toning, and more. The most expensive error coin was overstruck on an Assay Office Medal, which realized $40,800!
Does a 1971 D Eisenhower dollar have silver?
No, the 1971-D Eisenhower dollar, produced in Denver, does not have silver content. It is a copper-nickel clad metal coin with 95% copper and 5% zinc. The only dollar coins produced in 1971 with silver content were the Eisenhower $1 coins from San Francisco.
How much is a 1972 silver dollar worth today?
The mint state 1972 silver coins are valued at $8.50-$3,000, and the proof coins at $10-$80. However, the record prices realized at auctions are $5,750 for an MS coin and $4,715 for a proof coin. The highest-priced error coin was sold for $4,600 for having a detached silver-clad layer.
Conclusion
For coin aficionados, the 1971 silver dollar is a prime pick. However, ensure you acquire the genuine silver variant, not the less valuable editions from Philadelphia or Denver. If you're feeling indulgent, keep an eye out for error coins, proof editions, and rare prototypes.
Sources & References