The 1982 penny is part of the series featuring the Lincoln Memorial on the reverse side, which first appeared in 1959, replacing the 'wheat stalk penny.' The 1982 coin, however, deviates from previous Lincoln pennies due to a change in the composition of the coin.
By 1982, the price of producing a copper penny increased above the value of a cent. Because of this, the U.S. Mint began producing zinc pennies with copper plating at the order of President Ronald Reagan.
The 1982 Penny – Composition & Design
The design of the 1982 Lincoln penny will be recognizable to collectors, following the long-withstanding designs of Victor David Brenner and Frank Gasparro. Brenner's bust of Lincoln, visible on the obverse side, has been present since 1909 on pennies, while Gasparro introduced the reverse design in 1959.
The Obverse Side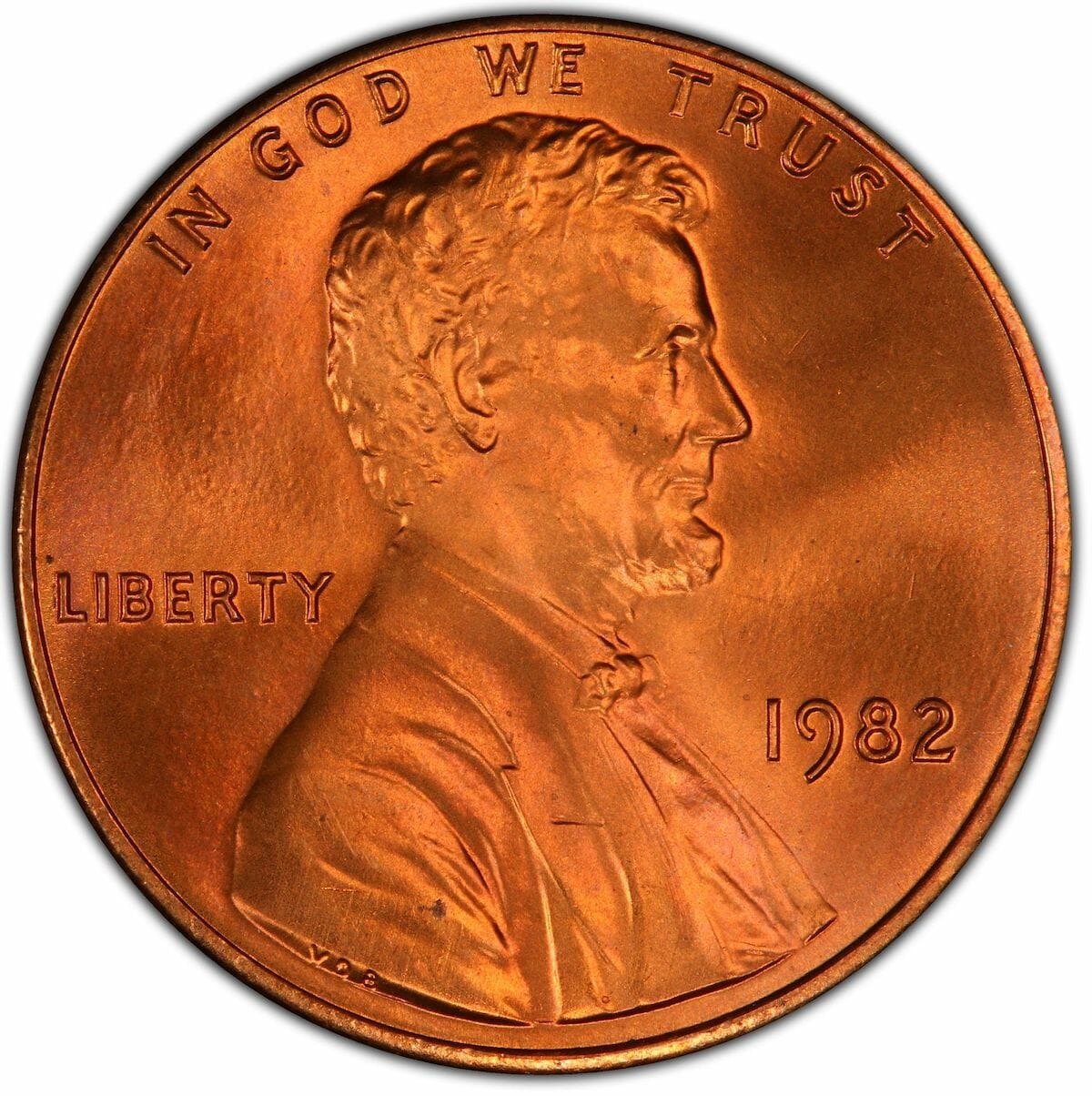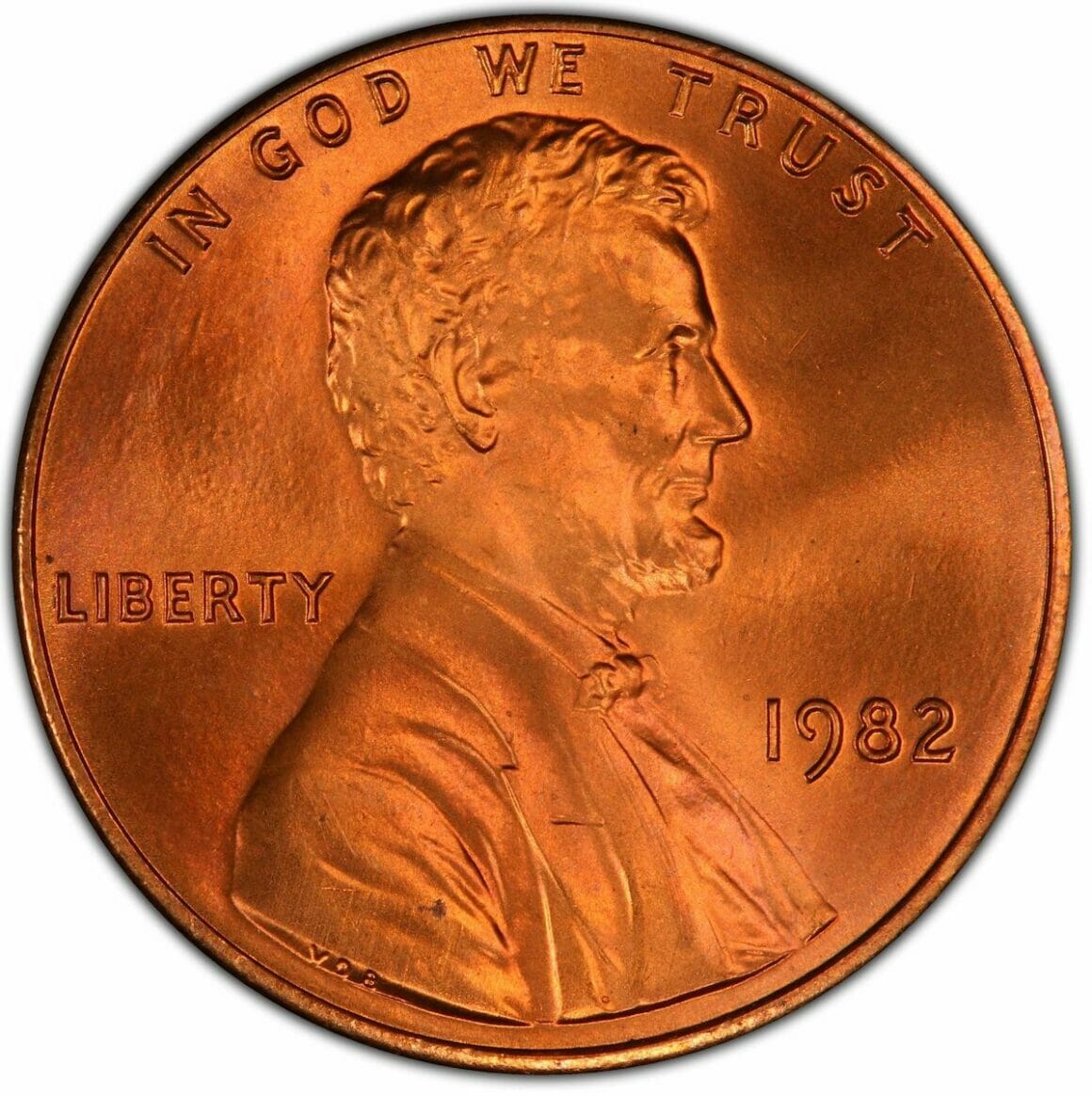 On its obverse side is the bust of the sixteenth president of the United States, Abraham Lincoln, designed in the early 20th century by Victor David Brenner. The portrait of Lincoln is right-facing, and above him, the official motto of the United States, 'IN GOD WE TRUST', is inscribed. To the left of the bust, 'LIBERTY' is imprinted, while the minting year and mark are lower on the right.
1982 penny small date vs large date
1982 pennies can be divided by 'small date' and 'large date' minting marks. The small date can be identified by all numbers in the date aligning perfectly at the top, while the large date pennies feature '9' and '8' sitting higher than the '1' and '2'.
The Reverse Side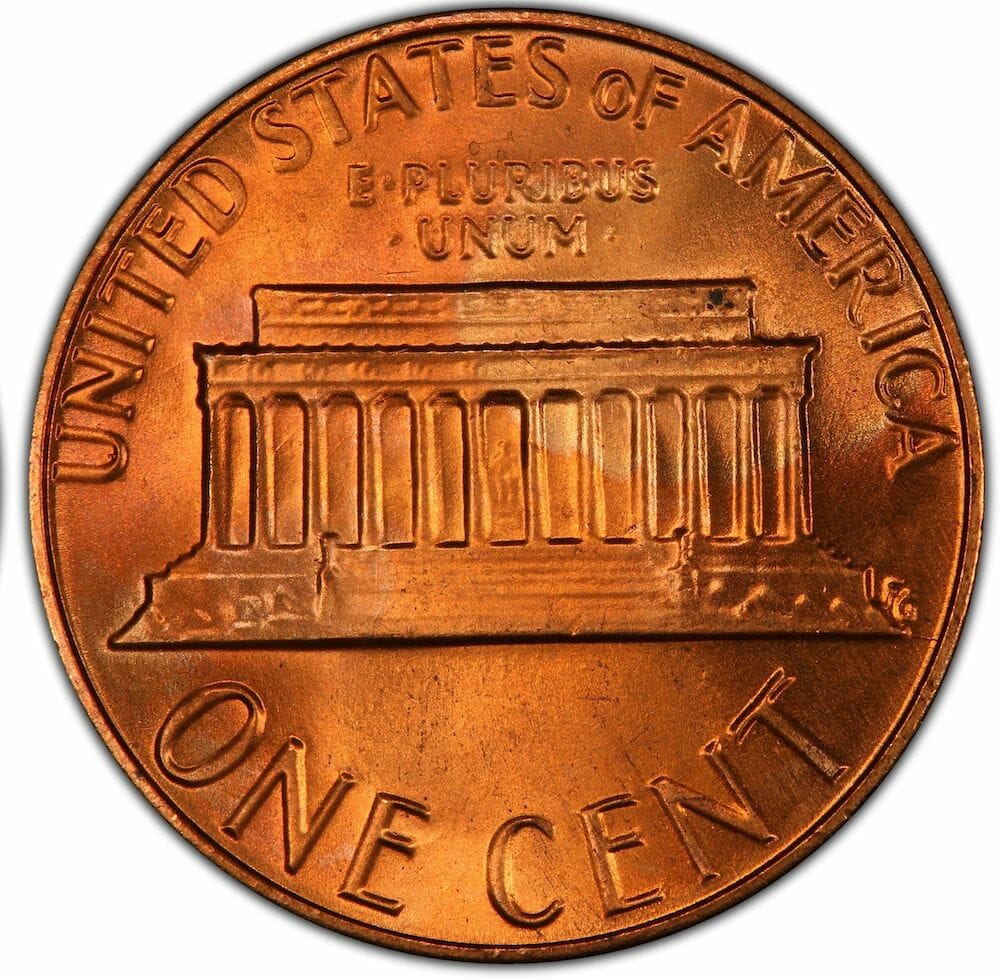 The central image on the reverse of this coin is the Lincoln Memorial Hall. Visible inside, if observed closely, is a figure representing the colossal statue of Abraham Lincoln, which sits within the real Lincoln Memorial Hall. This design was introduced in 1959 by designer Frank Gasparro, replacing the 'wheat stalk' penny.
Encircling this detailed image, 'UNITED STATES oF AMERICA' is written. Directly above the image, 'E PLURIBUS UNUM' is embossed, further alluding to the United States Motto. Below the image of the Lincoln Memorial Hall, in larger script, reads the denomination, 'ONE CENT.'
Related: Pennies Worth Money – A Comprehensive Guide
The 1982 Dimensions And Composition
How much does a 1982 penny weigh?
The 1982 penny has a consistent diameter of 19 millimeters and a thickness of 1.55 millimeters, although its weight can vary based on its alloy composition. There are two primary types of 1982 pennies: the 'copper penny,' made of 99.2% copper and 0.8% brass, weighs 3.11 grams; the 'zinc penny,' composed of 95% zinc and 5% tin and copper, has a lighter weight of just 2.5 grams.
It's worth noting that the weight may decrease slightly over time due to wear, but the date size on the coin does not affect its weight.
1982 silver penny
Contrary to its name, the 1982 'silver penny' is not actually made of silver; its color is due to its zinc composition. Silver-looking pennies minted from 1982 onward are usually the result of manufacturing errors leading to incomplete plating.
Other silver-colored versions may exist, but these are typically the result of scientific experiments or novelty treatments and are not part of the coin's original specifications.
Related: The 1980 Penny Value
The 1982 Penny Value
The value of a 1982 Lincoln penny can range from as low as $0.04 to over $10,000 for rare error coins, making it a coin of particular interest to collectors. Factors influencing its value include condition, mint marks, and unique errors.
Here's a breakdown of the various quality grades for 1982 Lincoln pennies:
Proof pennies from San Francisco bear an 'S' mint mark and were never intended for public circulation. These coins usually exhibit a soft sheen or glow and may have minimal, barely noticeable marks.
Uncirculated 1982 pennies should also be in pristine condition, whether made from copper or zinc. While they may have minor imperfections due to mishandling, they should never have been used in commercial transactions after leaving the mint.
Pennies that have been in circulation are categorized into three grades: extra fine, fine, and good.
Extra Fine: These coins remain in superb condition even after entering circulation. They might retain some of their original luster, and the depiction of Abraham Lincoln on the obverse side should appear smooth and free of wear.
Fine: These pennies will show signs of wear from being circulated, but the imprints on both sides should still be crisp and easily distinguishable, with only minor age-related damage considered acceptable.
Good: These are well-worn coins that have changed hands frequently. While collectors haven't preserved them, their imprints are still present but likely faded, making the details appear flat. The wear and tear are natural consequences of age and usage, which unfortunately diminish their value.
By understanding these different quality grades, collectors can more accurately assess the value of their 1982 Lincoln pennies.
1982 penny value chart
| | | | | |
| --- | --- | --- | --- | --- |
| Mint Mark | Good | Fine | Extra Fine | Uncirculated |
| 1982 copper penny – large date, no mint mark | Approx. 0.04 USD | Approx. 0.04 USD | Approx. 0.50 USD | Approx. 0.80 USD |
| 1982 copper penny – small date, no mint mark | Approx. 0.04 USD | Approx. 0.04 USD | Approx. 0.50 USD | Approx. 1.50 USD |
| 1982 'D' copper penny, large date | Approx. 0.04 USD | Approx. 0.04 USD | Approx. 0.40 USD | Approx. 0.80 USD |
| 1982 zinc penny, large date, no mint mark | Approx. 0.04 USD | Approx. 0.04 USD | Approx. 0.30 USD | Approx. 0.35 USD |
| 1982 zinc penny, small date, no mint mark | Approx. 0.04 USD | Approx. 0.04 USD | Approx. 0.30 USD | Approx. 0.50 USD |
| 1982 'D' zinc penny, large date | Approx. 0.04 USD | Approx. 0.04 USD | Approx. 0.10 USD | Approx. 0.30 USD |
| 1982 'D' zinc penny, small date | Approx. 0.04 USD | Approx. 0.04 USD | Approx. 0.10 USD | Approx. 0.20 USD |
| 1982 'S' proof copper penny | / | / | / | At least 2 USD |
Source: USA Coin Book & GreySheet
1982 Penny Mintage And Associated Value
Early in 1982, the Philadelphia Mint released over 10 billion zinc Lincoln pennies. Pennies produced in Philadelphia do not have a mint mark. The 1982 penny with no mint mark costs approximately 0.80 USD with a small date and 0.30 USD with a large date.
'D' pennies, struck at the Denver mint, feature the smaller date on the right of the obverse side. Approximately 6 billion of these were struck, consisting of both the copper and zinc types.
Pennies produced in San Francisco feature the 'S' mint mark, of which around 3 million were produced in 1982, as well as proof copies. The pennies struck in San Francisco are the rarest form of the 1982 penny, but they still exist in relatively large numbers.
The large number of 1982 pennies struck resulted in low market value despite the various versions produced during the year.
How much is a 1982 D penny worth?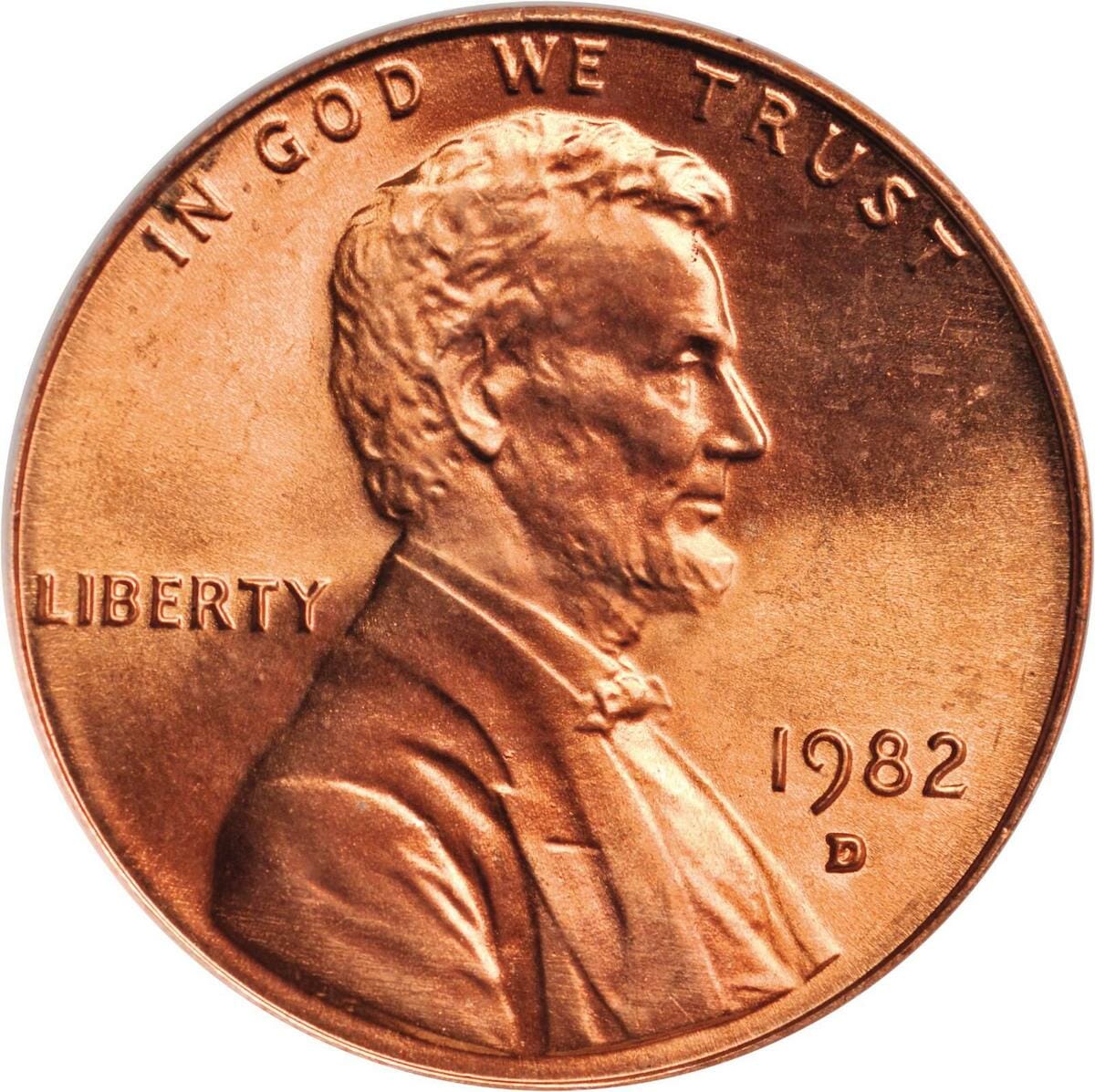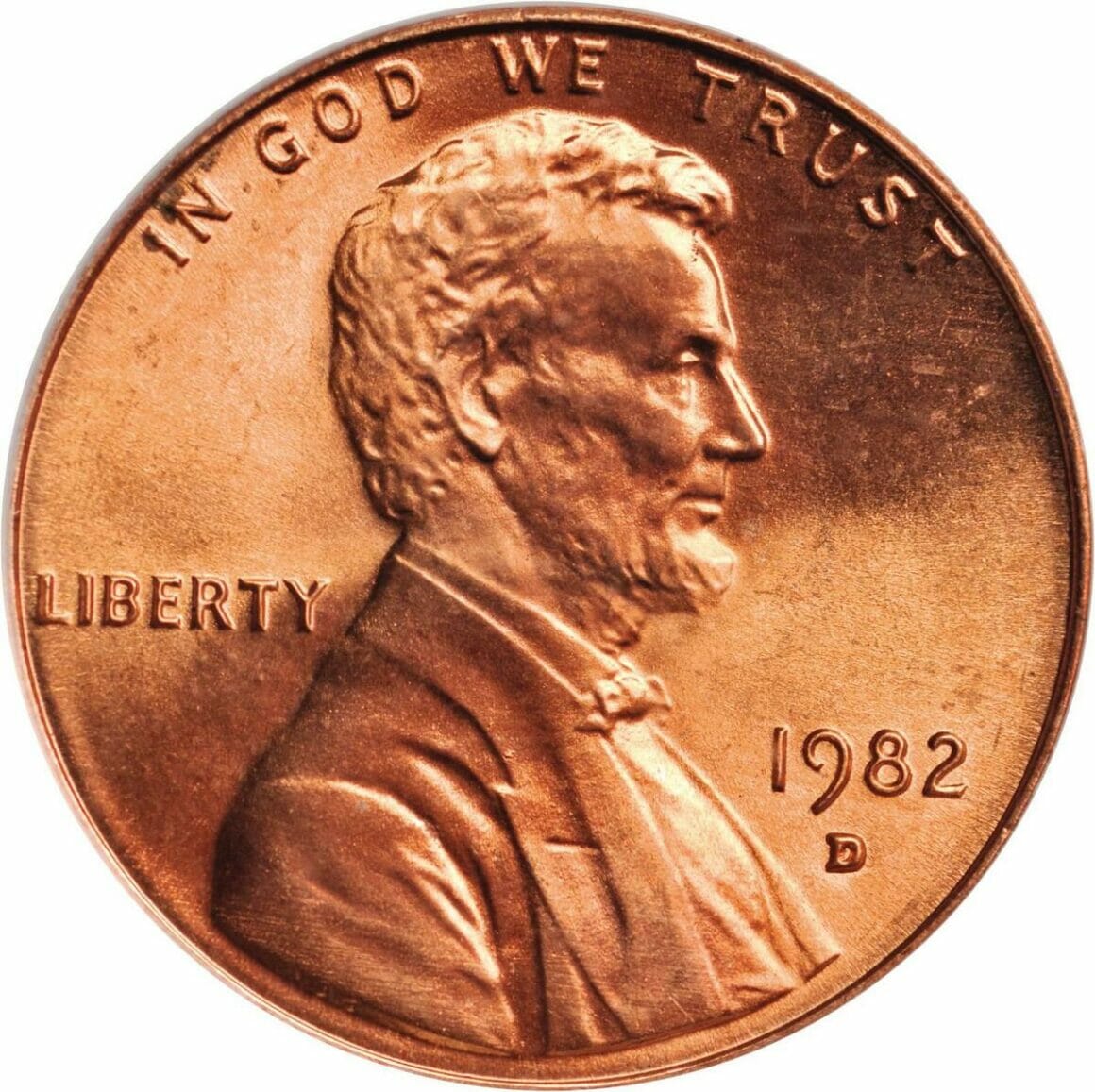 The 1982 D penny is worth at least 0.04 USD, with prices increasing if the coin is uncirculated. The price will also vary depending on the metal and year mark size.
The 1982 D penny with a small date on the obverse side, if it is in mint state, is worth approximately 0.20 USD, a low price reflecting the commonality of the coin.
1982 penny worth $10,000
A few extremely rare 1982 pennies have been worth over $10,000. These copper coins are 'D' stamped with a small date, and they should weigh 3.11 grams. They are considered rare because they are 'transitional error coins,' produced using copper in a year when most were composed largely of zinc.
Could a 1982 penny be worth $35,000?
An exceptionally rare 1982 penny, mistakenly minted in bronze instead of the standard zinc-coated steel, could fetch up to $35,000. With only a limited number in existence, these pennies are highly sought after by collectors.
1982 Lincoln Penny Error List
In addition to the subtle differences between proof and circulation coins, several types of error coins are considerably rarer and more valuable.
1982 Double D Mark Error
Some 1982 pennies from the Denver mint may exhibit a 'double D mark,' where a faint secondary D was overlaid to enhance the design. This uncommon error can elevate the coin's value to around $7.
1982 Penny Doubled Die Error
Another error to look for is the 'Doubled Die,' caused by misalignment during the hubbing process. A 1982 penny featuring this anomaly is relatively scarce, and its value starts at $12.
Furthermore, there are specialized versions of the Doubled Die error. A 1982 penny with a doubled-die reverse and a large date is estimated to be worth at least $12. If you come across a 1982 copper penny with a doubled-die reverse and a small date, its value could start at $20 or more.
1982 Lincoln Penny Strike Error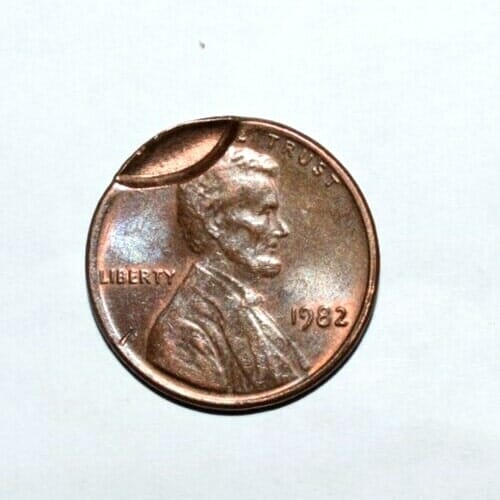 Finally, a handful of 1982 pennies contain a 'strike error,' which occurs when the coin is minted with a foreign object present. These errors are usually visible on Abraham Lincoln's cheek on the obverse side of the coin. Even in the lowest grade, such coins can fetch around $4.
These error types intrigue your 1982 penny collection and can significantly increase its monetary value.
Conclusion
The 1982 Lincoln penny holds a special place in numismatics because it marks the U.S. Mint's shift from copper to zinc coinage, a transition driven by economic changes in mid-20th century America. This change led to an array of 1982 penny variants, each of particular interest to collectors.
While most 1982 Lincoln pennies are valued at less than $1, some variations can be worth significantly more. These are graded and priced based on factors such as mint marks, date sizes, and other subtle details. If you own any 1982 pennies, it's worthwhile to examine them closely to determine whether you possess any of the more valuable variants.
Sources & References