In their initial years, 3D printers were not only bulky but costly too, thus restricting their ownership to business owners and specialists. But things have changed, with several options available to serve home crafters, hobbyists, and DIYers specifically.
These 3D printers not only weigh way less but fit everyone's pocket as well. For example, today, you can quickly bring home an excellent 3D printer for merely $500 or even less.
But which 3D printer to buy? Which 3D printing technology should you choose?
Continue reading as I review the top six 3D printers under $500. I've also provided a comprehensive 3D printer buying guide to help you make an informed decision.
6 Best 3d Printers under $500 Summary
What Are The Important Features To Look For When Buying A 3D Printer?
While buying a 3D printer, many parameters must be considered, from the chief technology used to what materials it supports.
You don't have to look for them online, as I've compiled each here.
There are many types of 3D printers—for example, Fused Deposition Modeling (FDM), Stereolithography (SLA), etc.
It's worth knowing that you need not dive deeper into all the available types, as most of them are designed for specific purposes and industries.
If you're looking for easy-to-use or entry-level models, SLA and FDM-based 3D printers are my recommendations.
Related: 8 Best Laser Engraving Machines For Wood in 2023
Supported Printing Materials
The next consideration is the primary printing material. Currently, most 3D printers utilize filaments and resin. Filaments are mostly plastic, and the two sub-categories here are ABS (Acrylonitrile Butadiene Styrene) and PLA (Polylactic Acid).
ABS plastic is highly affordable, readily available, and suitable for printing small and basic objects like toys. On the other hand, PLA is slightly expensive and the best choice for printing food storage and disposable items.
Note: If you're looking for a resin-based 3D printer, the resin is mainly classified based on the grade – Standard, High, and Medical.
Related: Best Laser Engraving Machine: Top 10 Versatile Engravers
In the world of printers, the printing speed can't be overlooked. The standard 3D printing speed is around 50-60mm/s. Although the latest 3D printers can print at speeds as high as 200mm/s, they generally cost more and might not have a noiseless operation. Plus, faster printing often results in manufacturing defects, weaker parts, and lower accuracy.
Note: The printing speed of 3D printers also depends on the material and technology used.
Related: Best 3D Laser Engraving Machine in 2023: An Extensive Guide
The print capacity is also referred to as the build area or the maximum model size the printer can print at once.
Here, you must remember that "bigger" print capacity isn't something you need to emphasize much, especially if you're a home crafter or not using the printer in a professional environment.
You can go for the standard print capacity, print small parts, and later assemble them to finish the models. Some sufficient print capacities for entry-level printers are 220 x 220 x 250 mm, 132 x 80 x 165 mm, etc.
Note: If your work requires the most considerable built volume, go for 400 x 400 x 450 mm, 400 x 400 x 400 mm, and similar.
This is something that reflects in the 3D printer's cost. Some additional and valuable features concerning 3D printers include auto bed leveling (for evenness while printing), auto filament feeder (to feed the filament to the nozzles automatically), and more.
Check out these fantastic 3D printers with unique capabilities, all under $500.
Related: Best 3D Printer For Miniatures – Top 5 Models And Buying Guide
Best Overall 3D Printer Under $500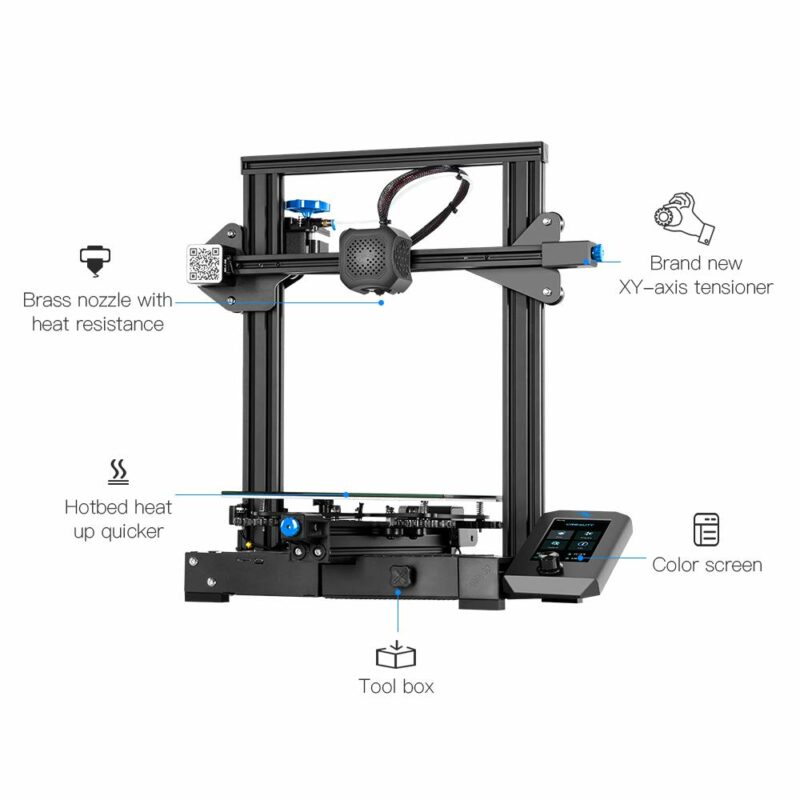 Specifications
Printing Technology:

Fused Filament Fabrication (FFF)

Supported File Formats:

STL

Print Resolution:

100 microns

Dimensions:

18.5″ x 18.7″ x 24.41″

Weight:

17.19 pounds
The first product on the list is this Creality Ender 3 V2, an upgrade of Ender 3 with more cool features, including support for STL files. It is made from tough tempered glass and aluminum and has a sleek finish and compact design.
Thus, storage and portability won't be an issue with the printer. Regarding the motherboard, Ender 3 V2 features Creality's self-developed silent motherboard that operates silently under 50 dB.
The 3D printing technology used is Fused Filament Fabrication (FFF). Thus, the product is suitable for prototyping, rapid manufacturing, etc.
Coming to the power supply, the entire MeanWell power unit comes concealed and is UL certified. This ensures even and quick filament heating and long-time printing without hassles.
Loading and unloading the filament to the printer is also pretty straightforward, as Ender 3 V2 has a rotary knob on the extruder. So, unlike other models, you need not spend too much time feeding the filament.
You get a smart touchscreen on the base with a rotating knob as a controller. From preparing Ender 3 V2 for printing to commanding it to print, the LCD helps you do all these with a single touch. The screen measures 4.3″.
In case there's an unexpected power outage, the "Resume Printing" functionality of the machine comes as a savior. What it does is resume printing from the last recorded extruder position.
Pros
Sleek and open frame design for easy storage and transportation

Decent print accuracy and quality

Multiple file input options
Cons
Check the Official Creality Ender 3's latest prices on Amazon
Best Beginner 3D Printer Under $500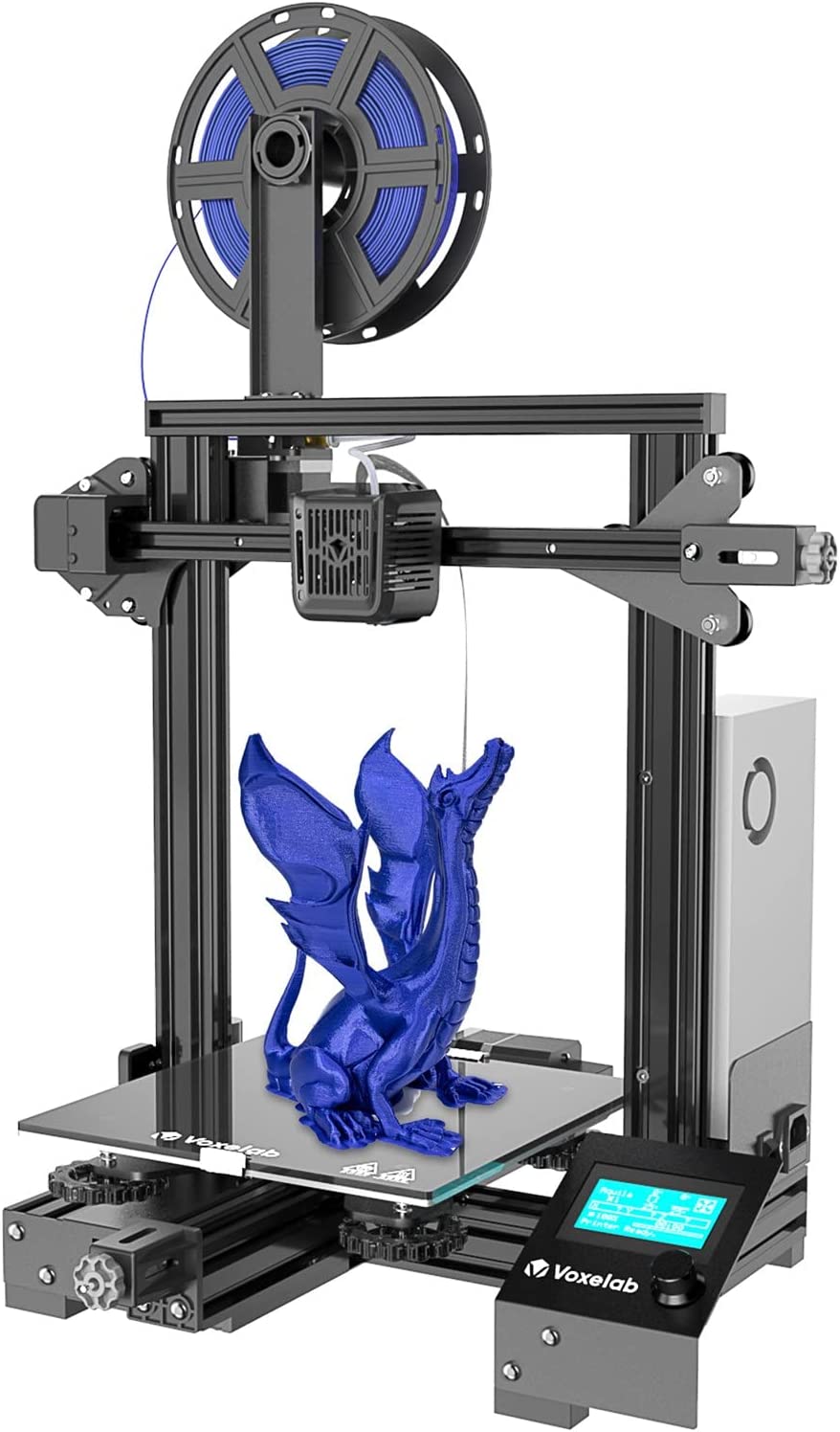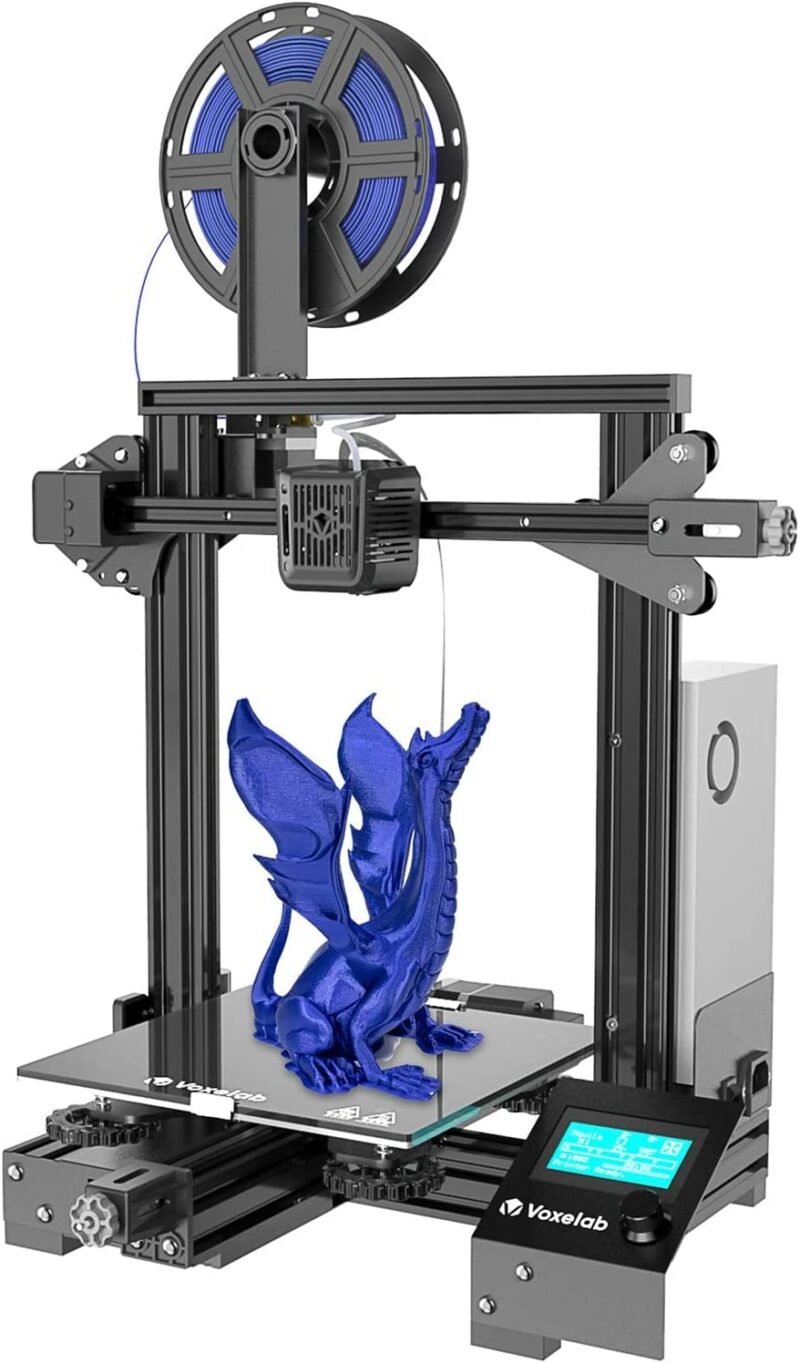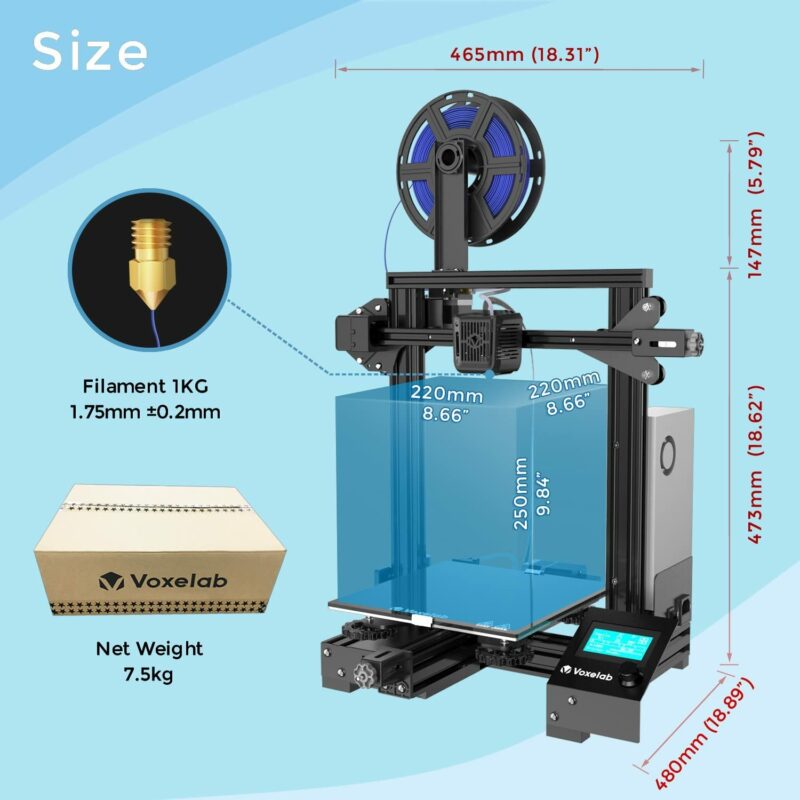 Specifications
Printing Technology:

Fused Filament Fabrication (FDM)

Supported File Formats:

STL, PLA, ABS, PETG

Print Resolution:

200 microns

Dimensions:

18.3″ x 18.89″ x 18.62″

Weight:

16.53 pounds
If you're looking for the best FDM technology 3D printer under $500, this Voxelab Aquila C2 won't disappoint.
Note: Aquila C2 comes in an easy-to-assemble kit with an illustrative user manual.
Besides its noiseless operation, Aquila C2 offers the best-in-class print volume of 220 x 220 x 250 mm with the highest possible accuracy. Hence, no worries about the print quality.
This printer has an "automatic feeding" mechanism to improve the printing success rate. You must insert the filament into the guide wire tube and activate the "Auto Feeding" function. The filament will automatically go to the nozzle.
If you've ever dealt with a 3D printer, you'd agree that the print warping problem is quite annoying. It usually arises due to inconsistent printing temperatures and poor bed adhesion. To tackle this, Aquila C2 houses a Carborundum glass bed platform.
The two main characteristics of this particular bed platform are strong adhesion and uniform heating. It heats to 70°C in 2-3 minutes and ensures the optimal printing temperature is maintained throughout.
Thanks to its "Resume Printing" functionality, the printer will automatically resume printing from the last point before any power failure.
Pros
Auto filament feeding mechanism

Multiple materials and file format support

Resumes printing from the last point in case of power failure
Cons
It doesn't come pre-assembled
Check the Voxelab Aquila C2 FDM's latest prices on Amazon
Best Resin 3D Printer Under $500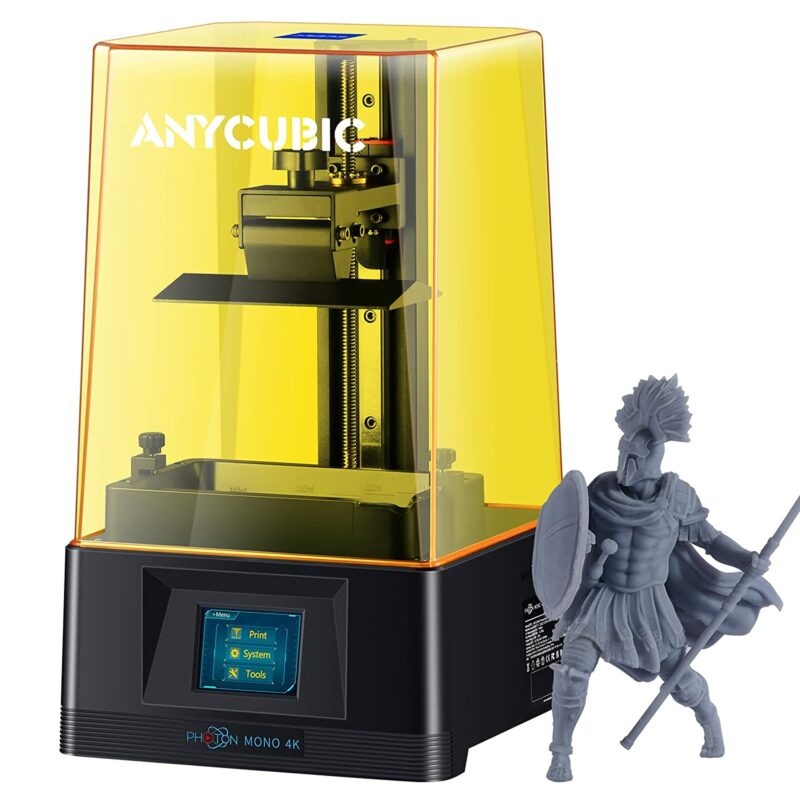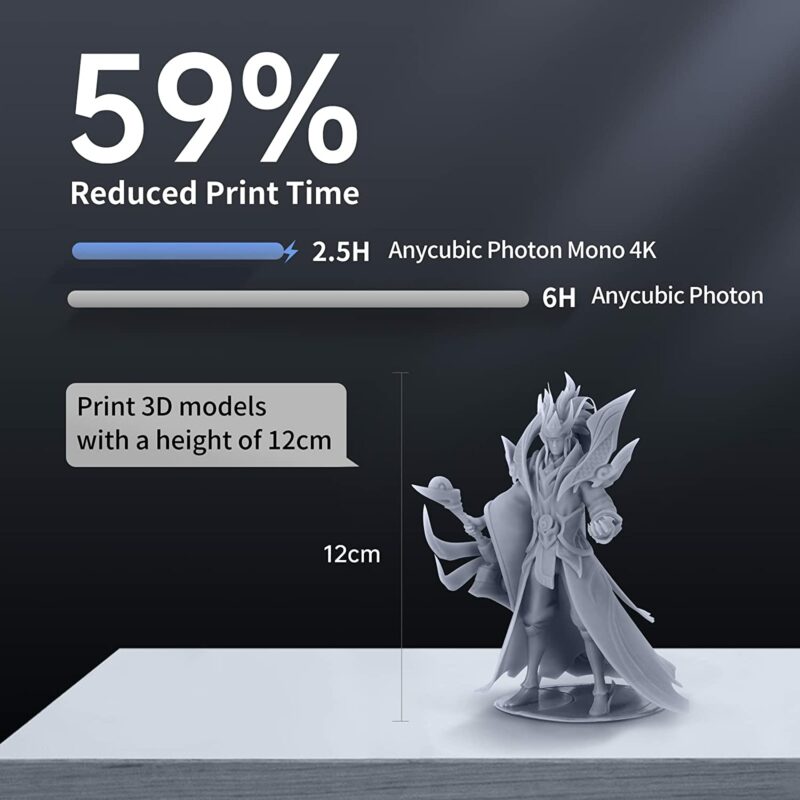 Specifications
Printing Technology:

Masked Stereolithography Apparatus (MSLA)

Supported File Formats:

STL

Print Resolution:

3,840 x 2,400 pixels

Dimensions:

6.49″ x 5.19″ x 3.14″

Weight:

13.42 pounds
Are you looking for a fine printing quality "resin" printer? If so, this Photon Mono 4K Resin 3D Printer from ANYCUBIC is a must-buy.
It's equipped with a massive and 4x stronger 6.3″ LCD screen. However, it's monochrome. Despite its minimal price tag, you get a decently sized build volume of 132 x 165 x 80 mm. Thus, you need not print your 3D models in multiple parts.
Note that Photon Mono 4K is not an open-frame printer, and a yellow transparent top cover covers it. Again, this top cover is tough and blocks 99.95% of the UV lights.
Coming to the printing quality, the printer prints at higher precision levels with finely detailed execution, thanks to the contrast ratio of 350+. And luckily, the speed isn't compromised for quality.
Photon Mono 4K prints at 50mm/h, which is nearly 2.5X what other resin printers offer. As a result, it can print an entire 12″ x 4.7″ model in 2-3 hours. Isn't this amazing?
Pros
Sufficient build volume

Well-defined corners and edges

Uniform resin heating
Cons
No support for multiple file formats
Check the ANYCUBIC Photon Mono 4K's latest prices on Amazon
Fastest 3D Printer Under $500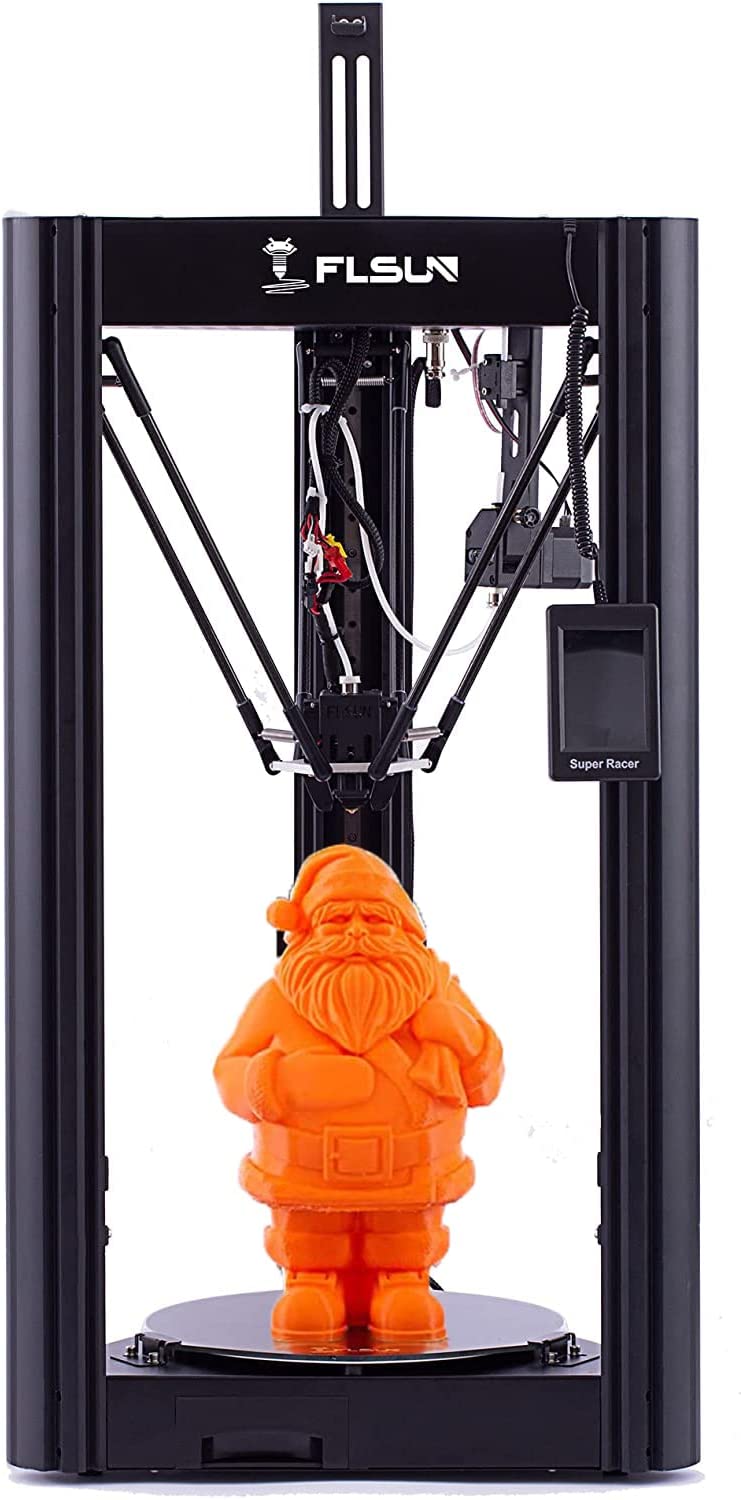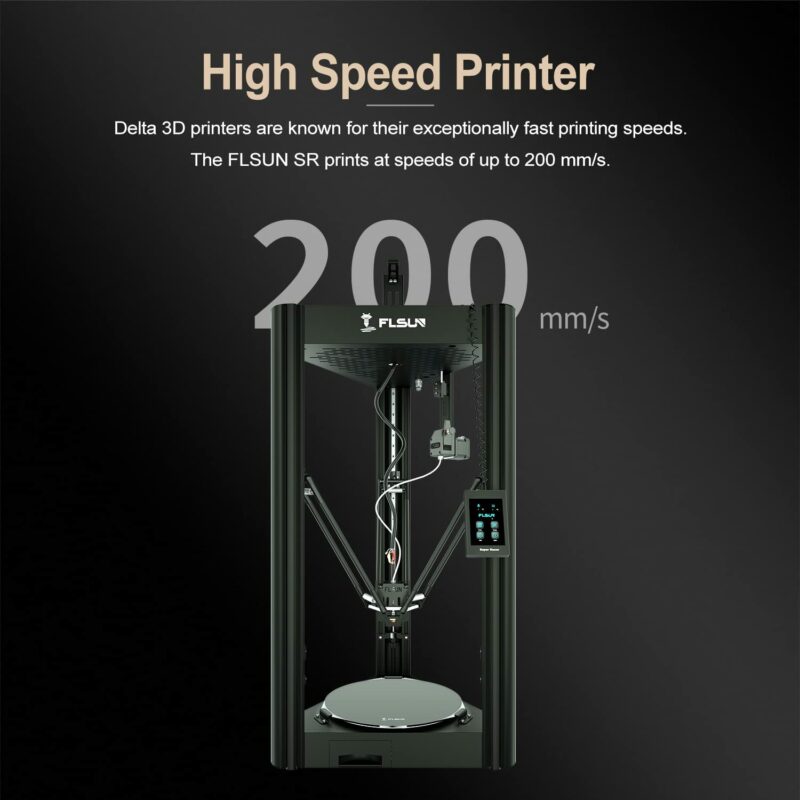 Specifications
Printing Technology:

Fused Filament Fabrication (FDM)

Supported File Formats:

STL, OBJ, AMF

Dimensions:

15″ x 15″ x 35″

Weight:

33 pounds
Who doesn't want to cut the printing time to almost half? If you want the same, invest in any of the fastest 3D printers, for example, this SR Super Racer 3D Printer from FLSUN.
With a high printing speed of 200mm/s and 2800+ mm/s², Super Racer 3D is probably the fastest printer under $500, at $499, to be precise. And the credit goes to the "Three Axis Linkage" technology and three 48W high-power stepper motors.
Besides top speed, you also get a build volume of 260 x 260 x 330 mm. Hence, you can print all medium-sized models in one go rather than in parts.
Don't fret about the noise levels, as the company has ensured minimal noise (up to 50dB) no matter your printing speed. A high-precision linear rail guide system provides smoother motion to print accuracy and model stability.
There's also a 3.5-inch touchscreen UI attached to the printer. It displays all content in more than eight different languages.
Auto leveling helps you quickly start printing without needing to level the bed platform manually. Lastly, the unit comes 90% assembled, and you have to assemble the remaining portion, which won't take more than 20 minutes.
Pros
Rapid printing speed and acceleration

Premium printing quality with more contrast

Noiseless operation
Cons
Check the FLSUN SR Super Racer's latest prices on Amazon's latest prices on Amazon
Best 3D Printer Under $400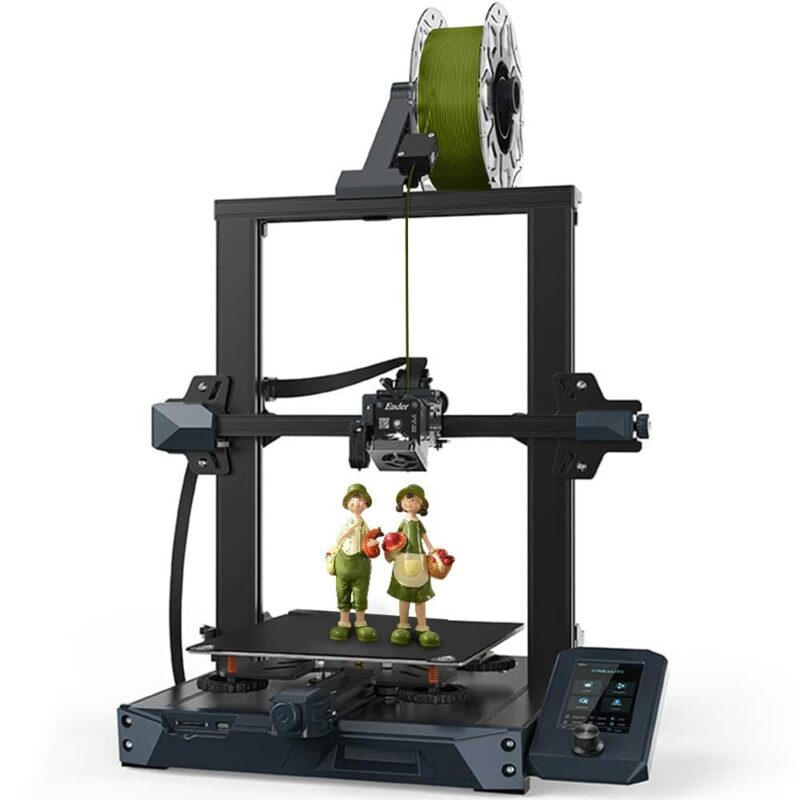 Specifications
Printing Technology:

Fused Filament Fabrication (FDM)

Supported File Formats:

OBJ, STL, AMF

Dimensions:

19.17″ x 17.83″ x 24.49″

Weight:

20 pounds
Another beginner-friendly 3D printer based on FDM technology is the Creality Ender 3 S1.
Designed for high-precision printing in less time, the printer includes a dual-gear direct-drive extruder compatible with various filaments. The extruder also ensures smooth the filaments' loading and unloading.
Since manual bed leveling is both tiresome and time-consuming, Ender 3 S1 has the 16-point automatic bed leveling function. It automatically levels the printing height of different points of the heatbed, ensuring evenness at every point.
The build volume measures 220 x 220 x 270 mm, ensuring single-part printing for most objects.
Like other 3D printers, the product (96%) comes pre-assembled, and you must follow the installation guide to complete the setup. The labeled bolts and screws are also there for assistance.
In terms of durability and maintenance, both are pretty good and cheap, respectively.
When 3D printing, most printers often leave lines and ridges on the sides of the print. But thanks to Ender 3 S1's Z-axis dual-screw and dual-motor design, rest assured of perfect prints with maximum accuracy.
Last, you need not monitor your filament's condition, like its runout or breakage. There's a dedicated sensor to handle that.
Pros
Complimentary test filament for your first model

High-precision 3D printing without lines and ridges

Decent printing speed at 150 mm/s
Cons
Check the Official Creality Ender 3 S1's latest prices on Amazon
Best 3D Printer Under $300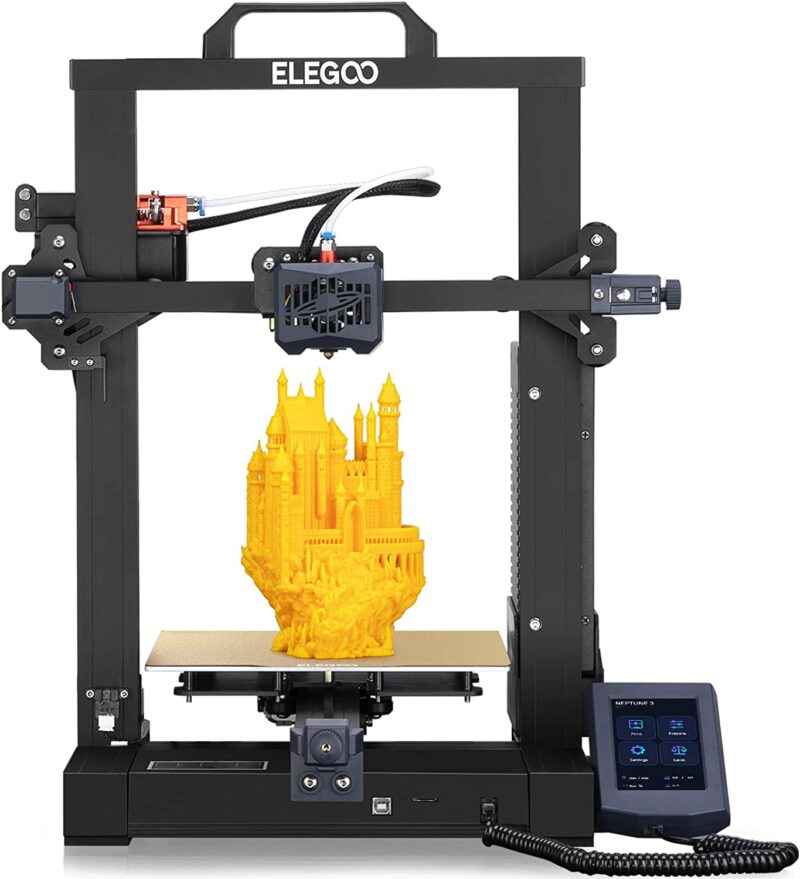 Specifications
Printing Technology:

Fused Filament Fabrication (FDM)

Supported File Formats:

STL

Dimensions:

24″ x 20″ x 10″

Weight:

22 pounds
Another open-frame 3D printer, the ELEGOO Neptune 3 is a worthy investment if you're trying your hands at 3D printing for the first time.
Besides a 16-point RSG leveling system, the printing head also houses a strain gauge pressure sensor. This sensor measures the height between the printing nozzle and the platform. In case of unevenness or variations, the sensor automatically calibrates the nozzle for the same.
Talking the platform, it's the PEI magnetic platform with a spring steel sheet. Its adhesion is excellent and prevents your 3D model from falling off. You need to bend the sheet to take your model off when ready.
If you're worried about the operational noise, don't fret, as the printer's noise levels are under 50 dB.
Whether 3D printing small models or larger objects, you won't face any issues, courtesy of the 220 x 220 x 280 mm (larger than Neptune 2) build volume that's the best-in-class for the price you'd pay.
But how do I operate the printer? There's a 4.3″ colorful multilingual intuitive touchscreen for you. And it's removable as well. Hence, you can detach it from the printer's base and operate it freely.
Pros
Bigger printing build volume

Sleek and robust metal construction

Supports multiple file formats
Cons
The spool arm is difficult to install
Check the ELEGOO Neptune 3's latest prices on Amazon
What Are The Disadvantages Of 3D Printing?
Here are the most common disadvantages of 3D printing.
Due to restricted build size, anything larger must be printed in parts and joined later

High printing costs

Harmful

chemical emissions

High energy consumption due to the complex internal mechanism

Slow printing speed
Note: There are various reasons why 3D printing is slow.
Frequently Asked Questions (FAQs)
How Much Is A 3D Printer For Home Use?
Ans: You can own a 3D printer for home use for as little as $200! Check the above models and pick yours.
What Exactly Can You Make With A 3D Printer?
Ans: The short answer is "almost anything." A 3D printer can easily make the following:
Maquettes

Prosthetics

Medical products

Consumer products, for example, footwear, furniture, eyewear

Artworks
As I said, this list doesn't end. The more savvy and advanced the 3D printer, the more realistic the things that can be made out of it, including buildings, automobiles, aircraft, bones, etc.
Is It Expensive To Do 3D Printing?
Ans: 3D printing can be cheap or expensive depending on the material, model complexity, and 3D printer used. If your model requires a high-end 3D printer due to the high complexity of the model, the cost will be on the higher side and vice-versa.
How Long Does It Take To 3D Print Something?
Ans: Several factors influence the time to 3D print something. For example, the 3D printing technology used and the size, nature, and complexity of the model/project.
On average, 3D printing can conclude in as little as 30 minutes. Or in 12 hours, 24 hours, or even some days.
What 3D Printer Should I Buy As A Beginner?
Ans: Beginners should buy an FDM (Fused Deposition Modeling) printer. Such printers are easier to use as they feed a filament (reels of plastic) into a hot nozzle, which extrudes layer-by-layer to form a solid model.
What Are The Different Types Of 3D Printers?
Ans: The different types of 3D printers based on the technology they use include:
Fused Deposition Modeling (FDM)

Multi Jet Fusion (MJF)

Direct Metal Laser Sintering (DMLS)

Selective Laser Sintering (SLS)

Stereolithography (SLA)

Digital Light Processing (DLP)

Masked Stereolithography (MSLA)
Conclusion
There you go, peeps. That's everything you need to know about the best printers for 3D printing or "additive manufacturing." Today, 3D printing has vast applications across every sector, from medicine to manufacturing, aviation to architecture, etc.
But 3D printing is also an excellent upgrade for home crafters and DIYers. With the best printer, you can 3D print anything you can think of, including your miniature.