Buying a laser engraver for your woodworking project can be overwhelming. That's especially true when there are so many machines to choose from.
First, there are different types of laser engravers, each of which produces a different result. What's more concerning is that not all of them are suited for engraving wood. So you could end up with the wrong machine.
In this article, I list the eight best laser engraving machines for wood that are currently available for you. Each engraver is reviewed in greater detail so you can make an informed buying decision.
Go through the list, and I'm sure you'll find the laser engraving machine of your choice.
Related: Best Engraving Machine for Jewelry: Top 6 Choices in 2023
Can a Laser Engraver Engrave Wood?
Yes, a laser engraver can engrave wood and do it with ease. Of all the options available like a chisel, Dremel, and Cricut Maker, laser engravers arguably produce the best results at a faster pace.
But ultimately, the result would depend on the type of laser engraver and wood you employ. There are three main types of laser engravers available to choose from. These are:
Also known as gas lasers, the CO2 lasers use carbon dioxide gas to generate laser beams. When electricity is passed through the gas, it emits laser light with a wavelength of 10,000 nanometers.
This wavelength is best suited for working with non-metallic surfaces like leather, wood, and plastics.
Related: Best 3D Printer Under $500 – 6 Models to Consider in 2023
Fiber lasers are the most powerful lasers, producing wavelengths of 1064 nanometers. The machines have a minimal focal point and can have an intensity 100 times higher than CO2 lasers.
While fiber laser machines are popular, they're not best suited for wood engraving. They're designed for engraving objects with harder surfaces like metals.
As the name suggests, UV lasers emit ultraviolet light from 10 nm to 400 nm. The wavelength is much shorter and doesn't produce much heat. Hence, processing with UV lasers is also called cold processing.
These lasers are just as good as CO2 lasers for engraving materials like wood and are best suited for marking and can even micro-marking.
So if you're asking, "What laser can engrave wood?" the answer is all lasers, but CO2 laser engravers are the best options.
Besides the above ones, another type of laser engraver is gaining popularity. And that's diode lasers. These are smaller in size and are less expensive. Thus, many laser engravers designed for home use are adopting diode lasers.
The next factor to consider is the type of wood. While you can laser engrave on just about any wood species, the result will not be the same. To select the best wood block for your project, inspect the following:
Streaking

– A streak is a dark stain on the wooden surface with different mineral content. While the streaks look good on wood, they aren't suitable for engraving. Therefore, you need to select wood with minimal streaking.

Resin/sap content

– The wood should ideally have higher

resin

or sap content. Those with higher resin content will produce a darker burn, while wood logs with lower resin will produce a lighter cut.

Tone

– The wood logs should have a lighter tone because they produce a darker burn mark. It's much harder to etch the design pattern on darker wood and achieve similar results.
Some wood species that meet these criteria are alder, cherry, basswood, hard maple, and balsa. I always prefer these wood logs for engraving to others.
Related: How to Engrave Rocks or Stones?
How Much Does a Wood Engraving Machine Cost?
A wood engraving machine's cost varies from $150 to $1,000. It depends on the laser type, optical power, portability, and popularity, among other things. But $300 to $400 is ideal for a wood engraving machine for home use.
With that said, here are the eight best-recommended laser engraving machines you should consider:
5500mW Engraver CNC 3018 Pro Engraving Machine
Best Overall Engraving Machines For Wood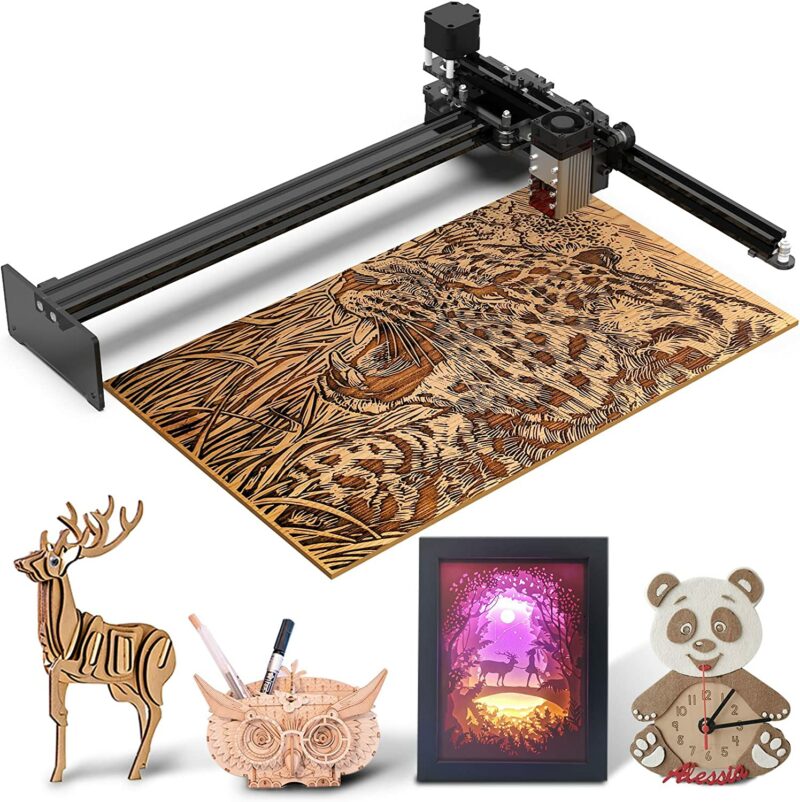 Brand – NEJE

Laser type – UV

Optical Power – 5.5-7.5W

Wavelength – 440 nm

Working Area – 255 x 420mm

Warranty – 2 Years
This powerful yet reasonably-priced machine ticks all the boxes of a reliable laser engraver for wood. It has sufficient optical power, a large working area, an ultra-fine focus, and is easy to operate.
The N40630 delivers laser beams in both pulse and continuous mode. The pulsed beams are delivered at 5.5 W, while continuous beams are delivered at 7.5W. This capability allows the machine to easily engrave various patterns on a wide range of surfaces.
With an ultra-fine focus of 0.08mm, it produces some of the finest engraving works I've ever seen. But the trick is to get the settings right.
The working area of 225 X 420 mm (10X16.5 ") is large enough to accommodate more significant plywood pieces.
This laser machine is easy to set up and use right away. It comes primarily pre-assembled, and you just have to position a few things here and there. You can have it ready for engraving wood within ten minutes. Even on the software side, it comes pre-loaded with all the necessary applications.
NEJE Software is the default software, which works quite well. Simply open the app, load the design, set the engraving tip, and let the engraver do its job. Safety red glasses are included to cover your eyes and block damaging rays.
You can unlock its capabilities by using commercial software like Lightburn. And yes, the N40630 is compatible with it.
All in all, it's probably the only laser engraving and cutting tool you'll need for years.
Pros
Comes mostly pre-assembled

Large engraving area

Can both engrave and cut wood and other materials

Excellent quality hardware
Cons
It takes up lots of space

The learning curve involved with software
Check the NEJE 3 Plus N40630's latest prices on Amazon
Best Beginner Engraving Machines For Wood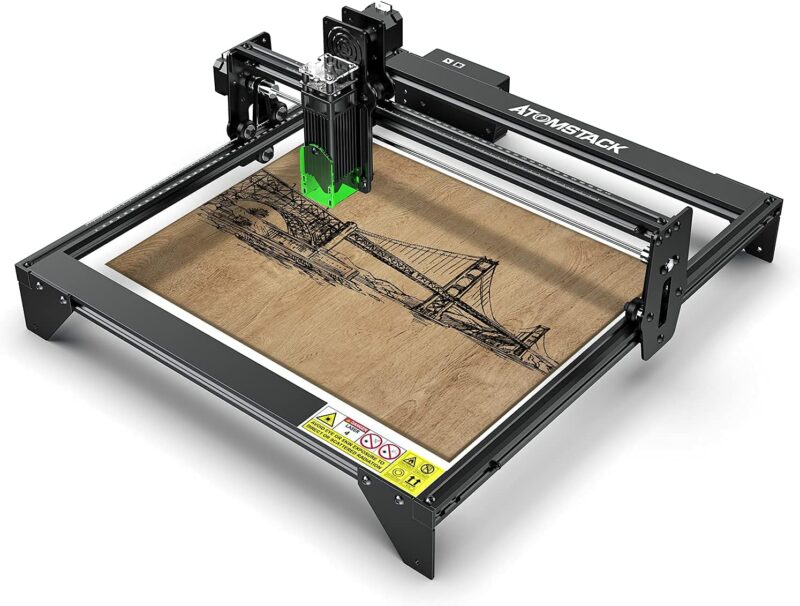 Brand – ATOMSTACK

Laser type – UV

Optical Power – 4.5-5w

Wavelength – 445 ± 5nm

Working Area – 410 x 400mm

Warranty – 2 Years
A5 is an entry-level product from ATOMSTACK, a reputed company producing laser engravers for DIYers. Packed with all the necessary features and a low price point, it's an excellent machine for wood engraving.
The 20-watts laser engraver with an optical power output of 4.5 w isn't threatening but is powerful enough to etch wood cleanly.
What I like the most about the A5 is the fixed-focus feature. This means you no longer have to spend time adjusting the focus before engraving. The machine adjusts to the surface autonomously. Another beginner-friendly feature is the precise scale lines axis. With scale lines on X-axis and Y-axis, there's no guesswork necessary. This means a more accurate design.
Regarding accuracy, the focal spot of A5 is 50% smaller (at 0.01) than a typical laser engraver.
The A5 comes 90% assembled and set up. The rest will take no more than 10 minutes. It has an eye protection cover that blocks radiation. So you can see and supervise the engraving process without hurting your eyes.
Other powerful models are available, like the A5 Pro and A5 M50. But the A5 20W is a good starting point.
Pros
Beginner-friendly

Large engraving area

High precision with auto fixed-focus for better accuracy

Affordable
Cons
It takes longer to produce deep cuts

The learning curve involved with software
Check the ATOMSTACK's latest prices on Amazon
Best Premium Engraving Machines For Wood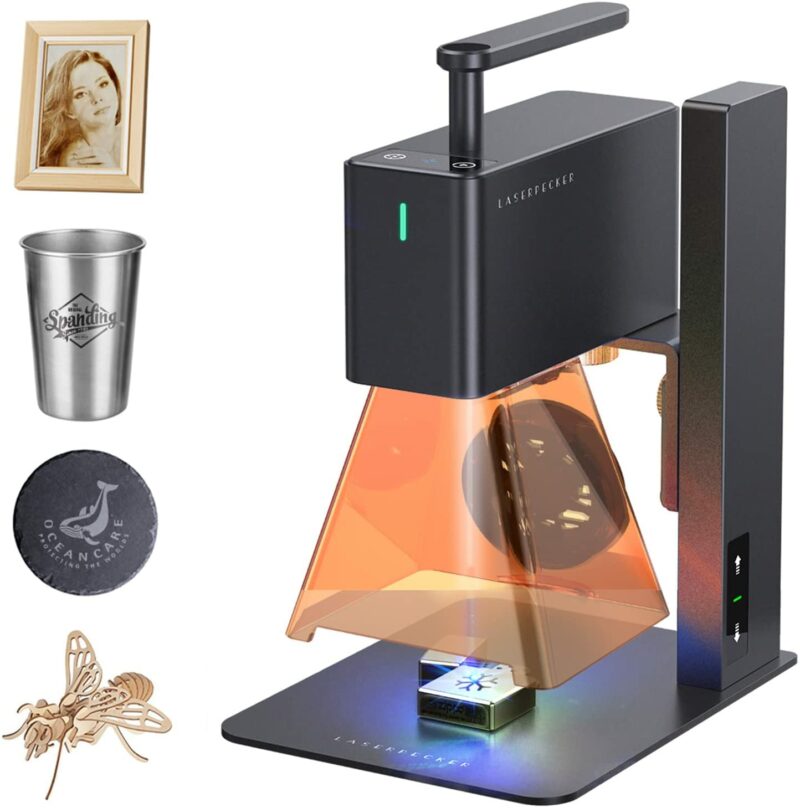 Brand – LaserPecker

Laser type – Diode

Optical Power – 5w

Wavelength – 450 nm

Working Area – 101 x 101 mm

Warranty – 1 Year
The LaserPecker 2 resulted from a Kickstarter campaign that garnered tremendous interest from the arts and crafts community. And when it came out, the product was an instant hit.
Categorized as a premium laser engraver, the LaserPecker 2 can easily outcompete other machines with speed. Equipped with the innovative galvo technology, it engraves at a rate of 36,000 mm per minute. Also, the graphic preview speed of this machine is 225000 mm per minute.
Thus, it can cut the engraving time in half.
Along with speed, the LaserPecker 2 is superbly accurate. It has a compression spot of 0.05 X 0.05 mm, which is lower than most engravers. Also, you can control resolution and set it to 2K for breathtaking results.
Although there are several detachable parts, the assembly is not complicated. 10 mins is all you need to get started. You can even use the engraver as a handheld device and engrave vertically.
Last but not least, the LaserPecker 2 has loads of safety features. Blue light filters and safety goggles are the essential items included. Also, it has been programmed to stop functioning when there's a tilt or overheating. Thus, it prevents accidental damages that may occur from operating such a powerful engraver.
The LaserPecker 2 is arguably the best in the premium category.
Pros
Powerful and fast engraving/cutting

Detachable and portable

Engrave in 2K resolution

Can preview your work before engraving
Cons
Requires careful handling and storage

Smaller working area
Check the LaserPecker 2's latest prices on Amazon
Best Engraving Machine for Wood and Metal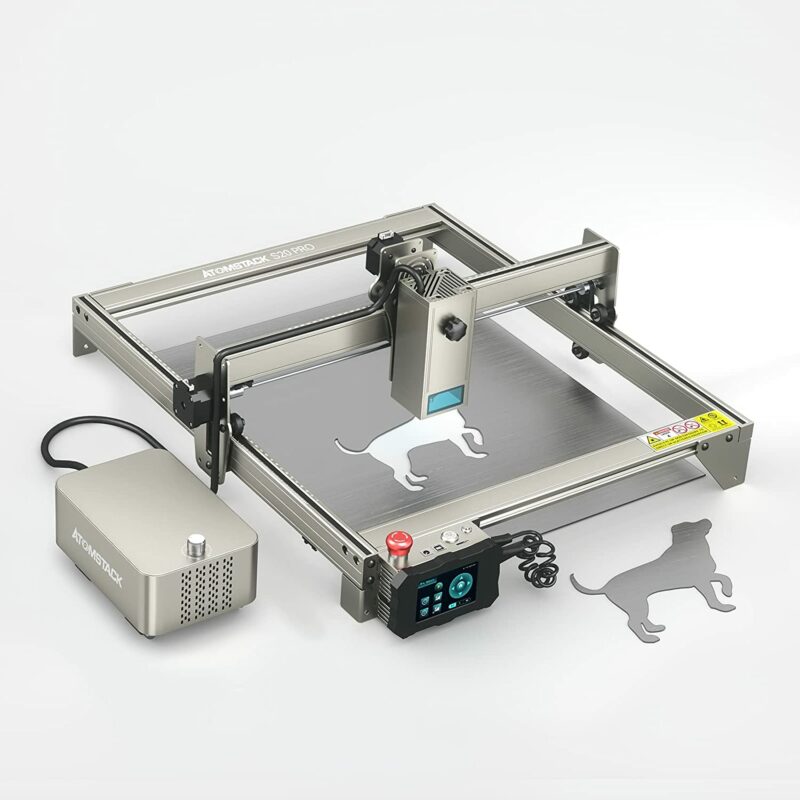 Brand – ATOMSTACK

Laser type – Diode

Optical Power – 20W

Wavelength – 450-460 nm

Working Area – 400 x 400 mm

Warranty – 1 Year
If you constantly find yourself engraving wood and metal surfaces, the S20 Pro from ATOMSTACK can serve both purposes. There's no limit as to what this potent laser engraver can do.
It is equipped with four 6W laser coupling technology, delivering beams with power over 20W. Thus, it can engrave or cut any metal surface. Users claim it can cut through a 15 mm thick tung board in one go.
For engraving, the S20 Pro is equipped with a 32-bit motherboard that works in conjunction with a built-in 256-bit color scale and 0.08 X 0.1 mm focal spot laser to deliver the finest results. With this machine, the engraving patterns on any surface will have more contrast, depth, and color clarity.
The machine is designed to work longer hours. It has an air-assist kit that removes smoke and dust and prevents overheating.
Another impressive feature of the S20 is offline engraving. Thus, the engraving process doesn't stop when the computer connection goes off.
It has a sturdy metallic design and will probably last a decade if cared for properly. So the S20 might be the only laser engraver you'll ever buy.
Pros
Powerful laser beams

Highly accurate design patterns

Sturdy metallic design

Large working area
Cons
Power needs to be controlled to avoid damage

Bulky
Check the ATOMSTACK S20 PRO's latest prices on Amazon
Best Mini Engraving Machine For Wood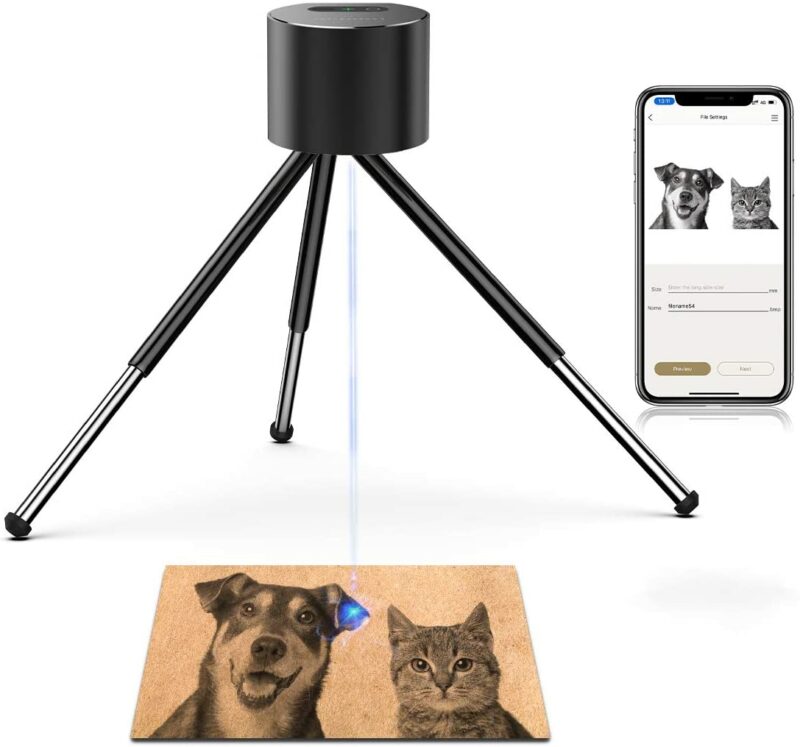 Brand – LaserPecker

Laser type – UV

Optical Power – 1.6W

Wavelength – 450 nm

Working Area – 101 X 101 mm

Warranty – 1 Year
The LaserPecker 1 is a cute little laser engraver that can easily fit into your palm. Powered by a power bank (included in the pack), it's arguably the most portable laser engraver in the marketplace.
It's a basic laser engraver that can help engraver several objects like leather wallets, wood signs, and edible items like lemons and oranges. Simply mount the engraver to the stand, connect to the power bank, select the design on the app and start engraving anytime, anywhere.
You can engrave without the stand too. Hold the machine with the laser facing the surface to begin engraving.
Along with being small, the laser engraver is very safe. It has multiple safety features like overheating shutdown, tilt warning alerts, password protection, etc.
It's perfect for entry-level creators. Or if you're looking to gift someone who loves etching and personalizing objects, the LaserPecker 1 is a great choice.
Pros
Highly portable

Intuitive and easy to use

It has multiple in-built safety features

Can engrave vertically
Cons
It can't work on advanced engraving projects

May sustain damage due to accidental fall
The LaserPecker 1's latest prices on Amazon
Best 3D laser Engraving Machine For Wood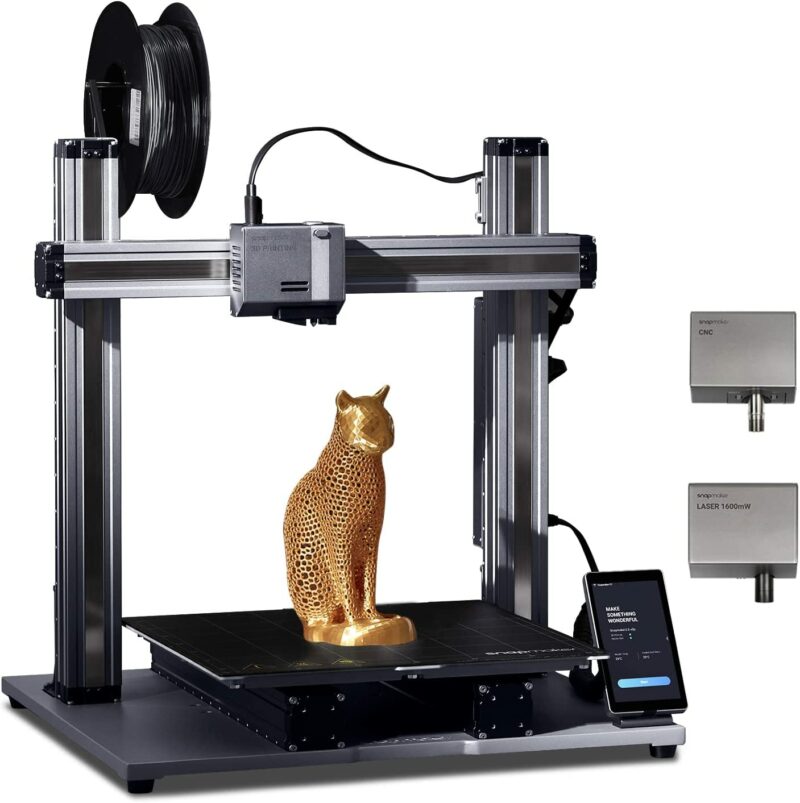 Brand – LaserPecker

Laser type – UV

Optical Power – 1.6W

Wavelength – 430 nm

Working Area – 320 × 350 × 330 mm

Warranty – 1 Year
If you're looking for a laser engraver to help you with 3D printing carving, the A350T is what you need. It may look complicated; that's because it is. With this, you can engrave, 3D print, and carve, all in one place.
Talking of its engraving capabilities, it has a 1.6W laser module that engraves wood with ease. But you have to credit the 0.005mm high precision repeatability for producing high-quality patterns, whether it be engraving, etching, carving, or 3D printing.
It features a large working area that can accommodate nearly every object. Moreover, the machine is modular, which allows you to increase the space (not necessarily the engraving space).
The Snapmaker A350T is for serious craftspeople who like working on complex projects. If that's you, this machine should be a good fit.
Pros
3-in-1 laser engraver

High-precision laser engraving

Compatible with a wide range of software

Large working area
Cons
Requires technical expertise to operate

Bulky
Check the Snapmaker A350T's latest prices on Amazon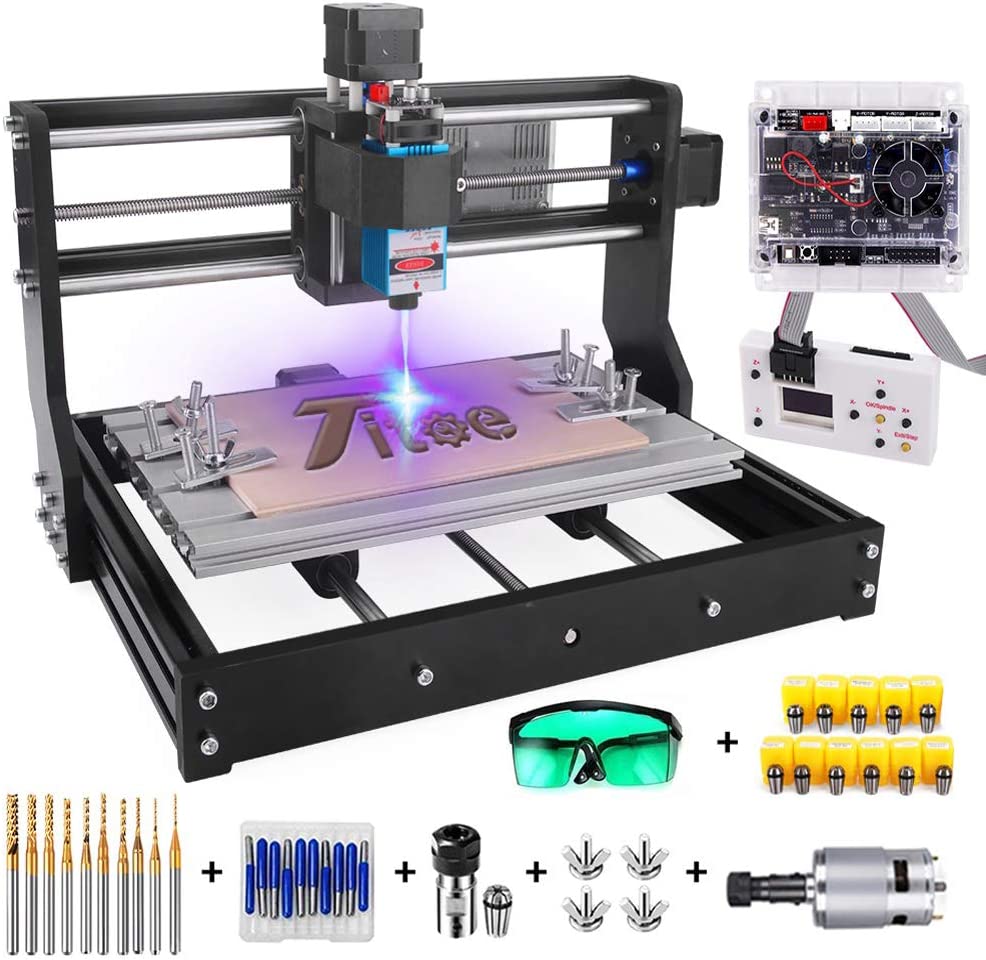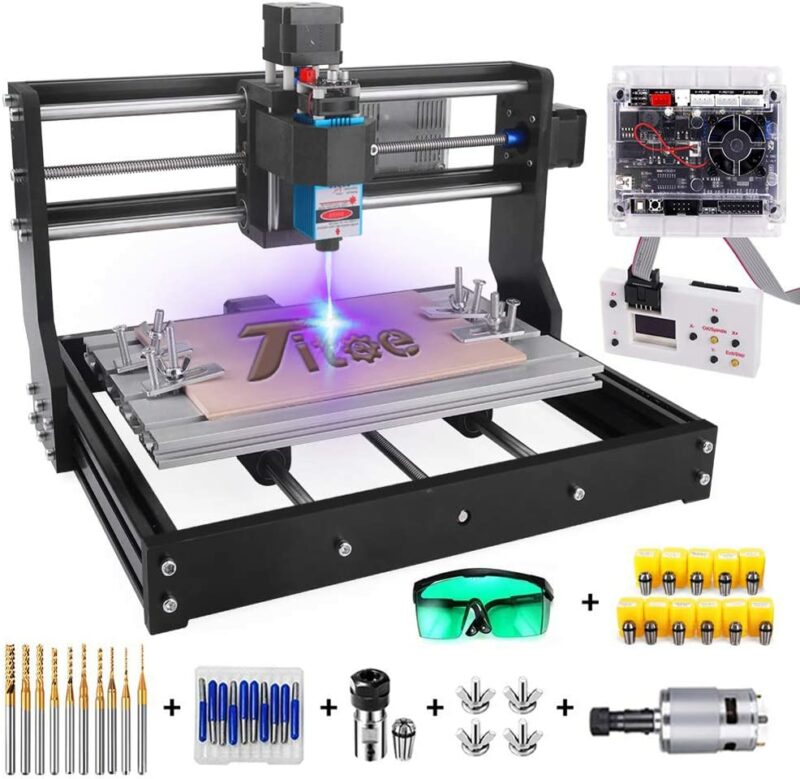 Brand – Titoe

Laser type – UV

Optical Power – 5.5W

Wavelength – 450 nm

Working Area – 300 x 180 x 45 mm

Warranty – 1 Year
If you want an affordable laser engraver that can also function as a CNC router, consider this machine from Titoe.
This combination can engrave and carve wood on the same device. It has a 5.5 W laser module for engraving, while the CNC router consists of a 775 DC motor spindle.
The 3018 Pro is a powerful machine that operates at high speed and with extreme precision with a focal point of 0.1 mm. Moreover, it's designed to work for longer hours. There's a heat sink, an external fan, and a study casing.
You can pair the laser engraver with most software, but it can work without a computer connection. You can operate it offline and carve or engrave it by manually adjusting the axis location.
At under $300, this is perfect for most woodworking projects.
Pros
2-in-1 carving and engraving

High precision operation

Offline controller to work without a computer connection

Sturdy design
Cons
Bulky

Not suited for beginners
Check the 5500mW Engraver CNC 3018 Pro's latest prices on Amazon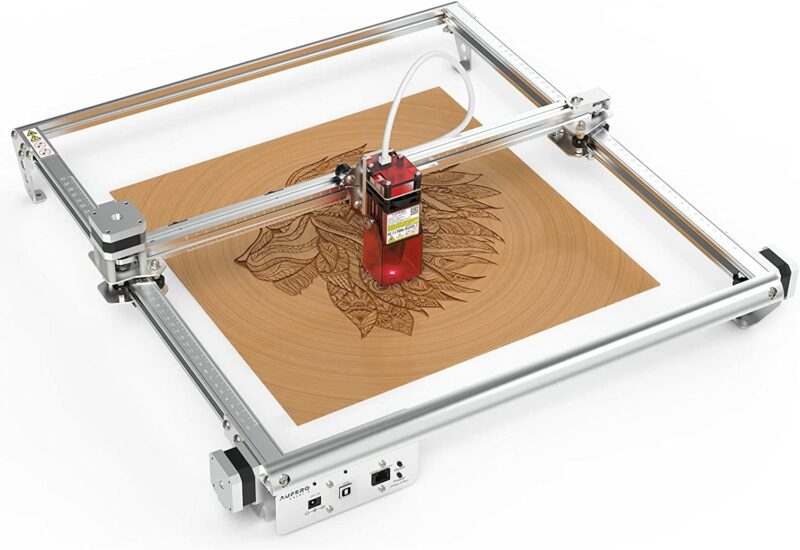 Brand – Aufero

Laser type – UV

Optical Power – 6 W

Wavelength – 450 nm

Working Area – 390 × 390 mm

Warranty – 1 Year
This laser engraver doesn't necessarily come out on top of any particular category. But it's a more-than-decent machine with all-around features.
One area where the Aufero is really competitive is speed. It can engrave at a speed of 10,000 mm per minute. It is courtesy of the advanced 32-bit 9th Generation ESP32 Microchip that increases the overall performance by 30%. It also supports 1.8 series firmware, which is optimized for speed.
The focal spot of 0.07 X 0.06 mm makes engraving highly accurate. Furthermore, its low gravity center of the X-axis enables the machine to etch patterns precisely, even at higher speeds.
Aufero comes with all the safety features. This includes a protective cover to block harmful rays, a pair of goggles, active position protection, and fuse overcurrent protection.
The laser engraver is easy to assemble and work with. Thus, it's a decent machine with all the bases covered.
Pros
Faster and stable engraving

Loads of safety features

Compatible with most software

Large working area
Cons
Complicated assembly

Learning curve involved