Engraving is an artwork that has fascinated creative people since the 15th century! Today, with the progress of technology, you can use laser engravers to etch various materials as a hobby or a business. But what's the best engraving machine you can use?
Laser engravers project laser beams that act like chisels and carve designs on the surface of different materials. They are of different types – and choosing the best one depends on the materials being engraved, types of design, applications, budget, etc.
How will having a good laser engraving machine help you? And which are the best engravers in the market? Keep reading to find out!
How to Find the Best Laser Engraver: Characteristics to Look for
Choosing the suitable laser engraving machine depends on your purpose, usage, and budget. Don't forget to look at user feedback, as well. Then, check the following aspects in the different laser engravers and see if they fit the above factors – before you take your pick!
a) Laser Power and Type
There are different laser engravers, from low-powered semiconductor laser engravers to potent Fiber and YAG laser engravers. The most commonly used laser machines are Diode and CO2 engravers that come in different power levels.
If you are a skilled DIYer and have plans to turn your hobby into a small business or class, you'll find many diode and CO2 machines, though you can dish out a small fortune for a high-capacity fiber engraver, especially if you want to handle pro tasks.
b) Material Compatibility
What kind of material are you planning to work with? Different types of laser engravers are effective in handling various types of materials. Typically, it is assumed that if you want to work with non-metallic objects, it's better to use CO2 laser engravers.
On the other hand, fiber laser engraving machines are better at etching metal. Diode engravers can handle both, but they work slower. We suggest checking the product descriptions and user feedback to know exactly what type of material an engraver can tackle.
c) Object Shape
Do you want to etch designs on objects with flat surfaces? Or are you planning to engrave on cylindrical items with a curved face? Any regular laser engraver will work for you if it is only the former. They have a large work bed to accommodate a flat item.
But for cylindrical objects, you need to look for a rotary axis. This accessory usually attaches to a regular laser engraver and can engrave on glasses, mugs, etc. Also, check if an engraver can align designs on uneven surfaces.
d) Machine Size
Small laser engravers are ideal for a small workshop. Small machines can fit anywhere if you have just started working in your bedroom or want to shift your workshop to a corner of the garage. Some of them are handheld, giving you more control and maneuverability.
But remember that a compact engraver will likely have a much smaller work bed, making it difficult for you to work with larger objects. Some engravers have expandable work beds. Also, note that it will likely take up space if you want a professional engraver.
e) 3D Printing and CNC Router
You'll find many advanced machines that offer the additional feature of 3D printing. These multi-purpose machines can add value to your business as you can create a wide range of custom designs and objects to cater to your clients' needs.
Some laser engravers are also engineered to accommodate CNC router bits, which, along with three axes, can give you 3D engraving. These are advanced features you won't quickly get together, especially in mid-range or low-range laser engraving tools.
f) Technological Support
Laser engraving tools must have proper connectivity to PCs or smartphones. It will give you proper control of how the designs get engraved on an object. The usual method of operating laser engravers starts with a pattern uploaded or created on a design program.
The design file's information is sent to the machine, which transfers this pattern to the object by etching it. Thus, you can understand that a laser engraving tool must be compatible with design software and pair with various OS and image file formats.
Best Laser Engraving Machine – Our Top 10 Choices
Now that you know a little about laser engraving machines, it's time for you to check out our favorite laser engravers. At the time of curating the list, we browsed through hundreds of objects and picked items based on the above factors we have mentioned above.
Our team members tried and tested the engravers we liked. So, here's a list of the top 10 products we recommend for various purposes.
LaserPecker 2 Laser Engraver Cutter
Best Portable Engraver

Ideal for Beginners & Pros

Recommended for Wood/Leather
OMTech 50W CO2 Laser Engraver with Rotary Axis
Best for Small Businesses

Ideal for Curved and Flat Surfaces

Recommended for Wood/Plastic/Leather
Aufero LU2-2 32-bit Motherboard Mini Laser Engraver Machine
Best for Beginners

Ideal Small and Portable Engraver

Recommended for Metal/Wood
Triumph Fiber Laser Marking and Engraving Machine
Best for Multi-Purpose Engraving Work

Ideal for Businesses and Advanced Work

Recommended for Metal/Plastic
Twotrees TTS-55 20W Laser Engraving Machine
Best Pocket-Friendly 3D Engraver

Ideal for Versatile Usage

Recommended for Plastic/Leather/Wood/Metal
ATOMSTACK X7 Pro 50W Laser Engraver
Best for Beginner and Professional Use

Ideal for High Power and Speed

Recommended for Plastic/Glass/Metal/Leather/Wood
Makeblock xTool D1 Laser Engrave
Best High-End Home Engraver

Ideal for Accurate and Detailed Designs

Recommended for Glass/Metal/Leather/Wood
Dremel LC40-01 High-Speed Desktop Laser Engraving Tool
Best Quality and Safety Features

Ideal for Desktop Engraving Work

Recommended for Glass/Wood/Leather
NEJE 3 Plus N40630 Laser Engraver
Best Tool for High-End DIY Tasks

Ideal for Easy Usage and Great Results

Recommended for Glass/Wood/Metal
Snapmaker A350T 3-in-1 Laser Engraver, 3D Printer, and CNC Carver
Best Overall/Editor's Choice

Ideal Combo of Engraving and 3D Printing

Recommended for Wood/Leather
Laser Engraving Machines FAQs
Before we tell you about our favorite products, we want to provide the answers to some of the popular queries about laser engraving machines. These will help you understand what to look for while buying a device and how to pick a suitable engraver for your workshop.
How does a laser engraver work?
Laser engravers can carve designs and letters on the surface of different materials. The heat from the laser beams burns the material and vaporizes it, turning it into fumes. The spots where the beams hit and cause the burning end up with permanent etches and deep marks.
Solid and precise machines deliver accurate and detailed designs. Most machines are powerful enough to cut through thin materials and workpieces. Laser engravers are high-tech tools that get the design information via software using computer or smartphone connectivity.
Can you laser engrave anything?
What kind of materials can a laser engraving machine etch designs on? A laser engraver can engrave designs on hundreds of types of materials. These include wood, metal, glass, plastic, leather, etc. But a single machine may not be able to tackle all of them.
Different types of laser machines available on the market are built to handle different materials. While some can handle wood types and metal mixes, many devices can etch on acrylic and fabric. Check the product description to know what it can engrave.
Why should you use a laser engraver?
A laser engraver has replaced most traditional methods of engraving various materials. That's because it does not require manual work and provides unparalleled accuracy. A laser engraver is excellent for hobbyists, advanced artists, and professional engravers.
Laser engravers can help personalize gifts like wallets and rings. You can use them to add a touch of beauty and uniqueness to signboards and showpieces. It can also add logos to keychains and bugs. Advanced engravers can work on many objects quickly.
How expensive are laser engraving machines?
The price range of laser engraving machines is very broad. The engravers at the lower end of the price scale can be around $150-$200. On the other hand, engravers for high-end tasks for businesses can cross $10000.
If you're a beginner, you'll quickly find a CO2 laser machine priced around $200-$300 for DIY projects. For advanced work or small businesses, you can look for engravers starting at $500-$1000. A high-end fiber laser tool can set you back by $2000-$6000.
Is laser engraving profitable?
Laser engraving can be more than just a hobby or a way to personalize gifts for your friends and family. It is an excellent business idea that can yield great profits. Your only significant investment is a laser engraving machine. You can choose to engrave any object.
There are many good-quality laser engravers available within a reasonable price range. They are great for professional use. Initially, you don't have to jump to a fiber machine or device for bulk projects. A business that handles small items can be a great starting point.
Are laser engravers worth it?
If you are an engraving enthusiast, you can enjoy engraving beautiful designs and letters on different materials like wood, leather, glass, metal, etc. For results, you should use a laser engraver that brings together modern technology to turn your creative ideas into reality.
Engraving has been famous for centuries. The craft has evolved over the years – and the most advanced engraving tools use laser beams to carve designs on a material. The good news is that you don't have to break the bank to indulge in a beginner-level engraver.
Can laser engravers cut workpieces?
Many laser engraving machines can cut through workpieces, depending on the piece's material and thickness. They may not be able to cut and engrave on the same materials and objects with equal efficiency. Not all engravers are designed for both.
However, it would be best to remember that most machines are engineered as cutters and engravers. Depending on the strength of a machine's laser, it can lean more towards cutting or engraving. Cutting requires more powerful laser beams compared to engraving.
Are laser engravers dangerous?
Operating laser engravers can be risky as laser beams are hot and powerful at burning and cutting. So, accidental contact can be dangerous. Plus, laser radiation can harm the eyes. The fumes rising from the burnt material surface can also be hazardous.
So most engravers have various safety features like a casing for laser beams to prevent contact – and a cover to protect your eyes from the harsh UV rays. It's a good idea to invest in goggles and gloves to protect yourself. Also, wear a mask while using a laser engraver.
Best Portable Laser Engraving Machine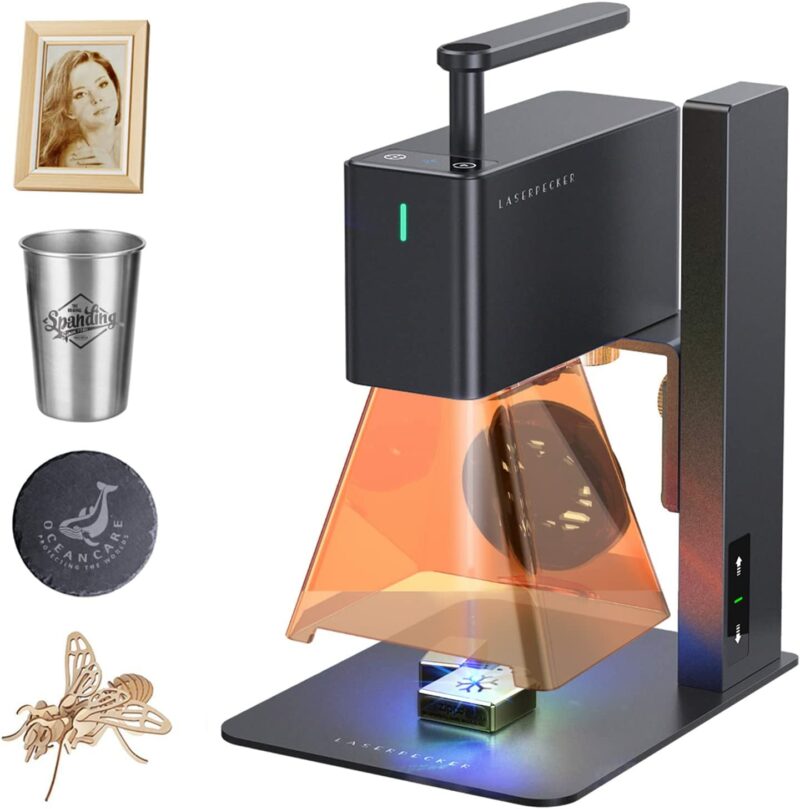 If you are a beginner yet to understand the nitty-gritty of an advanced desktop engraver, the LaserPecker 2 Laser Engraver can be an excellent choice. It packs some handy features in a compact tool. It is the best handheld engraving machine for leather and wood, making it the ideal addition to your DIY workshop and new business.
It comes with a handle at the top to give you maneuverability. You can move it at any position and angle, much like a chisel. Plus, it's lightweight and portable, making it easy to place anywhere. Simply plug it into a power bank and get it working – without worrying about stopping your work to charge the tool.
One of its best features is its speed, thanks to the Galvo technology. The engraving speed of 36000mm/min and a preview speed of 225000mm/min boost productivity. Plus, the compressed spot of 0.05 x 0.05mm and 3 resolution options create detailed designs. Thus, its structure makes it a great entry-level laser machine.
Specifications
Size – 11.46" x 11.38" x 7.44"

Technology – Galvo Laser

Best for – Wood/Leather
Pros:
Provinces excellent control due to size

Easy to assemble and use

Detailed output on various materials, including paper

High-speed and detailed engraving

Double protection with built-in filter and goggles
Cons:
Not for reflective surfaces like glass

Requires software upgrade
Check the LaserPecker 2's latest prices on Amazon
Best Laser Engraving Machine For Small Businesses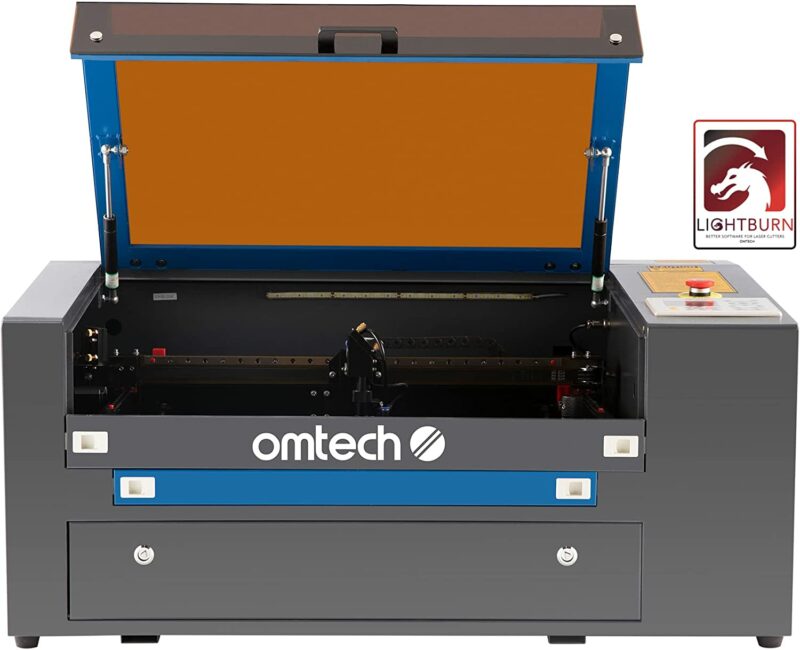 The OMTech 50W CO2 Laser Engraver with Rotary Axis is a must-have if you've just upgraded your DIY workshop to advanced projects. While wood engravers popularly use it, it is also the best small business laser machine for leather, plastic, and other non-metallic materials.
You will love this tool's superior speed of 600 mm/s. It will reduce working time and increase your business's output. Plus, the accuracy it provides makes all designs look incredible. The extensive work bed of 12″ × 20″ and 6″ rotary axis, along with the 2-way access, let you work with big material comfortably.
It's perfect for detailed engravings on any irregular surface. What enhances its ability to perform commercial tasks is the use of LightBurn software. It is also compatible with advanced programs like RDWorks v8 and CorelLaser. Plus, it's designed for stability and noiseless operations.
Specifications
Size – 41" × 25.6" × 20"

Technology – CO2 Laser

Best for – Wood/Plastic/Leather
Pros:
Excellent for advanced and pro users

Stable and noiseless engraving

Easy to use due to intuitive digital controls

Engraves both smooth and irregular objects

Enables accurate placements with viewing window
Cons:
Not for objects made of metallic materials

It does not have autofocus for side pass-through
Check the OMTech 50W CO2 Laser Engraver's latest prices on Amazon
Best Laser Engraving Machine For Beginners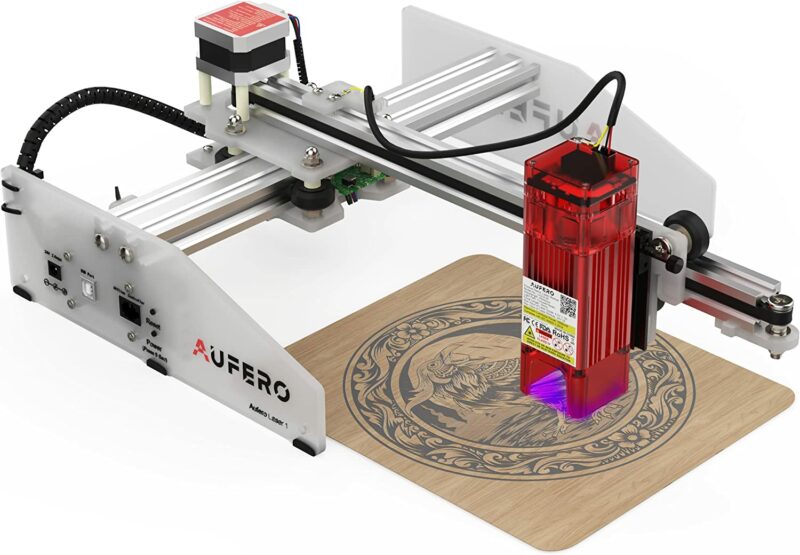 One of the best brands that beginners resort to is Aufero. And its LU2-2 32-bit Motherboard Mini Laser Engraver Machine is highly recommended as an entry-level laser machine. It brings versatility in its small size, making it the best mini/portable laser engraving machine for metal and wood, which helps you deliver excellent designs.
Even if you're new to engraving and etching, you can create detailed designs thanks to its adjustable pixel accuracy of 300 pixels/inch and a fixed focus with a 0.07×0.06mm focal spot. Plus, it is equipped with a speed of 5,000 mm/min.
It also has a 1,000-1,600mw luminous power and a work bed of 7.1″ x 7.1″. Its 32-bit motherboard can process 32 instructions and support a baud rate of 921600. This portable tool is only 6.59 lb, so that you can set up your workshop anywhere. Just pair it with LightBurn, LaserGRBL, etc. – and you're good to go!
Specifications
Size – 18.89" x 14.96" x 6.69"

Technology – LU2-2 ORTUR Laser

Best for – Metal/Wood
Pros:
Small, lightweight, and easy to move

Multiple safety features to protect beginner users

UV light filter cover and goggles for eye protection

Supports various engraving software, OS, and file formats

Nearly pre-assembled device for easy usage
Cons:
Free software is not great for advanced users

Reports of "unknown errors" message
Check the Aufero LU2-2's latest prices on Amazon
Best Laser Engraving Machine For Multi-Purpose Engraving Work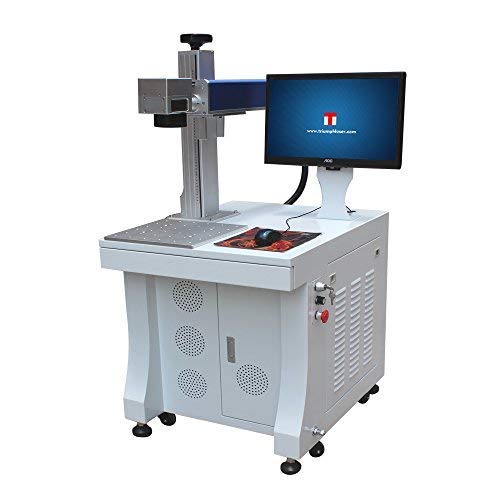 Are you looking for a laser marking and engraving machine that can work its magic on plastic besides any metal? The fiber laser engraver from the house of Triumph is one of the best small business laser machines for plastic and metal to enhance the quality of projects handled in your business.
You'll get nothing less than state-of-the-art features – starting with its compatibility with all the advanced software programs like Coreldraw, Photoshop, Autocad, etc. It also has a dual-lens feature to give you two engraving areas of 200x200mm and 110x110mm.
Its 9000 mm/sec speed and 0.3-1mm engraving depth are to watch out for! You can also use the 80mm rotary axis for cylindrical objects. It's a top-notch choice for any metal, making it ideal for engraving anything from small jewelry to firearms!
Specifications
Size – 35.04" x 34.25" x 34.25"

Technology – Fiber Laser

Best for – Metal/Plastic
Pros:
Designed for business/industrial use

Safety interlock and protective housing

Mind-blowing speed and precision

A computerized system with a large LCD

Compatible with all major design programs

Constructed with durable and quality materials
Cons:
Expensive due to advanced features

Not engineered for beginners
Check the Triumph Fiber Laser Engraver's latest prices on Amazon
Best Pocket-Friendly 3D Laser Engraving Machine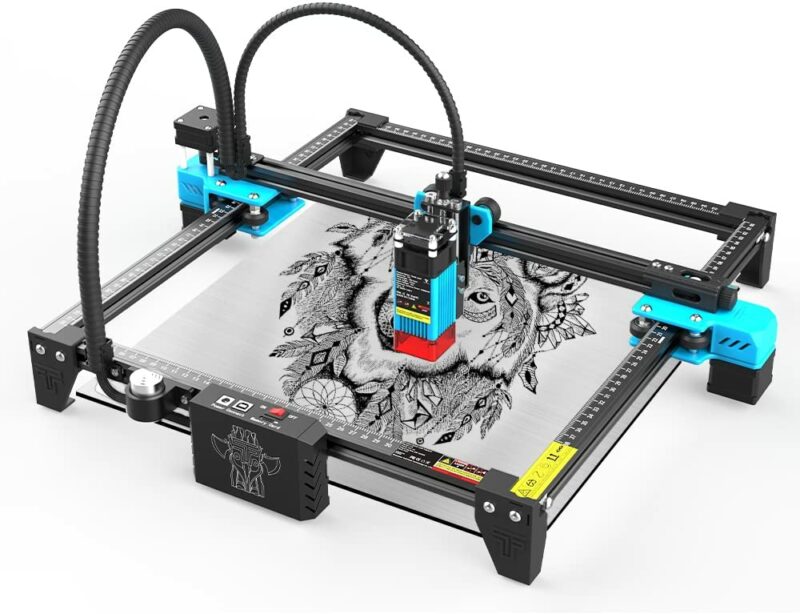 TwoTrees is a brand known for incorporating unique technological characteristics into its engravers. Its TTS-55 20W Laser Engraving Machine is an excellent choice if you're looking for the best 3D laser machine for wood, plastic, leather, wood, and metal – at a low cost.
The machine is equipped with three axes. It comes with a Z-axis to provide this engraver with the ability to create 3D designs. The device is easy to use, making it ideal for newbies with minimal skills. The 300x300mm engraving area will let you work on large objects.
The tool works with a 0.01mm accuracy. A 0.08mm ultra-fine compressed spot and fixed focus give unparalleled precision alongside the 10000 mm/min speed. It's compatible with software like LaserGRBL, LightBurn, Benbox, GrblController, and LiteFire.
Specifications
Size – 0.39" x 0.39: x 0.39"

Technology – Fixed Force Laser

Best for – Plastic/Leather/Wood/Metal
Pros:
Low-cost device for 3D engraving

High speed and impressive accuracy

Lightweight hood for safety

Filter cover with filter light for eye protection

Made of high-quality, durable materials
Cons:
MAC compatibility issues reported by some users

It may take a while to learn how to use it
Check TwoTrees's latest prices on Amazon
Best Laser Engraving Machine For Beginners & Professionals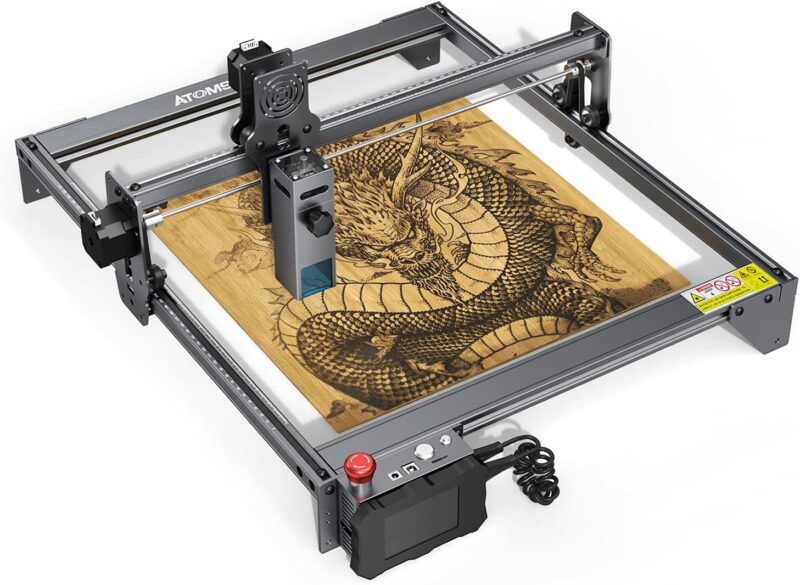 The ATOMSTACK X7 Pro 50W Laser Engraver is engineered for craft enthusiasts of any skill level. Its M50 laser module combines with the technology to provide an ultra-fine focus area of 0.06 x 0.06mm. It also delivers an accuracy of 0.01mm to deliver detailed designs.
This machine is a highly-recommended choice if you want to translate the designs in your imagination onto a wide range of materials. This engraver is engineered to allow convenient adjustment of the height of laser beams, thanks to the dedicated knob.
It comes with a limit switch and an emergency stop button to ensure running it at a safe speed and prevent accidental start-offs. Its shutdown button allows you to cut off the power supply and terminate operations instantly. You'll also enjoy stable and high-speed engraving.
Specifications
Size – 22.44" x 23.62" x 10.63"

Technology – 10-11W Fixed Focus Laser

Best for – Plastic/Glass/Metal/Leather/Wood
Pros:
Eye protection design to filter UV rays

Sturdy and durable construction

Easy to set up and use

Multiple safety buttons

Ideal for any skill level
Cons:
Limited offline controller

It could use a micro-focus adjustment
Check the ATOMSTACK X7 Pro 50W Laser Engraver's latest prices on Amazon
Best High-End Laser Engraving Machine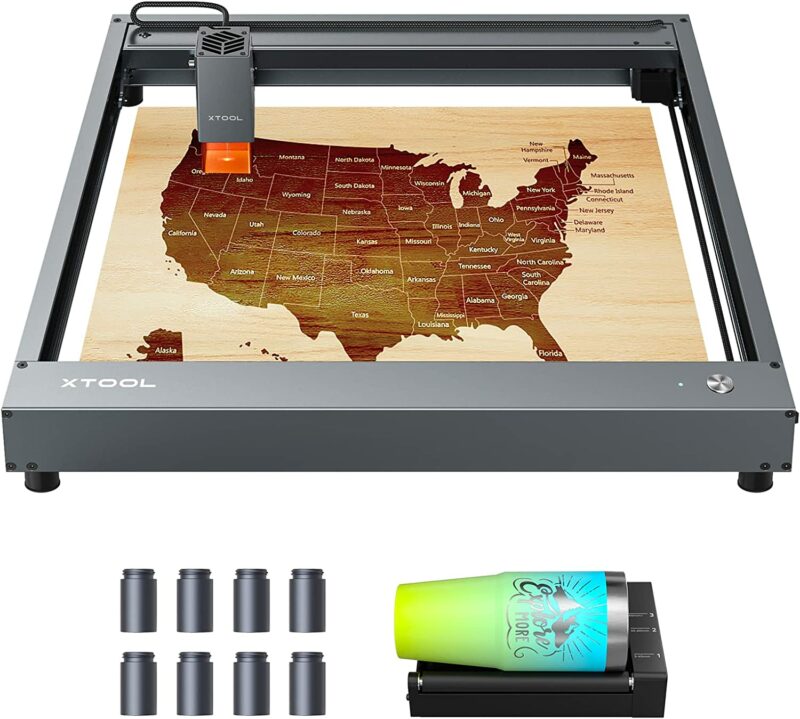 Do you run a little engraving shop, an online craft tutorial class, or a hobby center at home? If you're looking for a reasonably high-end machine, we recommend the Makeblock xTool D1 Laser Engraver. It is capable of engraving objects of various materials and construction.
You can pair it with various basic and advanced software programs and enjoy easy connectivity via wifi, USB, and phone apps. You'll love its compressed spot of 0.08mm, 0.01 mm motion accuracy, and 0.02 mm repeatable positioning accuracy – for ultra-fine engraving.
Its 10000mm/min speed makes this engraver a great choice. The device is also equipped with an engraving area of 17″ x 15.98″ to comfortably handle workpieces of different sizes. Moreover, the tool comes with a rotary attachment to tackle cylindrical objects.
Specifications
Size – 28.5" x 9.5" x 7.9"

Technology – Manual Focus Laser

Best for – Glass/Metal/Leather/Wood
Pros:
Highly accurate and ultra-fine designs

Wide software compatibility and connectivity

Easy adjustment of laser height and focus

Quick assembly within 10-20 min

Ideal for different skill levels
Cons:
Costly due to premium features

No high-end software programs
Check the Makeblock xTool D1's latest prices on Amazon
Best Laser Engraving Machine For Quality & Safety Features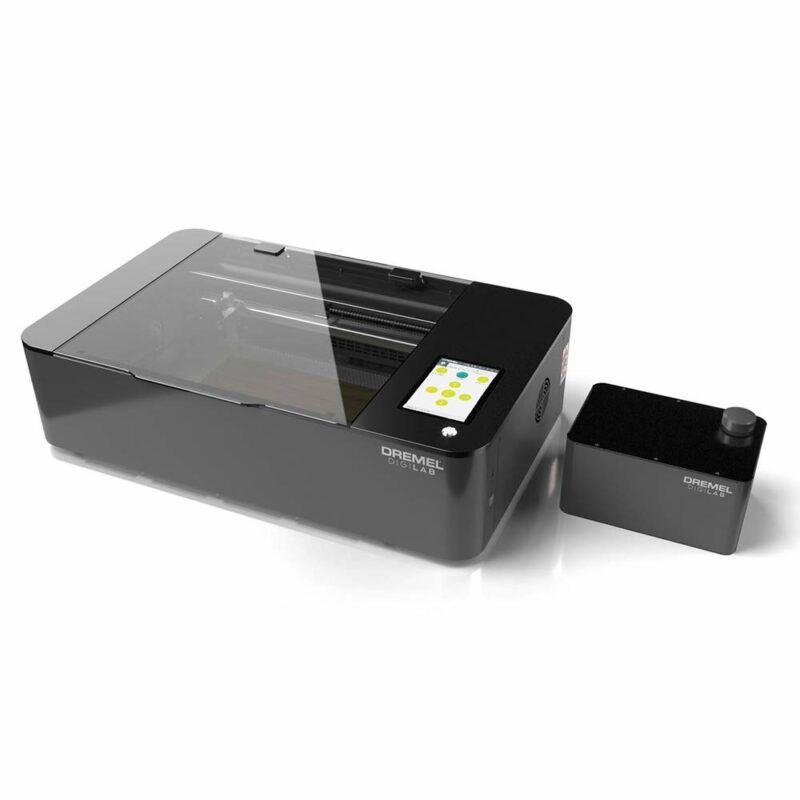 If you have tried mechanical engraving devices with rotary needles, Dremel is not a new brand to you. The name signifies quality and durability. And when it comes to safety, the LC40-01 High-Speed Desktop Laser Engraving Tool is one of the top choices on the market.
This engraver comes with a UL certification that ensures world-class safety standards. The first laser engraver in its class to acquire this safety certification. This tool is also engineered with patented features like smart sensors and real-time diagnostics.
The engraver's intuitive software technology. It lets you operate the tool without internet access while consistently maintaining high speed. This engraving machine has a smart camera with an accuracy of 0.2 to align designs on irregular surfaces for unmatched precision.
Specifications
Size – 38.98" x 26.38" x 14.96"

Technology – CO2 Laser

Best for – Glass/Wood/Leather
Pros:
High-quality product by a trusted brand

Excellent engraver for pro use

UL-certified engraver for safety standards

Rigorously tested for quality and reliability

Aligns designs on irregular surfaces accurately
Cons:
Issue of gantry auto-homing during setup

Reports of lagging and delay in pro work
Check the LC40-01 High-Speed Desktop Laser Engraving Tool's latest prices on Amazon
Best Tool for High-End DIY Tasks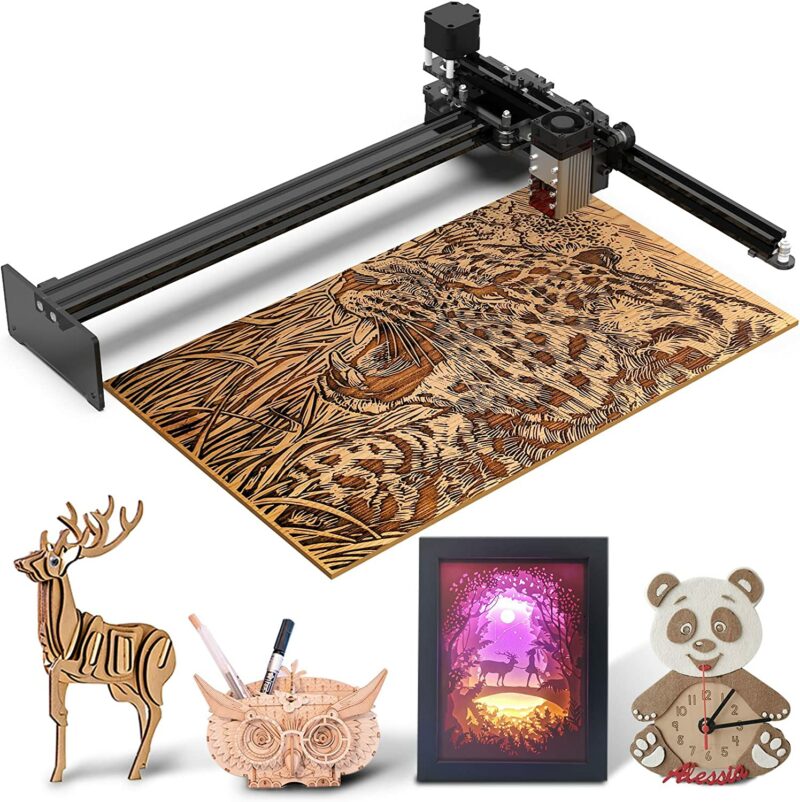 NEJE has a wide range of laser engravers that we love, but the NEJE 3 Plus N40630 is one of the highest-rated tools. It's reasonably priced and works on various materials. Its 10″ x 16.5″ work bed will allow you to handle large objects or workpieces with comfort and ease.
Its ultra-fine focus of 0.08mm pairs with a 0.6-1.5 Mpa air assist and 1000mm/sec speed for mind-blowing performance. You will be in awe of its precise and detailed designs. We are particularly in love with the image etching quality of different materials.
The device comes mostly pre-assembled. You need to put four screws in place to get started. The device is also user-friendly as you can adjust the frame position, fix the focus, start, stop, and reset quickly. It's compatible with Lightburn and different control terminals.
Specifications
Size – 11.42" x 7.48" x 23.62"

Technology – Diode Laser

Best for – Glass/Wood/Metal
Pros:
Easy adjustability with multi-use keys

Equipped to protect your eyes from light

Designed to prevent accidental start-off

Smart noise and temperature control

Ideal for DIY and pro projects
Cons:
Air nozzle installation required

It may take time initially to understand the functions
Check the NEJE 3 Plus N40630's latest prices on Amazon
Best Overall Laser Engraving Machine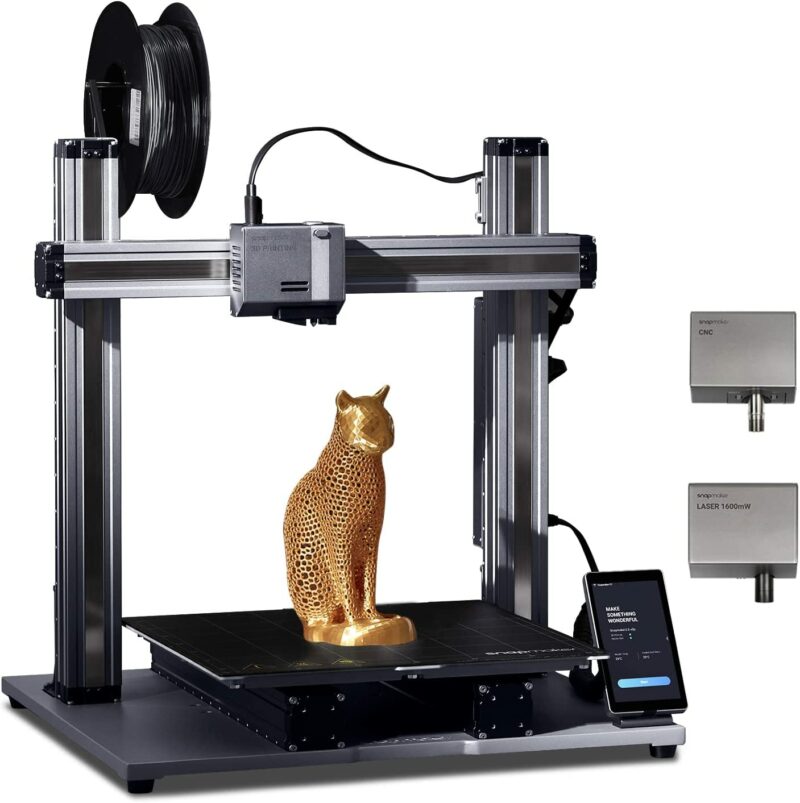 Who wouldn't love a multi-tasker that can handle anything from detailed engraving to 3-dimensional printing? The Snapmaker A350T 3-in-1 Laser Engraver acts as a 3D printer, laser engraver, and CNC carver – making it our favorite versatile engraving tool.
Let's start with its engraving abilities. We love that it offers excellent accuracy, with a remarkable 0.005mm repeatability in high precision. What makes the results of laser engraving even better is the 0.2 mm engraving light dots. This helps achieve greater detailing.
It's an excellent laser engraver engineered with CNC bits to cater to your complex carving, engraving, and cutting needs. Working at a speed of 100mm/sec, this innovative tool provides high-quality 3-dimensional printing – and the end products look incredibly real.
Specifications
Size – 13.78" x 12.99" x 12.6"

Technology – 3D Printing/Laser Engraving/CNC Carving

Best for – Wood/Leather
Pros:
Innovative

CAN

bus expansion for versatility

Stable yet high-speed performance

Special sensor to remind you about empty filament

Designed to work noiselessly at a level of 16 dB

Luban software with touch screen for intuitiveness
Cons:
Not for metal engraving using laser or CNC

It does not include a 3D design program
Check the Snapmaker A350T 3-in-1 Laser Engraver's latest prices on Amazon
Related: How to Engrave with Cricut Maker? Acrylic, Wood, Metal
Final Words
The wide range of laser engravers can leave you spoilt for choice – and that's where the dilemma begins! But finding the best laser engraving machine can become easy if you know exactly what you're looking for and how you want to use the device for your crafts.
Every engraving enthusiast wants a laser engraver – but for a different reason. The needs differ in terms of the materials, design types, purpose of the project, and more. We hope our guide and recommendations will help you precisely pick your workshop needs!