A jewelry kiln is a type of furnace specifically designed for heating and melting metals and other materials. Jewelry kilns come in various sizes, shapes, and designs and can be fueled by electricity, gas, or charcoal. Some jewelry kilns even have multiple chambers, which can be used for different processes, such as annealing or enameling.
Jewelry kilns typically reach up to 2200 degrees Fahrenheit, which is hot enough to melt most metals. The high temperatures also make jewelry kilns ideal for soldering and annealing metals. They usually have temperature controls so that the user can set it to the precise temperature needed for their project.
Jewelry kilns can be used for various jewelry-making techniques, such as casting, enameling, annealing, and soldering. They are also sometimes used to heat treat gemstones to become harder and more durable.
What do you need to consider before buying your jewelry kiln?
If you are interested in purchasing a jewelry kiln, you should keep a few things in mind.
First, consider the size of the kiln and the projects you plan on using it for. Jewelry kilns come in various sizes, from small & Mini tabletop models to large floor-standing units. In this article, we'll concentrate on tabletop/portable models.
Second, think about the type of fuel you want to use. Jewelry kilns can be powered by electricity, gas, or even charcoal.
Finally, be sure to check the temperature controls to make sure they are precise and easy to use. Don't worry I've done all the heavy lifting for you so you can get out there and start melting some metal!
Summary:
Best overall electric tabletop kiln: RapidFire Pro Kiln
Best premium electric kiln: P.M.C. SuppliesTabletop Kiln High
Best entry-level gas kiln kit: Kast Master Mini Kiln Kit
Best overall gas kiln kit: Bonbo Gas/Propane Melting Furnace Kit
Best jewelry kiln in 2023


RapidFire Pro Kiln offers a perfect combination of performance, function, and portability. It is an ultra-portable tabletop kiln that weighs only 12 lbs. It is ideal to be used for a variety of purposes like jewelry making, bead making, glass fusing, enameling, ceramics, firing precious metal clay, and much more.
You can get an equal amount of heat across all your projects due to the compact size of the RapidFire Pro Kiln. This is a nice feature for your projects to achieve better results.
The best feature about the RapidFire Pro Kiln is that it allows you to select the appropriate temperature required for firing various materials. It is equipped with a digital control panel which reduces a lot of the required temperature guesswork.
Features
Weight: 12 pounds
Largearge firing chamber: 6 inches x 6 inches x 5 inches.
Total dimensions: 7 x 8 x 13 inches
Includes a lighted cooling fan
Ability to heat up to 1205 degrees Celsius (~ 2200° F) in eight to ten minutes.
It has a digital controller with thirty setting options
Check the RapidFire Pro Kiln prices on Amazon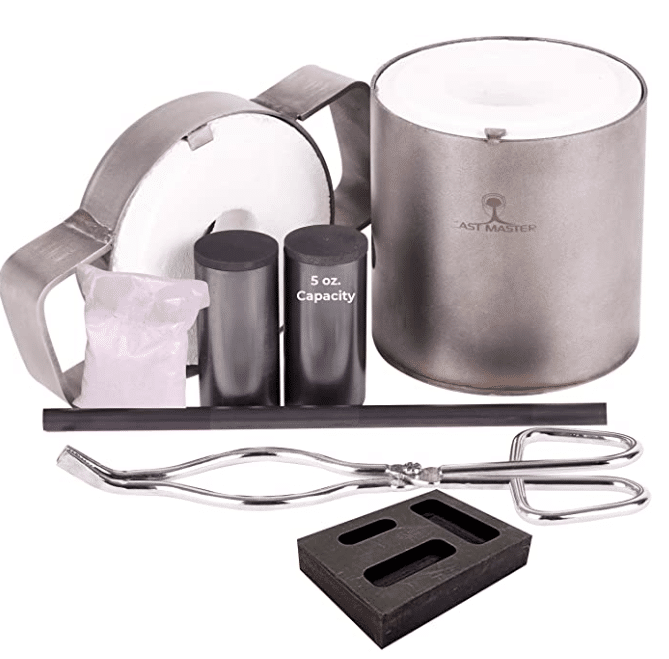 This revolutionary tool from Cast Master is perfect for anyone who doesn't have enough space to dedicate to their hobby. The GG Mini Pro high-temperature furnace will quickly draw you in with its many uses. Gold, silver, and other common metals are no match for this device! The GG Mini Pro will take on any project. It has features that no other furnace in its class can match.
Features
Weight: 3.8 pounds
Dimensions: 9.33 x 7.64 x 6.06 inches
The kit includes a pair of tongs, an ingot tray, and a bag of Borax.
Check the Cast Master Mini Kit prices on Amazon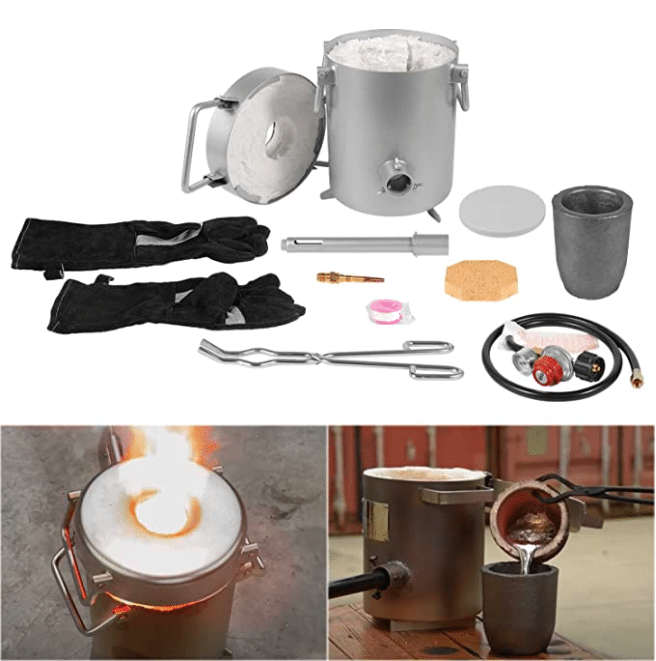 The Gas Propane Melting Furnace Kit has enough molten metal capacity to handle most jewelry projects, gold, copper, bronze, and more. This kiln is made from high-quality materials and top-of-the-line machines, all the pieces are designed with precision measurements for ultimate durability–and they'll last longer than anything else on your shelf!
Features
Weight: 20 pounds
Dimensions: 15.17 x 15.17 x 13.51 inches
The kit includes a furnace, the crucible, leather gloves, ceramic fiber mat, air inlet, regulator, refractory brick, PTFE tape, pliers, and user manual.
1-year warranty
Check the Bonbo gas furnace kit prices on Amazon

The Tabletop QuikMelt PRO 10 oz. A melting Furnace is a top-loading kiln for jewelry making. It is ultra-light as it weighs only 10 lbs. This kiln is available with a digital control panel, a 10 Troy oz. Crucible, and rapidly heats to 2200 degrees Fahrenheit for all the major metalworking needs.
This kiln is perfectly suited for jewelers who are looking for mobility. It can be used with various materials like zinc, copper, lead, silver, and gold. It is a portable solution for all jewelry-making projects and includes a secure latch and a zinc-plated handle.
Features
Weight: 10lbs
Dimensions: 12 x 12 x 12 inches
Power Wattage: 1500 W
Maximum Temperature of 2200°F
Utilizes a P.I.D. Temperature Controller
Check the TableTop QuickMelt pro prices on Amazon


This tabletop quick melt kiln product for jewelry making has an electronic control panel that allows you to set functions and programs for your work. It heats all forms of metalwork very quickly to more than 2200 degrees Fahrenheit.
This is a perfect fit for you if you are looking for a kiln with a light design and easily portable. It can produce a full firing in around seven minutes using its RapidHeat Technology, a standard household plug, and 1500 watts of power. It can work with several zinc, copper, lead, silver, and gold materials.
Features
Heats up to 2200 degrees Fahrenheit
Electronic control allows you to set functions and programs for your projects so that you need not monitor them continuously as it fires.
Weight: 10 lbs
Dimensions: 6 inches x 6 inches x 12 inches
Equipped with sixteen gauge heating coils
Comes with a pair of tongs, and a graphite crucible to match the product.
Check the Table QuickMelt pro 120 prices on Amazon

Tabletop QuikMelt PRO 30 Melting Furnace is lightweight and designed with durable Gemcolite Alumina Fiber, formed using a composition of alumina, alumina-silicate, and mullite fibers. For accurate and precise control of temperature, it utilizes a Digital P.I.D. Temperature Controller with auto-tuning function.
It also includes both inorganic and organic binders for excellent material integrity and handling strength at high temperatures. It has been designed to perform well in typical casting and melting temperatures, i.e. 1562° F – 2912° F.
Features
Weight: 10lbs
Dimensions: 6 x 6 x 12 inches
Warranty: One Year Manufacturer Warranty
Maximum Temperature of 2200°F
Comes with a graphite crucible, a 30 troy oz. Graphite crucible and one pair of 18 inches tongs
It has a secure latch and a zinc-plated handle
Check the Table QuickMelt pro 120 prices on Amazon


The Melting Furnace RapidFire Tabletop Kiln is an ultra-light and portable kiln for jewelry-making applications with a carrying handle. This unit can evenly distribute heat efficiently with the help of high-temperature thermocouples and innovative technology.
It is equipped with a large firing chamber of dimensions 6 inches — 6 inches — 5 inches with a front-loading door for easy access. This kiln offers the perfect combination of performance, function, and portability, which professional artists and jewelers demand. It is also available with programmable ramping controllers.
It is perfect for jewelry-making applications such as precious metal clay, bead making, glass fusing, enameling, and ceramics. You can handle multiple projects simultaneously with the help of the digital temperature controller.
Features
Overall Dimensions- 8 inches x 7 inches x 13 inches
Firing Chamber Dimensions- 6 inches x 5 inches x 6 inches
Weight- 12 lbs
Maximum Heating Temperature- 2200 degrees Fahrenheit
Power Wattage- 150 W with a standard 15 A Circuit
Coiled Type Resistance Wire
Controller Type- Digital
Check the RapidFire Tabletop Kiln prices on Amazon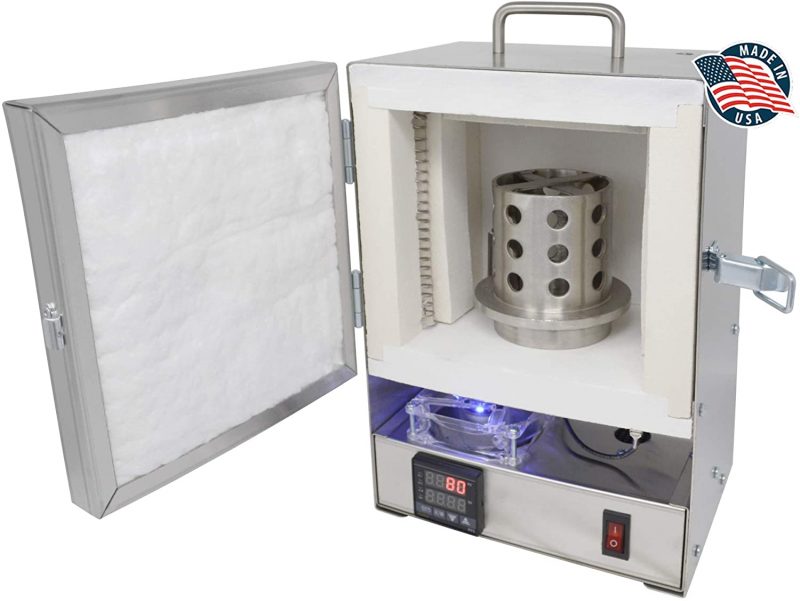 This is a new Tabletop model of the kiln for jewelry making by P.M.C. Supplies L.L.C., which offers functionality and portability with RapidHeat Technology. With the help of such technology, the kiln can be heated within ten minutes.
Its new and improved design ensures that the flasks inside the kiln do not damage the interior heating elements. It also uses a P.I.D. The temperature controller comes with a new and high-temperature thermocouple, and a digital/electronic control panel.
Note- The steel surface will undergo coloration and tempering over time due to its exposure to extreme temperatures.
Features
Weight: 20lbs
Dimensions: 8 inches x 7 inches x 13 inches
Made in the U.S. A
Maximum Working Temperature- 2200 Degree Fahrenheit
Designed and developed with a programmable controller
Can accommodate flasks of sizes 3 inches x 5 inches, or less
A pre-drilled vent and a high-temperature thermocouple are present at the top of the kiln.
Power Wattage: 1500 W
Check the P.M.C Supplies Tabletop Kiln prices on Amazon
Best KilnTo Buy For Jewelry Making USA Buying Guide
Jewelry designers are curious to know how to choose a suitable jewelry kiln. They need to do a lot of research to understand which kiln is suitable for them. So, let us do detailed research about the buying guide for jewelry kilns.
Portability
People who teach jewelry design prefer a portable jewelry kiln. Brick kilns are more susceptible to damage while they are benignly moved around.
Portable jewelry kilns are a great way to take your hobby or business on the road. Whether you're headed to a trade show, craft fair, or simply want to do mobile repairs, a portable kiln is a great investment. But with so many options on the market, it can be tough to choose the right one for your needs. Here are a few things to keep in mind when shopping for a portable jewelry kiln:
-Size/weight: You can find portable jewelry kilns under 4lbs such as the Cast Master Mini Kit. Consider how much space you have available and what size pieces you'll be working with before making your purchase.
-Features: Some portable kilns come with digital controls and adjustable temperature settings. Others are more basic, with simple on/off switches. Decide which features are most important to you before shopping.
-Budget: Portable kilns can range in price from around $100 to $1,000 or more. Set a budget before you start shopping so you don't overspend.
Type of Kiln
Different jewelry kilns include enameling kilns, metal clay firing kilns, and glass fusing kilns.
Enameling Kilns are used to fuse powder glass to metal. Enameling Kilns: These kilns reach temperatures up to 1800°F (980°C). The most popular enameling kiln is the paragon SC2. This specific model has a 3″ x 6″ chamber and can accommodate enamel projects up to 12″ x 12″.
Metal clay firing kilns are used to fire precious metal clay projects. The enamel powder is first placed on the metal surface to use an enameling kiln. The project is then placed in the kiln and heated to the desired temperature. The firing time will vary depending on the type of enamel powder and the thickness of the metal. Once the firing is complete, the project is allowed to cool slowly in the kiln.
Glass fusing kilns are used to melt glass pieces together. Each type of kiln has its specific temperature range and firing process. These kilns reach temperatures up to 1650°F (899°C). Metal clay is a crafting medium made of fine metal particles bonded with an organic binder. Once fired in a kiln, the binder burns away and the metal particles fuse together.
Heating elements
The life of a kiln depends upon the heating elements. The elements need to be replaced earlier if a kiln is used frequently. So, it is wise to buy a kiln with high ratings.
Interior
Jewelry designers need to check out the interior of a kiln before investing in it. The elements are molded within the walls if the interior is made of ceramic fiber. On the other hand, a brick interior has a firebrick as the insulating material. They get heated very soon and are capable of handling high temperatures.
Such kilns are brittle but heavy. The users need to be very particular about cleaning the brick interiors. If any foreign particles stay in the interior, they may fuse the entire kiln within a moment's notice. If a brick kiln is moved even once, it needs to be vacuumed before being fired again.
Conclusion
It is essential to use the correct type of kiln and rolling mill for the metals you are working with, as different metals have different melting points jewelry studio is incomplete without a kiln. Hence, the artisans need to select the kiln with precision. A kiln is indispensable to handcrafting jewelry and serves numerous functions. It can be used for glass fusing, ceramics, enameling, and setting stones into your jewelry pieces, amongst many other things.
All the kilns mentioned above have lots of positive factors, and you can go forward with one that satisfies your requirement as an artist. Some kilns are ideal for bead making or glasswork, while others are better for putting stones in place in the jewelry. Consider your requirements and choose one that is best suited for your work.