Today, we are happy to have a guest post from Elizabeth at Inspire Me Grey. She is here to review a new sewing book and show off her projects, plus we also have a giveaway courtesy of the book's publisher, Martingale & Co. (Enter with your comment at the end of this post.) Take it away, Elizabeth!
Everyday Handmade: 22 Practical Projects for the Modern Sewist by Cassie Barden and Adrienne Smitke (Martingale) is a promising addition to any modern sewist's craft library. Whether you're looking for a small, simple project to give you a break from that quilt you've been slaving over or you're in the mood to create something featuring some favorite fabrics from your stash, Everyday Handmade is likely to please.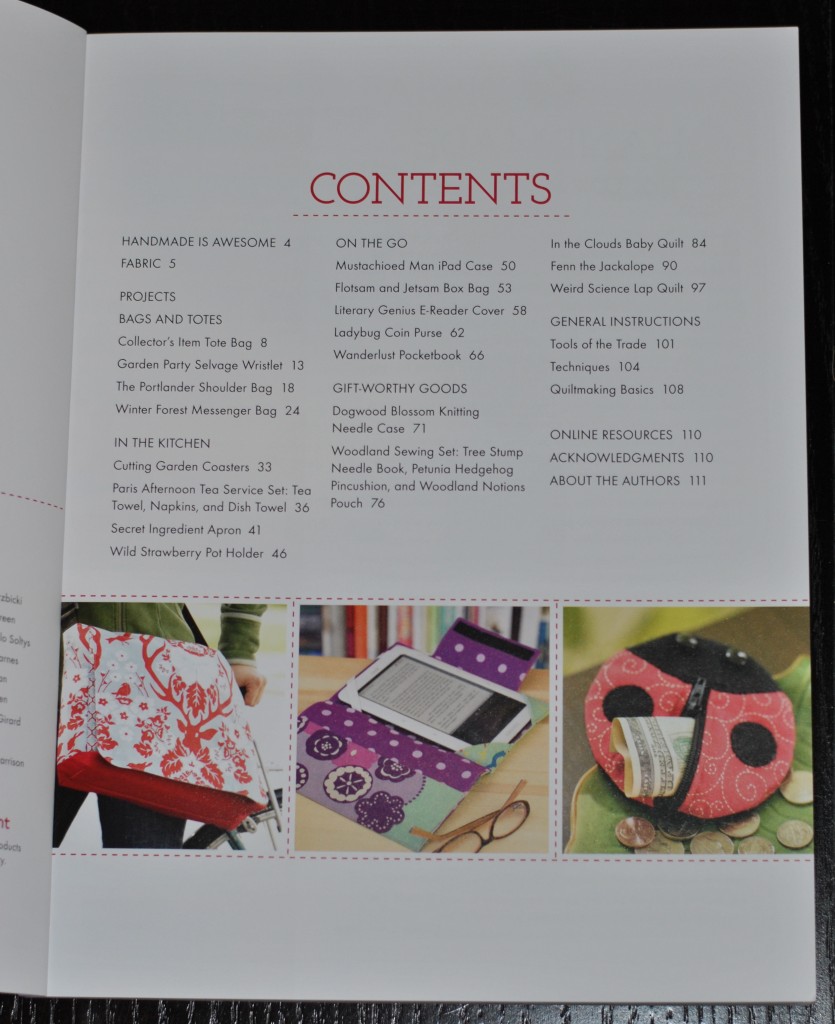 Beginner-level projects include a simple tote bag decorated with fabric-covered buttons, pieced coasters and potholders, and a sewing set that includes a pincushion and needle book.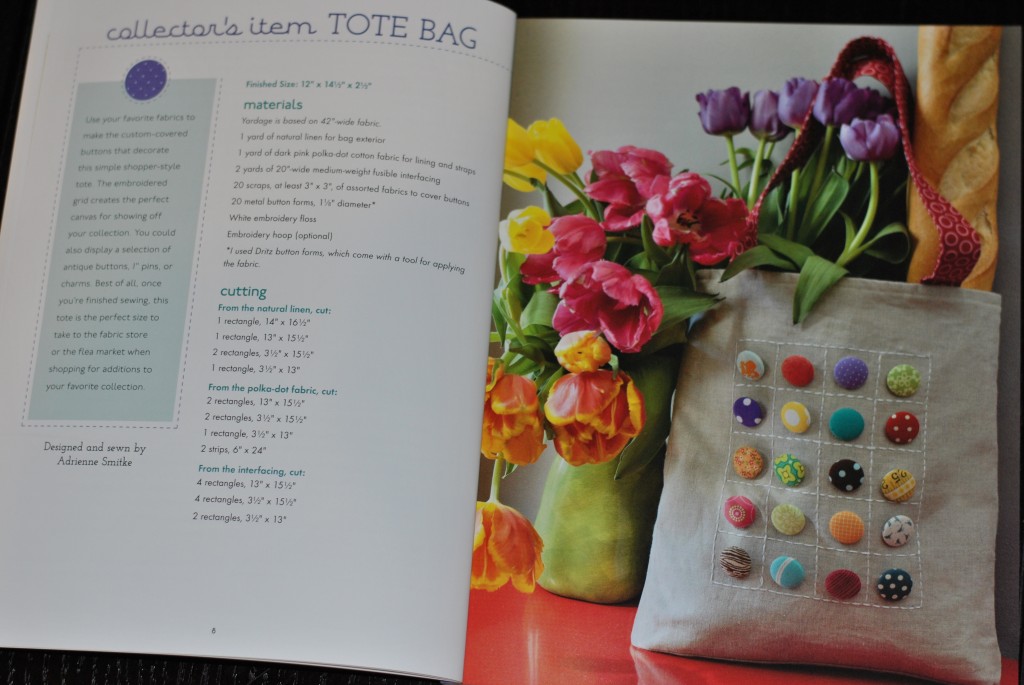 The instructions and illustrations are clear enough, though, that even projects that seem more intimidating, like the full-fledged messenger bag with pockets and a laptop compartment, are easy to follow.
In contrast to many sewing craft books that focus on one material (felt, scraps of quilting cottons, upcycled fabrics), authors Barden and Smitke challenge sewists to explore working with a variety of materials. Projects make the most of selvages, wool felt, linen, canvas, interfacing, fusible fleece, and zippers.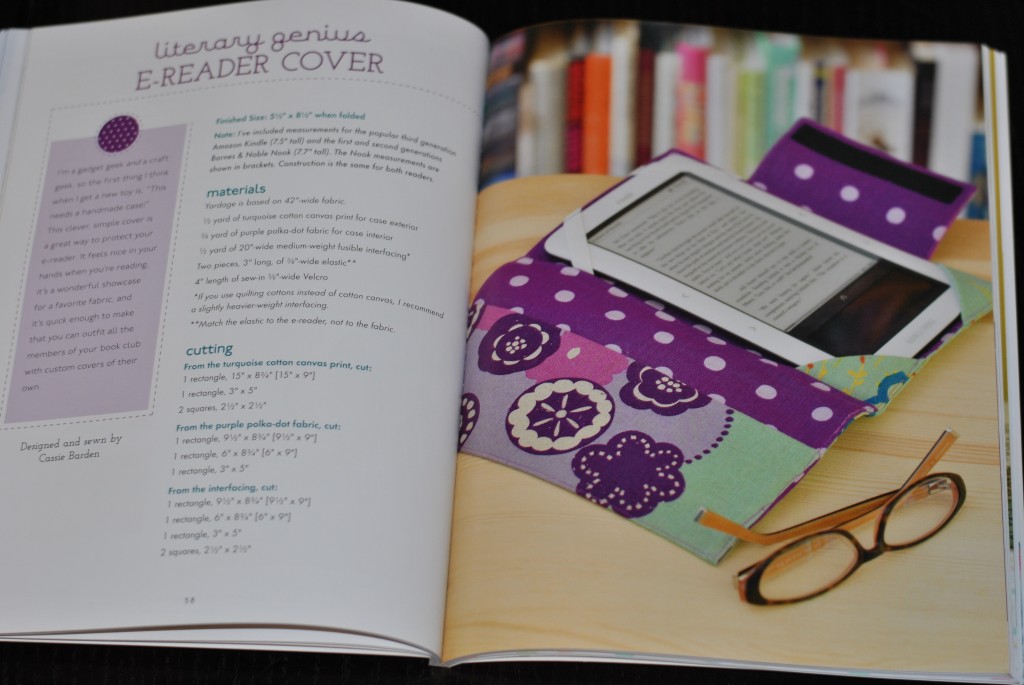 My Projects
When I was studying the 22 projects in Everyday Handmade and trying to decide which one to make, the Literary Genius e-Reader Cover caught my attention. I received a Kindle as a birthday gift only a week after I won this book at a quilting retreat, so the timing was perfect.
Before I started, I noticed that the finished size (5 1/2†by 8 1/2″) was going to be bigger than my Kindle and therefore wouldn't provide the intended protection. The authors note in the project instructions that they have included measurements for two e-readers, but unfortunately both were bigger than mine, so I decided to reduce the cutting measurements and make a practice cover first to check the sizing.
Fast forward through recalculations and two practice covers and I was finally ready to proceed with my final fabric choices. I used interfacing on all my quilting cottons to give them a bit more heft, and at the last minute I decided to also supplement the outer layer of the cover with fusible fleece to better protect my Kindle.
I'm happy with how the final product turned out. Although there are slight changes I would make if I were to make this again, it holds my Kindle snugly and provides sufficient protection.
One other project that I tried from
Everyday Handmade
is the Petunia Hedgehog Pincushion. Petunia is part of a three-piece sewing set, along with a stump-shaped needle book and notions pouch. To satisfy a Woodlands theme for an
ornament challenge
that's happening on
my blog,
I turned Petunia into a soft ornament by simple eliminating the base and sewing both sides of the body together all the way around.
Templates are included for the tree stump parts as well as all Petunia's parts, and I found it very easy to trace them using freezer paper and then transfer and cut the shapes out of craft felt. At the back of the book Barden and Smitke include simple instructions for techniques used in the projects, including the French knots and blanket stitch on Petunia. Even when you know how to execute simple embroidery like this, if your memory is anything like mine you know it's helpful to have a refresher on hand.
I'm pleased with the range of projects in Everyday Handmade, and I like the look and feel of Barden's and Smitke's designs. Whether you're making a little something for yourself or sewing up a personalized gift for a friend, you'll find something to try in this book.
Giveaway!
Martingale & Co. is giving one lucky Craft Buds reader the chance to win a $30 gift certificate to their shop, good for books, e-books or patterns. Enter to win by:
Leave a comment on this post. You can tell us if you use an e-reader or if you prefer paper books. (one entry)
Subscribe to Martingale's Stitch This! newsletter (for free patterns, sale offers, tips and tricks) and leave a second comment telling us you did! (one entry)
This giveaway is open worldwide and we'll choose one lucky winner via Random.org on Wednesday, May 2, 2012.
Out of 158 comments, the winner is #6 Jeanne, who said:
"I do have a Kindle and I love it for casual reading but it isn't color so I like my quilt and craft books in pulp. I do love that Kindle cover and the tote with all the covered buttons. If I win, I know what will be first to make! Thanks for the chance."