You probably known Aussie crafter and blogger Kathreen Ricketson as the founder of Whipup.net. You might have also seen her book Whip Up Mini Quilts, with 20 smart designs for patchwork wall quilts.
Her newest book is also for quilt lovers, and it's all about sewing with pre-cut fabrics. Little Bits Quilting Bee (Chronicle Books) includes 20 quilt designs from Kathreen's studio, 5 each from the represented types of pre-cuts (charm squares, jelly roll strips, layer cakes and fat quarters).
The book's 20 designs range from traditional (with modern fabrics) to whimsical/inventive, with standouts like "Cloud Song," a bright solids quilt from charm squares with raindrop applique and cloud-shaped quilting.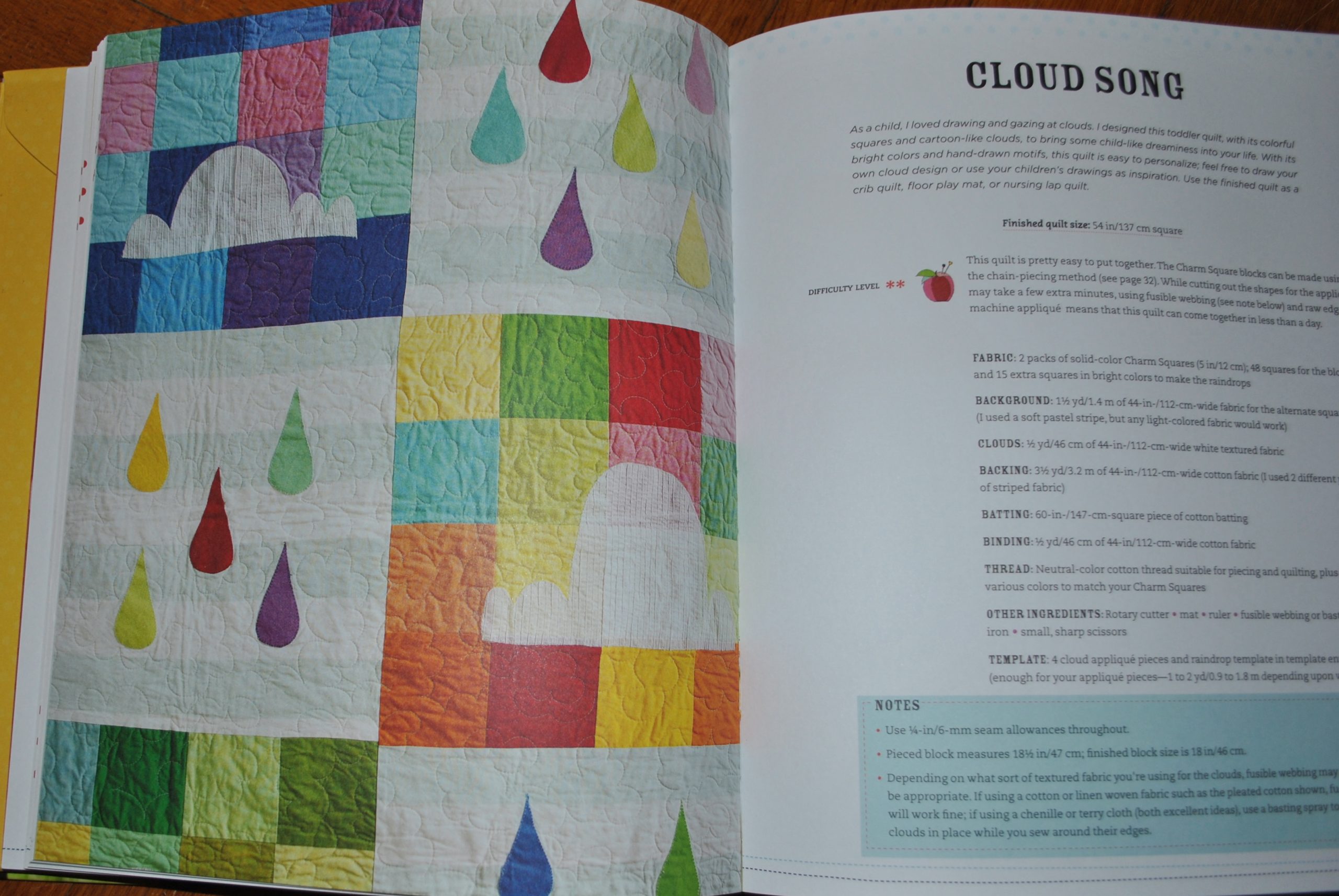 "Constructivist" is Kathreen's answer to sophisticated boy decor, and it has an adult appeal, especially with her woodgrain quilting technique.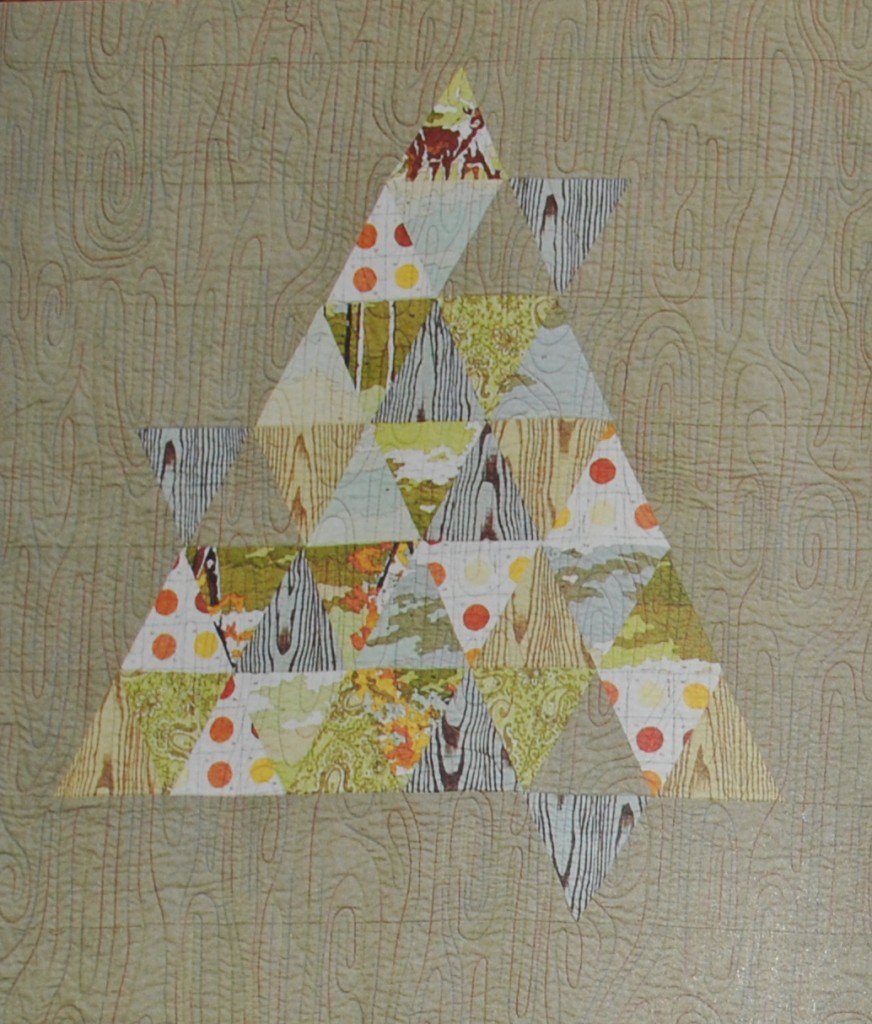 "Electric Spectrum" is a take on the classic log cabin, and "Rhombus" uses a strip-piecing technique. The cover quilt, "Dress Circle" is suitable for layer cakes, but isn't an incredibly new idea. Essentially, it's a drunkard's path quilt using appliqued circles instead of set-in circles. Although many designs are takes on classic quilt designs, the projects in this book are beautiful and are likely to inspire new to intermediate quilters.
Modern quilters who enjoy creating their own designs or stray toward improvisational piecing are likely to become frustrated by this type of book, which is perfect for those who like to quilt from patterns. A pattern pocket in the front of the book includes enlargeable applique patterns for the quilts that require it. The book includes full-color photographs and illustrations. The matte pages give it a bit of a "green" feel.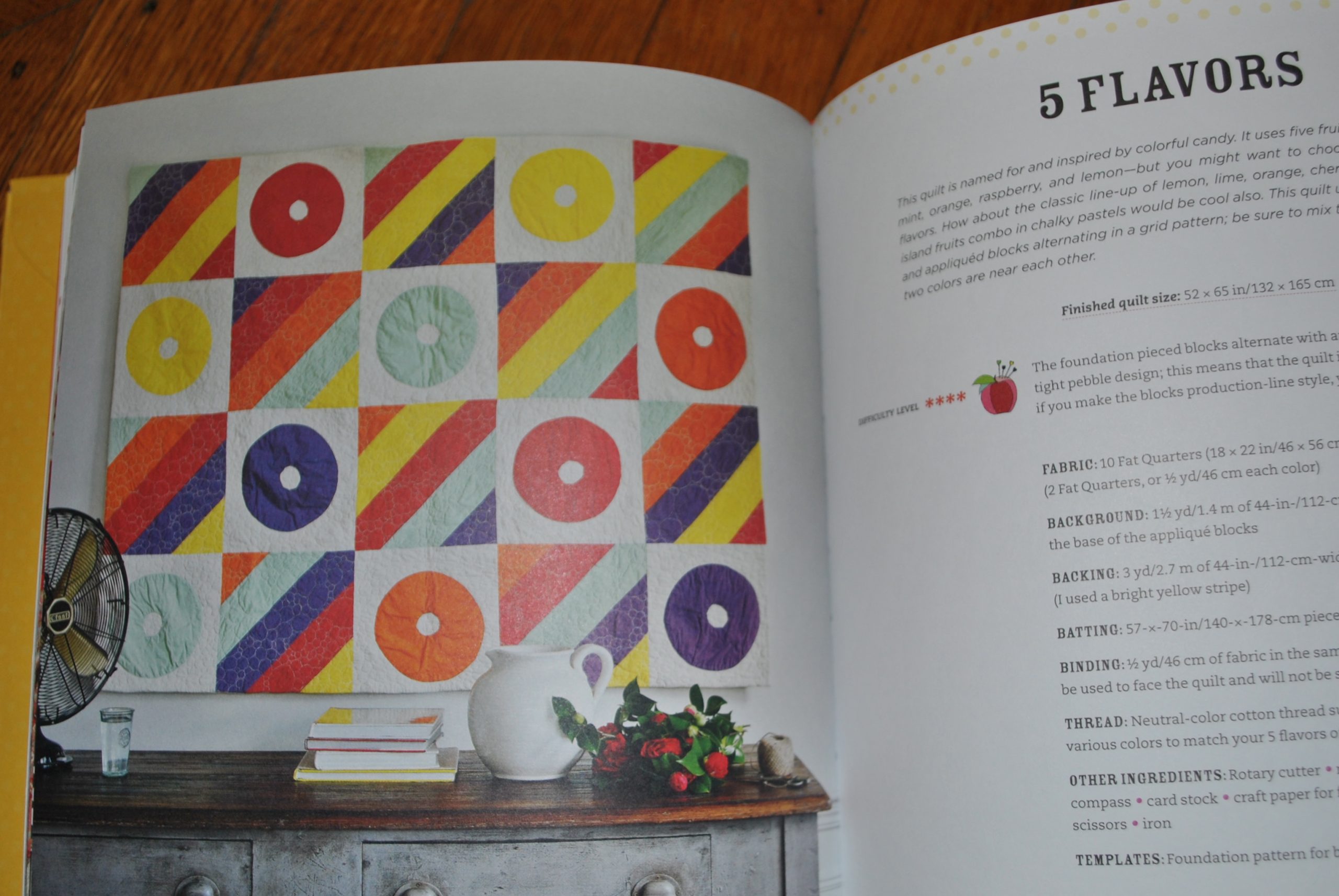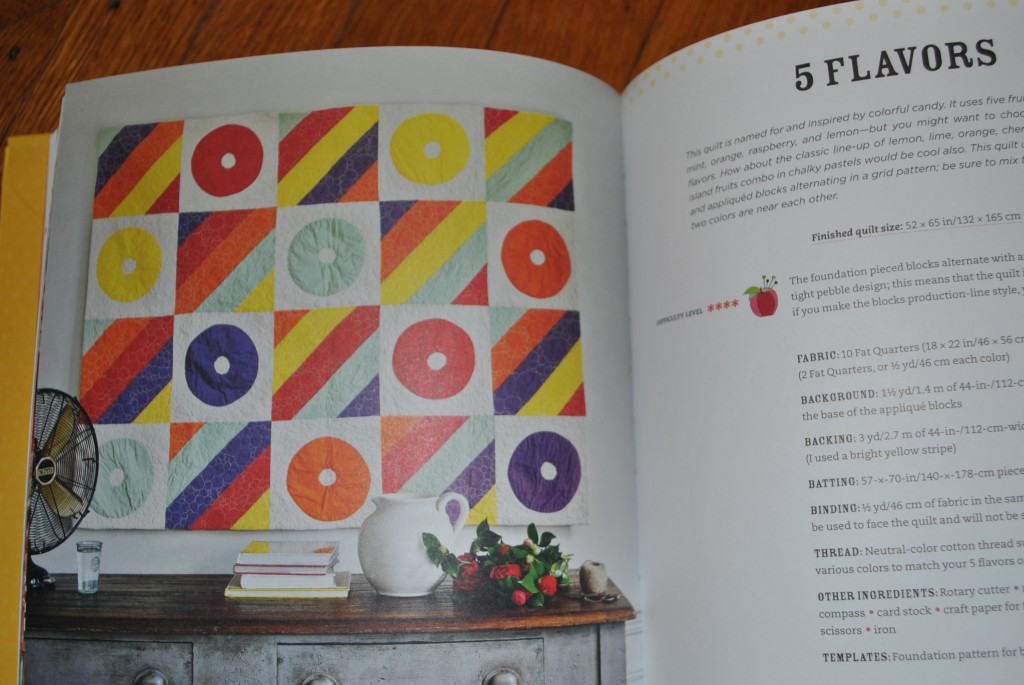 The book shows off a variety of fabrics, including solids and prints in recent and older lines, like Lush by Erin Michael for Moda. Kathreen also makes up many of her own fabric combos from Japanese prints, polka dots and stripes, which adds a nice variety to the charm pack and fat quarter quilts. The final quilts of the book show off some really innovative designs, including "5 Flavors" (channeling Life Savers candy) and "Summer Sundae," a delicious take on a quilt for a little girl's room.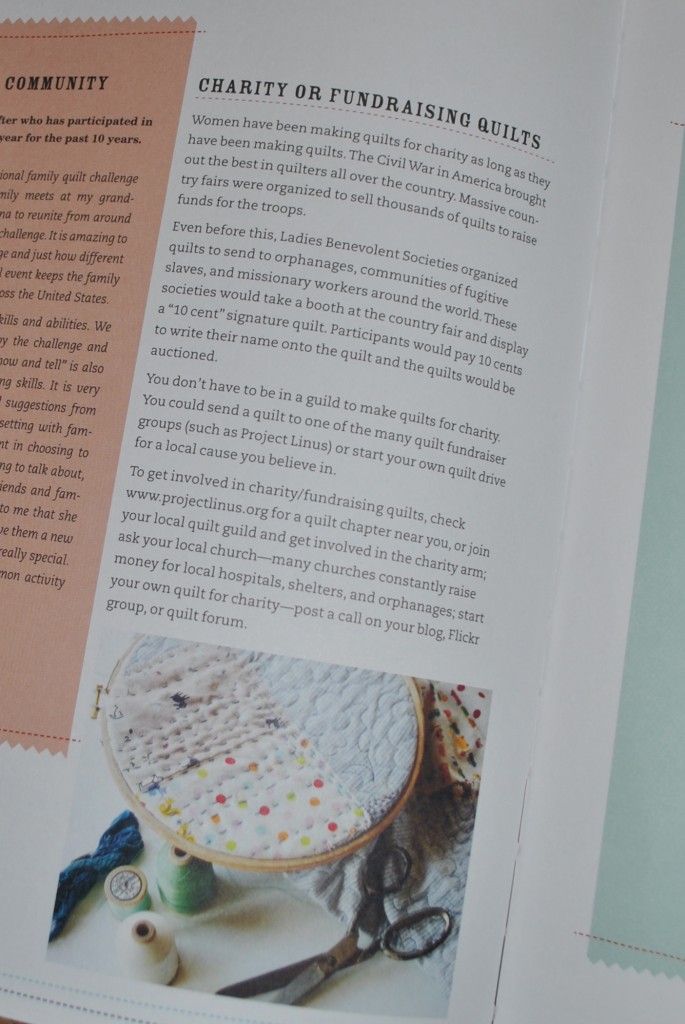 My favorite aspect of this book was Kathreen's introduction to "Community Quilting," in which she shares her expertise on virtual quilting bees, quilt swaps, guilds and sewing circles and charity or fundraising quilts. There are resources in the book for quilters who are looking to get more connected with others in their craft, which is a valuable aspect of the online crafting community.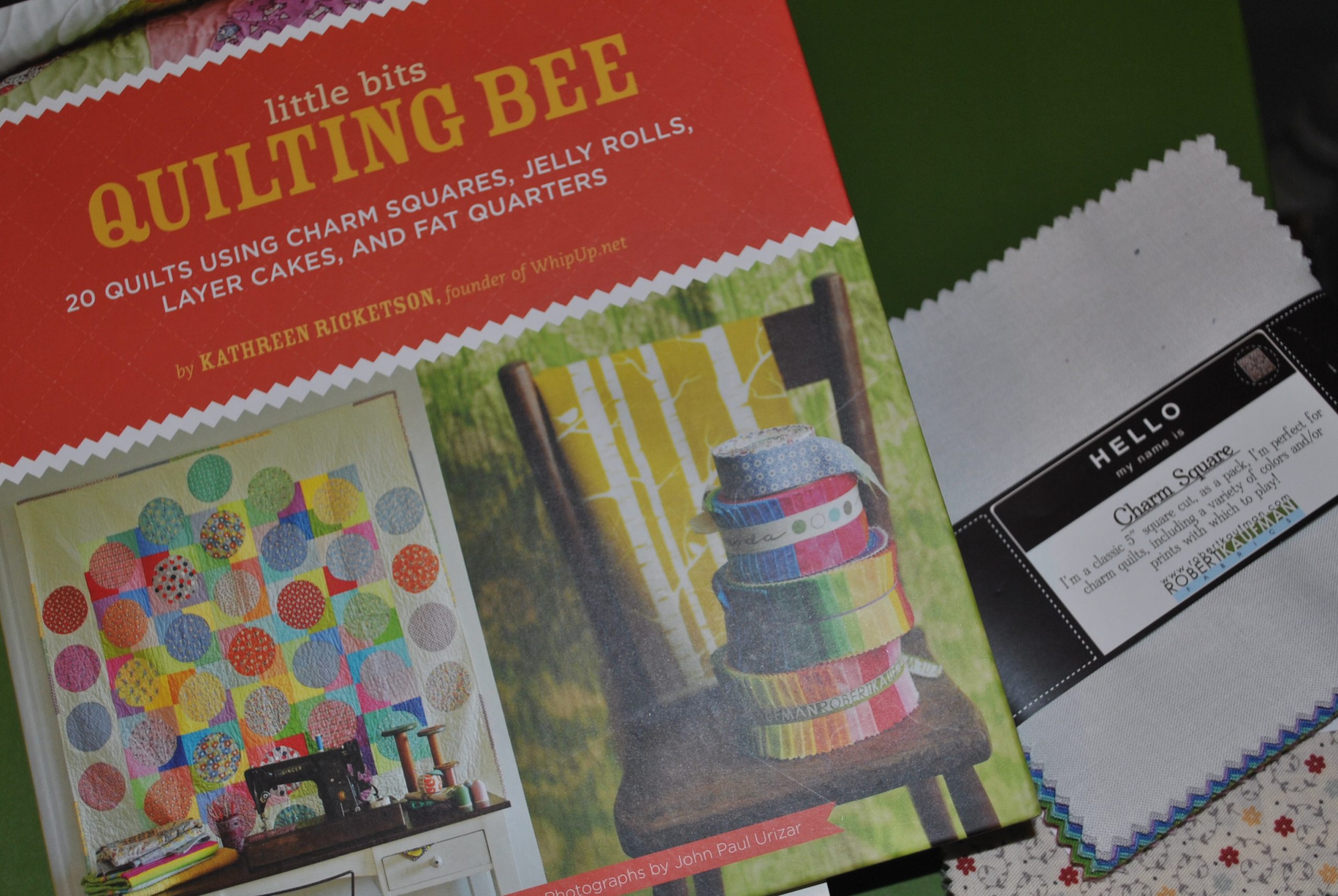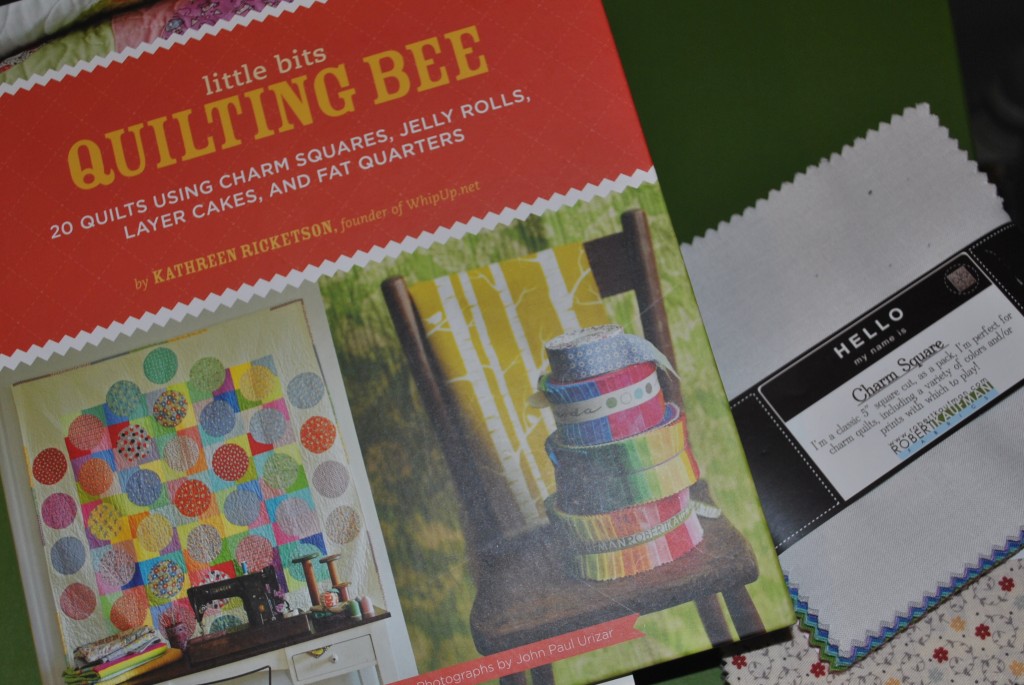 Quilters: Do you prefer to create quilts from pre-cuts or from yardage? Do you use pattern books like Little Bits Quilting Bee or create your own quilt designs?