Every holiday season I pull out my stash of recipes that for some reason, I only use at Christmas time. I think it makes these cookies feel extra special. What about you; do you have any holiday favorites? If so, leave a comment and link to the recipe if it's available! Here's three of our family favorites.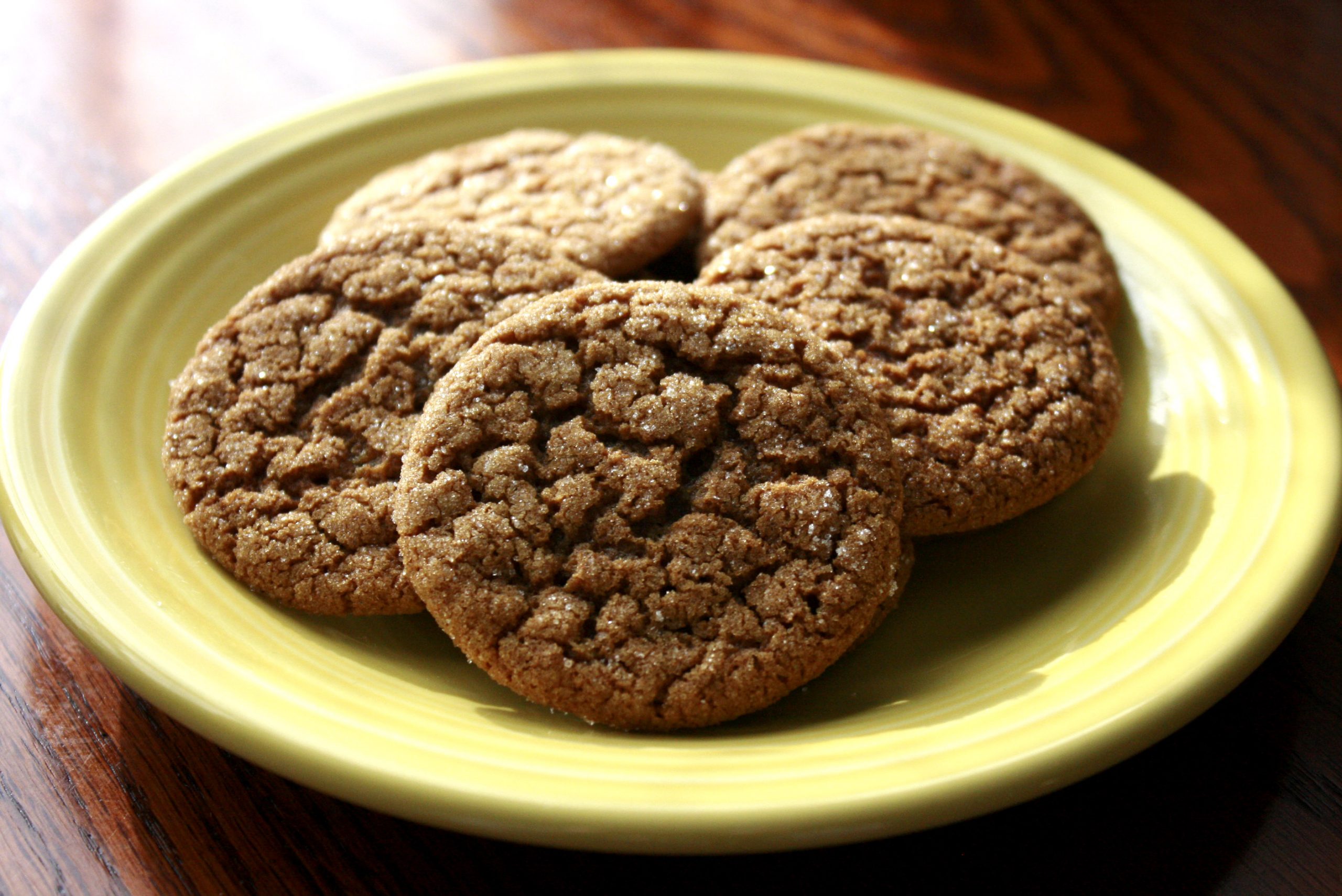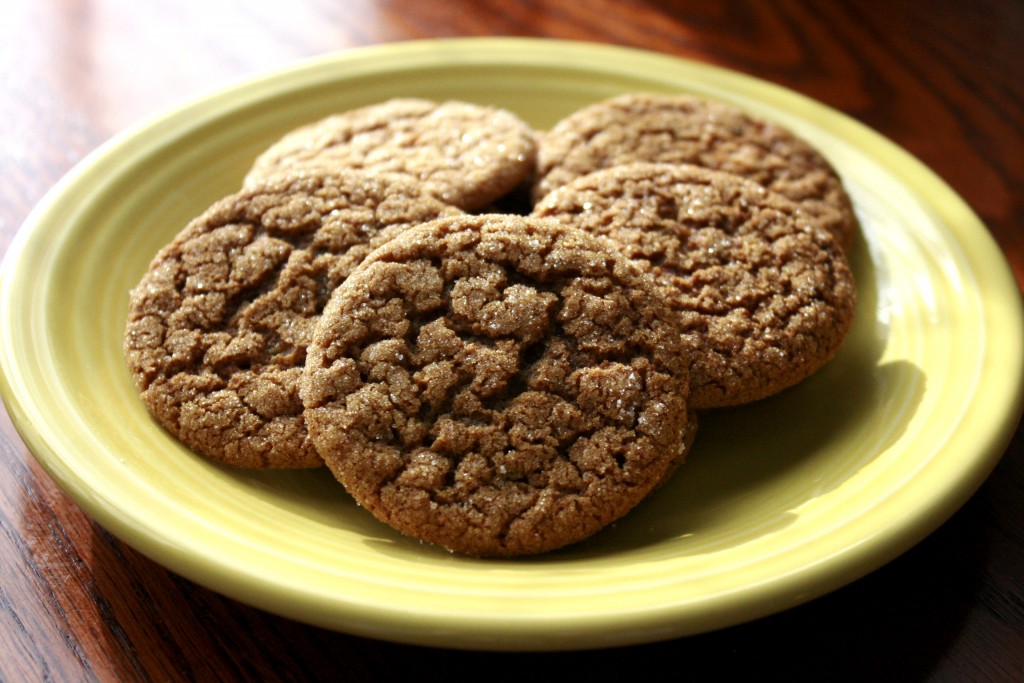 Old Fashioned Molasses Sugar Cookies
3/4 cup margarine or butter
1 cup sugar
1/4 cup molasses
1 egg
1/2 teaspoon each cloves, salt, ginger
1 teaspoon cinnamon
2 cups flour
2 teaspoons baking soda
Granulated sugar for rolling the cookies
Preheat oven to 375 degrees. Gently melt margarine or butter in saucepan or microwave. Allow to cool, then add sugar, molasses, and egg and beat well. Mix together spices, flour and baking soda then add to first mixture. Mix well and chill thoroughly. Form into 1″ balls then roll in granulated sugar. Place on greased or nonstick cookie sheet 2-3 inches apart and bake for 8 to 10 minutes for chewy cookies. Makes about 4 dozen.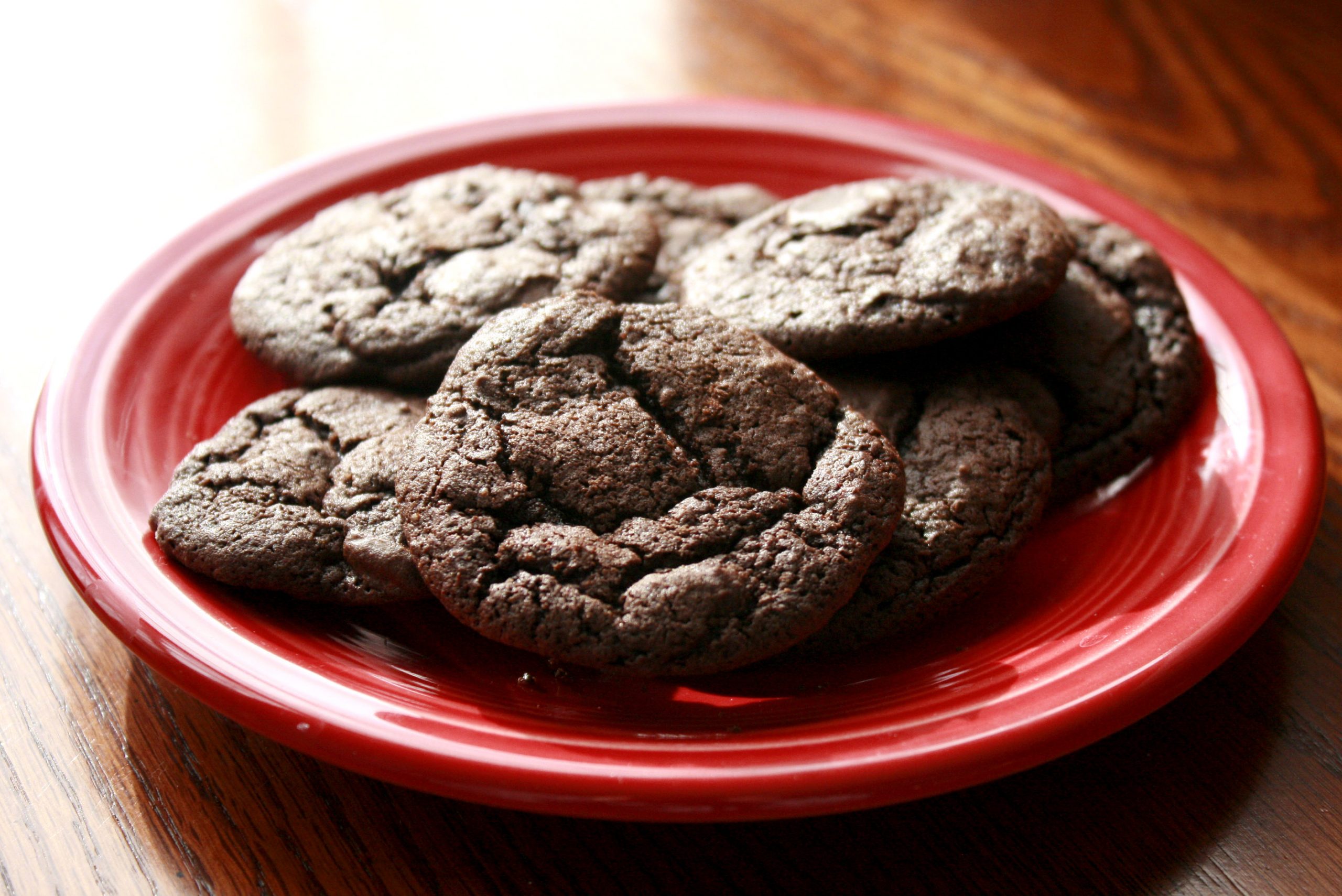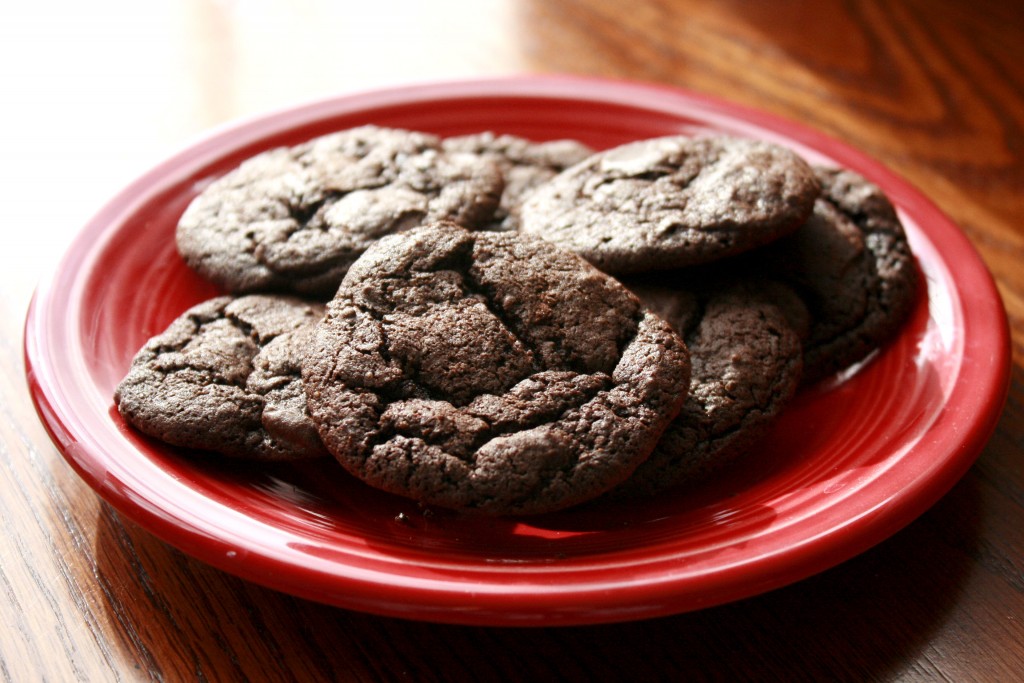 Peppermint Double Chocolate Chip
3/4 cups margarine
1 1/4 cups packed brown sugar
2 eggs
1 1/4 Tablespoons peppermint extract
1 teaspoon salt
3/4 teaspoon baking soda
3/4 cup cocoa
1 cup flour
2 cups chocolate chips
Preheat oven to 375 degrees. Cream together margarine and brown sugar until thoroughly combined. Next mix in egg, then the peppermint extract, salt and baking soda. Add cocoa and flour and mix. Lastly stir or mix in the chocolate chips. Drop tablespoonfuls of dough onto cookie sheet several inches apart and bake for 8 to 10 minutes (exactly 9 minutes in my oven if that helps!) for soft chewy cookies, a couple minutes more for crispy. Makes approx. 24 cookies.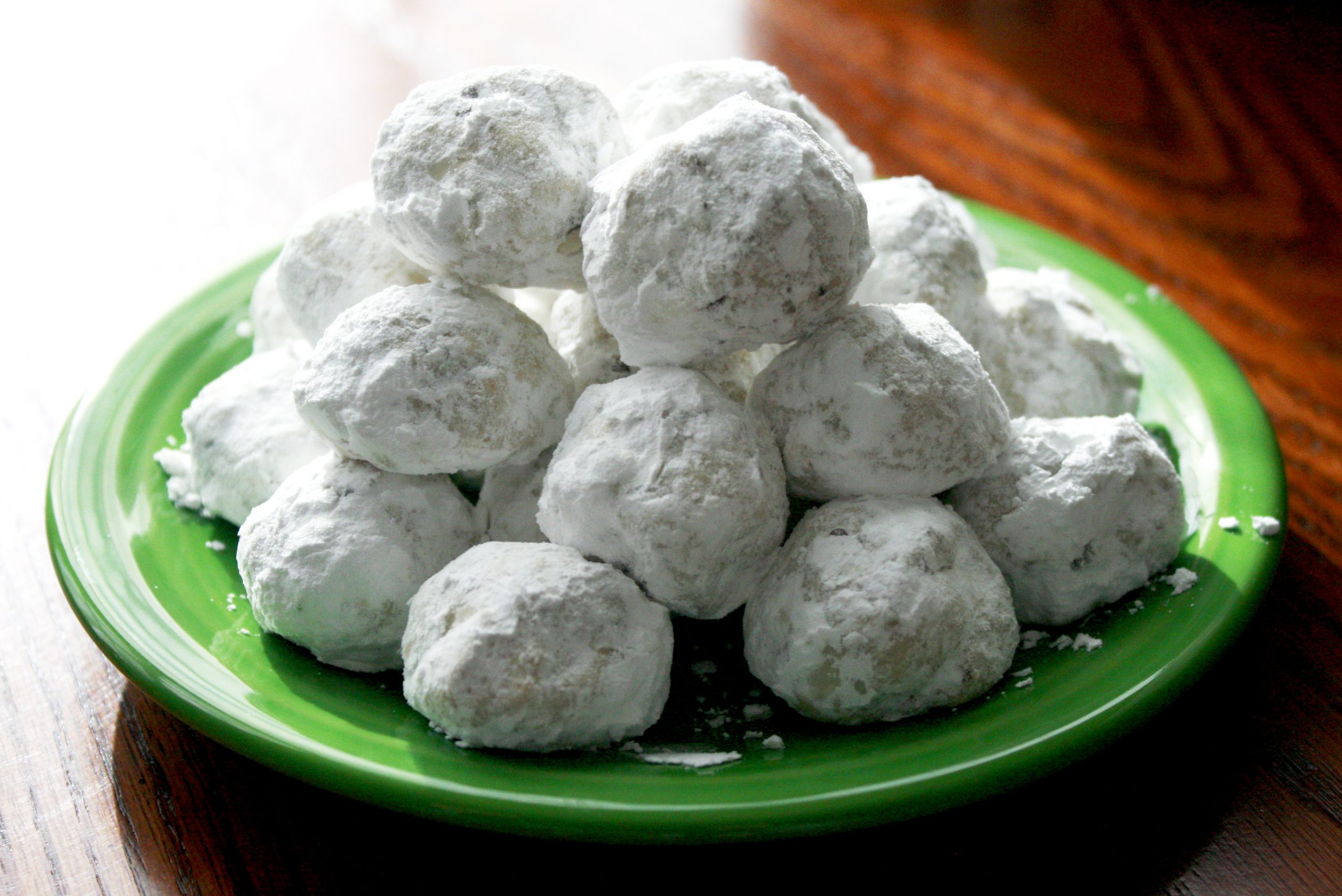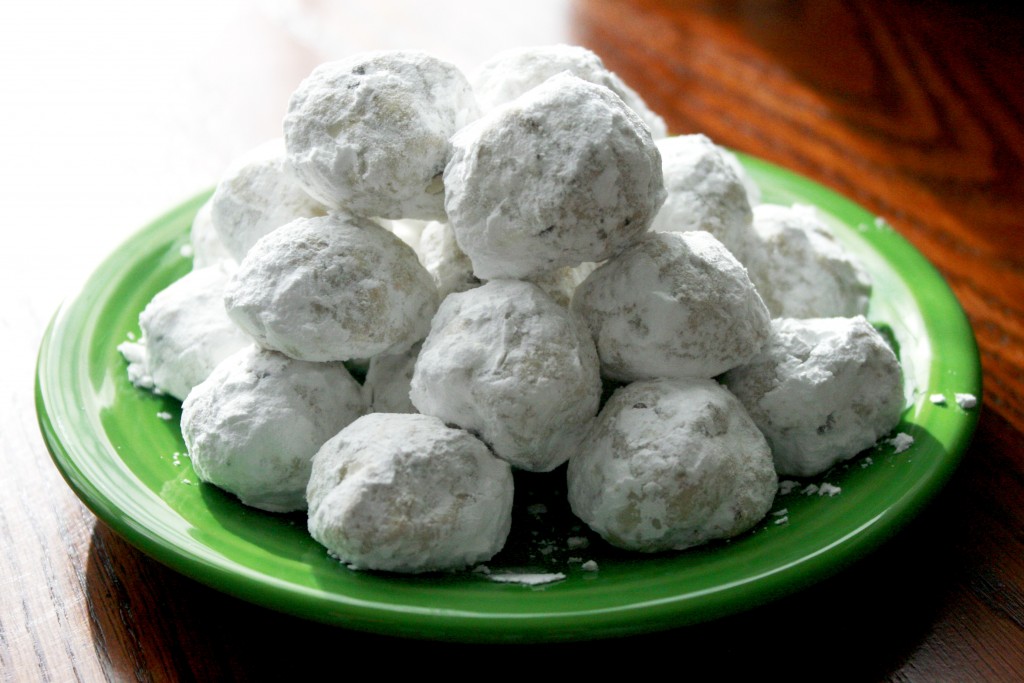 Cannon Balls
(also knows as Snowballs, Wedding Cookies, and probably lots of other names!)
1/2 cup butter
2 tablespoons sugar
1 teaspoon vanilla extract
1 cup flour
1/2 cup chopped pecans (other substitutions can be peanuts, Heath bar bits, peppermint chips, or whatever you like!)
Powdered sugar for rolling the cookies
Preheat oven to 300 degrees. Beat together butter and sugar until creamy. Add vanilla and flour and mix well. Lastly, mix in the nuts. Roll dough into 1″ balls and place on greased or nonstick cookie sheet. The cookies will not spread much so they can be placed fairly close together. Bake for 45 minutes for a flaky cookie, or slightly less for a chewy center. When cookies are removed from oven, begin rolling them in powdered sugar while still hot. After the cookies have cooled a couple minutes roll them in powdered sugar again.
Pin It