With summer coming to an end, kid-friendly recipes and activities help make going back to school more fun. These fall-inspired candy caramel apples are tasty, fun and easy to prepare—even with younger kids. Wrap a couple up in cellophane sheets with some ribbon for the perfect gift for teachers on the first day of school!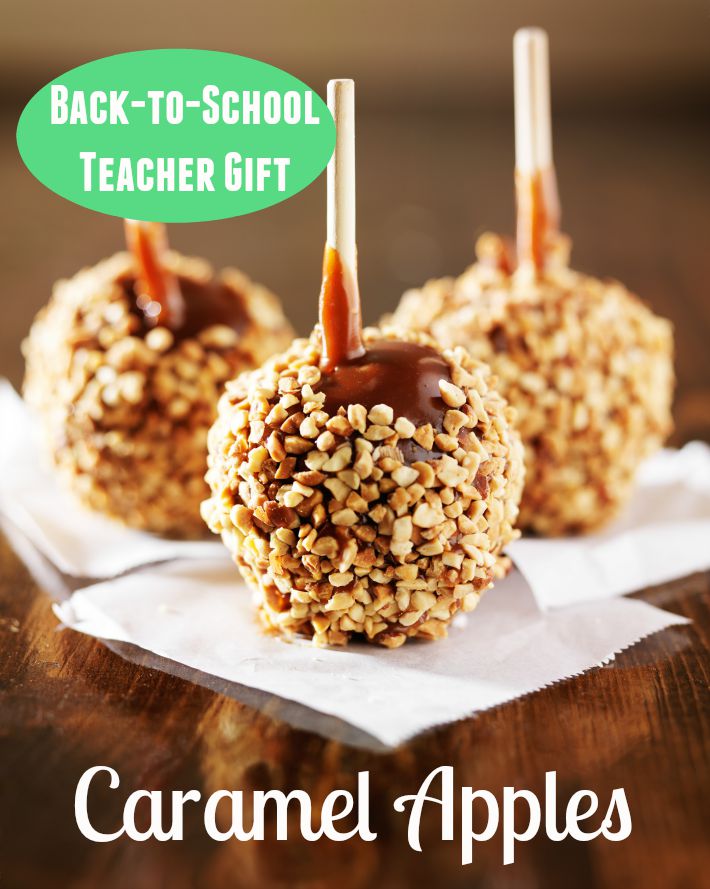 What you'll need:
– 6 small apples
– 1 bag soft caramels
– 2 tbsp. water
– 1 c. chopped nuts
– 1 bag M&Ms (or your favorite candy)
– 1 c. chocolate chips
– 6 wooden sticks
– 2 Hefty Foam Bowls
– 1 baking sheet
– Waxed Paper
The great part about this recipe is that you can easily change up the toppings. I've made this treat several times before with different candy combinations, including mini chocolate chips, sprinkles and coconut shavings. For this batch, we kept it simpler for the teachers with chocolate drizzle and nut-covered apples. (We topped the leftover apples with M&Ms for my family to enjoy!)
Preparation:
1. Wash apples and remove stems. Insert wooden sticks (wooden skewers, chopsticks, etc.) into the stem end. Line a baking sheet with waxed paper. Place apples on baking sheet and put in fridge.
2. Separate nuts, M&Ms and candy into separate foam bowls. Set aside.
3. Unwrap caramels and drop in microwave-safe bowl with water. Place in microwave for 2 minutes or until melted, stirring halfway.
4. Dip apples in caramel, letting the excess drip off. Chill in fridge for 5-10 minutes.
5. While you wait, microwave chocolate chips for 1-2 minutes or until melted.
6. Dunk the caramel-covered apples in desired topping and place back on baking sheet.
7. Use a spoon to drizzle melted chocolate on caramel apples.
8. Refrigerate until the caramel is set.
Guest post by Hefty. Photo: Joshua Resnick
Looking for more teacher gift ideas? Check out these Teacher Appreciation Pencil Pouches, cute Printables for Scissors as a gift, and the In Good Hands Printable!