This shop has been compensated by Collective Bias, Inc. and its advertiser. All opinions are mine alone. #FlavorYourWorld #CollectiveBias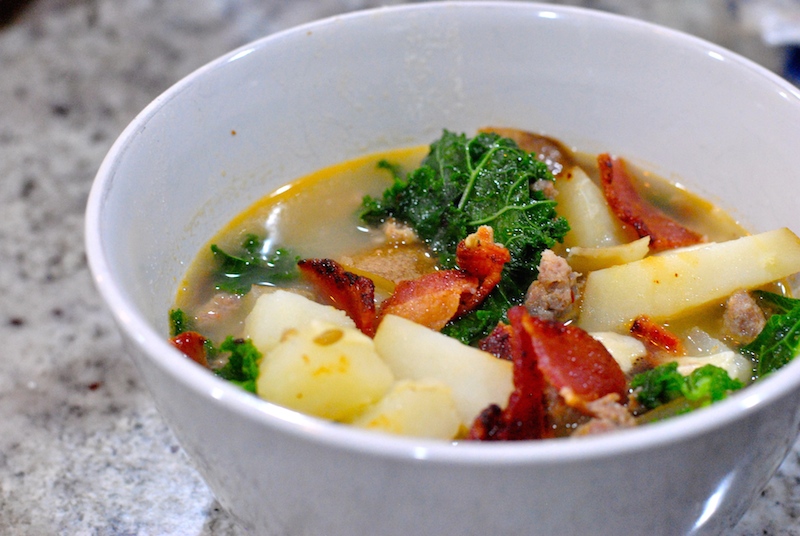 Wintertime calls for steamy soups that you can make in big batches and eat on chilly nights! This soup is a copycat of Olive Garden's zuppa toscana. My family makes this particular soup about every three weeks. Every time I make it, I love the combination of flavors. Filling and hearty, zuppa toscana is easily one of our family's favorite meals. Better yet, it is gluten free and can easily be made dairy-free (and Whole 30 complaint) if you leave out the half-cup of milk. I guarantee, you won't miss it!
Scroll down for the full recipe, or check out my cooking tips below.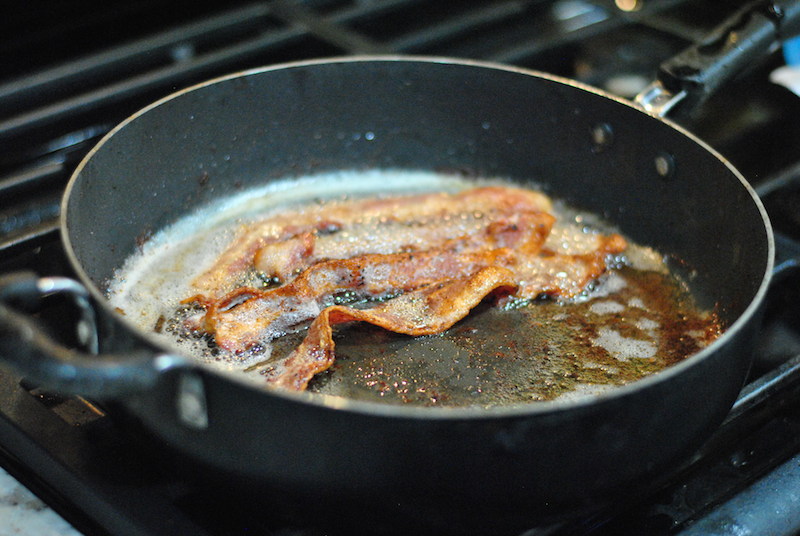 The first step of making this soup is to fry 1 pound of bacon. I like to do this ahead of time if I think of it. You can easily do this step one day (making bacon as part of your dinner), and save some crumbled bacon for your zuppa toscana the next night.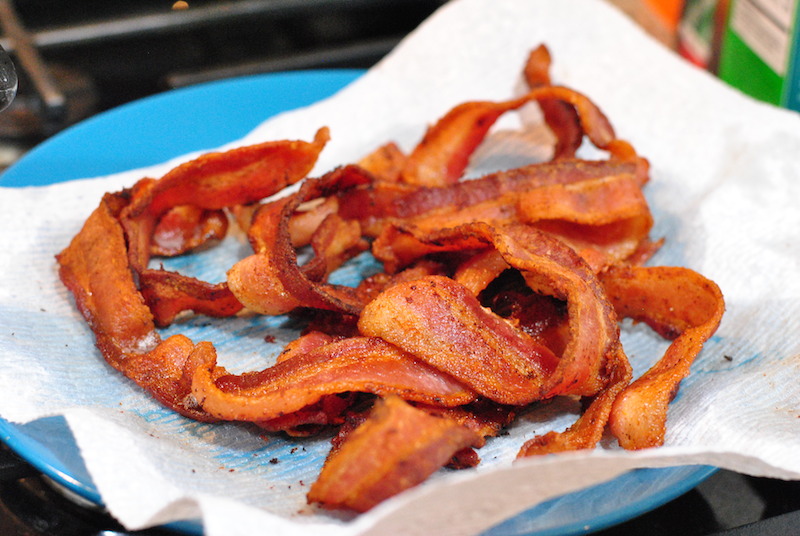 Bacon! I like to buy the thick-cut bacon and fry it extra crispy. Instead of placing the bacon in the soup to cook (several recipes call for this), I prefer to leave it out until the end, and add bacon crumbles as a crispy garnish.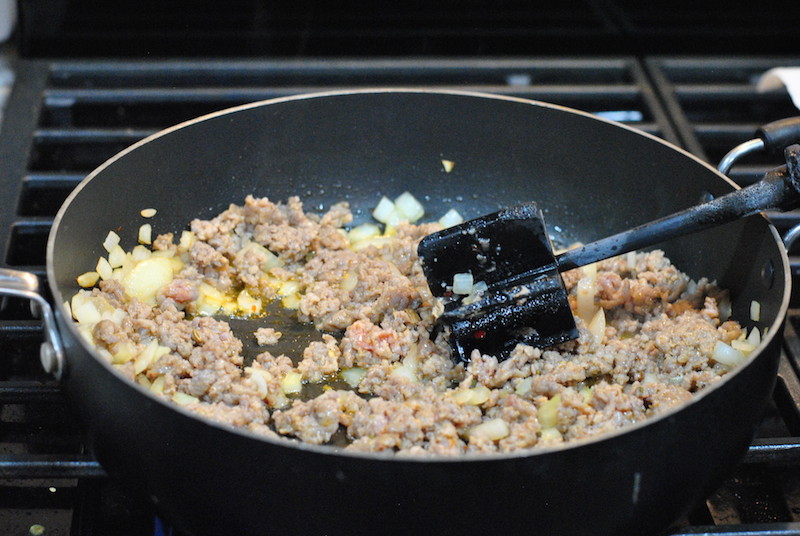 The next thing I do is saute 1 pound of italian sausage. I throw in the chopped onion at the same time, so I don't have to add extra oil for browning the onion. Drain the grease after this step.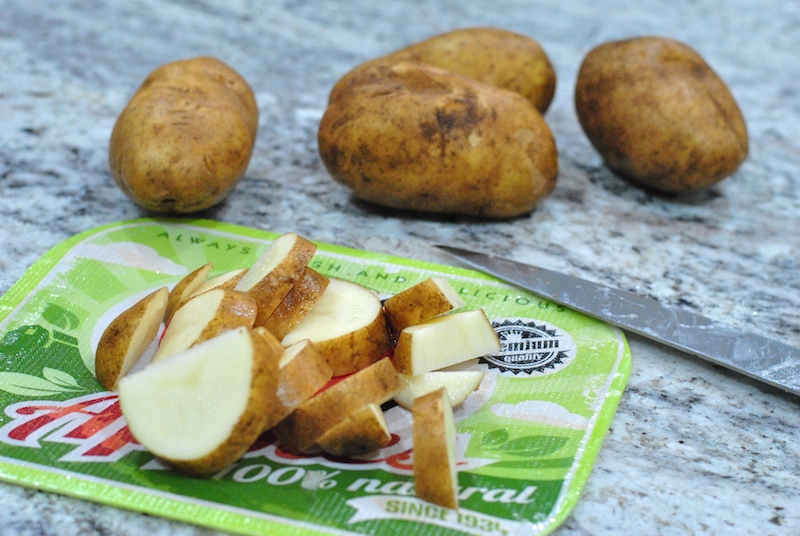 While I'm browning the meat, I chop up 6 potatoes. I cut them once longways, then cut into 1/4″-thick slices. If you want to cook your soup faster, go ahead and chop them up even smaller.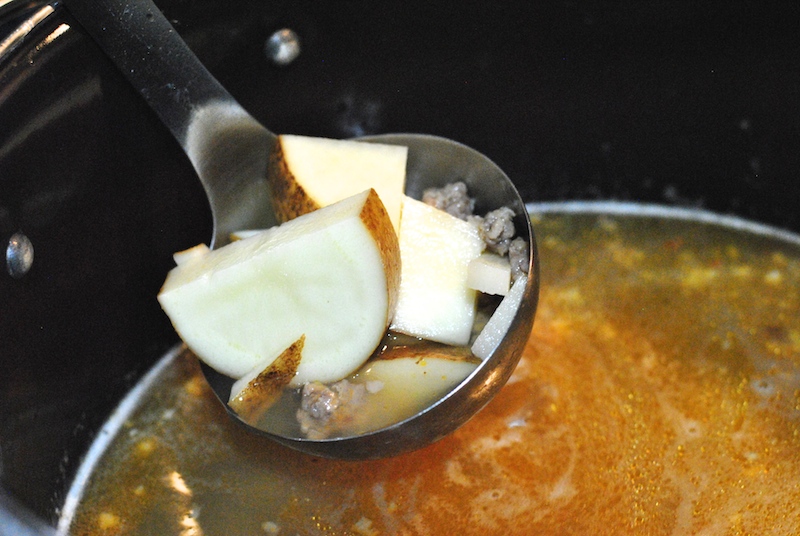 Next, I toss my cooked Italian sausage and onions mixture into a large stockpot. Toss in the sliced potatoes, and cover completely with chicken stock (8-10 cups). Set it to boil, then decrease the heat to medium and cook about 35 minutes or until potatoes are soft enough to fall apart.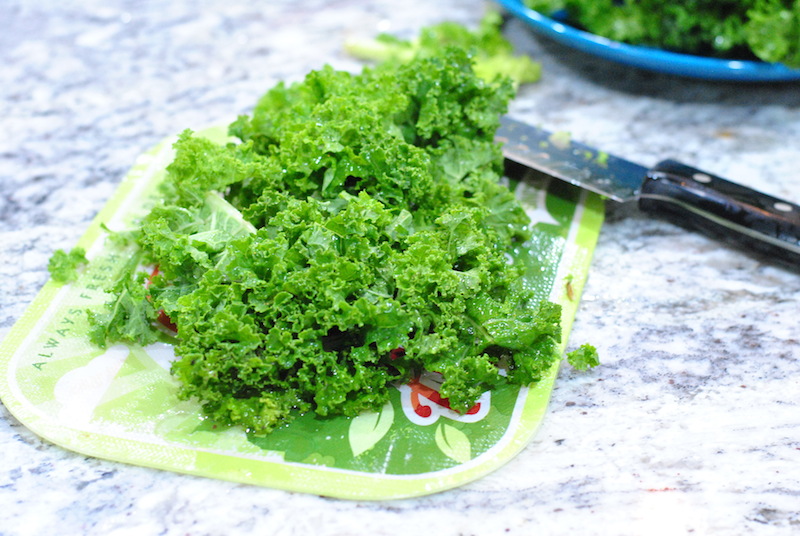 Remove and throw away the kale stems. Tear up the kale leaves and toss into the pot when soup is fully cooked. Let simmer for 3 minutes.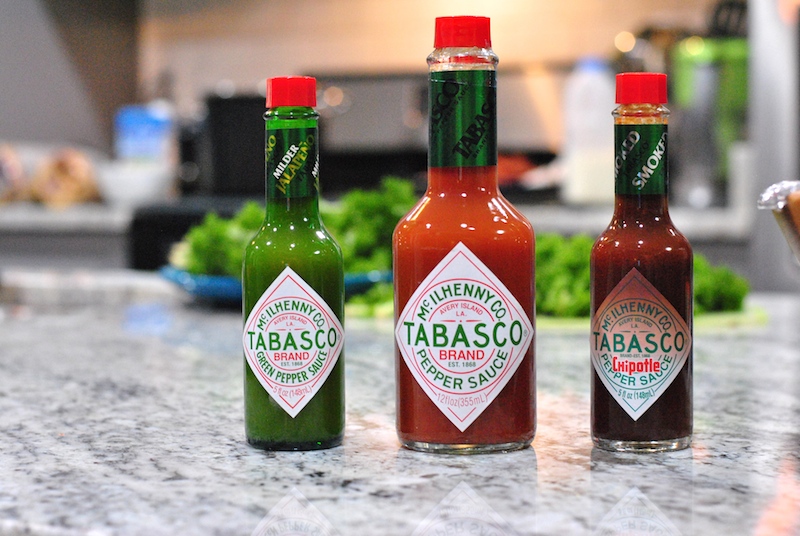 The soup's secret ingredient? Add TABASCO® sauce to spice up your sausage! I used the Original flavor (center), t which is Non-GMO, Gluten free and has zero calories. But all three flavors (Green Jalapeno, Original Red, and Chipotle Pepper) are available in 5-oz. bottles at Walmart. Check out the bottom of the post for a special deal via ibotta.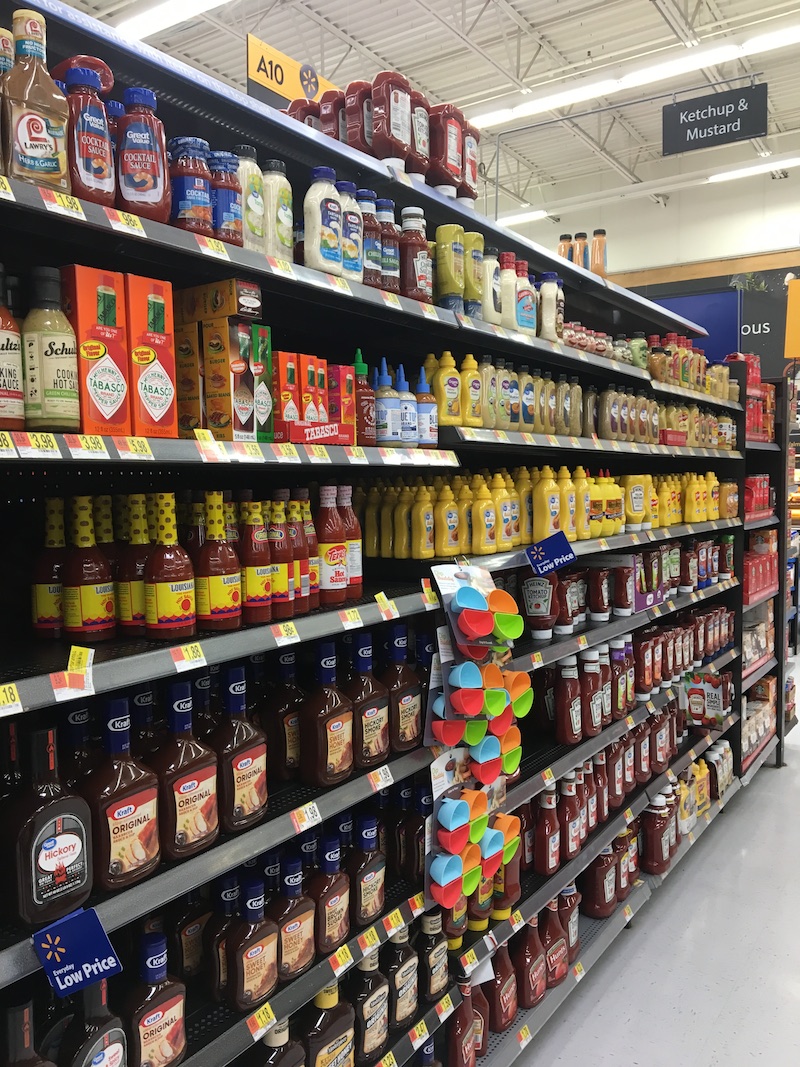 Pro tip: When you're looking for TABASCO® at Walmart, check the Ketchup & Mustard aisle, not the Mexican Foods. You'll find their brightly colored boxes on the second row, left side of the photo above.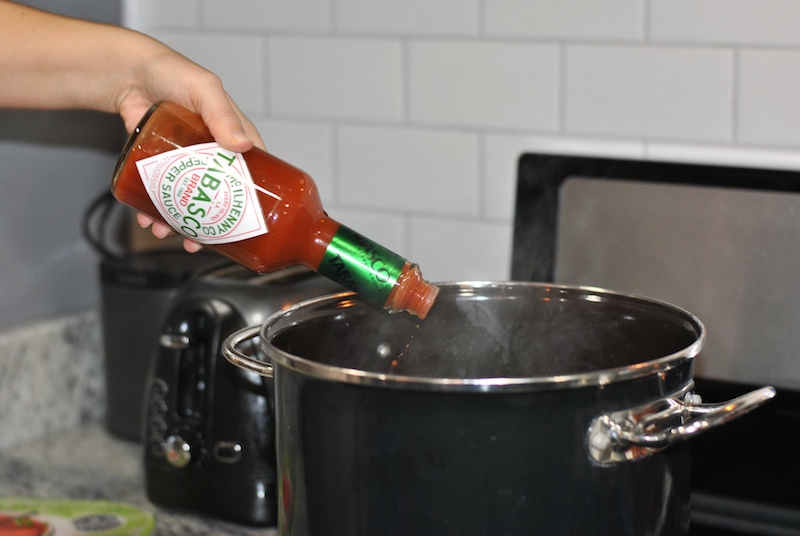 Grab the original TABASCO® and shake the bottle while pointing it down. Add about 5 to 6 "squirts" of sauce into the soup pot. Stir, taste, and add more if desired. I like to add milk at this point to cut the heat and make it a creamier color, but this is optional if you prefer a dairy-free soup. If you love creamy soups, add half and half instead of regular milk!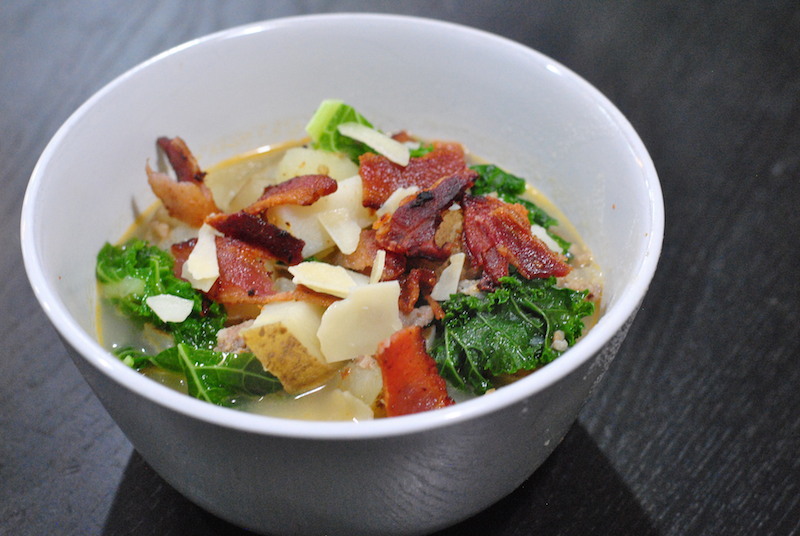 Serve the zuppa toscana with crumbled bacon and shaved parmesan cheese. This soup is delicious, and works great for guests! Game day anyone? It's also even better the next day, after the flavors have settled together.
Zuppa Toscana

Serves 8-10
Time: 45 min to 1 hour
Ingredients
1 lb. bacon
1 lb. mild Italian sausage
1 medium yellow onion, diced
8-10 cups chicken stock
6 large potatoes, halved and sliced
2 cups chopped kale
5-6 squirts TABASCO® sauce
1/2 cup milk, any variety (optional)
Shaved parmesan cheese (optional)
In a large skillet, cook bacon until it's very crispy. Set on paper towels to drain excess grease. Crumble into bite-size pieces. Set aside.
Brown Italian sausage and onions in a large skillet. Drain grease. Transfer the sausage and onion mixture into a large stockpot.
Halve the potatoes and slice into 1/4″ pieces. Toss into the stockpot.
Cover sausage, onions and potatoes with chicken stock. Heat to boil, then reduce heat to medium and cook for 35 minutes or until potatoes are soft enough to fall apart.
Remove kale stems and throw away. Tear kale leaves and toss into the pot when soup is fully cooked. Let simmer for 3 minutes.
Add TABASCO® sauce to taste. Shake the bottle, adding 5 to 6 squirts of sauce into the soup pot. Stir, taste, and add more if desired.
Add milk to the soup (optional). It cuts the heat if you've added too much hot sauce. You can add half and half instead of milk to make the soup a bit creamier.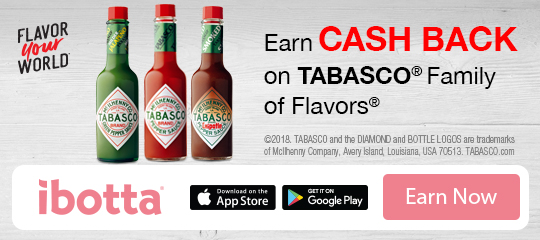 Save up to $1 on TABASCO® 5 oz. or larger when you use the ibotta app at Walmart!
Ends 12/31/18.