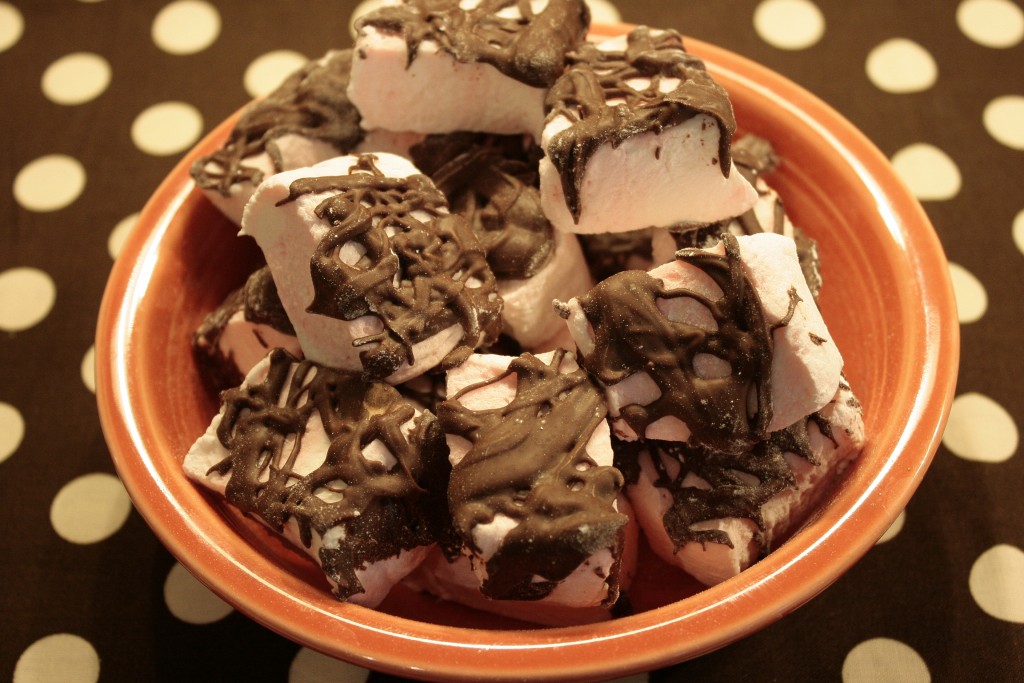 I've mentioned before that besides crafting I also enjoy baking. I've always wondered about making homemade marshmallows but was never brave enough to try it until yesterday. Now I have a delicious batch of flavored marshmallows with a chocolate drizzle on top and they weren't even that hard to make! One of the things I like most is that you can flavor the recipe based on personal preference or the holiday, like orange color and flavoring for Easter or red color and peppermint flavor for Christmas. I found this recipe on Allrecipes.com and while the recipe itself was good, the instructions were a bit brief. Here's both the recipe and step by step photo instructions.
Ingredients:
2 cups white sugar
1 tablespoon light corn syrup
1 1/4 cups water, divided
4 tablespoons unflavored gelatin (kosher gelatin is available too)
2 egg whites
1 teaspoon flavored extract (you can use vanilla but then these seem very similar to store-bought marshmallows and not worth the effort!)
1 cup confectioners' sugar for dusting
1. In a medium or large saucepan mix together the white sugar, corn syrup, and 3/4 cup water. You'll be adding more ingredients later so don't use a smaller saucepan. Set the burner to medium-high heat. While that's heating up, place a metal bowl on top of the saucepan (or use a double burner if you have one) and in it combine the other 3/4 cup water and 4 tablespoons gelatin (left photo below). In a minute or two, the gelatin will look like the right photo below, kind of wrinkly.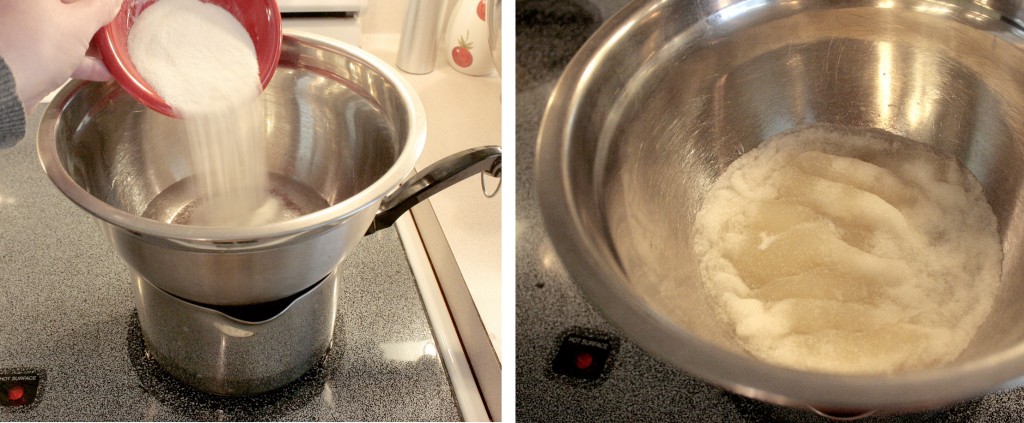 2. While your sugar and gelatin mixtures are heating, start beating the 2 egg whites until the form soft peaks. I test for a soft peak by raising the beater and seeing if a peak forms, flops over a bit at the top and stays like that without disappearing.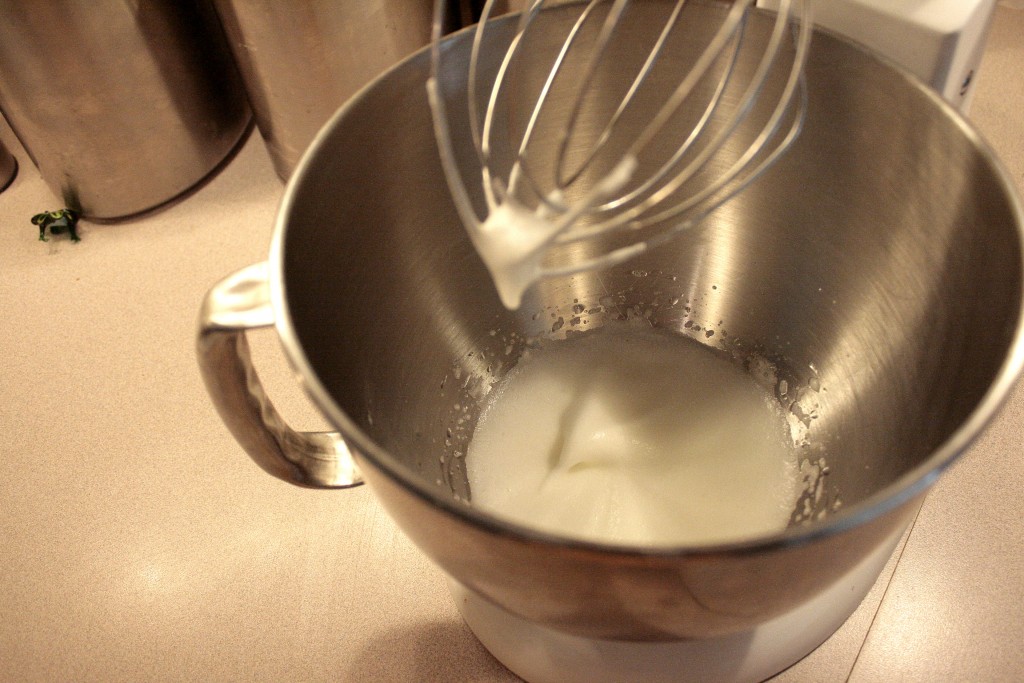 3. When the gelatin mixture has liquified, remove it from the top of the sugar mixture which by now should be boiling. Keep the gelatin mixture near the burner to keep it warm and in liquid form. Measure the temperature of the sugar mixture with a candy thermometer until it reaches 250 to 265 degrees F (121 to 129 degrees C).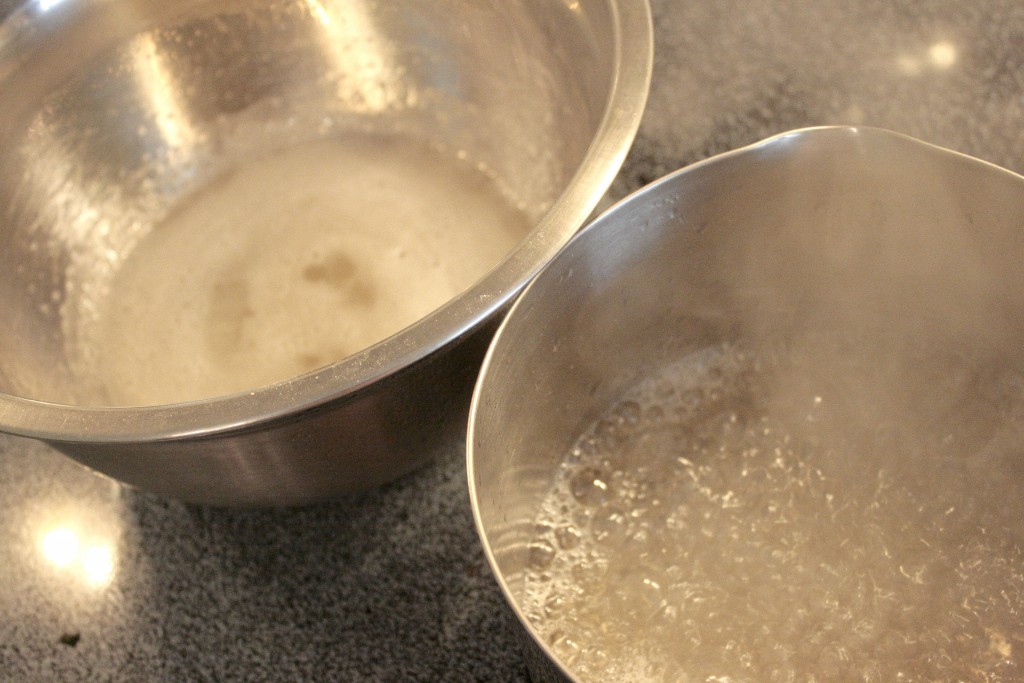 4. Once you've reached the desired temperature, remove the sugar from the heat and slowly pour the gelatin mixture into the boiling sugar (left photo below). It's going to expand quickly so be ready to stir it back down for a few seconds! Once the two are mixed, pour a slow steady stream into the egg whites while the beater(s) are on (right photo below).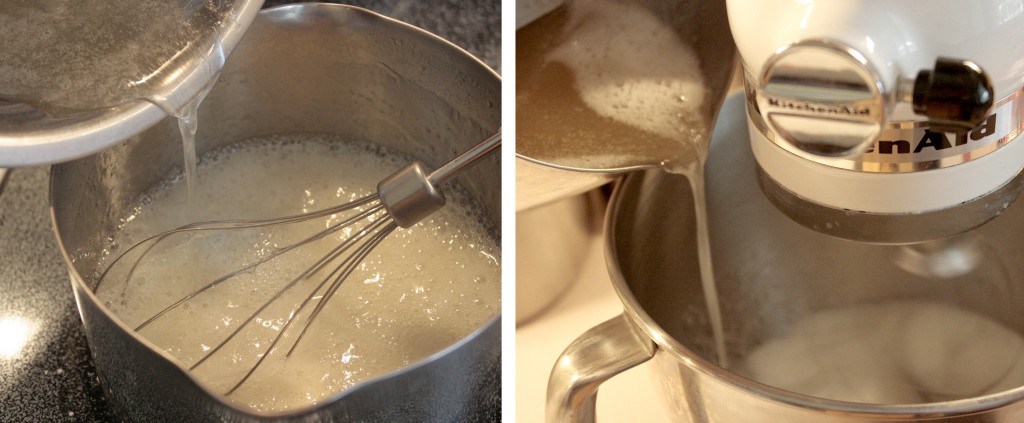 5. Beat until semi-stiff peaks form. This will take at least a few minutes if not longer. When it's done it will slowly drip off the beater and form peaks in the bowl. It will be about the consistency of marshmallow cream.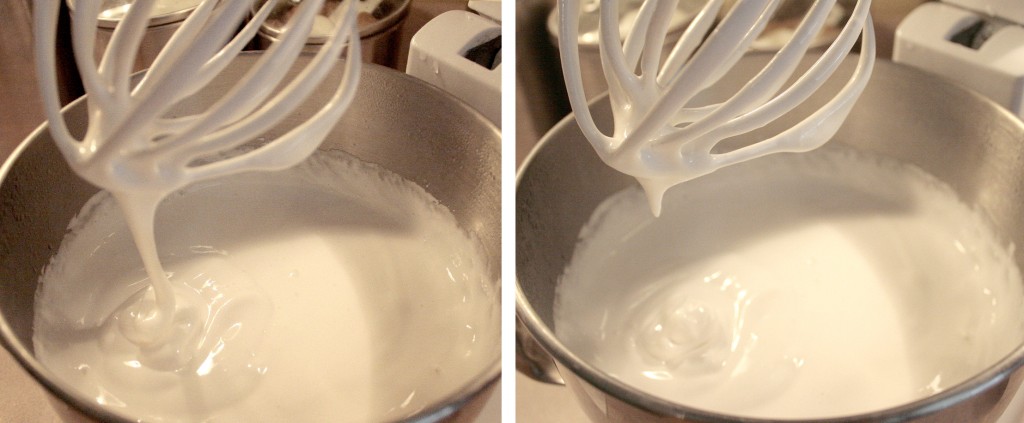 6. Next you can stir in a teaspoon of your choice of extract plus a couple drops of food coloring. I gently swirled in the color with a spatula so my final marshmallows have both the color and white showing. Then pour the mixture into a 9×9 or 9×13 pan that has been greased and covered in powdered sugar. I used spray oil and a 9×9 pan that the mixture nearly filled completely. For not so thick marshmallows, use the 9×13 pan. For even thinner marsmallows so you can use cookie cutters to cut them out, use a jelly roll pan/cookie sheet.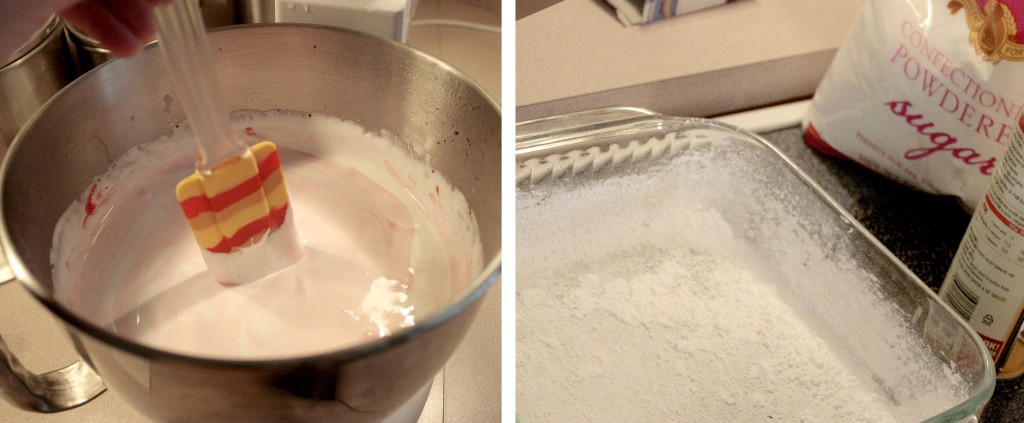 7. Let the marshmallows cool and stabilize for 4-6 hours then cover the top with powdered sugar and turn out of the pan onto wax paper.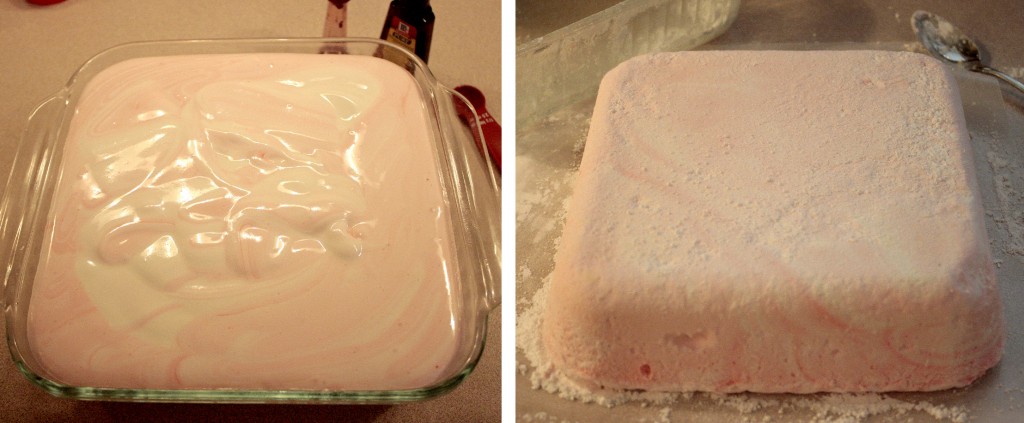 8. Use kitchen shears or a knife to cut the block into individual marshmallows. Dip your scissors or knife into powdered sugar if it starts to stick. If you made a thinner sheet of marshmallow for cookie cutters, use lots of powdered sugar on both the cookie cutters and the marshmallow block. As you cut the marshmallows, roll them in powdered sugar.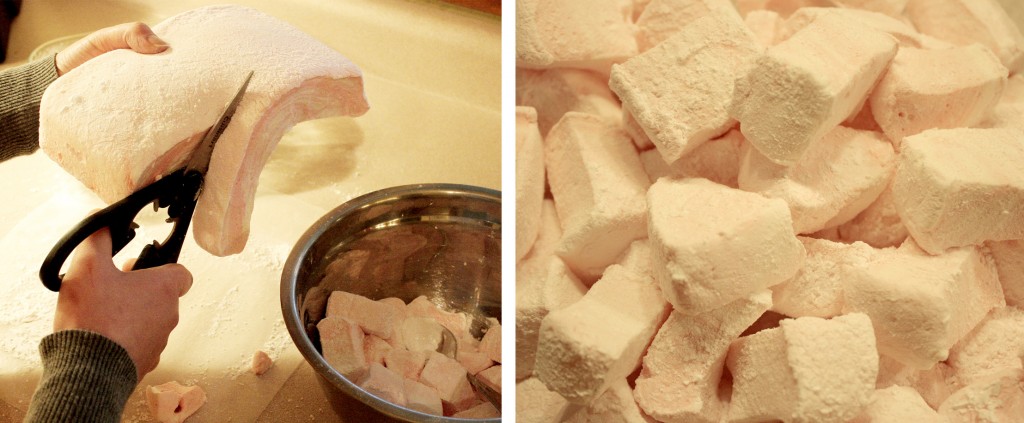 9. Melt 1 1/4 cups of semi-sweet chocolate chips over low heat on the stove or in the microwave. Line up all your marshmallows close together on wax paper and drizzle with chocolate. Then move them apart before the chocolate cools. Once the chocolate is cool they're ready to store in an air-tight container!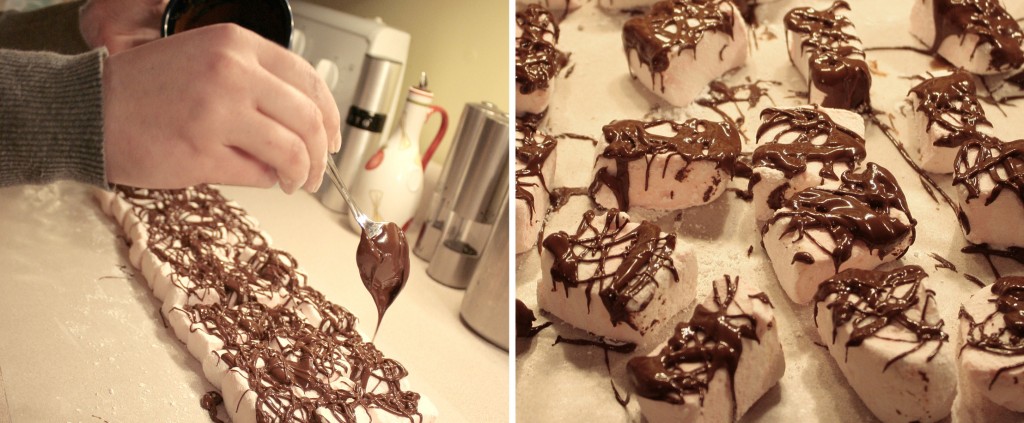 *Thanks to everyone who entered the beanbag contest! The winner was Sarah G., comment #28 chosen by Random.org! If you're Sarah G., you should have an e-mail from me :).*