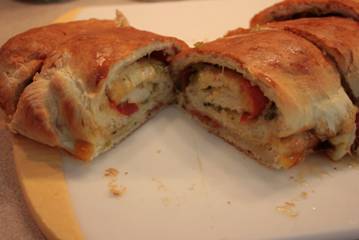 This recipe is the one I am most often asked for. It's what we make when a big group of people comes over (I think we've made up to 8 in one night before!) and it's an easy to prepare meal. Basically it's a rolled up pizza that's good fresh out of the oven or cold from the fridge the next day. Each stromboli loaf serves approximately 3 or 4 hungry adults.
Ingredients
1 loaf frozen bread dough, thawed
2 eggs yolks (save whites separately for glaze)
2 Tablespoons olive oil
1 Tablespoon dried parsley
1 Tablespoon dried oregano
1/2 teaspoon garlic powder
1/4 teaspoon pepper
1/4 pound pepperoni (or whatever toppings you normally like on pizza)
2 cups mozzarella cheese
Optional: Spaghetti sauce for dipping.
Basic instructions:
Roll or stretch out dough into a rectangle approximately 10″x14″ or larger. Mix the next 6 ingredients and spread over the dough. Cover with pepperoni and/or other toppings (sausage, onion, green pepper, etc.).
Roll up dough into a loaf and pinch the seam together and fold over the ends. Place seam side down on greased pan (or a pan covered in non-stick foil) and brush top with egg whites.
Bake at 350 for 30-40 minutes until top is well browned. Slice and serve with spaghetti sauce for dipping.
Step by step instructions with photos:
1. Thaw the dough. It usually takes about 6 hours to thaw. I take it out of the freezer bag and rub it with olive oil and place it in a loosely covered bowl. In the warmer months I just leave it on the counter and in the winter I put it on or near a heating vent. You can find the frozen dough in the freezer section, usually near the garlic bread and frozen rolls. It usually comes in a bag of 5 or 6 loaves. You can also make homemade bread dough.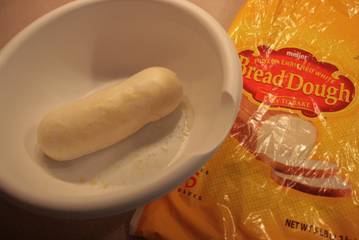 2. Let the dough thaw until it at least doubles in size. The larger it gets, the easier it is to stretch so it's okay if it even triples in size.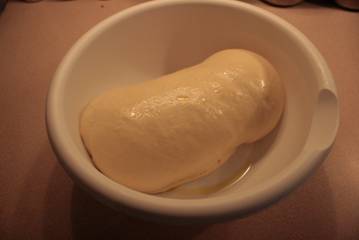 3. Stretch out the bread dough into a rectangle. Mix together the egg yolks and seasonings.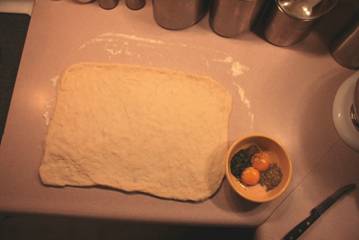 4. Spread the egg/seasoning mix over the dough.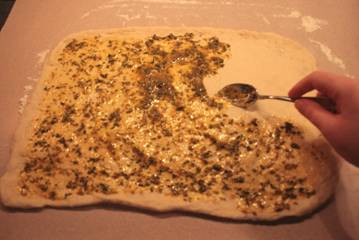 5. Put on all your toppings then roll up the dough.

6. Pinch the seam shut and fold over the edges.

7. Place on greased pan, or pan covered in non-stick foil, or pan covered in foil sprayed with Pam with the seam side down. Brush with egg whites.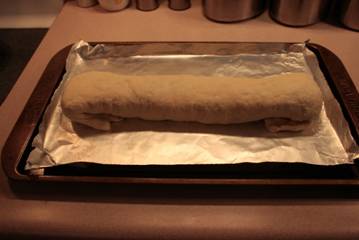 8. Bake until brown. Some cheese will probably bubble out.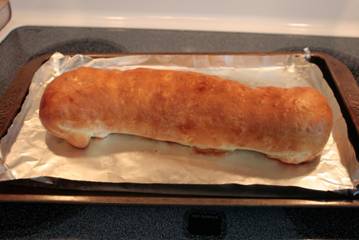 9. Slice and serve! Serve with spaghetti sauce for dipping. (I usually use a can of Hunt's Roasted Garlic and Onion.)