It's been a little while since Craft Book Month, but throughout the year, we like to keep in touch with authors who are celebrating new releases! This time, we are here with Sujata Shah, author of the new book Cultural Fusion Quilts: A Melting Pot of Piecing Traditions 15 Free-Form Block Projects (C&T Publishing).
Let's take a look at how Sujata came to write this inspiring book, and learn more about what she's got up her sleeve next! Don't forget to leave a comment at the end for your chance to win a copy of her new book.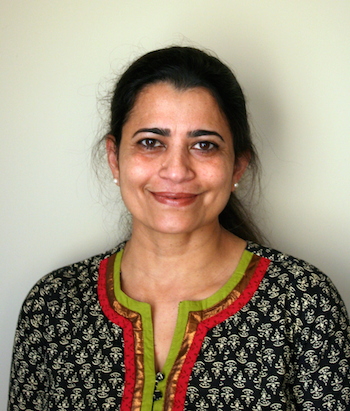 Sujata, can you tell us the story of how your decided to take your ideas on world-culture-inspired quilts and write a book?
Up until 2002, I made quilts with traditional blocks. They were precise, perfect and different than what I knew as quilts. Back in India we called them Godharis. When I saw the quilts of Gee's bend, my focus shifted from making every quilt perfect to "just make quilts." For the first time, I connected my roots and quilting. The Quilts of Gee's Bend were simple, utilitarian quilts made for everyday life, from everyday materials, the same as Godharis from India. I discovered a connection between the two cultures.
During the past 29 years of life in this country, I have had many opportunities to live in different cities and meet people from around the world. Many trips to import stores and arts and crafts fairs also led to my fascinations with distant places. It is easy to find the same geometric patterns in woven baskets as well as in prints and patterns seen in textiles and quilts. Basic traditional quilt blocks are not limited to quilts, but they are also found on walls and windows of forts and palaces in India. Although, there are several books written based on the influence of specific cultures on quilting, my ideas changed from time to time with each piece of inspiration. Objects that had nothing to do with my background or heritage would remind me of places and things from home.
My process became more about the shapes, forms and textures than fabric and traditional patterns. Although not new, I felt there was a place for this concept in modern quilting.
How does your childhood growing up in India influence your quilting designs today? What about your family's current home in Pennsylvania?
It is next to impossible to escape colors when you are in India. If you were born and raised there like me, colors are going to stay with you for rest of your life. At least that is how I see it. Whether it is the kite festival with thousands of colorful kites in the sky or the festival of colors celebrated in early spring, or the festival of lights to celebrate the new year with bright and colorful new clothes, Indians know how to live in colors. Whether it was six yards of beautiful print in a sari or the streamers made from fabrics over the walkway to a temple, woven fabrics or beautiful silks, colors and prints were part of my daily life. I think it has everything to do with how I design my quilts. I generally shy away from defining myself as one kind of quilter and move from scrap quilts to simple and bold quilts. But it would be very difficult to limit myself with choices. I love experimenting with colors. I find the best color inspirations and accidental surprises from the floor of my messy sewing room.
My current home in Pennsylvania is painted with neutral tones. I believe that the grey tones gives the best background for my colorful quilts. I have quilts hanging in every room, hallway and nook of the house. The oldest quilts and a few textiles from India adorn the walls of my home. I also like to decorate with arts and crafts from India and some from around the world. Some are bought from import chain stores. I surround myself with things that inspire me. Sometimes they are as simple as rocks, pebbles and plants.
What do you love about piecing a quilt from free-form techniques?
With traditional quilting, most of the times during the design process, I start seeing the final result way before the quilt is made. Once that happens, I lose interest in finishing that project.
I am usually drawn to textures, patterns, imperfections and irregularities of handmade crafts. As much as I like traditional quilts, the accuracy required in cutting and piecing a quilt top is unappealing. After seeing the quilts of Gee's bend and experimenting with free-form blocks, every step of the quilt-making process has been exciting. To me, free-form blocks are like ever-changing colors of sunrise or sunset. They keep me engaged till the last stitch.
What was the most surprising or challenging part of the book-writing process for you? The most rewarding part?
Well, I realized writing a book is not as easy as making the quilts. I could come up with 10 different ideas while I was working on one quilt. To break down every step that comes naturally to you is a very difficult process. To learn the technical aspect of writing a book was hard. Having said that, I knew I had something different to offer to the quilting world. I wanted my blog readers and other quilters to feel same excitement as I was feeling when making the quilts.
For a girl who never wanted to sew, who learned English as fourth language in school, publishing a book at age 51 is a great sense of accomplishment. Hearing all the quilters from around the world and how excited they are to read the book makes up for all those challenging times.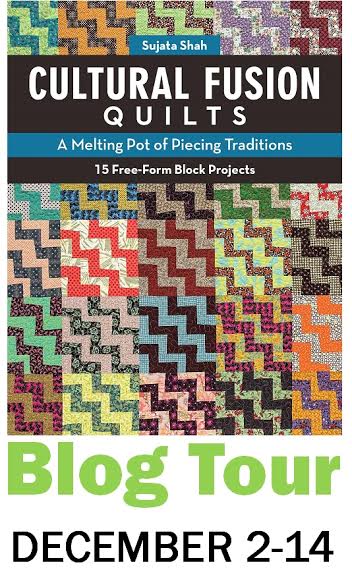 Tuesday December 2 Sujata Shah @ C&T Publishing
Wednesday December 3 LeeAnn Decker @ Nifty Quilts
Thursday December 4 Victoria Gertenbach @ The Silly Boodilly
Friday December 5 Rachaeldaisy @ Blue Mountain Daisy
Saturday December 6 Lori Dejarnett @ Humble Quilts
Sunday December 7 Casey York @ The Studiolo
Monday December 8 Malka Dubrawsky @ A Stitch in Dye
Tuesday December 9 Sherri Lynn Wood @ daintytime
Wednesday December10 Bonnie Hunter @ Quiltville's Quips and Snips
Thursday December 11 Jake Finch @ Generation Q
Friday December 12 Jan Burgwinkle @ Be*mused
Saturday December 13 Janet Treen @ Quiltsalott
Sunday December 14 Lindsay Conner @ Craft Buds
Giveaway!
Would you like to win a copy of the book Cultural Fusion Quilts? For your chance to win, leave a comment on this post and tell us what country or world culture inspires you, or just somewhere you dream of visiting! We'll pick a winner one week from the date of this post. (U.S. winner will receive a hard copy of the book and non-U.S. winner will receive an e-book.) Good luck!