Hello! In the spirit of Craft Book Month, I'm here today to show off a recent finish from the lovely sewing book from some of my favorite bloggers.
The book is "Just for You: Selfish Sewing Projects from Your Favorite Sew Can She Bloggers: 24 Simply Stylish Projects" by Caroline Fairbanks-Critchfield and Sarah Markos (Stash Books). If you haven't seen this book, it's a beautiful collection of sewing projects that you can make for YOU! There are clothing patterns and accessory projects including tops, skirts, bags and more. Each project comes with tutorial-style photos and pattern pieces so you can easily follow along and treat yo' self!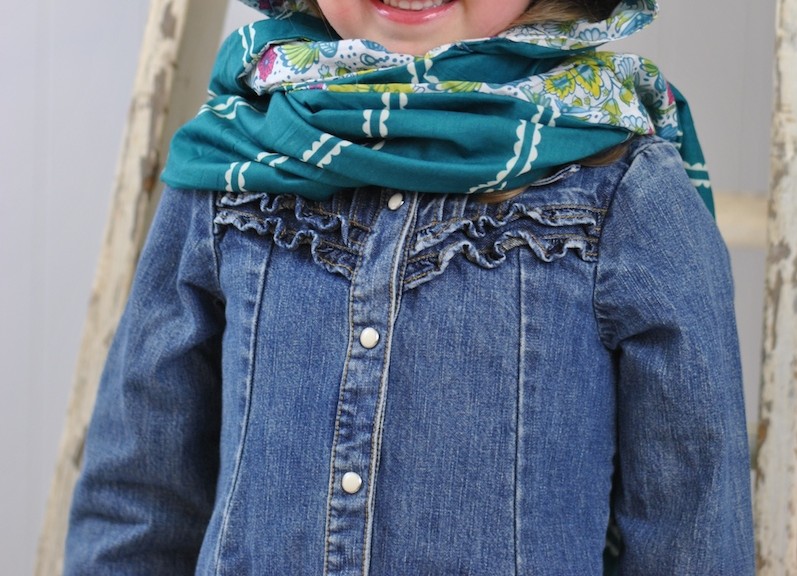 The project I made is the "Hollywood Scarf" by Venus Perez of the blog Suburbia Soup. (Lots of great contributors to this book!) The original project was designed in pretty Anna Maria Horner rayon, but I chose some coordinating AMH voile prints from my stash. The scarf is assembled with a pretty hood that is attached in a really clever way. This makes the whole project reversible, so you can pick two totally different prints. I love how the outer hood is designed to feature both fabrics.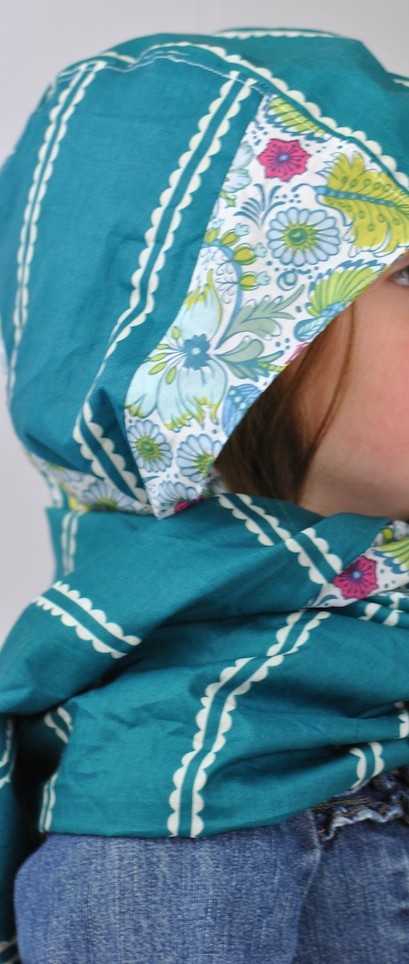 The lovely model in these photos is Ella, my friend Veronica's daughter. Let me tell you… this girl is a pro! She frequently poses for Veronica's blog, sewVery, and I'm a little jealous of the awesome handmade wardrobe she's collected over the years. 🙂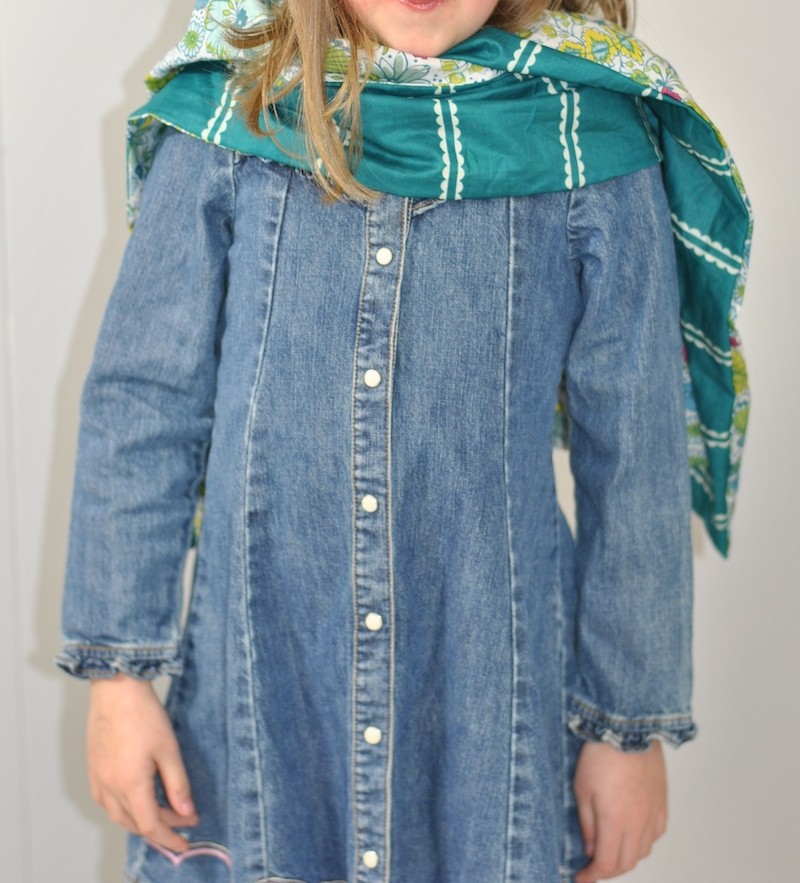 Let's say you're not feeling the hood one day. No problem! Just flip it down and toss the scarf around your shoulders for a more simple look. If the wind picks up, you can pull the hood up to save yourself from that windblown look. Each section of the hood and scarf are topstitched, which gives this project a nice finish that will hold up well as you wash and wear it.
From cutting out the pattern pieces to sewing up the last stitch, I think this project came together in less than 2 hours. I appreciate that the projects in "Just For You" are quick to sew, because it's easier to carve out that time to sew something for yourself if you know you can finish it in the same day.
I had the pleasure of meeting the "Just For You" authors, Caroline and Sarah, at a quilting event a little over a year ago, and they are just lovely. They are hosting a sew along all this year with the book where everyone wins!
Thank you Caroline and Sarah for inviting me to be part of the Sewlebrity Sewalong!
Join in and enter your project and you might be featured at SewCanShe!
Giveaway!
Enter the giveaway to win a copy of "Just For You" by commenting on this post with something you like to do for yourself, when you get a little bit of free time. 🙂 One winner will be chosen at random a week from the date of this post. (U.S. winner will receive a hard copy and non-U.S. winner an eBook.)