Have you ever looked through your shoes and wished they were more exciting? Have you ever wondered if you could paint your shoes to give them a new lease of life? Well, the answer is yes you can, and you have definitely come to the right place. In this article, I'll present 12 awesome DIY Shoe Painting Ideas suitable for beginners and more advanced crafters alike.
Below we have listed our favorite ways to paint and decorate your shoes, from quick and easy spray paints to detailed hand-painted designs.
First, let's discuss what kind of paint you can use on your shoes to make your designs last.
You might also be interested in one of my older articles: 8 Diy Sweatshirt Cutting Ideas
What paint can I use on my shoes?
Depending on the type of shoe and fabric you are wanting to paint on will mean that there is a different process and/or paint you are best using to get the best results.
The most popular paints used to paint shoes are acrylic and paint pens. Paint pens allow you to create details patterns and drawings on your shoes, creating that wow factor.
Can I use acrylic paint on all shoes?
Leather shoes- Acrylic paint works really well when painting on leather fabric. For best results apply the paint in thin layers and choose an acrylic paint specially designed for leather.

Vinyl shoes- Acrylic paint sticks well to vinyl shoes and doesn't chip easily. Prepare your vinyl with a lacquer thinner to get rid of any dirt or grease before you start.

Canvas shoes- Acrylic paint is an excellent choice for canvas shoes as it is easy to work with and dries quickly on this fabric. Painting on white or black canvas shoes will have equally great results with bold fresh colors.
How do you seal paint on shoes?
When you have finished painting your shoes it is important to seal your design so that the paint doesn't crack or chip, spoiling your design.
Before sealing any design on your shoes, it is essential to let the paint fully dry.
Sealants come in a variety of finishes including matte, gloss, and glitter.
Sealants come in a spray bottle and it is recommended to hold the bottle about 6 inches away from the shoes when applying. Although adding one layer of sealant will be enough, adding a second layer will mean you are sure to have covered your shoes entirely and not miss any spots that need protecting.
Make sure to use the sealant in a well-ventilated area and allow your shoes to dry for at least 24 hours before you try them on. This may be the most challenging part when you're eager to try on your customized footwear.
Now we've learned a little bit more about how to apply paint to your shoes and how to look after them once your designs are finished, it's now time for the exciting part, finding out what designs you can add to your shoes and how to customize them into unique footwear that no one else has.
12 DIY Shoe Painting Ideas
1. Spray paint shoes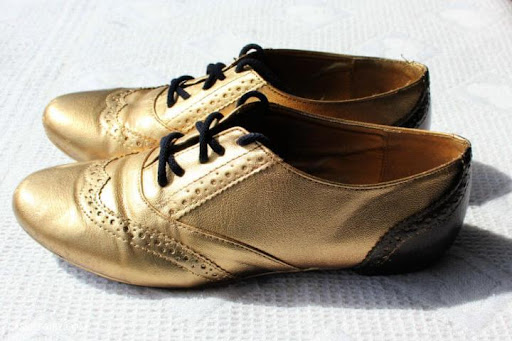 One way to quickly change the look and color of your shoes is to spray paint them. Metallic spray paint really creates a statement piece; who wouldn't love wearing these shiny golden baroque. If you don't want to spray your shoes one solid color, use tape to section them up, and then get creative with different color combinations.
2. Popular culture shoes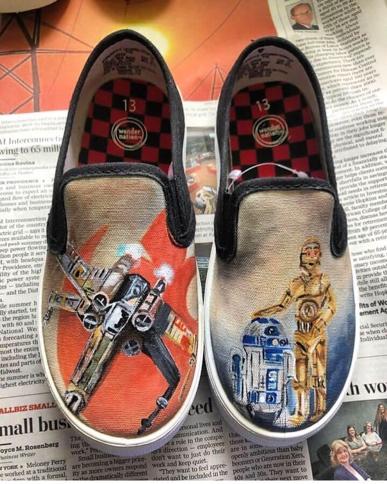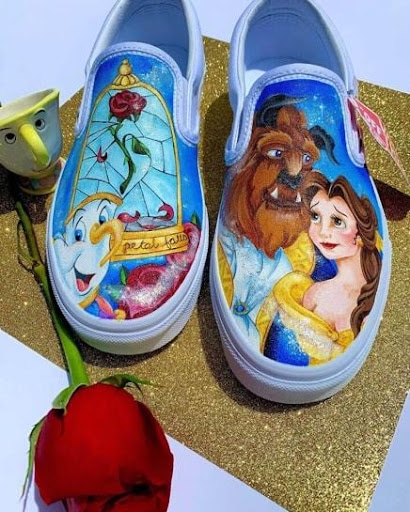 What better way to show your dedication as a loyal fan to your favorite film, band, video game, or character than by hand painting and customizing a pair of white canvas shoes. The canvas fabric is great for you to add detailed painting. Take a look at these Star Wars and beauty and the beast designs to give you some ideas. If you're no artist, paint your background design and then add some printed transfers to bring your design to life.
3. Abstract Shoe designs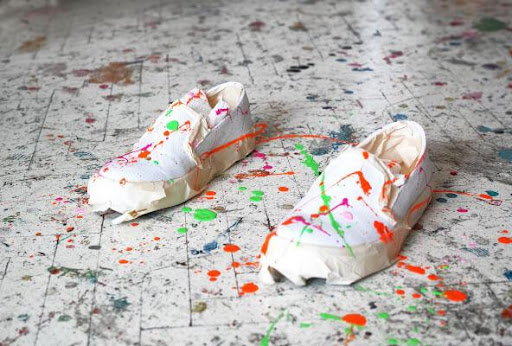 These painted shoes are a great project to get the kids involved. Make sure to tape up the sole, inside and anywhere else you don't want to get covered in paint and let the kids go wild flicking neon paints on their shoes to make some great designs. It might be best to do this activity outside unless you're looking to redecorate your front room at the same time.
4. Galaxy shoes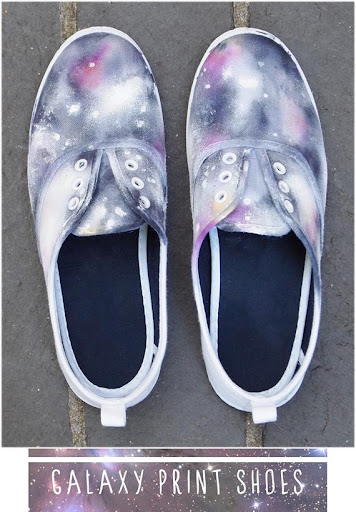 These galaxy print canvas shoes are so eye-catching and yet so simple to make. We all like to be unique and you certainly can be. The most perfect thing about these pumps is that no two pairs are ever the same. Create your background by sponging on different galaxy-inspired colors and then sprinkling white paint dots to create your galaxy and stars.
5. DIY Leopard Print Shoes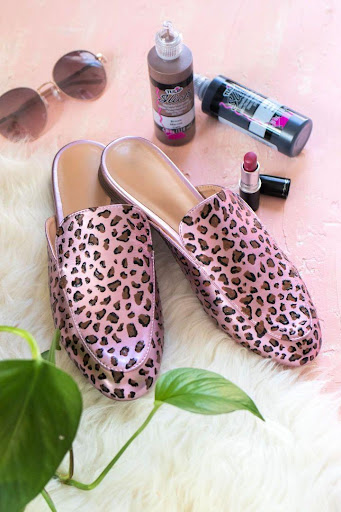 If you didn't think your shiny shoes could get any more awesome, try adding some mini leopard prints to them. Leopard prints are always fashionable so upcycling your favorite pair of shoes with leopard print will mean you can wear them at every opportunity.
Just add lots of little leopard print shapes in black and brown paint to create this amazing animal print.
6. DIY Ombre Nike Trainers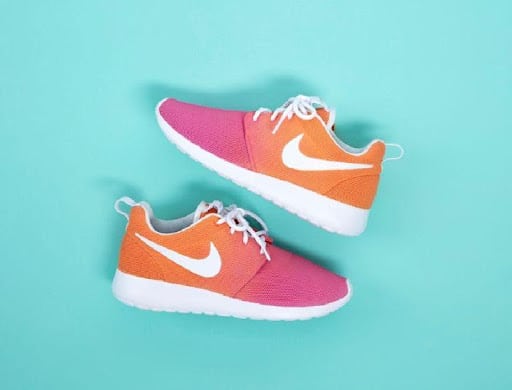 Creating your own ombre effect has always been fun. Choose your colors wisely though as you don't want a brown smudge in the middle. The warm reds and oranges work well as you can see in the photo. Other color combinations could be different shades of primary colors or complimentary colors.
Remember to tape up the sole and Nike logo so they are left white. The logo will really pop next to your ombre painting when finished.
7. Tie Dye Shoes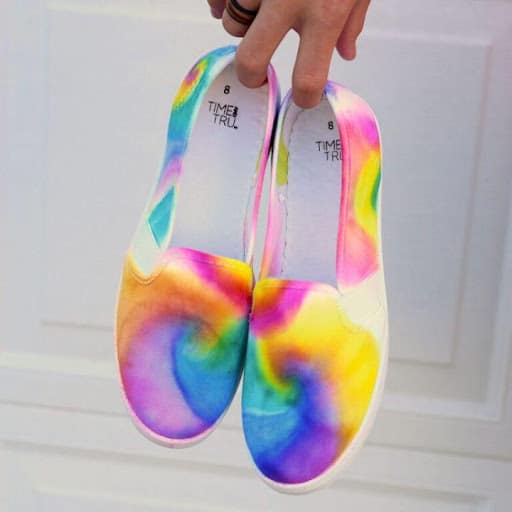 Photo source It's Always Autumn
The tie-dye effect of these pumps is so cool and so simple to do. All you need are some colorful sharpie pens, rubbing alcohol, and a medicine dropper. Get creative coloring in your pumps but remember the colors next to each other will blend. The swirled design on these pumps works really well but what different designs would have a better effect?
This project is perfect for summer and a great activity to get the kids involved. They will love to see the colors move and mix together and the rubbing alcohol takes effect.
8. Hand Painted Ice Lolly Pumps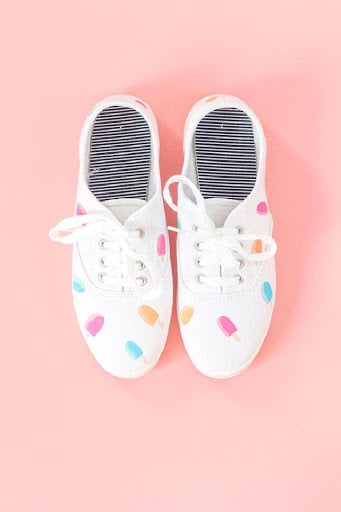 Give your plain white pumps a new lease of life this summer by adding a cute hand-painted ice lolly or sprinkle design. Sometimes the most straightforward designs have the best results. We are entirely in love with this design. What other summertime treat could we use to customize our next pair of pumps?
9. Customize your Nike AF1s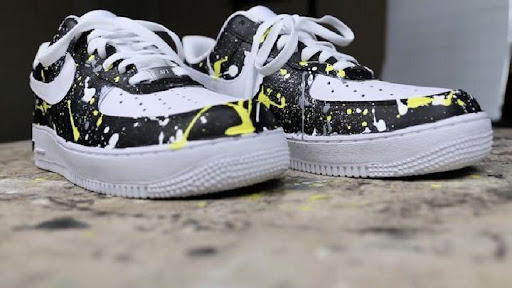 Fancy customizing your Nike AF1'z instead of buying a new pair? Tape up areas that you don't want to paint, including the logo so it stands out when you've finished painting and then get to work. There are loads of different ways you can paint your Nike trainers but we love this splattered paint effect. UV paint would also work really well for this type of design, giving your trainers a unique edge.
10. Mindfulness Sneakers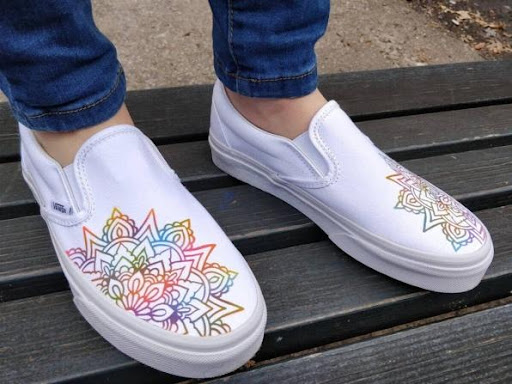 Geometrical and Mandela patterns continue to be popular motifs. We love the multi-colored rainbow lines of this design. Replicate this effect by using fabric paint pens. Why not create a simple black outline and then fill in the design with different bold or pastel colors. Mandela's are used as a symbol of relaxation and mindfulness. Coloring can be quite therapeutic, helping you relax whilst customizing your sneakers.
11. DIY Skull Sneakers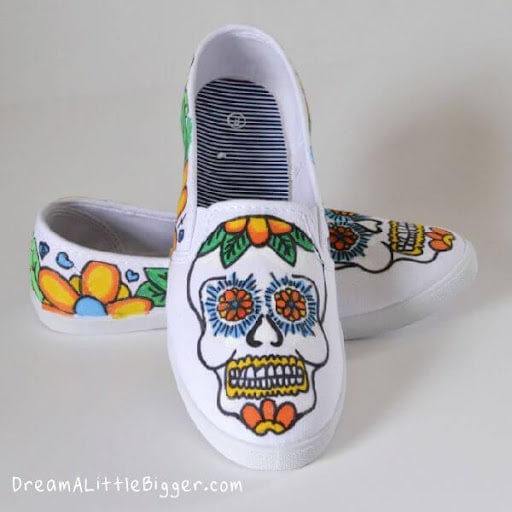 Use fabric paint pens and a skull template to decorate your sneaker with your very own sugar skull. Use bright complimenting colors to add details to your skull. Sugar skulls are used to celebrate the Day of the Dead in Mexico and have become more popular across the world in recent years. This design also works really well with black canvas pumps with bright pinks, purples, and gold.
12. Rainbow splat Sneakers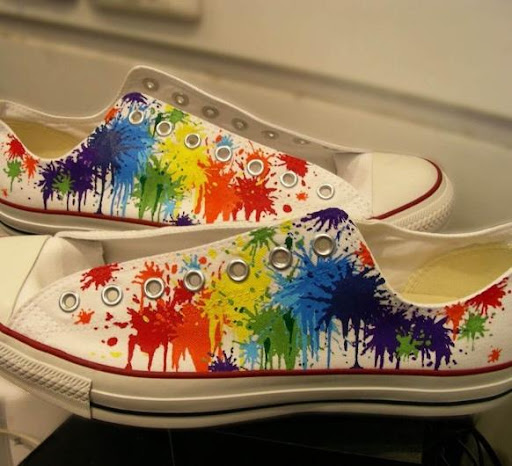 We love the bright colors of these rainbow firework splats, and although they look fun and easy to make, getting them just right when your painting may take a bit of time. Each splat is perfectly added, complete with paint drips to add to the overall effect. The layering of different colors gives the finished look a depth of color and design we haven't seen anywhere else.
Once you get started customizing your own footwear you won't want to stop. Who wants to look like everyone else? Start a new trend amongst your friends by choosing your favorite idea from the list above and making some totally awesome upcycled shoes.
Whether you need to spruce up an old pair of shoes for a birthday party or you're just wanting to save an old pair of sneakers going to the landfill we know you'll have as much fun painting your shoes as we did putting this list together for you.
What can I paint on my shoes?
There are many different ways that you can personalize your shoes by painting them. You can opt for a simple design or something more intricate, depending on your preference and skill level. If you're not sure where to start, consider some of the following ideas:
– Use acrylic paint to create a pattern or design of your choice
– Go for an ombre effect by painting the tips of your shoes in a light color and gradually darkening the shade as you move up towards the ankle
– Add some sparkle to your shoes with glitter paint or sequins
– Get creative with words or phrases by using stencils or freehand lettering
No matter what route you decide to take, make sure that you seal the paint with a clear coat to prevent it from chipping or fading over time. With a little bit of effort, you can have a unique and stylish pair of shoes that will get noticed.