A yarn winder is a magical invention for those fed up with manual yarn winding. Not only is the latter time-consuming, but it's also not friendly to your hands. Remember those sore hands after winding just a single ball of yarn?
How often have you seen the yarn ball tangling upon pulling the yarn tail? These are just a handful of the issues associated with manual yarn winding.
Then, why not switch to a unique, inexpensive, and easy-to-use yarn winder? It gets the winding job done in a breeze and doesn't require much set-up. In this guide, we'll present the five best yarn winders, including a premium electric model, a comprehensive buying guide, and the detailed benefits of the devices.
So, without further ado, let's get started.
Summary:
Best overall: Craft Destiny
Best entry-level: LAMXD Needlecraft
Best premium electric: New Jumbo Electric
Best wooden: Hind Handicrafts Wooden
Best yarn winder and swift: Olikraft Yarn Ball Winder & Umbrella Swift
Is it worth buying a yarn winder?
The answer to this question is a big YES, in my opinion! Investing in a yarn winder is the best decision for any serious knitter and crocheter. And here's why.
A yarn winder prevents the yarn from tangling.

A winder completes the winding job much faster than human hands

Suspect defects in the yarn? A winder can easily detect them all

Ensuring proper flexibility in the yarn fibers is another add-on feature of a

yarn winder. Improper flexibility in your yarn can be why your crochet is curling, for instance.

A yarn winder lets you pull the yarn tail from the center or sides, especially for double-stranded knitting.
So, did you make up your mind yet? I suppose you must have! To help you further below is an exhaustive guide on choosing a yarn winder and what features to look for in its electric models.
How do I choose a yarn winder?
There are so many things to consider while choosing a yarn winder. For example, the material, size of yarn cake to wind, budget, with or without a yarn swift, manual or electric, and more.
Here's a complete guide on how to choose a yarn winder.
Hand-operated or electric
To start with, do you need a hand-operated yarn winder or an electric version? While it's a personal preference, let's dig deeper into the pros and cons of each. Talking about a hand-operated winder, you can use it anywhere you want – on the table or countertop.
Additionally, these winders are mostly more economical than electric ones. If you're planning for an electric yarn winder, ensure you've got an electric socket where you wish to use the winder. Price-wise, as aforementioned, electric models are more costly than their manual counterparts.
In a nutshell, both winders have their pros and cons.
Plastic or wooden
Most yarn winders use plastic and wood in their manufacturing. Most people prefer wooden yarn winders due to their sturdiness and premium glossy look. However, a plastic-based yarn winder goes well in the long run.
Desired size of yarn cakes
What is the average size of yarn cake you desire to wind? While a small and less expensive yarn winder can hold up to 3.5oz to 4oz of yarn, a large and more expensive model of yarn winder can hold up to 16oz to 20oz of yarn.
Thus, you must be sure of the yarn cake size while choosing a yarn winder.
Price
Yarn winders are in abundance online. From $30 to $100, you'll find yarn winders fitting every budget. While the entry-level or basic winders don't cost much, their low price is per their simple functionality.
On the other hand, you get to accomplish more tasks than just the simple yarn winding when you go for a premium or expensive model. (We'll present you with both types of yarn winders in this guide.)
Type of yarn swift
You'll come across two types of yarn swifts – umbrella-style yarn swift and tabletop-style yarn swift. The former resembles an umbrella structure and, thus, is easy to store. On the other hand, tabletop-style yarn swift requires extra space for storage.
Both are good to have for winding hanks. Like winders, swifts are made of wood, metal, or plastic.
What Are The Important Features To Look For When You Choose An Electric Yarn Winder?
Here are the essential features of an electric yarn winder to look for.
Speed control – standard, medium, high, or jogging (limited to specific models)

Thread's tension adjustment

Input voltage (it'd be universal)

Cone

Rotation counter
Top 5 Yarn Winders
Now that you know what a yarn winder is, its benefits, and its essential features, let's go through the best yarn winders.
Best Overall Yarn Winder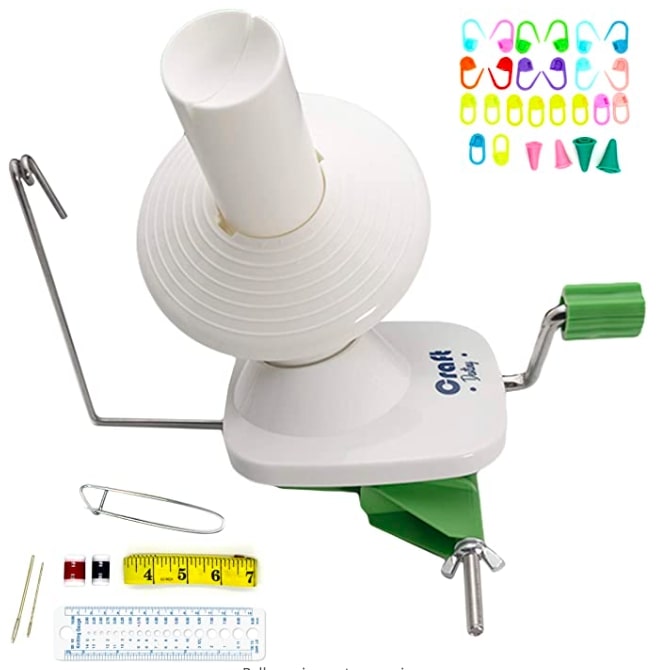 Overview
To start with, here's the hand-operated yarn winder from Craft Destiny. It won't be long before those yarn cakes start piling up because the setup is essential. The hand crank is smooth, and there are enough metal elements to ensure that it will endure a long time. The metal clamp is durable and can be used on tables up to 1-3/4 inches thick.
It can wind up to 4 oz of yarn and comes with a knitting and crocheting accessory set. There is a 30-day money-back guarantee so that you can buy with confidence. This is the best alternative for anyone who wishes to turn those skeins and hanks into neat cakes, from a novice to an expert knitter. Check the Craft Destiny's latest prices on Amazon.
Pros
It has a straightforward design that makes it simple to put together.

The clamp is large and can be used on various table sizes.

It's simple to operate and doesn't make any unpleasant noises.

When the yarn cake is removed, it does not collapse.

It comes with a clamp that you can adjust to fit thick tables.

Aids in the conversion of yarn skeins or hanks into ready-to-use yarn cakes
Cons
The winder is of average quality and may break if not handled with care.

Beginners may find it difficult to follow the instructions.

You can't use it to mix and match two or more colors.
Best Entry-Level Yarn Winder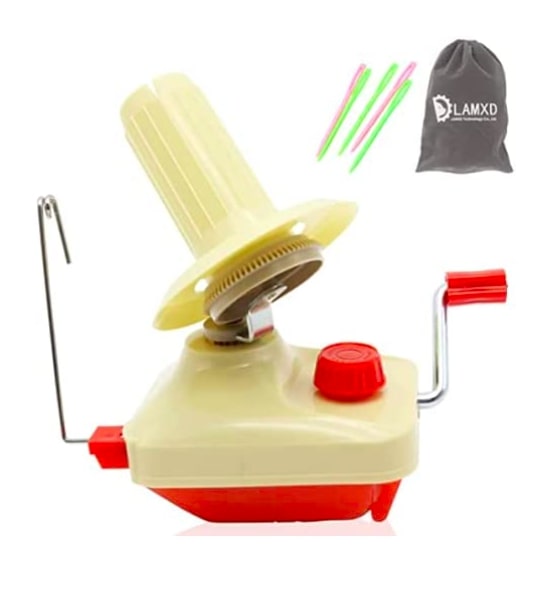 Overview
This LAMXD Needlecraft hand-operated yarn ball winder is famous for its long life. Longevity is ensured by the unbreakable metal crank, low-noise gear cast iron base, and all stable gears. Reinforced nylon gears are as strong as metal gears but quieter. Making pull thread balls is the function of this tool, and it can turn a 100-gram ball into a ten-ounce ball.
It has sewing trimming scissors and portable cutter scissors with a cap. The flyer's new design ring produces less noise than others. The rubber padding in the new design provides excellent protection for your table.
You can install the yarn winder on the desk, secure the button, and feed the loose yarn through the rotary wheel, resulting in a lovely ball. Check the LAMXD's latest prices on Amazon.
Pros
It's built to last with an indestructible metal crank and a low-noise gear cast iron base.

The table is protected by rubber padding that adds to its durability.

It is simple to assemble and disassemble due to its small size.
Cons
The spindle may continuously fall off.

It's possible that spinning the yarn will be difficult.
Best Premium Electric Yarn Winder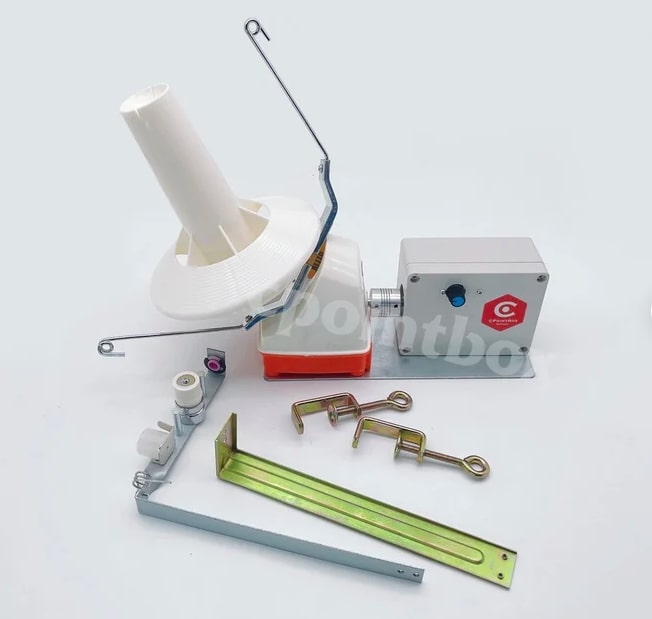 Overview
The New Jumbo Electric Cone yarn winder can wind up to 500g of yarn and accommodate various yarn requirements. Being an electric model, it comes with a speed control button to adjust the winding pace. It can also wind numerous strands of yarn simultaneously and does it evenly and rapidly.
It is simple to assemble, modest in size, and does not require much space. Because of the tension adjustment configuration, you don't need to guard it. This electric yarn winder may appear an unexpected jumble of pieces, but don't be fooled by its Frankenstein-like appearance. Check the Jumbo Electric Cone's latest prices on Etsy.
Pros
It's a device that you can use in a variety of ways.

You have control over the speed of the vehicle.

A universal voltage adaptor is provided in the package.
Cons
You might find it to be reasonably priced.

Occasionally unavailable or out of stock.

If you don't have access to electricity, you won't be able to take it outside.
Best Wooden Yarn Winder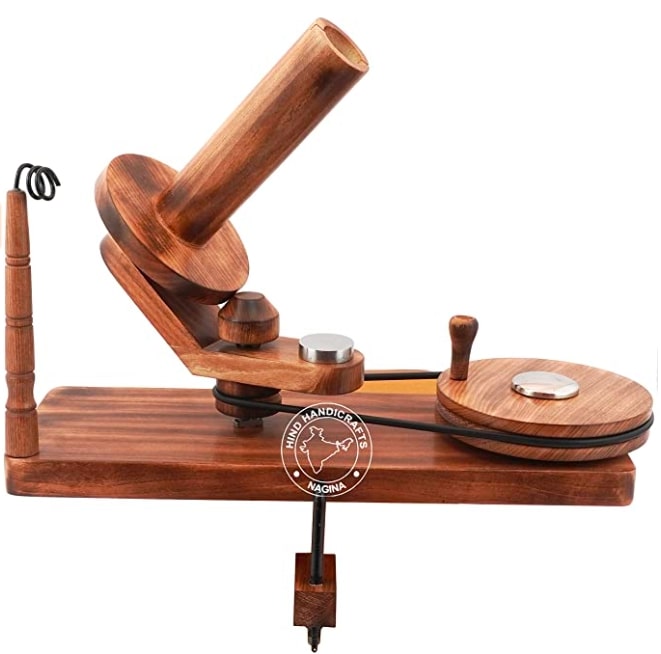 Overview
It has a high-quality bearing that allows for super-smooth yarn wrapping. To use, connect to any table edge or surface up to 1-1/2 thick, twist on the spindle, place the guide arm, and begin winding. It includes a table clamp. With a belt-driven system, you gain extra space.
This yarn winder from Hind Handicrafts has a unique, affordable, and durable anti-skid base to keep it from sliding and damaging your table. Check the Hind Handicraft's latest prices on Amazon.
Pros
The installation process is simple, and you can complete it without a manual.

It has a non-slippery base that attaches to your table and denies movement while winding.

Smooth and polished wooden piece.
Cons
The wheel with the handle may wobble.

It doesn't guide you about winding clockwise or anti-clockwise.
Best Yarn Winder And Swift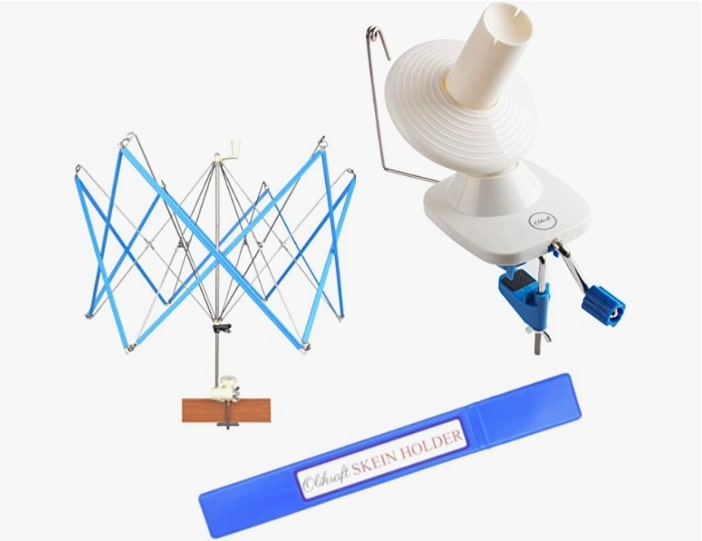 Overview
While the above-discussed winders come without a swift, here's one with an Umbrella swift. Several difficulties with the yarn winder and yarn swift have been resolved through this winder and swift set (loose yarn guide, weak clamp, etc.).
The Yarn Winder and the Yarn Swift take less than a minute to set up and takedown. These items readily adhere to any table edge or surface up to 1 3/4 inches thick. The Yarn Winder and the Swift can be folded to a small size for simple storage. Check the Olicraft's latest prices on Amazon.
Pros
It has an ergonomic design that makes it easy to hold.

The machine can make high-quality mixed and coir yarn.

It is made of high-quality, long-lasting material.
Cons
The yarn may get caught on the bottom rings and collapse.

The product may get dislodged after 8-10 uses.

You must handle the product with soft hands.
Yarn winder frequently asked questions (FAQs)
Is a yarn winder worth it?
Ans: Yes, a yarn winder is worth it. It prevents the tangling of the yarn fibers, and a winder also maintains the fibers' elasticity over long periods. Moreover, you can access both ends of the yarn.
How do I choose the best electric yarn winder?
Answer: To get yourself the best electric yarn winder, make sure it comes with tension adjustment, speed control, a rotation counter, and other basic (or advanced) features.
What is a swift yarn winder?
Answer: A swift yarn winder is another category of yarn winder that turns a yarn skein or hank into a ball you can pull from the center.
Can you knit directly from a skein?
Answer: Yes, you can knit directly from a skein of yarn.
Can you use a yarn winder without a swift?
Answer: Yes, you can use a yarn winder without a swift. However, it's only when you're winding the skein into a ball. You'd, however, need a yarn winder with a swift if yarn comes in a hank.
Conclusion
If you're a regular at knitting or crocheting, a yarn winder is something you'd invest in without second thoughts, primarily if you use yarn hanks or skeins. The manual process of winding yarn is fiddly, lengthy, and messy.
To resist all of these issues, a yarn winder is a perfect companion to look at. So, which of the above electric yarn winders did you select? Let us know in the comment section below.