Everyone loves handmade string bracelets, right? A simple band on the wrist can say a lot about your personality and beliefs. It's like wearing your heart on your wrist instead of your sleeve!
Macrame wristlets are super versatile and easy to make. You can either choose a simple design or take your knot-tying skills to the next level. What's even more fun is that you get to play around with colors and patterns, and add accessories like beads and charms. Let your imagination run wild!
So, why not try creating a beautiful macrame bracelet yourself? They can be a great gift for someone you care about, too. I've gathered a list of 21 free macrame bracelet patterns that will help you get started.
How Do You Make a Simple Macrame Bracelet?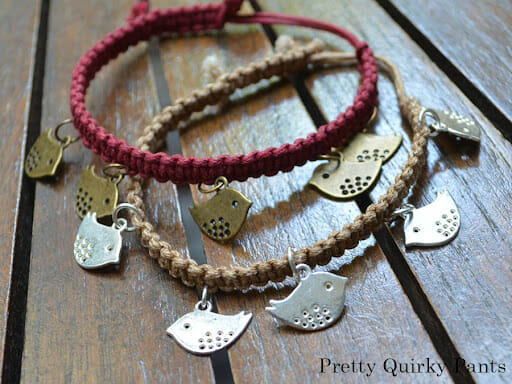 Source: Pretty Quirky Pants
To make a simple macrame band, all you need is to apply the basic 3-string braiding technique. Or you can use the square knot to weave your macrame bracelet. It's an extremely popular knot because of how easy it is to learn. Just follow the instructions given in the video below.
Related: How to Macrame: A Beginner's Guide to Crafting Stunning Knot Creations
Types of Knots for Macrame Bracelets
Macrame is all about using different types of knots to create various items, be it a plant hanger or a gorgeous friendship bracelet. Here's a list of knots that you can try out.
Braiding
Square Knot
Alternating Square Knot
Half Hitch
Alternating Half Hitch
Double Half Hitch Knot (Different Types)
Reverse Double Half Hitch
Spiral Knot
Snake Knot
Lark's Head Knot
Cobra Square Sliding Knot
Circular Stitch using Cobra Square Sliding Knot, etc.
What Do You Need to Make Macrame Bracelets?
You don't have to invest in a lot of expensive supplies to make a macrame bracelet. You'll just need the following:
Cords
Clamp/clip/pin
Macrame board
Scissors
Measuring tape
Beads, charms, or other decorative items (if using)
What Kind of String is Used for a Macrame Bracelet?
Soft and smooth cords made of cotton, satin, silk, nylon, and rayon are the most suitable for this type of jewelry. These are not only gentle on the skin but can also be durable enough.
Tip: You can also use hemp, leather, and metal strings for bracelets meant for special occasions.
What Size Cord Do You Use for Macrame Bracelets?
In my experience, thin cords are ideal for making macrame bracelets. So, I stick to 0.5-3 mm cords for this purpose. It's best to stay below 2 mm for micro-macrame bracelets with intricate designs. But if you're planning to make a chunky bracelet, you can use thicker cords.
How Much String Do I Need for a Macrame Bracelet?
To find out how much cord you need for a macrame bracelet, take the cord and put it around the wrist, leaving a little space for adjustments. Measure this on a scale to know the circumference of your wrist, and note it down in inches.
If you want to make a macrame bracelet with tie-on ends, every string of the band will need half a foot of cord for every inch of the wrist. For example, if your wrist is 4″, you will need a 2′ long cord. For bracelets with button/loop closure, every inch of wrist size will need a 1′ cord.
https://www.youtube.com/watch?v=ac43yfCzw24Remember to add the string length you want to leave for the tie-on or loop. And don't forget that for a button/loop clasp, you will need to consider twice the length of the string. Here's a video that will help with the entire measurement process.
Related: 25 Free Macrame Wall Hanging Patterns & Instructions
21 Free Macrame Bracelet Patterns
Now that you know all about the basics of making cord wristlets, let's look at my list of 21 gorgeous macrame bracelet patterns that are absolutely free!
1. Macrame Bracelet with Inscription Bar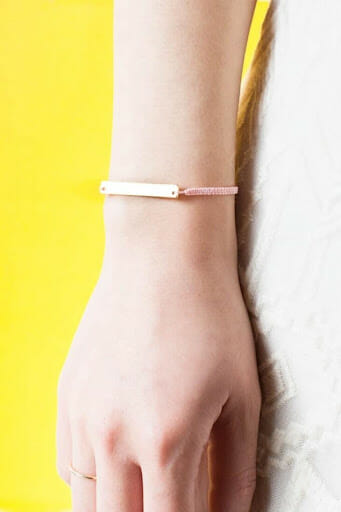 Source: A Beautiful Mess
An inscription bar is a cool way to personalize your bracelet. And here's an excellent option. All you need to do is add a brass bar inscribed with your name or a message. The cord itself is sleek and delicate. It's perfect for yourself or as a gift.
Find the complete instructions for this macrame bracelet here.
2. Macrame Spiral Bracelet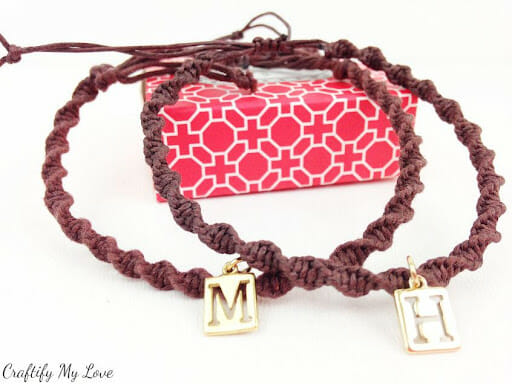 Source: Craftify My Love
This spiral bracelet creates a beautiful pattern. And it's super easy to make, too! You can personalize this bracelet with a little charm and use the technique for couple bracelets for your friend, parent, or someone special.
Find the complete instructions for this bracelet below.
3. Macrame Bracelet with Fresh Flowers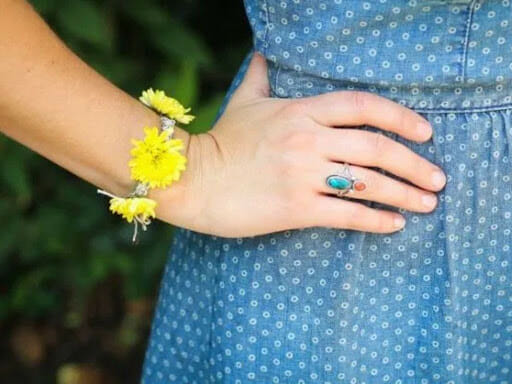 Source: The Sweetest Occasion
Inspired by flower crowns, this beautiful bracelet allows you to add an element of nature with fresh flowers. You can use fake flowers, too, but real flowers will take this ornament to a new level with a Boho touch.
Check out the instructions for this macrame bracelet here.
4. Cowrie Shell Macrame Bracelet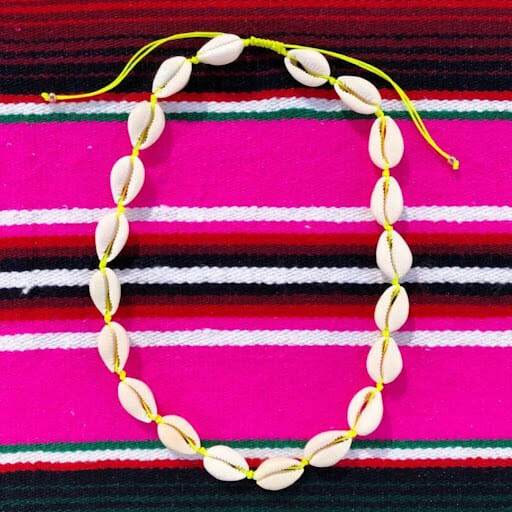 Source: The Neon Tea Party
Who doesn't love the charm of shell jewelry, especially in summer to wear during a beach trip? Here's an easy-to-make macrame bracelet strung with cowrie shells. You can use the same pattern to make a choker neckless for a complete jewelry set.
You can find the free pattern for this macrame bracelet here.
5. Sleek Macrame Bracelet with Center Charm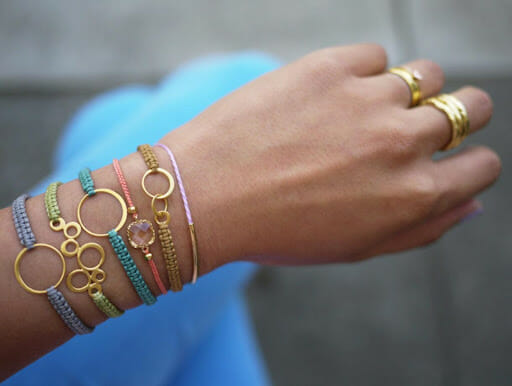 Source: Honestly WTF
Macrame generally needs your fingers as the only tool. But this bracelet is for experienced hands, which can use a macrame needle. The result is a thin and fashionable ornament. You'll need to add a charm and place it at the center for extra beauty.
Check out the bracelet's pattern instructions here.
6. 12-String Macrame Bracelet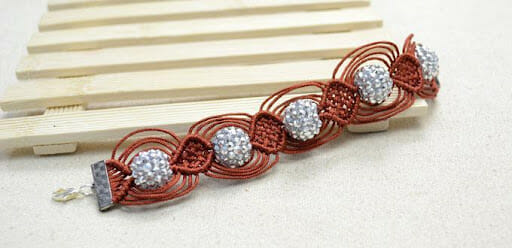 Source: PandaHall Learning Center
A handmade jewelry piece that looks complex, beautiful, and unique, this bracelet can blow everyone's mind. Use rhinestone beads to give it the bling effect. It's great for personal use or to give someone as a gift.
Here are the detailed instructions for this bracelet.
7. Chunky Rope Bracelet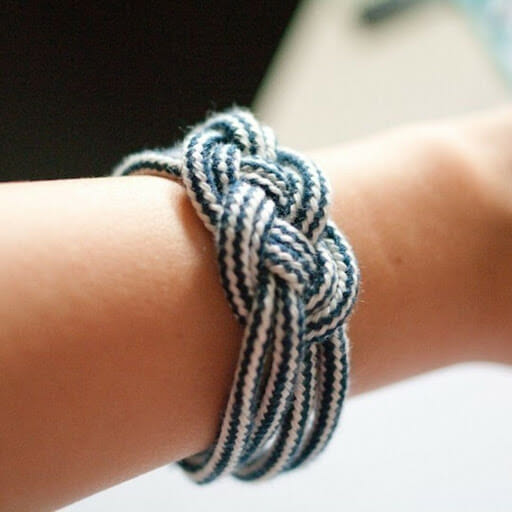 Source: Cut Out + Keep
While macrame is usually associated with small and delicate designs, here's a bracelet that's bulky and fun! The secret is using thicker multicolored cords.
Here is the pattern for this simple bracelet.
8. Braided Bracelet with Scrap Fabric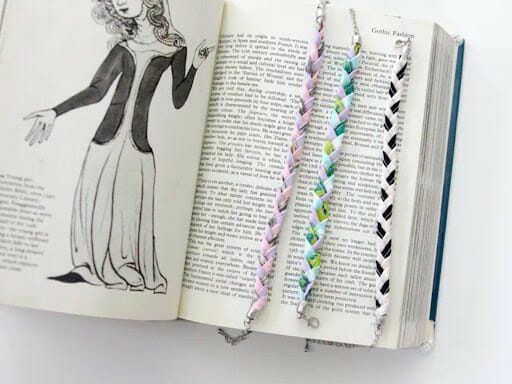 Source: Skip to my Lou
This bracelet uses a basic technique of three-string braiding. So it's extremely quick and simple to make. And to give it a special look, use fabric pieces with designs and patterns. Now, that's a good way to recycle old textiles, right?
Check out the instructions for making this macrame bracelet here.
9. Macrame Bracelet with Diamond Motif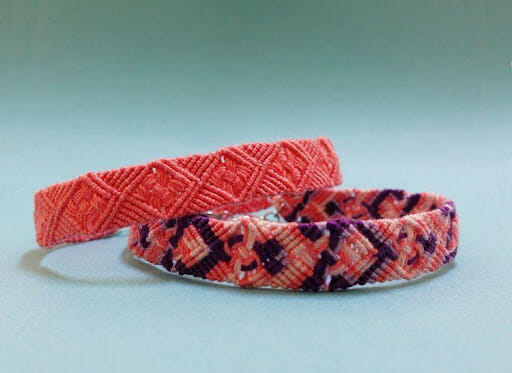 Source: How Did You Make This
Macrame bracelets can look as simple or as complex as you want. And this bracelet is an example of the latter, as it has an intricate pattern. Use cords of contrasting colors to make the motif pop and grab some eyeballs.
Find the instructions here.
10. Macrame Bracelet with Hanging Charms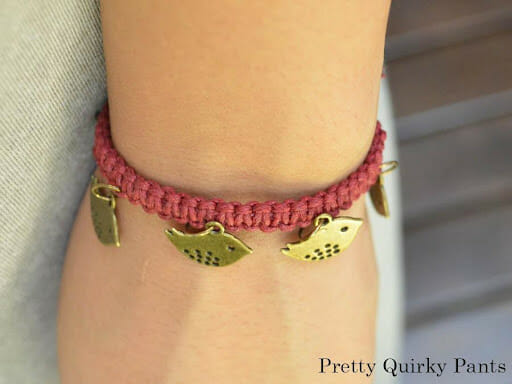 Source: Pretty Quirky Pants
This macrame bracelet is cuteness overload! The pattern of the base wristlet is quite simple. But what makes it special is your choice of charms. You can even make this design for a themed ornament using charms that fit the idea.
Check out the pattern here.
11. Simple and Rustic Macrame Wristband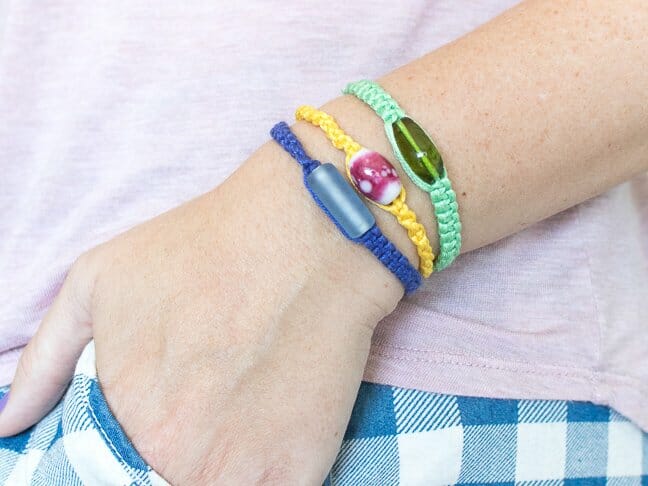 Source: Momtastic
There's something about this macrame bracelet that will remind you of the 90s and your teen years. Yet, it's modern because it uses the much-trending macrame technique. Use colorful cords and a matching bead as the centerpiece.
Here are the pattern instructions to make this macrame bracelet.
12. String and Hex Nut Macrame Bracelet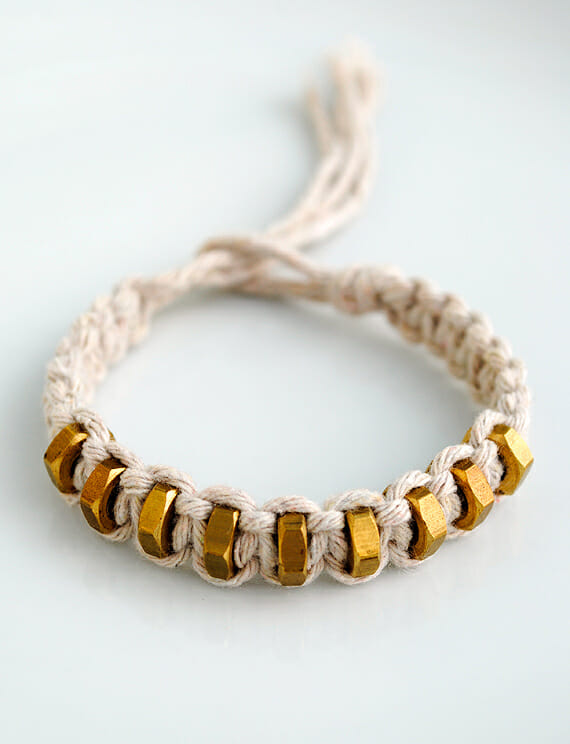 Source: Minieco
If you want to make a bracelet that looks rough-n-tough, here's one for you. It has a series of hex nuts instead of beads, which can make you stand out in the crowd for its striking appearance. It's unique, stylish, that's for sure!
Check out how to make the bracelet here.
13. Braided Hex Nut Macrame Bracelet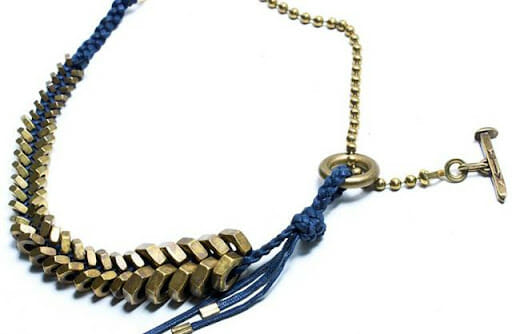 Source: Honestly WTF
This bracelet is one of a kind, with hex nuts to give "quirky" a super-chic edge. Use large hex nuts for a chunky and eye-catching look or small ones to give it a more elegant touch. And it is made by using a simple braiding technique!
Here are the details to make this macrame bracelet.
14. Devil's Eye Macrame Bracelet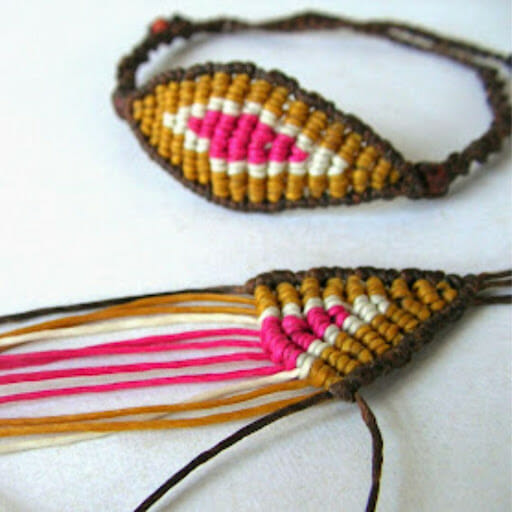 Source: Ecocrafta Macrame
The devil's eye pattern is quite popular these days, and you can make it using nothing but knots! If you're up for a challenge, this bracelet is perfect. You can use the traditional blue, white, and black combo or choose other colors.
Here is how you can make it.
15. Leather and Climbing Rope Macrame Bracelet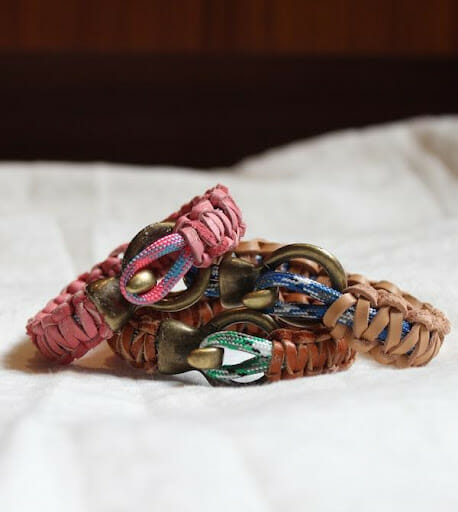 Source: The Stripe
If you like your jewelry to reflect your sporty side, this macrame bracelet can be ideal. The use of leather and climbing rope gives this piece a sturdy finish that will go well with biker jackets, oversized denim, etc.
Find out how to make this macrame bracelet here.
16. Leafy Macrame Bracelet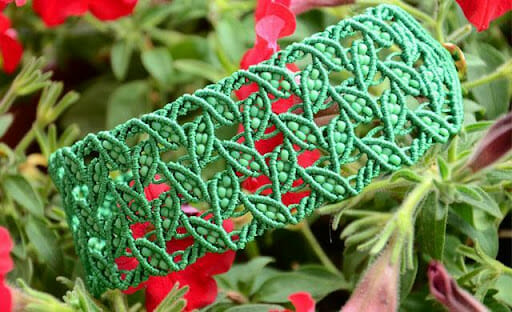 Source: Macrame School
Take your macrame skills to the next level with this delicate and beautiful bracelet. Its leafy pattern with beads looks like a pure work of art, and the final item has a professional finish. You can also attach a flat centerpiece to it.
Take a look below to learn how to make it.
17. Adjustable White Cotton Bracelet with 2-Ring Closure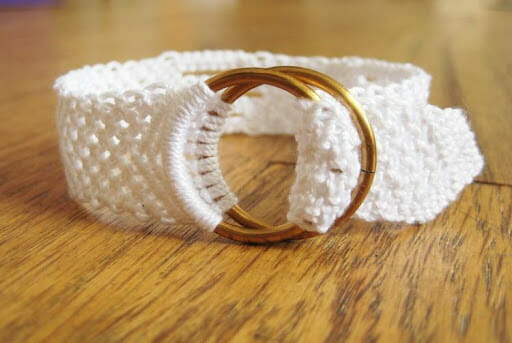 Source: How Did You Make This
White macrame items have a Boho touch. If you're a fan of that, try this bracelet. It can be adjusted with a two-ring closure mechanism, which gives this wristlet the kind of simplicity that enhances its relaxed style.
Take a look at the free instructions for this macrame bracelet pattern here.
18. Macrame Fish Bracelet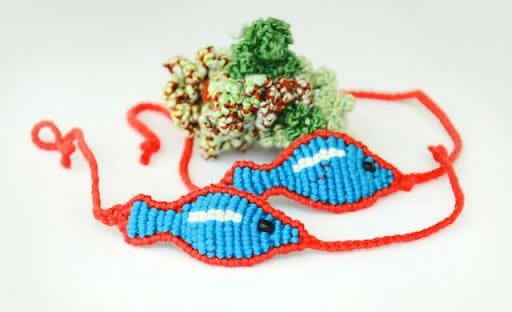 Source: Macrame School
This adorable bracelet is perfect for kids, though adults with quirky personalities can rock it, too! It can be a fun accessory if you're off to the beach and will pair particularly well with macrame or crochet swimwear.
Below are the instructions to make this bracelet.
19. Openwork Macrame Bracelet
Source: How Did You Make It
Are you bored of cliche macrame designs and want to try something different? It's time to level up with this bracelet, which boasts a nuanced openwork pattern. The finesse in this ornament will reflect your expertise.
Check out the instructions for this macrame bracelet here.
20. Elegant Rope and Ribbon Macrame Bracelet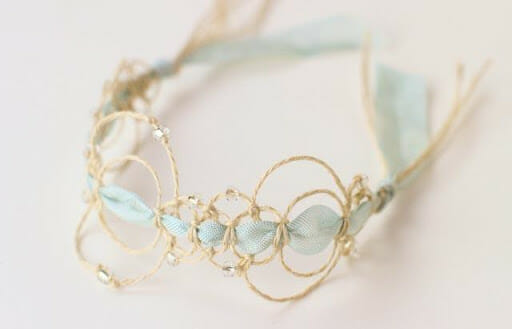 Source: Cynthia Shaffer
Here's a bracelet pattern that shows how to use simple materials and turn them into something elegant and cute. Use thin but tough ropes that will hold shape, like hemp yarn, along with a dyed ribbon for this piece of beauty.
Here are the details to help you make this bracelet.
21. Striped Rainbow Macrame Bracelet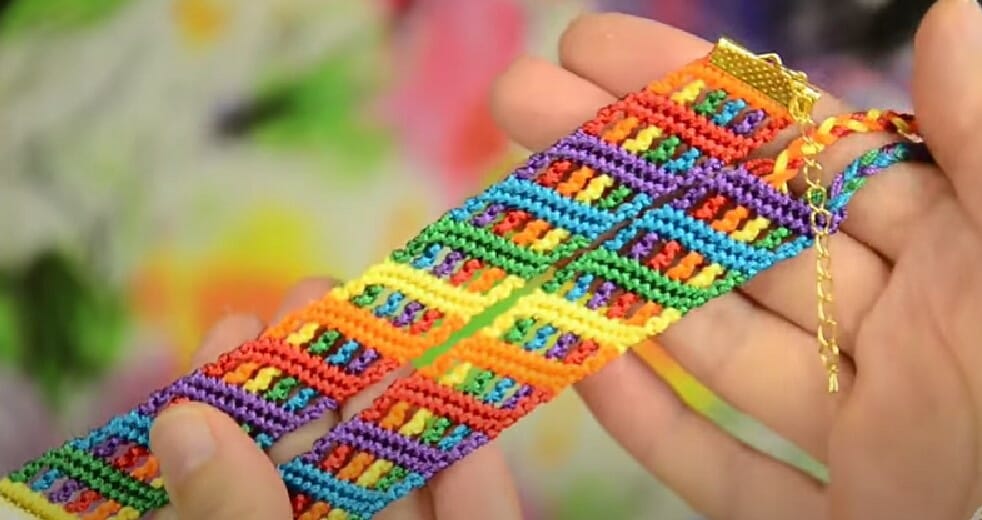 Are you a fan of colorful wristbands? Then try this macrame bracelet that's wide enough to accommodate a range of colors. It's pretty to wear and fun to make. And it can lift up your mood anytime.
Check out how to make the rainbow macrame bracelet below.
Related: 15 Free Macrame Curtain Patterns & Instructions
Macrame Bracelet Patterns: FAQs
What kind of bracelet is a friendship bracelet?
A friendship bracelet or friendship band is a token of friendship. Most people prefer to give handmade friendship bands as a personalized gift to someone they care about.
Can macrame bracelets get wet?
The material of your macrame bracelet determines whether you should avoid getting it wet or not. In most cases, there is no problem to wash your macrame bracelet or accidentally getting it wet. However, if the bracelet has delicate decorative elements or clay beads and metal charms that can get rusty over time, then, take extra care of your special macrame bracelet.
What macrame jewelry can you make?
Do you know what's amazing about macrame? It's so adaptable that you can make bracelets, necklaces, anklets, earpieces, and so much more! If you learn the different knots and develop your skills, you can create many designs and patterns.
How long should it take to make a friendship bracelet?
The time it takes to make a friendship bracelet will vary, depending on the complexity of the pattern and your skill level. Simple bracelet designs can take as little as 10 minutes. But if you are new to this craft, you may need an hour to make a single bracelet.
Macrame Bracelets: A Great Way to Create Handmade Jewelry
I've found that a bracelet is the first thing crafters try when they want to learn macrame. Once you learn to make macrame bracelets, don't stop there! I suggest you try other ornaments and even extend your creativity to bags, curtains, coasters, plant hangers, and more!