Making friendship bracelets is fun and a great activity to unleash your creativity. And if you want to give your dearest friend a customized gift, what can be better than designing and making your own bracelets, right?
To help you make some fantastic friendship bracelets, here is a detailed post where we will introduce you to 10 cool friendship bracelet patterns. The guide also includes tools, materials, and easy-peasy guides to create a variety of friendship bracelets.
So why wait? Let's jump right into the article.
Which Strings Are The Best To Make Friendship Bracelets?
The thread is the core component of friendship bracelets. The thread or string decides how sturdy the bracelet will be. Moreover, low-quality threads easily lose color when exposed to water or sunlight.
Also, different types of threads have different qualities, and thread selection will depend on the type of bracelet you want to make. For example, if you make bracelets with beads or similar material, you must ensure that the thread is thick enough to make a sturdy bracelet.
Related: 8 Amazing Clay Bead Bracelet Ideas You Must Try!
Considering these things, the following threads are best to use for bracelet making:
A good quality embroidery floss made with 100% cotton is one of the best picks for making bracelets. These kinds of threads don't easily rip apart while making bracelets and do not lose color as well.
Related: Matching Bracelets Ideas & Meanings
Craft thread is another durable option for making friendship bracelets. This is actually a cheaper version of embroidery floss, and you'll find craft threads in two or six strands.
While craft threads are good quality, they are not as durable as the embroidery floss. So they are not the best thread to make bracelets with beads.
Pearl cotton is a thick, heavy-weight thread used for various craft works, including quilting, embroidery, crocheting, and friendship bracelets. They are very durable and are best for making heavy-material bracelets.
Crafters can also use rayon threads as they make great bracelets. Rayon threads are made from wood pulp mixed with some chemicals. These threads have a silky texture, which is why they are a bit tricky to tie, and you have to mix rayon with cotton threads to make strong knots.
Polyester is a synthetic thread that provides promising strength and durability. They are also easy to thread through beads. You'll find polyester threads in various colors and thicknesses, making them suitable for bracelets.
Yarn is the best thread to use if you want to make thicker bracelets. Yarn is made from different animal fibers like wool and cashmere and uses plant fibers like bamboo, hemp, etc., or it is also made from synthetic fibers.
Related: 10 Rubber Band Bracelet Ideas – Easy & Unique
What Are The Most Popular Friendship Bracelet Patterns? 10 Best Picks
Friendship bands have been popular forever. The colorful, quirky designs never fail to bring a smile to the face of the receiver. There are countless designs for friendship bracelets, so getting confused about which one to make is pretty obvious.
Related: How to Make Pura Vida Bracelets? Video Tutorial
Culture and preference also greatly influence which patterns are prevalent in certain regions. But after researching and consulting with teens and adults, we have found the following bracelet patterns to be most popular:
1. Chevron Friendship Bracelet Pattern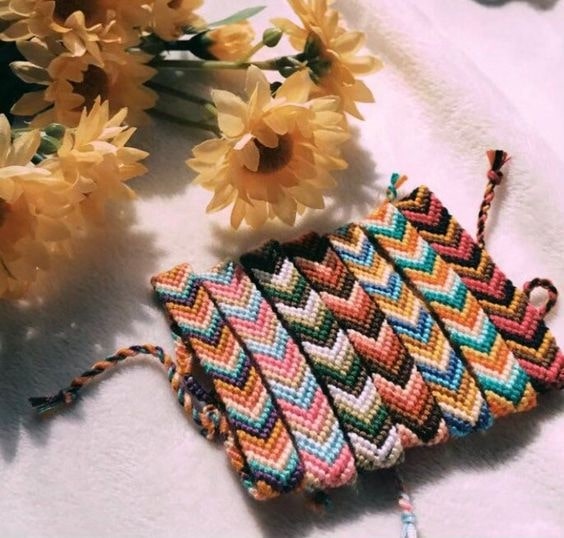 Check out the complete tutorial here.
Teens fond of colorful designs would love chevron bracelet designs. These are made using forward, and backward knots, and the result features an inverted triangle of multiple colors. Chevron design isn't too complicated, so anyone with little crafting knowledge can make it.
If you want to make it more creative, you can add beads. But if you add beads, you must be careful while tying the knots.
To make chevron bracelets, you'll need the following:
Embroidery floss threads in different colors
A pair of scissors
A safety pin
Measuring tape or ruler
Related: String Bracelet Patterns for All Levels and Their Meaning
2. Jellyfish Friendship Bracelet Pattern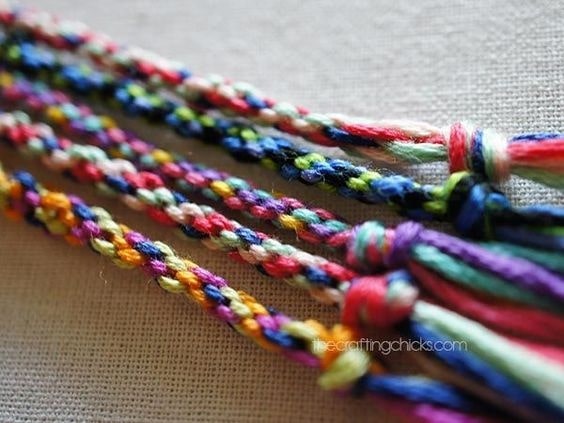 Check out the complete jellyfish bracelet tutorial here.
Jellyfish bracelets were the most popular design, and their popularity remains intact. They're usually made using colorful strands and braiding them together through a cardboard paper wheel. Making this one may seem a bit complicated for beginners, and you may need a few trial sessions to make the perfect jellyfish bracelet.
Things you'll need are:
Light cardboard box
Embroidery floss or Yarn (at least in seven different colors)
A pair of scissors
Glue
3. Diamond Friendship Bracelet Pattern
Click here to see the full tutorial of the same.
The diamond bracelet pattern is quite similar to the chevron design. You need four colorful threads for this, and the outer strings are tied inwards to make a V shape at the center. It's a simple yet quirky design, so teens and grown-ups can wear it.
Things you'll need:
Embroidery floss, cotton, or yarn (if you want to make a thicker bracelet)
Safety pin or masking tape
Beads or charms (optional)
Related: How To Make An Adjustable Bracelet? Create Your Own Custom Fit Bracelets
4. Chinese Ladder Friendship Bracelet Pattern
Check out the complete tutorial here.
This type of bracelet has a twisted design created with a series of knots and loops. You can use different colored strings or make a solid color one. Making these bracelets is pretty simple, so they are quite beginner-friendly.
To make Chinese ladder friendship bracelets, you'll need these simple supplies:
Embroidery floss (color of your choice)
Tape
A pair of scissors
[mediavibe-ad]
5. Name & Letters Friendship Bracelet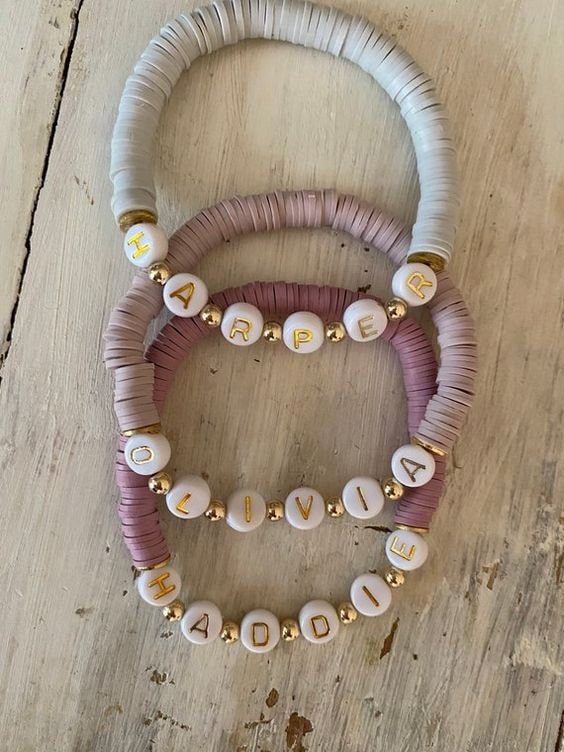 You can check out this tutorial for the same.
Name bracelets have also been trendy for years. These are created by knotting the letters of a name along with the threads. Making named bracelets is also for advanced crafters because you need to put the letters evenly spaced and secure them properly so they don't move.
Alternatively, you can make name bracelets only with threads, which is a bit more complicated than threading letters through the strings.
Here are the things you'll need to make a letter bracelet-
Embroidery floss
A pair of scissors
Small letter beads (if you want to make one with beads)
6. Sliding Knot Friendship Bracelet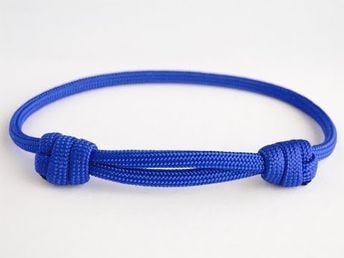 Click here to check the full tutorial.
Sliding knot friendship bracelets are simple yet very popular among bracelet lovers. They're one of the best-handcrafted things to present to your friend. These bracelets usually have an adjustable knot to fit different wrist sizes easily. It's a minimal design, but you can glue letters or beads per your creative ideas.
Since it's a very plain design, you only need the following:
A thread of your choice ( embroidery floss, yard, elastic thread, etc.)
Scissors
And beads or letters (optional)
7. Simple braided Friendship Bracelet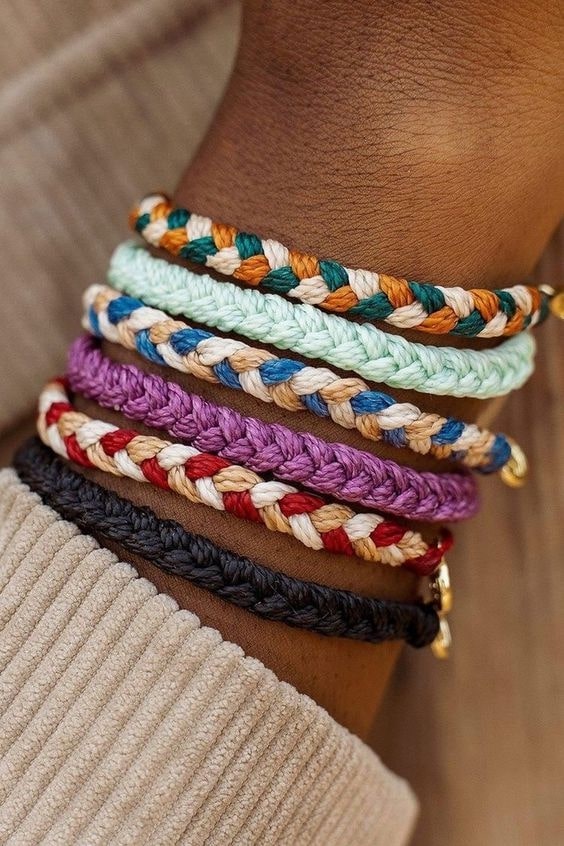 Click here for the full tutorial.
Simple braided bracelets never really go out of style. They are the easiest and quickest to make, and you can use any thread of your choice. These friendship bracelets look great in both solid and versatile colored threads; you can add dainty jewelry pieces to add your own creative touch.
People who like minimal accessories would love braided bracelets. You'll need the following things to make a braided bracelet:
8. Fabric Scrap Friendship Bracelet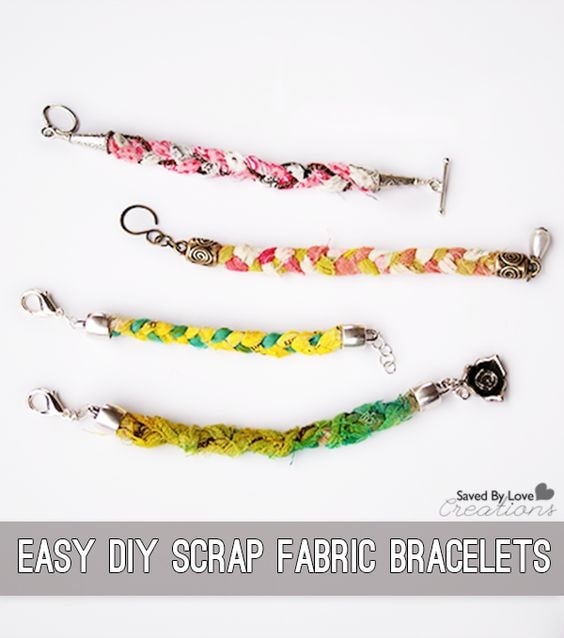 Click here for the complete tutorial.
If you have unused old fabrics around your house, you can make a pretty fabric scrap friendship bracelet out of them. It's a great way to recycle your old fabric. I make mine using different fabric textures like lace, sating, cotton, and even wool.
You only have to make some fabric strings based on your preferred thickness and braid them together. You can add charms and jewelry pieces if you want, but that's completely optional.
To make these bracelets, you'll need the following:
9. Advanced Friendship Bracelet Pattern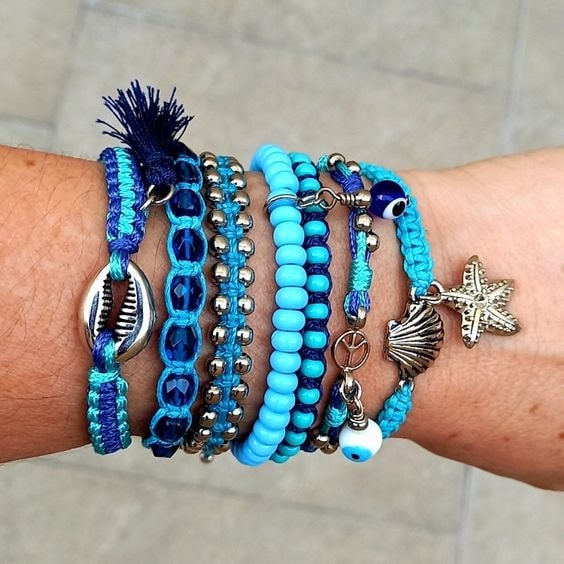 Check out the full tutorial here
If you're an advanced crafter wanting to test your skills on something more intricate, you should try making fancy bracelet designs. These bracelets are more detailed as they have lots of charms and tiny jewelry pieces, so you can wear them with your fancy dresses as well.
There are different designs for these bracelets, but here is a list of some basic supplies you'll need-
Embroidery floss or any other thin thread
Jewelry chain
Jump rings
Clasps
Clipboard and washi tape
Related: 5 Hemp Necklace Patterns: All Latest Designs
10. Macrame Friendship Bracelet Pattern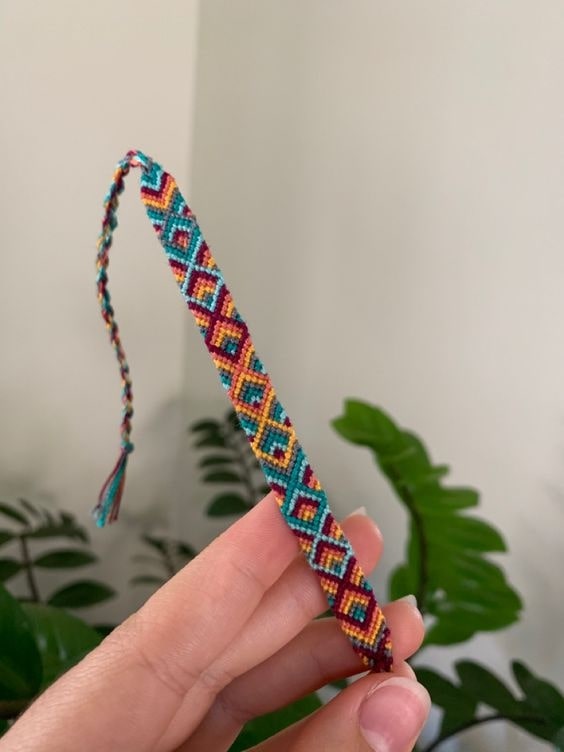 By clicking here, you can check the complete tutorial
You must have seen macrame as wall hangings, but have you ever thought of making macrame-style friendship bracelets?
These are also easy friendship bracelet patterns that look great when worn alone with other accessories. You can use solid color threads or a combination of different colors for an ombre look.
Since macrame bracelets are all about creatively tying the knot, you don't need any other supplies. But of course, if you're up for extra work, you can use charms and beads.
While there are innumerable ways people make friendship bracelets, these are pretty popular and are trending too. Moreover, most of these designs are beginner-friendly. Some require little expertise and skill, which anyone can learn with some practice.
Related: How to Make Waist Beads? Step-by-Step Tutorial
10 Cool Friendship Bracelet Patterns FAQs
What Is The Easiest Friendship Bracelet Pattern?
The easiest pattern depends on an individual's skill level and personal preference. But for newbies, the sliding knot, fabric scrap, and simple braided bracelets are the easiest to make. They don't need complicated knots; beginners will learn quickly.
How Long Should Each Strand Of A Friendship Bracelet Be?
To fit any average individual, each strand of a friendship bracelet should be 36 inches long. More intricate designs may require even longer strands.
Which Are The Most Advanced Friendship Bracelet Patterns?
Friendship bracelets with more intricate knots and charms require advanced skills. The macrame pattern is also a bit complicated because one needs to have good knotting skills to display the design perfectly.
Related: Alpha Bracelet Patterns: How Are They Different From Typical Bracelet
Final Thoughts!
Making friendship bracelets is a fun and great way to channel your inner creativity. And it's the best way to express your love towards your friends and family. The designs I shared are popular and relatively easy to make. So, whether you're a beginner or an experienced crafter, the list has something for everyone.
They require essential tools and knotting skills, so even if it's your first time, you'll quickly learn to make it with the help of tutorials. Let me know which design is your favorite and if you have any new designs to share, drop them in the comments.