Today I'm sharing the next video for my Sewlebrity Love of Sewing Challenge project, plus the free pattern for my Home Sweet Home mini quilt. It's a darling little mini quilt to hang in your living room, entryway, or even your sewing room! Because let's face it, most of us feel at home when we're in front of the sewing machine.
In this video, I'll demonstrate the full process I went through to make my own applique using the Destiny II's IQ Designer, a feature that allows you to scan your own image into the sewing machine and sew it. Amazing, right?! If you are still considering whether or not to get the Destiny II, this may be a game-changer for you!
You can use your favorite method to applique the word home and the house outline onto the quilt, even if you don't have an embroidery machine to do the fancy stitching for you! Below, you will find the complete project instructions: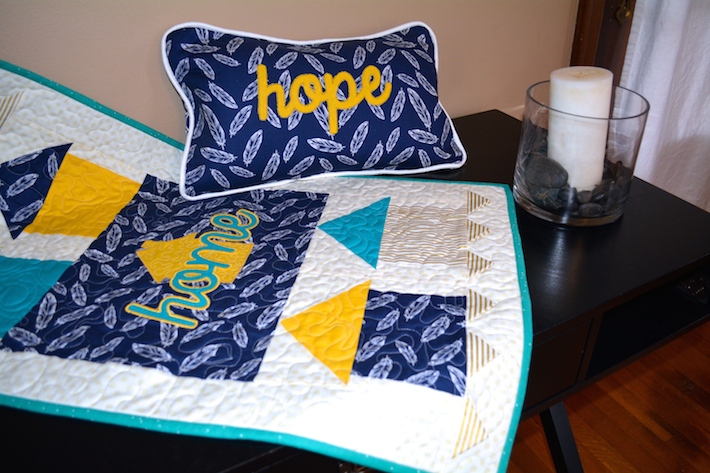 Project: Home Sweet Home Mini Quilt
Materials:
1/2 yard each* of 5 fabrics (I used assorted Riley Blake prints and solids)
8 1/2″ x 11″ sheet of double-sided fusible web for applique, like Steam-A-Seam 2
* You'll have enough extra fabric to make my Hope Throw Pillow bonus project, which I'll share next week! A fat quarter will work for the yellow, turquoise, and gold stripe fabrics.
Cutting:
For applique block:
Cut (1) 14.25″ x 11.5″ background (or start larger for hoop, and trim down)
Cut applique fabric and double-sided fusible into a rectangle larger than the PDF pattern, for each the word home and the house image
For house blocks (cut 1 each in different fabrics: gold stripe, turquoise, yellow, and blue):
Cut (4) 7.5″ x 4″ for flying geese roof
Cut (4) 6″ x 5″ for house
From background (cream dot) cut:
(8) 4″x4″ for flying geese roof
(8) 1.5″ x 5″ for house blocks
(2) 1″ x 8.25″ for sashing between house blocks
(2) 2.5″ x 26.5″ for left and right borders
(2) 2.75″ x 18.5″ for top and bottom borders
For prairie points (gold stripe):
Mini Quilt Assembly:
All seam allowances are 1/4″ unless otherwise noted.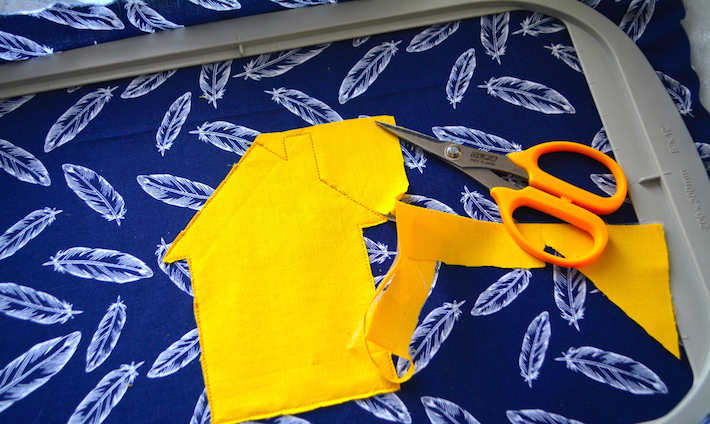 Step 1
Hoop the stabilizer and background fabric into the 8″ x 12″ embroidery hoop. Follow along with the video for directions on using the IQ Designer to make your appliques. Remove the tear-away stabilizer and press. If you aren't using an embroidery machine, you can use the PDF pattern to make an applique in any method of your choice. However, it won't be nearly as fun!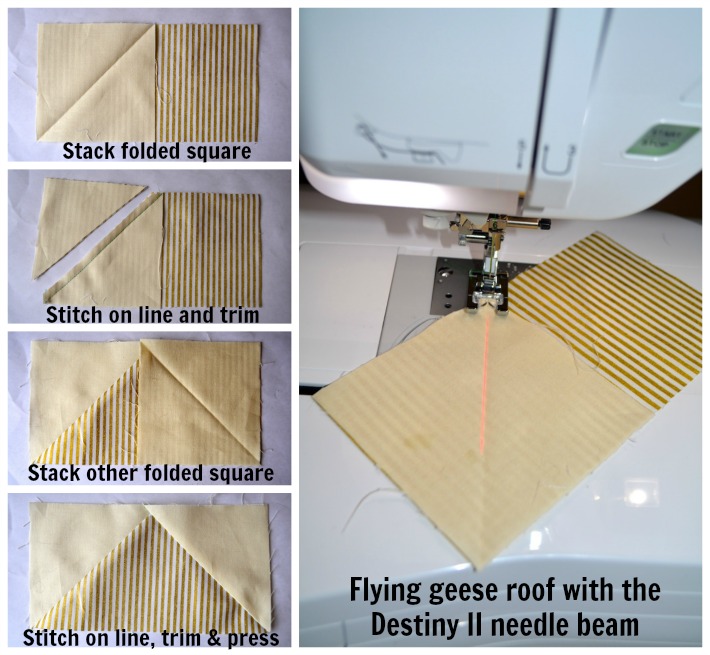 Step 2
Make the flying geese roofs. The Destiny II's needle beam works great for this! I also fold the squares diagonally and press to mark my diagonal line before stitching.

Step 3
Add 1.5″ x 5″ sides to the house bases. Attach the roof pieces to the house blocks. Trim the blocks.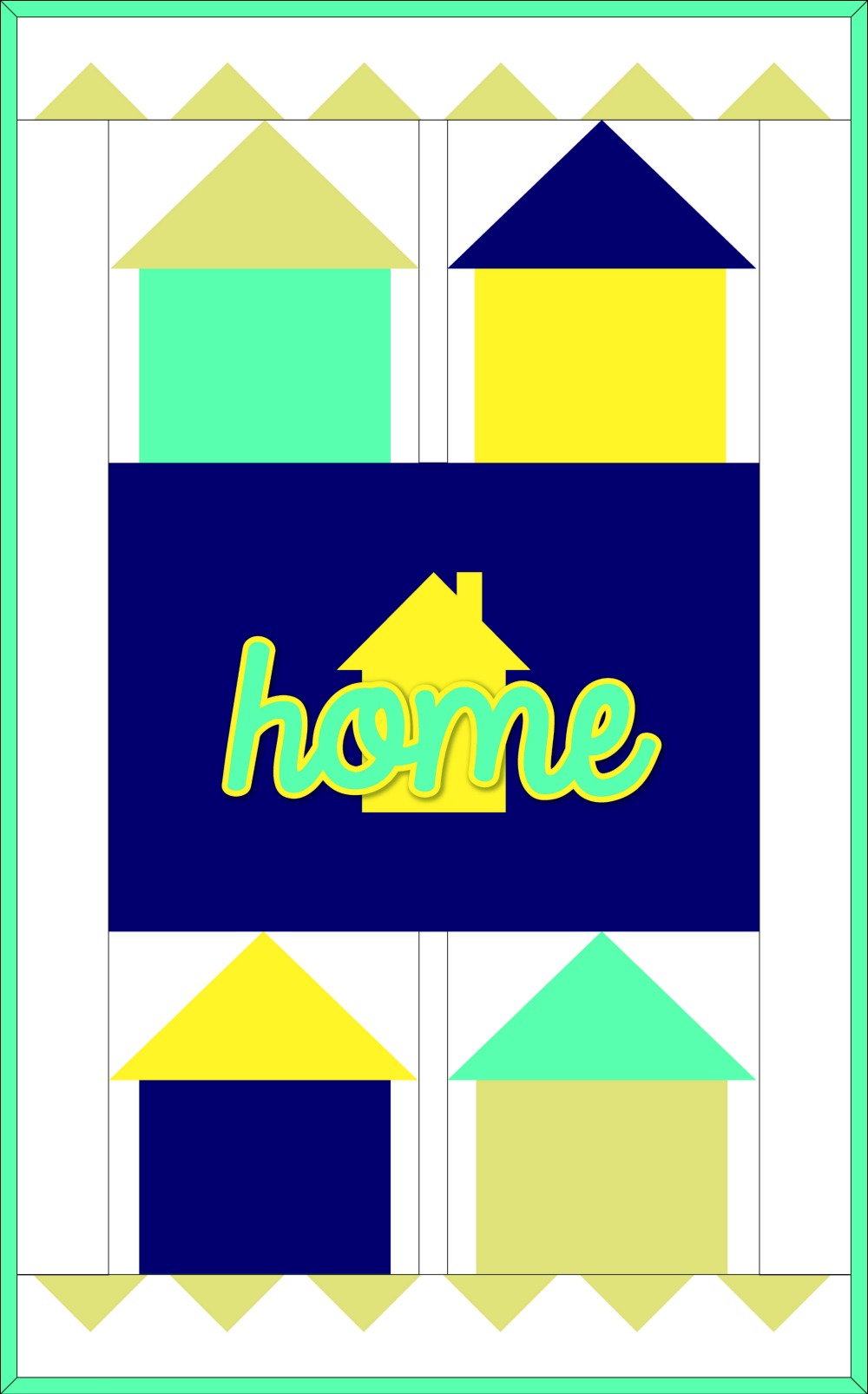 Quilt Assembly Diagram

Step 4
Add a piece of 1″ x 8.25″ sashing between the house blocks in each row. Press the seams toward the center. Then, attach the house rows to the top and bottom of the center applique block, referring to the quilt assembly diagram above.
Step 5
Add the left and right borders.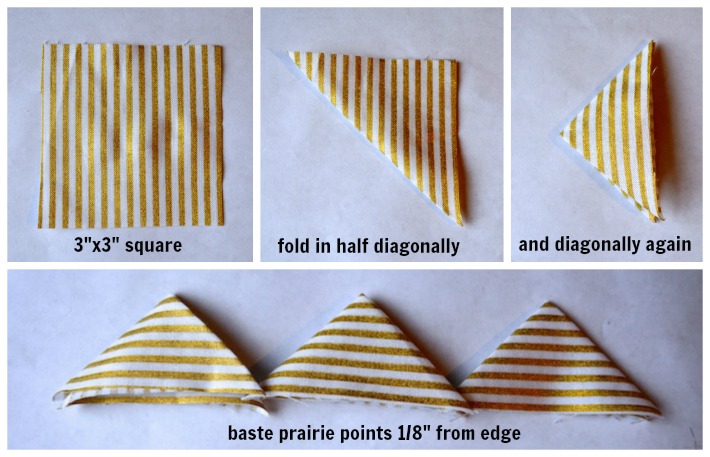 Step 6
Make a prairie point by folding a 3″ x 3″ square in half diagonally. Press. Fold in half diagonally again and press. Space 12 prairie points evenly on the top and bottom borders, according to the quilt assembly diagram. Baste in place 1/8″ from the edge, then sew on the top and bottom borders. Press the prairie points away from the house blocks.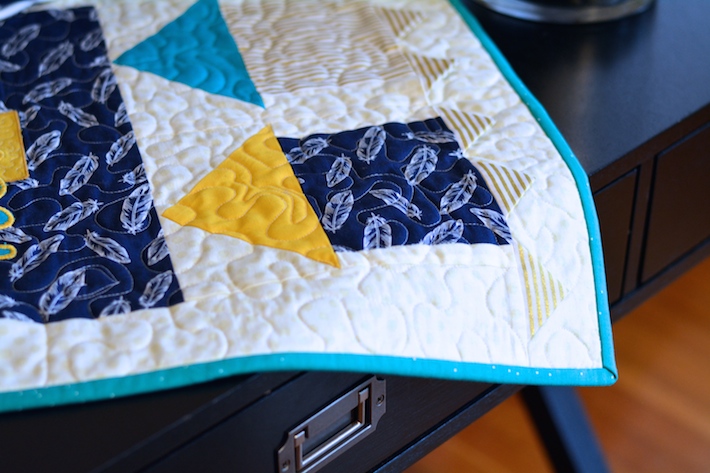 Step 7
Make a quilt sandwich. Quilt as desired (I used a wide meandering design) and bind your quilt!
I hope you enjoyed this free mini quilt pattern, and I hope to see you back next week for a look at the hope throw pillow project I created with the Destiny II!