Baby quilts are a type of blanket that is specifically designed for babies. They are usually made from soft, gentle materials such as cotton or wool, and often have a decorative pattern or design. Baby quilts can be used for various purposes, such as sleeping, cuddling, or even as a playmat for your little one. There are many different ways to make a baby quilt, but the most common method is to sew together squares of fabric. You can use any fabric you like, but choosing something soft and comfortable for your baby is essential. Once your fabric squares are ready, you will need to quilt them together using a quilting sewing machine. In this article, I have compiled 3 free baby quilt patterns and tutorials suitable for beginners and intermediate quilters. Make sure to check Annie's large selection of baby quilt patterns and tutorials
Citrus mint baby quilt free pattern and tutorial
Do you love quick baby quilts? One of my most popular posts on Craft Buds is my Quick Triangles Baby Quilt which you will find down below in this article. I was inspired by that project to design another free baby quilt pattern that's great for beginners and experienced quilters looking for a weekend project!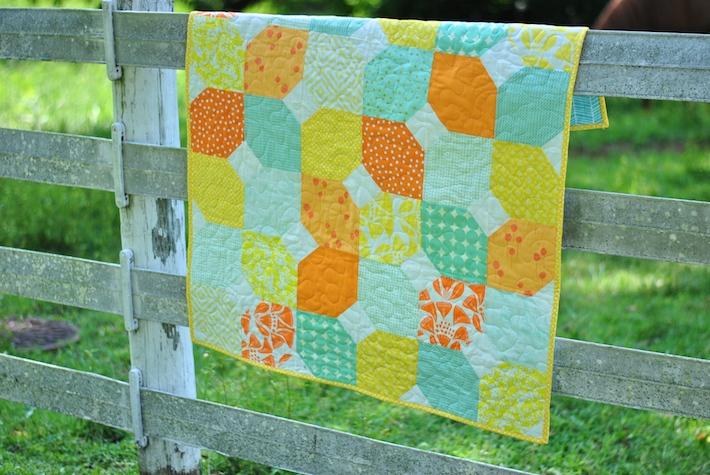 The colors of this quilt were inspired by a design seeds color palette my friends picked for their little girl's nursery. If you have trouble picking a color palette for your quilt, try choosing two or three colors that work well together and pairing it with a neutral like white or grey. (One of my favorite go-to color combos is yellow, aqua and grey.)
I loved the citrus and mint colors paired with a soft cream, but you can make this quilt in various colors and it would look beautiful!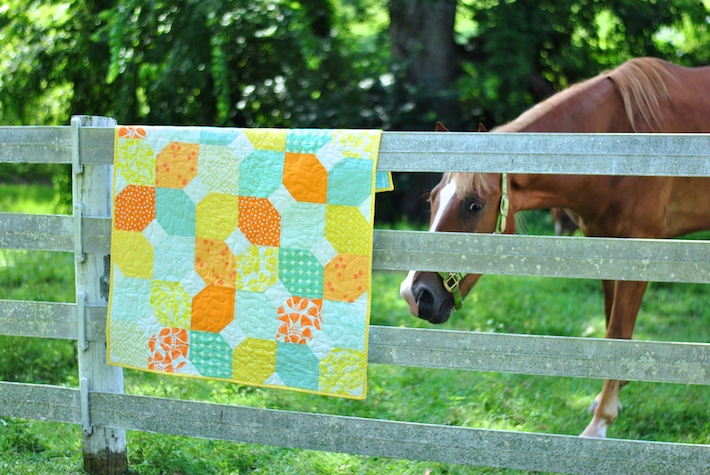 The block we'll be sewing is called a half snowball quilt block. A full snowball quilt block uses the same technique, but all four corners get the triangle. This half snowball tutorial will show you how to make this block, which you can use in all kinds of projects! I hope you enjoy this free quilt pattern.
The Finished quilt will be 36 1/2″ x 42 1/2″
Materials you need for this baby quilt
Cutting
Cut 42 squares of colored fabric 6 1/2″ x 6 1/2″
Cut 84 squares of cream fabric 2 1/2″ x 2 1/2″
Cut 4 strips 2 1/2″ x 44″ (width of fabric) for binding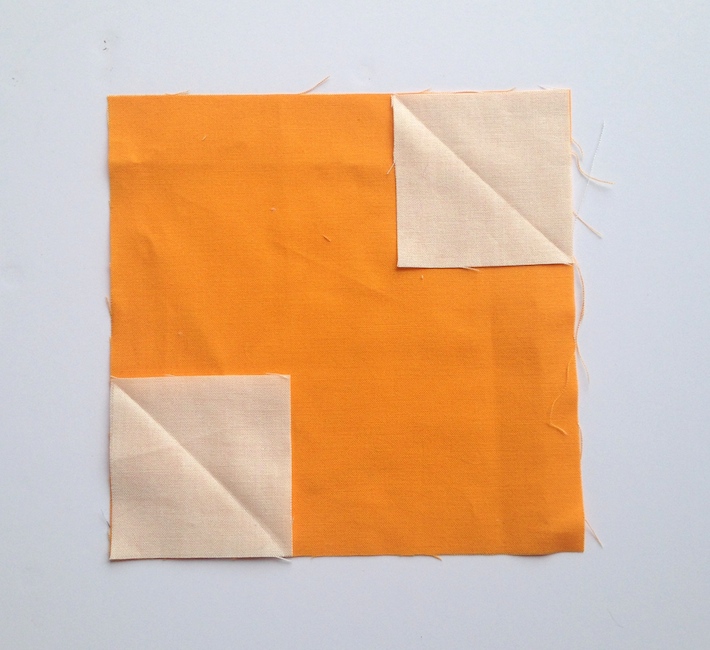 Step 1
Fold each 2 1/2″ square in half diagonally to make a crease, and press with your fingernail. With the right sides of the fabric together, place a cream square on two opposite corners of a larger square as pictured. The crease should not touch the corners of the large square.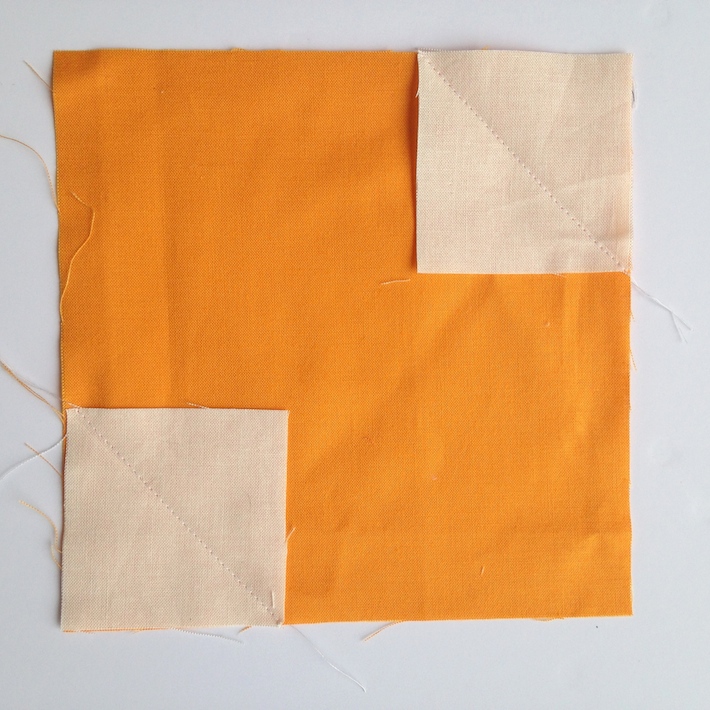 Step 2
Stitch along the creased lines.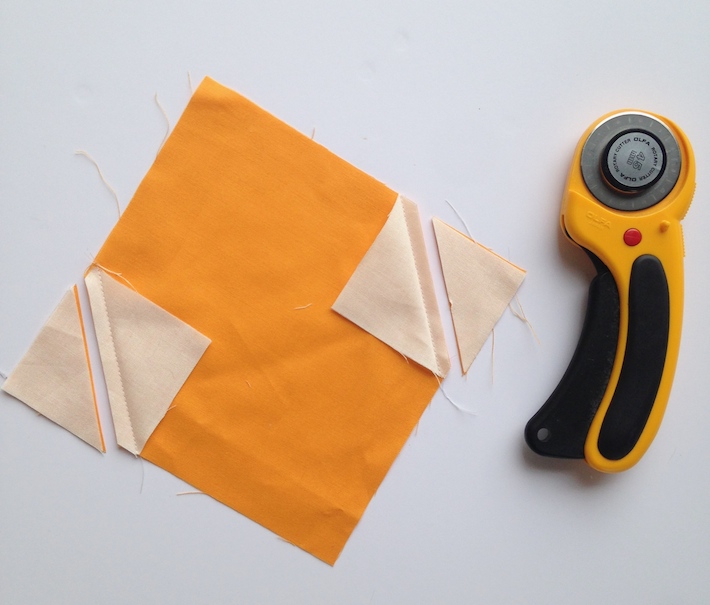 Step 3
Use a rotary cutter and ruler to trim the outside corners 1/4″ outside your stitch line. P.S. I love my OLFA 45mm ergonomic rotary cutter, and Amazon has a great price on a rotary cutter plus replacement blades!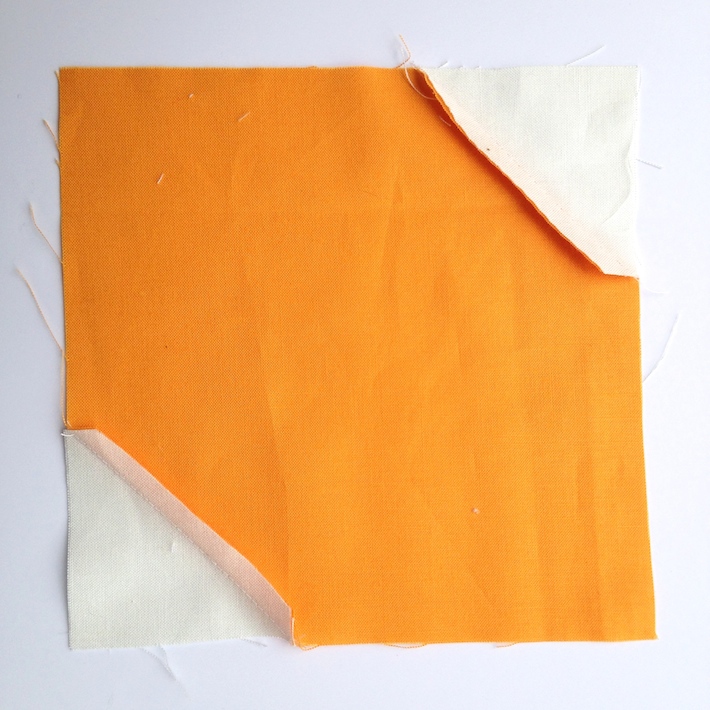 Step 4
Press the seams toward the center of the colored block.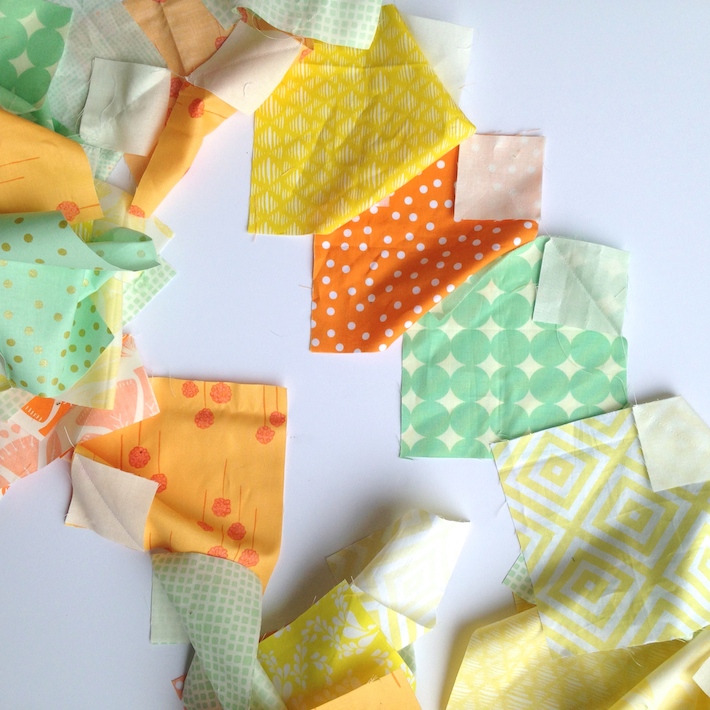 Step 5
Tip: You can use chain stitching to speed up the process! Add one corner square to each of the colored squares without cutting your thread. Trim, press, and repeat with the opposite corner of each block.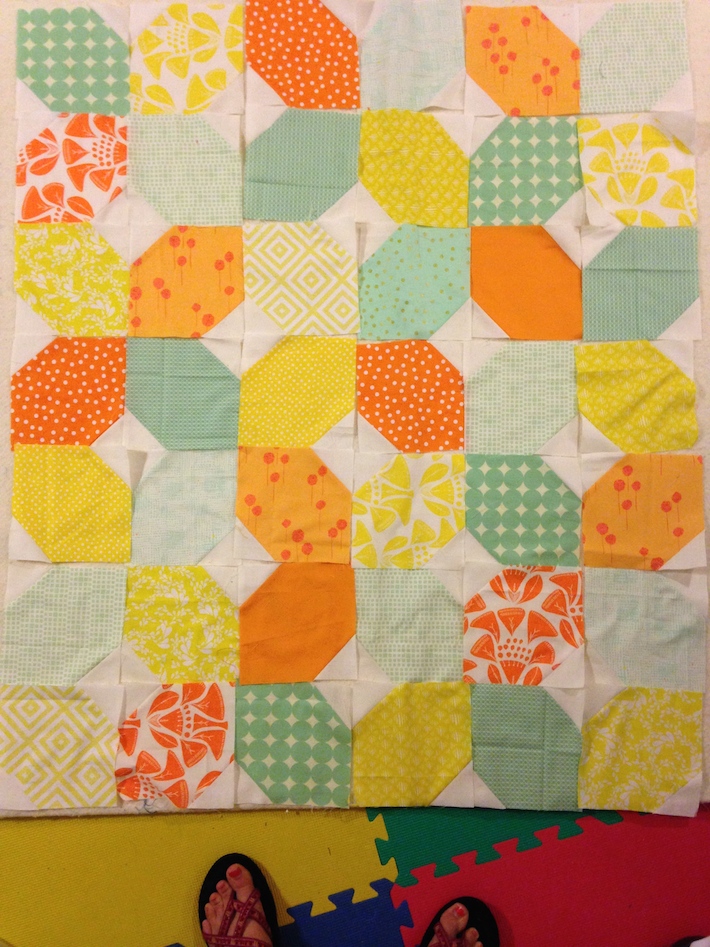 Step 6
Arrange the blocks in 6 columns and 7 rows until you get a color placement you like. I use my portable design board to make this process easier! Tip: Once you get your final arrangement, take a picture with your phone. Nothing fancy! Here's mine that I took with my feet in the bottom. 🙂 You'll want to refer to this while sewing so the blocks don't get mixed up.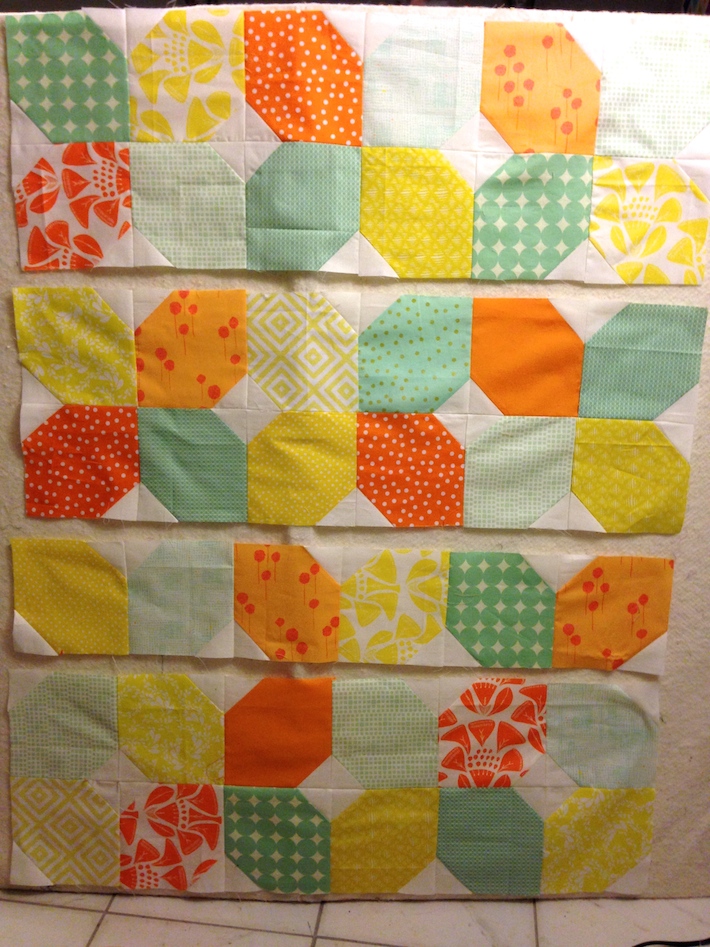 Step 7
Join the blocks in each row with a 1/4″ seam, ensuring the cream triangle seams are aligned.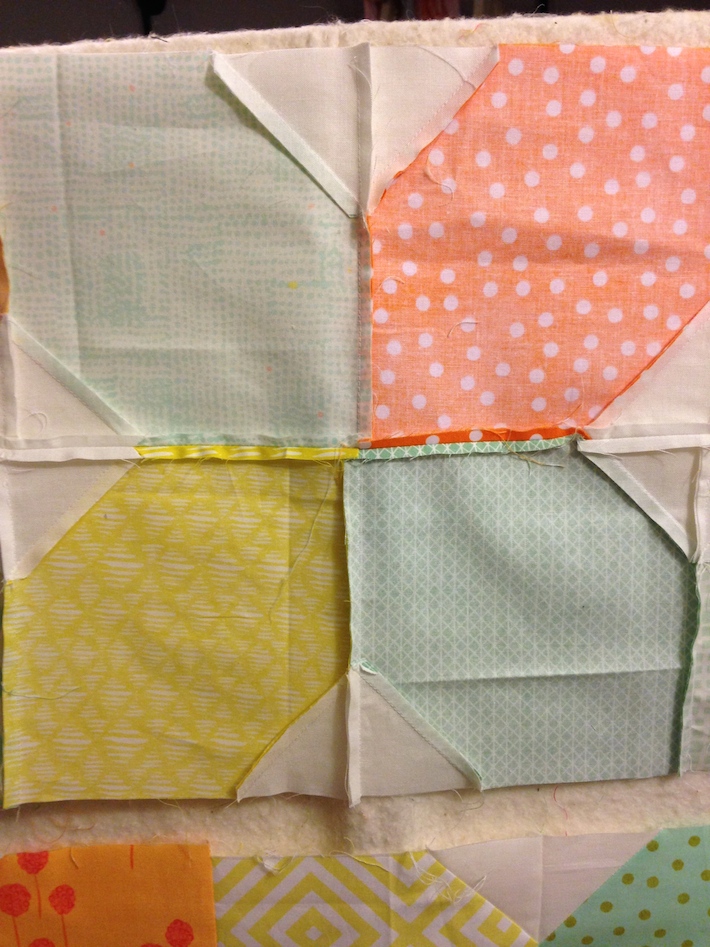 Step 8
Press the vertical seams of each row in an alternating fashion to make nested seams. To do this, take row one and press all the vertical seams to the right. In row two, press to the left… row three, press to the right… and so on. This will reduce bulk when joining the rows, allowing the blocks to fit together snugly! I typically press all my seams open, but this type of quilt block, I think it works better to use the nesting technique.
Once you join the rows, press the long seams between each row OPEN (as pictured above) to avoid too much bulk in the centers.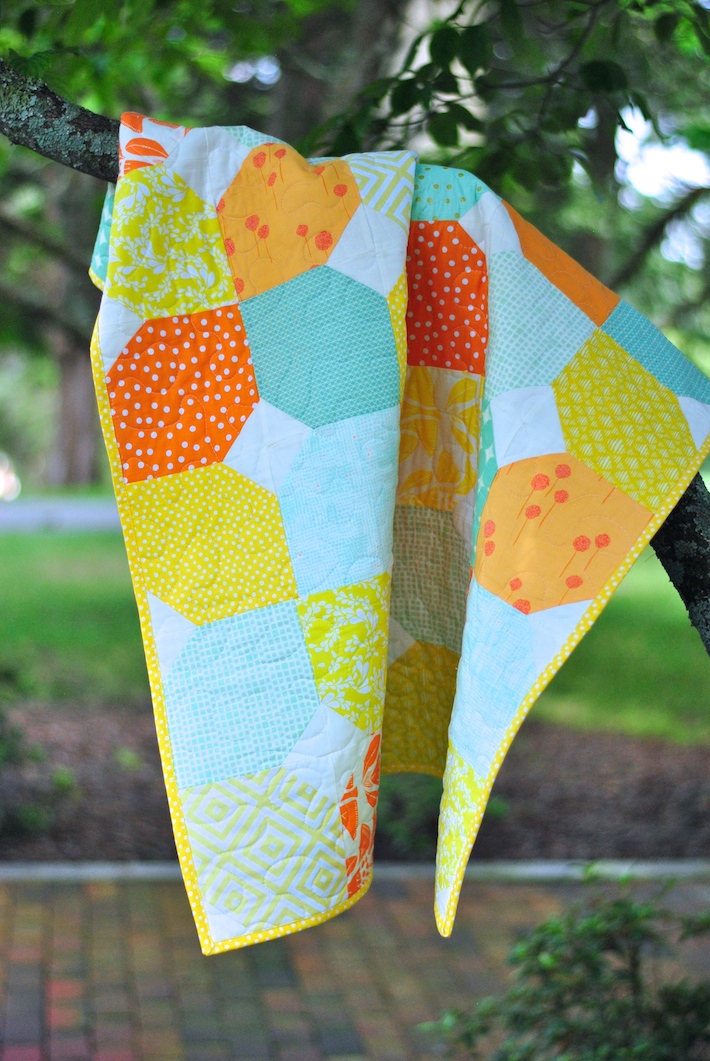 Step 9
Baste the quilt top, batting, and backing, and quilt as desired. I chose a wide meandering free-motion quilting pattern, stitching through the diamonds and other seams to reinforce them.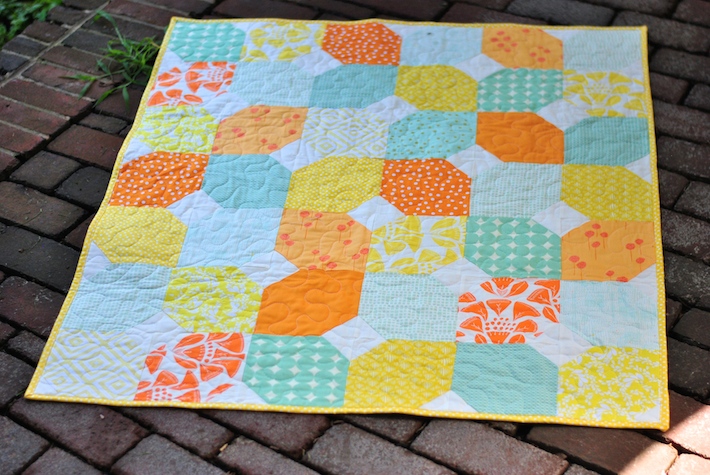 This is a quick and easy baby quilt pattern that you can whip up over the weekend! Break it up over 4 days if you'd like to spend time cutting squares, sewing the blocks, joining the blocks and rows, and quilting the top!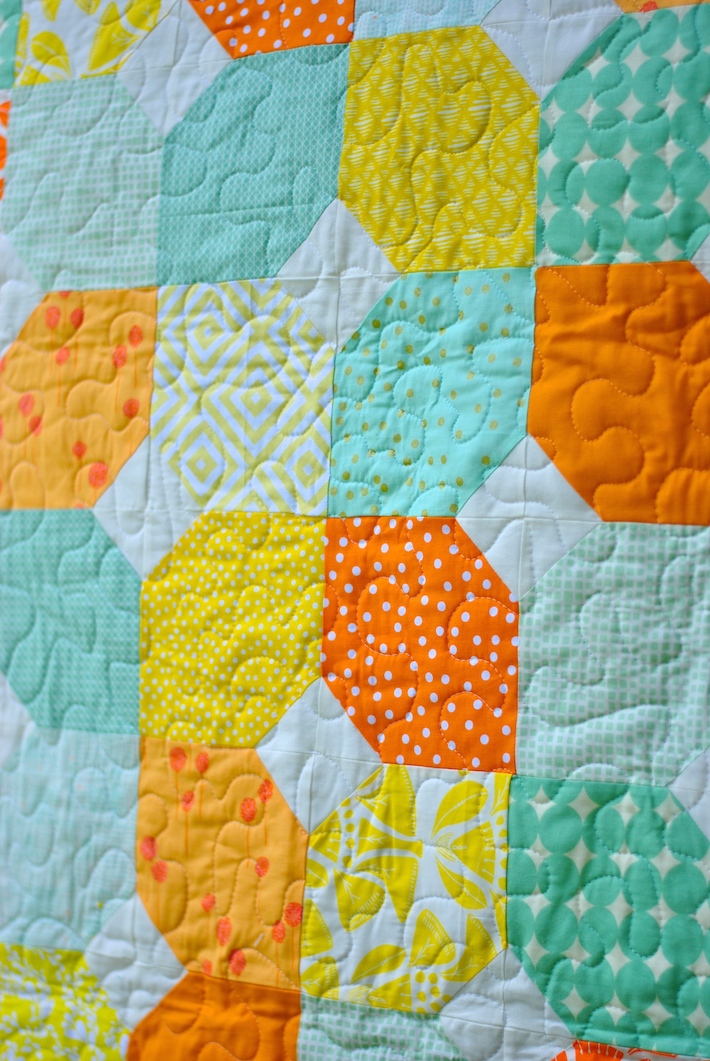 I quilted my Baby Lock Tiara II project with Madeira Thread and Quilter's Dream batting. This was my first time using this brand of batting, and I'd have to say I'm in love! The quilt held up great and did not wrinkle during my photoshoot, and it has a really nice weight to it that I think will withstand many years of baby and toddler love!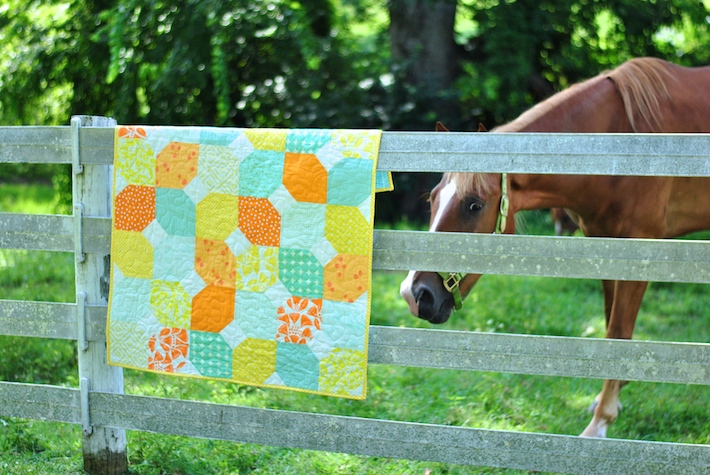 Aside from choosing the fabrics, I really think my favorite part of quilting is taking the perfect photo of the finished product, and it helps to have really cute models. I took these photos at our local agricultural park (the same place I photographed my recent Tennessee quilt), and I was giddy that the horses were out. Of course, I was a little nervous they would take too much interest in the quilt!
I hope you give this easy baby quilt pattern a try! If you make something from any of our sewing and quilting tutorials, we'd love for you to leave a comment. Happy quilting!
Quick triangle baby quilt free pattern and tutorial

If you are looking for a crib-size quilt top that you can piece together in one evening, this half-square triangles quilt pattern is perfect for you. It features 6 fat quarters of assorted fabric prints and large, 8″x 8″ half-square triangles (HSTs). You can make 8 at a time. Finished Quilt Size: 38″ x 53″
If you're struggling with your quilting design work, check my quilting design board tutorial.
Fabric Requirements for your half square triangle baby quilt
Related: Best Sewing Machine for Free Motion Quilting
Step 1
Break your fat quarters into three sets that match well together to get started. Look at the colors as well as the scale or size of the design.
Step 2
Spread out, stack two fat quarters, and trim to an 18″ x 18″ square.
Step 3
Now, stack your 18″ x 18″ squares with the right sides facing. Mark a diagonal line from corner to corner on one wrong side with a ruler and pen. Pin the fabric squares at the corners to keep the fabric in place while you sew.
Step 4
Take your fabric to the sewing machine. With the marked side facing up, stitch a line 1/4″ from the edge of one marked line to both the left and right of that line. Repeat with the other marked line.
After you've stitched the four long lines, notice how the stitch lines go right through the center of the block. With your ruler and rotary cutter, cut the block into four equal quadrants using this center and the block's straight edges as your guide.
Use your ruler and rotary cutter to cut along the line you marked earlier through the center of your stitched lines. Repeat with the other blocks, and you'll have 8 half-square triangles.
Step 7
Press the seams open with an iron. This is my Panasonic Cordless Iron which I love!
Step 8
Using a square ruler and your rotary cutter, trim each block to 8″ square. Line up the 45-degree line of your ruler with your half square triangle before you cut.
Step 9
Here are the eight 8″ half-square triangle blocks from just two fat quarters. Repeat with the other fat quarters; you should have 24 blocks.
Step 10
Arrange your blocks in a 4×6 grid. I kept my blocks in a set order, with the colors pointing to the upper left and the grays pointing to the lower right.
Step 11
With the right sides facing, pin together the blocks in each row and stitch. Press the seams open.
Step 12
Next, join together the rows with right sides facing, and pin at each seam. Stitch together the rows and press the seams open.
Step 13
To make the border, cut your border fabric 5″ x the width of the fabric, for 4 strips total. Attach a border strip to the top starting in one corner, then trim the excess. Repeat with the bottom. Stitch the ends of these strips to the other to border strips you've cut for the sides, to lengthen them. Press the seams open, and stitch the left and right border strips to the quilt, and trim.
Step 14
Press the seams open. Baste, quilt and bind as desired. After quilting and before binding, I trimmed the borders to 4 1/4″ to keep them even all the way around. This pattern is very beginner-friendly, and I'd recommend it for showing off strong prints.
Jungle lattice free baby quilt pattern & tutorial
I've been on a kick with baby quilts lately. I've also put together a free baby quilt pattern that's doable for beginners and intermediate quilters! This baby quilt tutorial uses charm squares (5″ x 5″ precut squares, which you can also cut from other fabric in your stash) and crisp, white sashing for an effect that looks like a lattice fence; with pops of bright color popping through! Bright, monochromatic (all one color) prints look great with this quilt pattern, and the white lattice brightens up whatever colors you choose. I chose "jungle colors" with a pop of brightness to match a baby boy's nursery, but you can customize this pattern and colors to fit the size and look of your preferred quilt.
Finished Quilt Size: Approx. 40″ x 48″
What do you need for this baby quilt:
– 40 fabric squares 5″ x 5″ (5 each of 8 assorted prints)
– 1 1/2 yards of white fabric for sashing, corner and side triangles, and border
– 3/8 yard of binding fabric
– 1 1/2 yards backing fabric
– 44″ x 52″ batting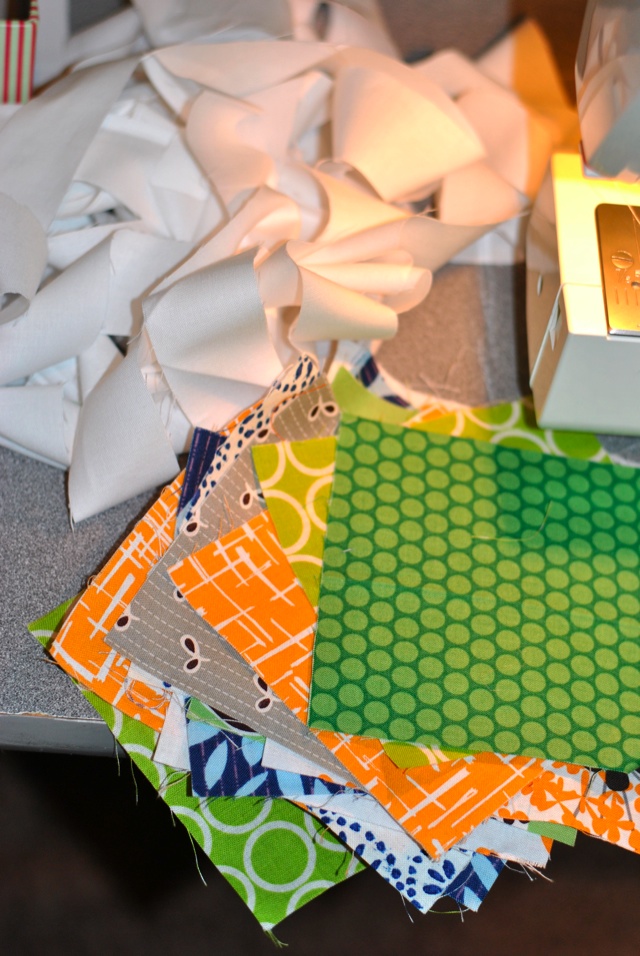 Cutting Instructions (Updated January 2023):
Cut 10 strips 1 1/2″ x WOF (width of fabric/selvage to selvage) for sashing (the lattice).
Cut 1 strip 8 3/4″ x WOF. Subcut into:

1 white square 8 3/4″, and cut in half ONCE diagonally to make 2 half-square triangles.
4 white squares 7 1/2″, and cut each in half TWICE diagonally to make 16 quarter-square triangles.

Cut 4 strips 3 1/2″ x WOF for borders.
Cut 5 strips 2 1/2″ x WOF for binding.
All seams are 1/4″ and pressed open unless otherwise noted.
Related: Best Quilting Sewing Machine for Beginners
Step 1
Chain stitch your charm squares to the white sashing strips, sewing them onto the white strip one after another. Don't worry about leaving much space between them because you will later cut them apart. Leave 8 squares without a white stripe. You should be able to sew 8 squares each onto 4 strips, for a total of 32 squares with a border and 8 squares without a border strip.
Step 2
Cut apart the charm squares, trimming the white side borders equal to the sides of the square.
Step 3
Arrange your charm squares on point (like a diamond) in a color arrangement that's pleasing to you, with the white stripes resting between adjacent blocks. Arrange the squares without the stripes toward the ends of the rows, as pictured. If you used a design wall to arrange the blocks, you could refer to a photo for block orientation.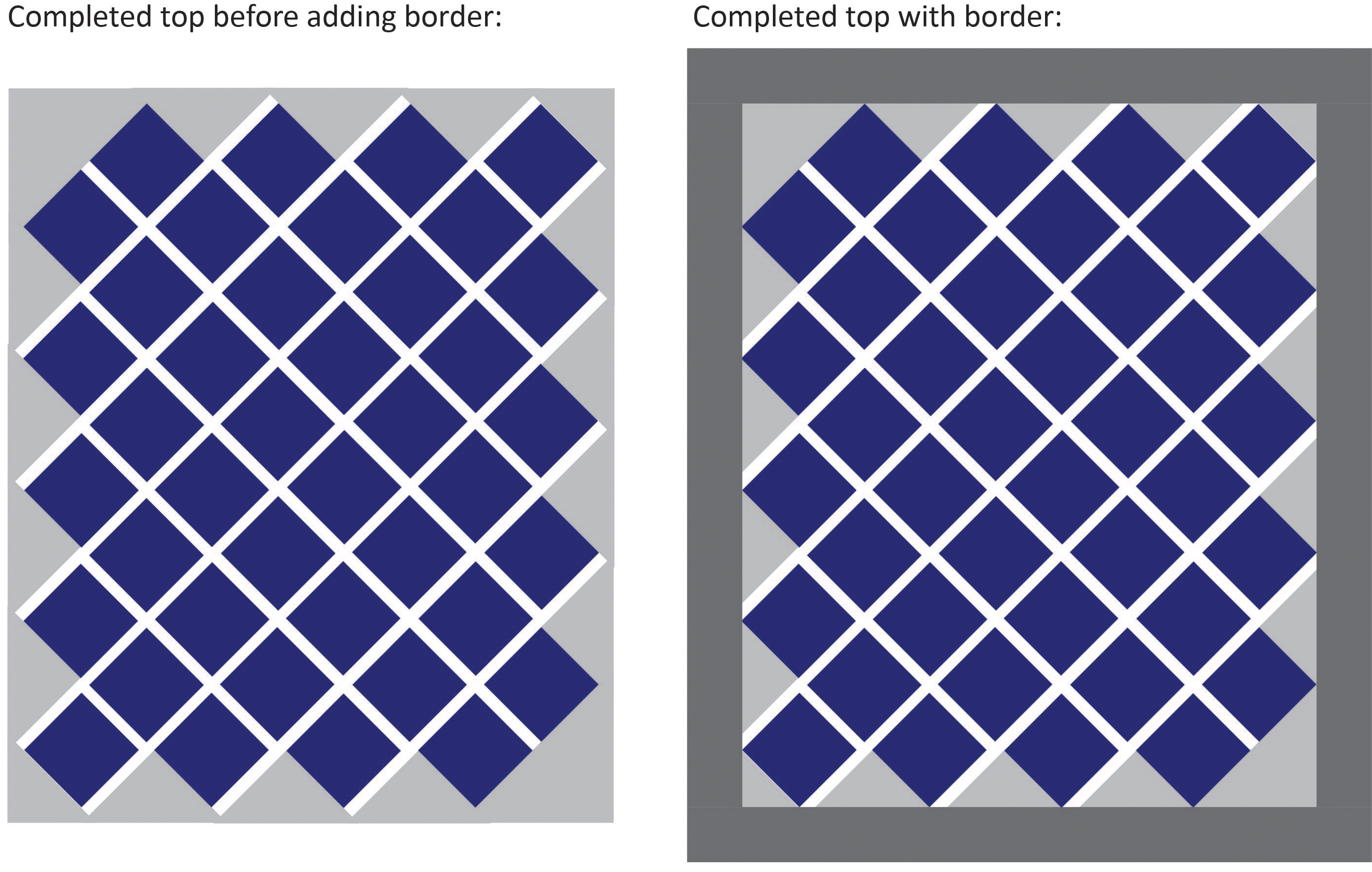 Step 4
Stitch together the rows as pictured above (rows are diagonal starting at the top left corner):
Row 1: 2 squares / 1 strip
Row 2: 4 squares / 3 strips
Row 3: 6 squares / 5 strips
*Row 4: 8 squares / 7 strips
*Row 5: 8 squares / 7 strips
Row 6: 6 squares / 5 strips
Row 7: 4 squares / 3 strips
Row 8: 2 squares / 1 strip
*Note: Pay close attention to the placement of diagonal Rows 4 & 5 (both 8 squares / 7 strips). You'll get a square quilt if these are matched up side by side. If you shift them like in the diagrams above in step 3, you'll get a rectangular quilt.
Step 5
Arrange the white half-square triangles at the ends of each row to make the quilt rectangular. The long side of each triangle should face out toward the border of the quilt top. Stitch the triangles to the rows.
Step 6
Place the larger triangles in opposite corners of the quilt, with the long side of the triangles facing the pairs of two squares. Stitch the triangles to the two wide corners.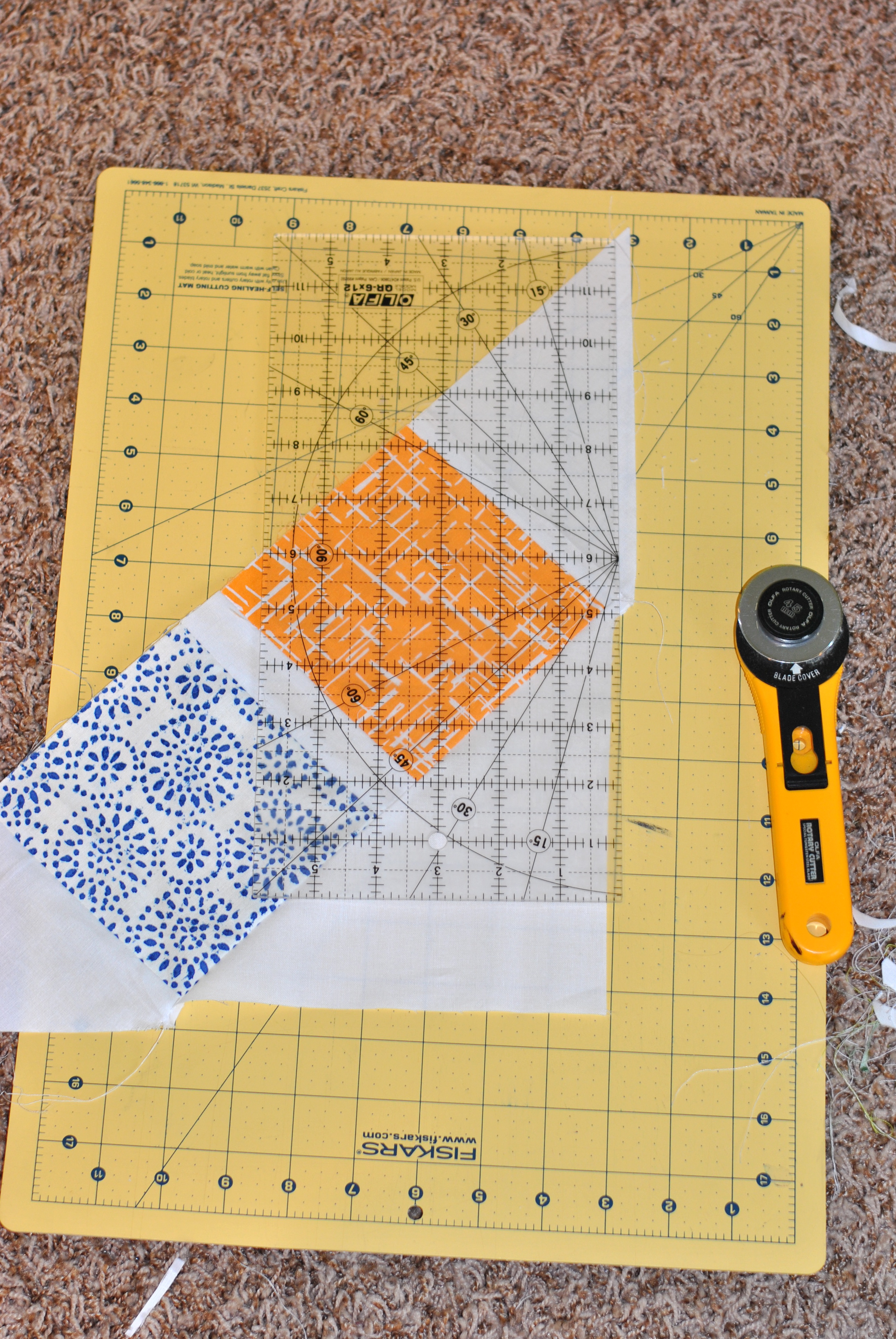 Step 7
Trim the sides of the corner triangles even with a ruler and rotary cutter. (Note: With an 8 3/4″ square cut along the diagonal, you shouldn't have to trim as I did here. You'll have extra fabric in the corners! I used a 7 1/2″ square.)
Step 8
Layout your remaining sashing strips between each row, and stitch to neighboring rows to join them. Sew the longer strips first. Trim the excess sashing strips and join them to other strips to get the length you need.
Step 9
Continue adding sashing strips to the rows, pressing your seams. I pressed the seams open, which gave this quilt a crisp, clean look with sharp angles.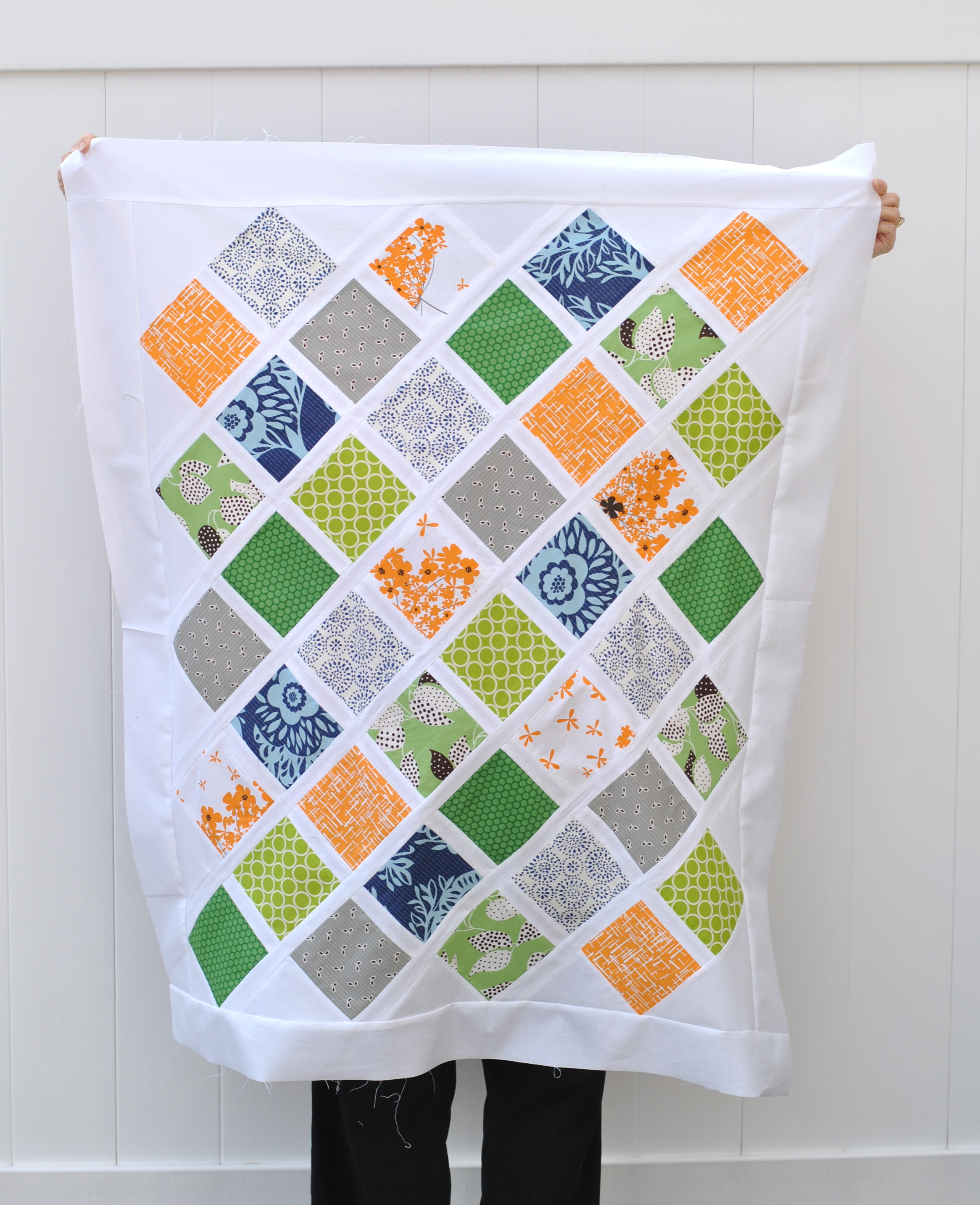 Step 10
Add a 3 1/2″ border to the left and right sides of your quilt. Trim off the excess. Add a 3 1/2″ border to the top and bottom of your quilt. Trim. Press the seams toward the border.
Step 11
Baste and quilt your baby quilt. Trim the borders even around the edges of the quilt, measuring 3″ from the seam. Sew on binding.
I chose broad, wavy lines and a slight woodgrain pattern for quilting this baby quilt. I would have added an extra layer of quilting between the wavy lines to make it tighter and more textured, but I ran out of white thread and was on a deadline. I am excited that this quilt gets to stay in the family! It's fun to sew for people you know.
Baby quilt Q&A
What size is a baby quilt?
A baby quilt is typically larger than a crib quilt but smaller than a lap quilt. There are many different sizes of baby quilts, so it's important to consider the crib or bed size. 36″x42″ is the most common size for a baby quilt. However, you can also find crib-sized (30″ x 45″) and lap-sized (36″x 48″).
How many 5×5 squares to make a baby quilt?
The standard size for a baby quilt is 36″x42″. To make this particular size, you will need at least 42 squares that are 5 inches by 5 inches. Making a 36″x42″ quilt from smaller squares can be difficult because it may not all come together correctly.
How many blocks to make a crib-sized baby quilt?
For a crib-sized quilt, it's recommended that you use 30-inch x 45-inch squares. This way, the finished product will have clean lines and won't be too busy looking.
How big is a baby quilt?

The best size for a baby quilt is 40 by 48 inches. Smaller sizes will not provide much warmth and will likely become decoration instead of keeping the child warm. A larger size will allow the quilt to be used as part of a bedding ensemble, providing decorative and functional value.
The size you decide to go for will also affect your decision about what kind of fabric and patterns to use. If you want the baby's quilt to serve as a functional item rather than just decoration, I think it makes sense that you would want it to be at least 36 by 40 inches, and probably larger. I can imagine there can be a lot of variation regarding the patterns you might want to use for such a quilt. Still, if you want your baby's bedding ensemble to be functional and decorative, I think picking smaller sizes would limit how much you could do with it.
What size squares should I use for a baby quilt?

There are no set rules about how big or small these should be, so it just comes down to personal preference. A very tightly pieced-looking blanket might have 1-inch finished squares, while a more open-looking blanket might have 2″ finished squares. For a baby quilt, there are many options when it comes to the size of the squares. The most common sizes used in baby quilts are 3″, 6″, and 9″. I chose to use 5″ squares in my step-by-step tutorial as it seemed like a happy middle, and it fitted well with how I conceived the finished product!

How many fat quarters do I need to make a baby quilt?

Fat quarters are helpful for projects involving large quantities of patchwork because they can be easily sold by size rather than yards or meters. Fat quarters are a standard unit of fabric used in the quilting community. One fat quarter equals twenty-five square inches of fabric, yielding about 9 patches if cut into four pieces. See below a helpful chart that lets you quickly determine how many fat quarters you'll need based on the fishing product size you go for.