The brown tissue paper on which many patterns come printed is not very durable. When you purchase any sewing pattern, it's a good idea to transfer it to paper before cutting, so you can create the pattern in multiple sizes if needed and make adjustments. Transferring a pattern to freezer paper offers some critical advantages to other methods.
Inexpensive and found at many grocery stores, freezer paper is waxy on one side and can be ironed to fabric many times without losing this quality. It does not stick permanently to fabric and is durable, making it an excellent medium for copying sewing patterns. Although there are many ways to use sewing patterns, I will teach you my favorite way to transfer a sewing pattern with freezer paper.
Recommended Supplies:
Sewing Pattern
Clear Ruler
Rotary Cutter or scissors
Mat
Pencil
Scotch Tape
Freezer Paper >> Buy it here on Amazon
Before you begin, read your sewing pattern to see if it is printed in the actual size, or if you'll need to enlarge it on a photocopier.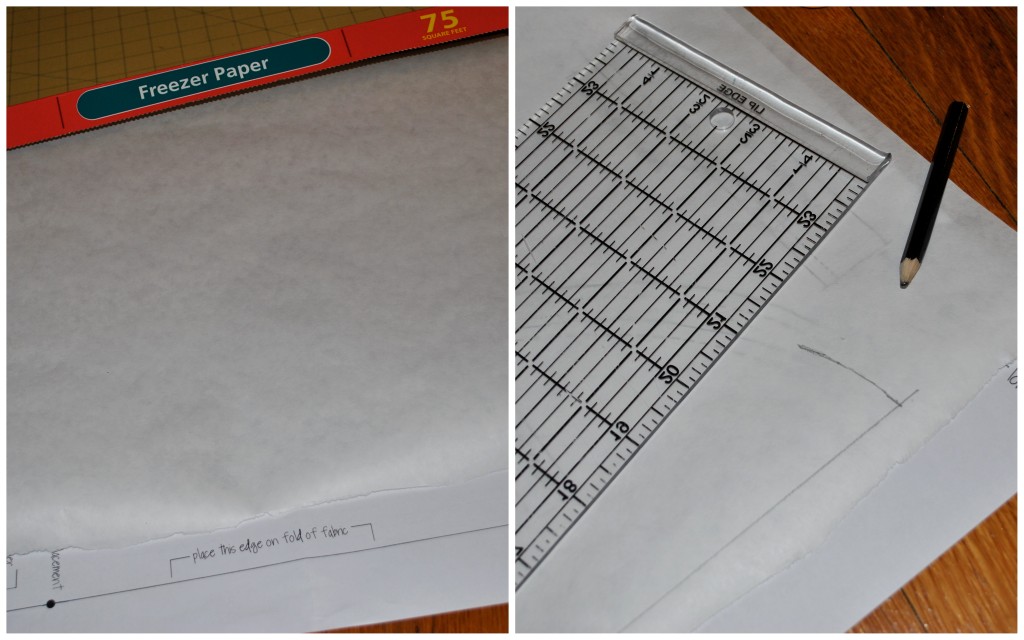 Roll out freezer paper to completely cover your printed sewing pattern. With the shiny side of the freezer paper facing down, use a pencil and ruler to trace the outline of your pattern on the freezer paper. Drawing on the matte side, you can faintly see the pattern lines through the freezer paper, but you may want to hold it up to a window to get a clearer view.
Note: If you use a "nested" sewing pattern with multiple sizes, ensure you find and follow the line that corresponds with your size.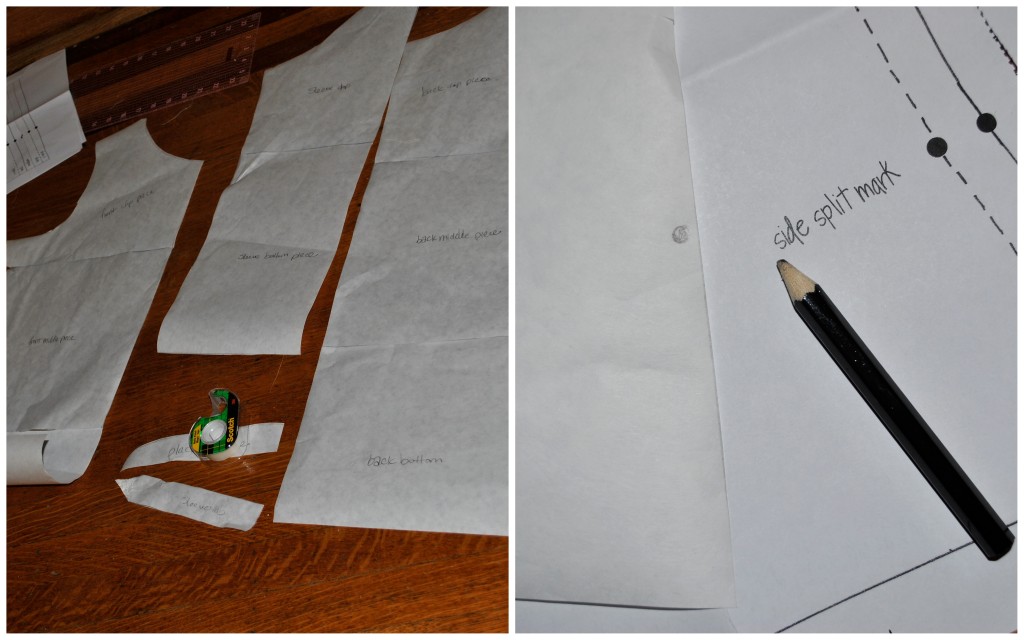 Cut out all pattern pieces and label them with your pattern's name (mine is the Shearwater Kaftan) and the name of each piece (such as "top of the sleeve"). This labeling will be helpful the next time you make the pattern. If the pattern has markings such as "cut on fold" or dots signifying how the garment should be sewn, mark these on each piece.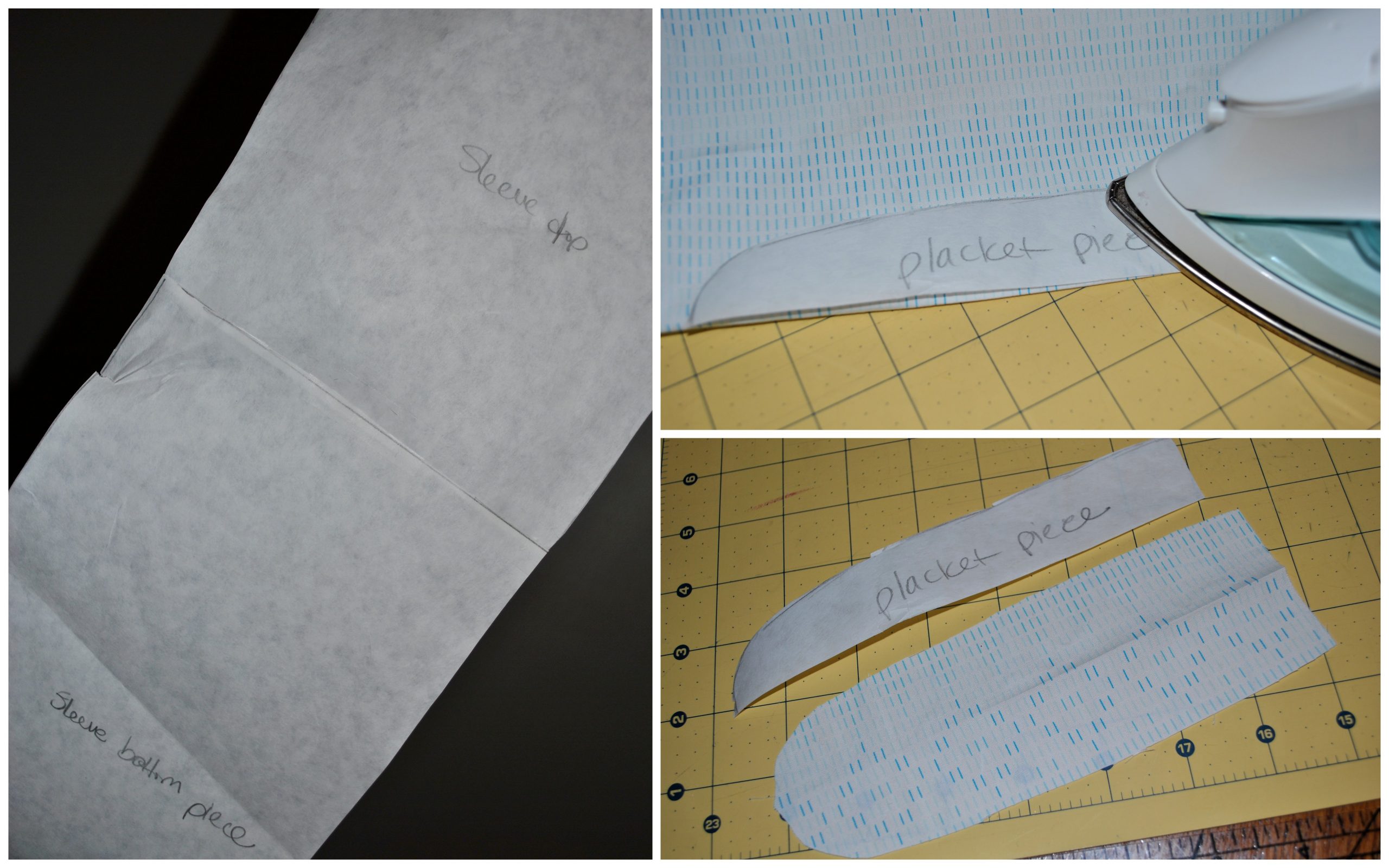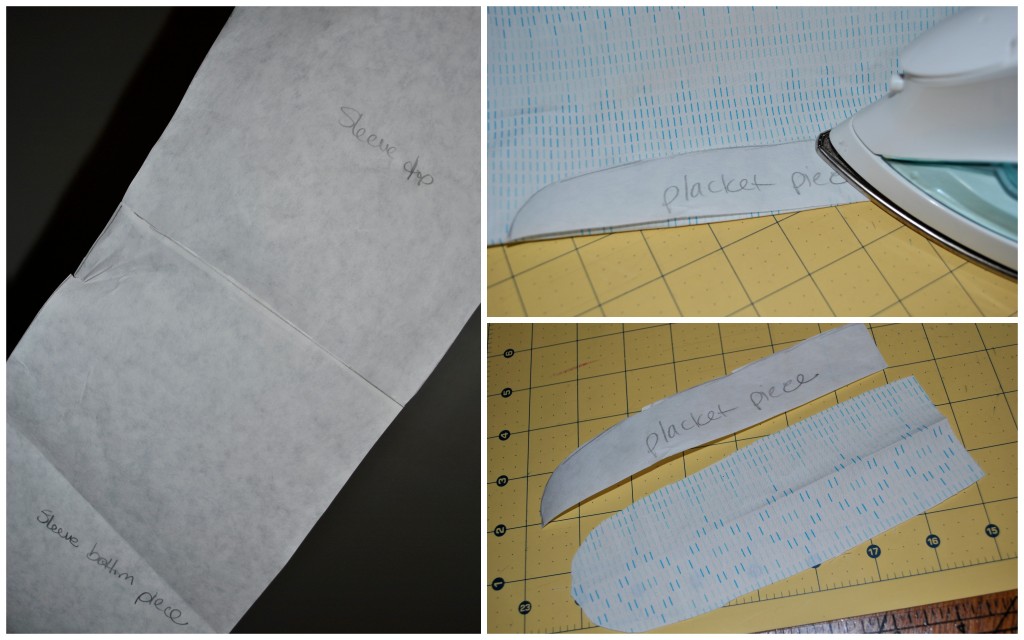 Tape together pattern pieces that match up, such as the sleeve top and sleeve bottom, using the original pattern as a guide. Once your freezer paper pieces are ready, iron each piece on your fabric (shiny side down). Your pattern will tell you how to arrange the pieces on your fabric for the best fit. Press with your iron for 10 to 15 seconds and remove.
The freezer paper pattern temporarily adheres to the fabric, and you can now cut around the pattern without shifting. With this technique, I don't need to make any markings directly on the fabric. Make sure to align pieces on a fold if the pattern says (like the "placket piece" above). I like to use a rotary cutter and ruler to cut fabric quickly and accurately.
I sewed the Shearwater Kaftan by Make it Perfect. I made the shirt in an inexpensive fabric to test out the fit. This is called "making a muslin." Because I didn't want to spend a lot of time making a shirt I would not end up wearing, I used a fabric that would still be wearable, which makes this a "wearable muslin."
From my wearable muslin, I chopped off about four inches from the shirt length and hemmed again. Because I noticed gaping in the back, I sewed a long vertical dart below my neck to create a better fit. Since I created a freezer paper pattern, I can easily cut the same length off my pattern pieces and adjust the back width to change the fit for the next shirt I make (which will be in a more "breezy" fabric). This is one of the benefits of transferring your pattern!
Do you have any tips or tricks for transferring a sewing pattern? If freezer paper is not readily available where you live (I know it can be hard to come by in the U.K.), check out Amazon and buy the largest roll you can find. You can also use freezer paper to make custom-painted tees and paper-pieced quilt blocks.