The wheat penny, minted from 1909 to 1959, was the first Lincoln cent and remains popular among collectors. It replaced the Indian Head cent in 1909 to mark Lincoln's 100th birthday. Initiated by President Teddy Roosevelt and designed by medalist Victor David Brenner, the coin broke with tradition by featuring Lincoln instead of Lady Liberty. This article focuses on the 1919 wheat penny, a year of high mintage, exploring its design and value.
The 1919 Wheat Penny – Composition & Design
The Obverse Side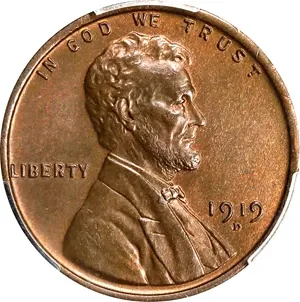 The Obverse side of the 1919 wheat penny features the profile of the 16th president, Abraham Lincoln. He gazes outward to the right; the word LIBERTY appears to the left of Lincoln's collar, and IN GOD WE TRUST forms an arc above his head. The obverse design has withstood the test of time—in fact, it is the longest standing of any American coin still in circulation.
Like all coins, the year is printed clearly on the bottom right. 1919 Lincoln wheat pennies will have one of the following mint marks under the date: D (minted in Denver), S (minted in San Francisco), or nothing (printed in Philidelphia). Philadelphia minted the most pennies in 1919.
The Reverse Side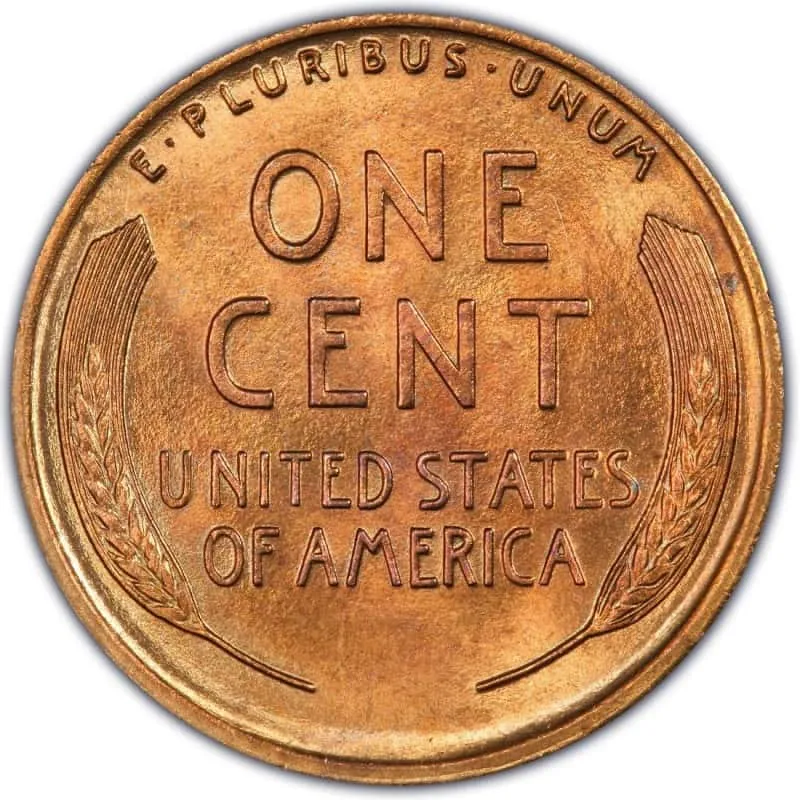 The reverse side has adorned several different designs, with the 1919 wheat penny having the original one (although, as we will explain, there were some slight early variations involving the designer's initials).
This side yields the iconic pair of wheat stalks flanking the coin on the left and right, framing the prominent text ONE CENT and UNITED STATES OF AMERICA. Forming an arc at the top is the Latin phrase E-PLURIBUS UNUM, a traditional phrase of the USA that translates to "Out of many, one." 
Interestingly, the extremely early versions of the wheat penny from 1909 actually featured Brenner's initials—V.D.B.—on the Reverse side. However, the decision was met with controversy, so this design element was omitted (making the 1909 V.D.B. coins rarer and valuable). The initials were briefly added back, but on the Obverse side, in 1918, and then dropped for good beginning in 1919. This was the only notable difference in design from 1918 to 1919 and is part of the fascinating early history of the wheat penny.
The 1919 Dimensions And Composition
Like all Lincoln pennies from 1964–1942, the 1919 wheat penny is made of bronze consisting of 95% copper and 5% tin and zinc. It measures 19 millimeters and 3.11 grams.
The 1919 Wheat Penny Value
How Much is a 1919 Penny Worth?
The Lincoln wheat pennies are popular collectibles for coin collectors just starting out due to their relative affordability and abundance. The 1919 wheat penny is no exception and is attractive for its relatively earlier date. Considering several factors, such as perfection, mint, and error, a wheat panny's value can be determined—all things considered, most 1919 wheat pennies fall within $1–$30.
To define the condition, coin collectors use four grades: Good, Fine, Extremely Fine, and Uncirculated Grade. Briefly, here are some characteristics of each classification.
Good Grade: There are large areas of flat surfaces where detail has been lost—for example, perhaps some of Lincoln's facial features, once distinct, have merged in flatness. Good Grade coins of 1919 typically have a brown tone.
Fine Grade: Next up in value is Fine Grade. Coins of Fine Grade retain quite a bit of detail. Within the grade, a coin's condition can still vary in the form of surface quality, marks, and more.
Extremely Fine Grade: Extremely Fine Grade coins have just a little bit of wear, and the minute details of Lincoln's brow and hair remain visible. The surface of Extremely Fine Grade coins will often be a consistent hue.
Uncirculated Grade: Lastly, uncirculated coins will be shiny and vibrant. There won't be any wear—this is crucial to defining something as Uncirculated (or Mint) Grade. For the 1919 penny, Lincoln's cheek and jar are the most important parts of the design to inspect when determining its grade.
Related: What Pennies Are Worth Money?
1919 Penny Value Chart
| | | | | |
| --- | --- | --- | --- | --- |
| Date | Good | Fine | Extremely fine | Uncirculated |
| 1919 | $.012 | $0.38 | $1.35 | $7 |
| 1919 D | $0.49 | $1.51 | $9.25 | $46 |
| 1919 S | $0.18 | $0.86 | $4.71 | $37 |
Source: Coin Study
1919 Penny Mintage & Value
1919 wheat pennies are generally quite available today, as there was a high mintage. While a pristine uncirculated Denver coin could potentially be worth over $100, this is a rare instance.
1919 S Penny Value
San Francisco minted the second-highest amount of coins in 1919, totaling 139,760,000. Interestingly, San Francisco produced high amounts of coins spurred by WW1; despite the war being over by 1919, production was still booming. It would finally slow down with the recession in 1920. 1919-S pennies are a bit more valuable than the Philidelphia minted coins but are still quite abundant. A 1919-S Uncirculated coin with a red luster is more valuable.
1919 D Penny Value
In 1919, the Denver mintage totaled 57,154,000, the lowest number of the three. 1919 D pennies are generally going to yield the highest value.
1919 Wheat Penny No Mint Mark Value
Generally, 1919 wheat pennies minted in Philidelphia (as indicated by a lack of a mint mark) are the least valuable due to their abundance. For context, in 1919, there were 392,021,000 pennies were minted in Philidelphia—this would remain the highest number of minted coins until 1940.
1919 Wheat Penny Errors & Associated Values
Error coins are a fascinating area of numismatics. Among the millions of coins printed, a few "error coins" were bound to suffer misalignment or some other quirk. These error coins are more valuable as they are much less common.
The US Mint reported in 1922 that approximately 97% of coins had a normal appearance, making error pennies quite rare. On top of that, error pennies were typically prevented from being circulated since they were removed upon inspection.
1919 Wheat Penny 20% Off-Center Error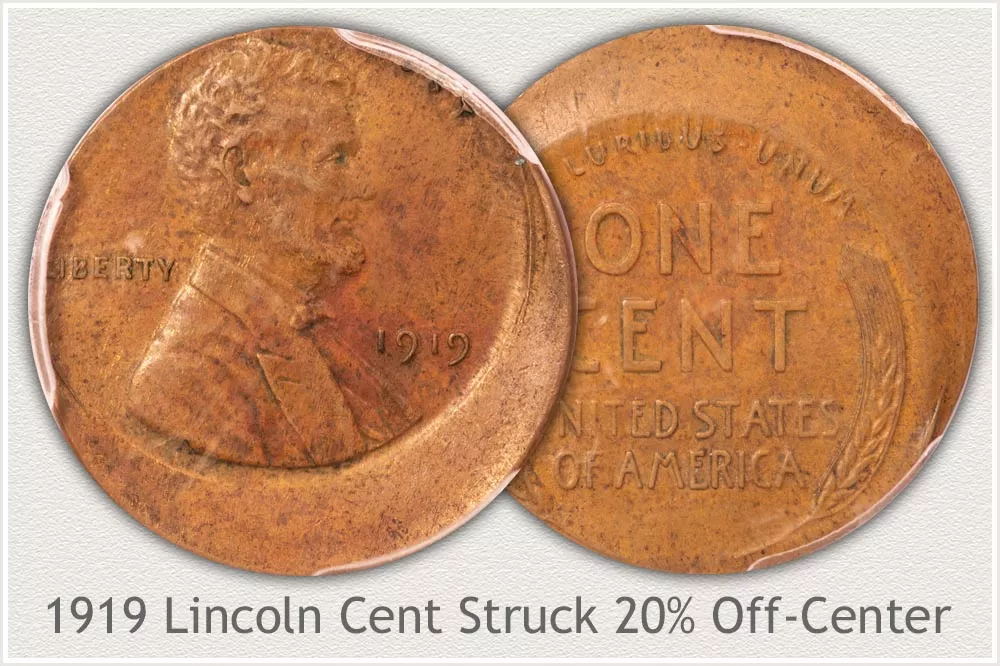 For example, the coin above is slightly off-center. The value of an error coin, like any other coin, also relies on the overall condition of the coin. Additionally, with just a 20% misalignment, this coin still has a visible date, and Lincoln's head is fully in the frame.
1919 Wheat Penny Planchet Error Penny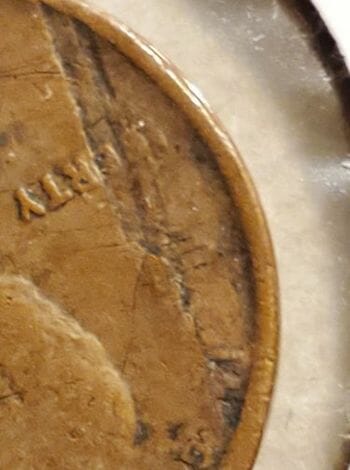 Here is another example of a 1919 penny that suffered an error. On the left side, you can see that it was more heavily laminated on the Obverse, caused by an error with the planchet. It is listed at $8.25. This is much higher than it would've been otherwise since it was minted in Philadelphia and is in just Good condition.
Conclusion
The early wheat pennies are sought-after coins that make for relatively accessible collecting. Finding a penny in Uncirculated condition from Denver or an error penny may yield a higher value, but generally, wheat pennies are very affordable this year.
Sources & References