The 1943 steel penny is a unique coin made of steel with a zinc coating, created due to a copper shortage during WWII for ammunition production. They are common in excellent condition, but a regular 1943 steel penny is worth only a few cents. Some 1943 steel pennies may appear dark grey or black, having lost their zinc coating, and may be rusted. Re-plating these pennies to restore shine is considered damage and they have little value.
Key Takeaways
99% steel and 1% zinc coating make up the 1943 steel penny. The coating gives it a silverish appearance.

The USA resorted to using steel pennies in 1943 as an alternative to bronze pennies used previously to conserve bronze for use in the manufacture of ammunition and war equipment during the 2nd world war.

Steel pennies are not rare; thus, the low market prices, 10-13 cents, but error coins minted in 1943 and 1944 are hard to come by and fetch high prices, like the 1943 bronze penny going up to seven figures.

With counterfeits in the market, buyers and sellers must conduct thorough research before buying or selling.

The PCGS and American coin book are great resources for coin history, while eBay is a standard coin-selling platform.
Coins value differs and depends on low mintage, condition, grade, and if an error occurs during production. 
These factors are responsible for the different prices and values attached to the pennies. Here's more on the steel, bronze, and copper pennies struck in 1943 and 1944 and the errors that make some coins rare and valuable.
How Much Is a 1943 Steel Penny Worth Today?
These silver-colored 1943 cents are not rare to come by, thus fetching low prices of 10-13 cents for circulated conditions and 50+ cents when uncirculated. The penny's worth relates to its actual face value; that's one cent. The cents are often confused with the rare bronze leftover coins from 1942 leftovers, which are hard to come by and fetch high prices.
Related: 1921 S Morgan Silver Dollar Value – A Complete Guide
1943 Common Steel Penny Values
| | | | | |
| --- | --- | --- | --- | --- |
| Mint year | Circulated coins | | Uncirculated coins | |
| | Buying | Selling | Buying | Selling |
| 1943 Zinc | $0.10 | $0.06 | $2.60 | $1.90 |
| 1943-D Zinc | $0.13 | $0.09 | $3.50 | $2.40 |
| 1943-S Zinc | $0.18 | $0.12 | $6.10 | $4.50 |
What Is the Error on the 1943 Steel Penny?
During the 2nd world war, the need arose to conserve bronze for manufacturing ammunition, weapons, and other necessary war accessories. This led the US to seek alternatives to bronze for minting coins. Many options were tested, including glass and plastic. They settled for steel coated with zinc as an alternative.
However, during the switch, some bronze planchets were left in the mint presses from 1942. The following year, they were accidentally struck with dyes dated 1943. As a result, the Denver, San Francisco, and Philadelphia mints cumulatively struck about 20 to 30 of these copper cents. These 1943 erroneously minted coins are worth lots of money; some have fetched high prices of up to seven figures.
Related: Bicentennial Half Dollar Value – A Complete Guide
How Many 1943 Steel Pennies Are Left?
According to coin trackers records, US mints produced 668,628,000 steel pennies in Philadelphia, San Francisco, and Denver in 1943. There are millions of such coins in public, which explains their low collector value. Once released, the public began raising issues with the coins from all corners. The zinc coating on the steel pennies wore off from the edges leading to rust. 
The result was an unpleasant-looking steel penny. A year later, the US mint decided to retrieve and destroy the pennies. The mints only recovered some, not all; that's why many steel pennies exist. The uncirculated ones are rare to come by and thus more valuable. 
A coin lover can identify the steel pennies by checking the date 1943 and Lincoln's head, while the other side has the older penny's wheat design. The steel pennies are magnetic and come in a unique silver color. 
Related: 1889 Morgan Silver Dollar Value – Mint Mark, No Mint, City
 

What Year Steel Penny Is Worth the Most?
Commanding exceptionally high market prices are the 1944 steel pennies. The mints produced very few coins, about 1,000; that's why they failed to dictate their actual market value. The 1944 steel penny is rarely on the market. 
Despite the inability to determine its actual value, an MS66 in August 2021 sold for $408,000. An MS64 auctioned at $108,000 on the same day. These prices make the 1944 steel penny top concerning worth.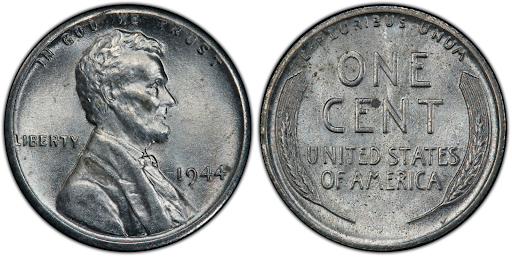 1943 Steel Wheat Penny Worth a Million Dollars
In reference to the current NGC price guide, a 1943 wheat penny in a circulated condition is valued at $0.05 to $1.25. A mint state-certified steel wheat penny could fetch up to $10 at an auction. 
However, the bronze planchet error coin was mistakenly minted instead of the steel planchets with zinc coating, which is the most valuable, unlike the regular wheat penny. One famous 1943 wheat penny coin got auctioned in 2010 at $1.7 million. 
This error coin is scarce and thus extremely valuable and highly sought. The other error versions that also fetch high prices include; the 1943-D bronze planchet, which sold it $840,000 in 2021, plus the 1943 Philadelphia and 1943-S unminted versions.
Related: 1945 Wheat Penny – Complete Guide
How Much Is a 1943-D Steel Penny Worth?
The 1943-D/D steel penny with a re-punched mintmark is highly sought after as it fetches $100 for fine-40 up to $400 for mint state-63 variety. Though the mintage figure is unknown, estimates show about  3,000-5,000 may exist across the grades. The non-error steel-made cents are not rare. A coin's condition determines its worth and value. You may sell your 1943 D penny at $1900 at the open market if it's in a pristine uncirculated condition. 
Related: The 1959 Penny Value in 2023
1943 Steel Penny Value No Mint Mark 
This silverish coin comprises 1% zinc and 99% steel, sometimes referred to as the silver penny. The penny got issued as a copper substitute during the 2nd world war. In its average condition, the value stands at 45 cents, while mint state steel wheat pennies have a $10 approximate value.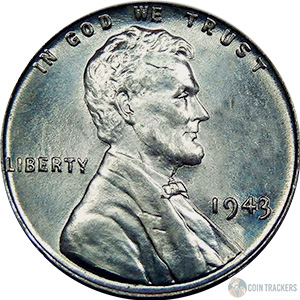 Where Can I Sell My 1943 Steel Penny?
To sell your steel penny, consider your local coin shop if you are familiar with its value and market price. Another standard option is selling it on eBay, where you'll find many coins listed, helping you compare current market prices. The USA coin book can also fetch you a good deal online.
 Alternatively, if you possess one of the rare, valuable, or error coins from 1943, you can opt to have it checked, graded, and certified by PCGS to earn the top dollar you deserve. Before buying or selling your valuable coins conduct thorough research to establish your coins' market worth. 
Related: 2021 Quarter Errors – An Illustrated Guide
Conclusion
With the selling and buying of coins gaining popularity by the day, it would help if coin lovers were more vigilant. Beware of fake coins that you could buy as rare valuable pennies unawares. Be sure to check a seller's history, and while at It, check if the coins are certified in the listings. Stay safe from counterfeits by researching before buying and selling.