The 1943 Steel Penny is a coin minted in the United States during World War II. Due to the scarcity of copper during the war, these pennies were made of zinc-coated steel instead of the usual copper composition.
The result was the 1943 steel penny, which was produced for only one year and has since become a rare and valuable coin. In this article, we will explore the history and value of the 1943 steel penny and provide collectors with essential information on how to determine the worth of their coin.
Coins value differs and depends on low mintage, condition, grade, and if an error occurs during production.
These factors are responsible for the different prices and values attached to the pennies. Here's more on the steel, bronze, and copper pennies struck in 1943 and 1944 and the errors that make some coins rare and valuable.
1943 Steel Penny Composition
A 99% steel composition with a 1% zinc coating makes up the 1943 steel penny; the zinc coating gives this coin a silverish appearance, though it contains no silver.
The USA resorted to using steel cents–generally called "pennies"– in 1943 as an alternative to bronze pennies minted previously to conserve copper and bronze for use in the manufacture of ammunition casings and war equipment during the 2nd world war.
How Do I Know If My 1943 Penny Is Rare?
Steel pennies are not rare; 684,628,670 were minted at Philadelphia with no mintmark, 217,660,000 at Denver with a "D" mintmark, and 191,550,000 at San Francisco with an "S" mintmark, thus the low market prices, typically perhaps 10-13 cents.
However, "wrong metal" error coins minted in 1943 and 1944 are hard to come by and fetch high prices, like the 1943 bronze penny going up to seven figures. Out of the total of one billion+ 1943 steel pennies minted, about twenty real 1943 bronze pennies have been found. More may be "out there," but the odds of finding one are quite slim.
Related: Pennies Worth Money: Discover the Hidden Fortune in Your Pocket
1943 Steel Penny Counterfeits
With counterfeits in the market, buyers and sellers must conduct thorough research before buying or selling. Most fakes are copper-plated 1943 steel pennies and will be attracted to a magnet.
Some fakes are 1948 cents with the "8" in the date tooled to make it appear to be a "3" (the bottom of the fake "3" points outward at 9:00, while a real "3" slants downward toward 8:00.).
Pro Tip: To avoid (Chinese) counterfeits, NEVER buy a "1943 bronze penny" that has not been authenticated and certified by ANACS, NGC, or PCGS!!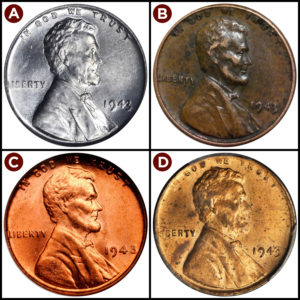 Source: Coinappraiser
A is a steel cent; B is a copper-plated steel cent; C is an altered 1948 cent; D is a real 1943 bronze cent.
The PCGS website and A Guidebook of United States Coins ("the Red Book," available at most libraries or for purchase) are great resources for coin history. At the same time, eBay is an often-used coin-selling and buying platform, which can often be worthwhile when approached with knowledge and discretion.
It's a common belief that the United States mints pennies contain copper. Thus, coming across a silver-colored zinc-steel penny today is quite uncommon. The unusual silver-colored zinc-steel pennies were only minted in 1943.
Which 1943 Pennies Are Valuable?
Coins' value differs and depends on low mintage, condition, grade, and occasionally if a minting error had occurred during production. These factors are responsible for the different prices and values attached to the pennies. Here's more on the steel, bronze, and copper pennies struck in 1943 and 1944 and the errors that make some coins rare and valuable.
How Much Is a 1943 Steel Penny Worth Today?
These silver-colored 1943 cents are not rare nor hard to come by, thus fetching low prices of perhaps 10-13 cents for coins in circulated conditions and 50+ cents when uncirculated, showing no trace of circulation wear or loss of original mint luster.
Important Note: DO NOT EVER attempt to "improve" a potentially valuable coin by cleaning it in any way, with anything!! You will destroy the coin's originality and send half or more of its value right down the drain!!
The penny's worth relates to its actual face value; that's one cent. The cents are often confused with the rare bronze coins minted from 1942 leftover planchets. Those coins, when genuine, are hard to come by and fetch high prices.
Related: 1921 S Morgan Silver Dollar Value – A Complete Guide
1943 Steel Penny Value Chart (Approximative)
Mint year

Circulated

(

rust-free)

coins

Uncirculated

coins

Buy

Sell

Buy

Sell

1943 Zinc

$0.10
$0.06
$2.60
$1.90

1943-D Zinc

$0.13
$0.09
$3.50
$2.40

1943-S Zinc

$0.18
$0.12
$6.10
$4.50
What Is the Error on the 1943 Steel Penny?
During the 2nd world war, the need arose to conserve bronze for manufacturing shell casings, weapons, and other necessary war accessories. This led the US to seek alternatives to a bronze alloy for minting 1943 cent coins. Many options were tested, including glass and plastic. The U. S. Mint settled on steel coated with zinc.
However, during the switch, some bronze planchets were left in the mint from 1942. The following year, they were tossed in with the steel planchets, to be struck with dies dated 1943. As a result, the Denver, San Francisco, and
Philadelphia mints cumulatively struck about 20 or so (nobody knows exactly how many) of these copper cents. These 1943 "wrong metal" cent coins are worth lots of money; some have fetched high prices of up to seven figures.
Related: Bicentennial Half Dollar Value – A Complete Guide
How Many 1943 Steel Pennies Are Left?
According to "The Red Book," US mints produced 1,094,508,670 zinc-plated steel cents in Philadelphia, San Francisco, and Denver in 1943. Perhaps millions of such coins are still "out there" in public circulation, which helps explain their low collector value.
Once released, the public began expressing concern with the coins (i.e., the possible vomiting and stomach ulcers that small children experienced after swallowing 1943 zinc-steel cents, as their stomach acid reacted with the zinc plating).
Also, once in circulation, the zinc coating on the steel pennies wore off, leading to rust. The result was an unpleasant-looking steel penny. Beginning in 1944, the US mint decided to retrieve and destroy the 1943 zinc-steel pennies. The mints only recovered some, not all; that's why many steel pennies exist today. The uncirculated ones are harder to come by and are thus more valuable.
A coin lover can identify the steel pennies by checking the color and the date 1943; the coin's reverse has the wheat sheaves reverse design used from 1909-1958. The 1943 zinc-steel pennies are magnetic and come in a unique silver color.
Related: 1889 Morgan Silver Dollar Value – Mint Mark, No Mint, City
What Year Steel Penny Is Worth the Most?
Commanding exceptionally high market prices are the 1944 "wrong metal" steel pennies. The three U. S. mints in 1944 (Philadelphia, Denver, and San Francisco) produced over two billion 1944 bronze cents, with perhaps thirty or so steel planchets from 1943 "tossed into the hopper."
The 1944 steel penny is infrequently on the market, but a third-party grading service authenticated and graded MS66 1944 steel cent sold in August 2021 for $408,000. An MS64 auctioned at $108,000 on the same day. These prices make the 1944 steel penny quite attention-gathering as far as its market value is concerned!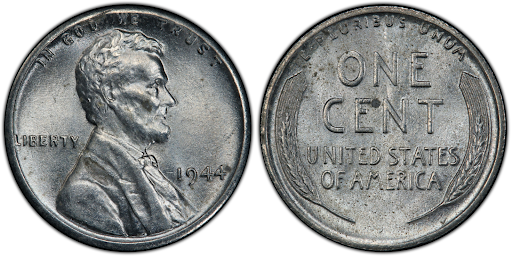 Related: Gold Dollars Worth Money – A Guide To Understanding Their Value
1943 Bronze Wheat Penny Worth a Million Dollars
Based upon the current NGC price guide, a 1943 wheat penny in a circulated condition ranges in value from $0.05 to $1.25. A mint state-certified steel wheat penny could fetch perhaps $10 or more at auction.
However, the bronze planchet error coin that was mistakenly minted along with the zinc-plated steel cents is the most valuable of the 1943 cents. One of the famous 1943 bronze cents was auctioned in 2010 at $1.7 million. This error coin is scarce and thus extremely valuable and highly sought after.
The other error versions that also fetch high prices include; a 1943-D bronze planchet cent, which sold for $840,000 in 2021, as well as the 1943 Philadelphia (see sale price above) and 1943 San Francisco bronze "wrong metal" ($504,000 at a November 2020 auction) versions.
Related: 1945 Wheat Penny – Complete Guide
How Much Is a 1943-D Steel Penny Worth?
The 1943-D/D steel penny with a boldly repunched mintmark is highly sought after as it might fetch perhaps $100 in a certified extra fine-40 grade up to perhaps $400 in a certified mint state-63 grade. Though the exact mintage figure is unknown, estimates suggest about 3,000-5,000 may exist across the numeric coin grades. The non-error 1943 steel pennies are not rare.
For this coin, as well as for all other numismatically valuable coins, a coin's condition and collector/investor demand for it determine its worth and value. You might perhaps sell your 1943–D penny for a solid double-figure price in the open market, especially if it is third-party certified and graded at a very high-grade level.
Related: The 1959 Penny Value in 2023
1943 Steel Penny Value No Mint Mark
This silver-colored coin is composed of 1% zinc plating over a 99% steel core and is sometimes erroneously referred to as "a silver penny," although it has no silver whatsoever in it. This penny was issued as a substitute for the previously minted bronze copper alloy cents in order to facilitate the use of copper in war material during WWII.
In its average un-rusted circulated condition, the value of this coin is typically less than a dollar. At the same time, uncirculated mint state 1943 steel wheat pennies can range from perhaps $5-$20, depending upon whether they are third-party certified and at what numeric grade level.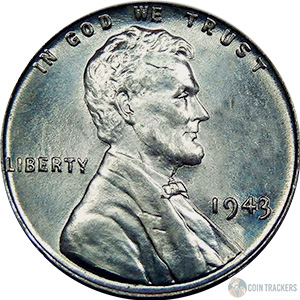 Where Can I Sell My 1943 Steel Penny?
To sell your steel penny, consider your local coin shop if you are familiar with its grade, whether it is third-party certified and graded, and its approximate value and market price. Another possible option is selling it on eBay, assuming that its grade and value are high enough to justify paying eBay's seller's fee, possible buyer's state sales tax, and possible shipping costs to the buyer.
Examining eBay's previous auction "sold" prices for coins graded comparably to yours before listing your coin on eBay will help you decide if your net profit would justify your expenses, time, and effort in selling your coin on eBay. Wholesale price guides like "The Coin Dealer Newsletter" (a. k. A. "The Greysheet") or "Numismedia" would help you set a price on your coin, as might "The Red Book," although its posted prices are high retail prices that are some months old.
Alternatively, suppose you are 100% certain you possess one of the rare, valuable, or error coins from 1943. In that case, you must authenticate and grade it by PCGS, NGC, or ANACS to earn the top dollar you deserve. Before buying or selling your valuable coins, you should conduct thorough research to establish your coins' market worth.
Related: 2021 Quarter Errors – An Illustrated Guide
Conclusion
With the selling and buying of high-value, high-grade coins gaining popularity by the day, it is quite essential that coin lovers be both knowledgeable and vigilant. The number of counterfeit coins (most made these days in China) that are currently bought and sold on eBay, Facebook, and other social media; at pawn shops; at estate sales; at (small/local) auctions; etc., is stunning and really quite frightening!
Caveat emptor! Checking a seller's history; whether a coin is third-party authenticated and graded; looking for a reasonable return privilege; and getting an authoritative second opinion on your purchase are all prudent measures that you can take to protect yourself.
Attention all numismatics experts!
If you have a passion for collecting and studying coins, we want to hear from you! Craftbuds seeks knowledgeable numismatic experts to contribute their expertise to our content.
Writing new articles
Reviewing and fact-checking existing articles
This is a paid opportunity!! Apply Here