Amigurumi is a Japanese crafting technique that involves creating small, stuffed crochet or knitted toys and figures. It has become such a beloved craft all around the world due to its accessibility, versatility, cuteness, and charm. The importance of amigurumi lies in its ability to bring joy and comfort through the creation of adorable and huggable characters. These handmade toys often serve as gifts, decorations, or collectibles, and they have a sentimental value that commercial mass-produced toys might lack.
In this article, we'll explore amigurumi's origins, the terminology and techniques used in this craft, and a step-by-step guide to making your very own amigurumi toy and sharing it with a community of amigurumi enthusiasts.
The Origin And History of Amigurumi
The Japanese Roots And Meaning of the Term
Amigurumi has a rich history. Although it gained significant popularity in recent years, its origins can be traced back to Japan in the early 20th century when the country was introduced to crochet and knitting techniques from the West.
The word "amigurumi" comes from two Japanese words: "ami," which means crocheted or knitted, and "nuigurumi" which means stuffed doll. These handmade creations are typically made using colorful yarn, characterized by their cute and whimsical appearance and often associated with kawaii culture.
How it Became Popular Worldwide
The craft was first popularized in Japan in the 1980s and 90s with crochet pattern books and magazines featuring amigurumi designs. From there, it began to spread across the world thanks to its accessibility, creative expression, customization, and the online crafting community.
These handmade toys often serve as gifts, decorations, or collectibles, and they have a sentimental value that commercial mass-produced toys might lack.
Famous Artists And Influencers in the Amigurumi Space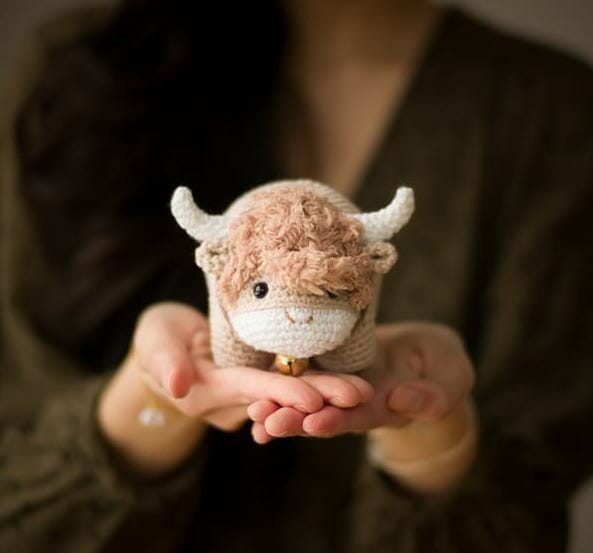 The world of amigurumi has its own set of talented artists and influencers who have made significant contributions to the craft. While the popularity of amigurumi continues to grow, here are some notable figures in the amigurumi space:
Basics of Amigurumi: Tools and Terminology
Before making your own amigurumi figure, let's go through the basic tools and terms of amigurumi. This includes the choice of yarn, the use of safety eyes, understanding essential vocabulary, and selecting the right crochet hooks.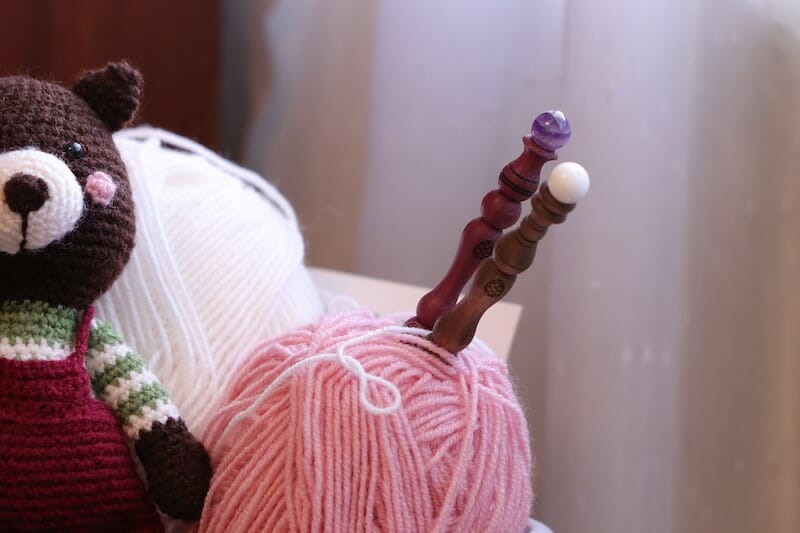 It's important to note that when you are following patterns created by experienced designers, they will provide specific instructions for yarn, hook size, stitch count, and techniques. As you gain more experience, you can experiment with different yarns, colors, and your own design ideas.
Crochet hooks: The magic wand
Choose a crochet hook that matches the yarn weight you're using. The yarn label often provides recommended hook sizes. Many amigurumi projects use smaller hooks (e.g 3.5mm to 4.5mm) to create a tight stitch. Consider using ergonomic or soft-grip crochet hooks for comfort during long projects.
Types of yarn: Finding the perfect strand
Amigurumi is typically made using a medium-weight yarn (often called worsted or Aran weight), but you can use other weights for smaller or larger projects.
Acrylic yarn is popular for amigurumi due to its affordability and durability. Cotton yarn is another option known for its softness and natural appearance.
Stitch Vocabulary: SC, DC, And More
Most patterns will include a list of stitch terms and abbreviations. It's always good practice to brush up on the terminology of these stitches through online tutorials before starting a pattern, especially if you're a beginner. These are some examples of the stitches and terms that your amigurumi project might include.
Magic Ring/Circle: A technique to start many amigurumi projects, creating a tight, closed center for your work.
Single Crochet (SC): The most common stitch in amigurumi used to create the fabric.
Increase (INC): Adding two single crochets in the same stitch widens your work.
Decrease (DEC): Combining two single crochets into one to shape your work.
Fasten Off (FO): Finish your work by securing the last stitch and cutting the yarn.
Stuffing: Filling the amigurumi with fiberfill or stuffing to give it shape and volume.
Whipstitch: A sewing technique used to join pieces of amigurumi together.
Safety Eyes: Bringing Your Creation to Life
Safety eyes are small, plastic, or metal eyes that are securely attached to amigurumi to create facial features. They come in various sizes and colors to suit your project.
Steps to Starting Your First Amigurumi Project
Finding a Simple Pattern (Origami Cat)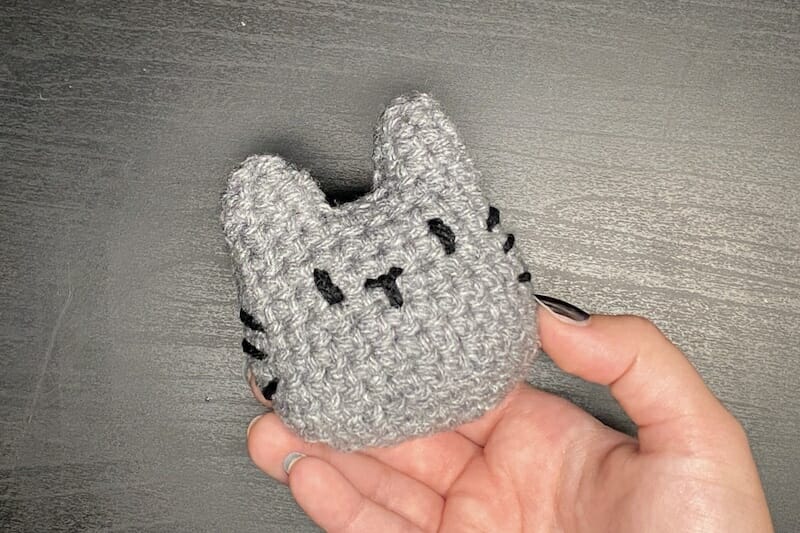 Finding a simple cat amigurumi pattern online is relatively easy, and there are many resources available. We recommend checking out this beginner amigurumi pattern by DIY Fluffies: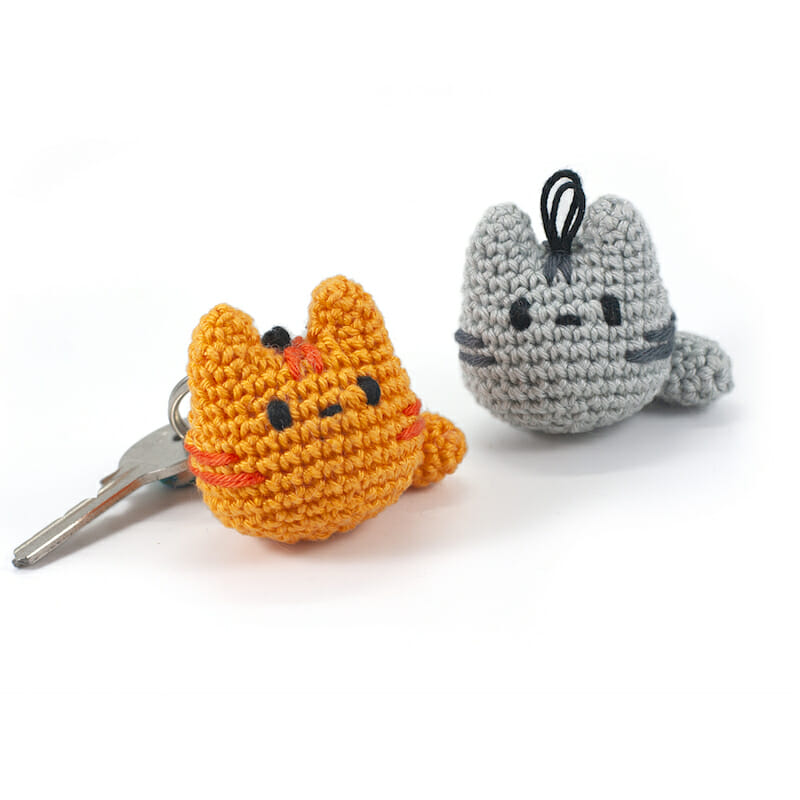 Some things to remember when searching for a pattern are to pay attention to the level of difficulty, materials required, and any user reviews or comments to ensure they match your skill level and preferences.
Once you've found a pattern you like, follow the instructions carefully, and don't hesitate to reach out to the pattern's creator or online communities if you have any questions or need assistance.
Deciding the size and dimensions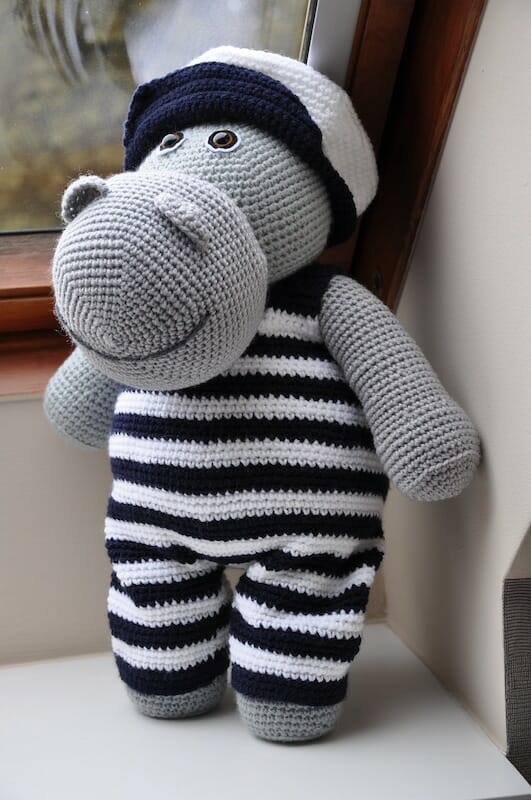 To determine the size of your amigurumi project, start by following the pattern instructions, which often include measurements for the finished project. If the pattern specifies a gauge, crochet a gauge swatch to ensure your stitches match the pattern's requirements.
You can also control the size by choosing the appropriate hook size and yarn weight—smaller hooks and thinner yarn create smaller amigurumi, while larger ones result in larger amigurumi.
Maintain consistent stitch tension throughout your project to prevent size discrepancies. Lastly, consider how tightly you stuff your amigurumi, as this can affect its final dimensions.
Preparing Your Workspace
Before you start your first amigurumi projects, here are some tips to prepare your workspace:
Gather all materials needed: This information is found in the pattern and can include yarn, a crochet hook of the appropriate size, stuffing, safety eyes, a yarn needle, and scissors.
Choose a well-lit, clutter-free area.
Organize your yarn and tools.
Lay out a clean work surface.
Have a nearby waste bin.
Print or access your pattern.
Set up a comfortable seating arrangement.
Keep small tools in storage.
Have safety supplies within reach.
Stay hydrated and keep snacks handy.
Consider time management tools like a timer or clock.
Key Techniques in Amigurumi Crafting
Magic Ring: The first stitch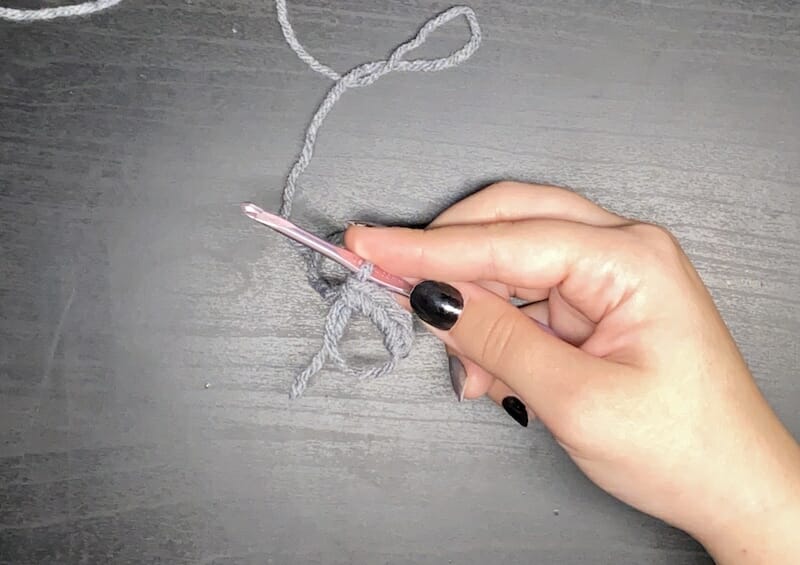 The magic ring is a technique to start a round crochet project without leaving a hole in the center. Creating a seamless and tightly closed beginning is especially common in amigurumi. To make a magic ring, you typically form a loop with the yarn, work your first stitches into the loop, and then pull the tail end to tighten the ring.
Increasing and Decreasing Stitches
Increasing and decreasing are fundamental techniques in amigurumi to shape your creations.
Increasing: This involves adding more stitches in a single stitch or space, usually by crocheting two stitches into the same stitch. It causes the work to expand and is used to make rounds wider.
Decreasing: Decreasing, on the other hand, involves reducing the number of stitches in a round. Common decreases include single crochet two stitches together (sc2tog) or invisible decreases, which create a neater finish.
Joining pieces together
Amigurumi often consists of multiple pieces that must be joined to create the final shape. Common joining methods include slip-stitching pieces together, whipstitching with a yarn needle, or using single crochet joins, which can create a cleaner finish.
Adding facial expressions and features
You can add facial features like eyes, noses, and mouths to give your amigurumi personality and character. Safety eyes are commonly used and can be securely attached to the face. Alternatively, you can embroider or crochet facial features. Small details like eyelashes, eyebrows, and blush can be added with embroidery techniques.
Safety Eyes: These are plastic eyes with a locking washer on the back to secure them in place. They come in various sizes and are easy to attach.
Embroidery: You can use embroidery floss or yarn to create facial features, such as stitching on eyes, noses, and smiles. Embroidery allows for customization and intricate detailing.
Crocheting Features: Some amigurumi patterns incorporate crocheted features, like crocheted eyes or mouths. These are often worked separately and sewn onto the face.
Blush: A subtle blush on the cheeks can add a cute and rosy touch to your amigurumi. You can use blush powder or fabric paint for this purpose.
How to Read Amigurumi Patterns
Reading amigurumi patterns can be straightforward once you understand the common conventions used in most patterns. However, there can be some challenges for beginners. Here's a guide on how to read amigurumi patterns and common challenges you might encounter:
Understanding Abbreviations And Symbols
Familiarize yourself with common crochet abbreviations used in the pattern. Some common abbreviations include:
The pattern may include a key or abbreviation section to explain less common abbreviations.
Common Challenges And Troubleshooting Tips
Tight Stitching: Maintaining consistent tension and avoiding overly tight stitches is essential in amigurumi. Tight stitches can make inserting your hook difficult and result in a misshapen project.
Stitch Count Errors: Accurate stitch counts are crucial for the final shape of your amigurumi. Miscounting stitches can lead to misshapen or lopsided pieces.
Seaming and Assembly: Joining and attaching pieces can be challenging, especially if you're new to sewing. Take your time and use stitch markers to help align parts correctly.
Pattern Complexity: Some amigurumi patterns can be quite intricate, especially if they involve multiple color changes or unique techniques. Start with simpler patterns and gradually work your way up to more complex ones.
Importance of gauge and tension
Gauge and tension are crucial in amigurumi for these reasons:
Consistent Size: They ensure your amigurumi pieces match the intended size, which is critical for assembling parts accurately.
Aesthetics: Proper tension creates a smooth surface and prevents gaps, resulting in a polished appearance.
Stuffing Coverage: Correct tension prevents the stuffing from showing through the fabric.
Pattern Fit: Crucial for amigurumi clothing or accessories.
Customization: Understanding gauge and tension allows you to modify amigurumi size and shape while achieving a polished result.
To achieve the best results, create a gauge swatch to match the pattern's tension before starting your amigurumi project.
Tips for Perfecting Your Skills
How to Avoid Common Mistakes
To avoid common mistakes in amigurumi, focus on maintaining consistent tension and stitch count, especially when working in the round. Begin with a magic ring for a tight center, follow pattern instructions meticulously, and master color changes and seaming techniques for a neat finish.
Don't skip gauge swatches to ensure your amigurumi matches the intended size. Pay attention to stuffing, and sew pieces together carefully.
Lastly, take your time and don't rush the process; amigurumi requires patience and practice, so embrace any mistakes as part of your learning journey.
Time-Saving Techniques And Shortcuts
To save time when crocheting amigurumi, use a larger hook for quicker stitches and consider working in continuous rounds rather than joining each round. Plan your work in batches to crochet similar pieces together, utilize stitch markers for easy tracking, and minimize color changes in your design.
Learning advanced techniques like invisible decreases can yield smoother results. Also, consider using safety eyes or buttons for facial features and use a yarn holder to prevent tangles.
While efficiency is important, remember to enjoy the creative process and take breaks to maintain the quality of your work.
Intermediate And Advanced Projects
Taking on Bigger Challenges
Taking on bigger challenges in amigurumi, such as creating patterns and working on advanced projects, requires creativity and technical expertise. Here are some tips for tackling these endeavors and suggestions for special types of yarn and materials for advanced amigurumi:
1. Start Simple: If you're new to creating your own amigurumi patterns, begin with straightforward designs and gradually work your way up to more complex ones. This will help you build confidence and understanding of the design process.
2. Study Existing Patterns: Analyze existing amigurumi patterns to understand how different shapes are created and how increases and decreases affect the form. This will provide valuable insights for your own designs.
3. Sketch Your Ideas: Before crocheting, sketch your design ideas. This visual planning can help you work out your amigurumi's shape, proportions, and color placement.
6. Test Your Patterns: Always test your patterns by crocheting prototypes. This allows you to identify and fix any issues with the design or instructions.
7. Join Online Communities: Join amigurumi forums, social media groups, or platforms like Ravelry to connect with other amigurumi enthusiasts, share your creations, and get feedback on your patterns.
Remember that creating your own amigurumi patterns and tackling advanced projects can be challenging but incredibly rewarding. Practice, experimentation, and a willingness to learn from both successes and failures will help you grow as an amigurumi designer and crafter.
Creating Your Own Patterns
Creating your own amigurumi patterns is a creative journey that can be immensely satisfying. Start with simple designs and sketch your ideas to visualize proportions. Break your design into basic shapes, understand crochet mathematics for increasing and decreasing stitches, and keep detailed notes as you work.
Testing each part as you go helps ensure a well-fitting final creation. Patience is key, as designing may involve some trial and error. Sharing your patterns with the crochet community for feedback and inspiration can be rewarding.
Stay inspired, experiment with colors and textures, and continuously learn from existing patterns. Finally, make sure your patterns are clear by having others test them for clarity. With practice, you can craft unique and delightful amigurumi patterns.
Special Types of Yarn And Materials for Advanced Projects
Sparkle or Metallic Yarn: These yarns add a touch of glamor and sophistication to your amigurumi, making them suitable for special or decorative projects.
High-Quality Safety Eyes: Invest in high-quality safety eyes, especially if you're creating amigurumi for sale or display. They come in various sizes, colors, and styles to enhance your designs.
Wire Armature: For amigurumi with moveable limbs or joints, use craft wire to create armatures that provide structure and flexibility to your projects.
Building a Community: Online and Offline
Joining online forums and groups
Joining online forums and groups dedicated to amigurumi can be a great way to connect with fellow crafters, share your work, and learn from experienced enthusiasts.
Popular platforms such as Reddit (r/amigurumi), Facebook Groups, and specialized crafting forums are a great place to start. Remember that online crafting communities are meant to be enjoyable and educational spaces.
By being an active, respectful, and supportive member, you can make the most of your experience in amigurumi forums and groups while forming connections with fellow crochet enthusiasts.
Attending Workshops And Classes
To find and attend amigurumi workshops and classes, start by checking local craft stores, crafting websites like Craftsy and LoveCrafts, and social media platforms for announcements. Libraries, community centers, and crafting magazines may also have information on classes.
Once you find a workshop or class, register in advance and prepare the necessary materials. These opportunities are a fantastic way to learn new skills, get inspired, and connect with fellow Amigurumi enthusiasts.
Books, Courses, and Resources
Recommended Books for Learning
Several excellent books are available for learning amigurumi, catering to various skill levels, from beginners to advanced crocheters. Here are some recommended books that cover amigurumi techniques, patterns, and inspiration:
"Amigurumi for Beginners" by Martingale: This book is an excellent starting point for beginners, offering step-by-step instructions, basic amigurumi techniques, and a variety of adorable amigurumi patterns to practice with.
"Amigurumi World: Seriously Cute Crochet" by Ana Paula Rimoli: Another great book by Ana Paula Rimoli, "Amigurumi World" offers a range of amigurumi projects, including animals, dolls, and more. It's suitable for both beginners and experienced crocheters.
"Super Scary Crochet": 35 Gruesome Patterns to Sink Your Hook into" by Nicki Trench: For those interested in Halloween-themed amigurumi, this book offers a selection of spooky and macabre patterns, from zombies to vampires.
Online courses and YouTube channels
Learning amigurumi through online courses and YouTube channels can be a fun and interactive way to acquire new skills and techniques.
These YouTube channels offer a range of amigurumi tutorials suitable for different skill levels.
Amigurumi FAQs
What is The Best Yarn for Amigurumi?
Popular yarn brands for amigurumi include Red Heart, Lion Brand, Bernat, and Caron. Ultimately, the best yarn for your amigurumi projects will depend on your personal preferences and the specific characteristics you're looking for in your yarn. It's a good idea to experiment with different yarns to find the ones that work best for your unique amigurumi creations.
How Long Does it Take to Complete an Amigurumi Project?
To give you a general idea, a small and relatively simple amigurumi project might take a few hours to a day to finish. Larger and more intricate designs could take several days or even weeks of intermittent work.
It's essential to enjoy the process of crocheting and amigurumi-making, so don't feel pressured to complete projects quickly. Take your time, enjoy the creative journey, and embrace the sense of accomplishment when your amigurumi project is finished, regardless of how long it takes.
Is Amigurumi Suitable for Children to Learn?
Yes! Amigurumi can be an excellent way for children to develop their fine motor skills, learn patience, and express their creativity through crafting. However, adjusting the complexity of the projects and providing appropriate guidance and supervision based on the child's age and skill level is essential. With the right approach, amigurumi can be a fun and rewarding activity for young crafters.
How to Embroider Eyes on Amigurumi?
Embroidering eyes on amigurumi allows for endless customization and gives your creations their unique personalities. With practice, you can master this technique and create adorable facial features for your amigurumi projects. Here's the basic technique to give your creations charming facial features:
1. Thread your needle with yarn or embroidery floss.
2. Plan eye placement using pins or markers.
3. Start from the inside and bring the needle out where the eye should be.
4. Create the first eye with vertical and horizontal stitches.
5. Knot the first eye and secure it inside.
6. Create the second eye to match the first.
7. Knot the second eye and secure it inside.
8. Hide yarn ends by weaving them into the amigurumi.
9. Add details like eyelashes or eyebrows if desired.
10. Secure knots for any additional details.
11. Inspect and adjust your embroidered eyes as needed.
How to Seamlessly Change Colors in Crochet Amigurumi?
You can seamlessly change colors in your crochet amigurumi projects and create vibrant and neat color transitions without visible knots or gaps on the outside. It's a useful technique for achieving your creations' polished and professional look. Check out our article on how to seamlessly change colors in crochet.
Summary
Amigurumi is the art of crafting small, whimsical crochet figures, merging basic techniques to form 3D designs. Suitable for all skill levels, this craft allows for both structured patterns and unique creations. Crafters can delve into this creative realm rooted in rich history and modern popularity with materials like yarn and safety eyes. Whether you're a newbie or a seasoned crafter, amigurumi presents a world of imaginative possibilities. The global community stands ready to support and inspire. Dive in, enjoy the journey, and happy crocheting!
Sources & References