Distinct pennies, celebrated for their captivating designs and historical significance, have always garnered the attention of coin aficionados. They hold a revered place in the annals of the American Numismatic Tradition. Among the most coveted of these coins is the 2009 Lincoln Bicentennial Penny.
Minted to honor the 200th birth anniversary of President Abraham Lincoln, the 2009 Penny occupies a distinguished position in American numismatic chronicles. Collectors treasure it not just for its intricate artwork but also for its rare errors and its four unique versions. This article delves into the intriguing history, design, mintage specifics, noteworthy errors, and the present value of the 2009 Penny.
The 2009 Penny Value
How much is a 2009 penny worth
The 2009 Lincoln Penny features unique designs marking Lincoln's life and its centennial; While many circulated coins hold face value, rare versions and/or high grades like MS65 or MS67 can command up to $6000 in the collector's market.
The 2009 penny stands out distinctly, not just for its design but for the variety it presented. This was the year the penny underwent multiple reverse design transformations, a feature that has captivated both collectors and investors.
Each reverse design chronicles pivotal moments in Lincoln's life, from his humble beginnings to the peak of his presidency. The quartet of designs capturing Lincoln's pivotal life stages sets this coin apart.
Additionally, 2009 marked a significant milestone — the centenary of the Lincoln Penny's introduction by the US Mint in 1909. This adds an extra layer of appeal for numismatists.
A coin's value is influenced by various factors, including its grade, quality, distinctive errors, and circulation status.
While the 2009 Penny, being a contemporary coin with extensive circulation, may often be valued close to its face value, there are exceptions. Discovering a rare 2009 Penny with a unique error or a high-grade classification like MS65 or MS67 can turn out to be a lucrative find.
A rare, high-grade 2009 Penny can fetch anywhere from $5 to $500 in the collector's market. Exceptionally rare specimens can command prices upward of $6000.
Related: Rare & Valuable Pennies – Find Out Which Pennies Are Worth Money
2009 Penny Value Chart
The 2009 Penny got minted majorly from the Philadelphia (P) and Denver (D) Mints for circulation. The San Francisco (S) Mint has released only a few proof coins for collectors.
Here is a chart explaining the approximate current values of different grades of the 2009 Penny.
| | | | |
| --- | --- | --- | --- |
| Mint Mark | MS63 | MS65 | MS67 |
| 2009 (P) Penny Lincoln Early Childhood | $7 | $12 | $225 |
| 2009 (P) Penny Lincoln Formative Years | $5 | $10 | $335 |
| 2009 (P) Penny Lincoln Professional Life | $7 | $12 | $300 |
| 2009 (P) Penny Lincoln Presidency | $7 | $12 | $150 |
| 2009 (D) Penny Lincoln Early Childhood | $5 | $10 | $300 |
| 2009 (D) Penny Lincoln Formative Years | $5 | $10 | $200 |
| 2009 (D) Penny Lincoln Professional Life | $7 | $12 | $730 |
| 2009 (D) Penny Lincoln Presidency | $7 | $15 | $300 |
(Approximate current values of 2009 Penny from Philadelphia and Denver Mint)
Related: The 1980 Penny Value
| | | | |
| --- | --- | --- | --- |
| Mint Mark | PR67DCAM | PR69DCAM | PR70DCAM |
| 2009 (S) Penny Lincoln Early Childhood | $10 | $15 | $170 |
| 2009 (S) Penny Lincoln Formative Years | $10 | $15 | $200 |
| 2009 (S) Penny Lincoln Professional Life | $10 | $15 | $170 |
| 2009 (S) Penny Lincoln Presidency | $10 | $15 | $150 |
(Approximate current values of 2009 Penny from San Francisco Mint)
Related: 1943 Steel Penny Value – Complete Guide
The 2009 Lincoln Penny History Composition & Designs
The 2009 Bicentennial Penny: Design and Legacy
A coin's design is what often captivates collectors, and the 2009 Lincoln Penny is no exception with its meticulous design and intricacies. It has become a coveted piece for collectors globally featuring four distinct design scenarios.
Delving into its History
Introduced in 1909, the Lincoln Cent celebrated the 100th birth anniversary of President Abraham Lincoln, marking a departure from the earlier Lady Liberty imagery. It holds the distinction of being the first American coin to showcase an actual individual's portrait. In homage to Lincoln's enduring legacy, the U.S. Mint elegantly updated the reverse of the 2009 Penny, commemorating his bicentennial birth anniversary.
Related: The 1940 Wheat Penny Value, Design, Mintage & Error List
Composition and dimensions
The coins released for circulation were minted using the usual copper-clad zinc core blanks containing 97.5% Zinc with 2.5% copper. However, a few of the 2009 S – Proof Lincoln Pennies and 2009 Satin Finish Lincoln Pennies were produced with 95% pure-grade copper.
The dimensions of the 2009 Penny were kept small for easy handling and cost-cutting. The edges of the coins were rounded with a plain design. The coin's diameter measured 19 mm, and each coin weighs around 2.5 grams.
Related: The 1959 Penny Value in 2023
The 2009 Penny Obverse side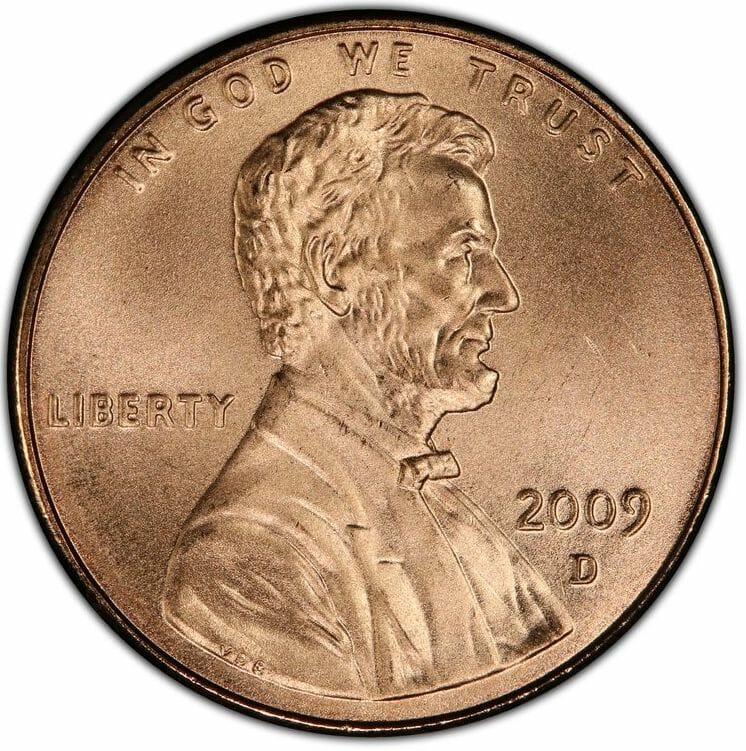 Every Lincoln Penny since 1909 features Victor David Brenner's 1908 design on its obverse, and the 2009 edition is no exception. It prominently displays Lincoln's right profile at the center. Encircling the upper edge is the inscription "IN GOD WE TRUST," while "LIBERTY" is etched behind Lincoln's neck to the left. The coin's minting year and mint mark are on the right. Notably, a missing mint mark indicates the coin's origin from the Philadelphia Mint.
The 2009 Penny Reverse side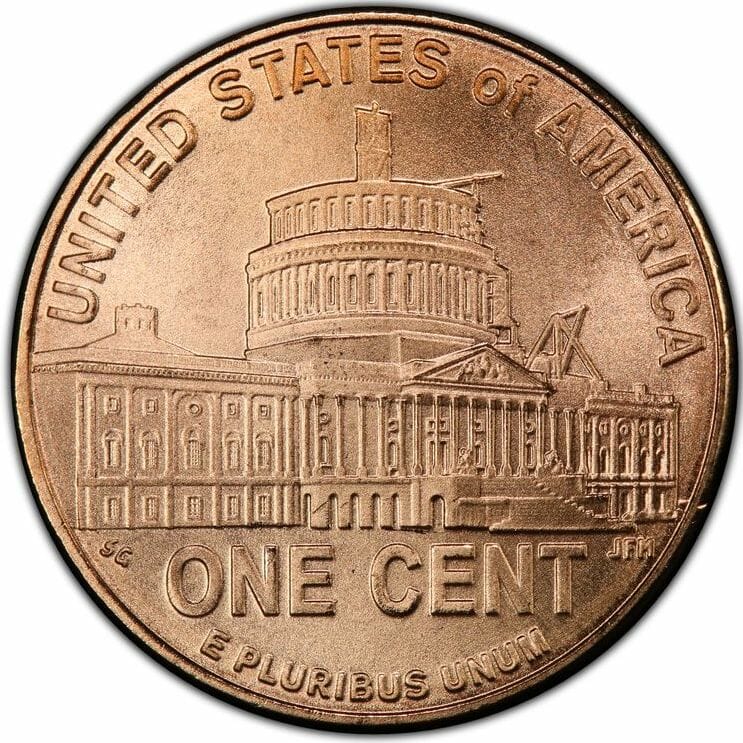 The most important characteristic of the 2009 penny is its reverse side. The US Mint released the first design of the 2009 Penny series on February 12, 2009, on Lincoln's birthday. Three more designs of this series were launched every three months.
1. Birth and Early Childhood in Kentucky (1809 – 1816)
The first design on the reverse of the 2009 Penny series features a wooden log cabin in Kentucky, where Lincoln was born and raised. The credit for this beautiful design goes to the designer Richard Masters and the sculptor Jim Licaretz. At a special ceremony, the coin was released by the US Mint on February 12, 2009.
2. Formative Years in Indiana (1816 – 1830)
The second design beautifully exhibits young Lincoln taking a break from his work as a rail splitter and reading a book. The beautiful design by Charles Vickers gracefully delivers the message about the importance of education in one's life. The coins of this series were released into circulation on May 14, 2009.
3. Professional Life in Illinois (1830 – 1861)
The next design of the series was dedicated to Lincoln's professional life. Lincoln spent most of his professional life in Illinois as a lawyer and a politician. Lincoln gave an iconic speech at the state Capitol building after his nomination for the US Senate on the Republican ticket.
The coin, designed by Joel Iskowitz and sculpted by Don Everhart, depicts Lincoln standing in front of the Illinois state capitol building in Springfield. The US Mint released these coins for circulation on August 13, 2009.
4. Presidency in Washington DC (1861 – 1865)
On November 12, 2009, the final design of the reverse of the 2009 Penny series was released for circulation. The coin showcases the US Capitol dome under construction.
The under-construction building symbolizes the challenges faced by Lincoln in the growth and development of the country during his presidency. The credit for creating this reverse side design goes to Susan Gamble and sculptor Joseph Menna.
Related: 1945 Wheat Penny – Complete Guide
2009 Penny Mintage: What Determines Their Value?
The value of 2009 Pennies hinges on several factors, warranting a closer examination.
Value of the 2009 P Penny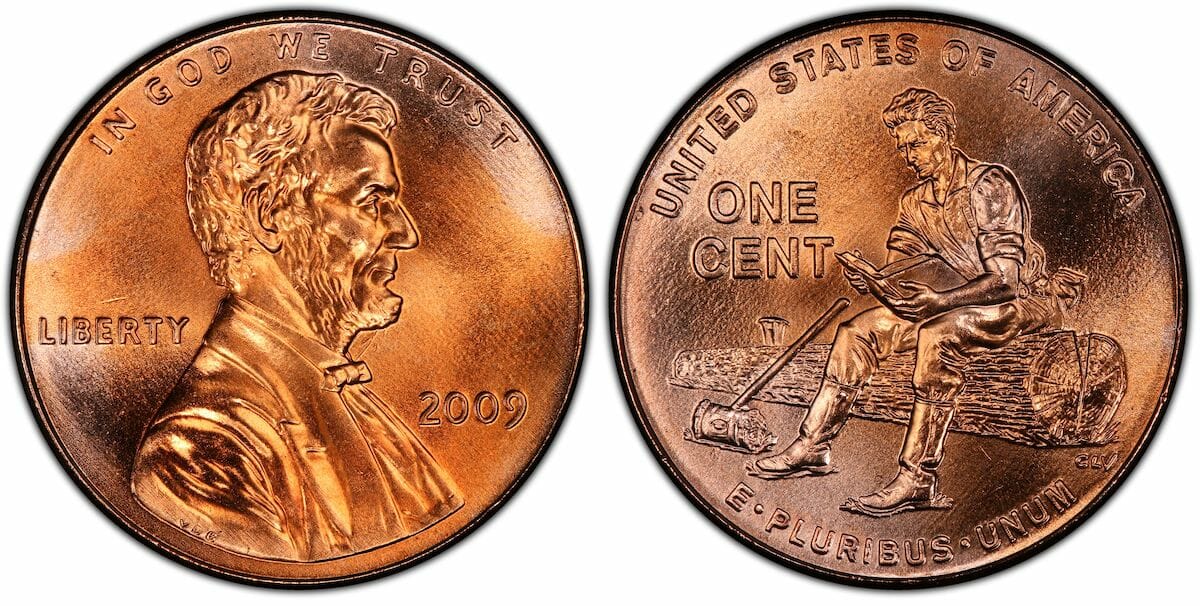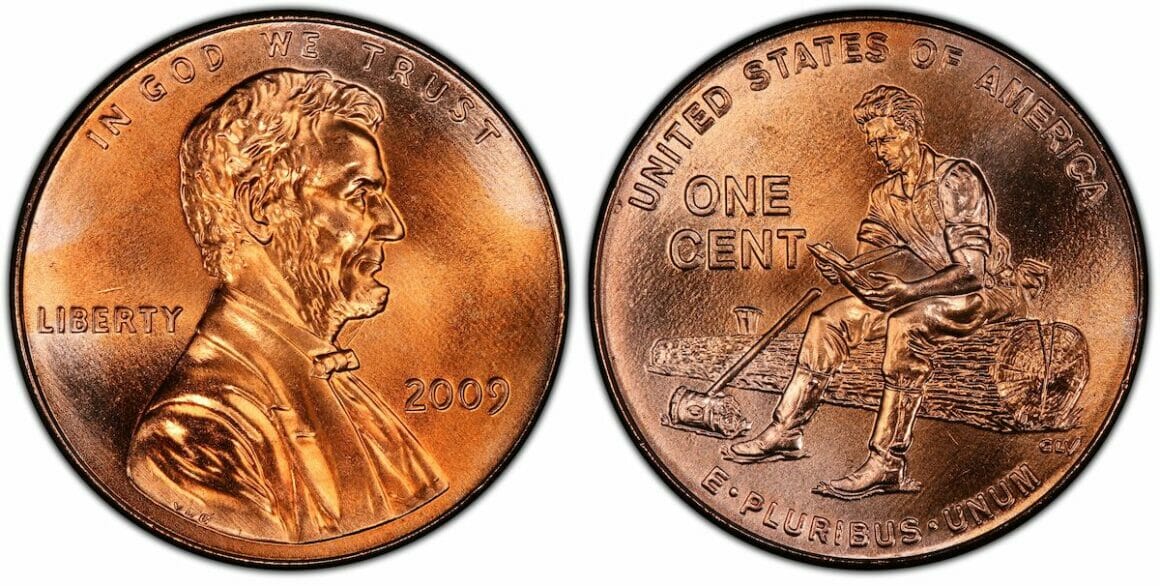 Originating from the Philadelphia Mint, a substantial 129.6 million 2009 Pennies were produced. Most of these coins entered general circulation, limiting their value to their face denomination. However, uncirculated examples are a rarity and command a premium. Those in high-grade conditions are even scarcer, further amplifying their worth.
For instance, a 2009 P Lincoln penny with an MS 63 grade can fetch between $5 to $7 across all four designs. Yet, an untouched Lincoln Early Childhood Penny of M67 grade can be valued at approximately $225. Values for other pristine and high-grade 2009 Pennies typically span from $150 to $350.
2009 S Penny Value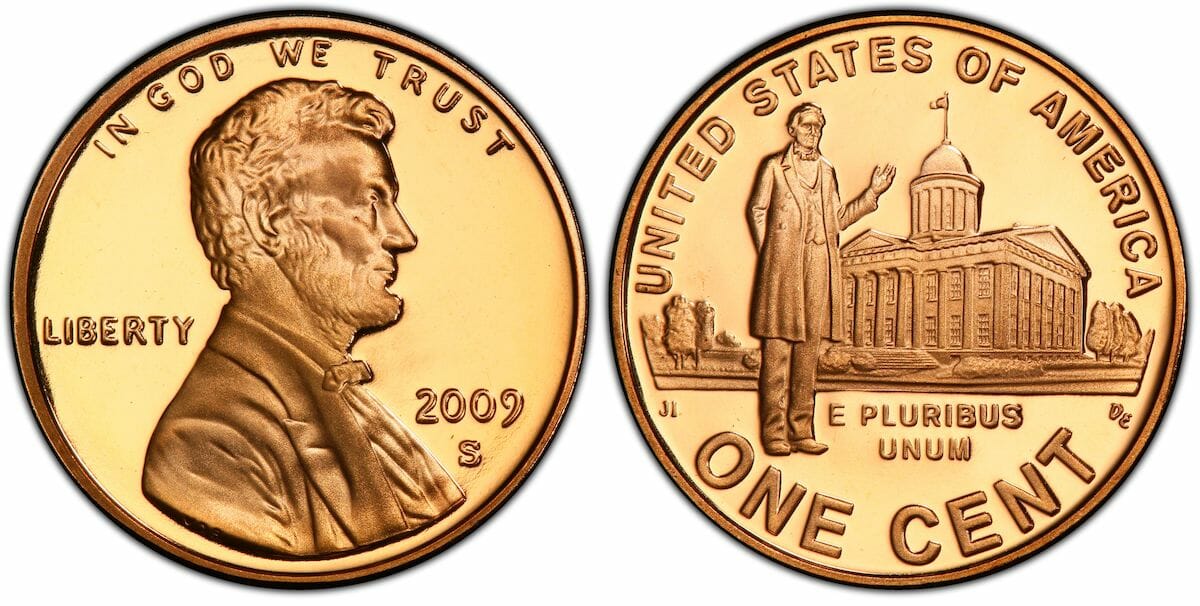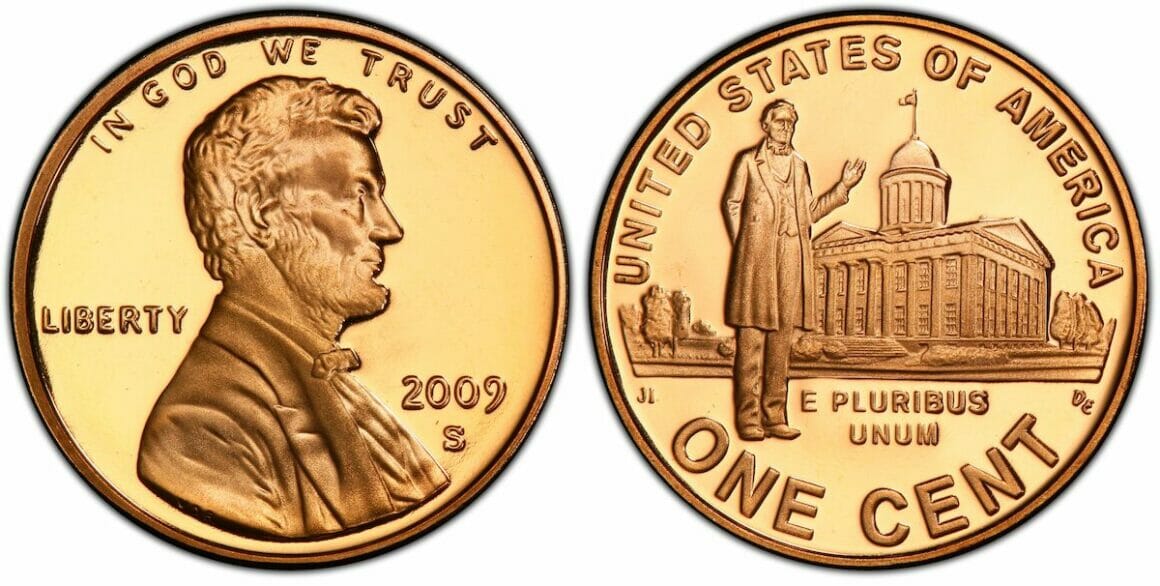 The San Francisco Mint has struck around 2.9 million Proof coins of the 2009 Penny series. Their detailed finish and intricate design set Proof Coins apart from others. They were not minted for general business purposes; the sole purpose for minting such coins was for the collectors.
The 2009 S Proof pennies are not rare and hence do not fetch higher values. The value of PR67DCAM and PR69DCAM grade for all four versions of the coin ranges between $10- $15.
However, depending on its reverse side, a 2009 Penny in the purest grade PR70DCAM can be valued around $150 – $200.
2009 D Penny Value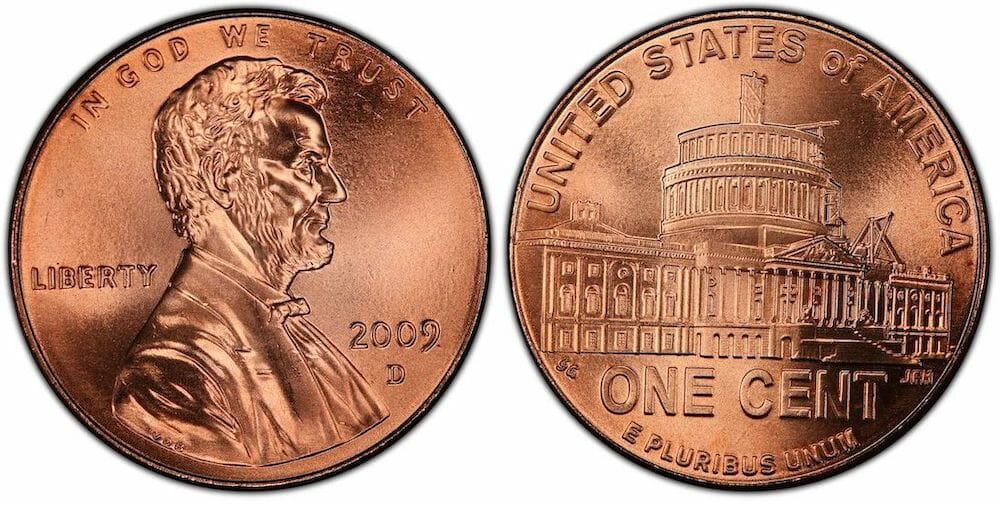 The Denver Mint released the highest number of coins among the three mints, totaling around 1.2 billion. The coins of all four reverse designs of grades MS 63 and MS 65 are valued between $5- $15.
However, if you can find an uncirculated Penny of MS 67 grade, its value can range between $200 – $730, depending on the reverse design.
2009 Satin Finish Penny Value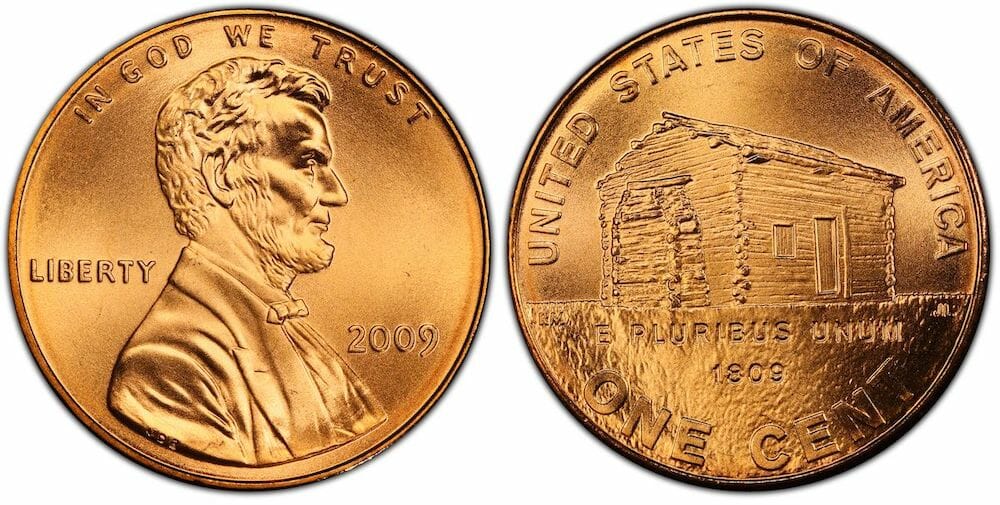 Beyond the typical varieties and grades of the 2009 Penny, both the Philadelphia and Denver Mints unveiled a select number with a "Satin Finish." Characterized by their matte surface, these Satin Finish coins are of exceptional quality and tailored specifically for discerning collectors. Classified under the elite MS69 grade, their value varies with the reverse design, ranging between $3000 to $6000 per piece.
Related: The 1973 Lincoln Penny Value, History, Mintage & Error List
The 2009 Penny Error List
Understanding Errors in the 2009 Penny
Given the extensive mintage of the 2009 Penny, some minting inconsistencies were bound to arise. Such errors, while inadvertent, can elevate a coin's rarity and value. Below are some of the noted errors in the 2009 Penny.
The Double Die Reverse
This error stems from double striking, often due to a flawed planchet. The tell-tale doubling can be discerned with a coin loupe or magnifier.
In the "Early Life" variant, one can detect doubling at the circular ends of the log cabin's front corner.
When affected, the "Formative Year" coins reveal anomalies like an additional thumb, index finger, or even Lincoln perched on a log.
For the "Professional Life" coins, the doubling manifests in the columns of the Illinois Capitol building.
While this error might only add $5 to $10 in value to circulated coins, an untouched, high-grade specimen can command prices around $50.
Related: The 1969 Lincoln Penny: Value, Design, Mintage, and Error List
2009 S Proof Penny Horizontally Misaligned
You're mistaken if you think that specially minted Proof coins are absolutely foolproof. Even these coins can have some errors.
A few San Francisco Proof coins have noticeable "Horizontal Misalignment" errors. This error results in unevenness in the rim of the coin.
The current worth of a 2009 S Proof penny with such an error is around $350.
The 2009 Lincoln Penny FAQs
How much is a 2009 sitting-on-a-log penny worth?
The 2009 penny featuring the Birthplace of Lincoln design is relatively common and is generally not worth much more than face value unless it is in pristine condition. The value of such a coin ranges between $7- $335.
Is there a rare 2009 penny?
While most 2009 pennies are not considered rare, the 2009 S (San Francisco Mint) Proof Penny is relatively less common and more sought after by collectors. Also, the pennies with Satin Finish are considered rare.
What error should I look for on a 2009 penny?
You should look for double-die errors or horizontal misalignment errors. These errors can significantly increase the value of the coin.
What's the most valuable 2009 penny?
The most valuable 2009 Penny would likely be one with Satin Finish and in excellent condition. The coins with errors are also highly grossing.
Why are 2009 pennies so hard to find?
2009 was the last year the penny featured multiple designs, and many people kept them as keepsakes, resulting in fewer coins entering circulation.
Conclusion
The 2009 Penny holds a special place in numismatic history due to its bicentennial celebration of Abraham Lincoln's birth and the multiple reverse designs released that year. While most 2009 pennies are not particularly valuable, certain mint marks and rare errors can make them highly coveted by collectors.
Whether you're a seasoned collector or just starting, the 2009 penny series offers an exciting journey into the life and legacy of one of America's most iconic founding figures.
Sources & References