Today's guest is none other than Anna Maria Horner, designer extraordinaire and author of the new book Anna Maria's Needleworks Notebook (Wiley). The gorgeous hand-stitching book (I've seen it myself, and it is not to be missed!) releases mid-October, but you can pre-order now from Anna Maria or Amazon.
We're excited to learn a little more about Anna Maria's new book and her creative business! There's also a giveaway at the end of this post.
Congrats on your third book release! Where did you find your inspiration for this project, and what do you love about hand stitching?
Thank you so much! I have been making embroidery and needlepoint since I was a little girl. The inspiration to collect projects for a book came about as I was just trying to figure out how I would want these disciplines presented to me as a reader/maker. It was important to me to make a book that could be just as inspiring for the novice as it is for the experienced needlecrafter. And doing that meant making sure there was lots of inspiration for the final usage of a worked piece, whether that be in a frame, a bag or a some fashionable application.
I love hand work. I love the slower pace and the connection that it has to drawing and painting. Simply said I know, but there are many crafts that I like, and only a few I love. Embroidery and other related needle crafts just happen to fall into the love category for me.
Is writing a book similar to designing a new fabric line?
Yes and not really. They are similar in the devotion I develop to each through out the process, but the language is all together different. The language of a fabric collection is almost entirely visual apart from the narrative style I attach to it with the collection name, then print and color names, and so on. I try to propel the story of the collection through those names. I think of a book as a literal conversation between myself and the reader, and in my category of sewing and how-to, it is of course also educational. The book as well has a visual element, which is in part the projects that I develop, but also the photography, how the pages feel, what the fonts look like, and all these things are speaking to the reader as well through the subconscious. So it's important to me to get them right, so I am making my "story†unique and inspiring the reader.
Your designs and your career are inspiring to so many creative people. What lessons have you learned in your career that might help us?
I think having support is a huge bonus. If you have the luxury of not having to be the main bread winner in your house, then it might lighten your stress to take a few risks, or just spend a good amount of time developing your ideas. Then again, I have always found having to win a bit of bread can be pretty inspiring, too. We all work differently, so sometimes your productivity and creativity formulas are more or less a direct product of your environment. If you can, get to know what kind of conditions put you at your best and try to get there as often as possible. You might travel down a path the dries up after a while, but simply continuing to work on something will eventually bring you to what you were meant for, if you're paying attention.
From reading your blog, it seems that you stay busy with family, design projects and teaching opportunities. Do you have any secrets to keeping a work/life balance?
It is not an easy balance, and I do get it wrong sometimes. The hardest thing for me to do is take time to take care of myself. Over this past summer though, I have demanded taking off on a run 3 to 4 times a week, which has left me feeling better than ever. Running has helped me keep my energy where it needs to be for work and for my family, even though it takes time out from both. But the payoff is much bigger than a couple of hours a week. I also find that saving slower-paced projects for evenings when I can work on them in the midst of my husband and kids is not only more enjoyable, but it lightens that daytime load.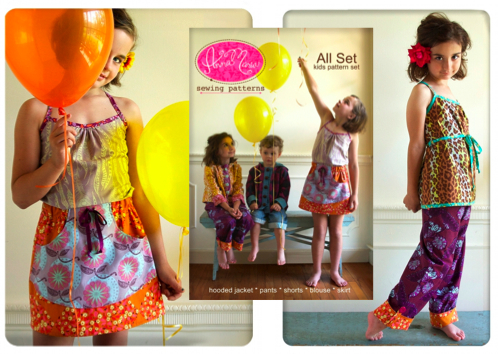 Those are wise words! What's next for you?
I always have a new fabric collection (or two) in the works as well as new sewing patterns. After the launch of the book, I will be introducing Field Study Rayons, Voiles and Velveteens, the Escape Artist bag pattern, the Flight Map quilt pattern and also some palettes of tapestry wool to continue growing my needleworks product. And there's loads to look forward to next year, including some reprints of older fabric favorites and also linens!
Thanks for the sneak peek, Anna Maria! We can't wait to make projects from your new book!
Giveaway!
Wiley Craft is generously giving away a copy of Anna Maria's Needleworks Notebook. To enter the giveaway, leave a comment below telling us one thing you've learned from our Q&A with Anna Maria. We'll choose a random winner on 10/4/12.
Congrats to commenter #179, Lori!