There are numerous sewing machines out there promising exceptional performance and durability and loaded with advanced features to let you work on versatile projects. The Singer Quantum Stylist 9960 is one of the top-of-the-line sewing machines featuring computerized technology along with different stitching options.
The machine claims to make stitching a smooth journey for you with its impeccable performance. But is the Singer Quantum Stylist 9960 a reliable model for all sewers?
It's a common dilemma most sewers face when buying a new sewing machine, which is why I've brought a detailed Singer Quantum Stylist 9960 review, which will sort out your confusion and help you make an informed decision.
A Quick Summary Of Singer Quantum Stylist 9960
The Singer Quantum Stylist 9960 is an advanced sewing machine powered by tech-savvy features. It reduces manual work with automated features saving time and energy. You get around 600 built-in stitches, letting you make different patterns and styles easily.
Quantum Stylist 9960 has a robust motor that is capable enough to stitch even the thickest fabrics like denim, wool, etc. Also, the feed dog system holds fabrics like silk, chiffon, and georgette to prevent them from slipping when you stitch them.
There is a display screen to see the patterns selected, and the error warning sign alerts you when you select a wrong stitch. Overall, the Singer Quantum Stylist 9960 is a great machine for advanced sewers looking to upgrade their system.
Related: Best Heavy Duty Sewing Machine – Top 11 Picks 2023
A Glance At The Specifications Of Singer Quantum Stylist 9960
| | |
| --- | --- |
| Size | 17.5 L x 8.5 W x 12 H |
| Built-in Stitches | 600 |
| Number Of Needle Positions | 25 |
| Automatic Needle Threader | Yes |
| Stitching Speed | 850 stitches per minute |
| Reverse Stitching | Yes |
| Stitch Editing | Available |
| Display Screen | Yes |
| Automatic Buttonholes | 13 |
Qualities Of The Singer Quantum Stylist 9960 To Turn Your Sewing Dreams Into Reality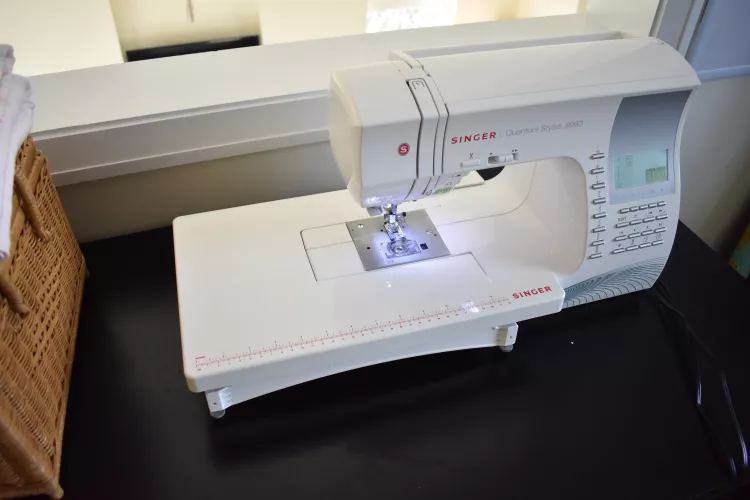 Following are the main qualities of the Singer Quantum Stylist 9960 that aid easy sewing. Let's have a detailed look:
The sewing capacity is one of the topmost queries every sewer has, and the Singer Quantum Stylist 9960 provides no chance of complaint in this regard. It has a large number of built-in stitches (600, to be precise), including Alphanumeric stitches, so that you can make any design you love.
But the number of stitches is of no use if their performance isn't up to the mark. The performance of all stitches, like the zig-zag, straight, hem, backstitch, etc., all work great on fabrics of different textures and thicknesses.
As a sewer, you'll know how hard it is to stitch on silk, chiffon, and denim fabrics due to their slippery and thick texture. But this machine's adherence to these hard-to-stitch fabrics has impressed us by far. It works well compared to other machines like Brother XR9550, Brother CS5055, etc. This machine can pierce through even layers of denim without the needle being stuck midway.
Adding zippers is another difficult thing to do, and even many high-end machines fail to do it to perfection. But Singer Quantum's programmable needle up-down makes adding a zipper easier with no flaws like crooked lines, loose threads, etc.
One of the reasons for the Singer Quantum 9960's great stitching capacity is its feed dog mechanism. Unlike other sewing machines, the Quantum 9960 has a box feed motion that allows consistent fabric feeding because the feed dogs are in the sink with the pressure foot.
But I have observed that the zig-zag stitches are not as great. It took me a few tries to get the perfect zig-zag stitch. In some cases, the zig-zag pattern was a little messy. You have to play around with the machine's tension adjustment to achieve the perfect result. The other stitches work perfectly fine and let you add decorative elements to your work without any problem.
Related: Sewing Machine Tension Chart – The Ultimate Guide
By now, you'd have got an idea of the amount of effort Singer invested in designing the Quantum Stylist 9960 to provide a stress-free sewing experience. All that is great, but what about the stitching speed? Can you rely on this machine to stitch bulk projects?
Yes, you definitely can. The machine provides 850 stitches per minute so that you can complete your projects in the stipulated time. But such a sewing speed may not be great for delicate fabrics, so Singer provides a speed control system. You can adjust the sewing speed through the slide bar as per your project needs.
Not many people consider the buttonhole feature when buying sewing machines. But this is another crucial aspect to consider if you want to scale your work speed. Even though you can make buttonholes manually, the automatic buttonhole presser foot gives a professional result.
There are 13 fully automatic buttonholes to easily make different buttonhole designs. Apart from exceptional finishing, this feature gets your job done faster, leading to more productivity.
Equipped Enough To Do Embroidery
Sewing is an art, and sewers show their artwork through the embroidery they make on fabrics. And most sewers want to explore their creativity besides stitching basic clothes. This is why the Singer Quantum Stylist 9960 lets you make simple embroidery designs, too.
It comes with many decorative embroidery designs and a darning embroidery foot. With it, you can make patterns and designs in denim, napkins, and other fabrics.
But since this is not solely an embroidery machine, you can't make large logos or connect it to a computer to import designs which most high-end embroidery machines allow. But for basic embroidery, the Singer Quantum Stylist 9960 is a good model.
Is the Singer Quantum Stylist 9960 easy to use? Well, it's a little complicated to get your head around. Is it a beginner-friendly model? No. The machine has advanced features which require some skill to operate, so beginners won't profit a lot from this machine.
The machine has clear labeling for the stitches so you can clearly see them. But selecting the stitch is a little difficult due to the number of in-built stitches available. You can select the normal straight and zig-zag patterns easily, but to select the other stitches, you'll have to refer to the manual multiple times. But to be honest, even with the manual's help, it's a little confusing to see whether you have selected the right stitch or not.
But the good thing is, the machine tells you the types of sewing feet needed for each stitch, saving you the trouble of errors and issues like machine jamming or breaking. There is also an error warning feature with an audible warning noise when you choose an incorrect stitch or needle position. If you find the noise irritating, you can disable it as well.
However, features like the automatic needle threader and thread cutter save time and thread wastage. The machine also features a free arm like most advanced Singer sewing machines for easy stitching in areas like arm-hole and other hard-to-reach areas, and you no longer have to hand stitch those areas.
The thing that I didn't like much about the machine was how the instructions for loading and winding the bobbin were written. It's embedded in plastic, making it difficult to see in the absence of good lighting. You have to make sure the lighting is at the right angle to see the instructions clearly.
Considering these things, it's safe to say that the machine is more suitable for advanced sewers who know their way around sewing machines.
Eye-Catching Design & Free Accessories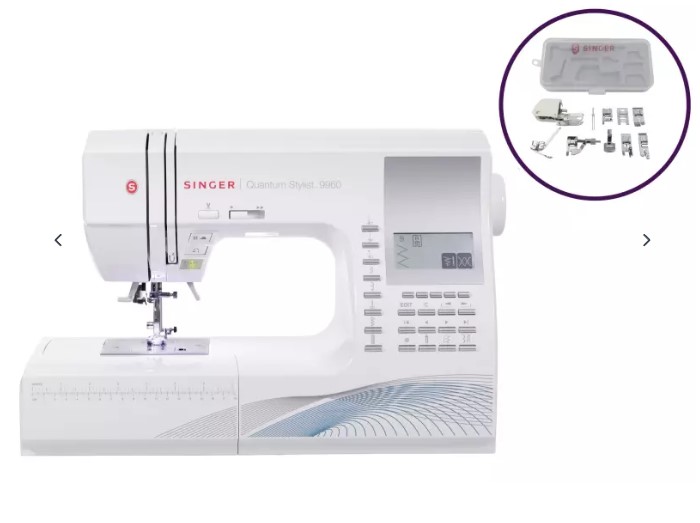 Singer Quantum Stylist 9960 has a stylish design that's sure to enhance the look of your studio. The minimalist appearance and digital display on the front look premium. The sewing machine has a hard protective case to protect your investment from unwanted accidents.
However, please note that it's not a portable machine. Singer 9960 is actually on the heavier side, so carrying it to and fro isn't feasible.
Also, you get all essential accessories with the Singer Quantum Stylist 9960. The accessory kit includes extra bobbins, needles, a seam ripper, additional presser feet, screwdrivers, a lint brush, a quilting bar, a seam guide, an auxiliary spool, and more.
Besides, this sewing machine uses a robust DC motor for a consistent power source. So whether you're quilting or stitching any thick fabric, the machine won't give up midway.
Singer Quantum Stylist 9960 Price
The Singer Quantum Stylist 9960 is an under $1000 sewing machine, which is a great deal considering the features you get. It is one of Singer's top-rated models and is priced better than other models with similar features.
But do we recommend this sewing machine for beginners? Well, it's not the best model for beginners due to a couple of factors. Firstly, newbies starting to learn sewing may not want to invest in anything beyond $100. Secondly, the features are a little complicated for beginners.
Also, beginners don't need a computerized sewing machine with an extensive list of stitches when they begin their careers. But sewers looking to upgrade wouldn't mind investing in an advanced model like the Singer Quantum Stylist 9960.
Related: Best Small, Portable, and Mini Sewing Machine in 2023
Singer Quantum Stylist 9960 Computerized Sewing Machine Pros & Cons
The Pros:
A huge number of built-in stitches
Can do embroidery and quilting besides basic stitching
Automatic threading and thread cutter to save time
The add-on extension table provides a large stitching area
Separate presser foot for buttonholes
The cons:
The stitch selection is a little complicated, so not suitable for beginners.
The presser foot pressure isn't adjustable.
Requires a few trials to get perfect results in specific stitches
Related: Brother CS7000i Sewing & Quilting Machine: a Full Review
Should You Buy The Singer Quantum Stylist 9960?
The Singer Quantum Stylist 9960 is a worth buying model for professional sewists. Yes, I would say this model is only suitable for professionals considering the features and price point. The machine is powered with some robust features and can handle any fabric with ease.
Apart from the premium features, the automatic features make using the machine quite fun. You'll need some time to get around this computerized sewing machine, but your patience will definitely yield fruitful results.
Its large library of 600 built-in stitches, 13 automatic buttonholes, and the embroidery features let you handle versatile projects like sewing garments, making quilts, home decor items, and more.
Like most sewing machines, there are some limitations here as well, such as a lack of portability and some features lacking clarity. But as you get used to using the machine, these limitations should no longer bother you. Overall, the Singer Quantum Stylist 9960 is a steal deal and a total package combining technology, automatic features, and a durable body.
Related: Best Leather Sewing Machine: The Top 7 Machines in 2023
The Singer Quantum Stylist 9960 FAQs
Is The Singer 9960 Worth It?
Yes, the Singer 9960 is worth it if you want to upgrade your sewing machine. This machine is good for professional use as it offers numerous advanced features.
Is The Singer Quantum Stylist 9960 Good For Beginners?
The Singer Quantum Stylist 9960 is not good for beginners. It's a slightly pricey machine with some more advanced features that may not be suitable for newbies.
What Replaced The Singer Quantum Stylist 9960?
The Singer 7258 Computerized Sewing machine is a similar model to the Quantum stylist 9960. The 7258 is a good model for both beginners and advanced sewers with advanced features.
Does The Singer Quantum Stylist 9960 Do embroidery?
Yes, the Singer Quantum Stylist 9960 can do embroidery.
Related: Best Sewing Machine for Clothes – Top 5 Picks in 2023
Final Thoughts!
The Singer Quantum Stylist 9960 is a great sewing machine known for its premium stitches compared to many similar sewing machines. It has all features a sewer would want to bring their A game in stitching. I have covered all the crucial details about the machine, which will help you make an informed decision. Do go through them, and share your feedback about the same in the comments.