Do you love sewing and embroidering – and are on the lookout for the ideal machine? Then your search might end with Brother SE1900, a high-end and versatile crafting tool. This high-tech machine performs the role of an embroidery machine as well as a sewing machine.
Brother SE1900 special is a 2-in-1 machine that saves the space and amount required for an embroidery machine and a sewing machine separately. It offers a massive library of stitches and embroidery designs – and lets you import your own. Its touch screen allows customization!
Today, I'm going to tell you all about the advanced features and functionality of SE1900 so that you can understand if it's the right machine for you. So read on!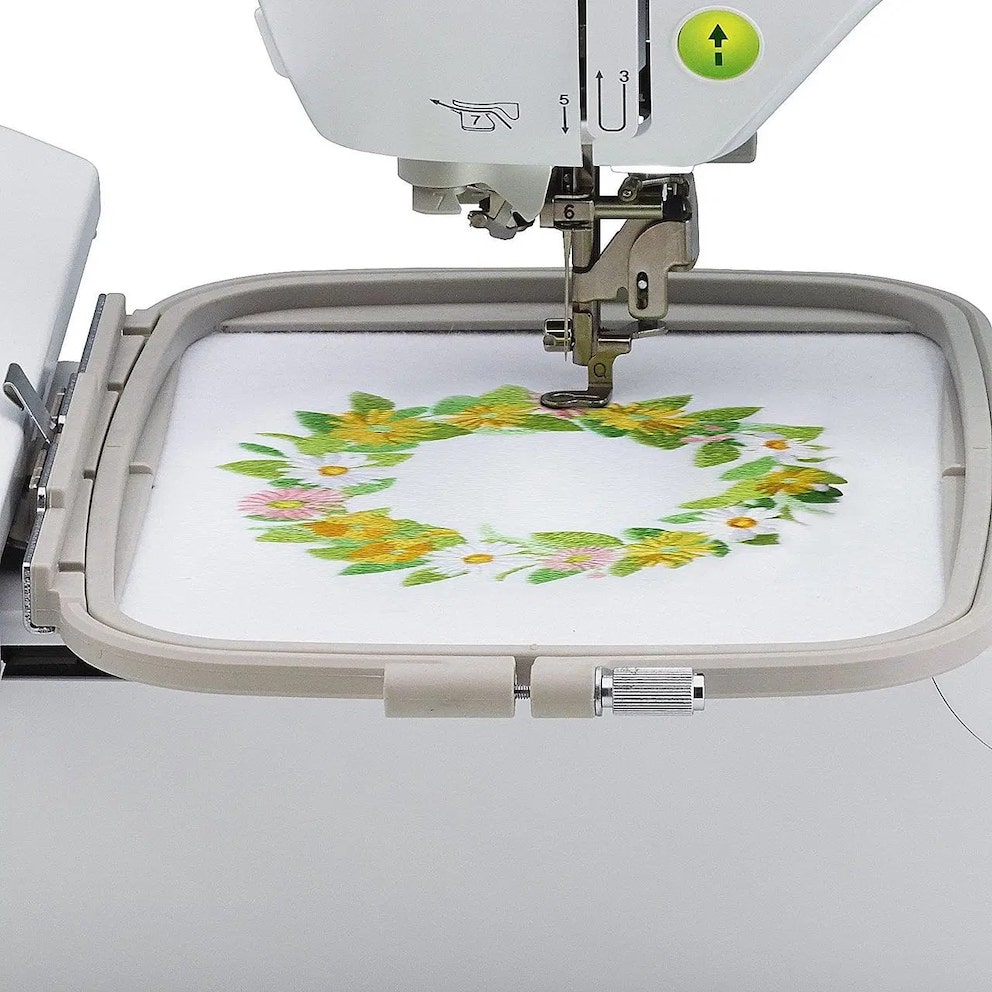 Related: Best Computerized Sewing Machine in 2023
Brother SE1900 Sewing Embroidery Machine: An Overview
Brother SE1900 is a combo machine catering to your sewing and embroidery needs. What I love about this machine is that it's equally efficient in both modes. For a sewing machine, its price tag may seem high. But it's way more affordable than most advanced embroidery machines.
This machine is highly capable of delivering even and high-quality stitches and is designed to have a large and well-lit area. What's particularly impressive about this device is its intuitive LCD touchscreen that simplifies the process of making small adjustments.
You can use the screen to view and change designs as required for your project. As an embroidery machine, it comes with more designs than you might use during its lifetime. You can also get a remarkable range of stitches – with the needle moving in all directions.
You can even design or upload custom designs if the pre-installed fonts and designs aren't enough for you. And while it may seem like a machine for experienced crafters, it is user-friendly and has many automated functions, making it a good choice for beginners, too!
Related: Best Sewing Machine for Quilting & Embroidery – 7 Best Options
Best Price
Brother SE1900 Sewing Embroidery Machine: Noteworthy Features
Let's take a deeper look at the key features of Brother SE1900 below.
a) Large Touchscreen Display
The LCD touchscreen gives you full access to all the options to operate the machine – in full color. It lets you access the design and stitch library and tweak designs by adjusting pattern colors, size, and orientation.
Besides viewing and editing designs, you can change needle position and thread density using the screen. It lets you achieve accuracy and speed – with no need for guesswork or memorization of design codes.
b) Massive Library of Designs and Fonts
One of the most impressive features of SE1900 is its design library, with 138 designs preloaded on the machine. You can pick from a wide range of floral and seasonal motifs. You can change the size and alignment easily.
The monogramming fonts are pretty handy, too! You'll get 7 English font options, along with 1 Cyrillic and 3 Japanese fonts. You can also download and use more fonts and the LCD to make any adjustments you want.
c) Impressive Stitch Options
The machine is preloaded with 240 stitches like hem, zigzag, straight, and overcasting stitches. These suit your sophisticated and ornamental needs. For buttonholes of any size, you can select from 10 options – in one step.
If you want to use reverse or reinforcement stitches at the beginning or end, you can press a single button. And you can sew in all four directions, i.e., sideways, forward, and backward, be it a straight stitch or a zigzag.
d) Ability to Customize Stitches and Import Designs
If you're not satisfied with the preloaded stitches, Brother SE1900 can help you do something personalized! It comes with My Custom Stitch, a tool to create your own stitch patterns. Here's a video that demonstrates its usage.
You can also download designs from iBroidery. Or you get the option to import your own designs. SE1900 has a USB port to support flash drives. Once you make your design, you can move it to the machine – and save it on its memory.
e) Free-Motion Sewing to Draw Designs
SE1900 is equipped to allow free-motion sewing. That means, if you are skilled enough, you can use the machine's needle to create any design. You will effectively be drawing freehand on the fabric!
This feature will let you make unique textile art pieces for a personal touch to your sewing and quilting projects. The needle can move in any position with 3.5 mm of the center, allowing great accuracy.
f) Automatic Thread Trimming and Tension
This machine is designed to automate thread trimming to make your job faster and reduce your efforts. It will automatically cut the thread after sewing. But Brother SE1900 does not cut jump threads during embroidery.
Its thread tension adjustment is also automated. You don't need to dial it up or down. Depending on the stitch, the machine will adjust itself to a default tension setting, though you can manually change it if you want.
g) Automatic Threading
For many sewers and embroiderers, threading the needle is a pain in the eye. But Brother Se1900 takes the annoying task out of the picture, thanks to the advanced needle threader. So no more manual threading!
All you need to do is wind the thread end around the machine along the defined path following the given numbers. Then, place it on the hook-like structure and press the lever at the back to thread the needle, as described here.
h) Easy Bobbin Loading and Setting
SE1900 makes the process of loading bobbins easy thanks to its top drop-in system. All you need to do is load the bobbin into the slot from the top like this – and it will fall into the case. No need for manual horizontal placement!
The machine also has a quick-set feature, so you won't have to draw the thread from the bobbin yourself. The machine can pull it up as soon as you begin sewing. Winding a bobbin from a thread spool is also a matter of seconds, as shown here.
i) Sewing Feet
Brother SE1900 comes with a wide variety of sewing feet. These small paddles keep any uneven fabric and frayed edges flat and smooth. And you can perform various stitches and patterns with precision.
Besides the embroidery foot, there are seven other specialty feet. These come in handy while making zigzag, side-to-side, and blind stitches. They also help attach zippers, sew buttons, and transition between fabric layers easily.
j) Easy Mode Switching
Since SE1900 is an embroidery-cum-sewing machine, you will need to switch between the two modes frequently. And this part is really easy as the machine comes with a presser foot to do that.
All you need to do to go to the embroidery mode is switch this foot and replace the sewing bed with the embroidery arm. To return to the sewing mode, you'll just need to place the sewing bed again and use the presser foot.
k) Knee Lifter to Control Presser Foot
SE1900 has a knee lifter for the presser foot – a feature usually seen in high-end machines. You'll need to lift the presser foot while sewing heavy fabrics or handling multiple layers. For that, just press your knee against the lifter.
This feature is underrated, but it allows hands-free presser foot adjustment. Thus, it helps keep your hands on the fabric – without interrupting your project. It's quite helpful while quilting using multi-layered fabrics.
l) Large Throat and Embroidery Areas
The SE1900 sewing and embroidery machine has a large throat area that's 4.1″ high and 7.4″ wide. The space is sufficient for moving your hands, handling thick fabrics while quilting, and accommodating an embroidery hoop of 5″x7″.
If you compare the throat and embroidery areas with those of high-end models, they may seem less. But these are sufficient for most projects unless you have heavy-duty requirements for professional tasks.
m) Size and Portability
This machine is going to occupy a table space with a width of 13.43" wide and a depth of 23.19". It will also require a vertical area of 11.54". This is close to the average size of an intermediate-level embroidery machine like PE800.
Remember that it's a combo machine. Thus, it saves the space you'd otherwise need for two separate units for sewing and embroidery. At 22.05 lb, it may not be feather-light, but it's light enough to be carried to classes and workshops now and then.
Related: Best Sewing Machine for Clothes – Top 5 Picks in 2023
Additional Features
The Brother SE1900 machine comes with various attractive features. And it is equipped to extend the scope of the machine. As long as you are not planning to use this machine for industrial works, it will cater to a wide variety of crafting needs as follows –
a) Quilting
If you're a quilting enthusiast, SE1900 is a great budget buy. It has many features for intermediate quilting. All you need is to invest in a piecing or walking foot – and you'll have a quilting machine handling a fabric thickness of up to 6 m.
Its large throat space, stitch and design options, and hands-free presser foot adjustment with the knee lifter make quilting a breeze. The thread automation options and quick-drop feed dog also help keep your hands on your quilt.
b) Software
SE1900 doesn't come preloaded with advanced designing and editing software. But you can add designs created on graph paper to the machine using My Custom Stitch – or play around with the design available on iBroidery.
But if you want to let your creative juices flow, invest in a software package. Brother's software options include PE-DESIGN 11, PE-DESIGN PLUS2, SABESLET4, and Initial Stitch. You can transfer the .pes files to the unit using a USB drive.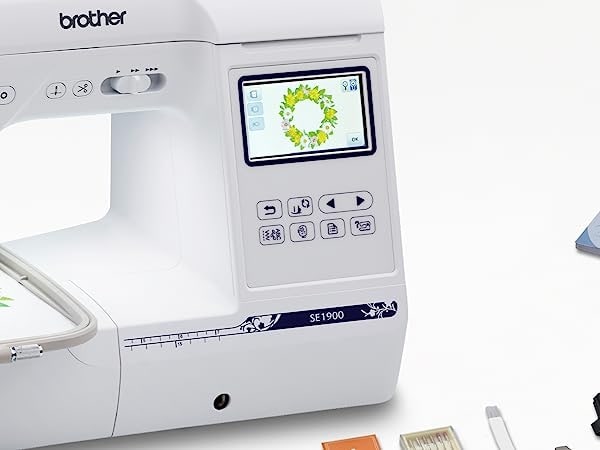 Related: Brother CS7000i Sewing & Quilting Machine: a Full Review
Pros and Cons
Pros
Large 3.2" LCD with adjustable brightness for clarity
Sufficient area for intermediate projects
Easy to use with detailed manual and resources
7-point feed dog for a smooth and firm grip
Compact and quiet working for a small workspace
Convenient speed controller
Cons
Not preloaded with advanced editing software
Manual spool change needed to change color
Best Price
Verdict: Is Brother SE1900 Sewing Embroidery Machine for You?
The feature-rich and versatile unit of Brother SE1900 and its massive manual may make you think that it's for experienced crafters. But as you dabble, you'll realize that SE1900 is a good choice for both beginners and experienced sewers and embroiderers.
As a first-time user, it may take a while for you to go through the given instructions. But once you do, you'll find it easy to use, especially due to all the automated functions. Plus, the LCD screen comes with tutorials – and you'll find plenty of resources online.
It's not for massive patterns, large and heavyweight fabrics, or thick threads. With a stitching speed of 850 SPM and an embroidery speed of 650 SPM, it can't handle bulk projects. Its size 11 needle is for medium-weight fabrics and medium-to-fine thread.
Thanks to its features and motifs, SE1900 can meet the needs as a primary sewing and embroidery machine for an experienced hobbyist. You can also use it for crafts classes – or a small sewing/embroidery/quilting business from home where speed isn't an issue.
Brother SE1900: A Quick Comparison
How does Brother SE1900 compare to the other machines in its class? Here's a quick comparison between SE1900 and a few other models –
a) Brother SE1900 vs. Brother SE1950
Brother SE1950 is supposed to be an upgrade from SE1900. But there's no difference between the two in terms of features. They only vary in appearance and sale location.
b) Brother SE1900 vs. Brother PE800
Brother PE800 is a popular model by this brand. The two have the same design and work area. But PE800 is solely an embroidery machine with no option for sewing.
c) Brother SE1900 vs. Brother SE600
SE600 is a great combo machine for entry-level crafters. It has a lower cost, smaller embroidery area, slower speed, and fewer designs than SE1900. It has no knee lifter.
d) Brother SE1900 vs. Brother NS2750D
SE1900 and NS2759D are similar in features. But NS2750D has 35 Disney-themed designs. While SE1900 has one 5″x7″ hoop, NS2759D has another 5″x12″ hoop.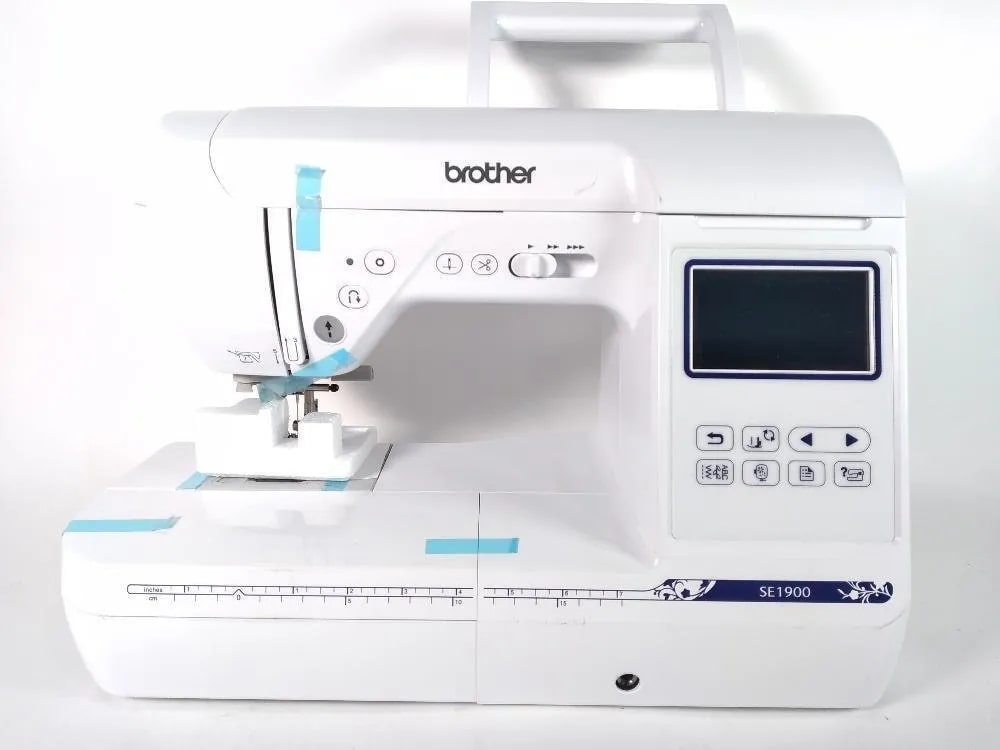 Best Price
Conclusion
Brother SE1900 can be a great choice as your first sewing, embroidery, and quilting machine. But some knowledge and experience in using machines can help use this unit to its full potential.
It is not for large-scale business use, though such industrial machines cost a fortune. However, it's a great investment for small home businesses. All in all, Brother SE1900 is a great choice for intermediate or semi-pro sewing, embroidery, and quilting needs.