Jewelry making is a hobby and an art form that involves constructing unique jewelry pieces using gems, beads, wire, and other embellishments. Some people consider it an expression of their creativity, while others find it relaxing to work after a hard day at the office. It doesn't require any special skills or training; anyone can do it! With just some basic tools and materials, you'll be able to make your own earrings, necklaces, and much more. If you need some inspiration check out 5 Resin Jewelry ideas for beginners & video tutorials
Best for beginner jewelry kit: Insnug Epoxy Resin Molds Jewelry Making Kit
Best value: GoodyKing Resin Jewelry Making Starter Kit
Best for multi-mold options: Igaiet Resin Jewelry Making Kit 240 Pcs
Is it expensive to make resin jewelry?
Making homemade resin jewelry can be an enjoyable activity, but it's also one that will take some time and effort. If you're just learning how to make resin jewelry, you'll probably want to keep the cost of your projects down by picking up inexpensive materials. You certainly don't want to make a large investment upfront only to find out that epoxy jewelry making isn't for you. Buying a resin jewelry kit is undeniably the best value for money and the easiest way to get started for a beginner. A good set will cost you between $20 and $40.
What supplies do I need to make resin jewelry?
Many tools and materials are needed to make resin jewelry but don't worry, you don't need very much money to get started. This is the primary reason why people, specifically beginners, find it easier to purchase a kit that will feature all that's needed to get started.
Most people start out with relatively simple designs, like earrings or bracelets. After gaining proficiency in making those items, expand your design skills by using more complex shapes or adding findings such as dangles or charms. Bracelets tend to use the same basic components as necklaces, so learning how to make one will help you make the other.
In order of importance, here is a list of what you need for this hobby and what we'll consider being essential for a resin jewelry kit to contain. Note that some items, like respirators, will not feature in any Kit, so it would need to be a separate purchase.
Resin – Epoxy-type resin is the easiest to work with for jewelry making and beginners especially.
Polyurethane plastic pellets (optional)
Beads and pieces of wire
Glue for plastics (superglue)
Simple tools include an epoxy resin measuring cup, wood or metal spoon, glass stirring rod, and rubber gloves. And breathing mask.
Extra items may include small paintbrushes for mixing the hardener with the two separate components of the resin and bamboo skewers for poking air bubbles out of your pieces once they're casted. Small pieces of foam will work too.
Resin jewelry molds in various shapes and designs
Tons of embellishment items to play with! check our post How to make resin jewelry with flowers
Is Resin Jewelry toxic?
This is a common question that I hear from folks who want to make resin jewelry but are hesitant because they don't want to be exposed to toxic chemicals. Resin jewelry is safe, so you don't have to worry about being exposed to any dangerous or harmful chemicals.
You should still practice good safety precautions when working with resin, especially if children are involved. One important thing to keep in mind while working on your resin projects is the toxicity of airborne dust particles. To help reduce the amount of dust that flies into the air during sanding, use wet/dry sandpaper instead of dry sanding papers. Also, use a face mask or, better yet, a respirator. If you opt for the respirator options, note that they are rarely included in the kits, but you can find some rather inexpensive masks designed for working with Epoxy Resin here on amazon.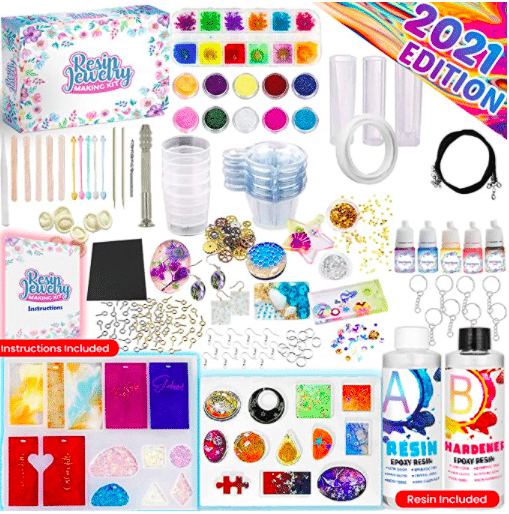 I have put this one on top of the list for those new to resin art. In other words, this kit is for beginners, and the user-friendly step-by-step instructions will definitely be of great help for you! So, don't limit your creativity and imagination, and enjoy crafting epoxy jewelry casting!
This kit features
1 set Epoxy Resin (1:1 mixing ratio)
5 x Color Pigments 6 x Glitter Sequins
6 x Fine Glitter 12 x Different Mini Dry Flowers (2 mixed types)
1 Bag x Wheel Gear (Mix Different Shape and Color) 5 x Resin Molds
20 x Earring Hooks 50 x Open Jump Rings
10 x Necklace Chain 20 x Eye Pins
10 x Keychain Rings 5 x Measuring Cups 5 x Mixing Cups
1 x Tweezer 5 x Mixing Spoons
5 x Wooden Sticks
2 x Wooden Poke Needle
8 x Finger Cots
1 x Pin Vise
1 x Sand Paper
Advantages of the

Insnug Epoxy Resin Molds Jewelry Making Kit
User-friendly step by step instructions
Made from the best quality materials
30 days money-back guarantee
Check the prices on Amazon: Insnug Epoxy Resin Molds Jewelry Making Kit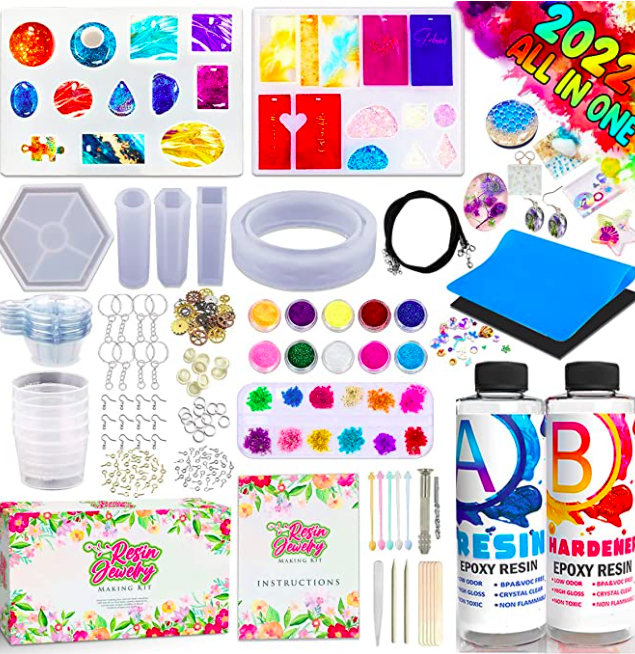 My second selection is by Goody King, a perfect resin jewelry crafting set for beginners. We call this one "All-in-one package" as you have everything you need for your project, from the resin and the hardener to dripping nozzles and wooden sticks and many more. There's no need to spend any time buying extra tools or materials! Not only is this bundle sold at a reasonable price, but it also covers all the basic resin jewelry supplies and a crystal-clear epoxy resin to get you started right away.
This kit features
1 x Epoxy Resin set (1:1 mixing ratio)
6 x Glitter Sequins
4 x Fine Glitter
1 x Resin Molds, 1 x Tweezer
12 x Different Mini Dry Flowers
1 Bag x Wheel Gear (Mix Different Shape and Color)
10 x Earring Hooks
15 x Open Rings
4 x Necklace Chain, 4 x Open jump Rings
3 x Measuring Cups
5 x Mixing Spoons
3 x Wooden Sticks
1 x Black Storage bag,1 x Gold foil flakes,1 x Pendant mold,1 x Sandpaper,1x Mylar flakes
Advantages of the

GoodyKing Resin Jewelry Making Starter Kit
All-in-one Kit
A perfect kit for all DIY handmade lovers or beginners who are just new to resin art with Step-by-step Instructions
Made of high-quality and non-toxic materials
30 days money-back guarantee
Check the prices on Amazon: GoodyKing Resin Jewelry Making Starter Kit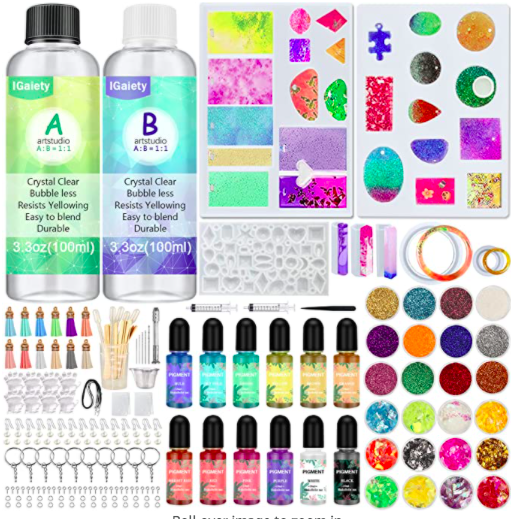 Our third and last selection is designed for beginners, kids, or experienced enthusiasts. This resin jewelry-making kit includes various items but what makes it unique compared to other kits is that you get different jewelry molds for rings, charms, and bracelets. These molds are high-quality silicone ones that are easy to clean and unmold. Another advantage of appropriating this resin kit is that it also includes disposable gloves and a plastic tablecloth to protect you from the process. That is the reason why it is ideal for crafter kids!
This kit features
*1 Plastic Tablecloth
*2 Necklace Cord
*5 Hand Drill
*1 Twist Bit
*5 Jump Ring
*30 Eye Pin
*30 Mixing Cup
*10 Resin Pigment
*12 Dropper
*5 Stir Bar
*10 Jewelry Mold
*3 Keychain
*10 Ring Mold
*1 Glitter
*12 Sequins
*12 Charm Mold
*3 Earring Hook
*30 Disposable Gloves
*8 Epoxy Resin AB
*2 Measuring Cup
*2 Plastic Tweezer
*1 Bracelet Mold
*1 Syringe
*2 Tassel
*12 Pearl
Advantages of the

Igaiet Resin Jewelry Making Kit 240 Pcs
A simple and easy to understand instruction manual
Fully equipped with all the basic materials and accessories needed for resin jewelry making
High-quality silicone material
Check the prices on Amazon: Igaiet Resin Jewelry Making Kit 240 Pcs