This shop has been compensated by Collective Bias, Inc. and its advertiser. All opinions are mine alone. #RitzFilledNotHangry #CollectiveBias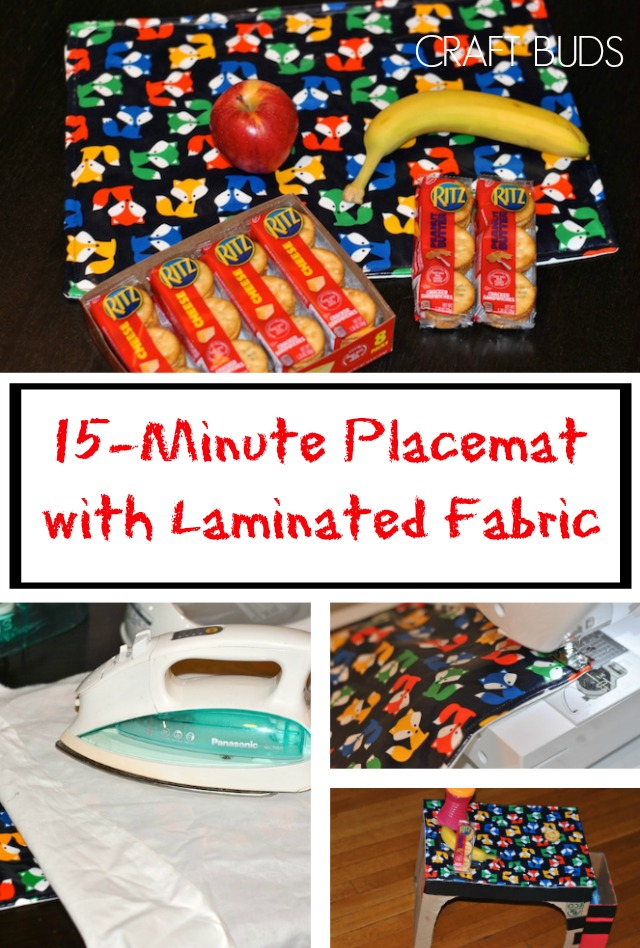 My toddler son is a picky eater. It's not something I'm proud of, but it's the truth! That's why when we are going out and about, I fill up my "mom bag" with tons of snack options for him. His go-to "meals" these days are peanut butter sandwich crackers, applesauce pouches, fruit snacks, and almonds. Thank goodness there is some protein in there, because meat is one of the toughest things to get him interested in!
I thought it would be cool to make him his own little placemat, so that whether we are at home just hanging out in the living room, he can have a cute place to enjoy his snacks (that's not our leather sofa).
I've had this laminated cotton fabric designed for a while now, and I'm so happy I found the perfect little project for it! To make one 13″ x 17″ placemat, you'll need: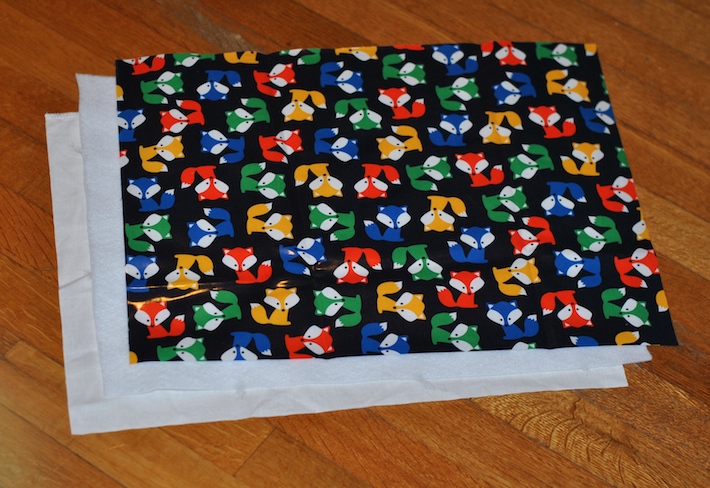 Materials:
– 14″ x 18″ piece of laminated cotton fabric
– 14″ x 18″piece of quilt batting
– 14″ x 18″ piece of backing fabric (I used inexpensive white muslin)
Instructions: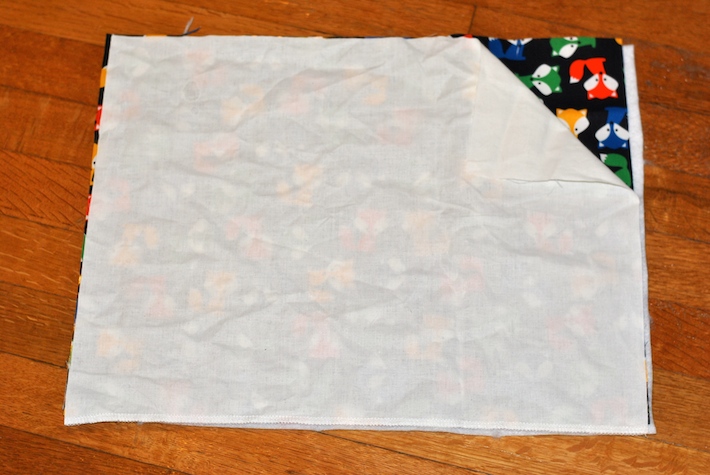 1. Layer your fabrics as follows: quilt batting on the bottom, laminated cotton fabric on top of that (facing right side UP), and backing fabric on top of that (facing right side down).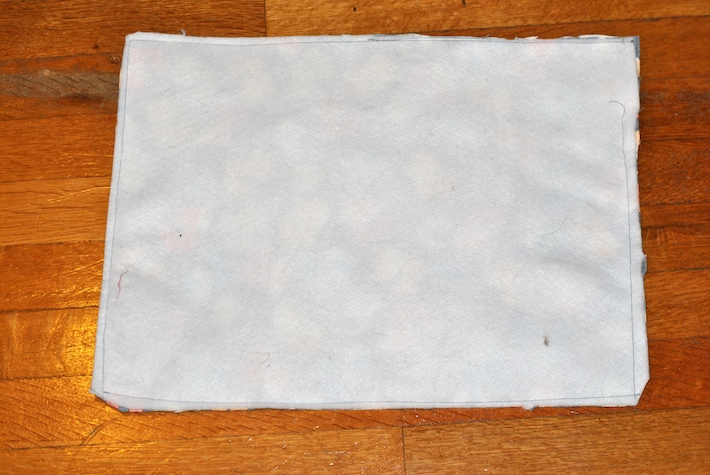 2. Sew around the perimeter of the stack of fabrics, about 1/2″ from the edge. Leave a 3″ section open on one short side for turning. Trim the seam allowance to 1/4″. Use your scissors to trim the corners at an angle, which will make it easier to poke out the corners in the next step.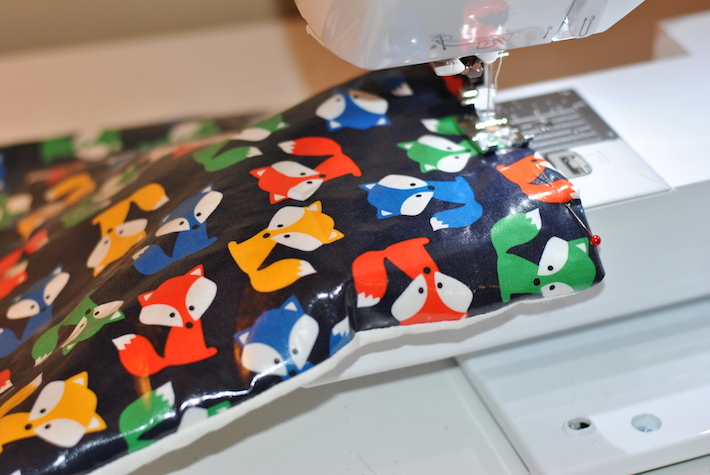 3. Turn the placemat right side out, using a pencil or a chopstick to poke out the corners. Take the placemat to your sewing machine and pin the 3″ opening closed. Sew where you've pinned about 1/8″ from the edge to close the hole.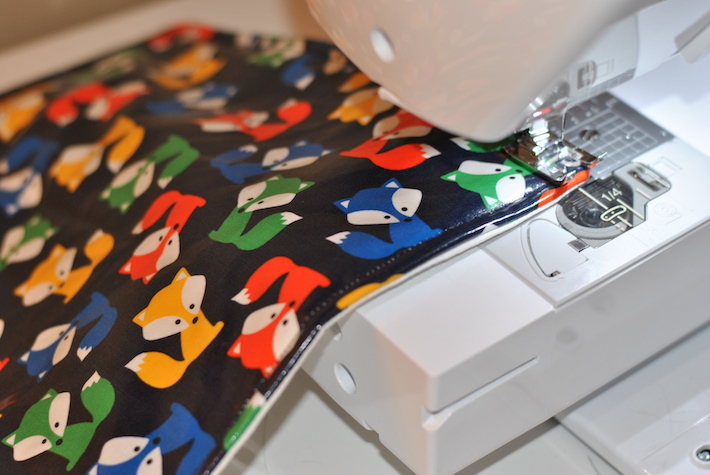 4. Next, topstitch 1/4″ from the edge around the perimeter of your placemat. If the laminated fabric sticks under your sewing machine foot, you can place a piece of masking tape on the underside of your sewing foot to keep it moving smoothly.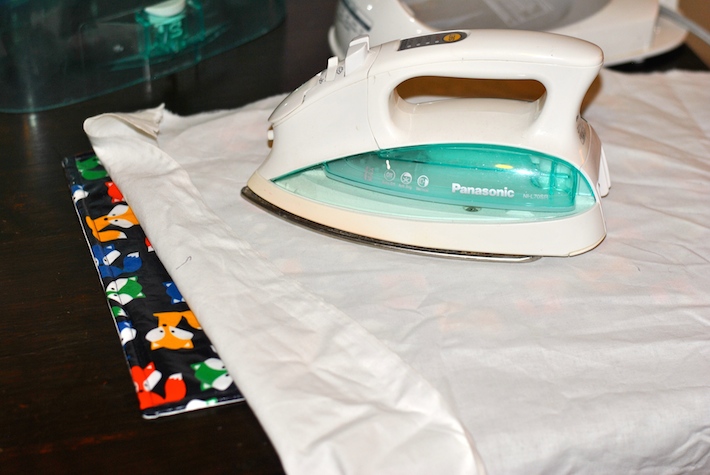 5. When sewing with laminated cotton fabric, it's still okay to iron it, but always use a pressing cloth (another piece of fabric) so it doesn't melt under your iron!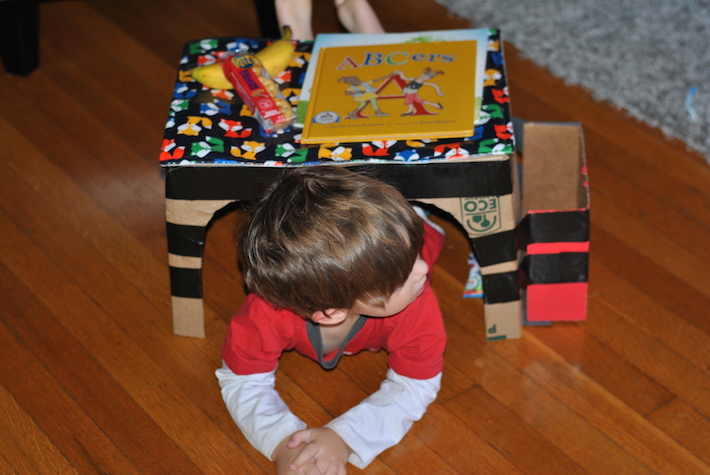 6. Inspired by Pinterest, I also made my son a little tray to use with it out of a cardboard box. To make this part, just cut the flaps off of a box, and then cut "tunnels" in the two wider sides. I also taped a smaller box to the side, to make a storage container for toys or other snacks. The placemat fits perfectly on top!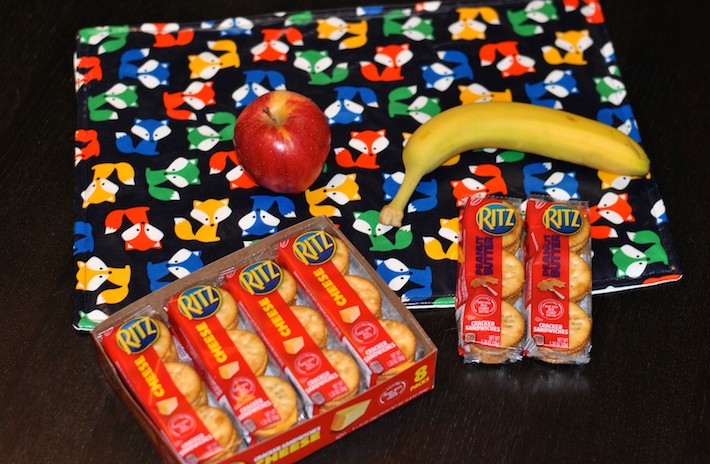 Ta da! This placemat is the perfect size for a toddler to enjoy their favorite snacks. We love RITZ Peanut Butter Filled Sandwich Crackers and the cheese ones come in a close second.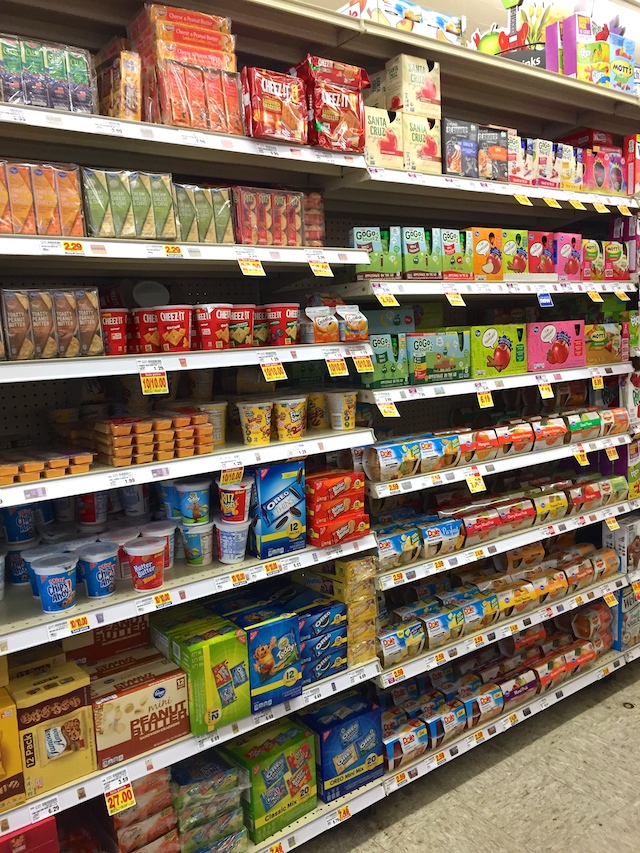 My nearest Kroger store is one of my favorites to visit, because it has everything I need, but it's also not huge, so I can get in and out quickly. When my son gets kind of hungry… I mean "hangry"… he's far from my favorite shopping companion. But I do keep lots of snacks in my mom bag, and a pack of these crackers always put him in a better mood. I'm so glad that RITZ Filled Sandwich Crackers are now available at Kroger stores! I usually find them in the lunchbox section, nearby the applesauce pouches my son also loves.
I hope you have fun making this placemat, and good luck keeping your kids from getting too "hangry"!