Do you own a piece of necklace made of gold, but for some reason, you've been feeling the need to test if it's real gold? This can be a dilemma if you have no idea where to start.
To tell if a gold necklace is genuine, you may use some simple methods at home or take the chain to a jeweler's shop. Home methods may not be accurate for obvious reasons like your lack of experience compared to taking the necklace to a professional.
To avoid embarrassment over a fake gold necklace, we've listed a few ways to tell if it's real or fake. Read through to understand more.  
How to Tell if a Necklace Is Real Gold at Home?
The fact that gold is a valuable metal in different styles and colors means you should be sure it's the real deal you're paying for. Knowing how to test real gold at home is one way to ensure you're sure.
There are probabilities that your gold chain is only gold-plated, gold-filled, or gold-dipped, which is different from real gold. One of the big reasons that should raise your curiosity is if your gold necklace is missing the mark that tells the purity level.
Purity level is measured in karats, which are 10k, 14k, 18k, 22k, and 24k. You can test real gold. Some necklaces aren't only gold; they include other metals that make them more durable. Gold on its own can be more susceptible to damage.
Related: How to know if a chakra bracelet is real?
What Are the Methods Used to Tell a Necklace Is a Real Gold
Here is a list of ways you can use at home to tell if your necklace is real gold:
Using Vinegar
This safe method can't harm your necklace if it's pure. White vinegar is best for this method. If your chain is real, when dipped in vinegar, it only shines brighter. Fake gold will change color. You could also use a dropper to drop a little vinegar on the necklace and see how it reacts.
Using Makeup
Use liquid foundation. You place a certain amount on your hand and rub until it's dry. If the foundation turns black after you rub your necklace on it, it means it's real, but if there is no change, it means it's a fake.
Using Magnet Test
First, it's important to note that not all metals are attracted to magnets. Gold is not attracted to magnets, which is why this method of testing for gold is valuable. If you suspect something might be gold, but you're not sure, you can use a magnet to test it. If the item is not attracted to the magnet, there's a good chance it's real gold. Keep in mind, however, that some counterfeiters may also know this and create fake gold that is not attracted to magnets. So, if you're not sure, it's always best to have your gold checked by a professional.
Using Skin Test
You will need to hold your gold necklace between your hands. If there is no change in the color of your hands after some time, it means your gold is real, but if the color turns green, the gold necklace is not genuine.
Using Float Test
Gold is a heavy metal that should sink rather than float when dipped in water.
Checking For Hallmarks
Most gold metals have some mark inside. If your necklace doesn't have such hallmarks, it's possible not to be authentic.
Use the Smell Test
It's one of the easiest methods that only require your palms and gold. Rub your gold necklace between your sweaty palms. If you smell coins, you're most likely dealing with fake gold.
Use the Ceramic Test
This method involves an unglazed piece of ceramic. Drag your gold necklace on the surface. If the chain leaves a gold streak, it means it's gold, but if it leaves a dark streak, it means it's fake.  
Related: How to Measure Necklace Length correctly?
How to Tell if Gold Necklace Is Real With Vinegar
As mentioned above, you can use vinegar other than cooking to test if a gold necklace is genuine. Besides white vinegar, apple cider vinegar is also usable, as any other vinegar type except for those with low acidity.
Vinegar is very safe with real gold necklaces as they're resilient to acid. In most cases, vinegar is also used to clean gold metals, which leaves a shiny look on them.
Steps Taken When Testing for a Real Gold Necklace
Apply vinegar

. Using an eyedropper, fill it with white vinegar. The dropper helps you control the amount you're pouring. White vinegar is transparent, which is best to show any slight change. An eyedropper is excellent for a small gold necklace, but if you have a large piece, you can use a measuring cup to pour vinegar.

Clean your gold necklace with a cloth.

Cleaning is for removing any dirt or debris present. It ensures your results are not affected by other materials on the necklace. You can also use a dry or wet paper towel to wash your chain gently. Be gentle when cleaning since gold is a soft metal; it can quickly get indents or marks.

Put the vinegar on your gold necklace.

Set your chain on a bowl, so excess vinegar doesn't run off. You will need to use only drops of vinegar. They then stay in contact with the gold for a few minutes. Note that you don't have to soak your necklace in vinegar; a few drops are enough.

Leave the vinegar to sit for around 15 minutes.

The acid present in vinegar takes a few minutes to react with your gold necklace. Leave it for up to 15 minutes to ensure enough time for the reaction.

Observe to see the color change.

If your gold starts to fizzle, smoke, or turn black or green, it's probably not genuine. If the necklace doesn't do the mentioned, it's most likely real. Even if vinegar acid is strong enough to break many chemicals, it's not strong enough to break down gold.

Clean your gold necklace.

Run the chain through tap water for some minutes to ensure you remove all the vinegar. This way, your necklace is not left smelling of vinegar.

Dry with a clean cloth

. After a good rinse, gently wipe it dry. Use a soft cloth to ensure you don't mark your necklace. Doing this keeps your chain from tarnishing.  
How to Check if Gold Is Real With a Lighter
Burning gold is one of the easiest ways to check if it's real. Real gold will burn brighter as the flame burns, but a fake will catch fire and emit smoke.
Goldsmiths take advantage of molding gold when it's hot. Other metals change color on exposure to a flame by getting darker. That's why if your necklace is only gold-plated, it's likely to melt and expose the underneath metal.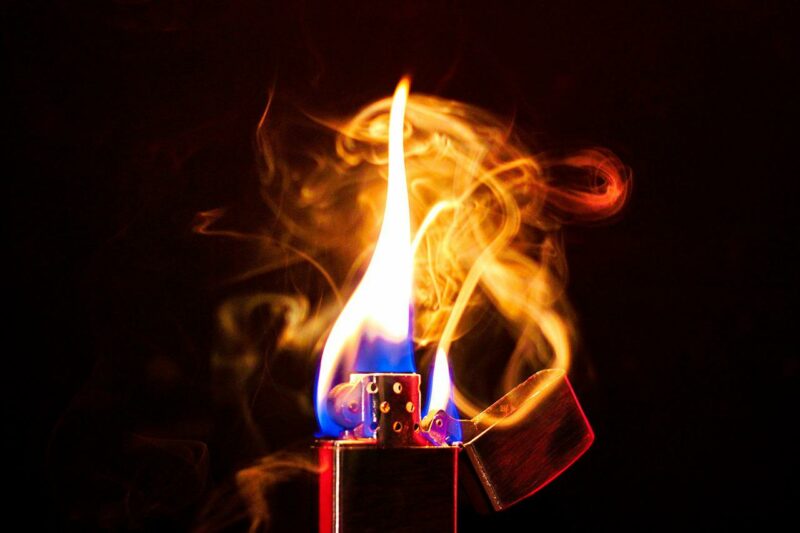 Tips When Using a Lighter
Instead of a regular lighter, use a butane lighter. For this test, you need a lighter you can control easily, which is impossible with a standard lighter.

Heat at least 60 seconds. You need enough time for heat to affect the gold metal. A larger piece needs even more time.

Handle the gold necklace with a non-inflammable. Since the gold will get hot, ensure you're holding it with, for example, a pair of pliers.
Steps to Follow
Ensure you have a constant stable lighter that's well-fuelled. The fuel should be fluid only, not any other type.

Use pliers to hold in the flame.

Pliers will cover

the ends minimizing damage to the necklace. 

Hold the necklace to the flame for one minute and note the changes. If its color darkens means it's not real. If the color remains or shines yellow bright, then it's real.
Related: 5 Hemp Necklace Patterns: All Latest Designs
How Do You Avoid Buying Fake Gold?
Purchasing a fake gold item is very common, especially with gold plating. Someone may take advantage of how expensive gold is and find their way to cheat you into buying fake gold. Here are a few tips you can use to avoid fake gold:
Demand to see a certificate of authenticity from a shop. Before buying a gold item, ensure you get a clear description of the item with its carat, color, weight, etc. A receipt or an appraisal document is also good.

Check the makers online. Every goldsmith company has its mark, which you can look for in jewelry.

Note the present market value. The

prices of gold

fluctuate a lot, so before buying or selling, make sure to check the current prices.

Get a specific gold item appraisal. Request a gold jeweler to appraise your gold if you're unsure.  
Related: How To Clean A Silver Necklace? 5 Trusted Diy Methods
Final Thoughts
Getting a gold necklace that is genuine not only makes you feel the worth of your money but also raises your social standards. A genuine gold necklace will give you the confidence you require.
If you're unsure about your gold, you can always visit a jeweler for an appraisal. An appraisal is any professional assessment to get your jewelry's worth. Get a check for your gold necklace from your nearest trusted shop today.