Welcome to our second Experts Q&A of Craft Book Month! Kristy Zacharias is the Art Director for C&T Publishing and the company's modern sewing and quilting imprint, Stash Books. We are so happy to have Kristy here to chat with us about her part in the book creation process! Don't miss out on the excellent book giveaway at the end of this post.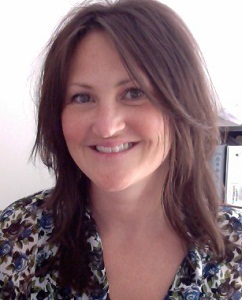 Related: Best Paint By Sticker Books – 6 Books To Unleash Your Creativity Now
Kristy, can you tell me a little bit about how you entered the craft publishing business and when you started in your current role as Art Director for C&T?
In 2001, I was an art/design student just out of school that needed a job, and I came across an ad for a Production Assistant at a family-owned publisher. I didn't know anything about quilting or sewing, but I loved the idea of making books. I interviewed with Amy Marson, who was the Director of Production at the time, and thankfully she gave me the job.
Right away, I fell in love with the process of making a book. The planning, the vision, the possibilities, the teamwork…all of it. I could not have asked for a more exciting just-out-of-school job. And even better than that, an extraordinary group of women introduced me to sewing and quiltmaking. I was hooked.
I worked as a Production Assistant for a few years and then moved on to the Designer role. As our book list grew and we started producing more ancillary products, the Creative Department needed a core team of managers to keep our processes running smoothly, so I took on the Design Manager role where I represented the in-house and freelance designers. A few years after the Stash Books imprint was developed and our list grew, even more, our book production, photography, and marketing efforts all started to evolve. We identified a need for someone to represent the distinct C&T and Stash Books brands amongst all of the departments and efforts, so I stepped into the Art Director role earlier this year.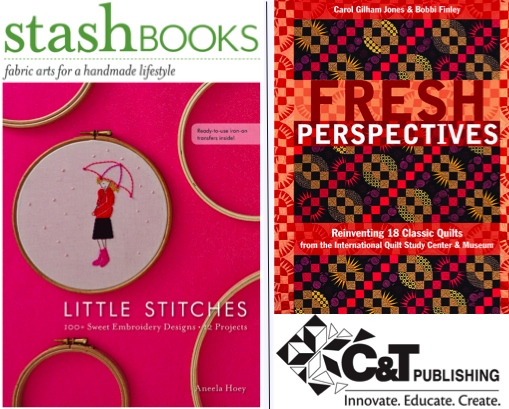 What a great job to land right out of college! So, what does a typical work day look like for you?
Typical day…well, I don't really have a typical day! Sometimes I really wish I did, but in the end I think that it's the ever-changing aspect of my job that keeps me excited about what I do. Having said that, I suppose each day is sprinkled with similar kinds of tasks. My day might involve some project planning with book teams, some brainstorming with the Creative team managers, reviewing and approving book and cover photography, maybe sending an author a finished set of sample pages, spending an hour or two working on book or cover design, chatting with the Marketing Manager about the upcoming catalog, sneaking in a moment at the sewing machine to work on my office quilting bee block, and cleaning out my inbox (ha!). However, some days I am on location at a photo shoot and other days I might be at my desk working on a book design for 9 straight hours. No matter my schedule, each day requires a lot of flexible, creative thinking.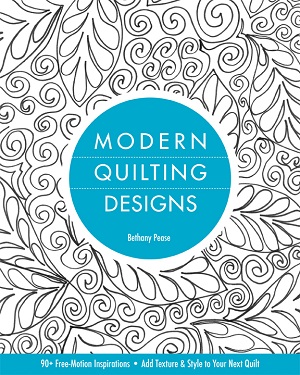 That sounds like a lot of variety. About how long does it take for a book to go from the author's manuscript to a finished product, and what does your role look like in that process?
Eleven months go by from the time the package (manuscript, sample illustrations and photos) arrives from the author to when the printed book arrives at our warehouse. My involvement in the process varies from book to book. Sometimes the direction for the book is clear at the start and the team has a focus and can forge ahead without a ton of input from me. On these types of projects I will be involved in reviewing the cover and sample page design with the book designer.
Other projects might not be as straightforward and I work closely with the developmental editor on creating the book map in order to determine the structure and flow of the book. This type of project almost always includes styled photography so I will develop a mood board and work with the author, book designer, and photographers on planning the shot list for the book. If I happen to be the book designer, I will design the cover and the interior pages. This kind of project will be on my schedule for about 6 months.
It's hard to say how many books are on my schedule at a time, but if I have to estimate, I'd say that I have my hand in about 20 books at a time throughout the year.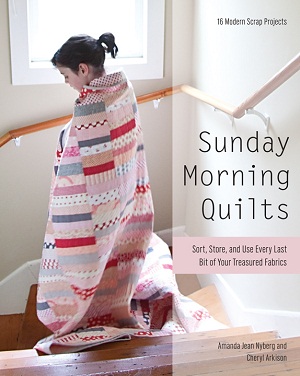 What are some ways that you work with authors to help turn their creative vision into a finished book?
We understand that these books are our author's babies! It is important to us that the author feels like the book accurately represents who they are as authors, teachers, quilters and artists. We also have a responsibility to readers to present an inspirational book that is easy to use and that gives them success in their quilting/sewing/crafting project. To achieve these critical goals, the book designer works with the author using various memos throughout the project phases. We offer a chance for the authors to give us input early in the photography and book design stage so that we are on the same page regarding styling.
We ask questions about the author's style, for example, do they lean more towards "vintage†or "retro there is a big difference style-wise! The question I learn the most from is when we ask what they DON'T want to see. Knowing that gives us a boundary and some parameters to work with. The book designer has the task of marrying the ideals of the author with the direction given by the book team. Ultimately, the author and the team are happy if the design decisions are suitable for the book.
Our cover designs involve a broader group of people. Members of the executive team and sales and marketing review the covers. However, while the author and cover team ultimately have the final say on the cover design, we have an unofficial group of reviewers that offer feedback. To get a good glimpse of the most current titles, we post 2 seasons worth of covers in our main conference room. This is also the room where a group of us each have our lunch daily. It's always a little nerve-wracking for one of the cover designers to sit in there for lunch on the day new covers are posted because the conversation will inevitably turn to the new cover designs.
It's nerve-wracking but fantastic because WE are our audience. C&T is made up of sewers and quilters, and we're publishing books that we stand behind and get excited about. So we not only look at the books as work, but we also are able to look at the books as consumers. If someone in the lunch room says that they, as a quilter, aren't feeling the cover design, that feedback is taken seriously and will be considered a way to improve the cover.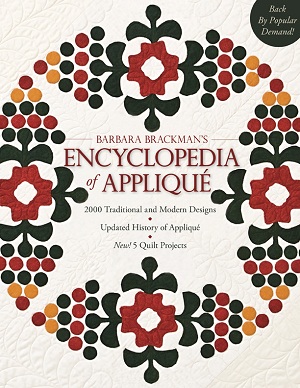 What do you appreciate most about your job and/or working in the craft publishing industry? Can you tell us the most challenging part of your job?
Wow, this seems like it should be easy to answer, turns out that this is a big question! As a person that is always making something: a drawing, composing a photograph, sculpting a shape out of twisty ties, sewing up a tooth fairy pillow for my 5-year-old. Whatever it is, the act of taking an idea and turning it into an object has always been compelling to me. To be able to come to "work†and make books that are sold in such a creative industry is beyond inspiring for a few reasons:
1) Our books and products make people happy and get people excited about making something. Our books allow people to slow down and take some creative time for themselves. Our books give people a chance to think up new ideas and at the same time, reflect on past traditions that can sometimes bring them closer to their families.
2) I work in a super-innovative industry at a super-innovative company. Media is changing and the way our audience consumes information is changing. It's exciting and challenging and at times intimidating to come to work knowing that I work for a company that embraces change and makes a point to be in front of the change instead of following behind it. I know that every day I come to work that there will be some brainstorming around how we can improve a process, how we can deliver information more effectively to our audience, how we can work more efficiently as a team.
3) I get to make books! At the end of the day I have something that I can hold in my hands and say, "A group of really dedicated people and I made this." I'm proud of that.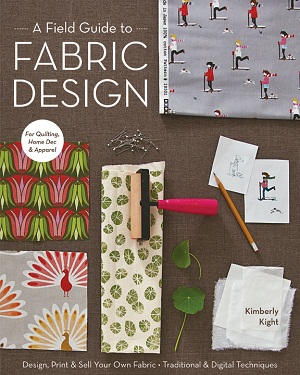 Giveaway!
C&T Publishing/Stash Books is giving away a copy of the new book Beginner's Guide to Free-Motion Quilting by Natalia Bonner!
Enter to win by leaving a comment on this post, telling us something you've learned from this Q&A with Kristy.
Giveaway now closed. Out of 227, comments, congrats to random winner #139, Heidi!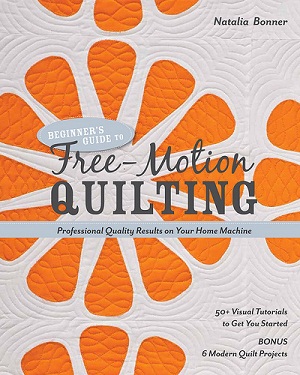 We'll pick a random winner in one week.
Also, if you are hopping with us this week, check out the craft book projects below. On Friday, we'll post our blog hop "week in review" and tell you how you can win an amazing fabric bundle from FreeSpirit just for hopping along!
Tuesday 9/4: Olive & Ollie / Sew Sweetness
Wednesday 9/5: Fabric Seeds / The Busy Bean