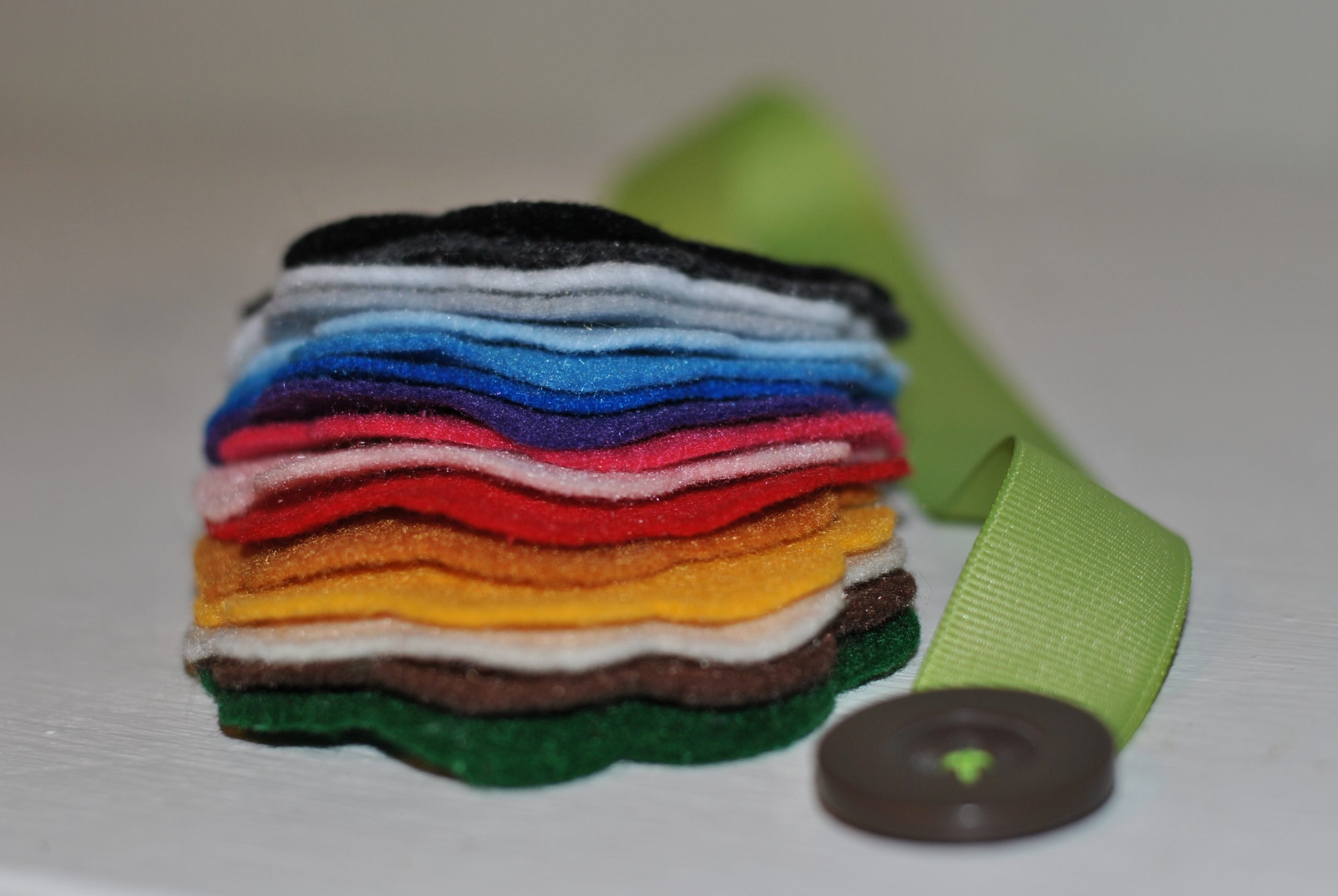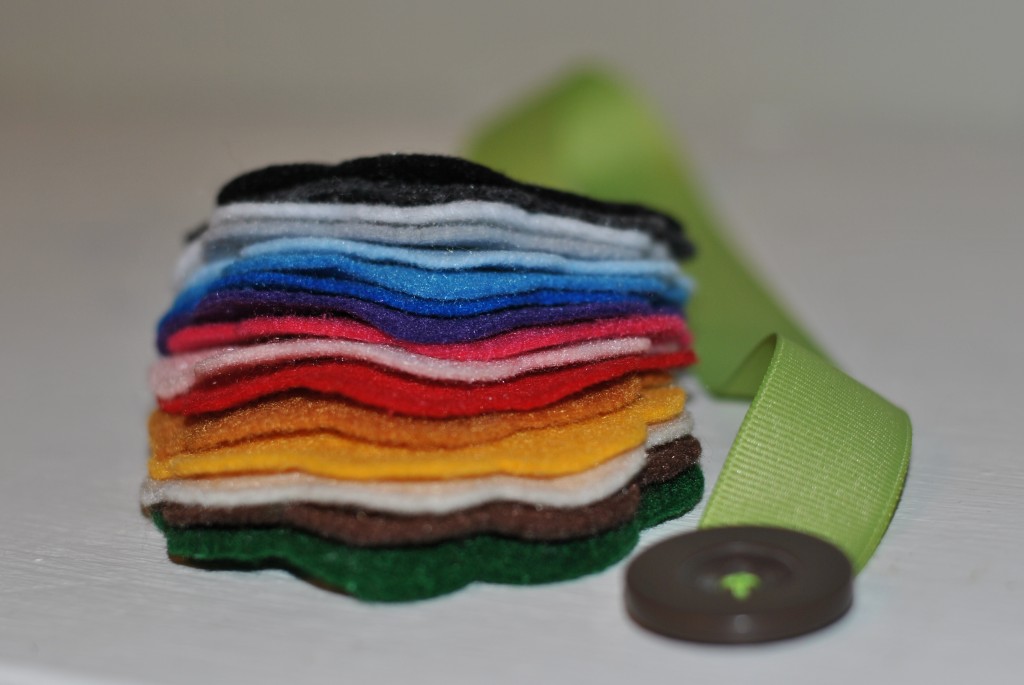 This is a quick tutorial for a "button snake" toy to help kits with their buttoning skills. In case the word "snake" sets fear in the heart of your child or yourself, try calling it a button caterpillar!
For supplies, you'll need felt scraps in a variety of colors, two buttons (1-inch and 1.5-inch across), about 18 inches of grosgrain or thick ribbon, scissors, a needle and thread. I used a die cutter to cut the felt flower shapes and some nail polish to secure the buttons and thread. I also created this project entirely with supplies from my stash, so it can be very inexpensive.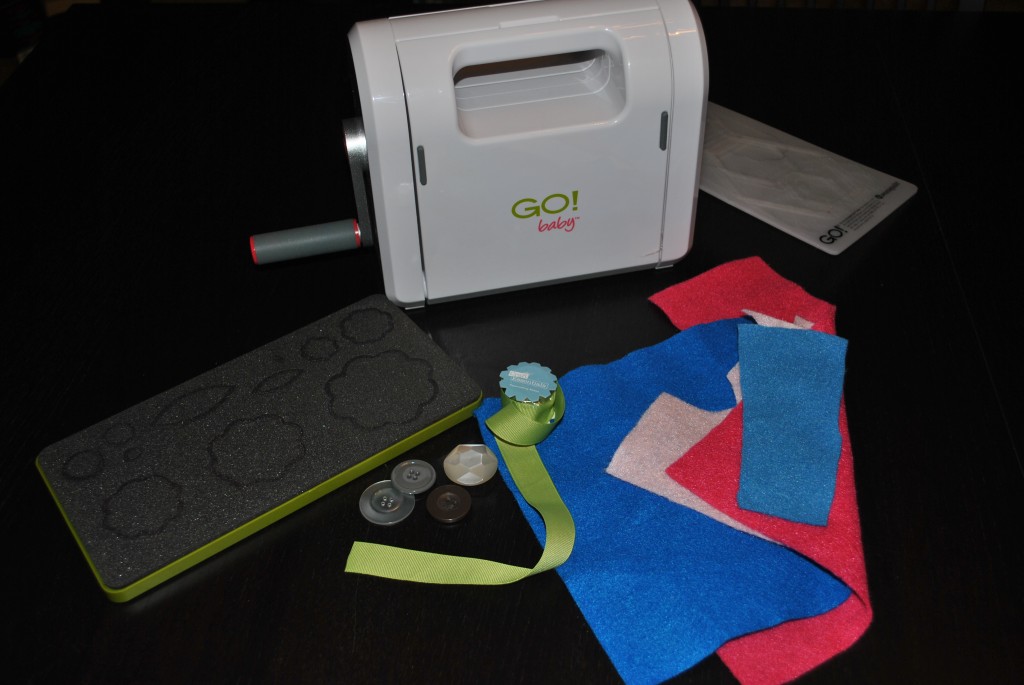 First, cut out several squares of felt in a rainbow of colors. I used 16 colors, but you can adapt this pattern to use whatever you have on hand. Use scissors and a circular template (like a drinking glass) to trace and cut circles out of felt. Instead of cutting circles, I used my Accuquilt GO! Baby and the Rose of Sharon die to cut out the largest size of felt flowers, which are about 3-inches in diameter.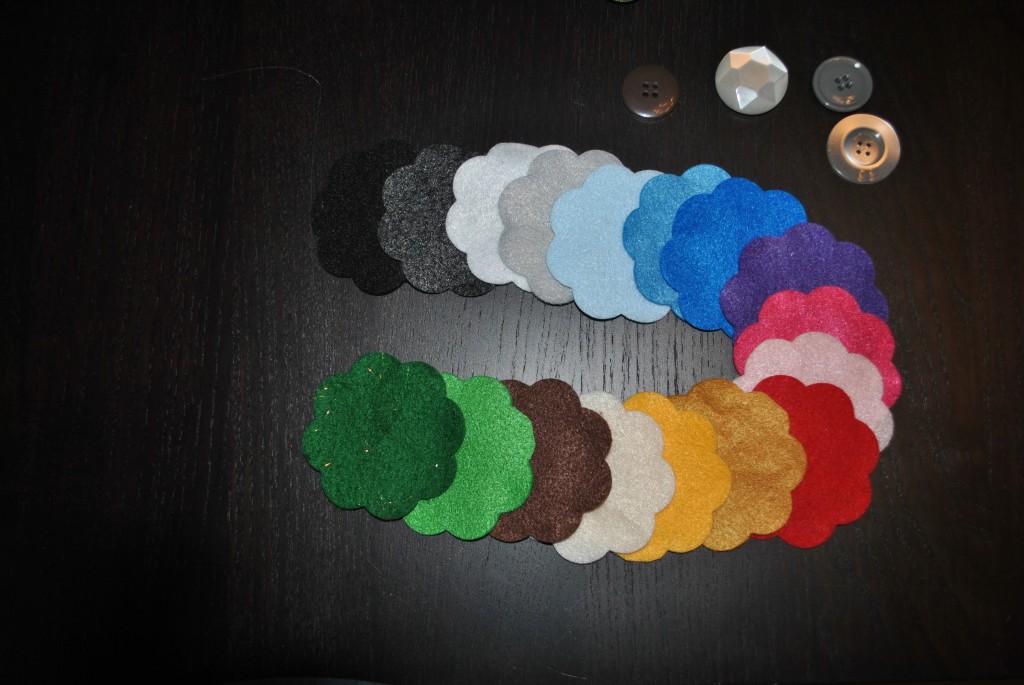 Use your scissors to cut a slit in the middle of each felt shape, large enough for the smaller button to go through easily (but not the larger button). I cut my slits about one inch wide.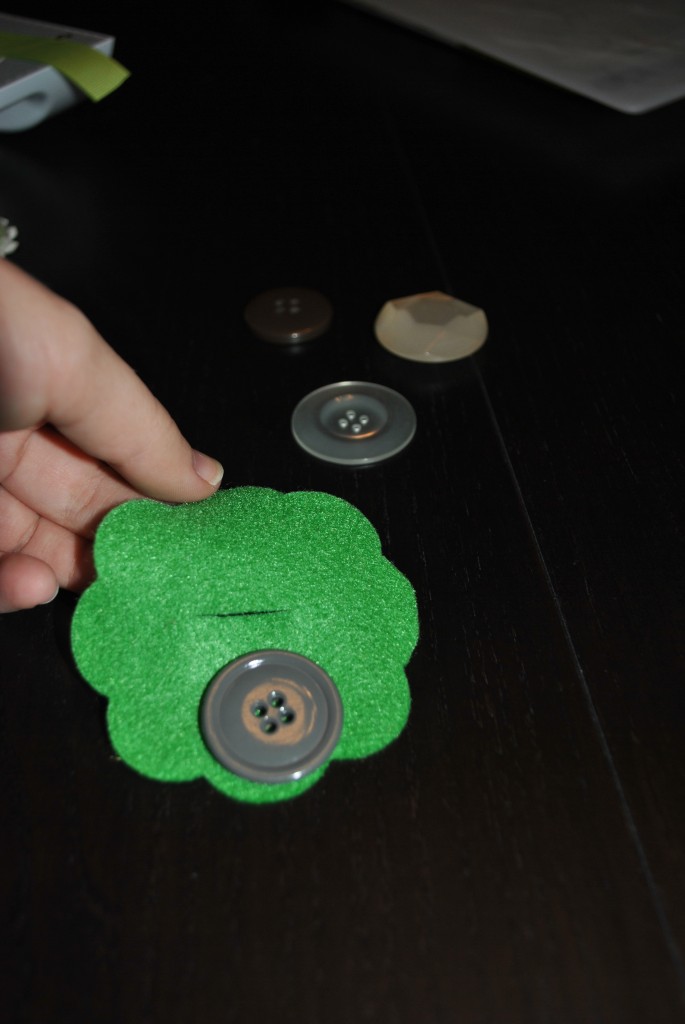 Next, hand sew the smaller button onto the top side of your ribbon end, repeating on the other end with the larger button. Secure button several times with your needle and thread, so the buttons don't pop off with frequent use.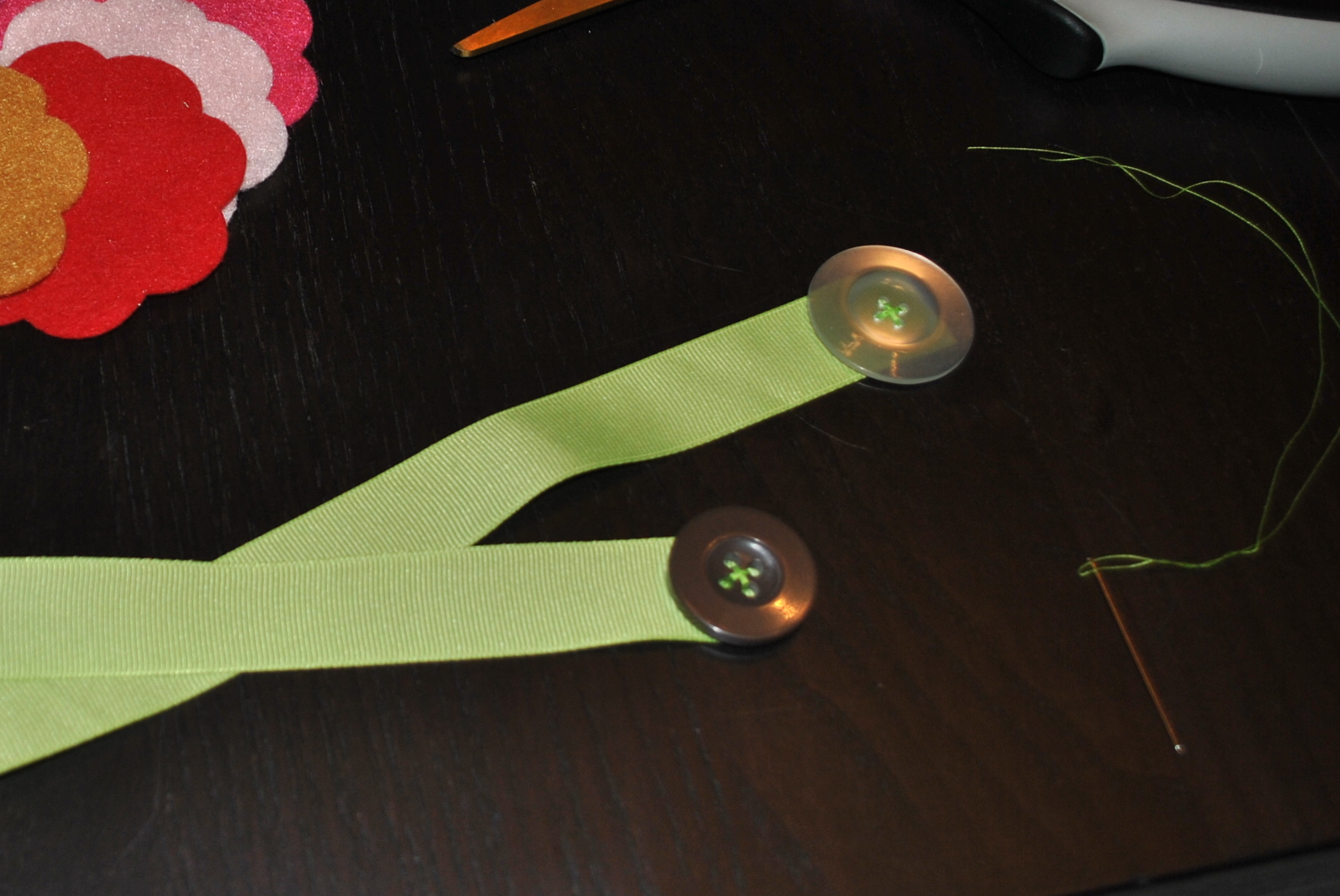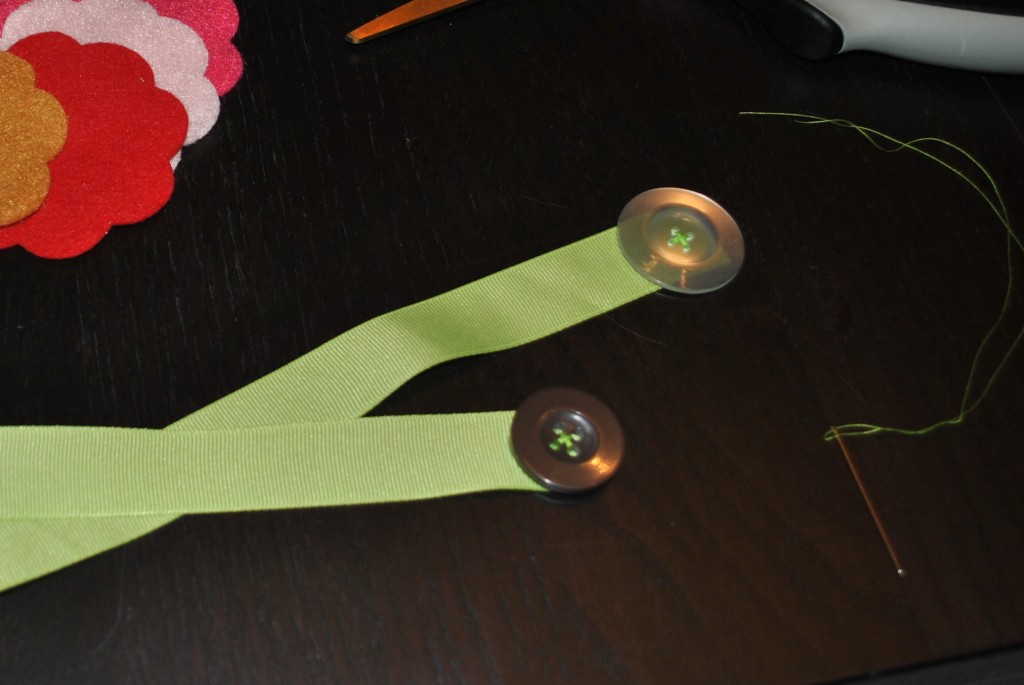 I used a bit of nail polish (you can use clear if you've got it) to paint the thread to the back of each button as an extra measure of security. Make sure to keep a close eye on your kids when using this toy, so they don't put anything harmful in their mouths.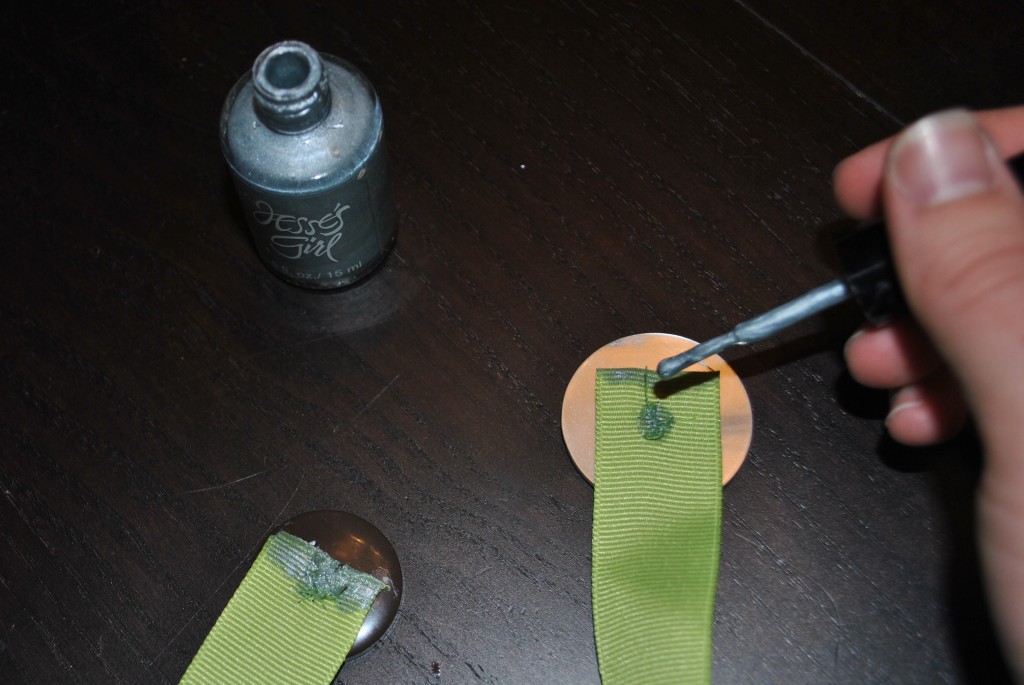 Note: If you are worried about buttons being unsafe for your children, you can leave off the buttons entirely and just sew a circle of felt perpendicular the bottom of the ribbon (example here) to use as a stopper for all of the other felt shapes.
Once the buttons are secure, use the smaller button to guide each flower onto the ribbon. The larger button will act as your stopper. Young kids can be engaged for hours with this simple toy, as they practice putting on and taking off the felt flowers.
It's also small enough to stash with you in your toddler's "busy bag" to take in the car, the waiting room or anywhere they need to be entertained!
Dahlia and the Button Snake (Thanks Suzy!)
If you make this or any of our tutorials, we'd love to see them! Just comment with the link or add the photos to the Craft Buds Flickr group.