I'm excited to announce the release of my newest PDF sewing pattern, the Holly Jolly Stocking!
Looking for a Christmas stocking pattern that's fat-quarter friendly and easy for beginners? This step-by-step Christmas stocking sewing pattern will guide you through making a simple lined holiday stocking with a cuff and hanging loop. If you choose to quilt the main stocking to batting, you can get a nice weight and texture. Otherwise, feel free to skip this step for a more simple stocking that's quick to sew!
I used Tinsel Fabric (Cotton + Steel) to make these festive new stockings for my family.
Learn how to sew a stocking (or two! or five!) for your holiday mantel with my new Holly Jolly Stocking pattern!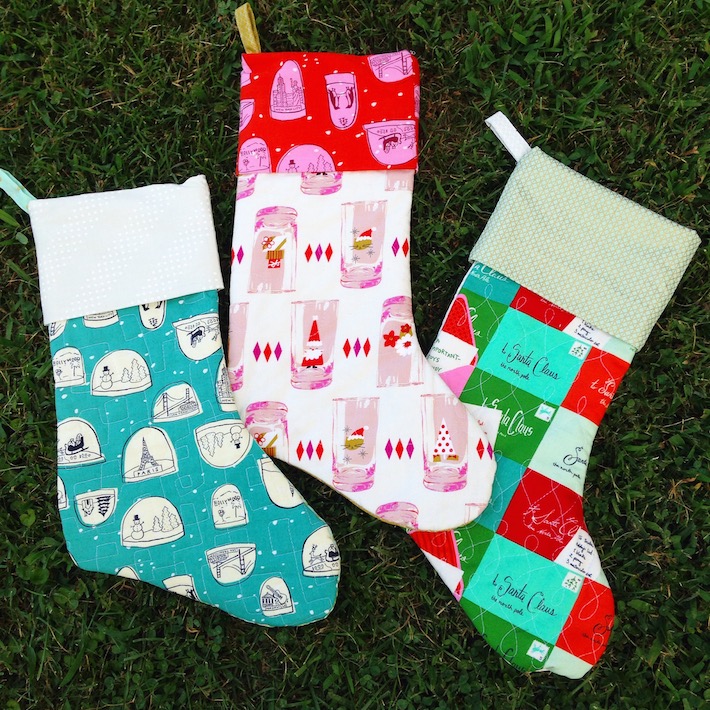 Materials (for each stocking):
Note: To make a stocking with a matching front and back, you'll need 1/2 yard of that print (you'll have some fabric left over). To have two different prints on front and back, you may substitute 2 different fat quarters. – 1/2 yard stocking exterior fabric (or 2 fat quarters for different prints on front and back) and loop – 1/2 yard lining fabric – 1 fat quarter (18" x 22") for cuff Quilted version: – 13" x 18" batting or large scraps Non-quilted version: – Recommended: 13" x 18" lightweight stabilizer for stocking front and back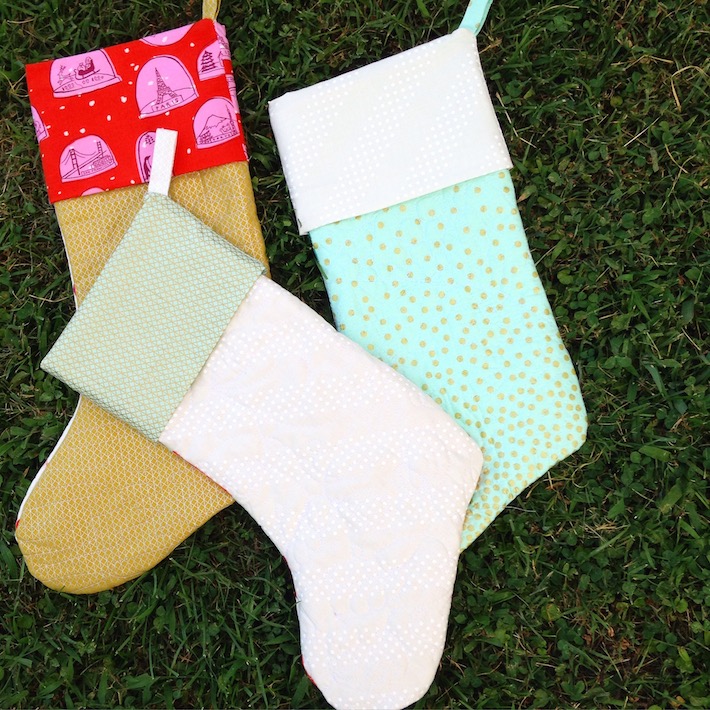 Use a different print on each side of the stocking so you can show off even more of your favorite fabrics!
My pattern testers made some really creative versions of the Holly Jolly Stocking! Here's what they had to say: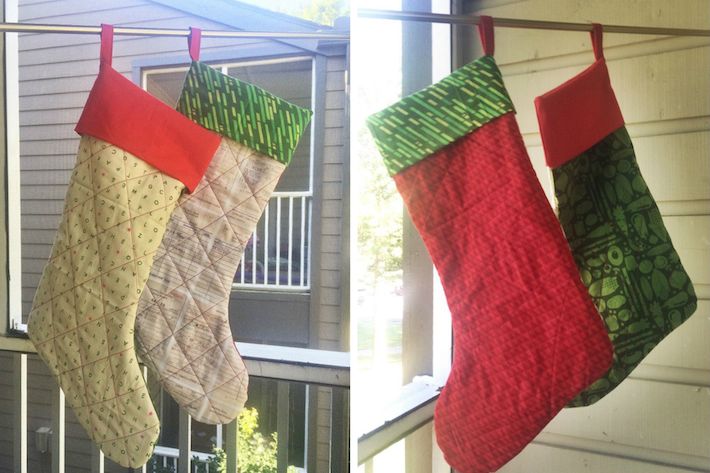 Katie D. made a lovely pair of quilted Christmas stockings…Just flip them on the mantel for a totally different and fun look! She says, "Stockings have been on my To-Do list for years! I made two quilted stockings and used low-volume prints on the front and red or green backs with contrasting cuffs. The instructions were very clear and the final size is great."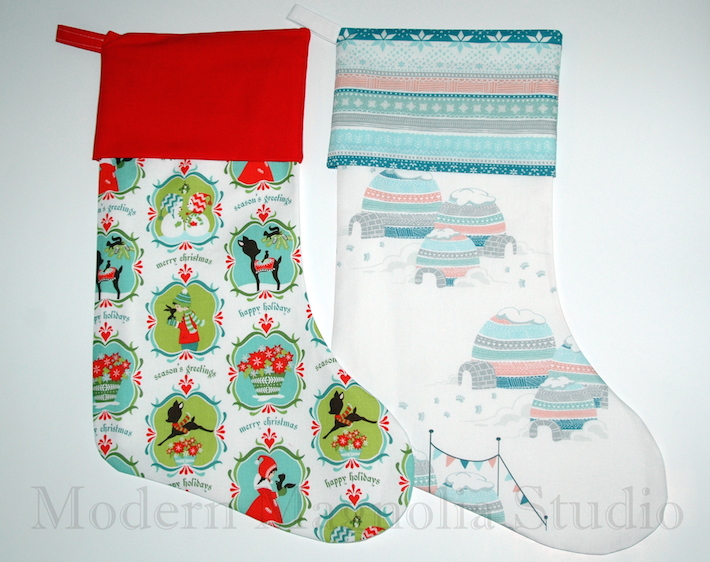 Hannah of Modern Magnolia Studio sewed up these adorable stockings in holiday and wintery fabrics. Aren't they just lovely? "I LOVE this pattern!" she said. "My mom is already requesting I upgrade all her stockings now, and I plan to make more stockings closer to the holidays."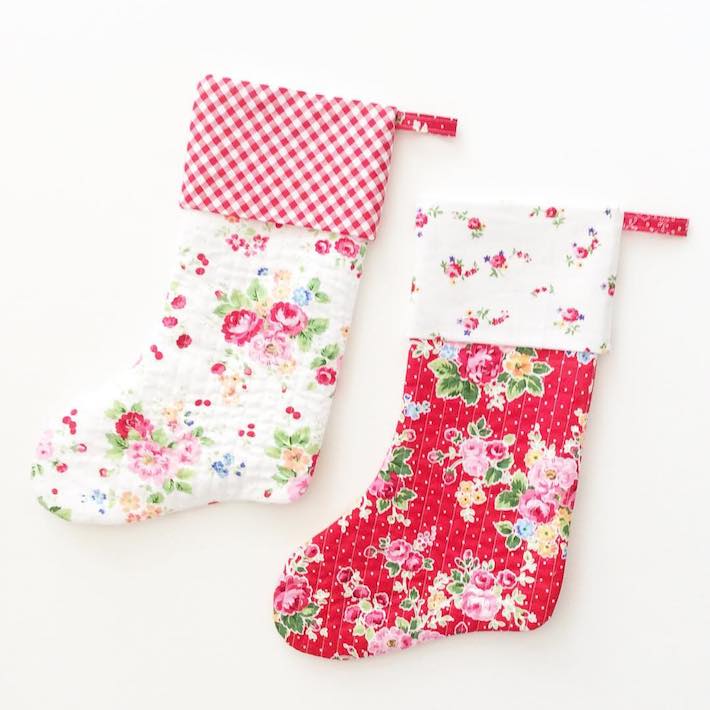 Clara of Clover and Violet made these adorable quilted Holly Jolly Stockings in Pam Kitty Morning fabric! If you don't want to use holiday fabrics, take this inspiration for a fun twist on tradition. "It's super cute and fun to make! I think it is a great pattern," Clara says.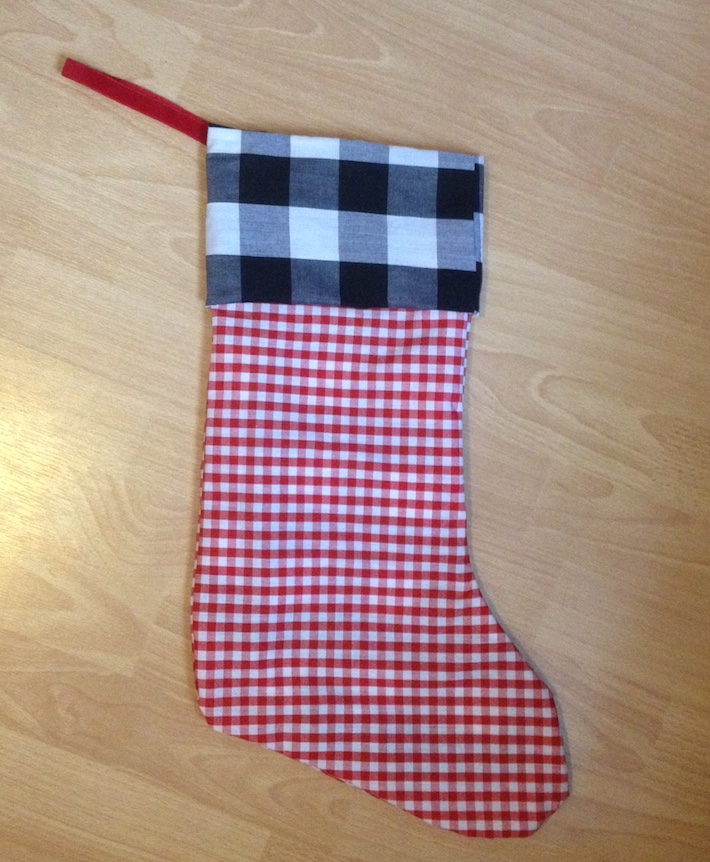 Kaela made this awesome gingham stocking with a wide plaid cuff. I love the slight twist on traditional Christmas colors. "The pattern was so easy to read and follow along!," she says. "Thank you so much! I'm so excited to make my family of 5 stockings!"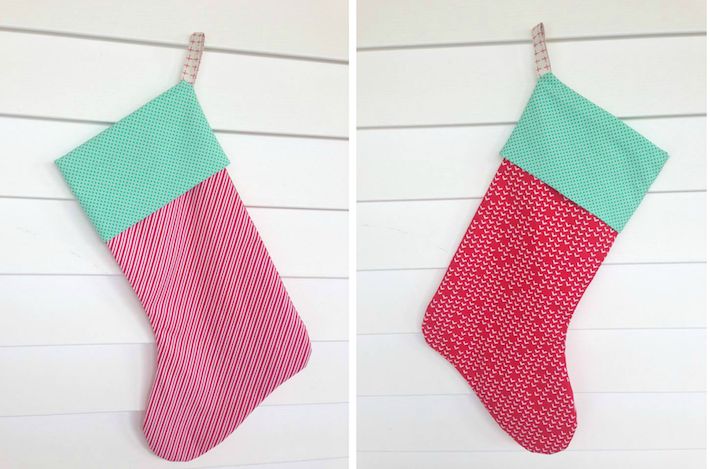 Isn't this Christmas stocking by Jody adorable? This is a view of the front and back, showing the slightly different red prints that beautifully blend with the dark minty green cuff. Jody says, "I was pleasantly surprised to see how large the stocking is was when putting the pattern together. We love stocking gifts so a bigger stocking is great! I am so excited to make 3 more for our house and then 12 more for my mom's house because she liked it, too."
Want to get the Holly Jolly Stocking pattern and get an early start on your Christmas sewing? It's available now in my Etsy pattern shop!