Wig-making is a craft that requires a lot of skill and precision, and choosing a suitable sewing machine is an essential part of the process. With so many options available on the market, it can be overwhelming to know where to start.
In this article, we will guide you through the process of choosing the right wig sewing machine by discussing the key features to look for, the different types of machines available, and the pros and cons of each option.
Whether you're a beginner or an experienced wig maker, this article will provide the information you need to make an informed decision and select a machine that will help you create beautiful and professional-looking wigs.
Remember that a wig-making machine should come with specialized attachments, such as a zigzag foot, a roller foot, or a Teflon foot, that make it easier to work with delicate and thin materials. These attachments can also be purchased separately.
Features To Look For While Buying Sewing Machines For Wigs 
A good wig sewing machine should let you work on long and short wigs. Plus, it's always advantageous if the machine is lightweight, portable, and easy to handle. 
Here are some main features to consider while buying the perfect sewing machine for wigs. 
Large Working Area 
You'll undoubtedly use your wig sewing machine to make short, long, and thick wigs; therefore, a large working area is a must. A broad working area ensures effortless sewing of the wigs with ultimate precision.
Stitching Patterns 
You must ensure that your sewing machine has at least zigzag and back stitching patterns. These two stitching patterns are significant for making wigs. Most sewing machines don't have a backstitching facility, but it's necessary to prevent the stitches from tearing apart. 
Ease Of Use 
You don't want a sewing machine that disrupts your work ten times a day. You know your ability and knowledge about handling a sewing machine, so only get the one that is easy to use. 
While machines loaded with technology might look fancy, everyone is not equipped to handle them.
Minimum Vibration 
Some sewing machines for wigs make a lot of vibration; as you know, the stitching on a wig should be precise. Check that the machine you get makes less vibration so you can sew wigs properly. 
Budget 
Last but most importantly comes the budget. You'll find the most expensive to least expensive wig sewing machines with varying features. But you should find a good machine with all the necessary features within $500.
How Is A Wig Sewing Machine Different From A Standard Sewing Machine? 
Most sewers with multiple sewing businesses often ask what the need is to get a separate machine for wigs. Can't we use a standard sewing machine for making wigs as well? 
What is the difference between a standard sewing machine and a wig sewing machine? 
Well, there isn't any specific difference between a wig sewing machine and a standard sewing machine. A general sewing machine is equipped enough to stitch wigs as well. But you should ensure that your wig sewing machine has all the features, such as a uniform stitching pattern, fewer vibrations, and a large working area.  
Additionally, the machine should be versatile enough to stitch different fabrics and closure wigs. 
6 Best Wig Sewing Machines To Buy In 2023 
Best High-Speed Wig Sewing Machine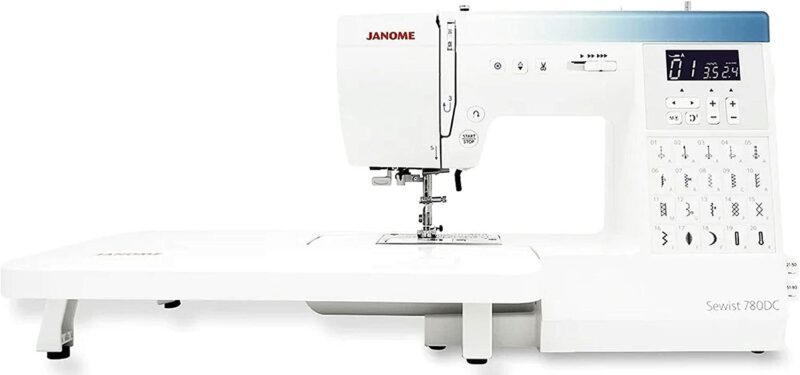 Specifications
Size- 7 x 16 x 11.9 

Weight- 14.3 pounds 

Built-in stitches- 80 

Maximum sewing speed- 820 spm
The Janome Sewist 780DC sewing machine is the best option for learners. If you're just starting your wig-making business, you'll need an easy-to-use machine without complicated features. 
It has 80 built-in stitches, which is more than enough for all wig styles. This automated machine has many advanced features to make sewing easier for you. For instance, when you select a stitch, the LCD screen shows the selected stitch, recommended foot, and default width and length. Therefore, you can sew wigs quickly.reg
You can, of course, change the foot and length as per your requirement. Plus, the automatic thread cutter ensures you no longer need to waste time rereading or dealing with snapped threads. 
Making wigs is a bit more complicated than stitching other fabrics, as the wig cap slips constantly. But with the auto-lock stitch of this machine, you don't have to worry about impromptu stitches and patterns. Additionally, the working area is quite large, so making all types of wigs, such as monofilament, wefted, and lace, shouldn't be an issue. 
But as a beginner-friendly machine, the Janome Sewist 780DC lacks some other advanced features, so you might have to upgrade after a few years. 
Pros 
LCD screen to view and edit stitches.

It supports multiple stitch types.

 An automatic thread cutter makes sewing easier.
Cons 
Check the Janome Sewist 780DC's latest prices on Amazon
Best Beginner Wig Sewing Machine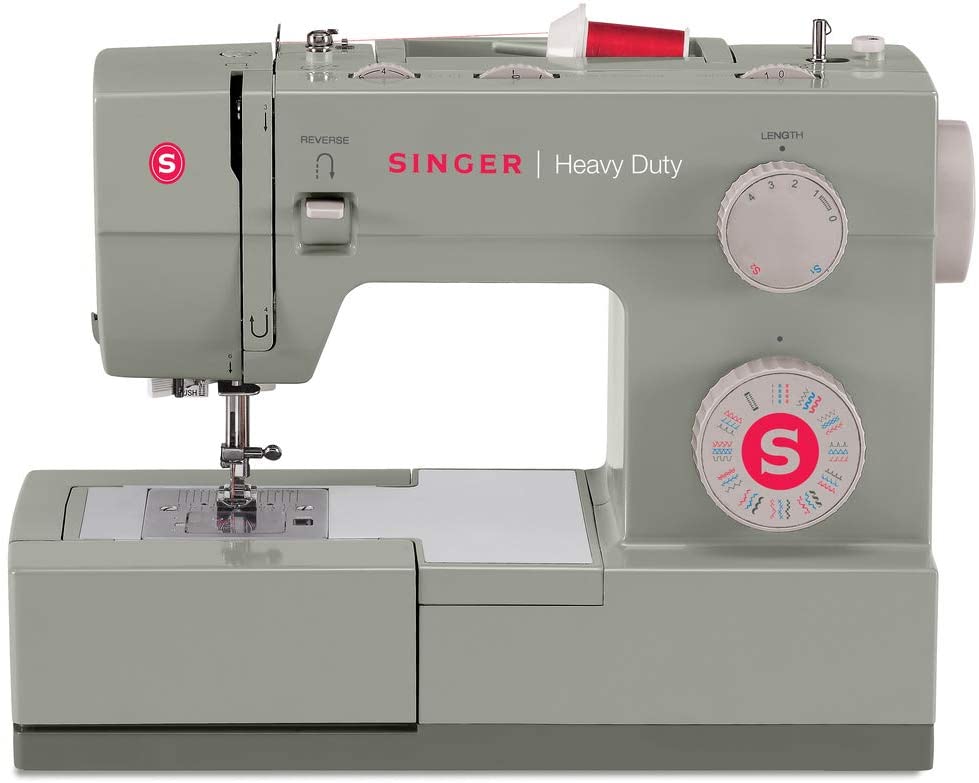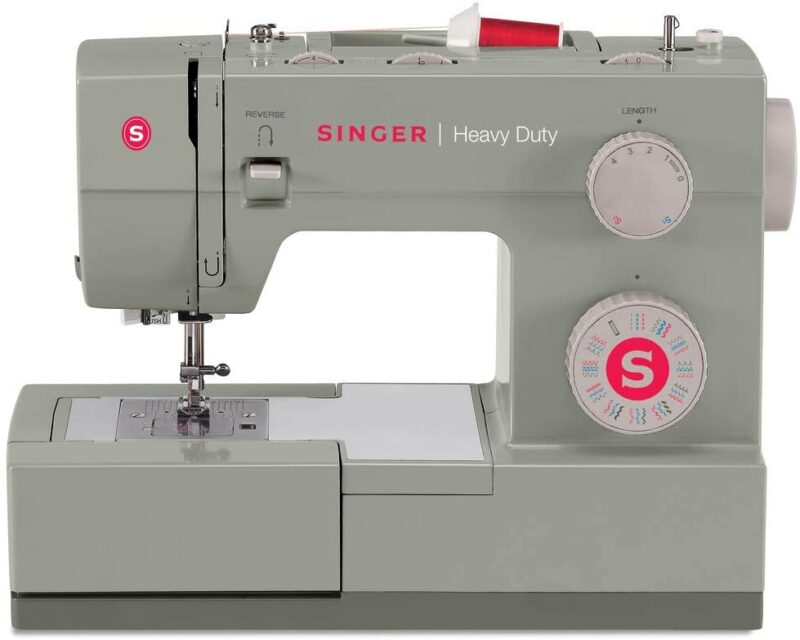 Specifications
Size- 15.5 x 6.25 x 12 

Weight- 15.74 pounds 

Built-in stitches- 32 

Maximum sewing speed- 1100 stitches per minute
The Singer 4452 sewing machine is an absolute workhorse. The stainless steel bedplate, strong motor, and heavy-duty interior make working with the machine extremely easy. 
You can make all types of wigs with six basic, seven stretch, and 18 decorative stitches. It also has the automatic needle threading feature, saving you lots of time and frustration trying to thread the needle eye. 
Additionally, the topstitching and coding positions let you experiment with designs if you want to make stylish wigs. 
Are you are still taking sewing machine wig-making classes? The Singer 4452 is your best choice because the machine is super lightweight and portable. 
Accessories with Singer 4452 include- a non-stick foot for leather and vinyl, an even feed or walking foot for fabric layers, needles, bobbins, screwdriver, extra spool pin, seam ripper/ lint brush, etc. 
Pros 
Pressure foot control for precise sewing.

Extremely portable.

Adjustable needle position helps make different designs.

Robust body.
Cons 
Not a beginner-friendly machine.
Check the Singer 4452's latest prices on Amazon
Best Compact Size Wig Sewing Machine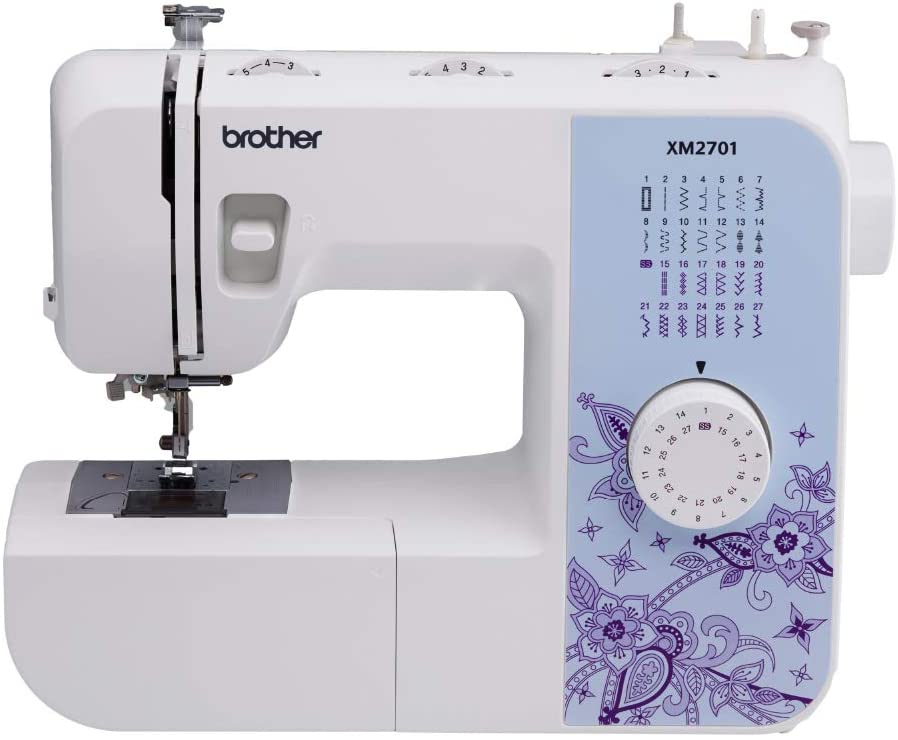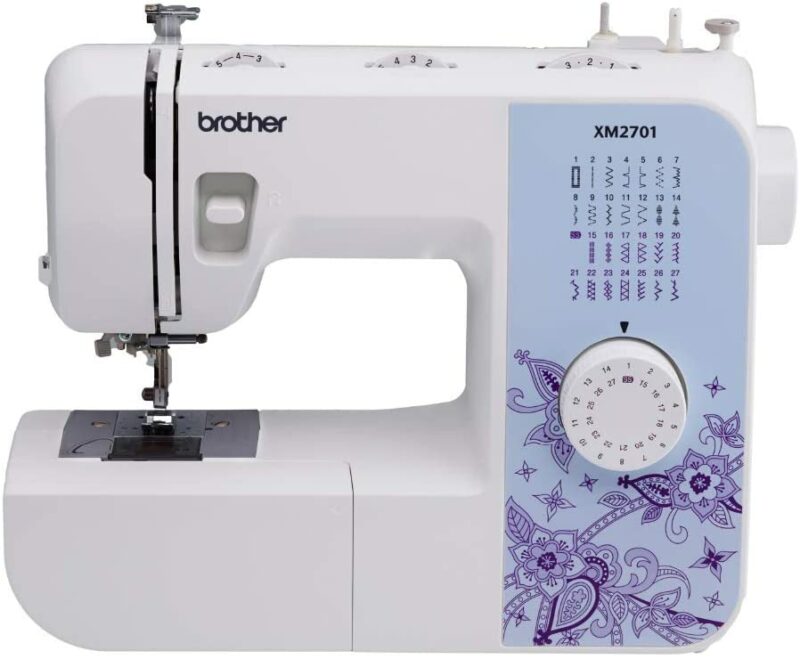 Specifications
Size- 12.1 x 5.9 x 15.3 

Weight- 12.6 pounds 

Built-in stitches- 27 

Maximum sewing speed- 800 spm
Whether you have a wig-making business or like to wear different wigs, you'll need to sew different fabrics, styles, and lengths of wigs. Therefore, you must get a machine that meets these requirements. s
Brother sewing machines are known for their optimum performance, and the XM2791 is no exception. Most professional wig makers prefer the Brother XM2701 because of its ability to stitch multiple fabrics without any issue. 
There are 27 built-in stitches, including zigzag, blind hem, decorative stitches, and stretch stitches. Plus, a reverse switch above the needle section will let you backstitch your wigs easily. 
As I mentioned in the feature section, you must also look for a machine that allows reverse stitching when making wigs. 
Additionally, there is a storage compartment in the front that has all the additional accessories of the machine. This storage compartment is detachable, which makes the space underneath easily accessible for your extra accessories. 
Additional features include an automatic needle threader, jam-resistant drop-in bobbin, thread cutter, etc. Overall, I would say that the Brother XM2701 is a perfect machine for making different wig types. 
Pros
Lightweight and portable.

Can stitch different types of fabric and materials.

A bang for the buck.
Cons  
The work area isn't very spacious. 
Check the Brother XM2701's latest prices on Amazon
Best Large Work Area Wig Sewing Machine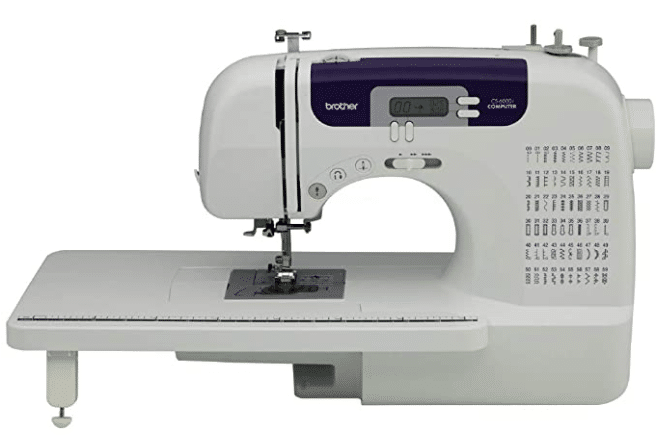 Specifications
Size- 16 x 6.7 x 11.4 

Weight- 13 pounds 

Built-in stitches- 60 
The Brother sewing machines are some of the best in the market, so I couldn't help but include another model in the best wig sewing machine list. The CS6000i is also one of the best industrial sewing machines for wig making. 
It has so many advanced features that make stitching wigs smooth and hassle-free. First, I want to talk about the different stitching speeds. It has a low, medium, and full speed adjusting button for controlling speed.
You can adjust the sewing pace as per your requirements. There are 60 different built-in stitches, an automatic needle threader, and a drop-in bobbin, which saves a lot of time. 
Additionally, there is an LCD screen where you can review your stitch selection. The screen also shows you which foot you have to choose for specific stitches, along with stitch width and length. 
There are two buttons by pressing which you can change your stitches. This is highly convenient because you may need to change your stitch pattern anytime making the wigs. 
I love that the CS6000i has a removable ruler-embedded expansion table. This makes working a lot easier. This sewing machine retails for $209, and I feel it's excellent, considering the features and overall performance. 
Pros 
Easy to operate.

Can stitch a variety of fabrics.

Multiple stitching styles.
Cons 
Check the Brother CS6000i's latest prices on Amazon
Best Value For Money Wig Sewing Machine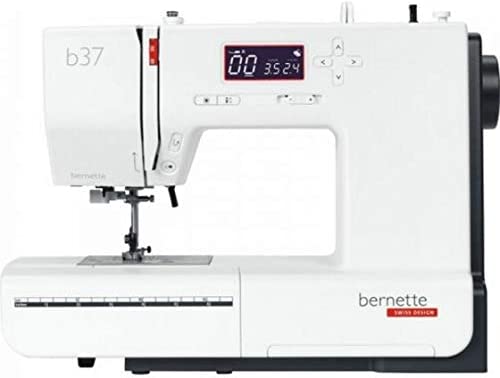 Specifications
Size- 19.2 x 16.5 x 11.2 

Weight- 17.5 pounds 

Built-in stitches- 50

Maxim sewing speed- 700 spm 
If you are looking for an advanced wig sewing machine to help with your wig sewing business, the Bernett B37 is one of the best picks. 
50 built-in stitches allow you to deal with different wig styles. Moreover, the machine can stitch at a maximum speed of 700 stitches per minute with varying speeds. This is great because some corners of closure wigs should be stitched carefully, so you'll have to slow down while stitching those areas. 
The LED lamps on the working area also ensure that your working space is well lit and there are fewer chances of errors. Before starting, you can review your stitch design, its width, and length. 
There is an electronic foot control, but if you don't want to use it, there is a button on the machine to disable that function. As I said earlier, the accessory tray is also detachable, an essential feature. 
The Bernette B37 retails for $499. While the machine has all the necessary features, I can't see any distinguishing factors from other sewing machines we can get for under $200. 
Additional features you'll get with this sewing machine are- a satin stitch foot, zigzag foot, buttonhole foot with slide, zipper foot, foot control, needle set, bobbin, spool pin felt, second spool pin, brush, screwdriver, spool disc, spool net, etc. 
Pros 
Electronic foot control.

LED lamps for better visibility.

Thread tension control.

Adjustable speed.
Cons 
Check the Bernette B37's latest prices on Amazon
Wig Sewing Machine Frequently Asked Questions 
Can You Use A Regular Sewing Machine To Make Wigs?
Yes, you can use a regular sewing machine to make wigs. There are no specific categories of wig sewing machines. But you must ensure that the machine has multiple stitching styles, a detachable expansion table, speed control, etc.
How Do You Thread A Wig On A Sewing Machine?
First, you must take the needle from the needle holder and secure it in the little holder above the sewing machine. Then there is a metal holder, and you must pull your thread through that. Now you have to take your thread through a thin line down the machine and take your thread up again through the U-shaped guide. 
At the machine's top is a metal hook or take-up lever. Wrap your thread around the hook. Now pull the thread down towards the needle following the instructions given in your machine. Wrap around the thread one more time with the metal hook. 
Next, you have to set up your bobbin, pull the needle down to connect the upper and bobbin threads, and then you are ready to sew. This might seem a bit complicated if you're a newbie, so I suggest you read the instruction manual before threading the sewing machine.
Final Thoughts 
I hope the reviews of some of the best wig sewing machines have helped you decide on the product you want to purchase. Go through all the features and details again and see which one is easy to operate, meets your needs, and fits your budget. In my opinion, the Brother XM2701 Sewing Machine is the best pick. Both beginners and expert sewers can use the machine, and it has all the necessary features required to make different types of wigs.