This shop has been compensated by Collective Bias, Inc. and its advertiser. All opinions are mine alone. #ClausAndPaws #CollectiveBias
I know you've all started thinking about your holiday shopping list, and jotted down a few gifts ideas for your friends and family. But let's not forget those very special friends with four legs!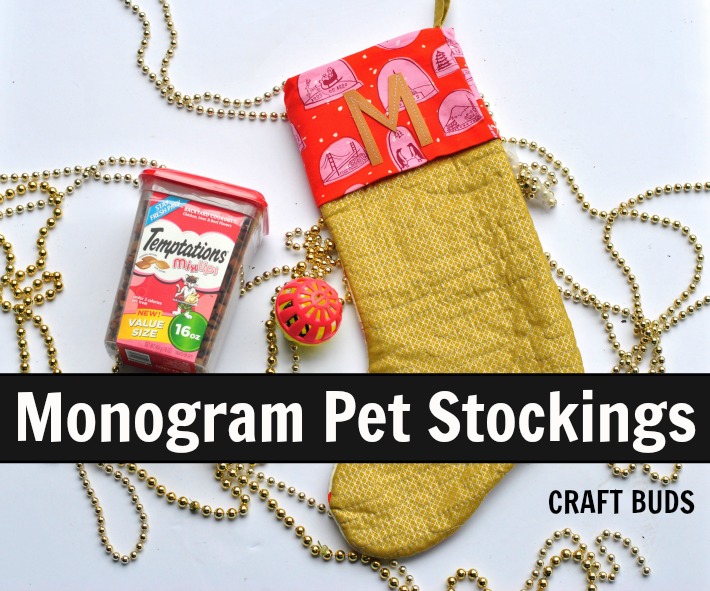 Pets are a big part of our family holiday celebration. Our cats Murph and Chloe have stockings that hang right with the rest of ours, and we have two mini schnauzers, Zoey and Moses, in my family who always look forward to dinner gatherings and food that might drop to the floor!
My husband's favorite treat to buy our cats is a big 16 oz. tub of TEMPTATIONS® Treats. He likes to top off their regular food with the treats every morning, so we easily go through at least one of these containers a month.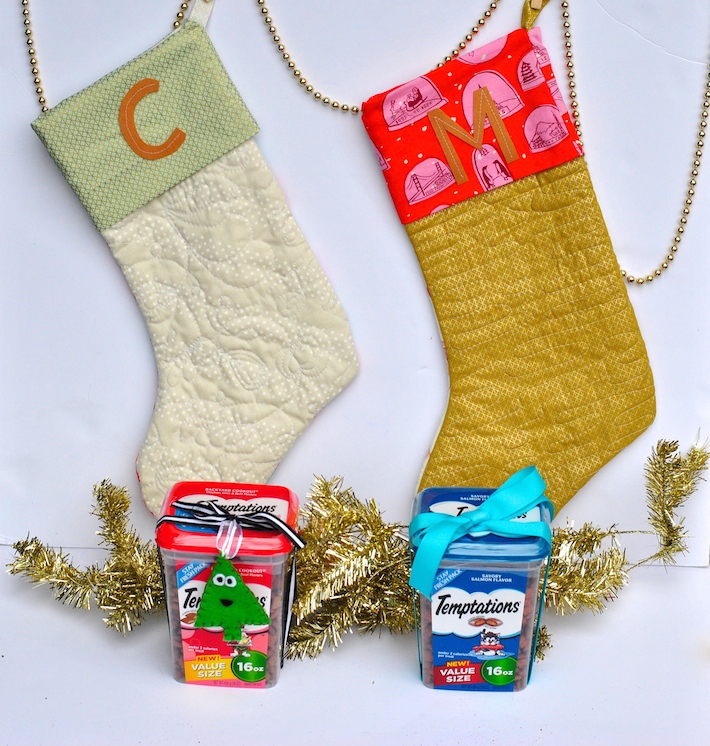 For the holidays, I thought it would be fun to take this treat and make it a little more special, and wrap it up as a stocking stuffer for the kitties. Since our house has been invaded by a toddler, the cats get less attention from me. If it were just up to me, I might forget to feed them… thank goodness for my husband and his attentiveness to the cats!
Looking for an easy stocking pattern for beginners? I sewed the Holly Jolly Stocking pattern to make these pet stockings, but you can also start with any store-bought stocking to make your project even quicker.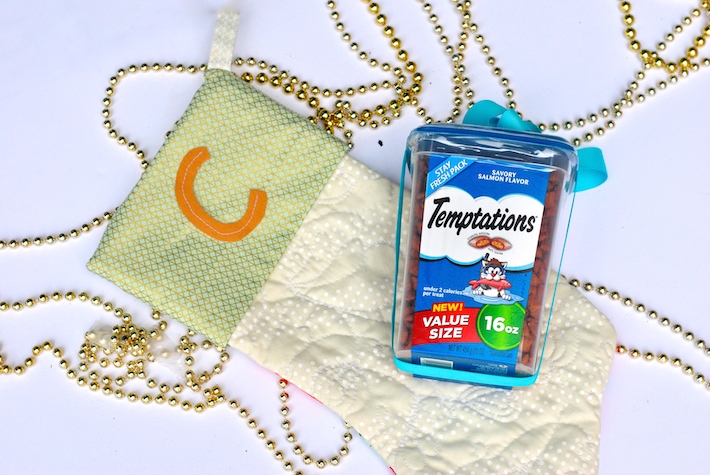 Using kraft·tex™ (it's a new product that comes in a roll and it acts like both paper and fabric), I cut out some simple monograms for my cat's initials to put on top of the stockings. After cutting them out with scissors or a rotary cutter, you can take the kraft·tex™ right to the sewing machine and accent with a single line of stitching. Widen your stitch length to 3.5 for the best results.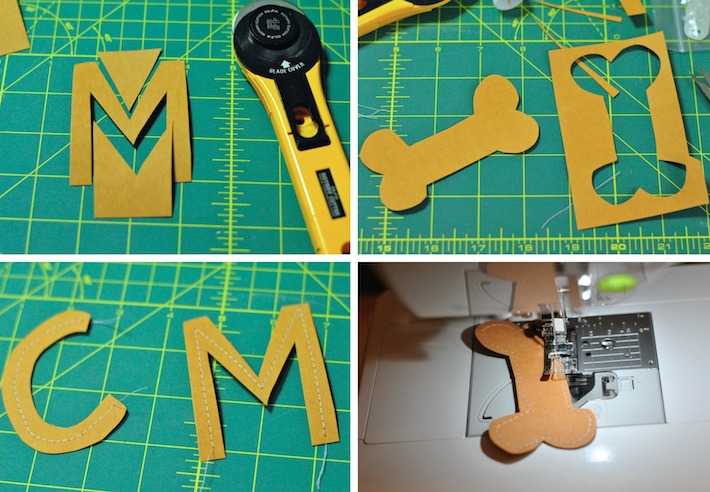 Sew or hot glue the monograms to any standard stocking to personalize it for your pet. You can also cut out a fish shape or a dog bone to add a cute accent. Kraft·tex is easy to write on, stamp on, print on… you can really use your creativity!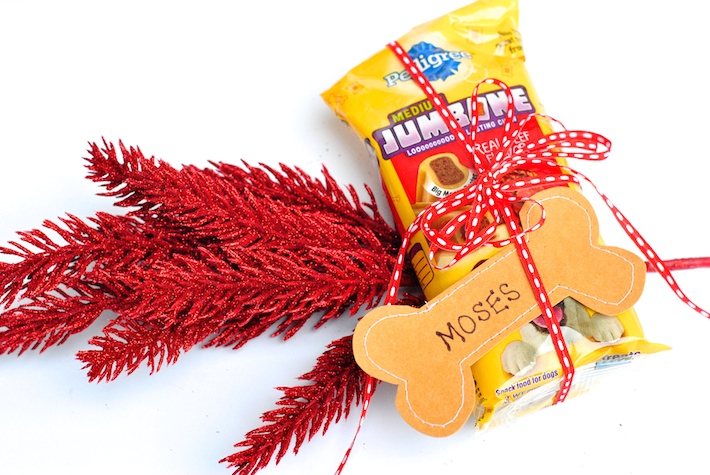 For the dogs in my family, I put together a little gift with the PEDIGREE® Jumbone. I cut out a little dog bone gift tag from kraft·tex™ and stitched a border on it using my sewing machine. I added the pet's name with a fine tip Sharpie, and slipped it under the ribbon.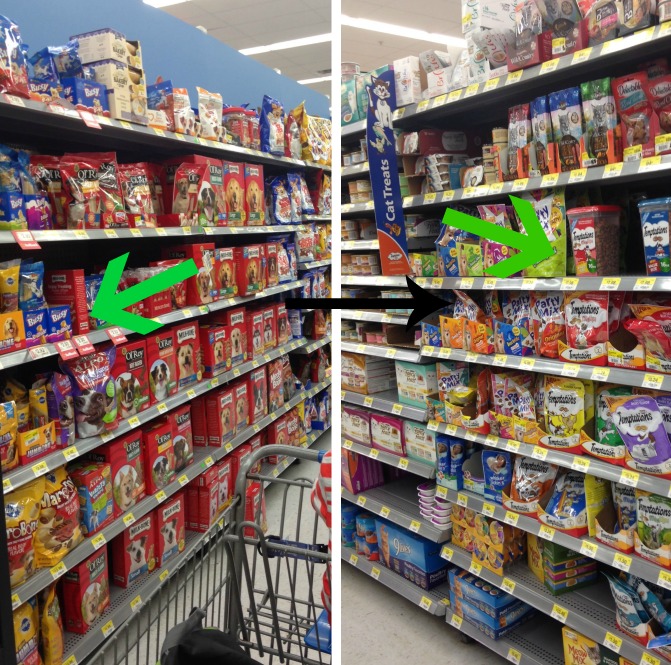 If you're looking for the best pet stocking stuffers for your cat or dog, check out Walmart in the cat and dog food aisles. This is where I can always find the big TEMPTATIONS® Treats 16oz in the plastic tubs for our kitties and a PEDIGREE® Jumbone (to keep those puppies busy while everyone is opening gifts) or Pedigree DENTASTIX® (great for canine chompers!) for the dogs in our family.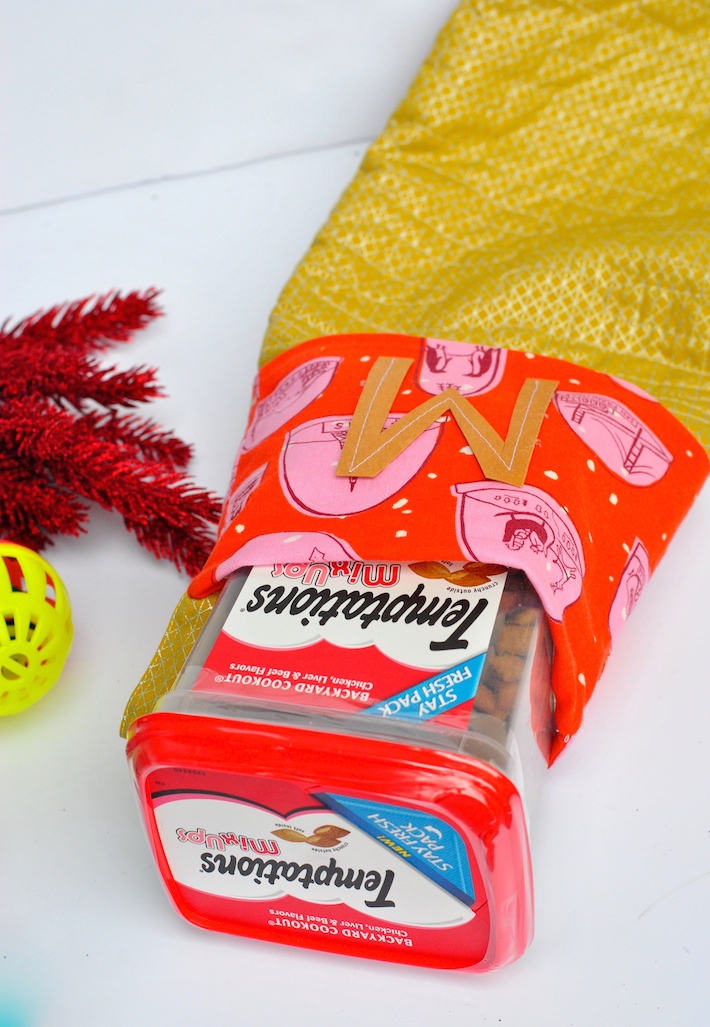 So, there you have it! I hope you enjoyed these easy gifts for the cats and dogs in your life. Be sure to check out more great gift ideas for pets.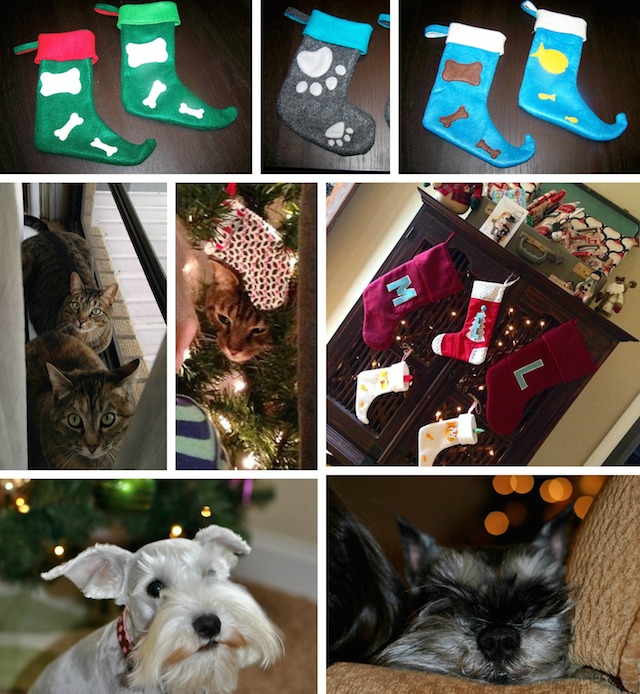 Do you have any furry friends you'll be buying gifts for this holiday season?