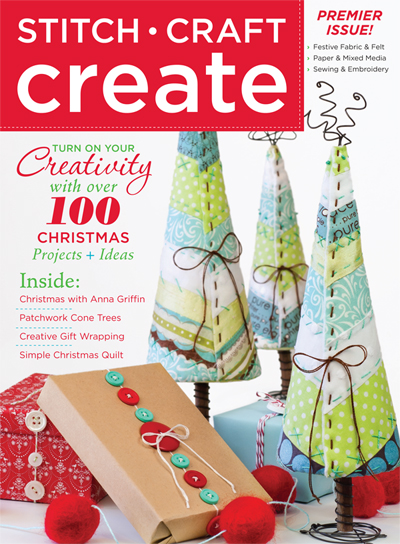 If you love playing with buttons, fabric, paper and found objects, the pages of Stitch Craft Create magazine will be a welcome retreat for the senses. The premier issue of this magazine releases today, October 18th! It's themed around the holidays, which is the perfect setting for creative gift ideas and wrapping trends like those featured on the cover.
Remember these handcrafted beauties from our Q&A with Shannon Miller last week? After hearing about all the preparation that goes into starting a new magazine from scratch, I was so excited to preview an advance copy last week! I'd actually read about this magazine on a couple other blogs, and you can tell that each of the contributors is especially grateful to be featured here. From cover to cover, the magazine is filled with fresh, holiday inspiration.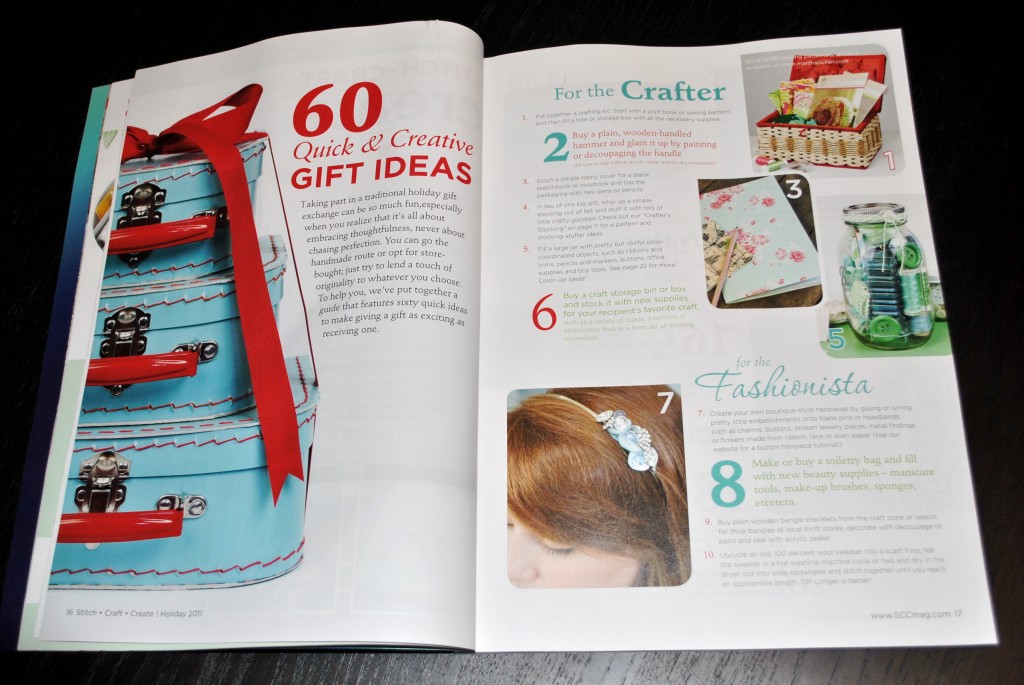 Isn't it fun to make crafty things for a fellow crafter? If you're involved in a creative group like a quilting bee and are looking for holiday gifts, there are lots of ideas in this issue for handmade collections (like the color jars, below) that are so beautiful, they'll produce more handmade gifts! But they are actually pretty enough to just sit out on the table.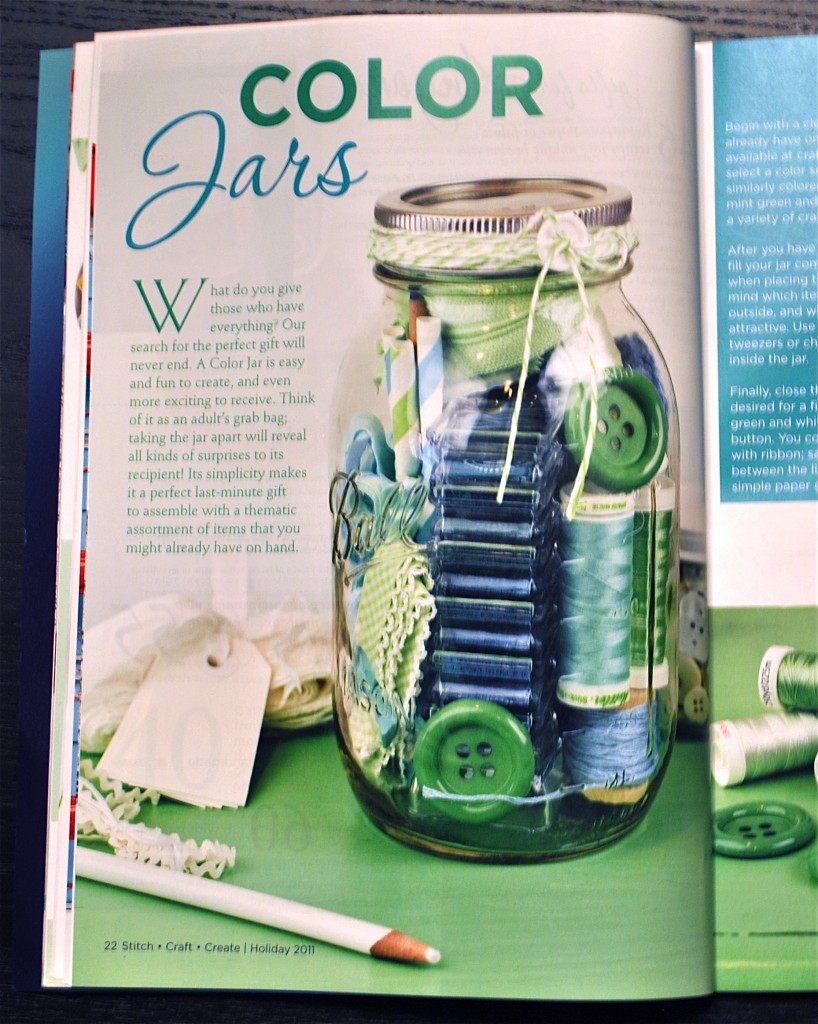 Although I love paper crafts and can often be found pinning creative gift-wrap ideas, I am most inspired by creative sewing projects. And the variety of fabric crafts in Stitch Craft Create does not disappoint.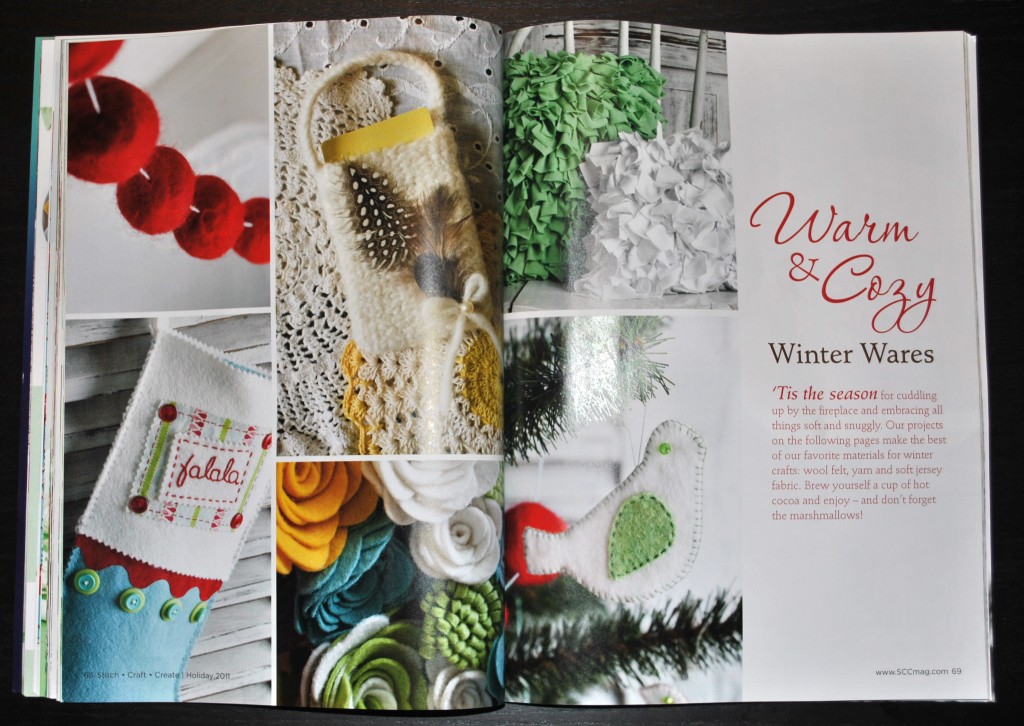 Favorites include the Winter Mint Jersey Shag Pillows from Vanessa Christenson of V and Co. and the Felt Flowers Fabric Wreath by Danielle Burkleo of Take Heart.
When I interviewed editor Shannon Miller about the new magazine, she explained that the projects were tied together with a color palette of a "fresh, vintage-inspired collection of mint green, light blue, red with lots of white and touches of golden yellow." The color scheme is very fresh, and makes me want to bypass fall and head straight to winter. And that NEVER happens.
The variety of projects inside ranges from holiday decorating to papercrafts, sewing and embroidery, entertaining and party ideas, yarn crafts, handmade gifts, accessories and packaging ideas. It's enough to interest a variety of multi-crafters without scaring anyone away with too-technical projects. Overall, I'm very hopeful that this magazine makes it to issue number two (which will depend on initial response to newsstand sales and online orders), because I'd love to become a subscriber.
Winner!
Out of 566 entries (wow), the winner of a copy of Stitch Craft Create magazine plus a bundle of crafting supplies is…
Entry #144, Liz Taylor! Congrats Liz, and please check your e-mail!
If you'd like to snag a copy, the magazine releases to craft stores TODAY, October 18. Or you can order a copy online right here. Thanks for all of your entries and the feedback on Rafflecopter.