Sublimation printing, also known as heat transfer printing, involves using a special sublimation ink/dye and heat to embed a design in the fabric. This printing method is widely used in printing on-demand products among small-scale businesses and professional printers. It creates durable and vivid designs, making them popular among digital artists of all levels.
Sublimation printers require a dye-sub inkjet printer and sublimation ink. To customize your shirts, you'll need to print transfers first. However, more advanced sublimation printers can print designs directly onto synthetic textiles.
The purpose of this article is to guide beginners in choosing the best sublimation printer. It lists the best sublimation printers for beginners in different categories and includes a buying guide to help you navigate the process. Read through to learn more.
7 Sublimation Printers Fior Beginners Summary
Best Sublimation INk: Printers Jack Sublimation Ink
How Do I Choose a Good Sublimation Printer?
When choosing a good sublimation printer, consider the factors below.
Understanding Sublimation Inks
Inkjet printers mix a custom number of base ink colors to generate different output colors. Most sublimation printers have four primary colors (CMYK), cyan, magenta, yellow, and black, while other sublimation printers have eight base colors. These eight colors include cyan, light cyan, magenta, light magenta, yellow, red, black, orange, and blue. Printers with eight base colors produce more detailed prints than those with four base colors.
Sublimation printers with four base colors produce stunning colors, vibrant graphics, and high-resolution photography, making them ideal for most applications. However, you'll need a sublimation printer with eight base colors for photography or fine art.
Print Resolution
The print resolution of a sublimation printer determines the print quality. The higher the resolution, the higher quality your designs will be. One of the best sublimation printers in terms of print resolution is the Epson Workforce and EcoTank lineup. They have a high resolution of up to 5760 x 1440 dpi, ensuring the best quality prints. Sawgrass sublimation printers come second with a resolution of up to 1440 x 1440 dpi.
However, budget sublimation printers can have a resolution of 300 x 300. Despite being lower than what EcoTank and Epson Workforce printers offer, they also produce quality prints. You should avoid resolutions lower than 300 x 300 because they aren't ideal for a sublimation printer.
Print Size
Most sublimation printers, especially EcoTank printers, have a maximum print width of 8.5 inches. This print size is ideal for small products, like tote bags, mugs, and small T-shirts. 
However, you'll need a sublimation printer with a wider format to print larger products. In this case, an Epson WorkForce series sublimation printer is ideal. This printer series has a wide format but retails at an affordable price compared to the EcoTank series. However, you need to configure it correctly because they are cartridge printers.
Print Speed
Speed is crucial in any business model. Many businesses charge their clients more if they deliver their products or services within a short time frame. Print speed will also determine the volume you print within a given timeframe. It is worth acknowledging that each sublimation printer has a unique printing speed—however, the pace at which your sublimation printer prints may depend on the desired print quality.
When printing low-resolution prints, the sublimation printer will take a short time. For most sublimation printers, the speed is about 30 seconds when printing at 600 x 600 resolution. However, expect your sublimation printer to take much longer for high-resolution prints. For instance, the printer will take three to five minutes to print at 5760 x 1440 dpi resolution.
Connectivity Options
The best sublimation printer for beginners should have flexible connectivity options. Whatever brand you pick, ensure the printer is Wi-Fi compatible. This connectivity option lets you connect your printer wirelessly. Therefore, there will be no need for cables that might mess up your workspace.
Durability and Maintenance
The best sublimation printers for beginners should have a sturdy build to last longer. This feature will ensure you use it for long before replacing it.
Maintenance is also crucial when choosing the best sublimation printers for beginners. Most sublimation printers may develop problems if you leave them unused for a given period. In most cases, the inks get dry. You must clean it or consult a specialist to get the printer into proper working condition again.
In addition, your sublimation printer may experience connectivity issues or cartridge problems.
Consider a sublimation printer with exclusive warranty coverage to keep yourself on the safer side.
Related: Best Printer For Cricut – 5 Excellent Printers in 2023
Does It Matter What Printer You Use for Sublimation?
Yes, the type of printer you use for sublimation matters. You need a special sublimation printer for sublimation printing. Otherwise, you'll need a converted inkjet printer with a sublimation transfer sheet and a special sublimation ink. You can't work around regular inkjet printing ink.
For any other printer, ensure it has a printhead that is not sensitive to heat if you have to sublimate print with it. Sublimation printing requires heat, so a heat-sensitive printer won't work for you. Instead of sublimating it to the transfer sheet, you'll sublimate in the printhead, causing the ink to discolor or come out.
Piezo printhead is the only printhead that is compatible with sublimation ink. It uses pressure to disperse the ink. Some sublimation printers with Piezo printheads include Brother and Epson printers.
The best alternative is to choose a printer specially designed for sublimation. It allows for the seamless printing of high-quality designs without extra effort. They provide the best value for money with guaranteed performance.
Related: Sublimation vs. Vinyl: The Ultimate Printing Showdown
Is a Sublimation Printer Worth the Money?
Yes, sublimation printers are worth the money. A sublimation printer produces high-quality prints with high lines and details. It has a relatively low setup cost. Besides, it produces prints that embed on the fabrics, ensuring they are not washed out after several washes.
Sublimation printing has the following benefits.
Sublimation printing allows printing on rigid surfaces like plates, photo slates, and mugs.
A sublimation printer has a wide range of colors for making multi-color designs.
Sublimation prints are long-lasting. The ink embeds on the fabric to become part of it, ensuring it doesn't peel after several washes.
Sublimation printers can print a wide range of products, including T-shirts, mugs, plates, flip-flops, decorative items, and plates, among others.
Sublimation printers are cost-effective in the long run. It allows you to produce products on demand for easy business navigation.
Best Overall Sublimation Printer for Beginners

Epson WorkForce WF-7720 is the best overall sublimation printer for beginners, providing the best value for money. This sublimation printer covers all your printing needs at an affordable price.
Epson WorkForce WF-7720 allows you to produce on-demand items efficiently. They can print to a maximum print size of 13 x 19 inches, which is unique in sublimation printers. In addition, it can scan up to 11.7 x 17 inches for improved versatility in producing high-quality prints.
This sublimation printer is highly versatile. You can use it to print, scan, and copy. Besides, you can use it for faxing. The 4800 × 2400 dpi print resolution ensures the production of sharp and high-quality prints. The scan resolution for this sublimation printer is 1200 × 2400 dpi, and it produces high-quality images.
With a print speed of 18 ppm for black and white prints and ten ppm for colored prints, you can print designs in bulk, which boosts your productivity for higher returns.
The sublimation printer has flexible connectivity. It supports Ethernet, USB 2.0, and Wi-Fi, allowing me to connect devices to the printer and share designs, digital images, and documents. Lastly, it has a 4.3 inches color touchscreen display for easy controls.
Specifications
Print resolution: 4800 × 2400 dpi
Scan resolution: 1200 × 2400 dpi
Print size: 13 x 19 inches
Scan size: 11.7 x 17 inches
Connectivity: Ethernet, USB 2.0, and Wi-Fi
Print speed: 18 ppm for black and white prints and ten ppm for colored prints
Dimensions: 32.2 x 22.3 x 13.4 inches
Weight: 40.80 lbs
Pros
The printer is power-efficient
It has two paper trays for separating standard papers from sub-par ones.
High print resolution for quality prints.
High print speed for enhanced production.
Cons
You need a sublimation ink kit and a refillable cartridge, meaning you'll incur extra costs.
Check the Epson WorkForce WF-7720's latest prices on Amazon
Best Entry-Level Sublimation Printer for Beginners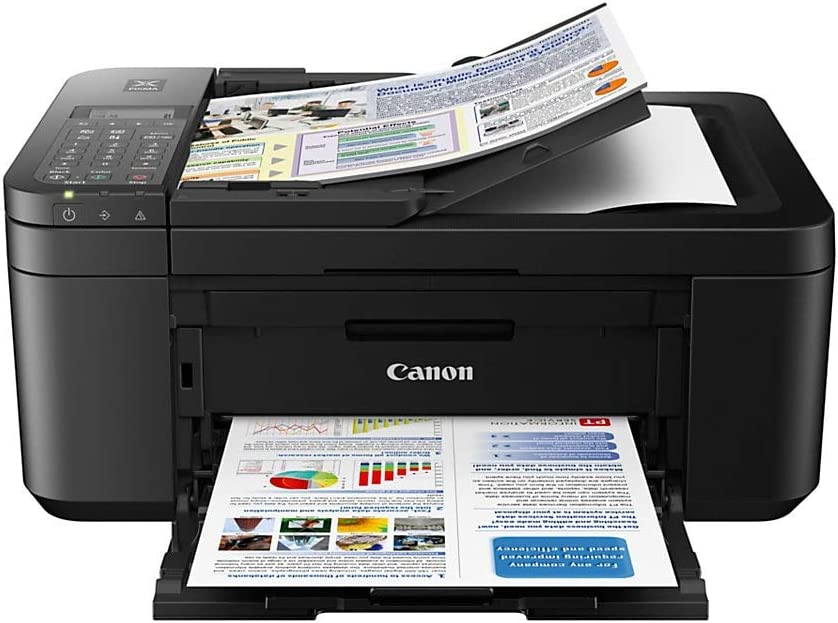 The best entry-level sublimation printer for beginners is Canon PIXMA TR4520 Wireless All-in-One Photo Printer. This printer has basic features for ease of use, which is ideal for beginners. It is also affordable, retailing at just about $100.
This printer is compatible with Alexa, which allows you to use voice commands to control it. It also supports wireless connectivity, allowing you to use mobile devices without a wired connection, thus, keeping the workplace tidy.
It has enhanced versatility. You can use it to scan, print, and copy. You can also use it for faxing. It is an ideal printer for printing artwork and can print on both sides.
The printer has a compatible Canon Print App that allows you to communicate with your smartphone easily. This feature makes sublimation printing more convenient.
It has a maximum print speed of 8.8 prints per minute for black prints and 4.4 prints per minute for color prints.
Specifications
Connectivity technology: USB
Duplex: Automatic
Maximum print speed: 8.8
Maximum media size: 8.5 x 14 inch
Dimensions: 11.7 x 17.2 x 7.5 inches
Weight: 13.0 lbs
Pros
Cost-effective
Simple connectivity
It has a built-in ADF
You save 10% on ink refills.
Cons
The ink tank is expensive, even more than the ink.
Check the Canon PIXMA TR4520's latest prices on Amazon
Best Beginner Sublimation Printer for T-Shirts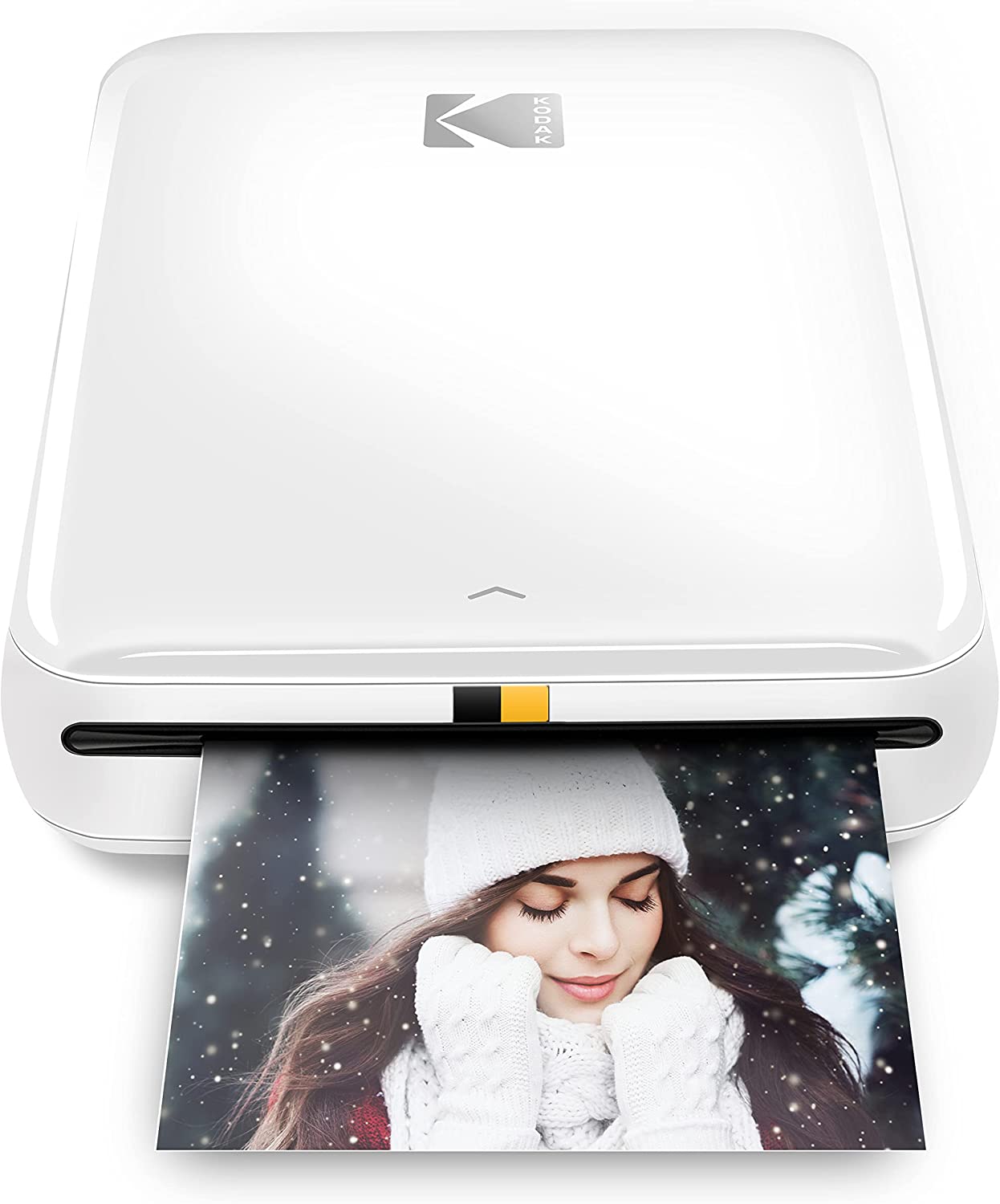 Most people or businesses who use sublimation printers use them to print T-shirts. If you're one of them, KODAK Step Wireless Mobile Photo Mini Printer is your best deal, especially if you're a beginner.
This printer has a small, portable design that can fit into your backpack perfectly, letting you travel with it. It is easy to use as you can print full-color images on your T-shirts with just a click. In addition, it is compatible with Zink zero technology that eliminates the need for ink toner.
The printer allows you to add unlimited effects and filters to your images and designs. You can capture images on your phone and transfer them later to the printer. Its bright and vibrant prints make your customized T-shirts colorful and attractive.
This printer has varied print sizes and speeds. For instance, it takes 11 seconds to print a 4 × 6 inches print. A 5 × 7 inches print will take 18.5 inches, while a 6 x 8 inches image will also take 18.5 seconds to complete.
Specifications
Connectivity: Bluetooth
Printing technology: Zink
Print speed: 1ppm
Dimensions: 3 x 5 x 1 inches
Weight: 0.55 lbs
Pros
Lightweight and compact for portability
It has an instant photo creator for ready photo creation
Prints up to 25 photos with a single charge
Cost-effective in managing ink
Cons
You can't use this printer for commercial purposes.
Check the KODAK Step's latest prices on Amazon
Best Sublimation Printer and Heat Press Bundle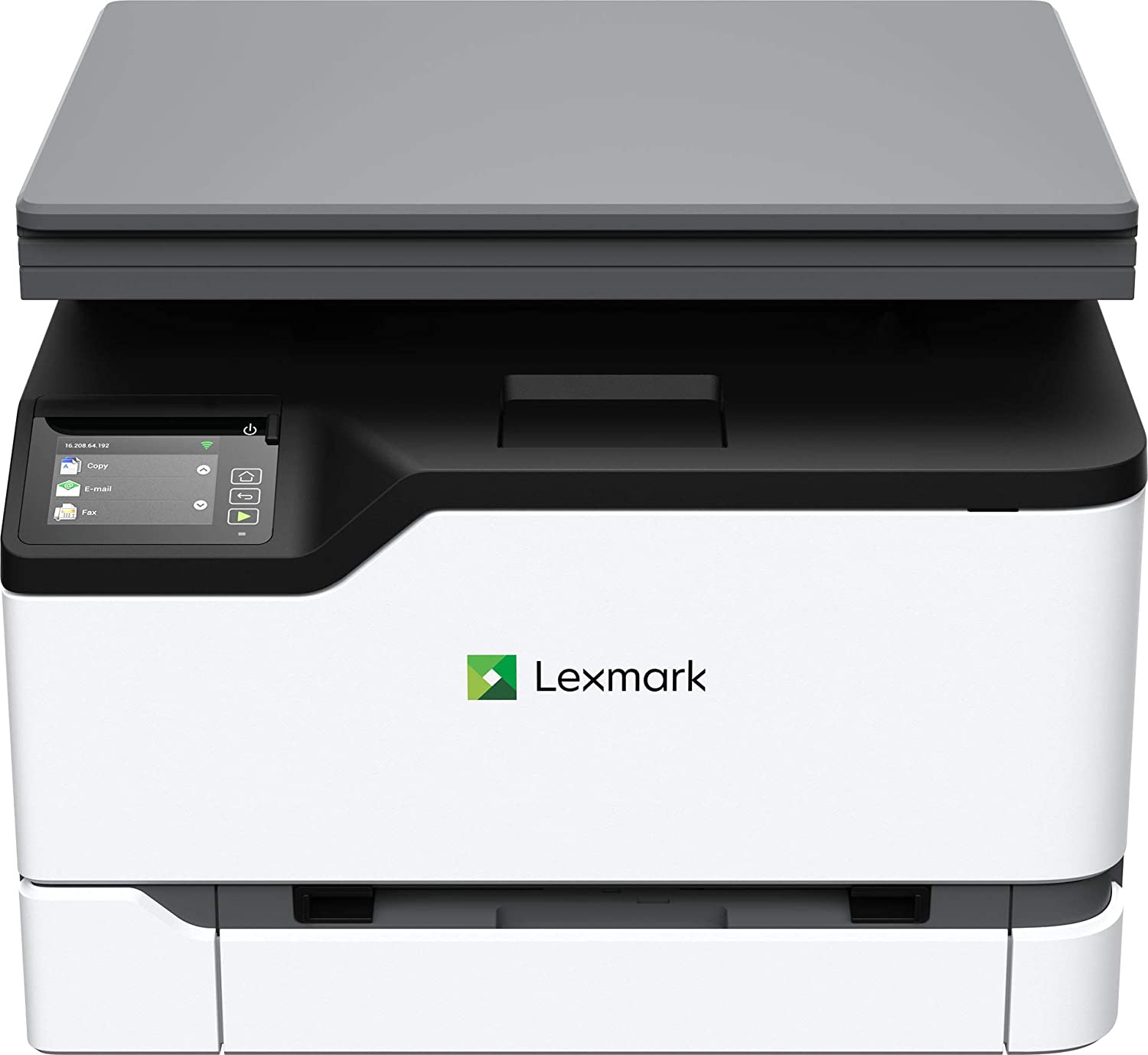 The best sublimation printer and heat press bundle is the Lexmark MC3224dwe Color Multifunction Laser Printer. This printer has an all-in-one functionality, ideal for home offices and small businesses.
The printer is highly compatible. It has a built-in web gateway that allows you to access various elements and options. Besides, it has a maximum print resolution of 600 x 600 dpi to produce quality and vibrant images. The fact that it uses unison toner cartridges guarantees high-quality output.
The printer has a maximum print speed of 24ppm, ensuring you can print many products in a minute to boost your productivity. The speed doesn't vary for black and color prints. In a month, it can handle up to 30,000 pages.
The printer has comprehensive connectivity. It supports USB, Wi-Fi 802.11b/g/n, Ethernet, and wifi-direct connectivity, connecting your devices wirelessly and transferring images and other documents conveniently.
Specifications
Connectivity: Wireless, USB, Ethernet
Printing technology: laser
Print speed: 24ppm
Maximum media size: 8.5 x 14 inches
Dimensions: 15.5 x 16.2 x 12.1 inches
Weight: 40.20 lbs
Pros
Comprehensive connectivity options
High-quality prints
Has Cloud storage
Top print speed for enhanced productivity
Cons
Check the Lexmark MC3224dwe's latest prices on Amazon
Best Epson Sublimation Printer for Beginners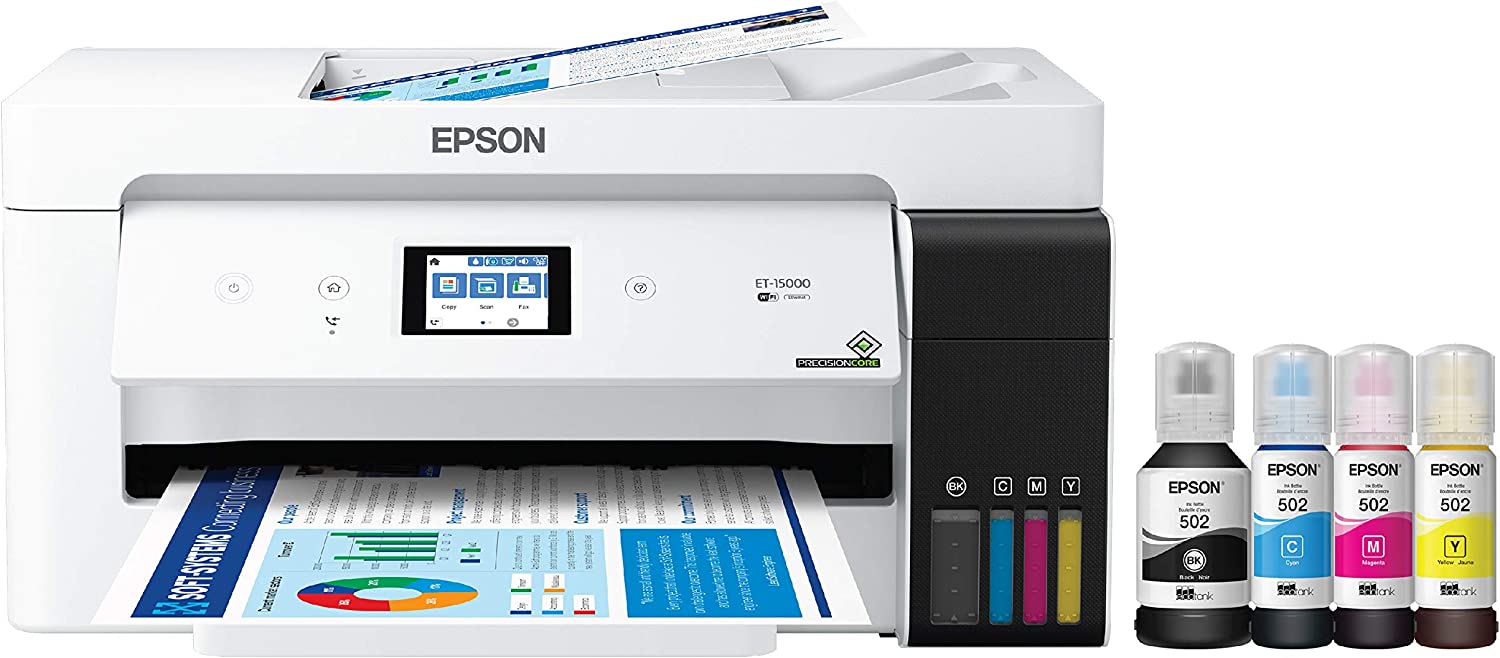 The best Epson printer for beginners is Epson EcoTank ET-15000 Wireless. It has comprehensive connectivity options, economic output, and, most importantly, better production.
This printer uses a higher-density print chip that produces up to 40 million accurate dots per second for high printing efficiency.
Besides, this printer is highly cost-effective. It saves up to 90% sublimation ink.
Epson EcoTank ET-15000 Wireless has easy-to-fill supersized ink tanks that facilitate cartridge-free printing. Besides printing, you can use this printer to scan, copy, or fax.
The Wi-Fi and Ethernet wireless connectivity allows you to connect your mobile devices wirelessly and share files conveniently. You can print 17 black and nine color prints per minute.
Specifications
Print speed: 17ppm black, nine ppm color
Dimensions: 3.94 x 3.15 x 0.5 inches
Weight: 26.46 lbs
Maximum media size: 11 x 17 inches
Connectivity technology: Wi-Fi
Pros
High cost-efficient
Consumes less sublimation ink
High precision
Produces unparalleled output
Cons
Check the Epson EcoTank ET-15000's latest prices on Amazon
Best Beginner Sublimation Printer for Cricut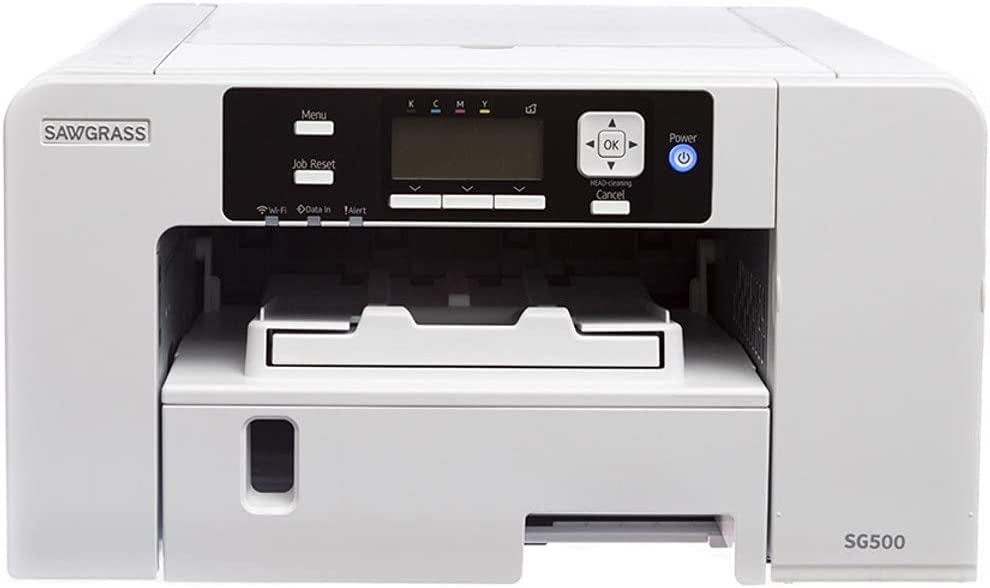 The Sawgrass SG500 is the best beginner sublimation printer for Cricut. It has the best print quality in this category. Besides, it has comprehensive warranty coverage of two years.
Consider this printer if you target printing smaller items such as tumblers, onesies, mugs, business cards, hair bows, and jewelry. It is also suitable for printing phone grips, keychains, children's tees, and little flags. It can also print larger designs relatively easily.
Unlike other sublimation printers, Sawgrass SG500 can print on cotton (Onesies). You can easily sublimate into cotton fabrics with a special sublimation paper such as Forever Subli Light.
The printer is one of the fastest printers in the market. It prints at 100 ppm, allowing you to print many items at a time. Therefore, you can fulfill an order quickly, ensuring your business makes higher profits.
Specifications
Print speed: 100 ppm
Connectivity technology: Wi-Fi
Print technology: dye sublimation
Dimensions: 22 x 21.6 x 13.2 inches
Weight: 11.0 lbs
Pros
Affordable price
Can print on cotton
Easy to use
High-quality prints
Cons
The ink is expensive, which may limit you from doing everyday printing.
Check the Sawgrass SG500's latest prices on Amazon
Best Sawgrass Sublimation Printer for Beginners

The best Sawgrass sublimation printer for beginners is Sawgrass SG1000 Sublimation Printer. This printer can print on media up to 11 x 17 inches; thus, it is ideal for developing a business. The good thing about this printer is that it is compatible with SG800 accessories. Hence, if you already have an SG800 bypass tray and other accessories, you might use it with the Sawgrass SG1000 Sublimation Printer. This feature can significantly cut costs, and you can print up to 13 x 51 inches on media.
It is compatible with Wi-Fi technology, letting you print images and designs wirelessly. Besides, it has free design software that helps you create digital images, eliminating the need to purchase new design software.
Specifications
Connectivity technology: Wi-Fi
Print speed: 15 ppm color, 20 ppm monochrome
Dimensions: 21 x 14.25 x 14 inches
Weight: 37.9 lbs
Print technology: dye sublimation
Pros
Two-year warranty
Backward compatible with SG800 accessories
Free design software
Quality designs
Cons
This printer is expensive.
Check the Sawgrass SG1000's latest prices on Amazon
Bonus: Best Sublimation Ink

There are several types of sublimation inks. However, the best sublimation ink is Printers Jack Sublimation Ink. Unlike ordinary inks, which irradiate when exposed to sunlight, the printer's jack sublimation ink has comprehensive UV protection, which prevents it from irradiating.
This ink employs triple-layer filter technology that ensures bright and vivid colors. The technology also makes the print adopt a soft texture to avoid clogging the print head.
It has upgraded nozzles that allow seamless filling of each color in the inkjet printer without using syringes. It has wide applications, and you can use it to print on banners, mugs, caps, flags, and other products with 30% or less cotton composition.
Pros
Durable prints
Has UV protection
It has upgraded nozzles, eliminating the need for a syringe
Triple-layer filter technology makes it smooth and with vibrant colors.
Cons
Hard to determine the ICC profile.
Check the Printers Jack Sublimation Ink's latest prices on Amazon
Related: 5 Best Epson EcoTank Printers for Sublimation
Conclusion
When choosing the best sublimation printer for beginners, your budget should come first. Most individuals opt for affordable sublimation printers like the Epson EcoTank printer. However, small business operators with more printing needs can opt for the purpose-built Sawgrass printers. If you want large format prints, you can consider Epson or Sawgrass SG1000.
We recommend sublimation printing because they produce high-quality and long-lasting prints. Besides, it provides a unique combination of cost and time savings. Lastly, you can use it to print on different materials.