Origami, the ancient Japanese art of paper folding, is a mesmerizing journey of creativity and precision. In this post, we'll embark on a fascinating exploration of this timeless craft that allows you to transform a simple piece of paper into intricate sculptures, delicate animals, and detailed geometric wonders. Using nothing more than some skillful folds and your own imagination, let's dive into the art of origami.
We'll help you discover the rich history, meditative qualities, and modern application of origami that extend far beyond the realm of mere paper play. Join us as we unfold the secrets behind this captivating art form, exploring its cultural significance, therapeutic benefits, and the incredible stories behind some of the most awe-inspiring origami masterpieces.
What Is Origami?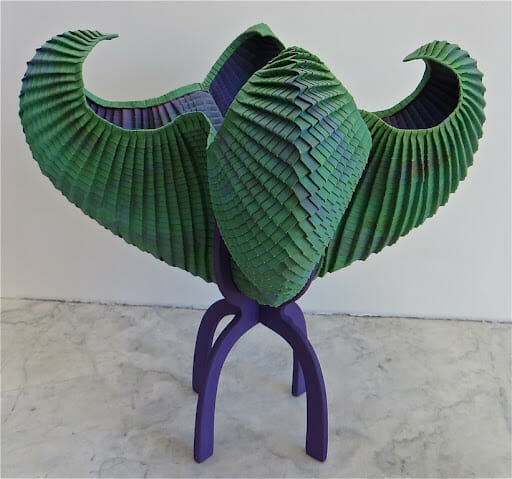 Image by Huffington Post
Origami is the art of paper folding, and its name derives from the Japanese words ori (folding) and kami (paper).
Traditionally, origami involves folding a single sheet of square paper (often colored on one side) into a sculpture without cutting, gluing, taping, or even making a mark.
The Origins of Origami
Several countries have helped shape the art of Origami into what it is today. Paper folding has well-documented origins in China, Japan, and Europe, and right up until the 20th century, each country had its own unique style.
It's generally accepted that the Japanese invented origami about a thousand years ago. However, its true roots may be in China, where paper was first invented. It's also quite likely that the process of folding was applied to other materials, such as cloth or leather, before paper was even invented.
Almost certainly in Europe, the practice of cloth pleating and napkin folding was held in high esteem. However, paper proved itself to be the ideal material for creative folding, and the logical assumption is that paper folding followed from the discovery of the papermaking process.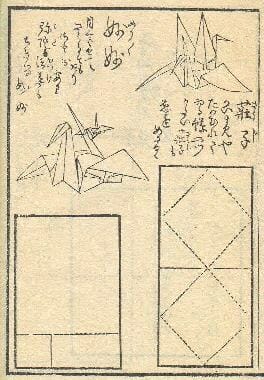 Image by Origami Heaven
One of the earliest known paper-folding instruction books was Sembazuru orikata written in 1797 by Akisato Rito. It showed how to fold linked cranes cut and folded from a square of paper.
The Significance of Origami in Different Cultures
Origami has a long and rich history, and it is practiced in different cultures around the world.
In Japan, origami symbolizes creativity, mindfulness, and the profound connection between art and tradition. It has been used in Japan for centuries for religious, ceremonial, recreational, and educational purposes.
Origami is also associated with good luck, peace, and harmony. The origami crane, for example, is a popular symbol of hope and healing, and folding one thousand cranes is believed to grant a wish or blessing.
In China, origami is believed to have originated from the invention of paper by Cai Lun in the 1st century CE. Paper folding was used for ritual and ceremonial purposes, such as burning paper models of money, houses, or animals as offerings to the ancestors or the gods.
In Germany, Friedrich Froebel, the founder of kindergarten, introduced origami. He believed that paper folding was a valuable educational tool for children. He developed three types of folds: the Folds of Life, the Folds of Truth, and the Folds of Beauty. These folds taught children basic skills, geometry, and aesthetics.
Origami in Celebrations and Festivals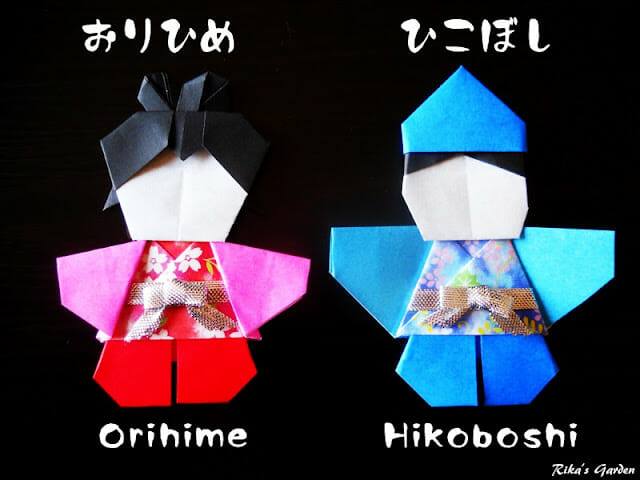 Origami is often used to create decorations and gifts for different celebrations and festivals, such as Christmas, New Year, Tanabata, and more.
Tanabata is a Japanese festival that celebrates the legend of two star-crossed lovers, Orihime and Hikoboshi. They can only meet once a year on the seventh day of the seventh month. People write wishes on colorful paper strips and hang them on bamboo branches, along with origami stars, cranes, lanterns, and other symbols of the festival.
Christmas is a Christian festival that commemorates the birth of Jesus Christ. People decorate their homes and trees with origami ornaments such as stars, snowflakes, angels, wreaths, and nativity scenes. Origami can also be used to create tags, cards, and gift boxes for presents.
New Year is when people celebrate the end of one year and the beginning of another. Origami decorations such as lanterns, pinecones, cranes, and fireworks, are used to bring luck and prosperity.
The Basics of Origami – Beginner's Tips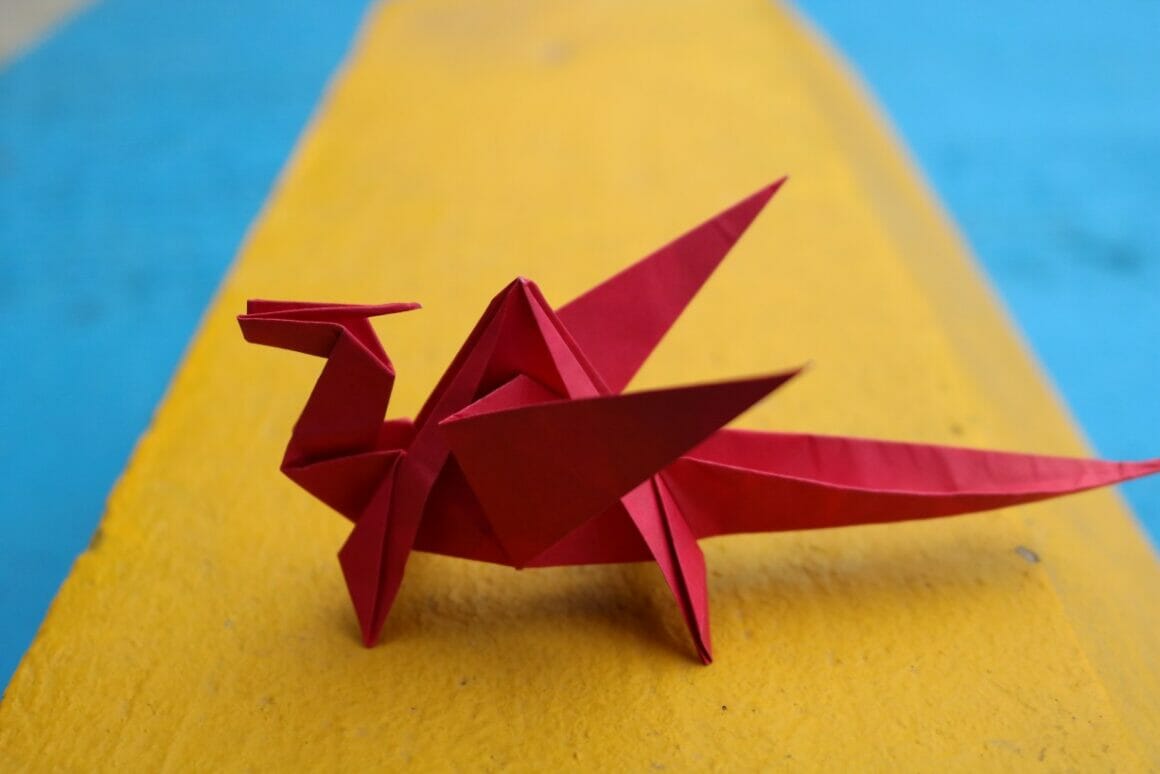 Origami only uses folding and creasing techniques, and most projects are a combination of a few basic methods that include pleat folds, mountain folds, reverse folds, sink folds, squash folds, and petal folds.
It's best to start simple with cute, easy origami projects that allow you to perfect the basics of folding paper into geometric shapes.
Once you've perfected the basics, you'll be able to move on to more complicated projects.
What Materials Do I Need to Make Origami?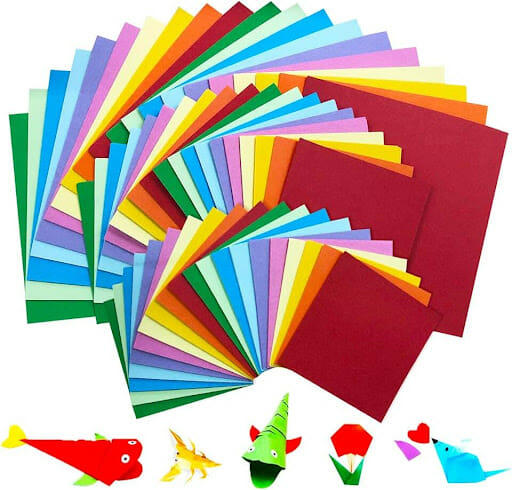 Using origami paper will make your origami creations better because you'll be able to create neater folds. Many different origami paper types, colors, sizes, and patterns are available. Some origami paper is cheap, while some are more expensive.
A large pack of standard origami paper will be the sensible option when you're just starting. It's not too fancy, so you won't stress about wasting precious paper.
Can you use regular paper for origami?
You don't have to use origami paper. Any paper will do. Even printer paper cut into squares will do if you're worried about the cost.
Understanding Origami Terminology, Symbols and Diagrams
Origami terminology, symbols, and diagrams are used to describe how to fold pieces of paper into various shapes and forms.
Origami terminology refers to the words and phrases that are used to describe origami concepts, techniques, and elements.
Original symbols are a graphical representation of origami folds and actions. They are used in origami diagrams to show how to perform each folding process step.
Origami diagrams are sequences of origami symbols that show how to fold a model from start to finish.
Understanding all of these means, you'll be creating your origami pieces in no time.
Getting Started with Origami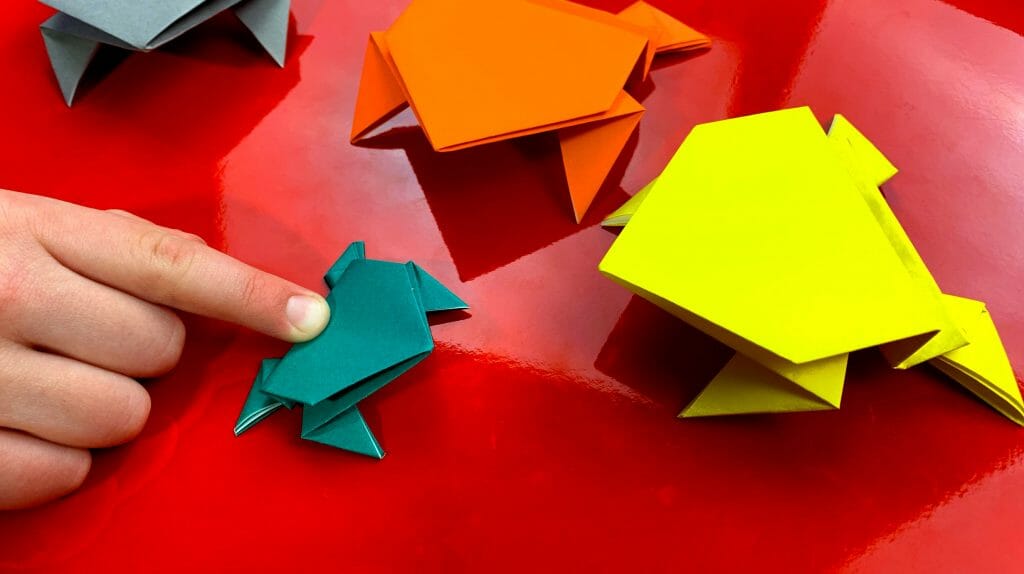 Suppose you've never folded anything before and want to learn how the best place to start is with origami projects for beginners. Learn how to make the most basic folds, and this will lay the foundation for your origami mastery.
Basic Origami Folds
Origami is an amazingly easy hobby to pick up, and it can be heaps of fun. All you need is paper, and any paper will do to start with. The following basic origami folds are fundamental for several different models.
1. Valley Fold
Every origami project starts out with either a Valley or Mountain Fold. To make a Valley fold, you fold the paper forward into itself so that the crease is at the bottom.
2. Mountain Fold
A Mountain fold is the opposite of a valley fold, which means that the paper folds to the opposite side.
3. Reverse Fold
There are two types of Reverse folds (inside and outside): basic origami folding techniques. They are often used to create the tail or head of an animal.
4. Sink Fold
The idea behind the Sink fold is to make a pointy part of the origami figure sink in.
5. Crimp Fold
When you apply the Crimp fold, the fold lines should be perpendicular or angled, depending on what you want to create.
6. Pleat Fold
The Pleat fold is a combination of the Valley and Mountain folds to create a pleat in origami paper.
10 Beginner and Kid-Friendly Origami Projects
With the fundamentals under your belt, you can move on to your first origami projects. The following origami sculptures are perfect for kids and beginners.
1. Origami Fortune Teller
Related: Full Origami Fortune Teller Tutorial
These are something we all remember from our childhood. They're great fun to play with and super simple to make. Find out how to make your fortune teller in 16 straightforward steps.
2. Paper Snowflake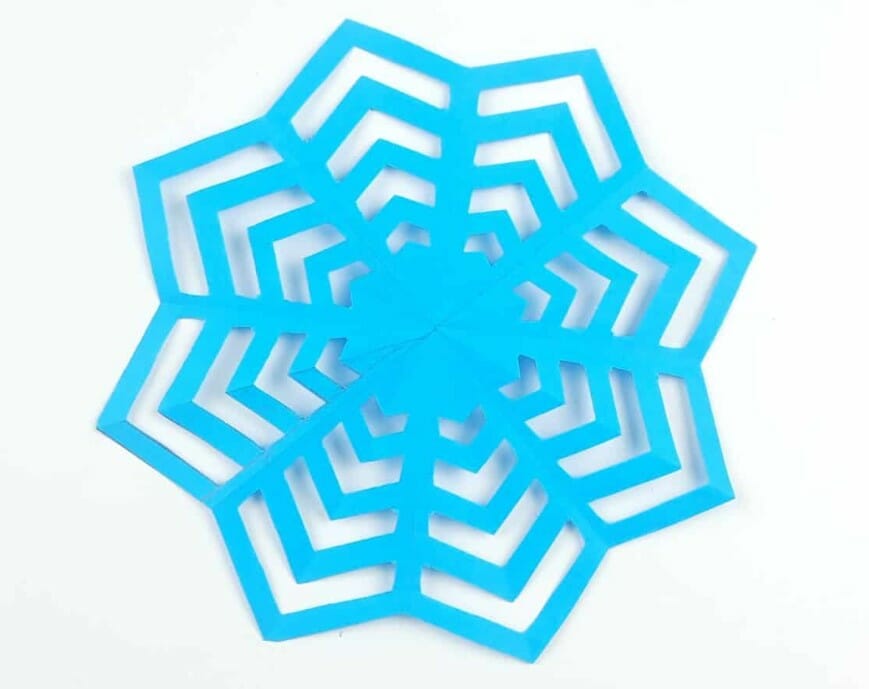 To create paper snowflakes, you'll need scissors, which makes this project kirigami. But the process is simple. Hence, it's ideal for kids. Check out our tutorial on how to make beautiful snowflakes to hang in your windows.
3. Simple Puppet
This origami project is perfect for anyone who loves animals, whatever their age. Take your origami journey one step further by making a puppet dog with the help of our tutorial.
4. Origami Boat
Make your origami boat with paper or cloth, but if you make it with plastic, you might be able to sail it in your bathtub. Find out how to do it in our origami boat tutorial.
5. Origami Heart
Do you have a special someone you'd like to share your heart with? Find out how to make a heart out of paper.
6. Fidget Toy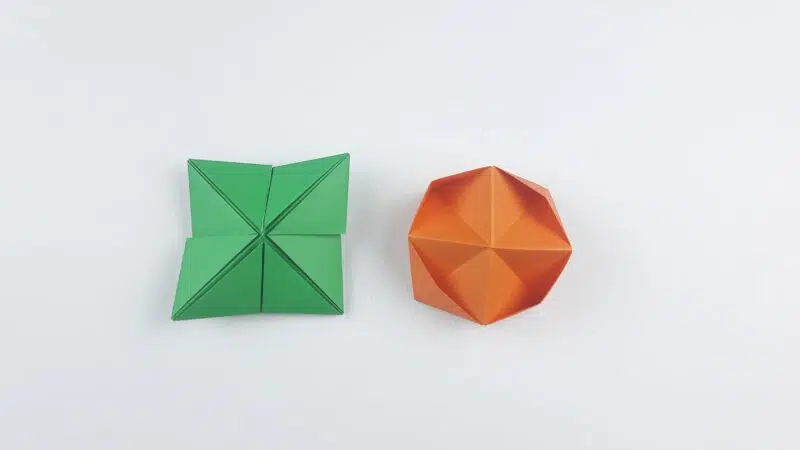 Fidget toys have been popular for a while now, but why buy one when you can make your own out of paper? Watch our video tutorial.
7. Paper Dice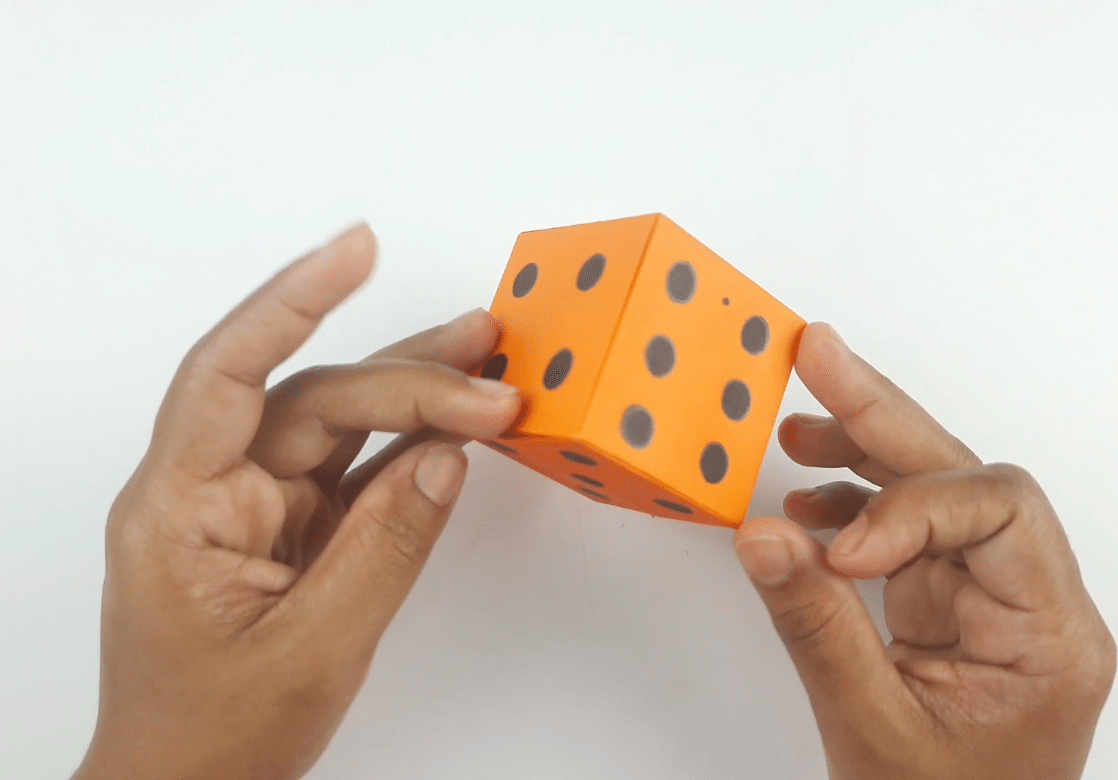 Have you ever tried to play a game only to find out one of the dice is missing? Learning how to make your own dice out of paper will never be a problem.
8. Origami envelope
In just 20 steps, you can transform a square of paper into a functional and decorative envelope. Follow the steps of making an origami envelope here.
9. Origami Ninja Star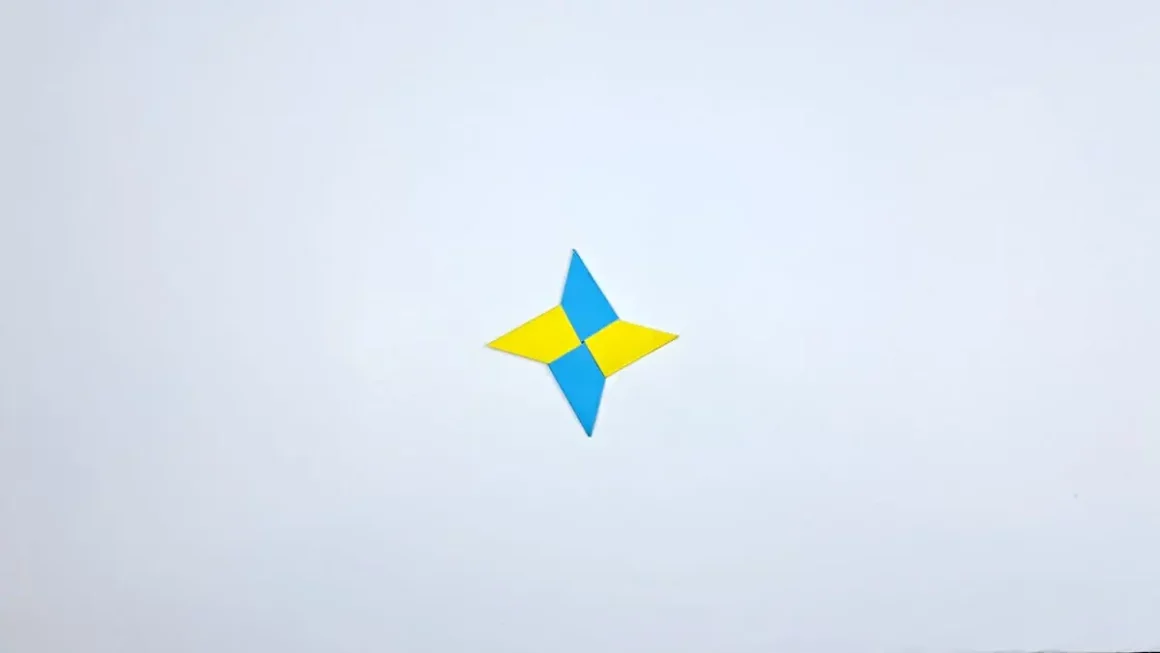 For a Ninja Star, you'll need a decent-quality rectangular piece of paper to hold the creases well. As well as learning how to make an origami Ninja Star, our tutorial also gives you tips on throwing one properly.
10. Origami Kite
Most paper kite designs follow the same basic construction. Once you've followed our kite-making tutorial, see if it flies by taking it out in a light wind.
Intermediate Origami Techniques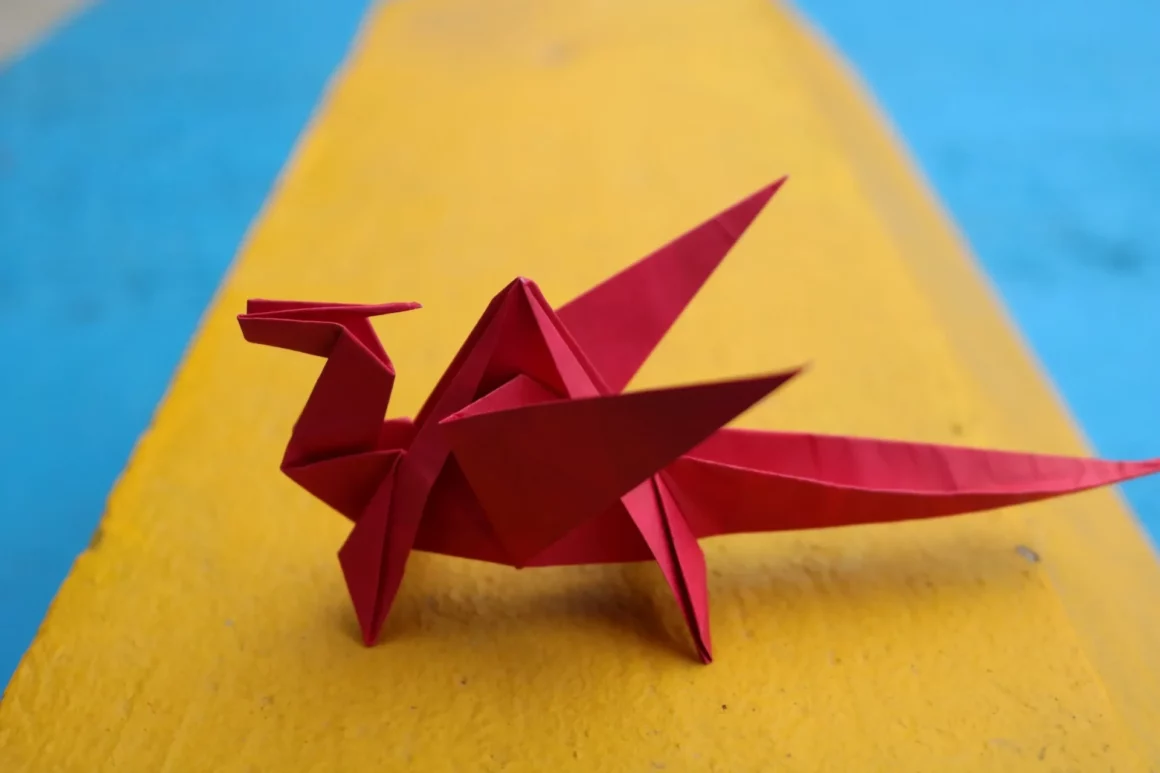 Intermediate Origami Folds
Intermediate origami folds are more suited for people who've had some practice with the basic folds. They're a little more complicated but great for someone looking for a bigger challenge.
1. Squash Fold
To make the fold, you need to open the paper slightly and then perform a squashing action to flatten the paper.
2. Diamond Fold
First, fold 1/3 of the paper up, then cover it with the other third. After that, fold in two corners at one end and then fold the other end diagonally. Fold the small flap over to make the diamond.
3. Swivel Fold
The Swivel fold is, in effect, a combination of two folds called the leading and the trailing fold.
4. Spiral Fold
The Spiral fold is slightly more advanced, but it's not that hard to learn. Just check out the tutorial below.
5. Box-pleating Fold
The Box pleat fold is made by folding two folds of paper away from each other on the front of a length of paper, similar to how gathers are created. With the Box pleat fold, you can make intricate origami designs.
6. Petal Fold
The origami Pleat fold is also very popular, as it's used to make a variety of projects. Learn how to make it step-by-step in the video below.
7. Windmill Base
Another easy-to-learn origami folding technique is the Watermill base. The windmill, according to Chinese tradition, is a symbol of change in luck for good.
8. Waterbomb Base
It's also a good idea to learn how to make the Waterbomb base. It is the starting point in creating all sorts of origami projects, be it a goldfish or lily. See the video below for more details.
9. Frog Base
Another traditional origami base, the Frog base is used for making the popular jumping frog. Read on to check out our dedicated tutorial further down in the article.
10. Bird Base
You can create all kinds of birds once you learn to make the origami Bird base, which consists of a square base and two Petal folds. Have a look at the video below.
9 Intermediate Origami Projects
You'll find intermediate or medium-level origami projects a little more challenging. However, don't be put off because, with perseverance and practice, you should be able to follow the instructions and create some fun creatures and gifts.
1. Origami Crane
The crane is a symbol of good fortune, longevity, and peace. Get to the end of our tutorial and you'll have a beautifully crafted paper crane.
2. Origami Swan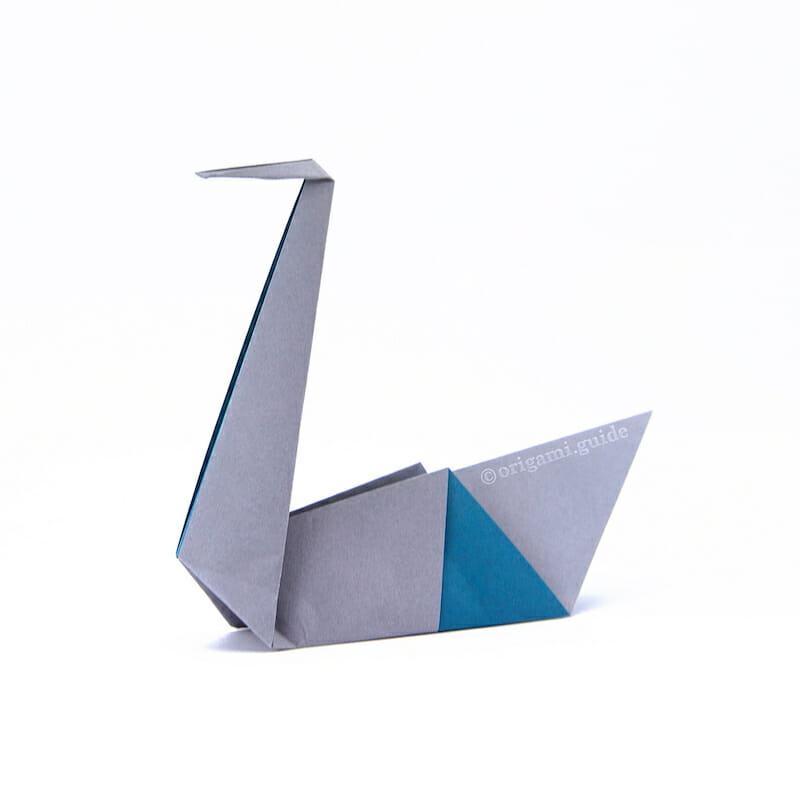 The traditional Japanese origami swan is easy to make and looks great with double-sided paper. Learn how to make an origami swan here.
3. Origami Owl
Humans have been fascinated by owls for hundreds of years. Follow the steps to make an origami owl in the comfort of your home.
4. Origami Box
All you need is a square of paper, and you'll be able to make a box for organizing your trinkets, give a gift, or enjoy paper folding. Get folding with our tutorial.
5. Origami Jumping Frog
Make a cute amphibian, and it'll be able to jump when you've finished the steps in our origami frog tutorial.
6. Origami Butterfly
Origami can be a meditative experience, especially when you're making origami butterflies, a symbol of beauty and transformation. Check out our comprehensive step-by-step guide.
7. Origami Spider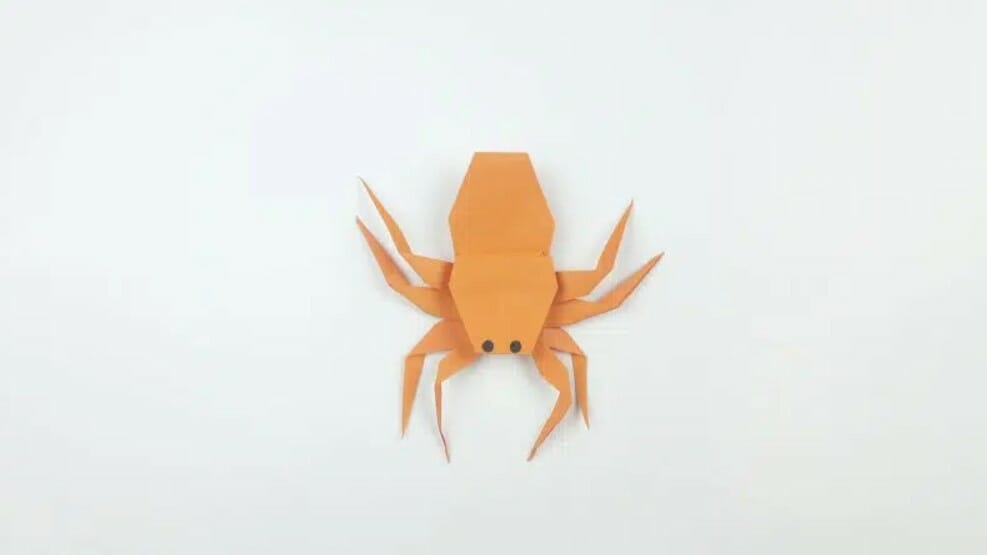 Spiders are a little more difficult to make because the shape is fragile and easily tears. Allow more time for following our spider tutorial.
8. Origami Flower
If you want, you can use tissue paper to make your origami flower. Find out how to do it in our tutorial.
9. Origami Dragon
It takes 26 steps to make this mythical creature. Our origami dragon tutorial walks you through each one.
Advanced Origami Techniques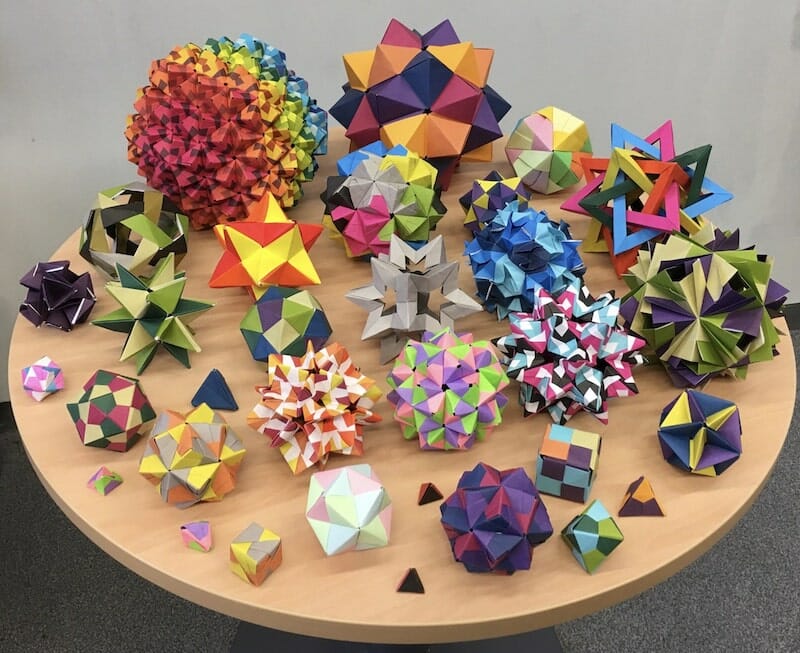 In the following section, we'll introduce you to some challenging origami techniques. They're not too hard, but not that easy either, as long as you're willing and patient.
Modular Origami
Modular origami, also known as unit origami, is a paper folding technique that uses more than one sheet of paper to create larger and more complex structures.
Individual modules or units are made first and then assembled to make integrated flat shapes or three-dimensional structures.
Wet-Folding Technique
Origami wet folding is a technique that uses water to dampen the paper. The moisture means you can manipulate it more easily and create realistic, curved forms.
This technique takes some practice and skill to master because the paper needs to be wet enough to fold but not too wet to tear.
Using wet folding, you can add an element of sculpture to your origami designs rather than them being purely geometric.
Kirigami: The Art of Paper Cutting
Kirigami is a Japanese paper-cutting art but is a variation of origami. In kirigami, paper is cut as well as being folded. The result is a three-dimensional design that stands out from the page.
Just like origami, kirigami has roots in China. In the 6th century, the Chinese started to use colored paper to create decorative cut-outs. This practice was known as jiǎnzhǐ.
The first kirigami art is said to be traced back to Japanese Buddhist temples, and it was believed to represent things like elegance, wealth, and perfection.
Tessellations in Origami
Origami tessellations are a technique that makes it possible to create complex, repeating patterns by folding a single sheet of paper. There are two major types of tessellations: the classic type and corrugations.
Classic tessellations are usually based on a square or hexagonal grid. The paper is folded into an odd number of layers to make the shapes and patterns.
Corrugations are made with one layer. The tessellation pattern is formed with wrinkles and waves in the paper.
Advanced Origami Mastery
As soon as you're confident in your origami skills, you can aim for more advanced origami mastery. You might not want to try them immediately, but once you've mastered intermediate and advanced origami, it's time to take your origami experience to a whole new level.
Supercomplex Origami Models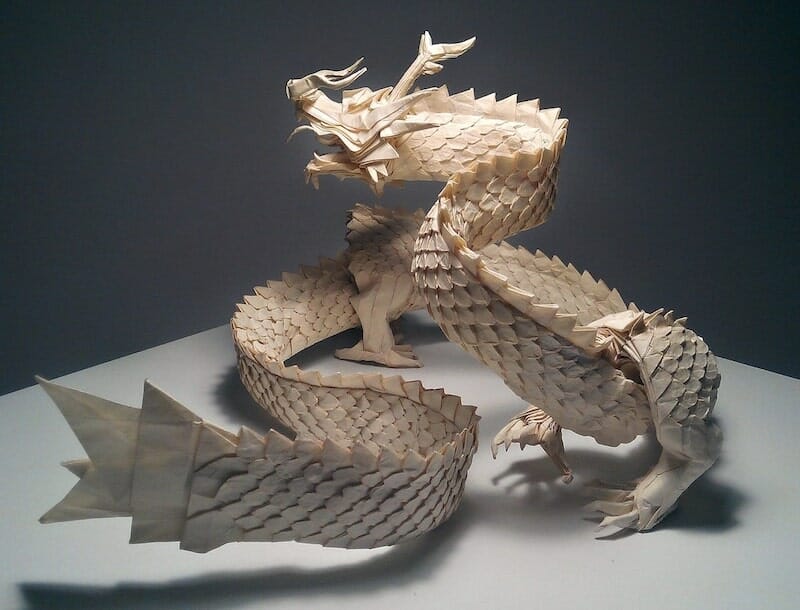 Some origami artists create what is termed "supercomplex works." Kamiya Satoshi is a leader in these types of origami models, and his work has won him many fans in Japan and abroad.
Supercomplex origami refers to intricate and sophisticated works of art that have been fashioned from one piece of paper.
Origami Design: Creating Your Own Models
While you might be content with folding origami models that other artists have created, there might come a time when you want to design origami models of your own.
Folding the same model repeatedly is good, but what might happen if you fold at a slightly different angle or add an extra fold?
There's also a process known as "Doodling" you could explore. In origami, this refers to an unconscious process where a piece of paper is folded with no particular result or target in mind. The creative juices start to flow, and why, presto, you've made something interesting.
Origami Uses in Applications
Origami has been practiced for centuries in Japan and around the world. It has many applications in different fields of science, engineering, design, and education.
Origami in Education & Therapy
Let's see how origami is applied in various educational and learning fields.
Origami as Art Therapy
Origami can be used as a form of art therapy for different purposes, such as:
Relaxation and mindfulness: Origami can help people to calm their minds and focus on the present moment. It can also be a form of meditation.
Expression and creativity: Origami can allow people to express their feelings and thoughts through the choice of colors, patterns, and shapes. It can also stimulate creativity, as people can invent innovative designs or modify existing ones.
Healing and recovery: Origami can help people who have experienced illness, injury, and trauma to cope with their emotions and regain their sense of control. It can also improve hand-eye coordination, fine motor skills, and mental cognition. This can be beneficial for cognitive and physical rehabilitation.
Benefits of Teaching Origami to Children
Origami can be a fun and creative activity that also has many educational benefits for children. These include:
Improving mathematical and reasoning skills
Enhancing thinking and spatial skills
Boosting motor skills and coordination
Promoting social and emotional skills
Improving focus
Reducing stress
Building self-esteem
Teaching children to learn from their mistakes
Activating the right hemisphere of the brain, responsible for creativity and artistic sense
Encouraging imagination
Origami and Cognitive Development
Origami is a creative and fun activity that can improve spatial perception, logical thinking, problem-solving, and concentration. It can also enhance mindfulness.
Origami in Science and Mathematics
Origami techniques and principles have been also applied in the technical and scientific industry sectors.
Applications of Origami in Engineering
Origami can be used in engineering to create compact, flexible, and adaptable structures. Some of the applications of origami in engineering are:
Telescopes: Origami can help design large telescopes that can be folded and deployed in space.
Medical devices: Origami can help create devices that can be inserted into the body and expanded to perform a function.
Robots: Origami can help design robots that can change their shape and function according to the environment.
Solar arrays: Origami can help design solar panels that can be folded and unfolded to capture more sunlight.
Emergency shelters: Origami can help design shelters that can be quickly assembled and disassembled in disaster situations.
Origami in Space Exploration
Origami in space exploration is the use of origami-inspired techniques to design and deploy structures and devices in outer space. Applications include large solar panels, antennas, and shields that are folded into compact shapes that fit inside a rocket. Once in orbit, these structures can unfold to their full size and function.
Origami also helps create flexible and adaptable fuel tanks, robots, and instruments that can withstand extreme temperatures and pressures in space.
Mathematical Concepts Behind Origami
Origami involves many mathematical concepts and principles. These include:
Geometry: Origami uses basic geometric shapes, such as squares, triangles, and polygons, to create complex models. It also explores geometric properties, such as angles, lengths, areas, perimeters, symmetries, and transformations.
Algebra: Origami can be used to solve algebraic problems, such as finding the roots of a cubic equation or doubling the cube. It can also be used to illustrate algebraic concepts, such as variables, expressions, equations, and functions.
Number theory: It's possible to explore number theory concepts, such as divisibility, prime numbers, fractions, and irrational numbers using origami. It can also be used to demonstrate number theory theorems.
Combinatorics: Origami can be used to study combinatorics concepts, such as permutations, combinations, partitions, and graphs. It can also be used to generate combinatorial patterns, such as fractals, tilings, and tessellations.
The Art of Origami: FAQs
Q: What is the easiest origami project for beginners?
A: Some of the easiest origami projects for beginners include:
Origami simple heart
Butterfly
Star
Origami crane
Modular cube box
Envelope
Q: How long does it take to master origami?
A: There is no definitive answer to this question, as it depends on many factors, such as the level of difficulty, the amount of practice, and your personal goals. Some sources suggest it can take years or even decades to become an origami master.
Q: Are there any health benefits to practicing origami?
A: Yes, there are many health benefits to practicing origami. For example, it can help reduce stress and anxiety, improve fine motor skills, and enhance cognitive abilities.
Q: Can I sell origami creations?
A: Yes, you can sell origami creations and make money from your hobby. Origami is a popular and unique art form that can attract many customers who appreciate its beauty and craftsmanship. 
Q: Are there origami competitions?
A: Yes, there are. One of the most popular modern origami contests is the International Origami Internet Olympiad. Hundreds of folders from around the world participate every year.  
Q. How can I preserve and display origami models?
A: Origami models can be fragile and prone to damage from dust, water, or handling. If you want to preserve and display your origami creations, you could try the following methods:
Applying clear nail polish
Use Mod Podge, a crafting medium you can use as a glue, sealer, or finish.
Acrylic paint or sealer: Apply this to harden your origami models.
H2: Recommended Origami Resources for Beginners
If you'd like to try origami but aren't sure where to start, a wealth of resources is available to guide and instruct you. As well as origami books, there are also countless online tutorials and websites, origami kits, and paper sets.
Origami books that are worth a closer look include:
World's Best Origami: This general-purpose guide has over one hundred different models for you to fold.
Follow-the-Directions Art Easy Origami is a terrific book for young paper folders. It provides instructions for amazingly simple projects that a child can fold independently.
Trash Origami: This affordable book takes paper folding to a new level by encouraging you to use candy wrappers, junk mail, and magazine pages in colorful origami decorations.
In terms of tutorials and websites, we've got to mention the amazing selection of origami tutorials we offer right here. Not only that, but the internet is also full of wonderful resources, whatever your age and skill level.
For origami kits and paper sets, a good place to look is Amazon. Wherever you are in the world, you can always order a range of origami materials to your doorstep and obtain what you want to get your origami project underway.
Conclusion
In conclusion, origami is not merely the art of paper folding; it is a captivating journey of creativity, patience, and precision.
Through this ancient Japanese craft, we've discovered that with a simple sheet of paper and a touch of imagination, we can transform the ordinary into the extraordinary. Origami teaches us the beauty of simplicity, the elegance of minimalism, and the joy of creating something beautiful with our own hands.
So, let us continue to fold, crease, and shape our world one fold at a time, embracing the therapeutic power of origami, and unlocking the boundless potential that lies within each sheet of paper.
Sources & References: