From intriguing DIY invitation cards to party-style stickers, your Cricut cuts them all. But before you feed anything to the Cricut machine, it's crucial to print it on a suitable material of your liking.
Since it is a cutting machine, the only instance when a printer isn't required is when you plan only to cut vinyl, paper, and other materials. Using a printer is a must if you're doing anything custom at home! But which printer is best for Cricut machines? Can I use any regular printer?
Read on as I present to you the top 5 printers for Cricut and a quick buying guide.
I'll also answer all your printer-related queries. So, hold on to your hats!
Related: How to Engrave with Cricut Maker? Acrylic, Wood, Metal
How To Choose The Best Printer For Cricut?
As aforementioned, you'll come across a wide range of printers with Cricut compatibility. While your budget will be one of the crucial aspects when buying a printer, take advantage of the following parameters or features for the best purchase.
For cutting machines like Cricut, laser and inkjet printers are deemed best. Of these two, laser printers work well for texts and documents on plain paper as they mostly employ the standard black and white toner.
Always use the inkjet variant if you require colorful prints, especially on non-heat-sensitive materials such as vinyl and sticker (or glossy) paper. This is because they only heat the ink and don't ruin your project, unlike the laser one.
The next thing to consider is the supported paper types. Since Cricut snips through almost all common paper types, from regular tissue paper to stiff cardstock, your printer needs to print on these materials.
As a thumb rule, refer to the printer's user manual to understand all types of papers it supports and then choose wisely.
Related: How To Make Business Cards On Cricut? The Complete Guide
The printing resolution of any printer is expressed in dots per inch or DPI. The higher the DPI, the clearer and more polished your printed image.
But don't just buy a printer due to its high DPI!
And here's why!
Besides the high-quality printed images, printers with a high DPI, for example, 5760 by 1440 DPI, are usually more expensive and slower.
Thus, if you're unwilling to burn more cash or compromise the printing speed, printers with 4800 by 1200 DPI should suffice.
Related: What Can I Make With A Cricut Machine? 15 Ideas For All Levels
Do you prefer a wired or wireless connection between your Cricut machine and printer?
Ensure the printer has sufficient input ports if a wired connection seems suitable for you due to its uninterrupted high-speed transfers.
On the other hand, if you prefer sending printing requests wirelessly via a smartphone or laptop, Bluetooth or Wi-Fi is a must!
Another advantage of a wireless connection is that you can print through multiple devices simultaneously.
Note: Modern (and more expensive) printers come with Alexa-enabled. That is, you can print anything through voice commands.
Related: How To Unweld On Cricut – Follow These Quick Steps
5 Best Printers For Cricut – Reviewed By Experts
Below is a detailed review of my top five Cricut-compatible printers you can use for various projects, from gift cards to artwork.
Let's discuss each of these in detail.
Best Overall Printer For Cricut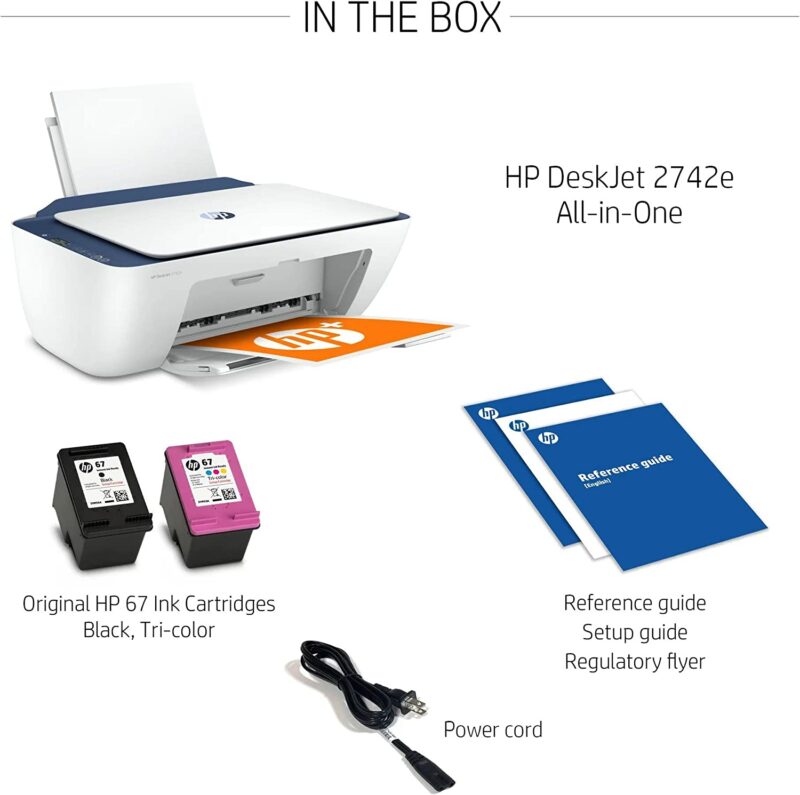 Specifications:
Printing Technology: Inkjet
Resolution: 1200 x 1200 DPI
Connectivity: USB, Dual-Band Wi-Fi, Bluetooth 5.0
Functions: Print, Copy, Scan
The first Cricut-friendly printer on the list is this HP All-In-One Wireless Color Inkjet Printer. It's an ideal choice for those who want both wired and wireless printing options from the same machine, thanks to its built-in USB port and Dual-Band Wi-Fi & Bluetooth 5.0 capabilities.
Thus, you can select any medium to print, scan, and copy your documents, pictures, etc., for Cricut in the highest quality! I prefer wireless printing.
Regarding the printer setup, you can download the official HP Smart app and follow the on-screen steps to prepare the device for its first Cricut print. So, even beginners won't face hurdles while printing.
Since the printer works with B&W and colored toners, you get a different printing speed of 7.5 pages in B&W color and 5.5 pages in multi-color. Although not the fastest, it's enough for basic Cricut craft activities.
You get the LCD screen, functional buttons, flatbed scanner, and I/O trays on the printer's top panel. The input tray can hold up to 60 sheets, and the output tray 25 sheets.
Note: I suggest activating HP+ to get 6 months of Instant Ink so that you never run out of ink.
Pros
Instant setup with all Cricut machines
Soft-touch control buttons for single-touch prints
Multiple connections possible
Cons
Not-so-fast printing speed
Check the HP All-in-One Wireless Color Inkjet Printer's latest prices on Amazon
Best Budget Printer For Cricut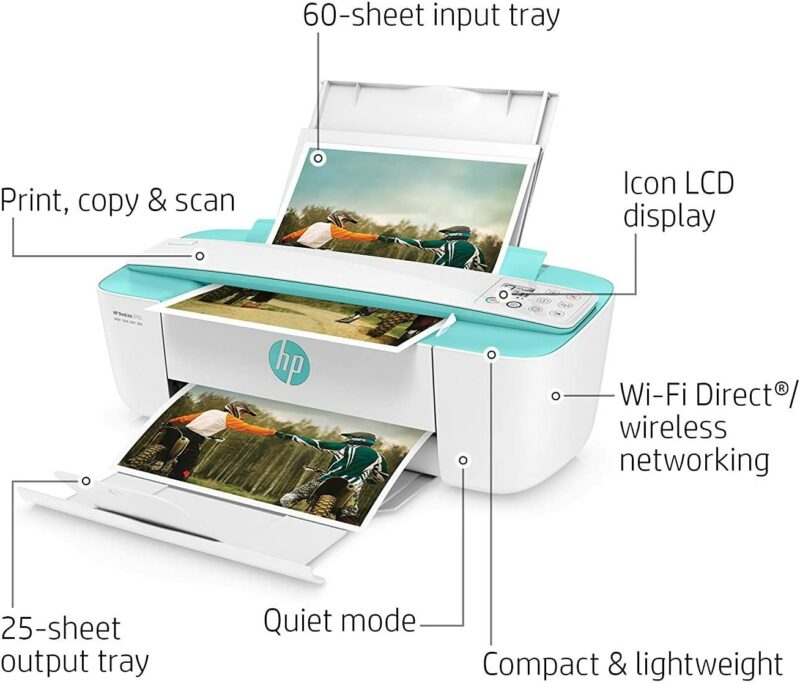 Specifications:
Printing Technology: Inkjet
Resolution: 4800 x 1200 DPI
Connectivity: Dual-Band Wi-Fi
Functions: Print, Copy, Scan
If you're here for the most affordable printer for your Cricut machine, it'd be unfair not to mention the DeskJet 3755 from HP with a fantastic printing resolution of 4800 x 1200 DPI.
Another multi-purpose print, copy, and scan printer, it's regarded as the world's most compact all-in-one printer with dimensions of 15.86″ x 5.55″ x 6.97″. Thus, you can carry it and print your Cricut craft pieces from anywhere.
In terms of connectivity, you get the latest Wi-Fi Direct technology for seamless wireless printing from your smartphone or tablet. Not to forget DeskJet 3755's support for Alexa! So, put your voice commands to use and print on the go.
Like other HP printers, this model's control panel features an LCD screen and other buttons.
Note: Use the HP Scroll Scan feature to efficiently handle your scan jobs, from plain paper to stiff media.
Coming to the supported paper sizes, this printer is functional with almost all paper sizes, from 3″ x 5″ to 8.5″ x 14″. And you can print your Cricut designs on plain paper, matte paper, glossy paper, photo paper, etc.
Pros
The most affordable option with a high printing quality
Built-in Alexa support
Seamless wireless connectivity
Cons
High-priced ink cartridges
Check the DeskJet 3755 from HP's latest prices on Amazon
Best Printer For Cricut Explore Air 2

Specifications:
Printing Technology: Inkjet
Resolution: 4800 x 1200 DPI
Connectivity: Dual-Band Wi-Fi
Functions: Print, Scan, Fax, Copy
Pair your Cricut Explore Air 2 with this Canon PIXMA TR4520 and witness your designs come to life. A durable printer made from high-end plastic is a prime choice for home-based Cricut craft activities and office work.
Thus, you get the "fax" option besides the conventional print, scan, and copy. To set up, download the Canon Print App on your mobile device and select the "Wireless Connect" button on the screen to begin.
Once done, load the printing sheets, and the "Automatic Document Feeder" will feed the sheets automatically for printing.
The recommended paper sizes include 4″ x 6″, 5″ x 7″, 8″ x 10″, legal, and U.S. #10 envelopes. Plus, you can print your Cricut designs on any paper of your choice, for example, semi-glossy, super high glossy, plain, and matte at industry-standard 4800 x 1200 DPI resolution.
Talking about the printing speed, the print effortlessly prints at 8.8 IPM with B&W ink and 4.4 IPM with colored.
Some cool craft things I suggest using Canon PIXMA are greeting cards, business cards, photos, etc.
Pros
Built-in fax option
Enhanced printing speed for Cricut Explore Air 2
Versatile in terms of supported paper types and sizes
Cons
Check the Canon PIXMA TR4520's latest prices on Amazon
Best Printer For Cricut Maker 3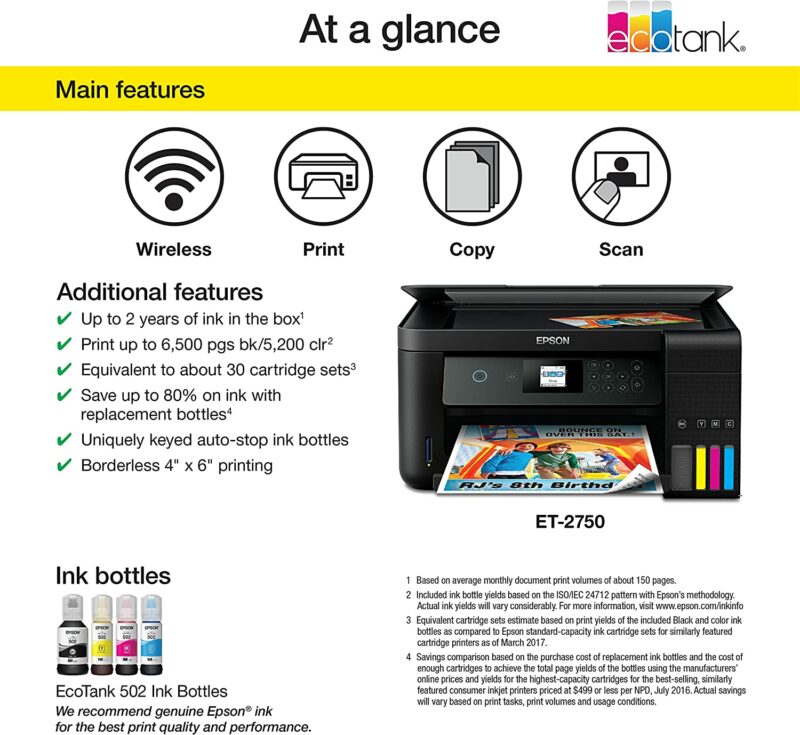 Specifications:
Printing Technology: Inkjet
Resolution: 5760 x 1440 DPI
Connectivity: Dual-Band Wi-Fi
Functions: Print, Copy, Scan
Are you looking for a cartridge-free printer that can save you considerable printing costs? If so, check this EcoTank ET-2750 cartridge-free printer from Epson.
The SuperTank feature of the printer frees you from the hefty costs of ink cartridges and offers much more than you'd think. The Epson-compatible replacement ink bottles can print up to 6,500 B&W pages and 5,200 coloreds, equivalent to 30 regular cartridges.
Once finished (check the ink tank levels), you can easily refill the ink tanks using auto-stop no-squeeze bottles without worrying about spillages, as each tank is uniquely keyed.
In terms of connectivity, there's no USB port or Bluetooth. Instead, Epson simplifies your everyday Cricut printing job with its high-speed Dual-Band Wi-Fi Direct functionality. Additionally, you can employ your voice commands via Alexa to print your Cricut Maker 3 projects on the go.
Note: This printer is compatible with both Windows and macOS. And the supported devices include tablets and smartphones (iOS and Android.)
The maximum print resolution with Canon EcoTank ET-2750 is 5760 x 1440 DPI, which is also the best considering the price.
Pros
Highest DPI printing capacity
It helps you save high paper and ink costs
Multi-platform compatibility
Cons
No USB port or Bluetooth functionality
Check the EcoTank ET-2750's latest prices on Amazon
Best Printer For Cricut Stickers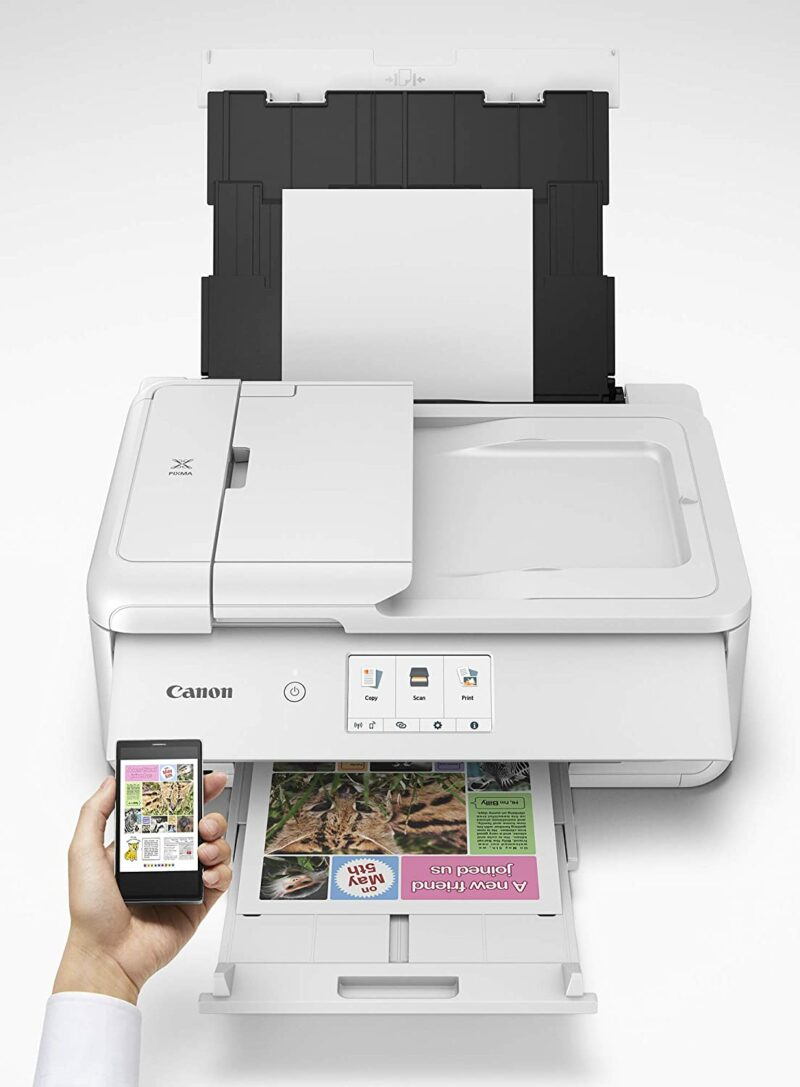 Specifications:
Printing Technology: Inkjet
Resolution: 4800 x 1200 DPI
Connectivity: Wireless, Bluetooth, USB, Ethernet
Functions: Print, Copy, Scan
Be it crafting or scrapbooking. The Canon TS9521C is every Cricut crafter's all-in-one printer loaded with everything you'd need, now or in the future.
Unlike most printers, this Canon model comes with 5 individual ink tanks. Thus, only replace the ink that runs out while printing.
Another notable feature of the printer is the built-in printable patterns you can directly print and use in your Cricut projects. Select your favorite pattern using the intuitive 4.3″ LCD touchscreen and hit the "Print" button. The compatible paper types are 12″ x 12″ glossy, matte, plain, etc.
To print your custom designs from any external peripheral, transfer them to the printer through any means you like – wirelessly, Ethernet, USB, or SD memory card.
Tip: Use the "Disc Label Printing" option to print your candid moments on CDs, DVDs, and Blu-Ray discs and share them with your loved ones.
Do you hate your printed Cricut projects and photos from fading in the long run? If yes, you'd appreciate this printer's "ChromaLife100" system that preserves your precious craft pieces from fading for 100, 30, or 20 years!
Pros
High-quality and vibrant printing on the go
Compact design for easy portability
No fading ink system
Cons
No automatic document feeder
Check the Canon TS9521C's latest prices on Amazon
Best Printer For Cricut (FAQs)
How Do You Print To Cut On Cricut?
Ans: It's extremely easy to print to cut on Cricut. To do so, select any printable image, add it to your Canvas, and choose the Make It to Print Then Cut option. Cricut will then scan and cut it.
What Printers Work With Cricut Sticker Paper?
Ans: It must be noted that only inkjet printers work with Cricut sticker paper. Laser models aren't compatible with Cricut's printable materials.
Related: What Does Flatten Mean On Cricut? All The Answers
What Is The Best Printer For Printable Vinyl?
Ans: Both laser and inkjet printers are suitable for printable vinyl.
Do You Need A Special Printer To Print Cricut?
Ans: Yes, you need an inkjet printer to print Cricut, not a laser. This is because the heat from a laser printer can melt the outer coating of certain materials, such as vinyl and sticker paper, ruining your printer and project.
What Is The Best Printer For Cricut Sublimation?
Ans: The Epson SureColor series comprises some of the best Cricut sublimation printers. They are easy to use, come with special sublimation ink, and print high-quality prints on various papers.
Conclusion
So, there you go, home crafters. That's everything you'd know about the best printers for Cricut. You must consider many factors, from the printer's resolution to its type. Or you might end up ruining your project.
I highly recommend investing in a commercial printer if you're more than a home crafter and run a small side Cricut business.