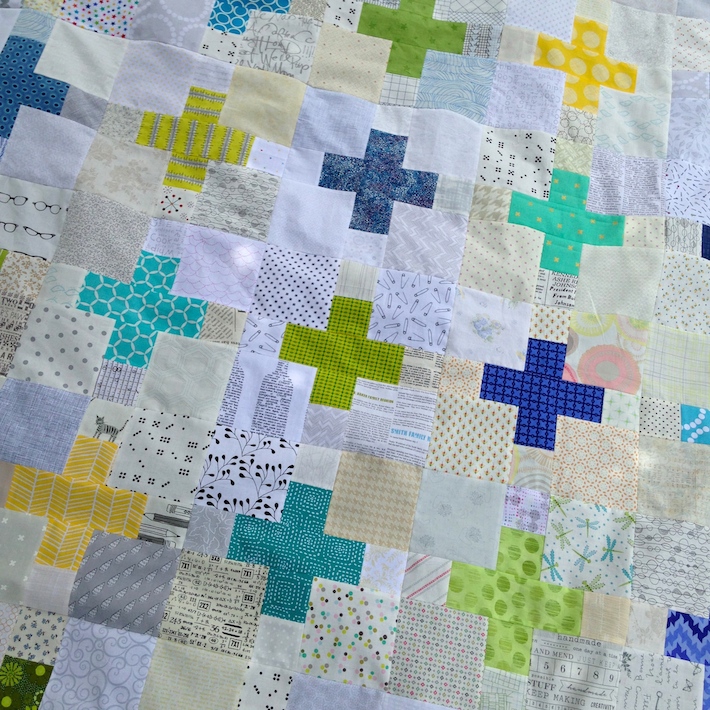 Update: Here is my quilt top made from the blocks I received in the swap! For a free block tutorial, please scroll down. The swap is over, but you are welcome to follow these instructions to start your own block swap, or check out my book, Modern Bee, for more ideas on how to host a quilting bee or block swap!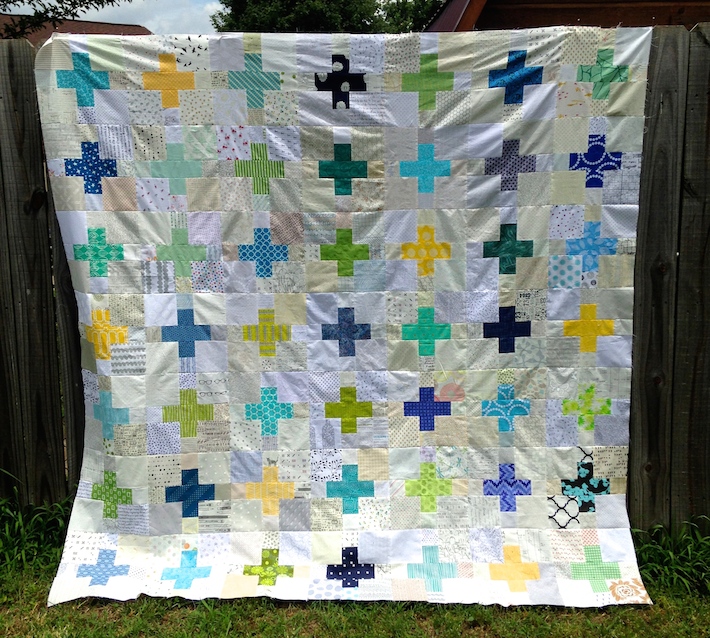 I thought it was time to host another craft swap! This time, we will be swapping low volume plus blocks.
These quilt blocks are easy and relaxing to sew, especially if you pre-cut your fabrics! Beginners can sew this blocks, and you can choose to sew and swap as many blocks as you'd like. You'll get back the same number in return. I'm planning to use mine to make a queen-sized bed quilt, so I'm going to make a lot.
Swap is no longer accepting sign-ups.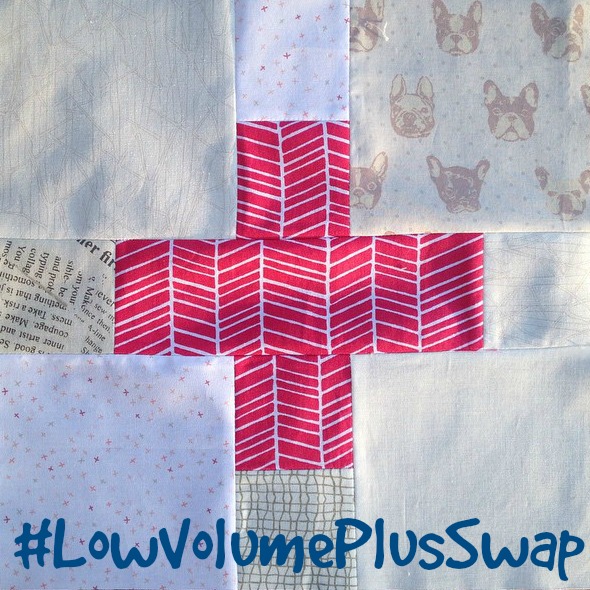 About the Block
The block is 11 3/4″ unfinished, and it uses charm squares for the corners. The background is made of scrappy low volume fabrics … mostly prints, and a few white, cream or grey solids are fine. Make sure that the background and the plus fabrics read very differently when you lay them out.
The plus features a bright, single-color print, such as this pink herringbone! Any color of the rainbow, including dark neutrals like blacks, dark greys, and browns are okay for the center.
All fabrics should be quilt-shop quality, modern FUN fabrics! (Robert Kaufman, Moda, FreeSpirit, Etc.).
I estimate that you'll need this many blocks for each size quilt:
Mini: 9, 12 or 16 blocks
Crib: 24 blocks
Lap: 30 blocks
Twin: 48 blocks
Full: 56 blocks
Queen: 72 blocks
King: 81 blocks

Photo Credit: Rachel Wooden Spoon on Flickr
I've gathered some finished quilts for block inspiration! Check out this rainbow-licious version by Rachel. She used some great pops of color! If you join this swap, you're most likely to get a rainbow of plus blocks back.
Photo Credit: Wombat Quilts
Imagine a whole quilt with dark blue or black plus blocks!
Photo Credit The Sewing Chick
Look at how warm and cozy this block looks in yellows, oranges and pinks!
Photo Credit: Rachel Wooden Spoon on Flickr
See the rest of Rachel's blocks and finished quilt HERE!
Here's how to make the block:
Low Volume Fabric:
– 4 squares 5″ x 5″
– 4 squares 2 3/4″
Plus Fabric (Please Stick to One-Color Prints!):
– 2 squares 2 3/4″
– 1 rectangle 7 1/4″ x 2 3/4″
Step One: Join two of the 2 3/4″ backgrounds to the 2 3/4″ color blocks. Press the seams open.
Step Two: Join the strip you've just sewn to the 5″ backgrounds. Press the seams open.
Step Three: Sew the remaining 2 3/4″ backgrounds to the long colored strip. Press the seams open.
Step Four: Join the three rows to make a 11 3/4″ unfinished block. Press the seams open.
If you have to repeat a low volume fabric in the same block, that's fine! Just make sure all big squares are different and all the small squares are different, and that no matching prints touch. By the time we've swapped, everyone will have a good variety of low volume fabrics in their finished quilt!
Who wants to swap blocks with us?
1. You will get back the same amount of blocks that you mail in. You can make any number of blocks, but I'm going to recommend sets of 12 blocks (12, 24, 36, or 48)!
2. Ship your blocks to me by May 10th (Mother's Day), 2015. This will allow you to sew about 1 block a week if you want to swap 12, two blocks for 24, etc. Once you sign up, I'll e-mail you my address!
3. All blocks must come from a SMOKE FREE home.
4. You must include return postage. Please send a self addressed stamped envelope; it's much easier for me.
5. We're going to keep this swap to the U.S. and Canada only! Sorry international friends. This will be my first swap in awhile, and I don't want to overwhelm myself.
6. Please mail your blocks in a gallon zip-sealed plastic bag. Please put a note inside of a gallon bag with:
A. Your Name
B. Your Mailing Address
C. Your Email
D. How many blocks you sent.
E. Any special requests you have for the blocks you get back. ("I hate orange.†"Anything is great!†"No florals please.†"Masculine prints only.†"Love pink!â€) I can't guarantee that I'll be able to adhere to this, but I'll try!
7. We'll share our blocks on Instagram with the hashtag #lowvolumeplusswap
8. Also, please spread the word and invite your friends, because the more participation we get, the more variety of blocks you'll receive!
Signing up is not a commitment to send blocks; it is the list that I will send my address to.