When it comes to sewing, a perfect sewing machine table is as crucial as the machine itself. While small sewing projects are manageable on any stable surface, like a shelf or a desk, it's not so when you're dealing with larger fabric projects. 
I mean, constantly folding the fabric after every few seconds is a headache! 
A good sewing machine table can mean the difference between frustration and satisfaction with the sewing process. But what makes a good sewing table? The weight, height (preferably adjustable), drawers, working area, etc., are a few factors.
Are you facing issues in finding such a sewing machine table? If so, don't worry, as this article is especially for you. Read on as I explain some must-have sewing machine table features and my top favorite models.
What Features To Look At While Buying A Sewing Machine Table?
Sewing machine tables are a necessity when it comes to accurately cut fabric. However, among the plethora of options available, it can be challenging to pick the right one. 
Luckily, there are a few characteristics you can look up to and choose one that works best for you.
Below is the complete list of essential features you should consider while buying a sewing machine table. 
Since sewing can be a tedious job, the stability of the sewing table is one of the most crucial features to look for. This is because while sewing; sometimes you may need to set the machine speed to high. 
In such a situation, a table with a loose build will be unable to take the strain and might get fractured. So look for a table that is solid and sturdy. 
Let's admit that sewing is a messy affair. And the various sewing accessories such as needles, bobbins, buttons, covers, scissors, thread spools, etc., are the reason. 
When left unorganized, all these things create chaos in the room. And as a result, you may not even get the essential tools on time. A sewing table with lots of storage space can be a great asset here. 
So look for a table that offers ample storage space for keeping all those unfinished projects. 
You might wonder how assembly is an essential feature to consider. But it is. This is because you won't be able to start your work without getting the table appropriately assembled. 
Now, some sewing tables come assembled with all their parts, but they are expensive for the same reason. Talking about others, they are delivered to you unassembled and require engineering in furniture assembly. 
Ensure that you look for a table that meets your capability and doesn't require much effort in assembling the parts if the price is no constraint. 
The surface area is another essential feature to look for while purchasing the sewing table because you need space to keep your table and spread your fabric. 
Consider your machine size and the extra space you need to do tasks like cutting, ironing, basting, and pinning. 
If you don't want to lift heavy sewing tables, you better look for a pneumatic/hydraulic lift feature that lifts your machine with a button press. 
However, this feature is available only in higher-end sewing machines, so you might need to pay extra bucks for such luxury. Mark my words; I've used a similar machine with a pneumatic lift, and it's still one of my favorites. 
There isn't an ideal height available on a sewing table that is compatible with everyone. And thus, it's challenging to determine the exact height.  It's recommended to choose a table with an adjustable height feature. 
Tip: You can choose your ideal size by standing against your kitchen counter. 
Weight is one of the factors that you'd consider if you move locations for sewing. 
The table's weight is often determined by the construction material, which also impacts the table's durability. A lightweight table is portable and easy to lift, but it's more vulnerable to vibrations and movement when the machine is set to high speed. You can look for a high-gauge heavy-duty steel table as it is durable and remains stable while working.
The factor that determines the overall strength and looks of the table is the construction material used. You cannot neglect this feature. 
Otherwise, you'll have to face the consequences. Sewing tables are available in different materials, but you should pick them according to your usage. Every material has distinctive characteristics that make them different from others. 
A steady and smooth surface table will work best for you if you have heavy usage. When selecting the material, you can also consider factors like water damage and corrosion resistance. 
Related: Brother CS7000i Sewing & Quilting Machine: a Full Review
5 Best Sewing Machine Tables Reviewed
From the ocean of options available on the sewing table, I've gathered the following five best ones for a fantastic working experience.
Best Overall: Sew Ready Multipurpose, Folding Sewing Table 
Best Entry-Level: GLACER Sewing Table
Best Heavy-Duty: Sew Ready Eclipse
Best For Small Spaces: SewStation 101 Portable/Folding
Best Premium: VIVOHOME Folding Sewing Craft Table
Best Overall Sewing Machine Table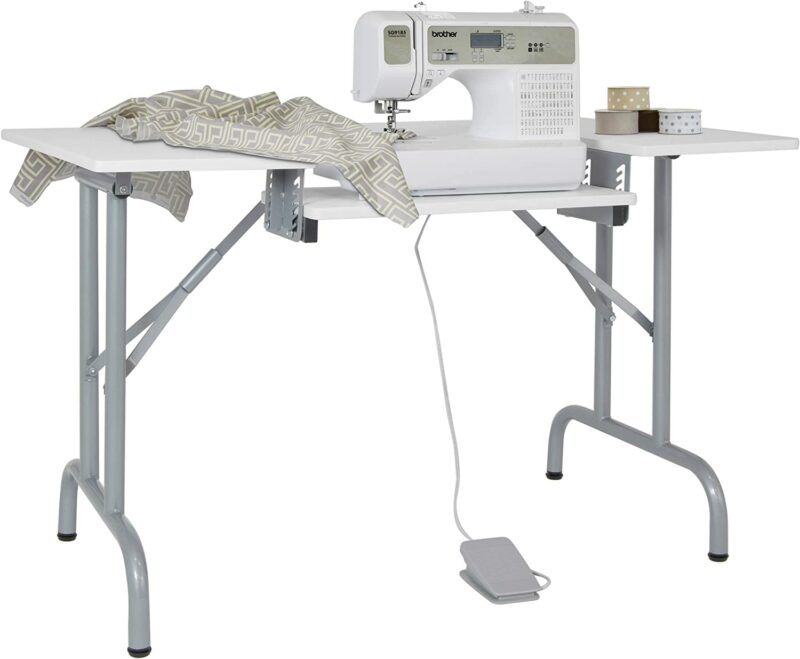 The first product on today's list is this sewing table from Sew Ready. And if you're looking for a versatile and multi-purpose table, you can't get a better deal than this. 
The table features an enormous 47.5-inch expansive and smooth workspace with a drop-down platform that can adjust 6 height positions. Hence, height issues won't be there at all!
Furthermore, the Sew Ready sewing machine table is compact enough to fit almost every house space. As I said, it's a multi-purpose table. Besides sewing, you can also use it as a party table during gatherings, computer table, office table, hobby table, work desk, craft table, etc. 
You can easily fold its legs and lock it safely. It's made from powder-coated steel frames, and thus, it's incredibly lightweight and rustproof.
Not to forget, the table has four-floor levelers for stability. So you can also set the table outdoors and work without stability issues. 
Pros
Decent working space with fabric locks

Detailed instructions guide

Sturdily built with better stability 

Easy to assemble and store
Cons
Edges have a poor quality finish

No storage drawers
Check the Sew Ready Multipurpose's latest prices on Amazon
Best Entry-Level Sewing Machine Table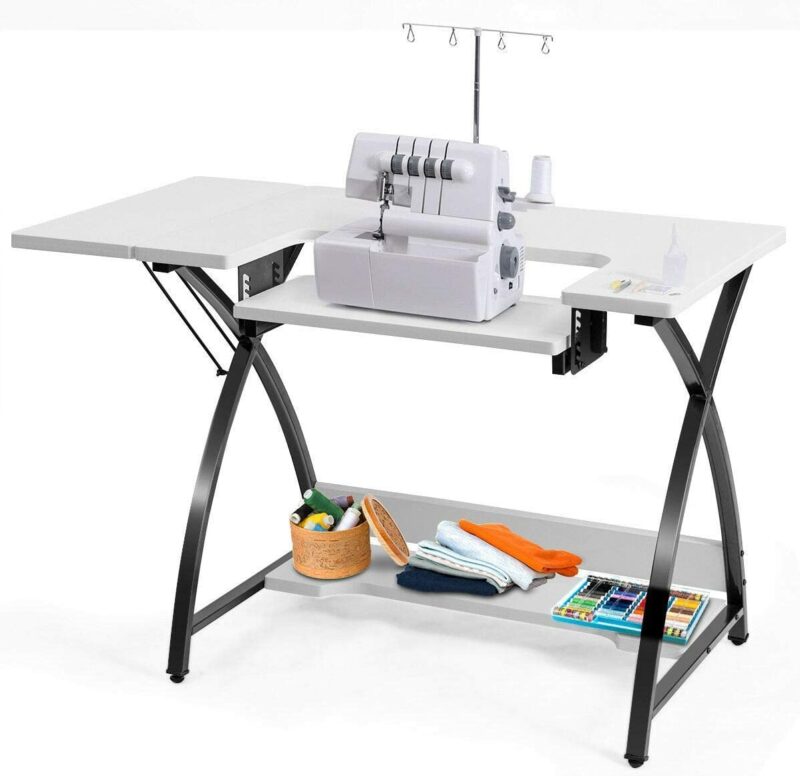 Weighing under 40 pounds, this GLACER sewing table is my second favorite model, especially for its premium engineered wood that goes well with home decor.
It's a spacious table that doesn't restrict your movement and provides enough storage space underneath for your sewing accessories. Despite being an entry-level product, you can use this table for multiple purposes, including writing, office desk, sewing table, etc. 
Moreover, the table shelf can be adjusted to 6 different heights, giving you an additional height option for several purposes. You can easily keep your heavy machine (upto 132.5lbs) on its top as it has a rustproof powder-coated X-shaped steel frame. 
Besides these, the four adjustable feet improve stability even on uneven grounds. Lastly, a waterproof finish makes it easier to clean, thus, making it durable for the long term.
Pros
It blends well with the home decor

Foldable side shelves

Best workspace area in its class

Heirloom quality table
Cons
No storage drawers

Quite difficult to assemble
Check the Glacer table's latest prices on Amazon
Best Heavy-Duty Sewing Machine Table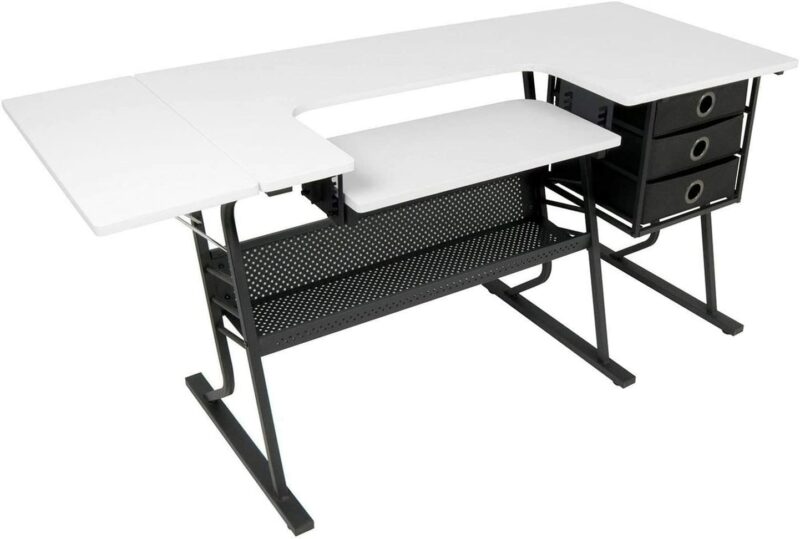 If you have ample space to accommodate a table and want more from your sewing table, go with this heavy-duty Eclipse Hobby sewing table from Sew Ready. It's the best model you can get, in my opinion, and let me explain why. 
It offers a massive 60.25-inch wide surface to spread, cut, and sew your fabric. So, no worries about whether the fabric will fit the table or not! 
If even this much space appears insufficient, you get an additional 9.5-inch wide side shelf. You can fold the side shelf if not in use. Thus, you can easily accommodate this table in the corner of your room when not in use. 
Also, you don't have to worry about losing your leftover fabrics anymore. The accompanying three sizable lower-shelf drawer storage drawers will take care of them and even organize your tiny sewing accessories. 
You can adjust the height of the table according to your level with an easily adjustable lower shelf. The heavy gauge steel constructed body makes it sturdy and durable in the long run.
Pros
Multi-purpose with ample storage space 

Foldable design

Rustproof construction with smooth edges

Massive workspace with side shelves
Cons
Stability could be better

Difficult to assemble 
Check the Eclipse Hobby sewing table's latest prices on Amazon
Best Sewing Machine Table For Small Spaces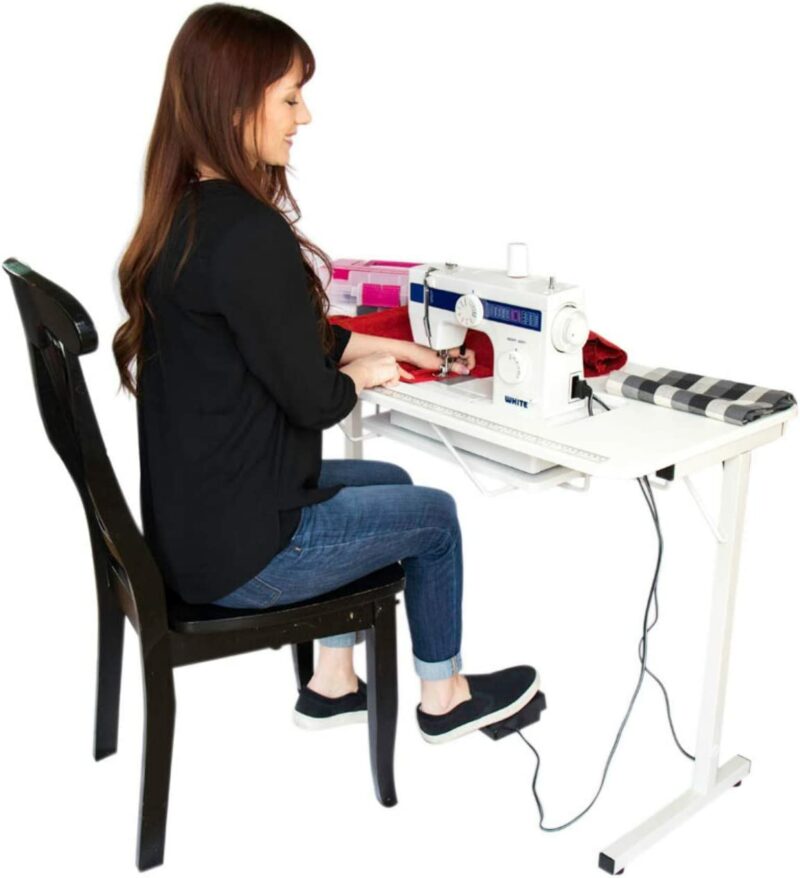 Do you want to add a minimalistic table and transform your small craft room into a sewing sanctuary? If yes, look no further than this SewStation 101 portable folding sewing table by SewingRite.
The table offers free arm and flatbed sewing in two colors – white and black. Unlike other models, the tabletop is made from high-grade melamine, which won't let it get scratched and will keep it polished for a long time, allowing for years of use.
Don't get tricked by the table's size and structure! It can easily hold any heavy sewing machine (up to 35 lbs) without buckling under pressure, thanks to the steel legs pins beneath.
The total workspace area you get is approximately 5.5 square feet. When you're done sewing, fold and slip the table into the closet or under the bed for easy storage. 
Pros
Adequate workspace with good overall stability 

Easy to assemble and store 

Fully laminated melamine tabletop

Lockable steel legs
Cons
Vibrating drop-down feature

Lacks sufficient space for storing sewing accessories 
Check the Sewingrite's latest prices on Amazon
Best Premium Sewing Machine Table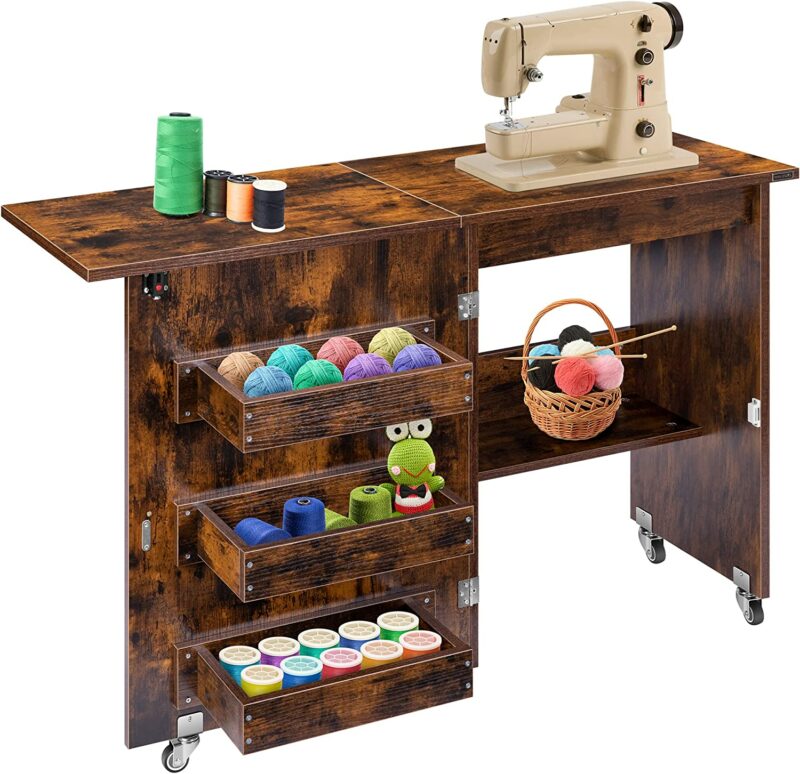 For a more premium choice, check out this user-friendly, lightweight, space-saving extension table from VIVOHOME to meet all your sewing and craft needs. It weighs just 46 pounds!
Exquisitely constructed from a premium particle board, alloy, and PVC, it looks elegant and fits any decor type.
Its foldable design makes it easy to tuck behind the doors or under the bed when not in use. And if you decide to change your sewing location, the five casters and three swivel wheels make the movement easier and smoother. 
The rustic wooden tabletop is well supported using hinges and has a solid handle and magnet buttoned drawer to keep your necessary accessories at your fingertips. If you need more space, don't forget to check the three hidden bins and one storage cabinet. 
VIVOHOME has taken utmost care in terms of stability by evenly distributing the weight on all three wheels. 
Pros
Easy to assemble with pre-drilled holes

Huge storage space in its class

Wheels for easy movements

Pneumatic lift for small spaces
Cons
No height adjustments

The workspace could have been bigger
Check the VIVOHOME's latest prices on Amazon
Best Sewing Machine Table FAQs
What Table Height Is Suitable For A Sewing Machine Table? 
Ans: The height requirement for a sewing table varies from person to person. However, the standard size is between 28 inches to 30 inches. The best way is to look for tables with adjustable height features. 
How Do I Choose The Best Sewing Machine Table?
Ans: Everyone has different requirements for a sewing machine table. But the ideal one is that provides ample working space, is sturdy and durable, and has multiple shelves and drawers to store sewing accessories and fabrics. 
However, consider your needs and then check for features. 
Can I Use Any Regular Desk As A Sewing Machine Table? 
Ans: Yes, you can also use any regular desk as a sewing machine table, but it won't be as functional and durable for your sewing activities. Sewing tasks have different needs and, thus, require a table with specific characteristics, as discussed above.
Conclusion
So, here you go. There are so many reasons to invest in a sewing machine table. Such a table maintains your posture throughout sewing, keeps all the sewing-related stuff in one place, and much more. 
And most importantly, a good table lets you quickly spread and cut a large fabric without the hassles of folding it.
The kind of sewing table you should get depends on your usage, budget, and available space. To make it easier for you to choose, I've reviewed a few essential features to look for before making a purchase. Don't forget to check the most recommended options listed above.