Who doesn't love using quilts? The word itself is synonymous with a feeling of warmth on a chilly evening. You can make a large quilt if you know your way around a sewing machine. But how about making the job more manageable with the best longarm quilting machine?
Longarm quilters are great for taking the hobby of sewing and quilting to the next level. Thankfully, there's a wide range of quilters designed for beginners, experts, DIYers, and professionals. They differ in price and technology – but they all enhance the process of quilt-making.
So what's a good longarm quilter to suit your requirements? Today, I am going to help you choose a suitable machine. So keep reading!
Related: Best Quilting Sewing Machine for Beginners – 2022
What Is A Longarm Quilting Machine?
In simple words, you can describe a longarm quilting machine as an advanced sewing machine. It is known for its advanced ability to sew multiple layers of a quilt. It also has an ample throat space and work area to handle heavy or bulky fabric or large cloth pieces.
The state-of-the-art varieties are computer-equipped – and can be programmed to get instructions from a computer to move. The traditional units are hand-guided, and the user needs to move the sewing head across the fabric. You'll also find hybrid quilting models.
How Is A Longarm Quilting Machine Different From Other Machines?
A longarm quilting makes the quilting process more convenient than regular sewing machines. That's because of its ability to stack different fabric layers to make a quilt. The work table and throat are roomy enough for large, bulky quilt projects.
a) Roomy Throat
Every quilt has three parts – the top, batting, and backing. You can load all of them on the longarm quilter's frame and sew them flat. The long throat must be above 18" and as large as 22", though some top-shelf machines have longer throats.
This throat length is not seen in regular sewing and quilting machines, mainly domestic or mid-level units. But because of a longarm quilter's long throat, you won't need to struggle when you work with heavy fabric, even in large quilts.
b) Convenient Table and Design
Longarm quilting appliances are compatible with sit-down table installation. This feature allows you to use the machine like a domestic machine and enjoy free motion quilting. It further complements the large workspace.
That's not all. A long-arm quilter is designed to move its head across the quilt fabric layers in a fixed position. Thus, even with large quilts, sewing will not be a struggle as you don't have to move the heavy fabric.
Advanced machines even come pre-loaded with a library of patterns for beginners. You can stitch your designs, which you can save in some machines. There are dials, screens, and other options to adjust the machine.
Longarm Quilting Machines Buyer's Guide: Factors to Consider
If you already have a large and advanced sewing machine, you may wonder if you need a longarm quilting machine. But longarm quilters have many advantages – you must choose the right appliance to get the best of them.
But how should you pick the suitable longarm quilting machine? Consider the following factors for that –
a) Speed
The higher the number of stitches a unit performs in a minute, the more work it can handle. Thus, a high-speed machine can be an excellent addition to your workshop. Anything around 1500-1800 is perfect for DIY projects, but pro usage needs a higher speed.
b) Regulation
Speed regulation maintains consistency in stitches and gives you more control. So you should check this feature in your machine and find out how convenient it is to work with. Some machines have a foot presser, while some have a dial. Some are programmable.
c) Stitch Functions
Elementary longarm quilting units can only perform basic stitches. But advanced models come with a range of stitches like a zigzag. Some can stitch words, trace images for unique designs, or let you create your patterns – and even save them for future use.
d) Needle Threader
Threading the needle is one aspect of sewing, stitching, and quilting that no one enjoys. An automatic threading mechanism on a machine does precisely what the name suggests – it threads the needle automatically. On the whole, it makes your job faster and easier.
e) Throat Length
The space behind a quilter's needle covered by the machine is called its throat. A more prolonged throat provides more space for large quits. In a longarm quilter, it's 18″ or more, though some units with a throat that's an inch or two shorter are considered longarm.
f) Working Area
You need a spacious working area to handle larger quilts to complement the throat length. The roomier your workstation, the easier it will be for you to maneuver and control the fabric. Some machines come with an extendable work table for big quilts.
g) Computerized Machine
Computerized longarm quilters are advanced models. The obvious way to recognize these is the LCD or OLED screen that gives you access to advanced features. If you dig deeper, you'll find that the units are programmable and compatible with design software.
Longarm quilting machines may come with various other factors like a laser-equipped needlepoint, illuminated work area, throat, etc. They may also include a range of quilting tools and accessories. Accordingly, the price of the unit will also increase.
Best Longarm Quilting Machine: Top 6 Choices
After considering the above factors, referring to user feedback, and consulting comparison charts, I picked a few top brands and used their products. Finally, I have come up with the following list of the best longarm quilting machines. Check it out!
Longarm Quilting Machine Comparison Chart
Baby Lock Regent: Best Entry-Level
Janome 18″ Quilt Maker Pro: Best Reasonably Priced
Handi Quilter Amara (20-inch): Best Premium
Juki Miyabi J-350QVP: Machine with Sit-Down Table
Grace Company Q'nique 21: Best for Small Business
King Quilter II ELITE: Best Overall
Best Entry-Level Longarm Quilting Machine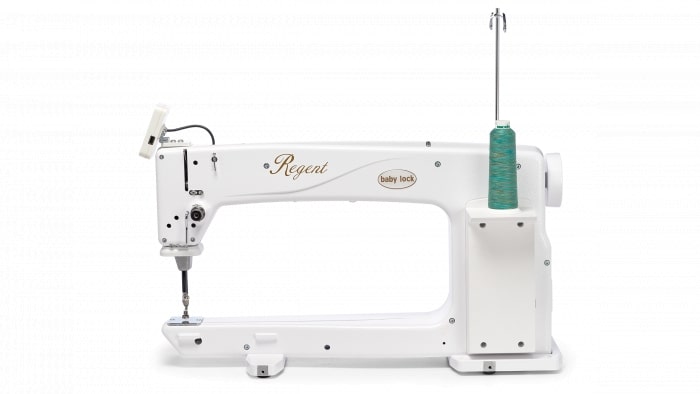 If you are new to quilting, a machine like the Baby Lock Regent can help you learn. This computerized sewing and quilting machine has features that make it quite versatile. The list starts with the height-adjustable table that allows you to sew comfortably.
If you're yet to master the art of achieving evenly spaced stitches needed for quilting, this machine's regulator will make things easy. It comes with 215 built-in stitches. Moreover, you can easily access this appliance's features using its LCD screen.
To make quilting even more convenient, this machine has an ample sewing space of 18". So you can move your fabric – and your hands – freely. It works at 2200 stitches per minute and is also intuitive enough to let you adjust the speed.
Pros
Easy to adjust the thread tension

Large M bobbin for fewer changes

Illuminated needle area with LED lights

Table sensors to detect fabric movement

Responsive pedal for easy speed control
Cons
Clinking noises reported by some users

Usage instructions not up to the mark
Check the Baby Lock Regent's latest prices on SewingMachinesPlus
Get the product here.
Best Reasonably Priced Longarm Quilting Machine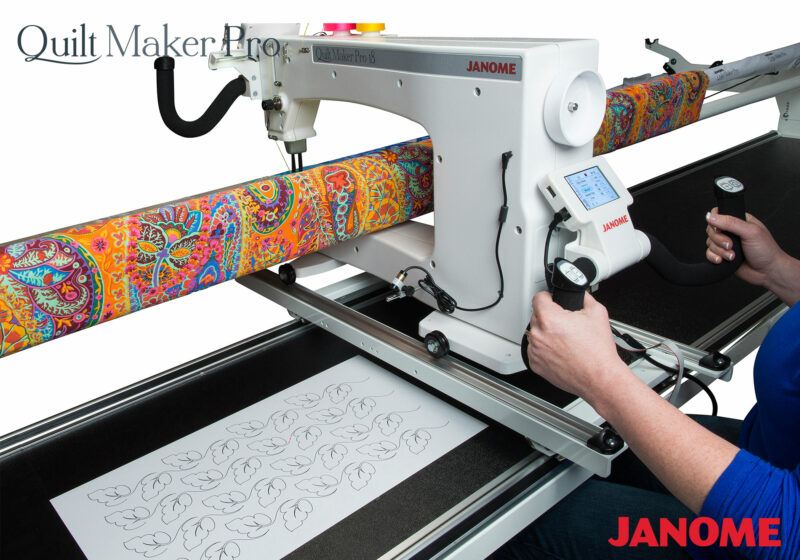 While longarm quilting machines are not low-cost, the Janome 18″ Quilt Maker Pro is on the lower end of the price scale. It has a user-friendly design, thanks to the built-in stitch regulator. It will help accomplish more work with its tremendous speed of 2200 stitches per minute.
This longarm quilting machine has a large table, while its working area is relatively broad and suitable for medium quilting projects. While you maneuver your fabric and handle the tool by hand, the knee lifter will let you control the pressure on the presser foot easily.
It's incredible how easy it is to tackle various fabric thickness levels, thanks to the precision pin-feeding mechanism. It is one of the more affordable longarm quilting machines – with attractive features, including an adjustable touch screen for control.
Pros
Reasonably priced longarm quilting unit

Easy to adjust the needle-stop position

Responsible foot pedal for better control

Quick and easy assembly process and usage

Spacious enough for large quilts
Cons
No automatic needle threader

Tricky tension control due to manual process
Check the Janome 18″ Quilt Maker Pro's latest prices on SewVacDirect
Best Premium Longarm Quilting Machine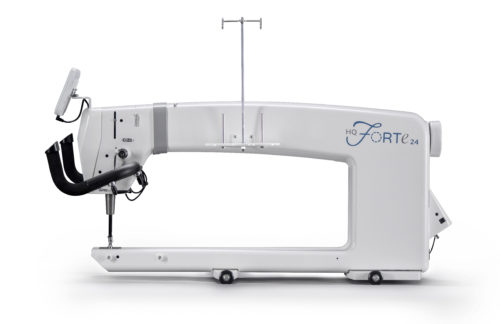 A quilter that will take your small business to the next level – the Handi Quilter Amara 20-inch Longarm Quilter Machine is a premium option. Prepare to spend a small fortune on this appliance – because it is a high-end machine that will cater to all your quilting needs.
This super-quilter runs at a speed of 2500 stitches per minute, sufficient for a professional quilter tackling bulk work regularly. A state-of-the-art feature of this tool is the pinpoint needle laser that boosts needle placement precision in every design and stitch.
It has a 10″ computer screen on the top and a 7″ touch screen at the back for complete control of the machine. With more than 800 pre-loaded stitch designs, you don't have to worry about innovation. And to top it all, it's user-friendly, making quilting easy for everyone!
Pros
Offers manual and programmable modes

Stitch regulation mechanism for perfect stitches

It comes pre-installed with the required cabling

Sensor and alarm to warn you about thread break

Large and well-lit throat space for convenience
Cons
Expensive due to advanced features

It may require users to set bobbin tension
Check the Quilter Amara 20-inch's latest prices on SewingMachinesPlus
Best Longarm Quilting Machine with Sit-Down Table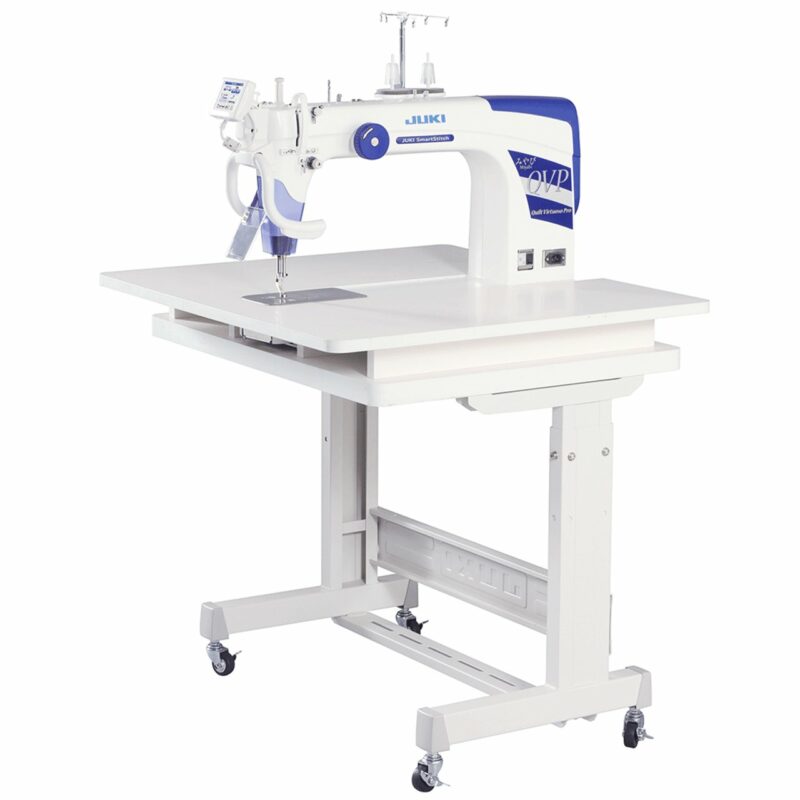 Are you looking for a quilter with a sit-down table for your workstation? The Juki Miyabi J-350QVP can be a great choice. Juki is one of the world-class longarm quilting machine brands. And Miyabi J-350QVP is highly recommended for advanced home use.
It can run non-stop at an impressive speed of 2200 stitches per minute. One of the things you'll love about this machine is that it has a frills-free, user-friendly design. One of these features is the thread guide pin that quickens the thread adjustment process.
There's also the thread trimming function to automatically cut bobbin and top threads. It has a sit-down table with adjustable height, suitable for any place like your bedroom or garage workshop. This advanced unit also features a sizeable programmable LCD touch screen.
Pros
LED lights for illuminated workspace

The sturdy and durable machine at a low cost

Large work area with extension table

Needle movement adjustment mechanism
Cons
The instructions manual is not helpful enough

Threader more complex than competing products
Check the Juki Miyabi J-350QVP's latest prices on SewVacDirect
Best Longarm Quilting Machine for Small Business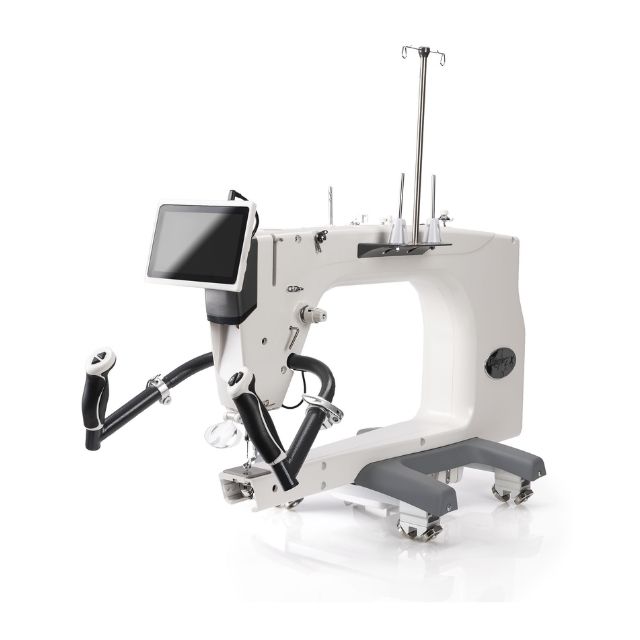 If you're planning to upgrade your advanced hobby center to a small business, the Grace Company Q'nique 21 can be an excellent longarm quilting machine. This manual-guided machine comes with a stitch regulation mechanism and adjustable stitch speed.
Thanks to its incredible speed of 1800 stitches per minute, you will love your increased productivity. Its throat space of 21" puts it on the higher end of the scale than the other products on this list. Plus, it's incredible for you to tackle heavy-fabric quilts with ease.
One great news is that it has advanced features that will give you excellent designs and accuracy. The better news is that it has an OLED screen to access the features easily! The handles, too, will let you reach and adjust major controls and buttons.
Pros
Roomy design to provide sufficient working space

It comes pre-loaded with a library of 200 patterns

Easy to record free-motion designs for future use

Lets you trace images and them to patterns

User-friendly screen with Creative Touch Software
Cons
May need regular thread tension adjustment

May experience assembly issues
Check the Grace Company Q'nique 21's latest prices on SewVacDirect
Best Overall Longarm Quilting Machine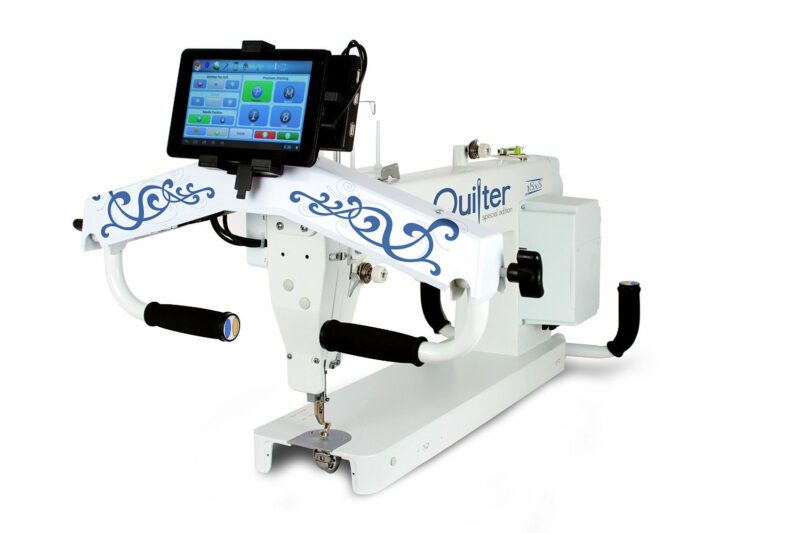 Our final recommendation is one of the top computerized longarm quilters – the King Quilter II ELITE. It is the best longarm quilting machine for business owners and advanced home quilters. While its price is on the higher side of the scale, so are its features.
Thanks to its precise abilities and laser-equipped needlepoint, you will never need to worry about the accuracy of designs. Plus, you can leverage its speed of 2200 stitches per minute to complete more work within a short time, making it the ideal machine for pro use.
The machine has two handlebars in the front and the back to make movement more convenient. The 18" illuminated throat space makes it even easier to manipulate bulky quilts. Its 2-piece CNC system with a large touch screen makes it the future of longarm quilting machines.
Pros
Sturdy structure and long-lasting materials

A computerized tool with two manual settings

Needle movement function for more control

Comprehensive stitches like base and cruise modes

Can record user's free motion or pantograph design
Cons
It may take time for new users to learn its usage

A limited number of free designs compared to competitors
Check the King Quilter II ELITE's latest prices on SewingMachinesPlus
Final Words
Plenty of quilting and sewing enthusiasts are not big fans of longarm quilters. But they can't deny the advantages of using one. This machine will make stitching large and small quilts convenient and quick.
So consider your sewing skills, budget, and whether you want a pro-level unit. Accordingly, choose the best longarm quilting machine to cater to these factors. And don't forget to check out my list of long-arm quilters!
Longarm Quilting Machine FAQs
Who makes the best longarm quilting machine?
There are many longarm quilting brands from all across the world. They have various types of machines. These have features that suit hobbyists and pros. Some of the best brands include King, Juki, Baby Lock, Grace Company, Janome, Handi Quilter, and more.
What is the best quilting machine for home use?
There are many longarm quilting machines engineered for home use. If you are looking for a budget buy, the Juki Miyabi J-350QVP is an excellent machine. But if you're looking for a more advanced product with high-end features, the King Quilter II ELITE is highly recommended.
How much is a longarm quilting machine?
The cost of longarm quilting machines can vary, depending on how simple or advanced the product is, its overall quality, the brand's goodwill, etc. The elementary units can start at $5000, while the advanced machines can set you back by over 20 grand.