Bringing home a quality sewing machine means no more rushing to the sewist to fix small holes, hem new trousers, or get old clothes embroidered. You can do all of these at home and even more! 
And you don't need to be an expert here; all you need to find is the best sewing machine on the market that attends to your needs, for example, sewing, quilting, or embroidery. 
There are many brands you can rely upon, with Janome, Brother, and SINGER, to name a few. If you're looking for a more economical brand, Pfaff is what I recommend. 
Read on to thoroughly explore Pfaff with me, including the brand's history and the top four models you can invest in without any thought.  
Pfaff Sewing Machines – A Quick Look Into The History

 
Pfaff is Kaiserslautern, Germany's most reliable and oldest sewing machine brand. Instrument maker Georg Michael Pfaff founded it in 1862. The first ever machine was manually crafted to sew leather for shoe manufacturing. 
George Michael Pfaff opened a small sewing machine shop in London in 1885 with just a single sewing machine. Later on, after his demise in 1893, Georg Pfaff, the founder's second son, took over the sewing shop and worked towards the company's growth. 
Soon, in 1999, Pfaff was acquired by Husqvarna Viking, which led to a massive spike in the company's fortune. 
What Are The Specifics Of Pfaff Sewing Machines Compared With Other Brands? 
One thing that differentiates a regular sewing machine from the Pfaff sewing machines is the latter's unparalleled ease of operation.
Furthermore, Pfaff is known for its dedication to precise sewing through high-performance machines that don't cost much – another key highlight. 
Other unique features of Pfaff sewing machines include:
Highly affordable

Simple yet reliable models to attend to everyone's requirements 

Integrated dual feed system for seamless stitching 

Presser foot design
Let's now discuss the top Pfaff sewing machines as we advance. 
Top 4 Pfaff Sewing Machines To Check Out
Below are Pfaff's best models if you're a beginner or advanced sewist. 
Best Overall Pfaff Sewing Machine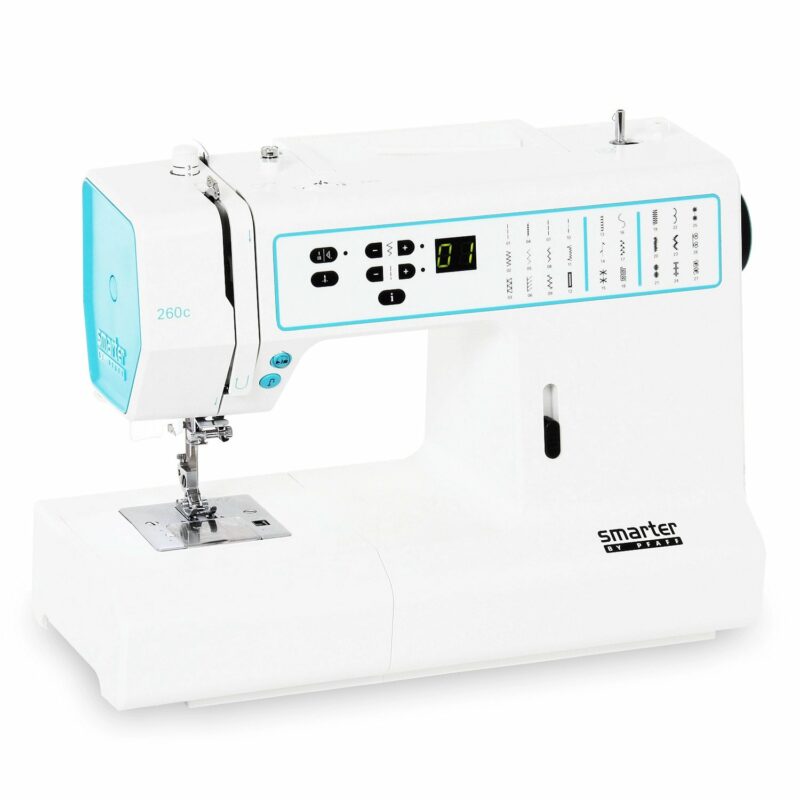 This PFAFF Smarter 260c sewing machine can be your perfect partner whether you want to sew fashionable outfits or home decoration fabrics. It has several innovative features and a unique design that helps you express your creativity on any fabric. 
It's equipped with a tie-off function, bright LED light (for night hours), and adjustable stitch width to amplify your sewing experience. 
You can be as creative as you want, as Pfaff 260c provides an integrated needle threader and snap-on presser feet to save time and increase focus. 
The latest Start/Stop push button allows you to sew without foot control.
Unlike other sewing machines, this model makes sewing rows of decorative stitches, long seams, free motion, and buttonholes easy. You can use the 27 built-in stitches and a free arm to ease the sewing process further. 
I like its information system display, external feed dog drops, accessory tray, top-loaded bobbin, and felt bob. 
Did I forget about the different presser that Pfaff Smarter 260c comes with? These include the zipper foot, standard presser foot, fancy stitch foot, blind hem foot, and one-step buttonhole foot. 
And if you wish to uplift your sewing game, additional accessories, such as a large & small spool cap, foot control, seam ripper & brush, edge/quilting guide, and auxiliary spool pin, are available. 
Pros
Works efficiently

Lots of essential accessories included

Fast operation 

Instructions manual for beginners 
Cons
Average build quality 

Makes noise while working
Check the PFAFF Smarter 260c's latest prices on SewVacDirect
Best Beginner Pfaff Sewing Machine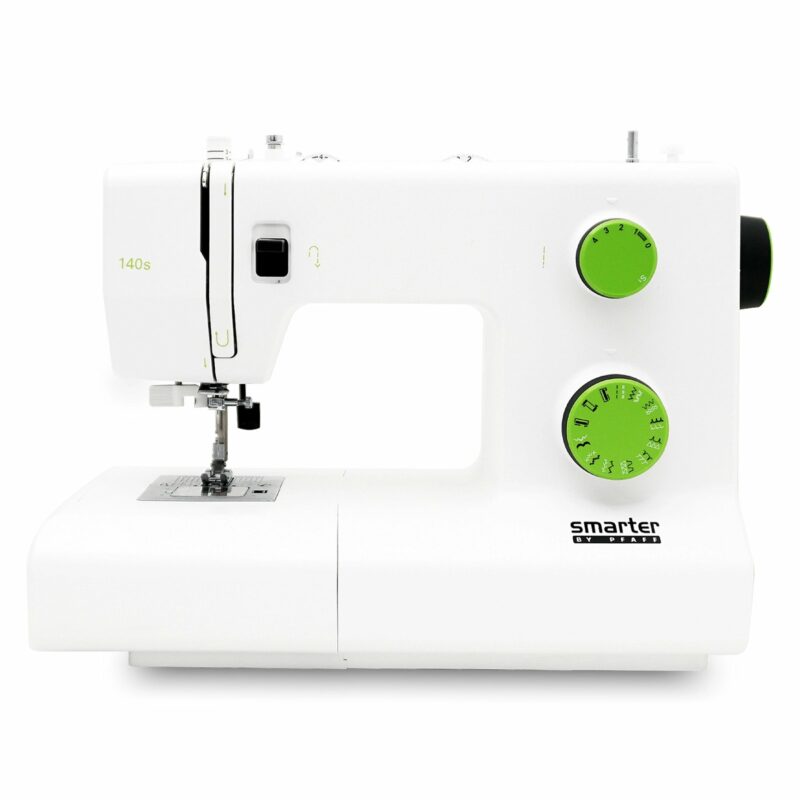 The next Pfaff sewing machine on the list is this Pfaff Smarter 140s. It's a must-try model for beginners who want an all-around sewing machine at a reasonable cost. 
To start with, Smarter 140s makes threading the needle a breeze by offering an integrated needle threader. And its high-quality material ensures its long life. You don't have to hold the needle anymore; pull the lever, and it's done.
Note: In Pfaff Smarter 140s, you can easily adjust the stitches' width per your needs.  
I recommend this machine for stitching fabrics requiring accurate or precise stitches for which the needle position needs to be adjusted frequently. 
The machine further comes with an LED light that ensures a stable light source during dark hours, making the sewing surface bright enough to assist in sewing.
This machine is not only great for stitching, but you can use it as a display. It looks stunning; however, you need to take proper care. 
Pfaff's Smarter 140s sewing machine has an automatic buttonhole, innovative grip dial, free arm, adjustable presser foot pressure, and top-loaded bobbin. 
It allows 21 stitches and optimal feeding. Snap-on/off presser feet, adjustable presser foot pressure, thread cutter, and accessory tray are other unique features of this machine that make it a great purchase. 
Coming to the warranty, you get the ten-year mechanical warranty, two years on the motor and electric, and a one-year free labor warranty.
Pros
Detailed instructions manual for easy usage

Lightweight and long-lasting 

Decent stitching surface with LED light

Ideal for fast-paced stitching projects
Cons
Requires maintenance 

Not worth it for complex projects
Check the Pfaff Smarter 140s's latest prices on SewVacDirect
Best High-End Pfaff Sewing Machine For Advanced Sewists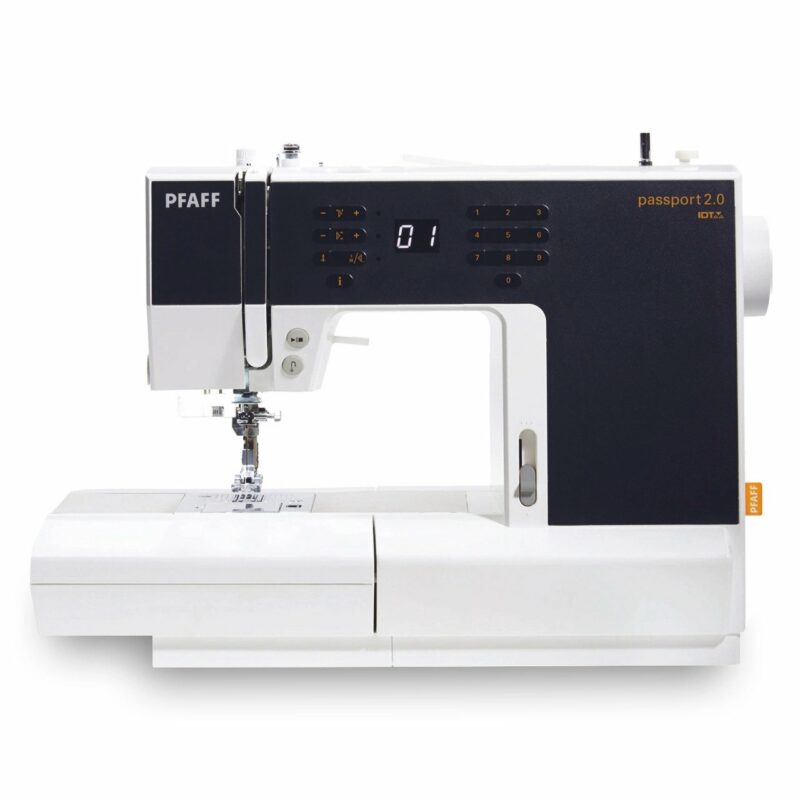 If you're looking for a compact, portable, top-notch featured sewing machine that meets your high demands, fits on a bookshelf, and is easy to carry to your sewing class, then the Pfaff Passport 2.0 sewing machine is the one you need. 
And I guess there's no need to explain why Pfaff named this machine "Passport."
The machine comes with the original IDT system (Integrated Dual Feed), which makes it unique from the other machines on this list. You also get the conventional presser foot system, which offers 70 built-in stitches, including utility stitches, buttonholes, decorative stitches, quilt stitches, needle art stitches, and satin stitches. 
So, there's no end to stitching masterpieces. 
The next highlight of Passport 2.0 is its beautiful "Appliqué Pin Stitch," which is adjustable and can achieve your desired result quickly. 
Apart from these unique features, the Pfaff Passport 2.0 sewing machine also comes with a Start/Stop button to sew without the foot control, 2 LED light sources to illuminate the sewing area, and a speed slider to control the speed. 
The stitch menu tab and external feed dog drop are conveniently located on the right side of the machine. 
Note: The machine is ideal for stippling, free-motion embroidery, and darning.
Other loadings include a screwdriver for the needle plate, a multi-purpose tool, two large spool caps, one small spool cap, seam ripper & brush in one, an auxiliary spool pin, foot control, power cord, needles, and hardcover.
Pfaff also covers the mechanical parts of Passport 2.0 with a comprehensive warranty. 
Pros
Better sewing speed control

Support for essential embroidery work

Handles advanced projects as well

Illuminated work area
Cons
Noisy operation

Average needle quality 
Check the Pfaff Passport 2.0's latest prices on SewVacDirect
Best Pfaff Serger Machine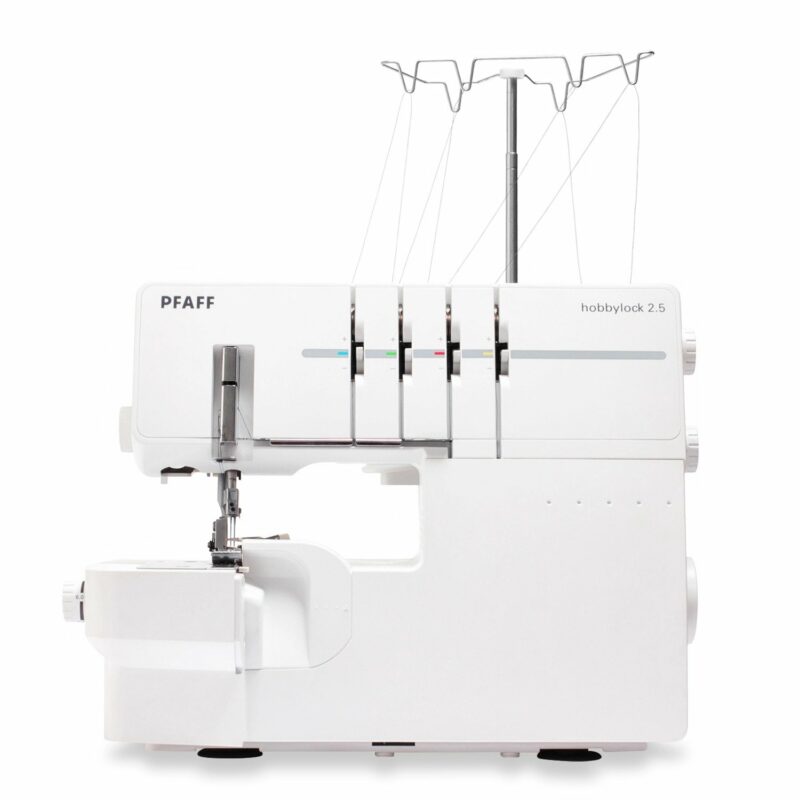 Last but not least, let's discuss Pfaff's serger machine. Regarding quality and reliability, the Pfaff HobbyLock 2.5 Serger is something you can blindly trust. 
You don't have to worry about thread tension, as HobbyLock has an automatic tension dial that sets the thread tension when selecting any 15 stitches. You might not find this feature in any other machine. 
You can quickly achieve a professional finish in all your designs with sewing, trim, and hem features. It offers an expansive sewing area with a cutting knife mounted below, providing maximum convenience. 
The HobbyLock serger machine is compatible with various fabrics so that you can stitch different materials, including lightweight knit or thick fleece. 
Note: The color threading paths are highlighted on the machine to make threading convenient. 
You can add attractive accents with the three-dimensional flatlock stitch or eye-catching decorative threads to your fabric. 
Other great features of this machine include adjustable stitch length, differential feed, built-in rolled edge, 2-speed control levels, 15 built-in stitches, extra presser foot height, standard two-thread converter, thread cutter, built-in extended carrying handle, a waste tray, and safety lockout. 
So, what are your thoughts about HobbyLock 2.5 Serger? 
Pros
Incredible stitching speed at 1200 SPM

Locks automatically when not in use

Simple operation, suitable for beginners

It goes well with even the thickest fabrics
Cons
Bulky

Inadequate number of stitches 
Check the Hobby Lock 2.5 Serger's latest prices on SewVacDirect
Pfaff Sewing Machines FAQs
Is Pfaff A Good Sewing Machine Brand?
Ans: Yes, it's a good sewing machine brand. Pfaff is Europe's oldest and most reputed sewing machine brand whose products are made to last years. Its machines offer a unique built-in dual fabric feeding system called IDT (Integrated Dual Transportation.)
Ans: Yes, SINGER owns Pfaff
Are Old Pfaff Sewing Machines Good?
Ans: Yes, vintage Pfaff models offer precision, power, and durability and contain solid metal parts and excellent engineering. The brand made super heavy-duty machines that worked just as well for professional use as for home sewing. 
Are Husqvarna And Pfaff The Same?
Ans: Yes, Husqvarna and Pfaff are the same. 
Where To Buy A Pfaff Sewing Machine?

 
Ans: You can visit the official website of Pfaff to buy their sewing machines or websites like Sewing Machine Plus and SewVacDirect. 
Related: Brother CS7000i Sewing & Quilting Machine: a Full Review
Conclusion
So, here you go. Sewing is an art, and a sewing machine is a tool that you need to express your creativity and individuality on the fabric. 
Many sewing machine brands in the market offer great features at affordable prices. Among the lot, Pfaff is my favorite brand that's authentic and credible enough to make your sewing journey smoother. 
They provide multiple designs with top-notch features. However, each has its pros and cons, as discussed above. You can pick according to your need.