It's time to announce the Craft Book Month winners! All winners were randomly selected from the 127 entries received. Winners, please e-mail [email protected] to claim your prize!
4 winners! $25 Gift Certificate from Fat Quarter Shop: 89 Heidi @ Fabric Mutt, 86 Rachel , 67 Carrie P., 37 Vera

3 winners! Dual Duty XP Thread Set and Anniversary Tin from Coats & Clark: 60 Terry @ Toohey's This and That, 48 Kristan @ Doodle Do Designs, 44 Sarah Norman
1 Winner! Anna Maria Pearl Cotton gift box, Anna Maria Embroidery Floss gift box and Anna Maria patterns courtesy of FreeSpirit: 17 amylouwho

1 Winner! 6×12 Frosted Ruler, 45mm Ergonomic Rotary Cutter and a 12×18 Double-Sided Self-Healing Rotary Mat from OLFA: 78 Dana @ WaterPenny
1 winner! Complete collection of 10 sewing patterns from Amanda Murphy Design: 110 Carmen
1 winner! Scrap Basket Sensations book and fabric Wee Folks jelly roll courtesy of Fabric Seeds: 113 Jenelle @ Echinops & Aster
1 Winner! Pieces of Hope fabric bundle from Riley Blake Designs: 80 Laurie @ Dodging the Butterfly
1 winner! Three patterns of your choice from SUCH Designs: 70 Joanna@ShapeMoth

1 winner! $25 Shop credit from Zipit: 120 Tiffany
1 Winner! 100 Moo Mini Cards to advertise your handmade business: 66 Lisa Marie
1 Winner! Three Modern Quilt Relish patterns of your choice: 12 Sweet Diesel Designs
1 winner! Little Stitches book from Stash Books: 22 Live a Colorful Life
1 Winner! Anna Maria's Needleworks Notebook from Wiley Craft: 50 svetlana
1 winner! Pair of Generation T books from Workman Publishing: 43 Darcy @ Modern Cozy
1 winner! Skip the Borders from Martingale & Co.: 2 Me Sew Crazy
1 winner! Sew Merry and Bright from Martingale & Co.: 13 missknitta's studio
Final FreeSpirit Fridays Winner: #98 Marian

Congrats to the winners, and we hope you've been inspired by craft books! This event would not have been possible without our amazing Craft Book Month sponsors: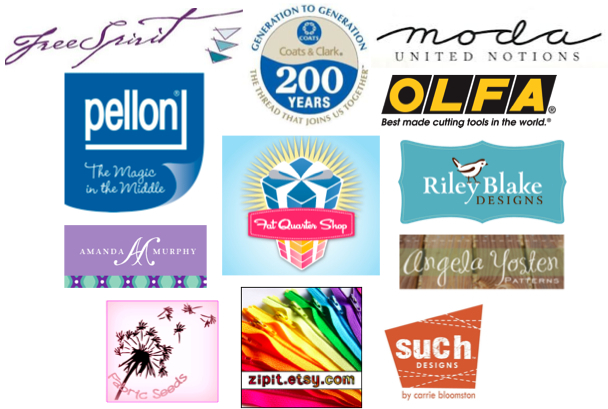 Sponsors: Amanda Murphy Design / Angela Yosten Patterns / Coats & Clark / Fabric Seeds/ Fat Quarter Shop/ FreeSpirit Fabrics / Martingale & Co. / Moda United Notions / OLFA/ Pellon / Riley Blake / Stash Books/ Storey/ SUCH Designs/ Wiley/ Workman / Zipit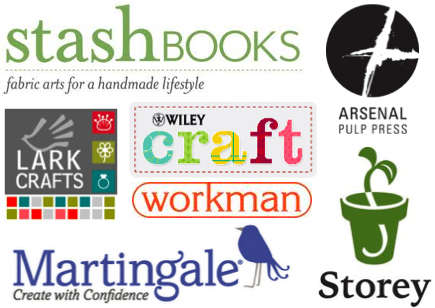 Thanks for joining us for Craft Book Month! Stay tuned in October, when we'll be teaming up with some other bloggers for a Scrappy Stash Quilt-Along and the Tula Pink Sew aAlong.
Ongoing Book Giveaways:
Improv Sewing (Ends 10/2)
Simply Fat Quarters (Ends 10/3)
Anna Maria's Needleworks Notebook (Ends 10/4)